A grazing board is a blend of textures, flavors, and colors. Each item is distinct yet compliments the others to make for a filling meal to share with family and friends. Tiny bowls filled with a range of dips, earthy tabbouleh pickled red onion, crunchy breadsticks, and soft pita make it a delicious Mediterranean feast, to say the least.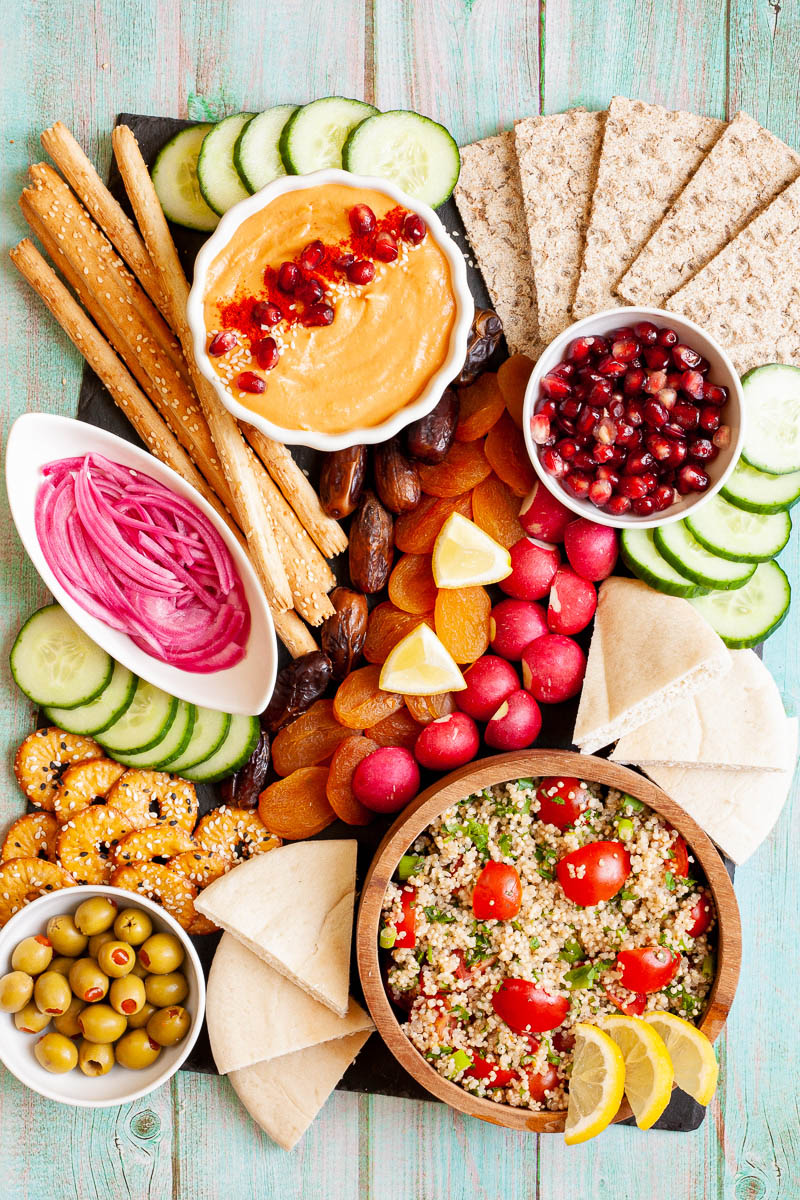 If you are looking for more Mediterranean recipes, check out our Hummus Pizza, Vegan Gyros with Tzatziki, Mediterranean Stuffed Butternut Squash or Vegan Moussaka.
Grazing board or Charcuterie board or Mezze platter?
While all these are large plates of food that look appealing and are eaten together, the subtle differences between them lie in the food being presented. Charcuterie boards and mezze platters are types of grazing boards, but grazing boards are not limited to just them.
A grazing board or grazing platter is a selection of finger foods that are put together for people to linger on and enjoy (graze on, if you will). They can be any combination of snacks and depend entirely on the individual making it – there is no recipe involved.
Grazing boards or platters can be vegan, vegetarian, or not. A charcuterie board mostly features a range of meats (like salami, prosciutto, chorizo or ham), soft or hard cheeses (like brie, cheddar, gouda, goat cheese or camembert), and other elements that are eaten together. Charcuterie refers to the French art of presenting cured meats.
Originating in the Mediterranean (Greece, Turkey, and the Balkans), the mezze platter is an assortment of small dishes that are eaten as a light meal – dips, salads, and bread. Each dish can stand as a separate element, and the platter is a meal in itself. There are very specific recipes and ingredients that can be turned into a meze dish.
Mediterranean ingredient ideas
A Mediterranean grazing board is ideal as an appetizer or snack, but it's equally amazing for lunch or dinner. Light, delicious, and packed with flavor, you don't need to have too much going on for this platter to be a success. The ingredients are the heroes, and each item speaks for itself. Extremely high on nutritive value, it utilizes seasonal produce and has quickly become a dish that we love. You simply have to try it! Here are some basic elements that can be a part of your board:
Dips
Dips are the biggest factor defining the character of a Mediterranean Board. While there is no set rule on what dips a mezze platter features, you will typically find the beloved Baba Ganoush, made from roasted eggplants, or Muhammara, made from bell peppers, walnuts, and pomegranate molasses.
The most common, however, is Hummus. Classic or flavored like Roasted Red Pepper Hummus (see below picture, recipe included), made from bell pepper, chickpeas, and garlic, is a wonderfully spicy and sweet option to have in your choice of dips. However, if you want to include another, we have a wide selection to pick from!
For a more vibrant addition to your dips, try our Roasted Beet Hummus which is soft, fluffy, and has the right balance of flavors. Or try our Hummus without Tahini (which uses sunflower seeds as a tahini alternative), or this Roasted Eggplant Dip which combines the best of both worlds from Baba Ganoush and Muhammara.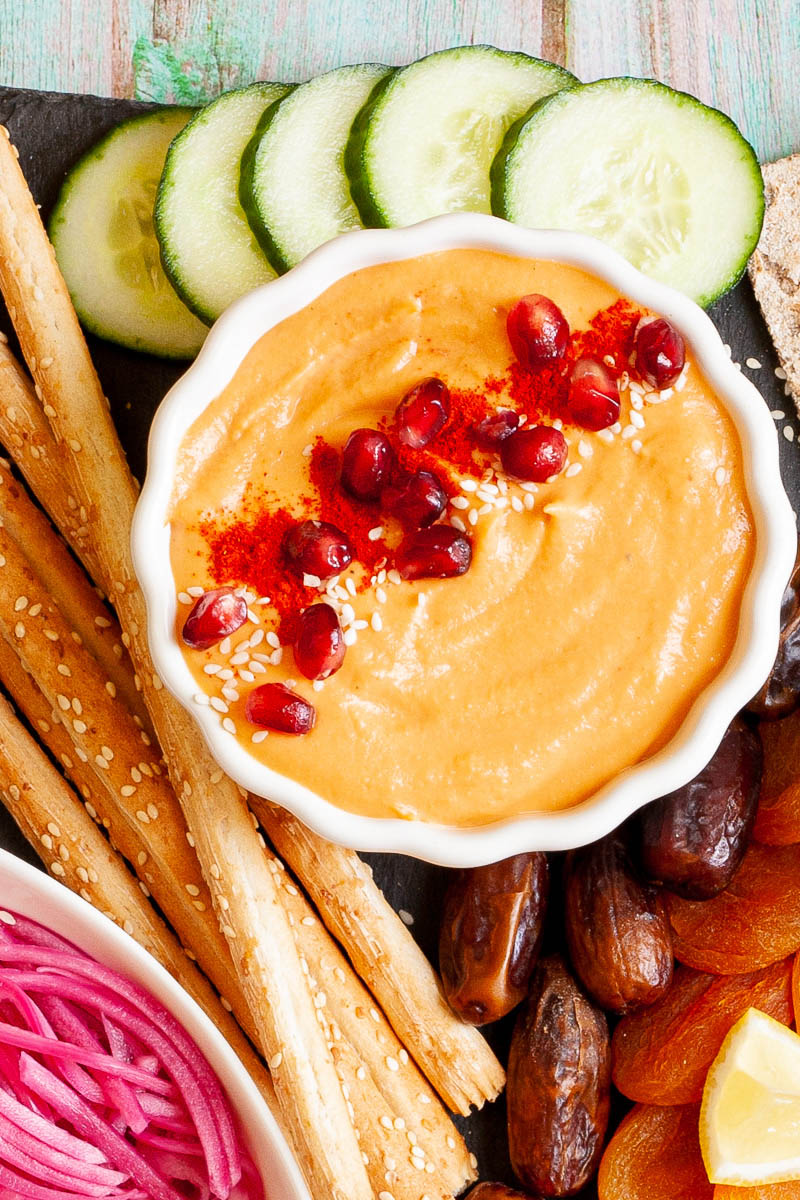 Salads
Tabbouleh is a Middle Eastern salad eaten the world over, and we simply adore it. It combines herbs, vegetables, and bulgur to create a filling appetizer that can be eaten as is. It is a key dish that is always a part of the traditional mezze.
However, if you need your board to be gluten-free as well, swap it for this Quinoa Tabbouleh (see below picture, recipe included). If you want your platter to have a colorful, feels-like-dessert kind of salad, you can also try to add this Quinoa Salad with Nuts and Berries, which is a powerhouse of nutrition and perfect for a light lunch or side salad.
Veggies
Vegetables, raw and pickled, can be found in every grazing boards. They are the perfect ingredients to add the right amount of color and loads of flavor that your grazing board. Pickled red onions, artichoke, olives, carrots, radishes, and cucumber add depth to your board and pair well with your assortment of dips and spreads. You can also sandwich them between warm pita bread.
Fruits
The Mediterranean diet is a celebration of sweet fruits that are both fresh and juicy, as well as dried and preserved. Dates, grapes, pears, apples, and melons, there is virtually no end.
Fruits function as the palate cleanser that gives you a break between each helping of salty tabbouleh and pita. They also bring a whole new level of flavor to the board and are just the pop of color that you need.
Pair your savory snacks with some delicious fresh figs and dried apricots or cranberries, and you have a spread that will instantly become your favorite!
Crackers / Pita / Bread sticks
Anything from the Middle East is incomplete without good bread. It single-handedly highlights every ingredient of this spectacular grazing board, yet ties it all together.
From warm pita to crispy crackers and breadsticks with a drizzle of olive oil, your platter can feature a range of bread. If you need your board to be gluten-free, we recommend adding gluten-free breadsticks*, and crackers. You can also make your own gluten-free pita bread. We have a super easy 3-ingredient flatbread recipe in our Express Vegan Cookbook.
Other items you can add
Traditionally, a Mediterranean grazing board has some cheese (typically feta), while a few also include meat. However, it's perfectly fine to have neither or choose plant-based alternatives. I dare you to try Violife feta* and tell the difference.
So what else can you add? Think of veggie balls like Falafel, Chickpea Meatballs or Eggplant Meatballs as they can also pair well with bread and salads. A large platter such as this one does extremely well without meat or dairy. In many ways, it includes fresh produce that shines perfectly on its own with interesting sides.
Even more creative ideas in our What to Eat with Hummus post.
Platters, utensils, and accessories you'll need
What is a grazing platter without the platter itself? For this incredibly easy and huge Mediterranean platter, you will need:
A 20-inch wooden platter/board (serves 6 to 8 people or guests)
Bowls, one small for the hummus or dip, and one medium for the tabbouleh or salad. As well as additional bowls or ramekins for pickled vegetables and other elements (more dips, meat alternatives)
A few spoons for the dips, and tiny forks or toothpicks for the pickles.
Napkins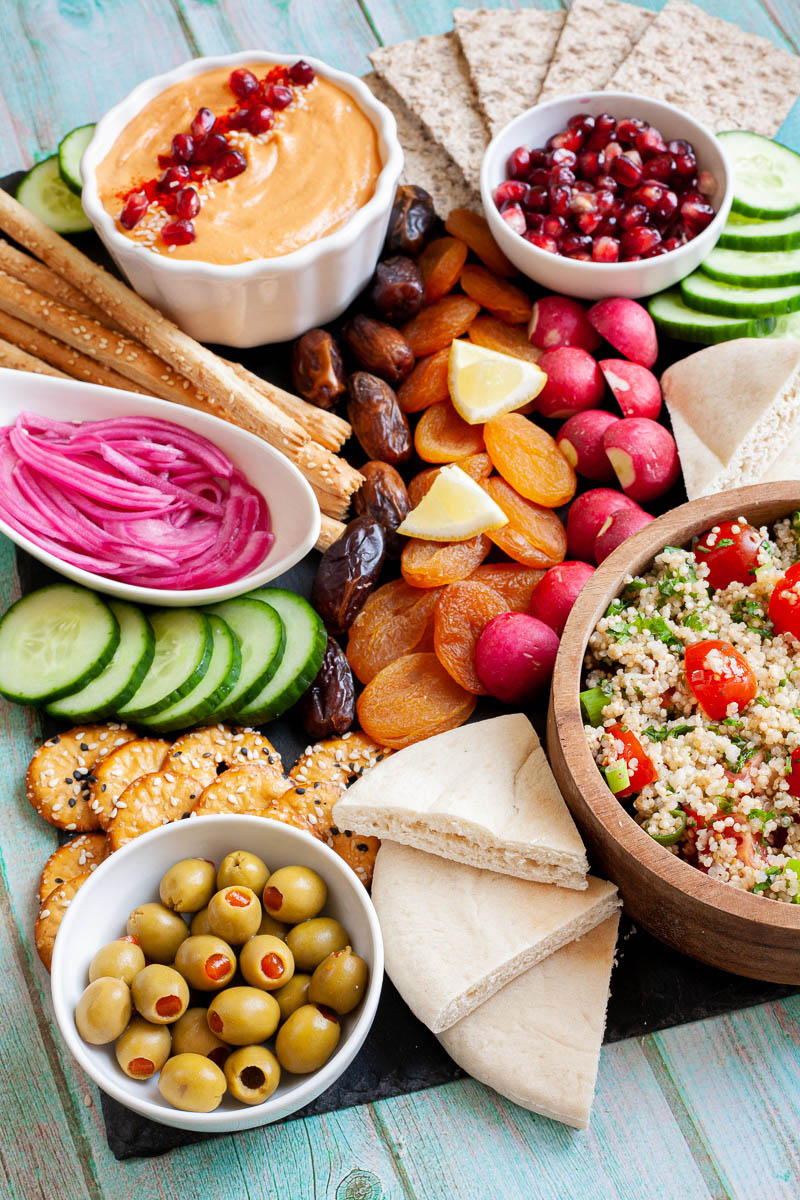 6 steps to set up a Mediterranean Grazing Board
The trick to setting up a Mediterranean grazing board is to get creative and have some fun. Be bold! Play with your ingredients and colors.
Prepare all items and spread them on your countertop, so you can see the colors and the textures next to each other.
Get all your small bowls ready to see which item fits where.
Start with the larger ingredients like salads and dips. Fill in small or medium bowls of tabbouleh (or any other salad) and place it towards one corner.
Continue with the smaller bowls. Place the dips on the opposite ends. Make sure you have a dip or a salad around all 4 corners. (see below picture)
Fan out your vegetables and bread around the bowls as well as towards the edges of the plate.
Finally, fill in the gaps with your selection of fruits, and garnish with fresh herbs and a drizzle of olive oil. And there you have it, your platter is all ready and looking amazing!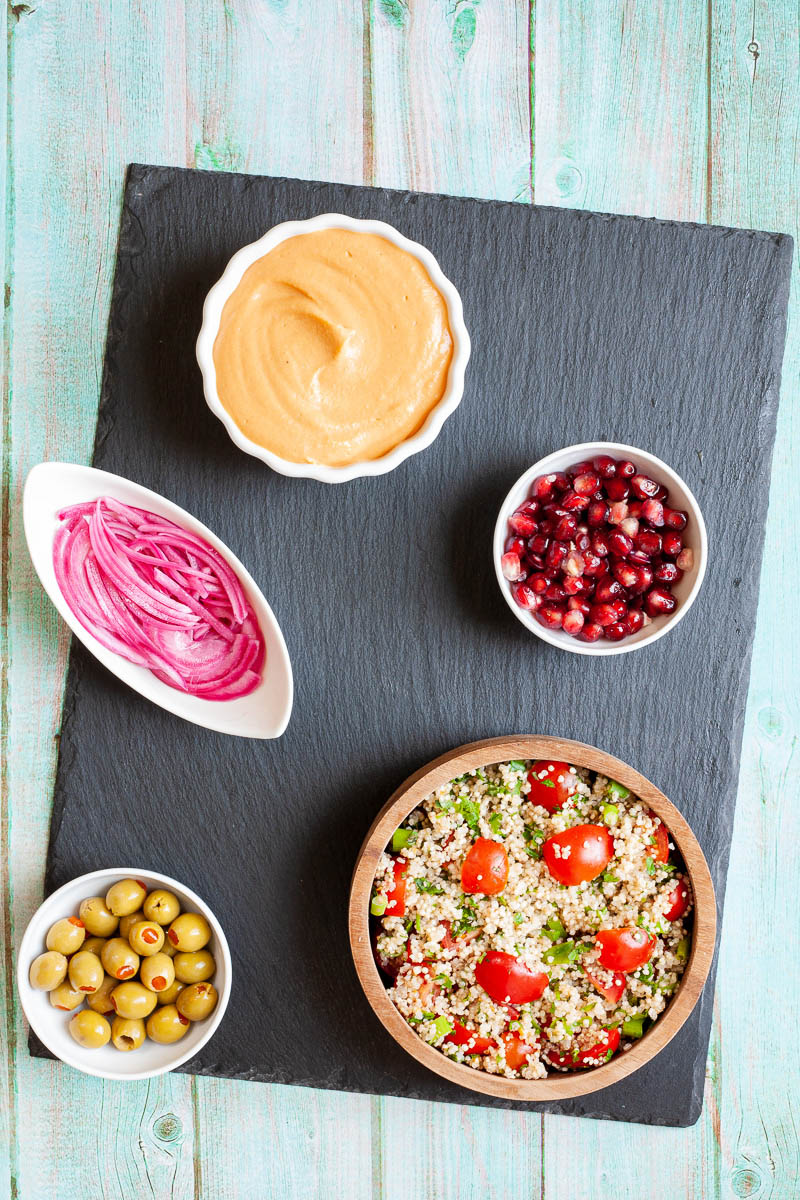 It is featured in Vegan Boards Cookbook
We were asked to review a cookbook. We got super excited as we get to try new recipes and also felt the excitement of the author as their new "baby" was reviewed by many bloggers at the same time. But the most exciting thing is that we get to share with you one recipe from the book. And we chose this delicious Mediterranean Grazing Board. But which cookbook is it, you ask?
Kate Kasbee is a recipe developer and photographer with years of experience as a certified plant-based chef. She is also a content creator at Well Vegan, a meal planning subscription service and blog. She believes in achieving wellness by highlighting plenty of fresh fruits, vegetables, and grains. Having previously co-authored a cookbook Frugal Vegan*, which describes affordable ways of cooking quality meals, Vegan Boards is her second cookbook.
⇒ Click here to see all Vegan Cookbooks we recommend including some FREE e-books you can download right now!
What can you find in the cookbook?
The Vegan Boards Cookbook* features gorgeous, plant-based boards that you can whip up for breakfast, lunch, dinner, and even dessert. This cookbook contains over 60 new, impressive recipes to serve on vegan platters and various ideas for a Pinterest-worthy meal. Some categories included in this cookbook are:
Breakfast and Brunch Boards
Grazing at Home Boards
Meal Boards
Seasonal and Celebration Boards
Fruit and Dessert Boards
Our favorite recipes from the cookbook
The idea of vegan boards is close to our hearts. The thought of being able to create delicious and aesthetic meals that can be shared among family and friends is the perfect excuse to host parties and gatherings and bond over a meal that is light yet hearty! These are some of our favorite recipes from Vegan Boards* that you simply cannot miss:
Grab-and-go Oatmeal Board – This is one of the best ways to make sure no one skips breakfast. We love this take on a traditional meal, evolved to suit our fast-paced lives. Our go-to sweet breakfeast is this Apple Cinnamon Oatmeal where we add different berries, nuts for the perfect start to our morning. Turning it to a full-on board is just an amazing idea.
Vegan Bahn Mi Board – We found this Vegan Bahn Mi Board to be the welcome change we needed. Savory and tart, the variety of toppings are what make this Bahn Mi a complete success. While this recipe uses pulled jackfruit, we would definitely recommend trying oyster mushroom in place of chicken like in this Vegan Shredded Chicken recipe.
Netflix Movie Night for Two Board – A pleasant way to enjoy your evenings, this Netflix Movie Night for Two Board is great for some quality time off. We love the idea of Individual Sweet Potato Brownie Bowls on this platter. If you ever need a gluten-free vegan Super Fudgy Brownie Cupcakes recipe, try this one. Or pair some crispy breadsticks with our easy-to-make Vegan French Onion Dip.
Taco Bowl Tuesday Board – Making Taco Tuesdays a family tradition is super-easy with this board, as it is customizable for picky eaters. You will not be able to get enough of the Veggie Taco Crumbles, made with cauliflower, mushrooms, and spices. If you're up for some weekly experimentation, check out our Vegan Taco Meat from TVP or this Sweet Potato Rice. You can even try to turn this delicious and loaded Chipotle Veggie Bowl to a vegan board.
Loaded Vegan Chili Board – Humble and flavor-packed, this makes for one satisfying meal. Warm chili, crispy tortilla chips, and a range of dips and toppings make it a board that we absolutely love. Try it with our Easy Vegan Bean Chili with Millet and Vegan Queso Dip served in little bowls for some tasty results.
Game Day Cauliflower Wings Board – Putting together a snack board for game day? You cannot go wrong with this board that pairs delicious fruits and vegetables with some amazing cauliflower wings and dips. We find that our Vegan Buffalo Chicken Wings can also be a great addition. Our Vegan Spinach Dip and our Vegan Buffalo Chicken Dip also works really well with this board.
Watermelon Pizza Board – For one of the best desserts ever, we tried this Watermelon Pizza Board. Versatile and refreshing, we love the combination of berries, coconut whipped cream, and juicy watermelon. It's summer on a board and a true revelation.
Is this cookbook for you?
Do you always wanted to build a grazing board but have no idea how to do it?
Do you enjoy mix and match recipes?
Do you like colorful and delicious recipes?
Do you like munching and snacking?
Do you want a step-by-step guide with lots of creative ideas and inspiration?
If the answers are yes, then Kate's Vegan Boards* is the perfect cookbook for you.
⇒ Click here to see all Vegan Cookbooks we recommend including some FREE e-books you can download right now!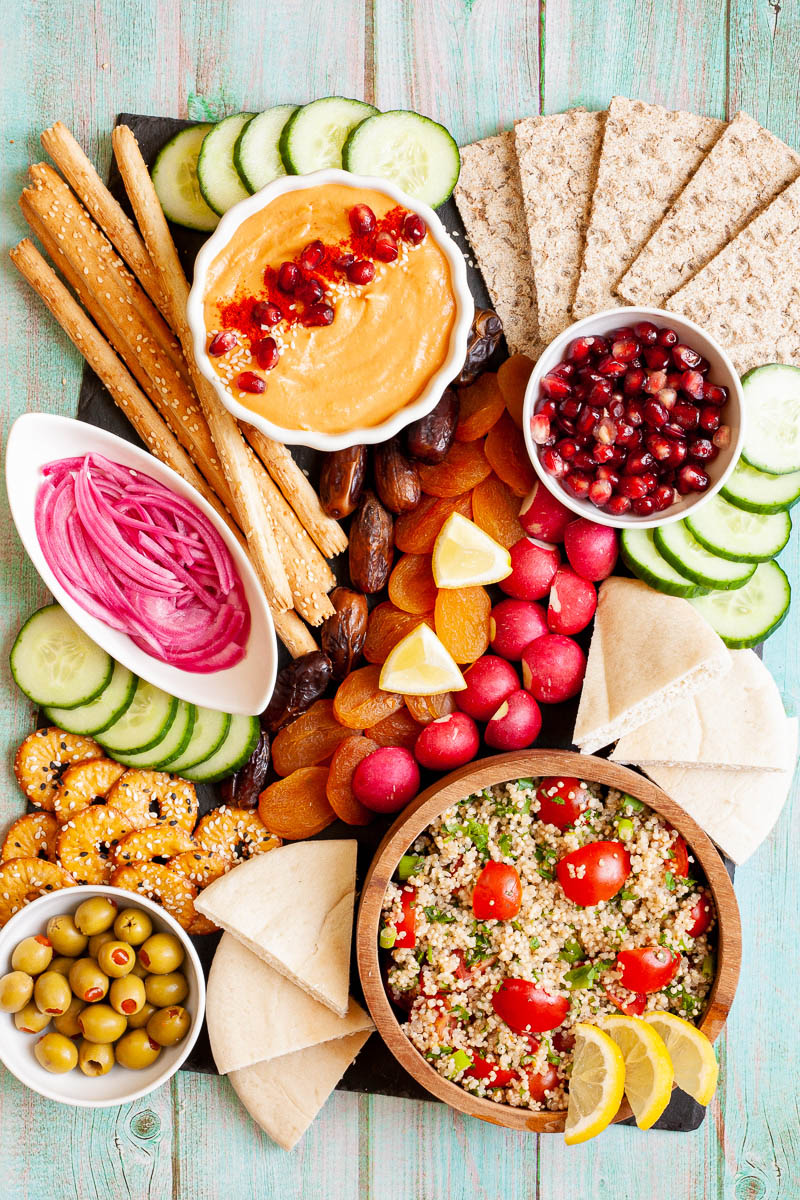 This Mediterranean Grazing Board recipe is meat-free, dairy-free, and egg-free. It is also suitable for a vegan, vegetarian, gluten-free, nut-free, and soy-free diet. It can also be WFPB-friendly (whole foods plant-based) if you sautee veggies in water or veggie broth.
More vegan snack recipes