How about a delicious Mediterranean pizza for your next pizza night? Take some quintessential ingredients like olives, feta, hummus, cherry tomato, and fresh basil to turn your regular pizza night into a Mediterranean feast.
Hummus is not only a delicious appetizer to dip your pita in. It is so much more. We even collected 25 creative and yummy recipes in our What to eat with Hummus post. Make sure to check it out if you love hummus as much as we do.
Ingredients
This Mediterranean inspired pizza is no ordinary one, as it is actually a hummus pizza. It means that the usual tomato-based pizza sauce is exchanged for homemade hummus. The toppings are also typical ingredients for Mediterranean cuisine like olives, feta, cherry tomato, and basil.
Here is what you need to make a pizza that looks exactly like the one on the picture:
Pizza dough (homemade or store-bought) – we have a super easy Gluten-free Pizza Crust recipe if you in need of one.
Hummus (homemade or store-bought) – we have a 5-min Creamy Oil-free Hummus recipe if you want to make it from scratch or Hummus without Tahini if you don't like tahini, find it expensive or just not available where you live.
Feta cheese – we used Violife Feta Cheese*, but feel free to use your favorite brand.
Pitted olives – we used both green and black olives, cause we love them :-). But if you can, try Kalamata olives (large purple ones), they are delicious too.
Cherry tomatoes
Purple onion
Fresh basil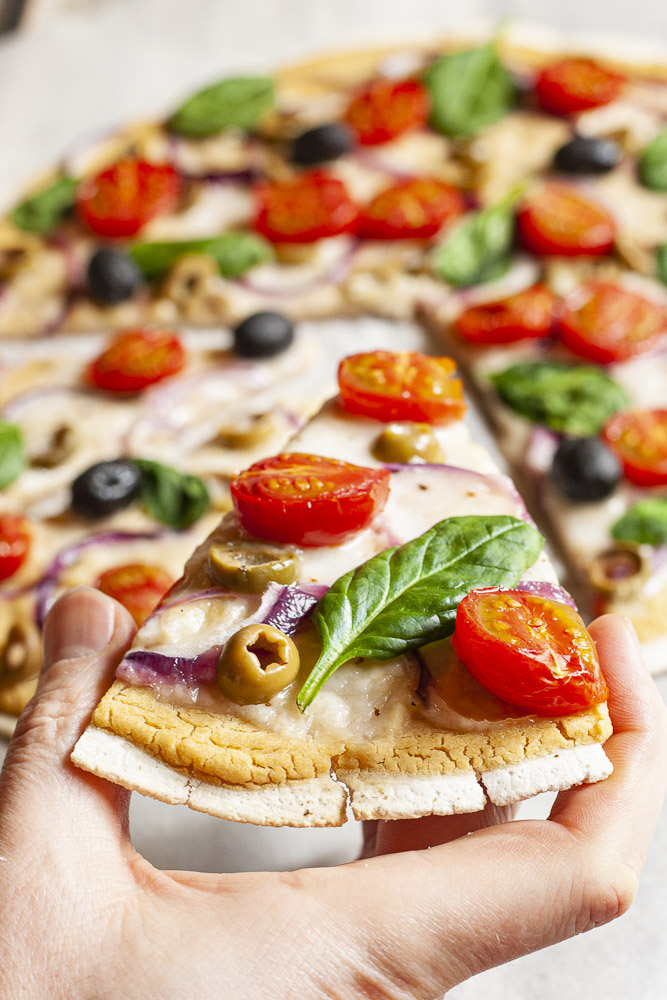 Variations to try
The Mediterranean basin is fortunately large including Spain, Portugal, Italy, Greece, part of the Middle East, and North Africa. So many delicious ingredients to choose from. Here are some of our favorite toppings to add to this pizza.
sun-dried tomatoes in place or in combination with cherry tomatoes
artichoke hearts
thin eggplant slices
sliced bell pepper
canned or cooked chickpeas, beans (cannellini, kidney, fava…)
figs
capers
arugula (aka rocket salad) in place of basil
mozzarella cheese in place or in combination with feta cheese (dairy or dairy-free)
(if you are not vegan, you can add anchovies, tuna, or sardines)
sprinkle the top with olive oil and/or balsamic vinegar
How to make a Mediterranean pizza?
Prepare the pizza dough
If you use your own pizza dough, follow the recipe or package instructions up until the point the dough has been rolled out.
If you try our no-knead, easy to roll Gluten-free Pizza Crust recipe, you need to pre-bake the crust before adding any sauce or topping. Preheat the oven to 390 Fahrenheit (200 degrees Celsius) and pre-bake it for AT MOST 3 MINUTES!!! Just until the top dries up a bit and you can spread the pizza sauce on it. See in the below photo that the crust is no longer shiny but matte. More details, step photos, and tips in the Gluten-free Pizza Crust post.
Grab the hummus
You can use homemade hummus or store-bought hummus (in case you need to buy a gluten-free hummus brand, check out our "Is hummus gluten-free?" post).
If you want to spice it up, you can even choose a flavored hummus. We usually use our 5-minute Oil-free Hummus recipe for pizza (see below picture), but trying this Roasted Beet Hummus should be fun too. Have you ever made a pink pizza? 🙂
If you absolutely don't fancy the idea of hummus as the base, try our No-cook Pizza Sauce that is ready in 5 minutes or our Marinara Sauce.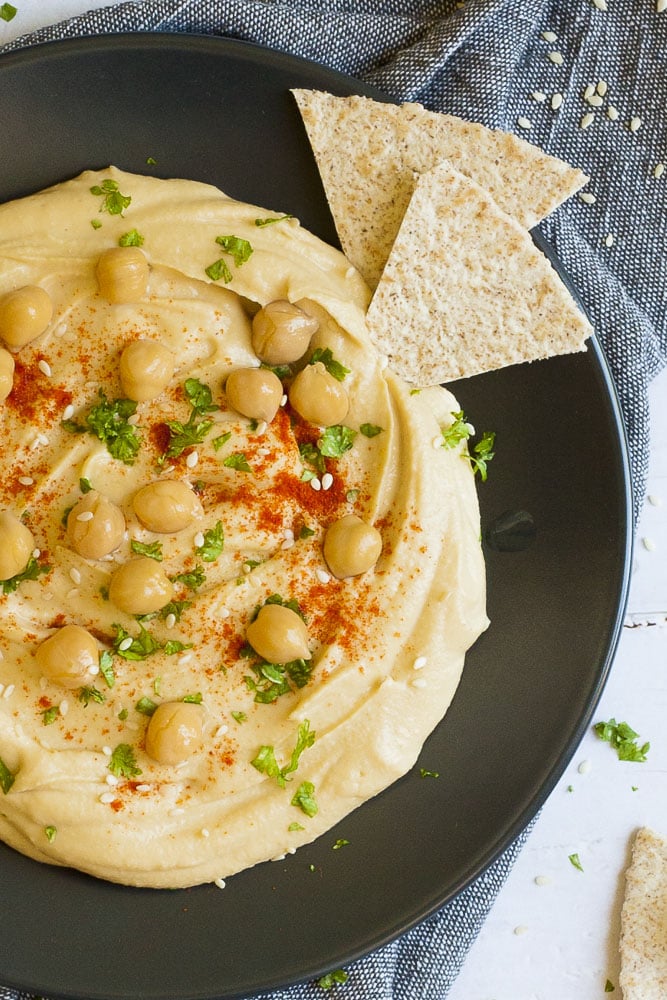 Add toppings
After spreading a generous layer of hummus on your pre-baked pizza crust, prepare the toppings and scatter them on it.
Wash and cut cherry tomatoes in half.
Crumble feta cheese.
Cut olives into rings or leave them whole.
Wash, peel, and slice purple onions.
Baking tips
To bake your Mediterranean pizza first pre-heat the oven to 390 Fahrenheit (200 degrees Celsius) temperature. I find that 15 minutes should usually be enough to bake the crust crispy and melt the feta cheese. Adjust baking time depending on what kind of toppings do you use.
We baked this pizza on a non-stick silicone baking sheet as well as on a sheet pan lined with parchment paper. We love how easy it is. I just can roll out the dough on it, pre-bake it, add the toppings and bake it fully without moving the pizza at all.
Use a pizza stone* for an extra crispy bottom.
If you use a pizza stone, we recommend using a pizza peel* as well so you can transport the pizza to the stone easier.
Once baked, move it to a wooden board to cool down. The wood can absorb the moisture or steam coming from the hot pizza. You will not lose the crispiness this way.
Cut it with a pizza wheel* or a very sharp knife.
Serving suggestions
When the pizza is baked and out of the oven, you can add even more yummy things on top.
Chop fresh basil or leave them as whole leaves and scatter them on top of your baked Mediterranean pizza (see below picture).
We love to add arugula (aka rocket salad) to almost any type of pizza we make. This one is no exception.
You can drizzle it with extra virgin olive oil or balsamic vinegar.
Brush the crust with melted garlic butter while it is hot.
Add some parmesan.
If you like it spicy, sprinkle some chili flakes or drizzle it with sriracha or other hot chili sauce.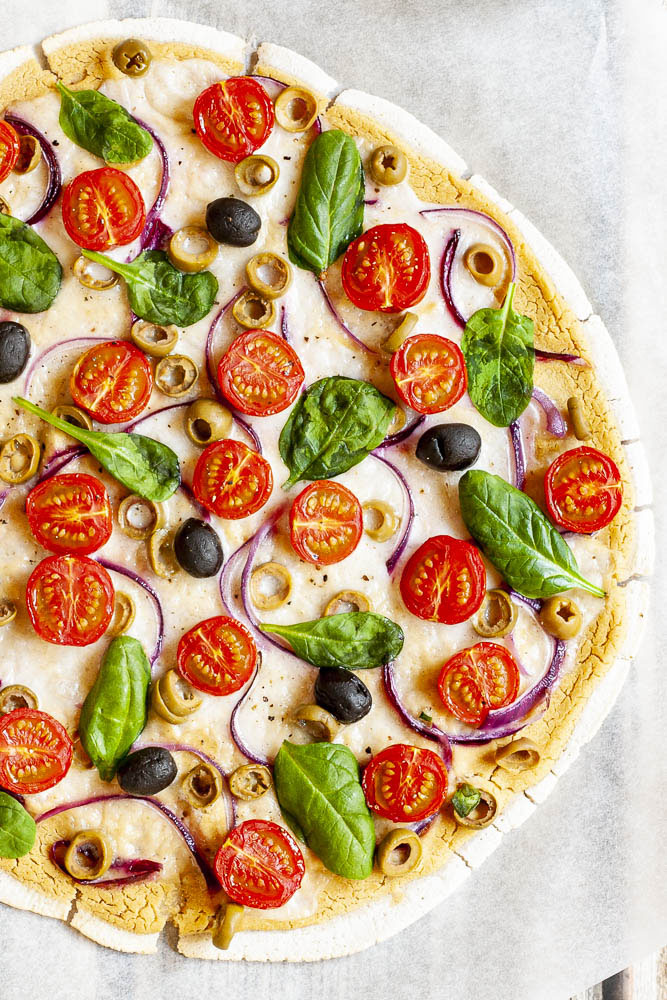 This Mediterranean Hummus Pizza recipe is meat-free, dairy-free, and egg-free. It is also suitable for vegan, vegetarian, nut-free, and gluten-free diets. It is also WFPB-compliant (whole foods plant-based) if you use oil-free hummus and feta cheese.
More quick dinner recipes
You can browse through our everything is done in 15 minutes Quick Vegan Meals collection or check out