Let's make delicious and crispy spring rolls with rice paper! I am talking about these cute rice paper rolls that have a colorful, pre-cooked veggie filling (with carrots, purple cabbage, spring onion, bean sprouts in this recipe) and baked in the oven until crispy. If you add the shredded hoisin tofu as well, you have some truly yummy vegan spring rolls in your hands.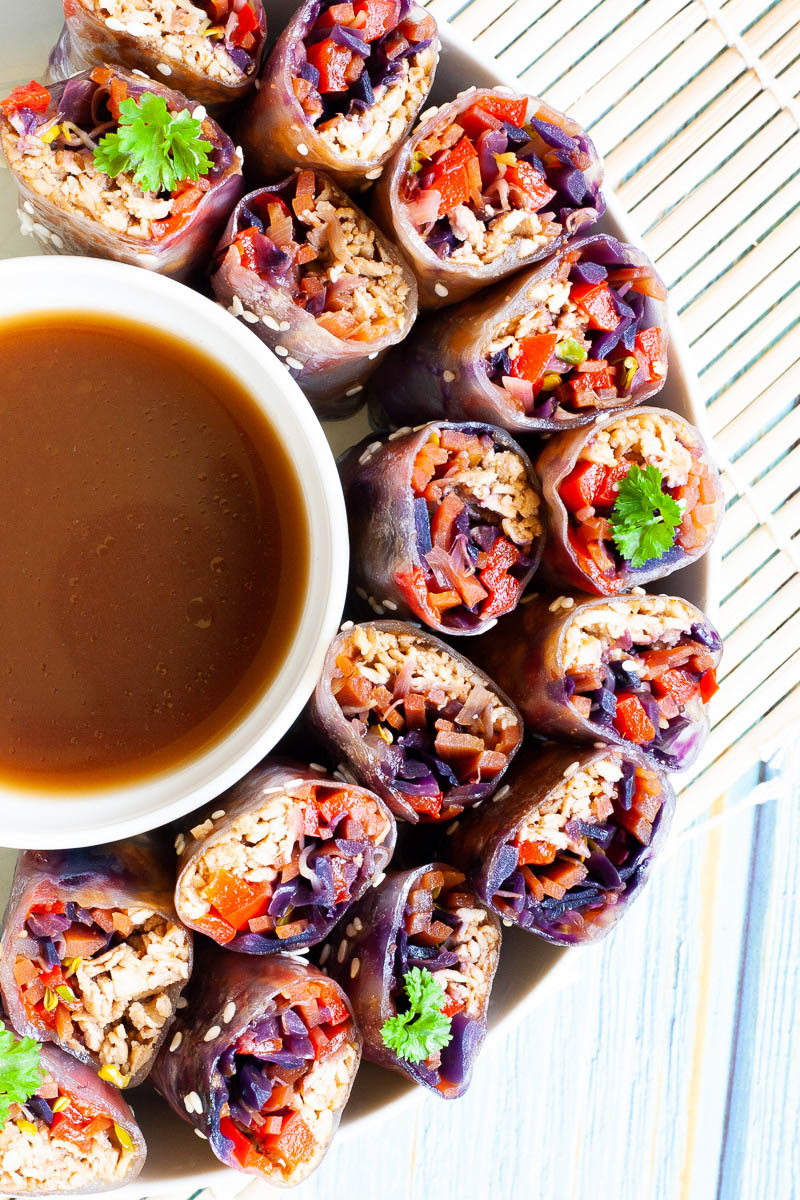 Rice paper is the perfect gluten-free alternative to the classic wheat flour-based spring roll wrappers most restaurants and take-out places are using. We have a whole article about "Are spring rolls gluten-free?", where you can read all the information we could gather about the different fillings and wrappers.
Spring rolls vs summer rolls
Spring rolls are originated from Mainland China and served during its annual Spring Festival. They are savory rolls filled with an array of shredded or julienne veggies and pan-fried or deep-fried until crispy. Occasionally, they contain meat, seafood or tofu. The rolls are opaque and yellowish.
Don't confuse them with Vietnamese summer rolls. Summer rolls contain usually only raw, fresh veggies wrapped up in rice paper. They are served as uncooked, and cold appetizer. These rolls are transparent and white.
Can you make spring rolls with rice paper?
The short answer to this question is absolutely. You can make delicious spring rolls using rice paper.
One of the reasons you are probably searching for rice paper spring rolls recipe is that you want to make gluten-free spring rolls. We have a complete article titled "Are spring rolls gluten-free?" where we explain that sadly the classic spring roll wrappers are a no-go on a gluten-free diet.
The first time we tried making rice paper rolls crispy was in this Gluten-free Samosas recipe. Samosas should be these cute little triangle- or cone-shaped packets, but just as well the classic samosa wrapper is also not gluten-free. So rice paper saved the day then, and just well as it will save the day now. We will show you how and share all the tips and tricks we gathered so far.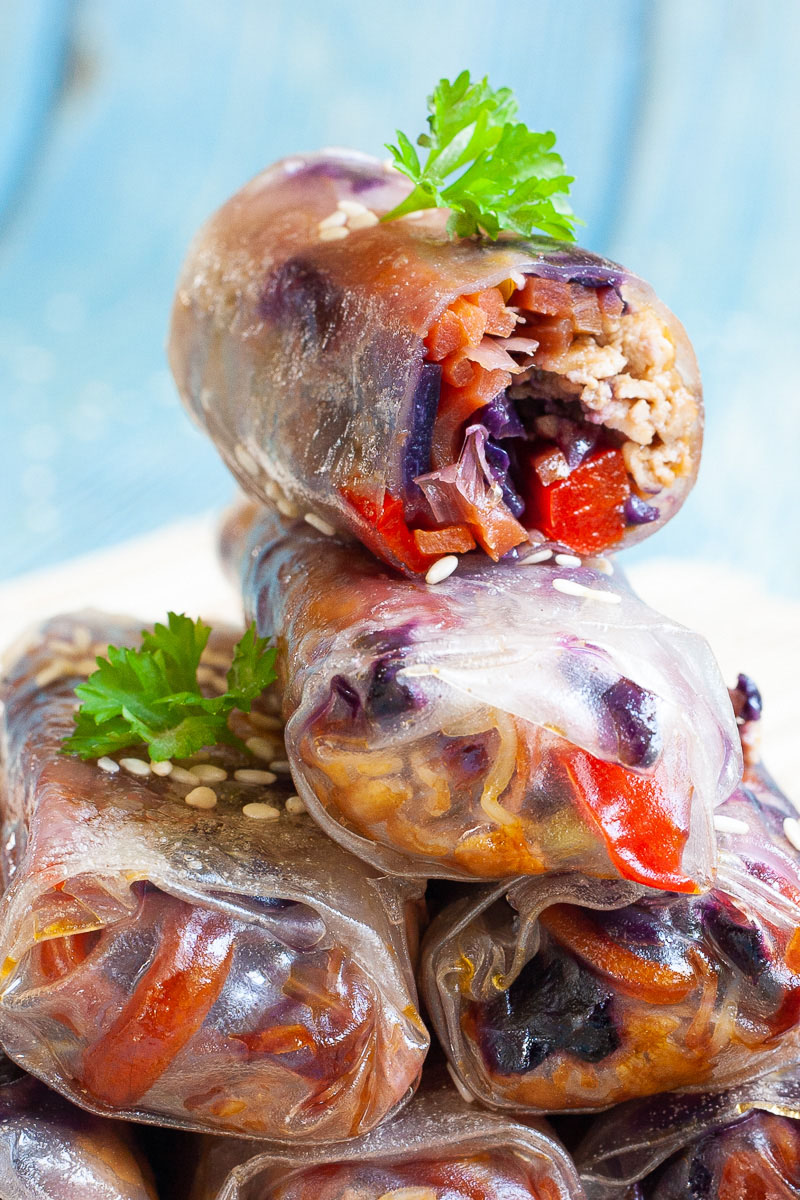 How to make a veggie filling?
Classic spring rolls are usually only have vegetables as a filling. Cabbage, carrot and sprouts are one of the most common ones to include. Other also quite popular ones are cucumber, mushroom, and bamboo shots.
Prepare the ingredients
Wash, peel and shred carrots using a grater or cut them in julienne-style with a knife. Julienne means thin matchsticks, so cut them as thin as you can.
Wash and cut spring onion and bell pepper in julienne-style with a knife.
Take the outer leaves of the purple cabbage. Shred them using a grater with large holes or cut them into shreds with a knife.
Wash bean sprouts if you bought them unwashed.
Pre-cook the veggie filling
Take a frying pan or a skillet and heat it over medium heat. Add sesame oil.
Add all cut veggies (spring onion, carrot, bell pepper and purple cabbage). Stir and cook them for 1-2 minutes.
Add bean sprouts and soy sauce (use tamari for gluten-free or any of the 5 gluten-free soy sauce substitutes as per your choice). Stir and cook for another 1-2 minutes.
The filling is ready when the veggies have softened but they are still a bit crunchy. You don't want them too soft and mushy. You can check the texture on the below picture.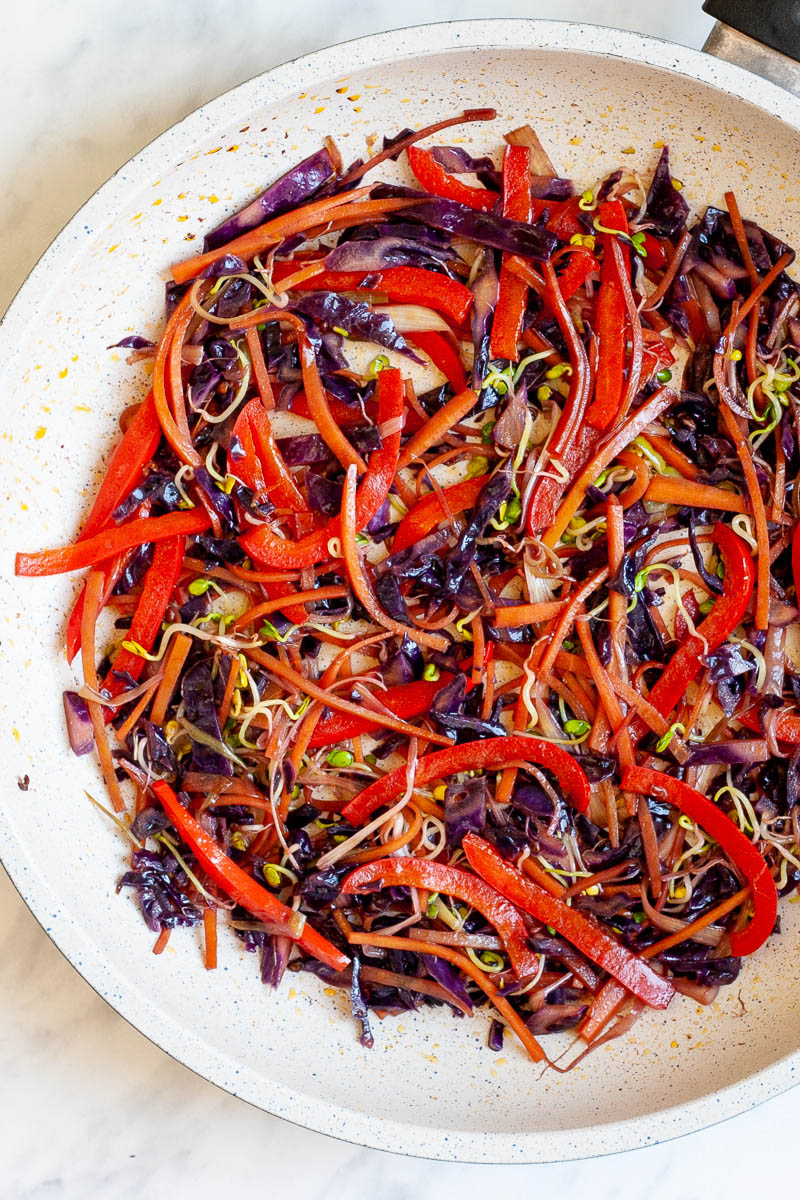 Add tofu and turn them into vegan spring rolls
If you want to go a step further and add a little bit of protein, you can turn these rolls into delicious vegan spring rolls. Think about adding some yummy shredded tofu caramelized in a sweet hoisin sauce.
Use a firm tofu and press it. We use our trusted TofuBud* for it, but you can choose any DIY method or tofu press. Pat it dry with a paper towel.
Use a grater with large holes and grate the firm tofu. We used ⅓ of a tofu block to make 16 spring rolls.
Take a frying pan or a skillet and heat it over medium heat. Add sesame oil.
Add shredded tofu and soy sauce (use tamari for gluten-free or any of the 5 gluten-free soy sauce substitutes as per your choice). Stir and cook for 1-2 minutes.
Add hoisin sauce. Stir and cook for another 2-3 minutes until the tofu gets dark brown. See the below photo for texture reference.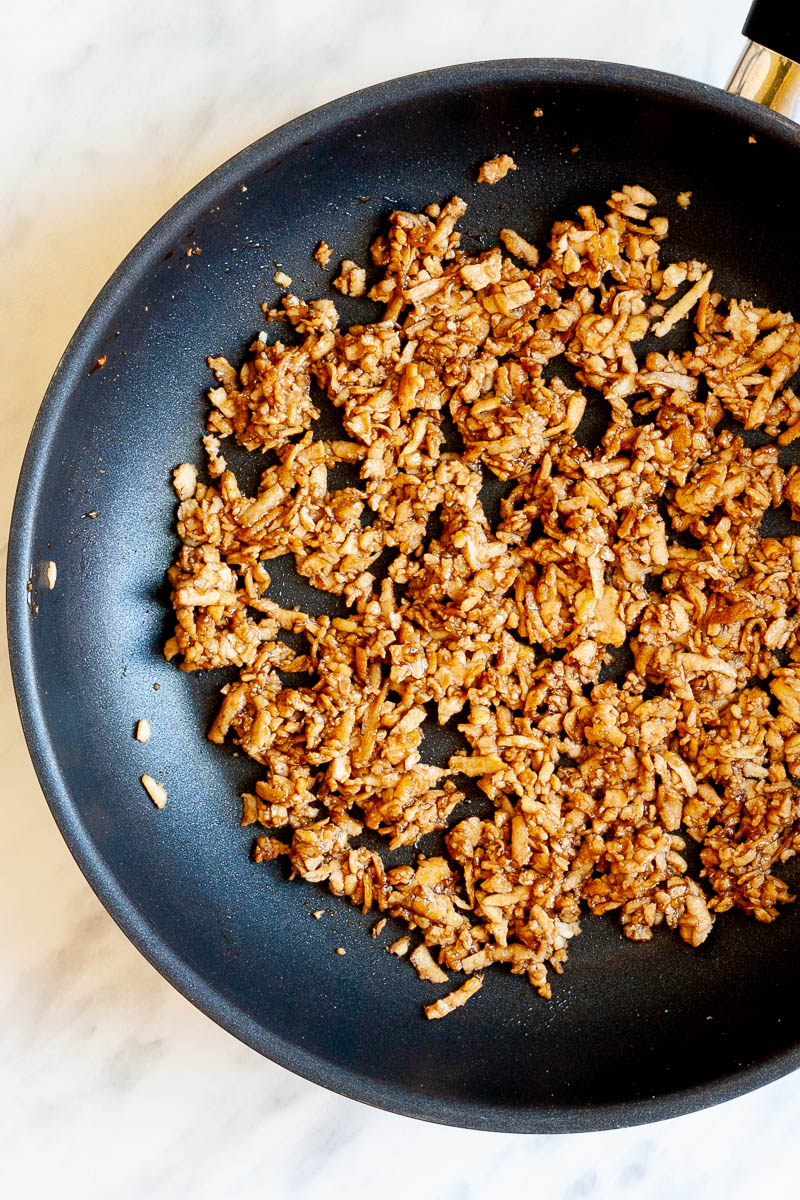 How to roll rice paper spring rolls?
You'll see it is pretty easy. There are only a couple of things you need to pay attention to. I will walk you through it step by step. You can also watch it in our short video. If you want perfect results, be sure to check out our "Top tips on using rice papers" section right below the step photos!
Preparation
Let the filling you want to use cool. I really don't recommend starting while it is hot or too warm.
Pour water in a large shallow bowl. You should use a large enough bowl so you can submerge the rice paper in one go.
If you want to bake the rolls, place the baking sheet with parchment paper or a non-stick baking mat nearby. If you want to deep fry them or use an air fryer, I still recommend placing them on a parchment paper. Soft rice paper can be sticky to work with.
Rolling your rice paper
Gently submerge the rice paper. (See top tips section on how to know the duration right below the step photos.)
Once submerged, transfer it to a dry and smooth surface. (I wipe my surface more or less dry after each roll.)
I place the filling in the middle around the lower third of the rice paper. If you have a standard size rice paper (approx. 20-22 cm /8-9 inches), you can fit 2-3 Tbsp of filling, which would make an approx. 10 cm (4-inch) long spring roll.
First fold the sides gently but tight towards the middle.
Take the bottom seam and fold it upwards gently, but tight.
Use your fingers to tuck the filling tight within the rice paper before rolling it all the way up.
Roll it all the way up, but use your fingers to keep the filling tucked tightly.
Place your finished spring roll on a parchment paper with the closing seam on the bottom.
Top tips on using rice paper
We have written a Complete Guide to Rice Paper Wrappers including the Best Rice Paper Rolls recipes where we share detailed information about how they are made, what is the difference between them and why is that difference important in terms of how to handle them, or how to roll them. However the 3 most important tips to know about is here below:
Use dry hands

-> Always dry your hands before taking a rice paper from the package. Wet hands will activate them and they will stick together.

Damp towel or submerging in water?

-> The short answer is "it depends on the tapioca starch content of your rice paper". You would think rice paper is just rice. But that is not always true. If you check your packaging you will see that there is tapioca starch. The ratio of tapioca dictates how you need to handle your rice paper. If you see tapioca starch only (it can happen) then a damp towel is enough to get them soft. If you see rice flour only (it can also happen), then you need to submerge it in water to get them soft. The larger the ratio of the tapioca (it means the thinner your rice paper) the less time you need to submerge it. In short, keep it shorter and double up if needed.

How to test how much time you need to submerge the rice papers?

-> The rice paper your see on the video is 100% rice flour. I submerge this type for 7-8 seconds. If you have rice paper with tapioca starch you might need less time. So how I test it? I submerge the rice paper and gently pet it with my hands in the water. I take it out while I still feel it hard. I usually start with 3-4 seconds. I place it on the surface I want to work on and wait for 2-3 seconds and gently pet it again and see whether they became soft or not. If yes, I add the filling. If no, I submerge it again for 2-3 seconds.
Let's make crispy spring rolls in rice paper!
First of all, let me start with saying "too wet rice paper is the enemy of crispiness!
In this recipe we use very little oil and sauce to make sure that the filling is not too wet. If you use more sauce or oil, the filling will keep the rice paper moist. Which means longer baking time or good bye to crispiness all together.
You only have a chance to make your spring rolls crispy if you keep your rice paper rolls as dry as possible and as tightly rolled as possible. If you feel that the rolls is still too wet, pet them with a dry paper towel or put them in the fridge before baking, deep-frying or air frying.
We show you below 3 cooking methods so you can choose which one you like the best. Each has advantages and disadvantages. Baking results in the least crispy of all and can do large quantities. Deep frying will result in heavy, oil-infused rolls and can only fry a handful at a time. Air fryer might not be a gadget you have and can only fry a handful at a time.
Baking them in the oven
Pre-heat the oven to 395 Fahrenheit (200 degrees Celsius).
Place the rolls on a baking sheet with parchment paper or a non-stick baking mat.
Spray it with a bit of oil. Don't brush them as you might end up adding too much.
Bake them for 10-15 minutes. The rice paper will not change color really, so don't wait for them to be golden brown. I usually flip them after 10 minutes to make sure that they are crispy all around.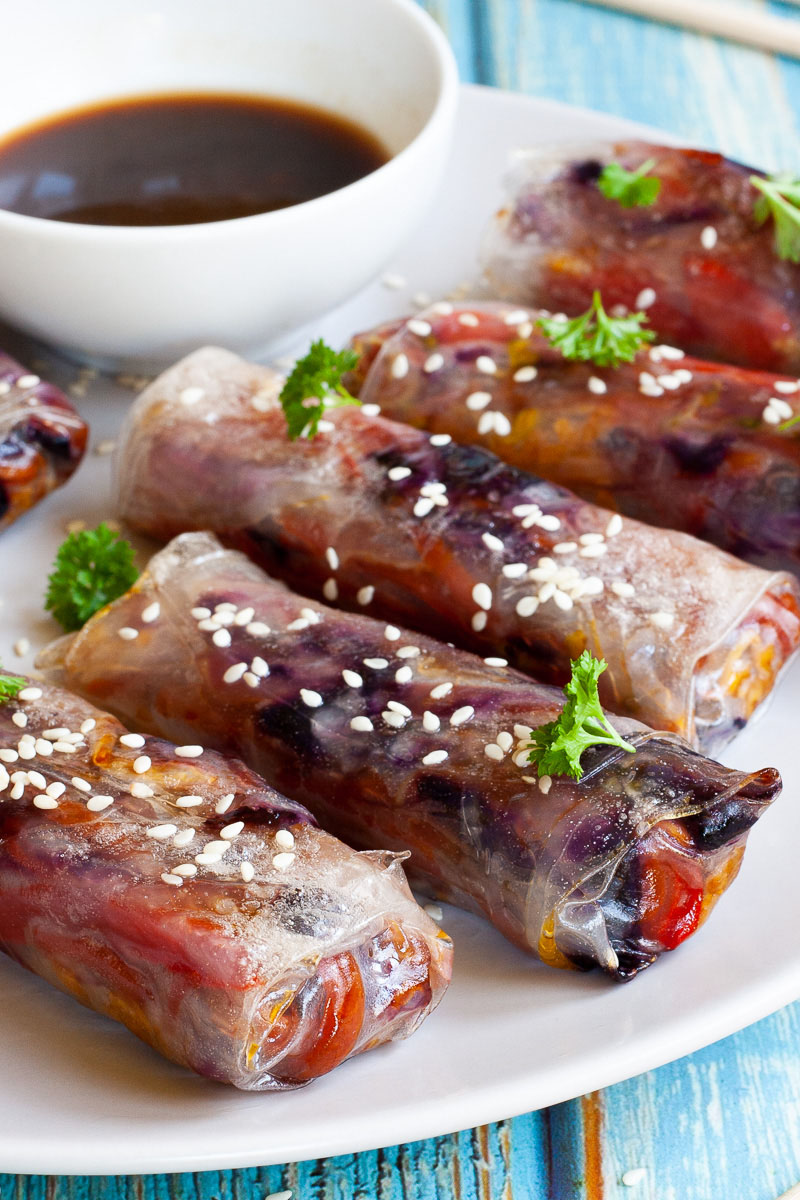 Deep frying
We recommend placing the finished spring rolls in the fridge to get rid of any moisture. Make sure they don't touch and cover them with a saran wrap. The reasons is that any moisture will pop the rolls open once they connect with the hot oil. Heat up a pan with enough oil to cover them and deep fry them for a couple of minutes. They will get a bit blistered and bubbly.
Air frying
Once the spring rolls are ready. Spray a bit of oil on the bottom of the air fryer. Air fry them for 380 Fahrenheit for approx 10 minutes. Definitely check at the 10 minute mark. You can see the results here.
10 dipping sauces for spring rolls
What goes well with spring rolls? Here are a couple of ideas if you want to make your own: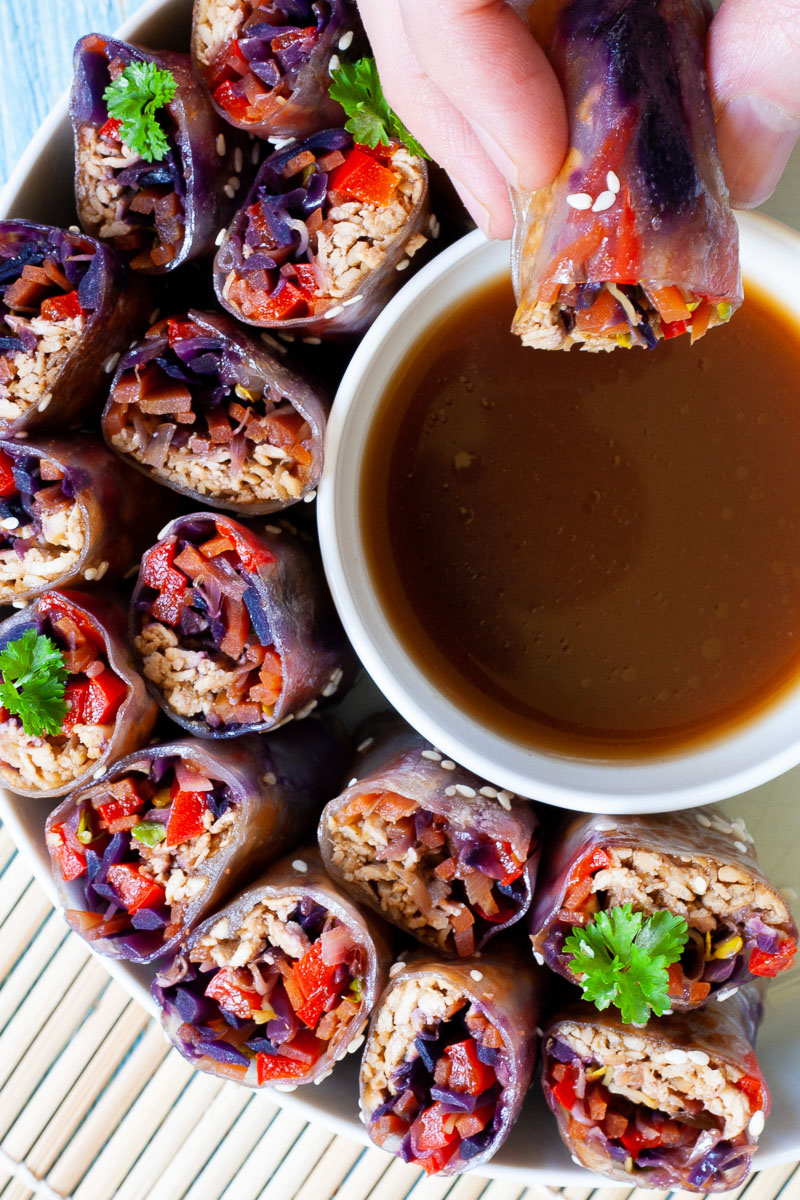 This Rice Paper Spring Rolls recipe is meat-free, egg-free and dairy-free. It is suitable for a vegan, vegetarian diet. It is nut-free, and gluten-free, but not WFPB-friendly (whole foods plant-based) as you would need a bit of oil even for air frying. It is soy-free if you use liquid aminos instead of soy sauce.
More Asian-inspired recipes