What are oyster mushrooms? How do they taste? How to clean, store, and prepare them? How to cook them? Here is a complete guide to cooking with oyster mushrooms. Everything you ever wanted to ask! We even included 20+ amazing oyster mushroom recipes for you to try first.
Have you seen our other featured ingredient guides? We write detailed prep and cooking guides to different ingredients that are important or popular in a vegan diet for example or Cooking with Eggplant guide or our What is TVP? guide.
I don't want to bore you with the history of oyster mushrooms, or how to grow them. I will only write about the things you need to know to make delicious oyster mushroom recipes. Nothing less, nothing more.
What are oyster mushrooms?
Let's start with two most common types of oyster mushrooms so you can identify them easily when going shopping.
Pearl oyster mushrooms (Pleurotus ostreatus) are one of the most common types that are available in stores. They are white or light brownish-greyish. Their large cap is shaped like an oyster shell (hence their name) and tilted to the side. They have large visible gills with the same color as the cap. Pearl oysters have a thick and short stem. (pictured below)
King oyster mushrooms (Pleurotus eryngii) are also known as King trumpet mushrooms or French horn mushrooms. They have large thick stems shaped like a trumpet (hence their name) usually in a white brownish color. They have rather small caps compared to pearl oysters in a darker brown color. (pictured below)
There are a couple of other types like golden, blue, pink, black, and phoenix oysters. To be honest, I have never come across any of these types in stores. They are all edible and would make a nice and colorful addition to any of the recipes. You can read about the different types, their lookalikes, and how to identify them here.
Where to buy them?
Oyster mushrooms are more expensive than button mushrooms. They are also not commonly available in all stores. But if you do find them, you are in for a treat as there are so many delicious recipes you can make. You'll see. We have a list for you later.
Asian specialty stores – As oyster mushrooms are quite popular in Asian cuisine (Chinese, Japanese, and Korean mostly) so you can most probably find them in those stores.
Asian or Oriental section of large stores like Whole Foods or Wal-Mart.
Grow your own at home – They are supposed to be one of the easiest mushrooms to grow at home with a growing kit* if you want to try.
How to choose fresh mushrooms?
Mushrooms are delicate ingredients and oyster mushrooms are no exception. If they are not stored properly, they can go bust really fast. It is important therefore, that you choose fresh mushrooms so they last longer at home. How do you know if the oyster mushrooms are fresh?
The date of harvest on the package is within 1-2 days of your shopping as they deteriorate usually within a week if not less.
The caps have one, uniformed color. No brown spots.
The mushroom caps have a firm, smooth surface. No indentation.
The oysters appear to be dry. No moisture or condensation can be seen on the packaging.
If there are small cracks or cuts around the edges of the caps, that is fine. The mushrooms are wrapped so tightly that they sometimes crack under that pressure. If there are no color or texture changes, you are good to go.
How to store oyster mushrooms?
If you buy oyster mushrooms, you will likely get them in a plastic container that is wrapped tightly with cling foil or saran wrap. Don't keep them in the packaging if you can! Even if you store them properly, mushrooms are deteriorate within a week, if not less. So make them sooner rather than later.
We always take them out as soon as we arrive home. We keep them in the fridge in the bottom drawer on a paper towel uncovered. Mushrooms like dark and moist environment, but they also like to breathe. So don't wrap them up again or store them in airtight containers. If there were any moisture or condensation within the packaging, towel dry it before placing the mushrooms in the fridge.
How to prepare oyster mushrooms?
Oyster mushrooms don't need much preparation. All parts of them are edible, the caps, the gills, and the stem.
Oyster mushrooms are grown on trees, so they don't usually too dirty. If you find any dirt around the end of the stem, just

wipe it clean with a paper towel

or cut that part out.
I have never ever needed to clean oyster mushrooms with water. But if you want to, just rinse them with a colander* or a sieve*. Don't ever soak them.
You

don't need to peel

oysters. If the end of the stem feels too hard or dry or discolored, cut out that part.
Similar to all mushrooms, pearl oysters release moisture (maybe not as much as button mushrooms) and will shrink. Try

not to slice them too thin

or they disappear in front of your eyes during cooking. Okay, not quite, but you get the gist…
No need to cut pearl oyster mushrooms actually, because they are soft and can be

torn apart with your fingers

along the gills.
You can cut king oyster mushrooms to

rings

or slice them in half lengthways or use a fork to pull them into stripes.
3 features you should know about
There are 3 things you should know about oyster mushrooms before deciding on which recipe to choose:
There is a huge difference between pearl oyster mushrooms and king oyster mushrooms. Pearl oysters are used similar to common button mushrooms. They are sliced and then sauteed or roasted or added to soups and stews. However, king oyster mushrooms have a very sturdy, large, thick stem, which means they are not easy to fry and not end up something hard and chewy. That is precisely why king oyster mushrooms are perfect to make mushroom steaks or other vegan beef dishes or even vegan scallops, cause you need this meaty feature to remain after cooking.
Like any other mushrooms, pearl oysters also release water while cooking. This means they will shrink. Even if you have a pot or sheet pan full of mushrooms, you probably end up with half of the size. Take this into account when you decide how much mushrooms do you need or how thin you want to cut them.
Both pearl and king oyster mushrooms have a spongy texture, which means they soak up juices. On one hand, it is super helpful if you want to marinade them as the flavors get in easily. On the other hand, you need to watch out how much oil you want to or need to use to cook them.
How to cook with oyster mushrooms?
Let's start with pearl oyster mushrooms first. If you have been using button mushrooms, you can pretty much do the same with them.
Sautée

them in a pan or skillet then add them to pasta, risotto, burgers, sandwiches – check out our Vegan Cajun Pasta recipe with top tips on how to turn mushrooms crispy instead of soggy.

Stir-fry

them with other veggies and legumes and serve with fried rice or noodles.

Roast

them in an oven – check out our Vegan Shredded Chicken recipe, which is actually torn oyster mushroom glazed in buffalo sauce and roasted in the oven.

Deep fry them

– coat them with a crispy breaded crust or pakora and deep fry them.

Add to soups and stews

– they can be a great addition to many soup and stew recipes.
How to cook king oyster mushrooms? Due to their sturdy, large, thick stem, they are perfect to turn them into vegan meat like mushroom steaks, vegan scallops, or vegan pulled pork, because you need this meaty feature to remain after cooking.
Sautée them in a pan or skillet after.

Grill

them on a skewer.
Roast them in the oven.
10 delicious oyster mushroom recipes
Let me tell you that there is no shortage of oyster mushroom recipes for both types (pearl and king). They are a very popular and versatile ingredient that works well with lots of different flavors, textures and cuisines. You'll see I have recipes from all over the world so you can pick the perfect one to try first. And then you'll love oyster mushrooms just as much as we do.
Pearl oyster mushroom recipes
As I explained before there is a difference between pearl and king oyster mushrooms not only in appearance but in how you cook with them and what kind of recipes are suitable to use them in. Here are our 5 favorite recipes using pearl oyster mushrooms:
Cajun Pasta
Thai Red Curry
Teriyaki Stir-fry
Creamy Polenta and Mushrooms
Smoky Beans and Rice
Cajun Pasta
This is an easy and creamy Cajun Pasta recipe with pearl oyster mushrooms and bell peppers that you can make in 30 minutes. If you like spicy and creamy pasta dishes, this Vegan Cajun Pasta will be just to perfect way to try oyster mushrooms.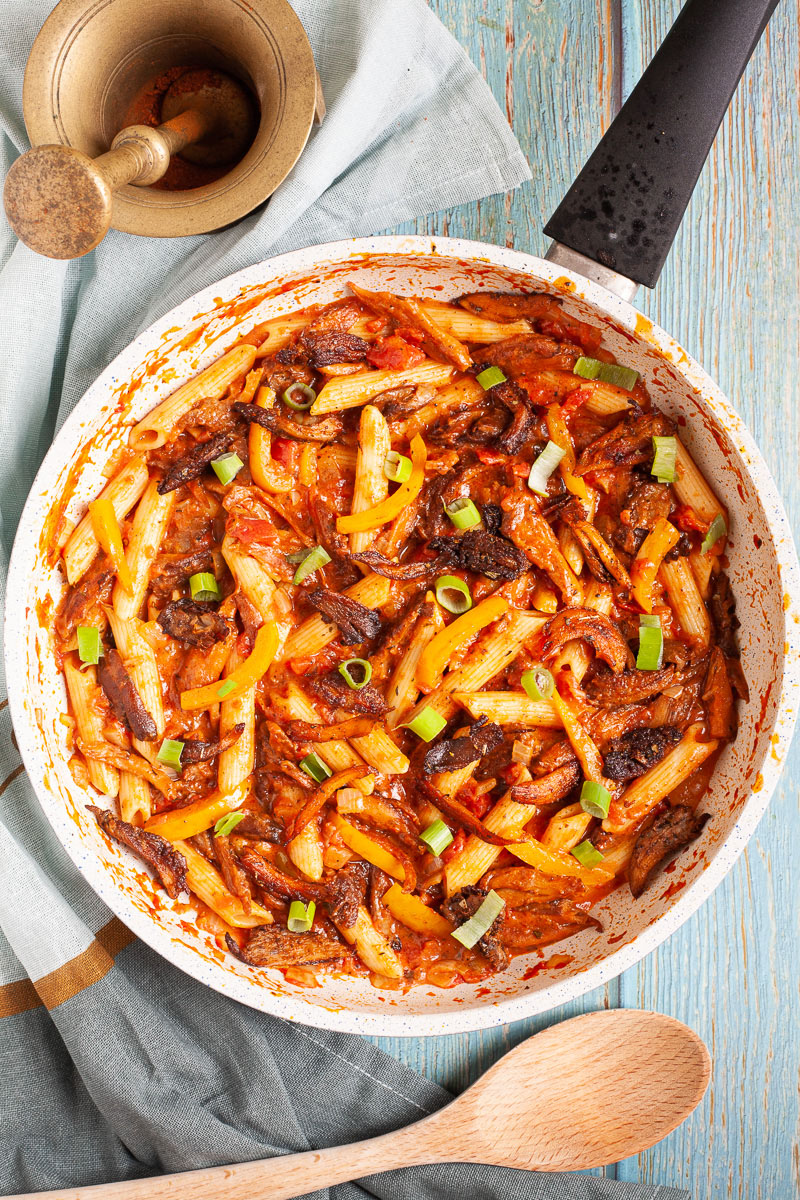 Thai Red Curry
If you prefer bold curry flavors, choose this creamy, but aromatic Thai Red Curry recipe with pearl oyster mushroom, tofu and green peas. Or add more green veggies like broccoli, asparagus or peppers. Serve it with steamed basmati or jasmine rice and your delicious dinner is ready!
Teriyaki Stir-fry
If you are craving a hot and spicy quick meal, try this absolutely fantastic Vegan Teriyaki recipe with oysters and Brussels sprouts. It is better than takeout especially as you can make a homemade Teriyaki sauce from scratch.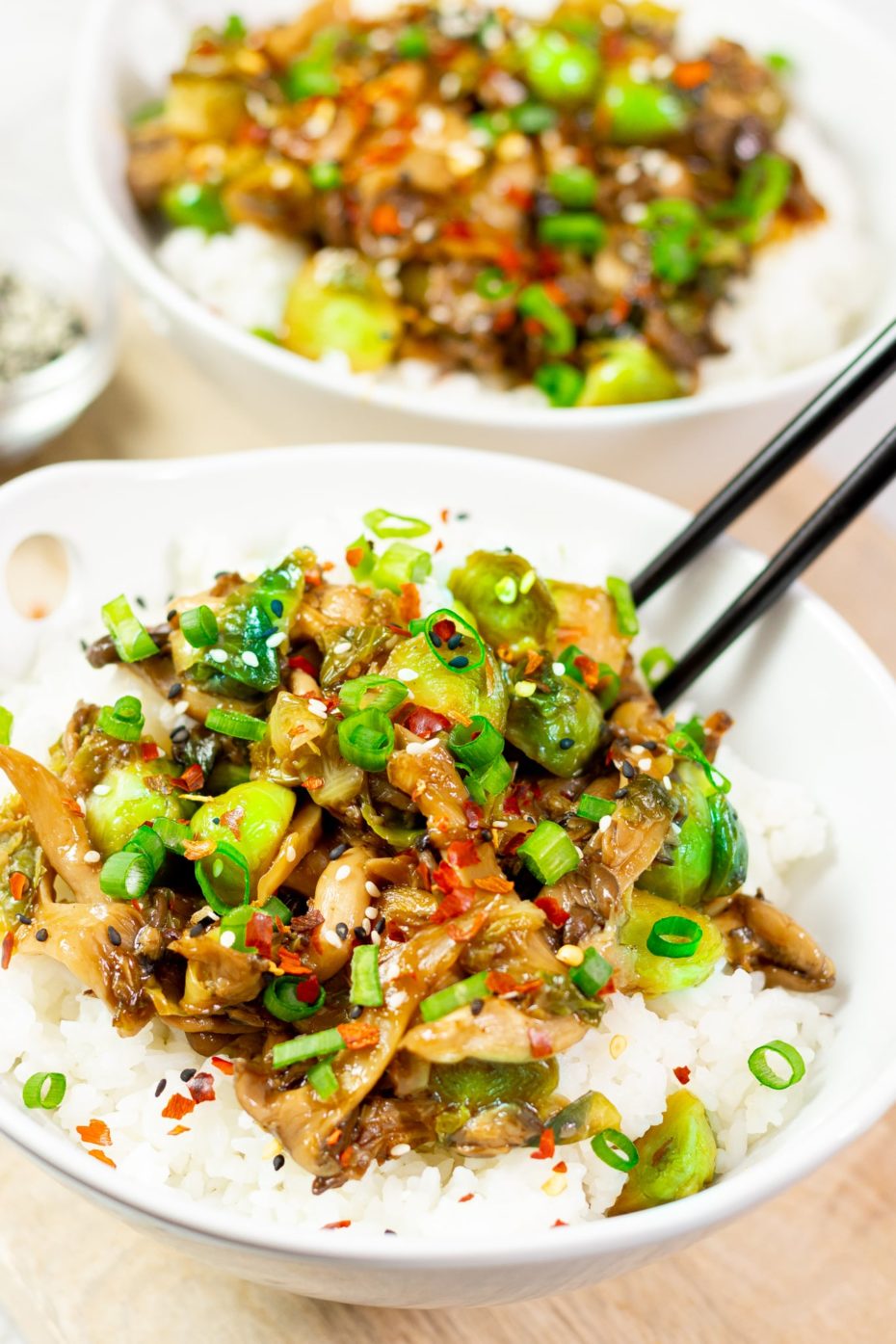 Polenta with Mushrooms
Seriously, you cannot miss this Vegan Polenta with Roasted Mushroom recipe. Just image a creamy polenta seasoned with thyme served with oven roasted pearl oyster mushrooms drizzled with red wine vinegar. Are you drooling yet? I know I am.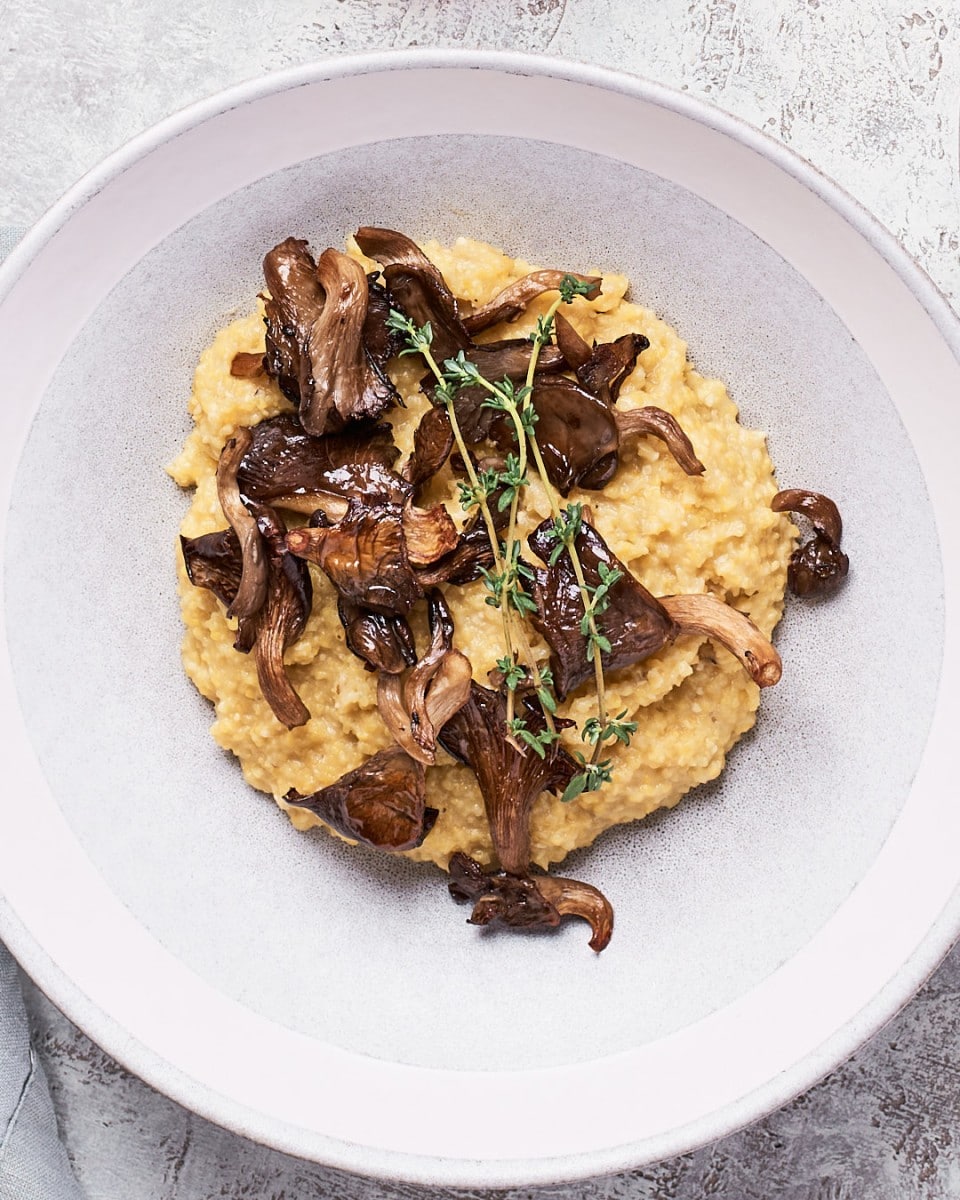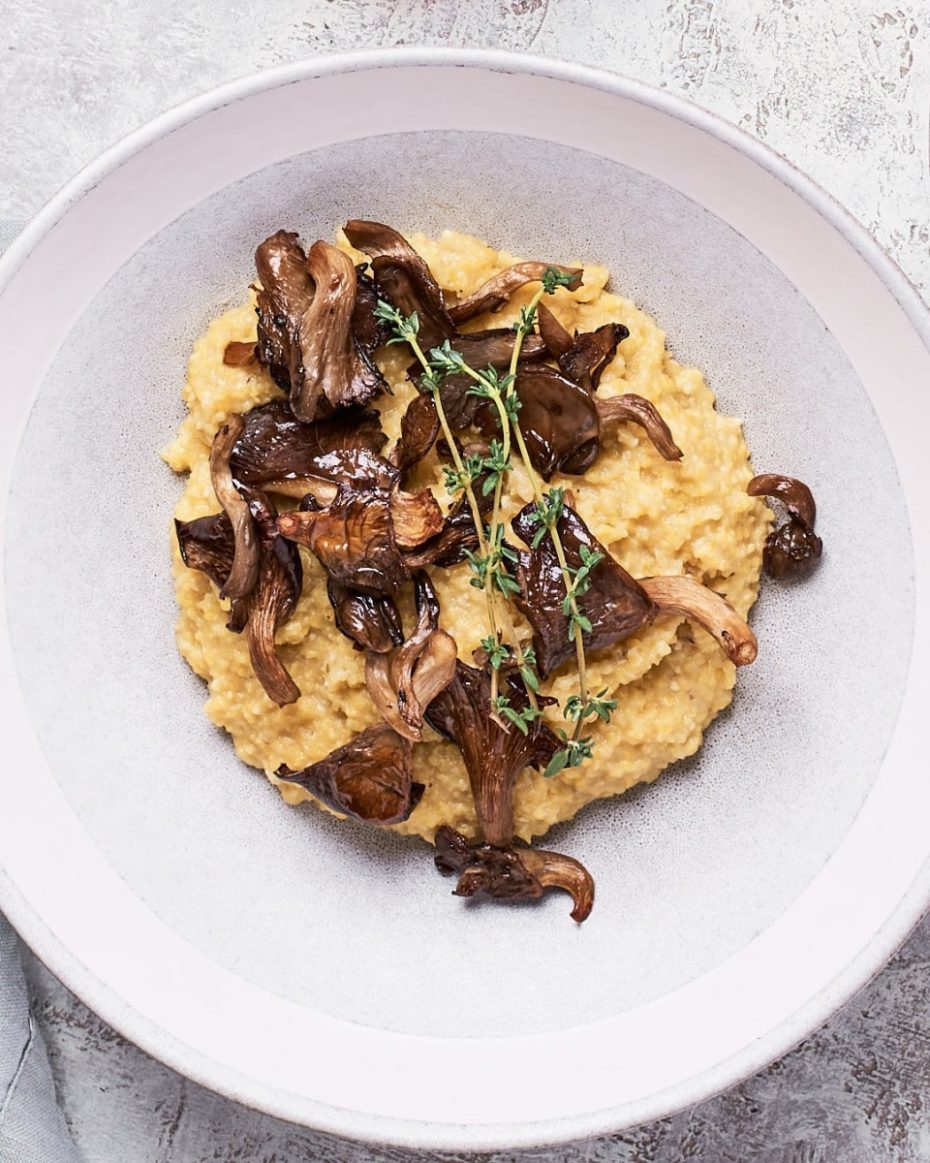 Smoky Red Beans and Rice
This recipe has a great twist to make a classic New Orleans dish stand out. You have a rich, filling and flavor-packed Vegan Red Beans and Rice recipe with inexpensive ingredients like beans and rice. But what makes it special is the smoky pearl oyster mushrooms.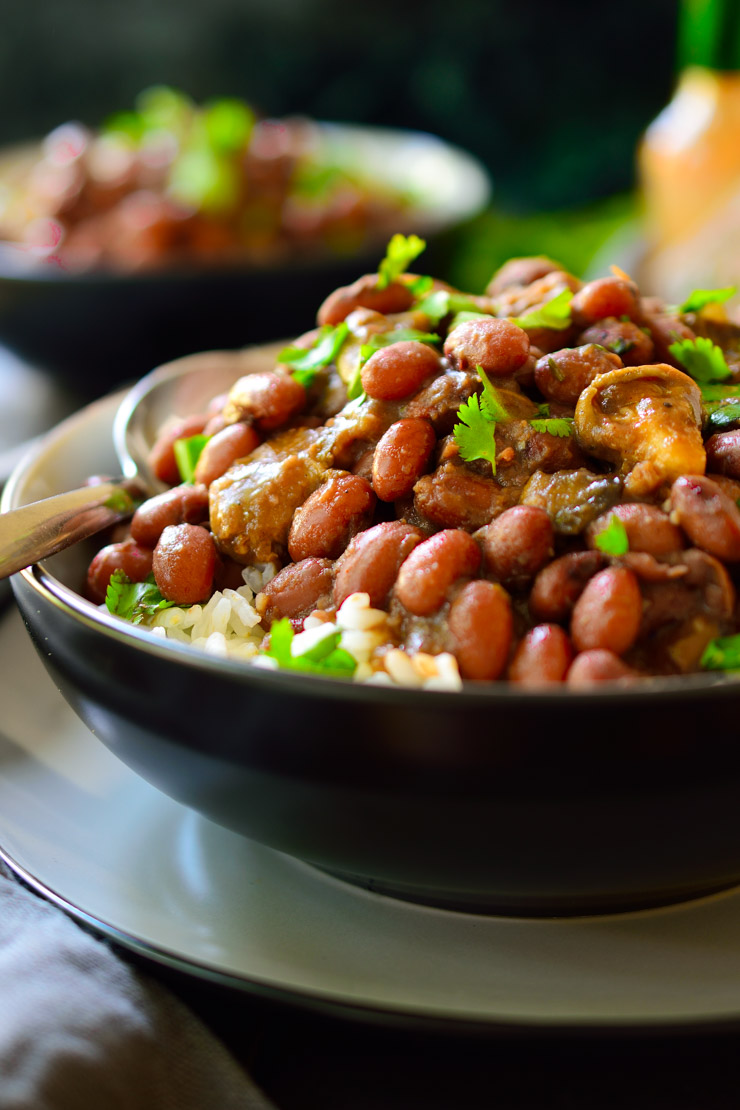 King oyster mushroom recipes
King oyster mushrooms are sturdier than pearl ones with a quite hard stem. Therefore, you'll see that different kind of recipes are using them. Here are our 5 favorite recipes using king oyster mushrooms:
Yakitori aka Japanese BBQ
Tikka Masala
Pho Noodle Soup
Rigatoni with Mushroom Cream Sauce
Veggie-pack Green Salad
Yakitori aka Japanese BBQ
The sturdy texture of king oyster mushrooms makes them a perfect candidate for bbq skewers. We have a classic Grilled Veggie Kabob recipe with button mushrooms, but this Vegan Yakitori recipe looks just stunning. The mushroom slices are covered with tare sauce aka Teriyaki sauce.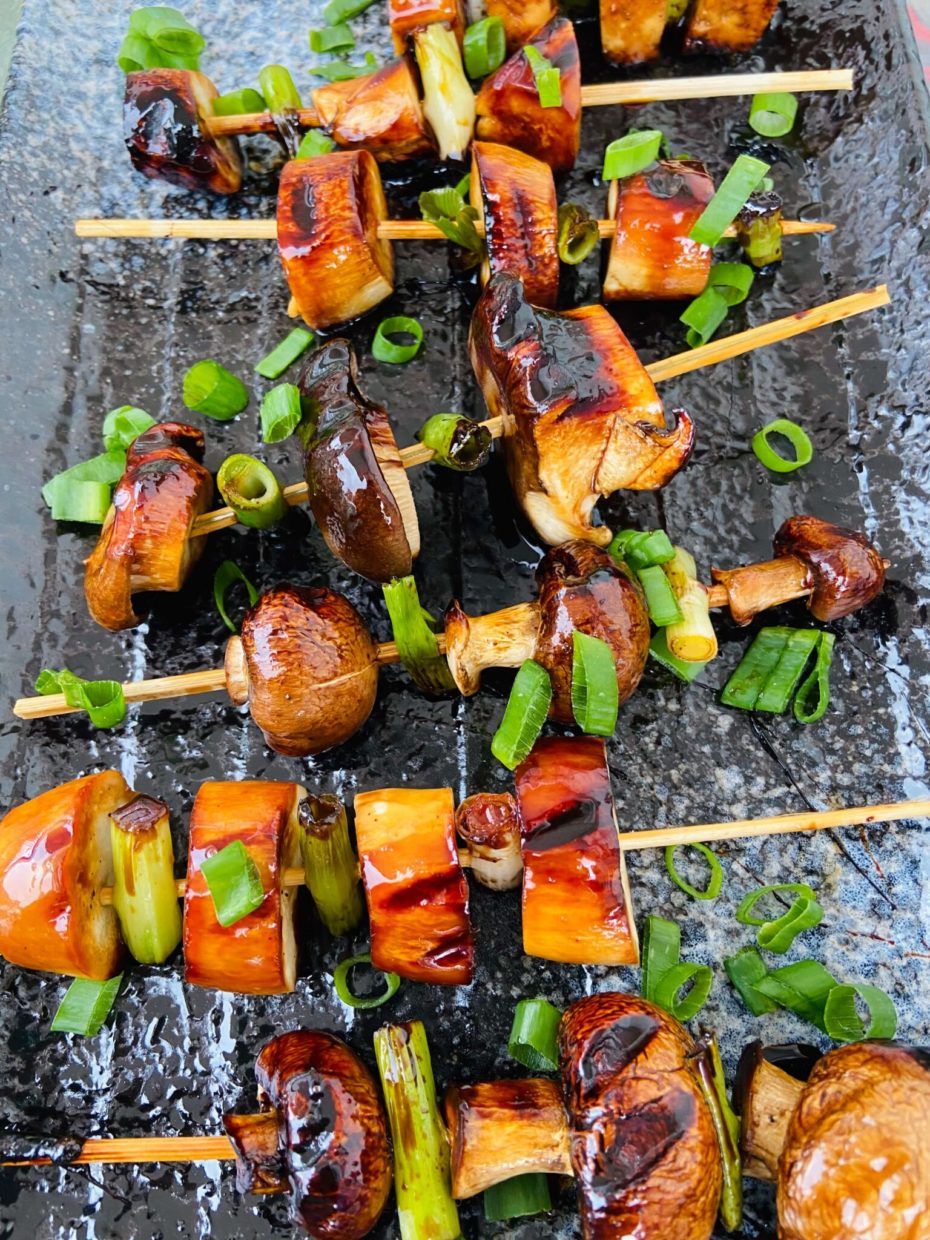 Tikka Masala
Shredded king oyster mushrooms are accompanied in this Vegan Tikka Masala recipe with chickpeas and spinach. They are cooked in a creamy sauce seasoned with garam masala, cardamom, coriander, cumin, paprika, nutmeg and ginger. It is served with basmati rice and naan bread.
Pho Noodle Soup
If you are looking for a rich and hearty soup, try this Vietnamese Pho Noodle Soup recipe. It is packed with tofu, king oysters in an aromatic veggie broth seasoned with ginger, cinnamon, fennel seeds, anise, clove, cardamom and coriander seeds. It is absolutely fantastic.
Rigatoni with Mushroom Cream Sauce
Who doesn't love a creamy pasta dish? The best part of making this Rigatoni with Wild Mushroom Sauce for dinner is that it is quick, easy and on the table in 15 minutes. This recipe will turn any mushroom hater to mushroom lover.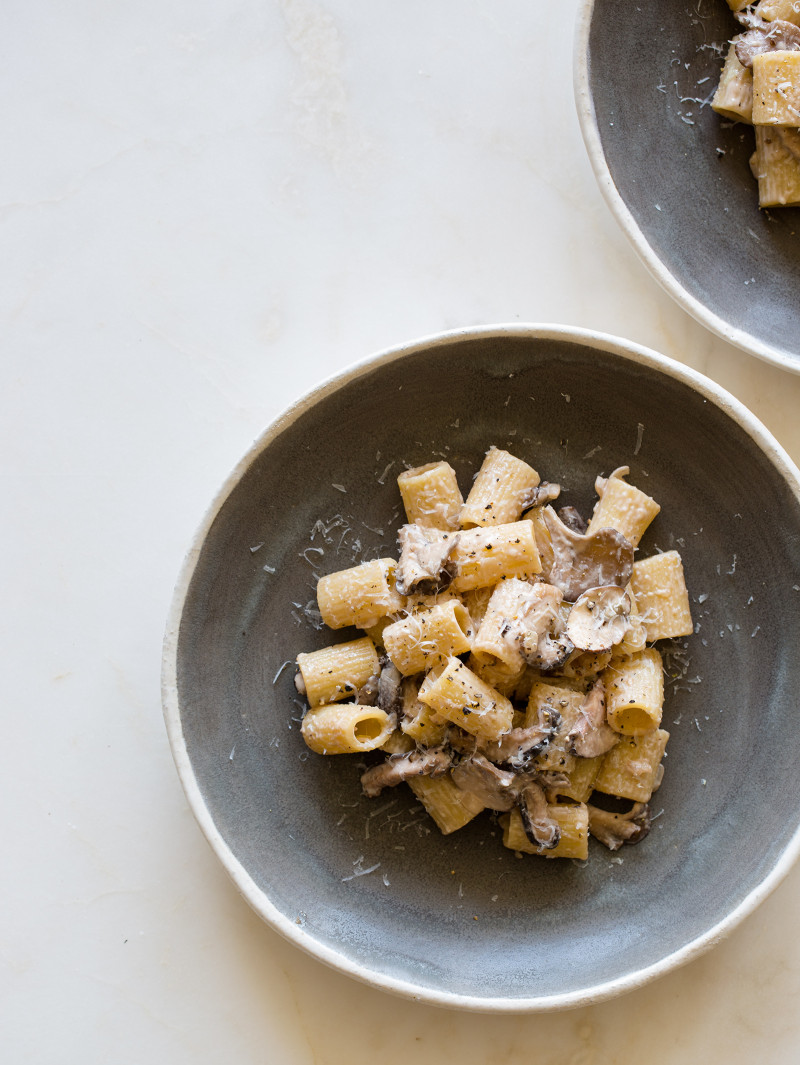 Veggie-packed Green Salad
If you need something light and refreshing, why don't you try this Mustard Greens Salad? This light lunch is packed with smoky king oyster mushroom slices, bell pepper, shredded cabbage, shallots and lots of mustard greens drizzled with a creamy tahini dressing.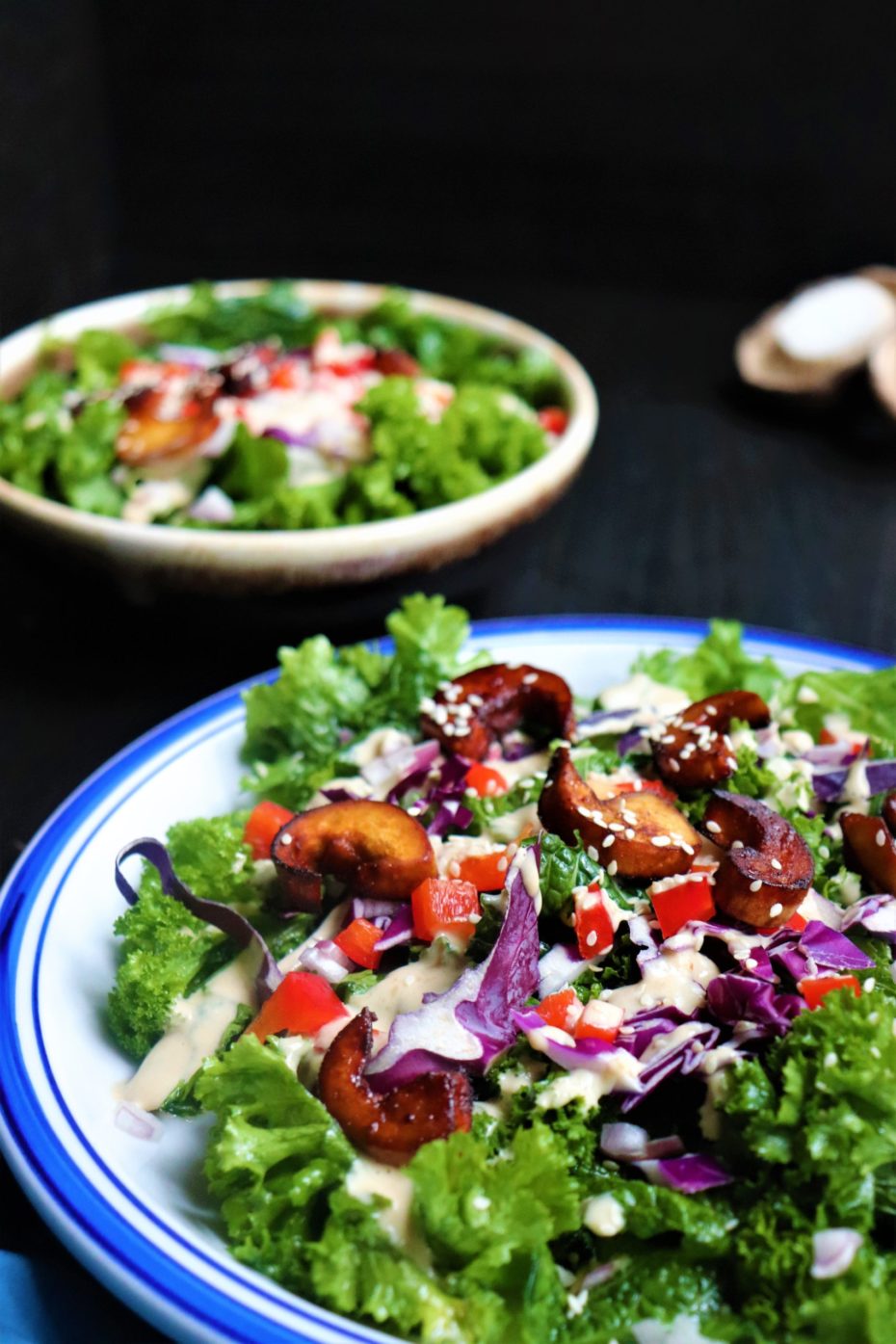 The best 10 vegan oyster mushroom recipes
Oyster mushrooms (both pearl and king) are one of the best vegan meat alternatives out there. Why? I give you 6 reasons:
allergy-friendly -> no soy, no nuts, no gluten
pantry staple -> mushrooms are usually in all vegan grocery or shopping list
easy to buy -> usually available in all local stores (unlike jackfruit, seitan or tempeh)
cheap -> way cheaper than company branded products
quite neutral in taste -> they soak up any seasoning or marinade you add
tough spongy texture -> perfect to replicate this gummy, sturdy meaty texture
We collected the best 10 vegan oyster mushroom recipes where they are the star of the dish for good reason.
Vegan Gyros
Look at these stunning Vegan Gyros in pita bread. We shredded oyster mushrooms with our fingers, marinated in a Greek-style seasoning and baked in the oven to get them crispy. The meaty texture of these mushrooms is perfect without the fatty after-taste. Perfect!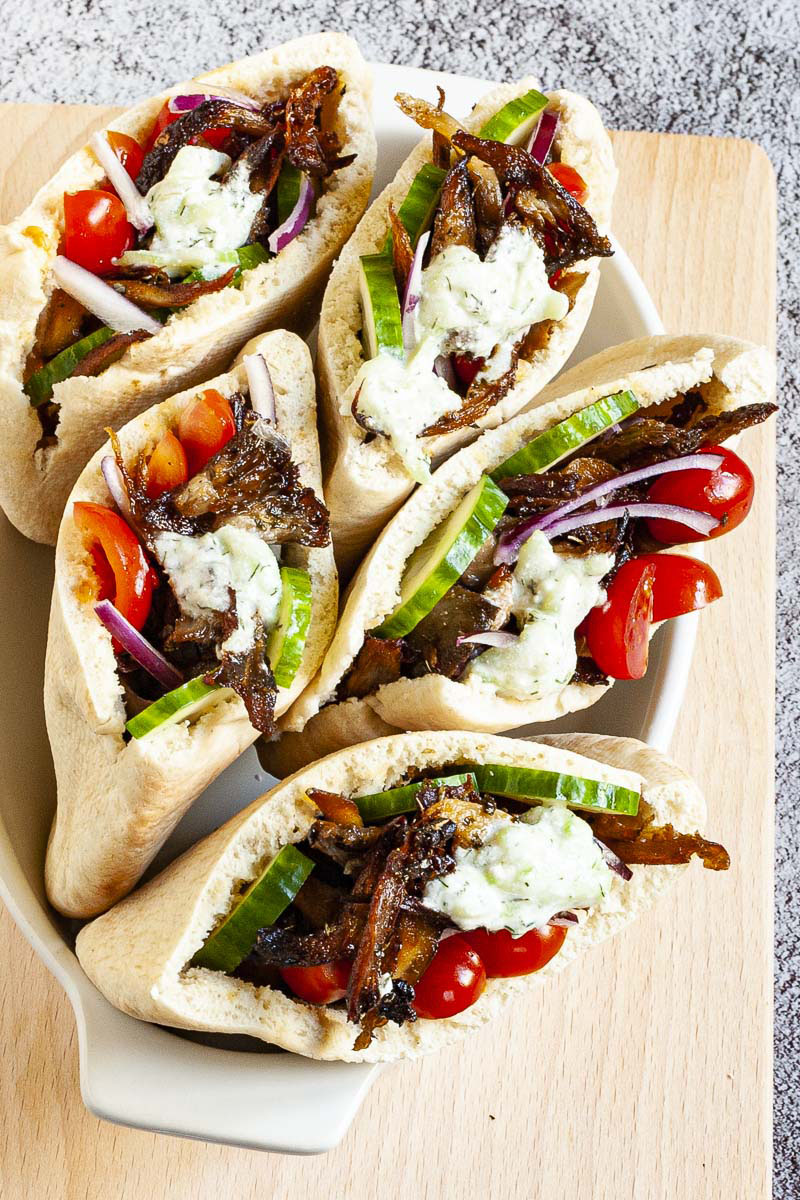 Vegan Philly Cheesesteak
Have you heard of a perfect Vegan Philly Cheesesteak? This one is it. Instead of shaved beefsteak we used well-seasoned shredded pearl oyster mushrooms and sauteed them in a skillet to get a crispy finish, then melted some vegan cheese on top. It is the best vegan sandwich ever!
Creamy Fettuccini with Vegan Scallops
You would think that it is hard to mimic seafood with veggies? Think twice! This creamy fettuccini with king oyster mushroom discs as Vegan Scallops would be absolutely delicious. It is a pasta dish quick to make and even quicker to disappear.
Vegan No Clam Chowder
Are you a fan of thick, creamy, and rich chowders? Well, this Vegan No Clam Chowder will knock your socks off. It is a gluten-free and vegan Boston-style chowder with king oyster mushrooms, a thick cashew cream and kombu seaweed broth. So yummy!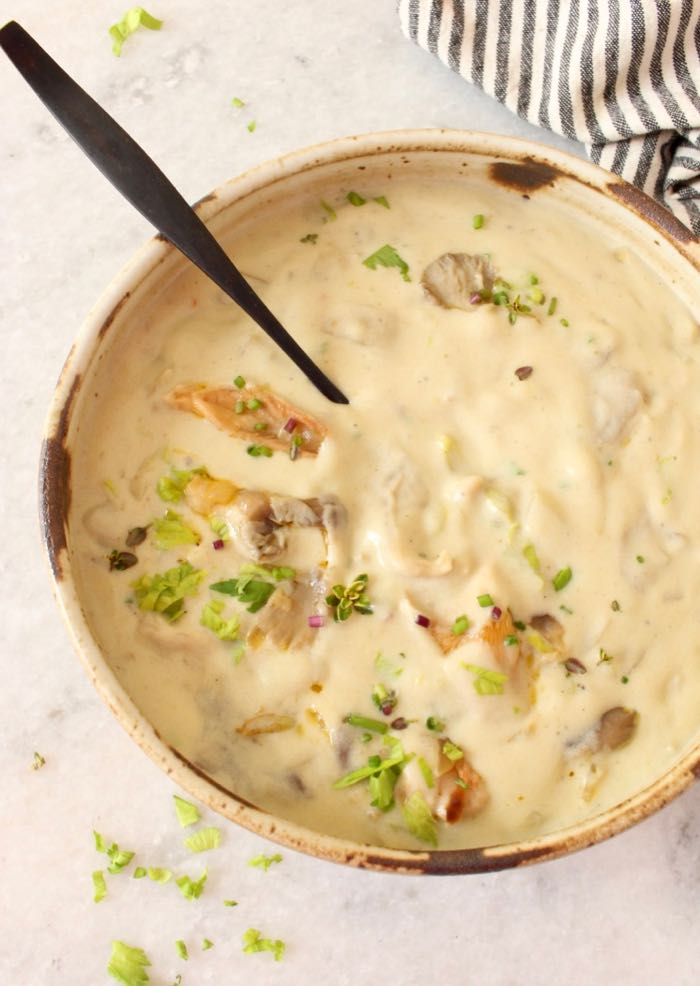 Vegan Shrimp
Aren't these Vegan Shrimps super cute? This recipe features king oyster mushrooms where the stem is cut into discs, then those discs are cut in the middle "S"-shaped producing 2 shrimps per discs. They are then dipped in a spicy breadcrumbs mix and baked in the oven until crispy. Perfect finger food or addition to salads, sandwiches or other dishes.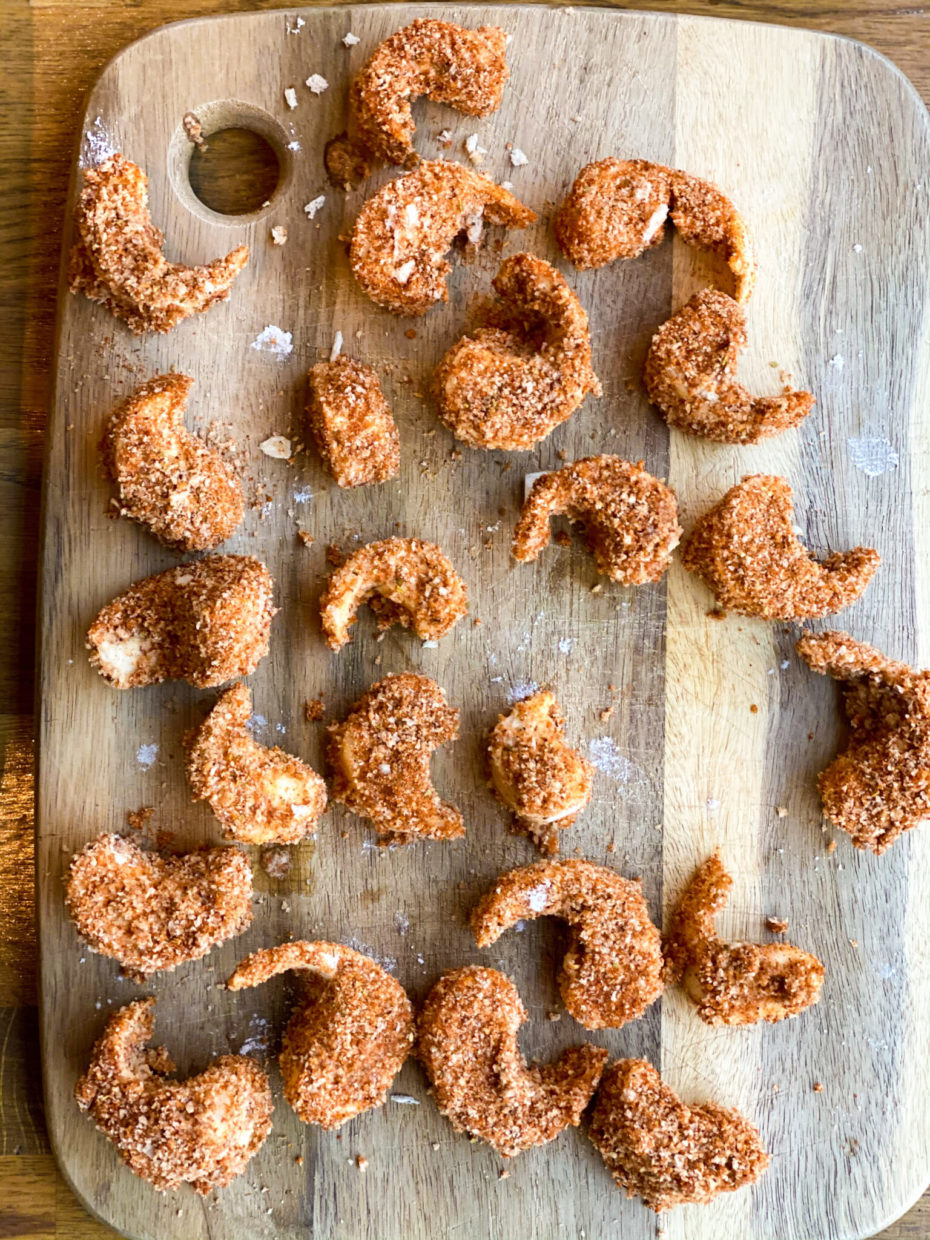 King Oyster Mushroom Steak
This is what it is, a perfect King Oyster Mushroom Steak. It is an oven baked "steak" seasoned with thyme and garlic served with cream potatoes and crispy kale. King oysters are perfect for make "steak"-like dishes with their sturdy, chewy texture. We do have a Cauliflower Steak recipe, but these mushrooms are just incomparable in texture in my opinion.
Vegan Buffalo Chicken Dip
We used our Vegan Shredded Chicken recipe to make this Vegan Buffalo Chicken Dip. Do you know how to make a cheezy, gooey cream cheese sauce that is not only vegan, but nut-free and soy-free as well? The not-so-secret ingredient is cannellini beans. Wanna know more?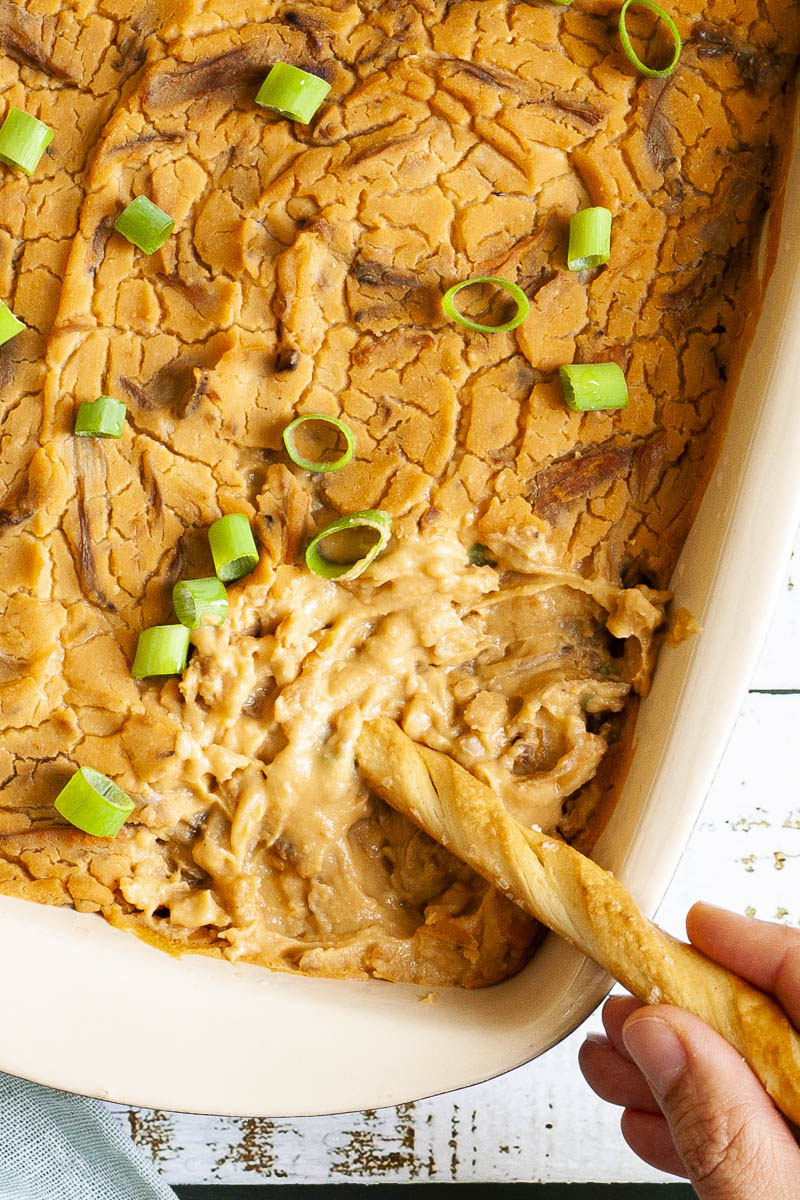 Vegan Mushroom Jerky
If you have an air fryer you can replicate beef jerky easily by using king oyster mushrooms. In this Vegan Mushroom Jerky recipe, the strips are marinated in a smoky, spicy seasoning and air fried until they have the perfect crispy jerky texture.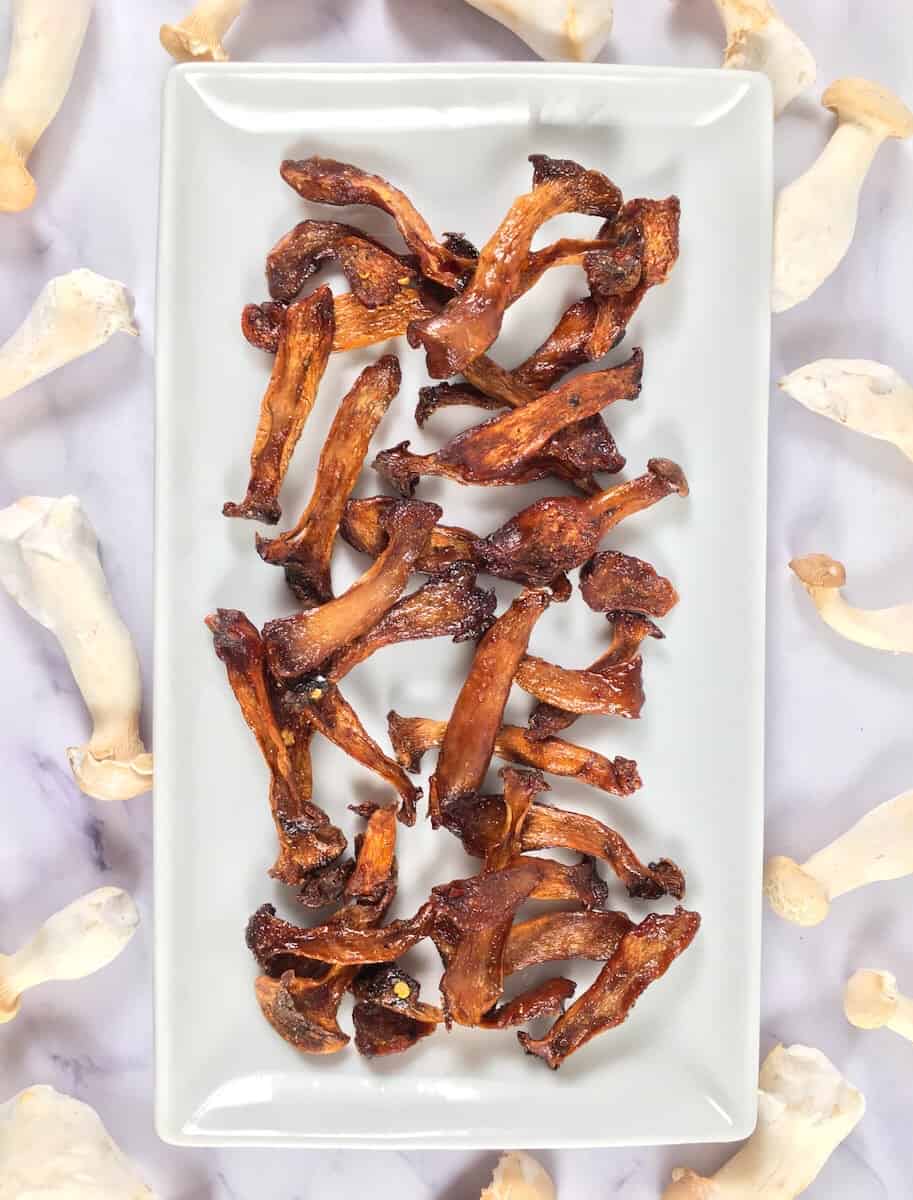 Vegan Mushroom Pate
Combining oyster mushrooms with cremini mushrooms and walnuts, seasoned with thyme, sherry and truffle oil will give you a delicious spread or party appetizer. This Vegan Mushroom Pate recipe has an intense and rich taste. Who knew pate can be this good?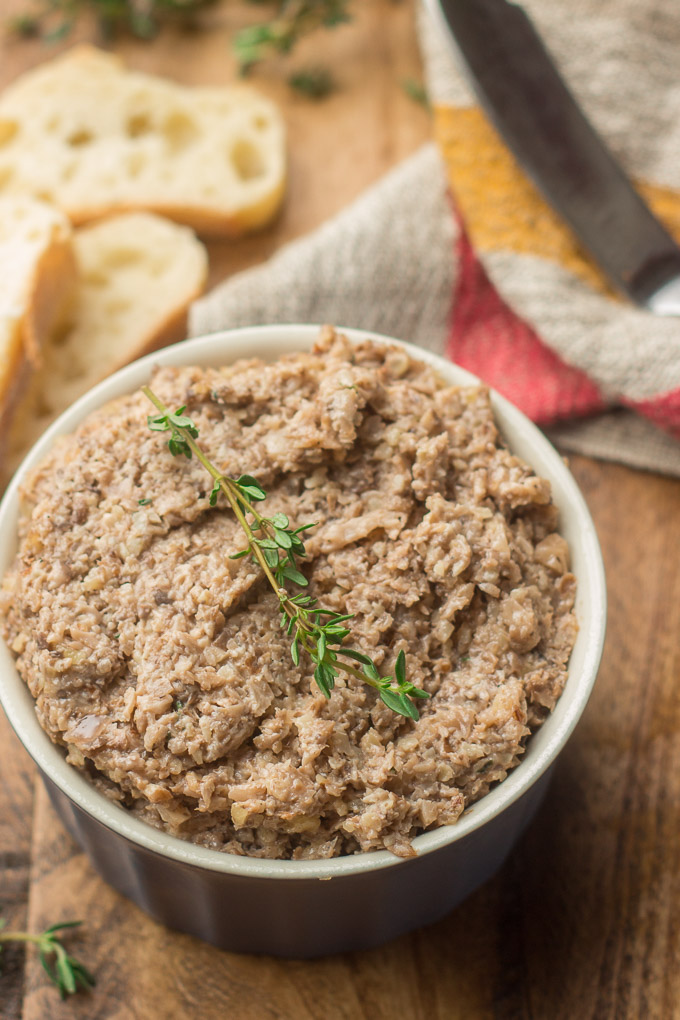 More ingredient guides
We have been writing more and more Ingredient Guides that are important in a vegan diet. We explain in details how to prepare them, how to cook with them, what to serve with them. Here are some of the other articles you might be interested in: