Sweet roasted butternut squash is stuffed with a pre-cooked Mediterranean filling inspired by the traditional Greek Spanakorizo aka Spinach and Rice. We changed the seasoning slightly and added even more typical Mediterranean ingredients like black olives, chickpeas, and feta cheese to make this delicious and filling Vegan Stuffed Butternut Squash recipe.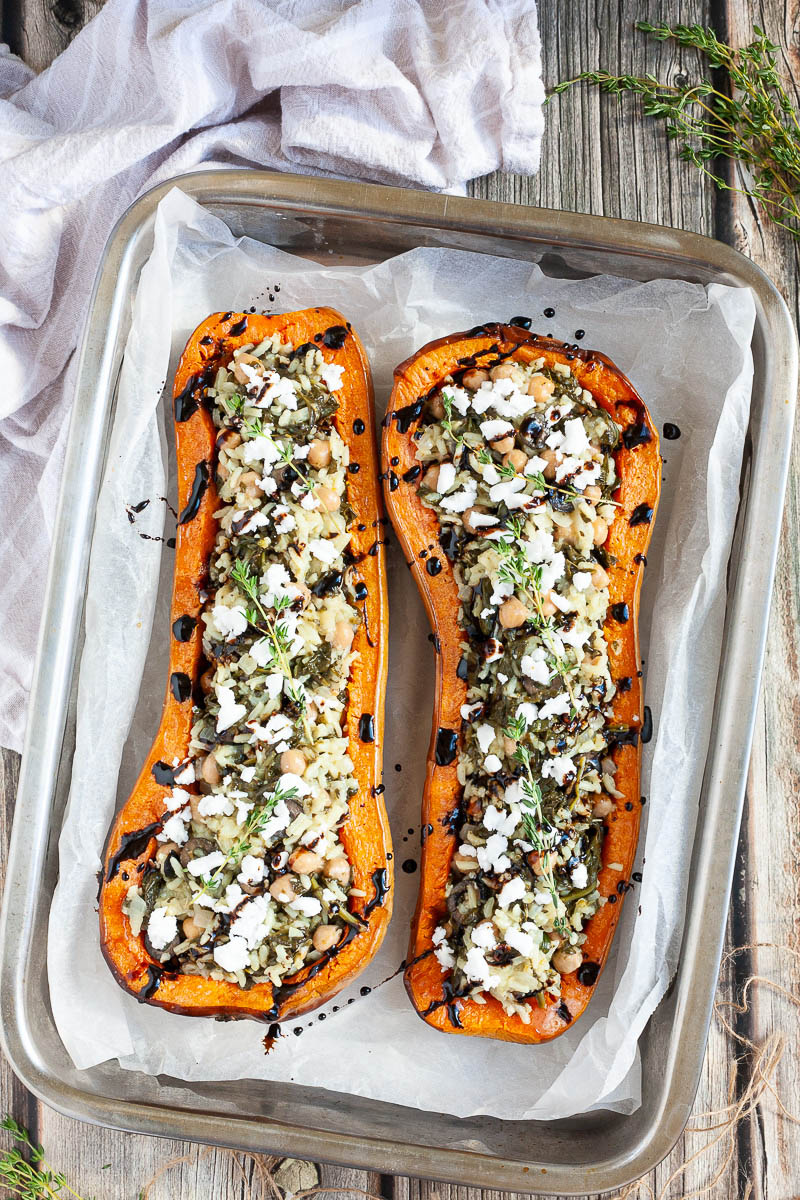 If you are looking for more Mediterranean dishes, try our Vegan Moussaka, Vegan Chickpea Shakshuka, Mediterranean Hummus Pizza, or Mediterranean Grazing Board recipes.
This recipe is part of the 35+ Easy Vegan Thanksgiving Recipes.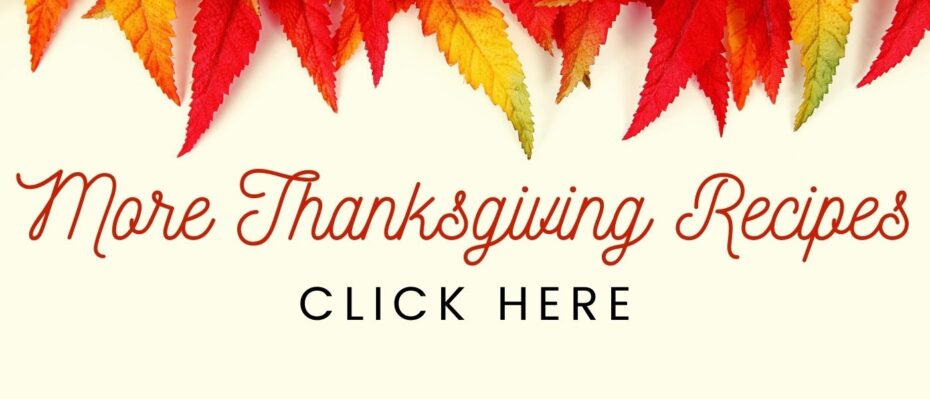 What to expect from this recipe?
Have you heard of the Greek vegetarian dish called Spanakorizo? It is an easy comfort food meal made with spinach and rice. According to the traditional Spanakorizo recipe, they prepare light lemony rice with spinach and tomato and season it will dill. We took this classic to make the stuffing for butternut squash with a twist.
So what can you expect when you make it? This savory Mediterranean stuffing pairs great with the creamy sweet roasted sweet potatoes. The olives and the feta cheese give an extra salty kick, while the chickpeas are a great way to add protein without having an ingredient with a strong overpowering taste. The filling is seasoned with thyme, sage, and rosemary aka typical Mediterranean herbs.
It is aromatic, but not spicy.
Sweet and savory at the same time for every bite.
Easy to make.
Rich and filling.
Colorful and appetizing.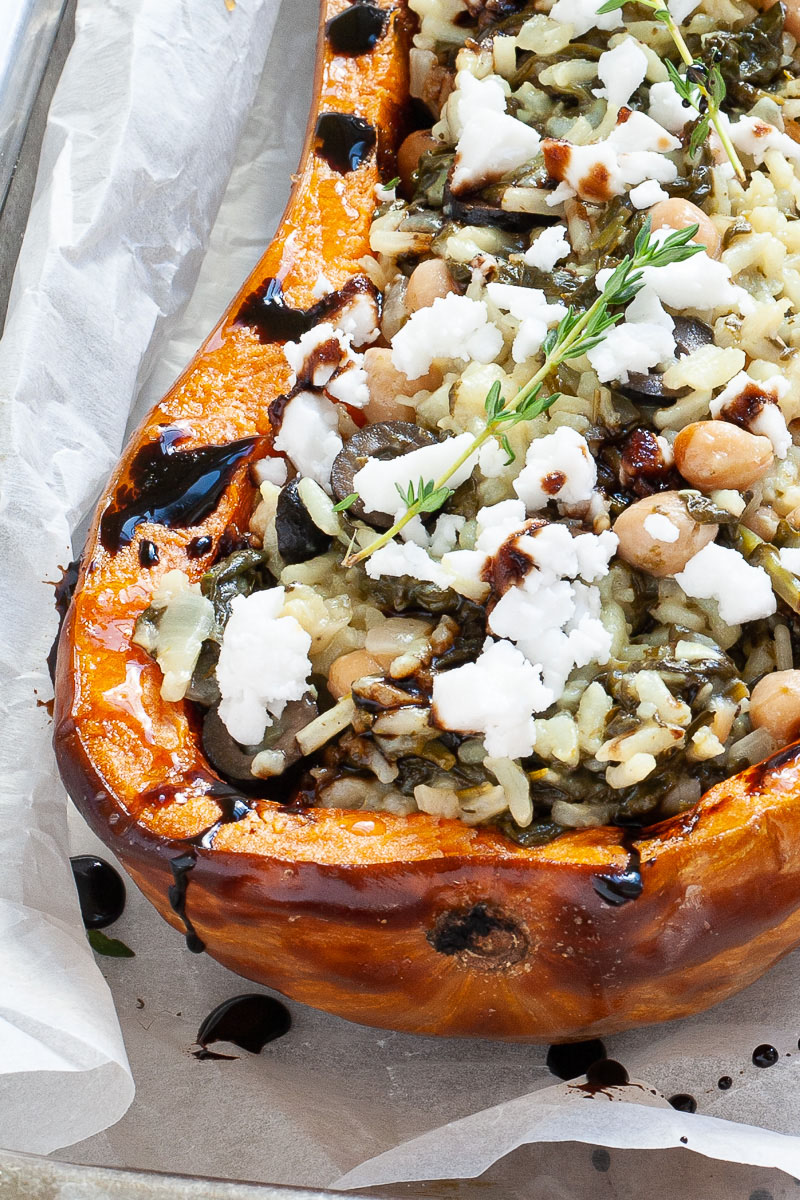 How to choose the right butternut squash
You can use pretty much any type of butternut squash but here is what we pay attention to.
Its main season is fall from September to November.
The larger squash you choose, the longer you need to roast it.
Pay attention to the size of your oven-safe pan, so the one you choose will fit within.
Choose a squash with no indentations or discoloring or soft mushy areas. No deep cuts, but minimal brusing is fine due to transport or storage. These are clues as to how fresh the pumpkin really is.
Choose heavy ones. If you knock on them and they sound hollow, they should be ripe.
Can you use other types of pumpkin or squash?
Yes, you can substitute butternut squash with other types, like acorn squash, kabocha squash, or delicata squash. You can also use your favorite pumpkin as well.
However, if you choose large pumpkins, they will need a longer time to roast. They may need a larger amount of stuffing. Squashes that are thin and long are better for stuffed recipes, so you can have a better ratio between the filling and the pumpkin.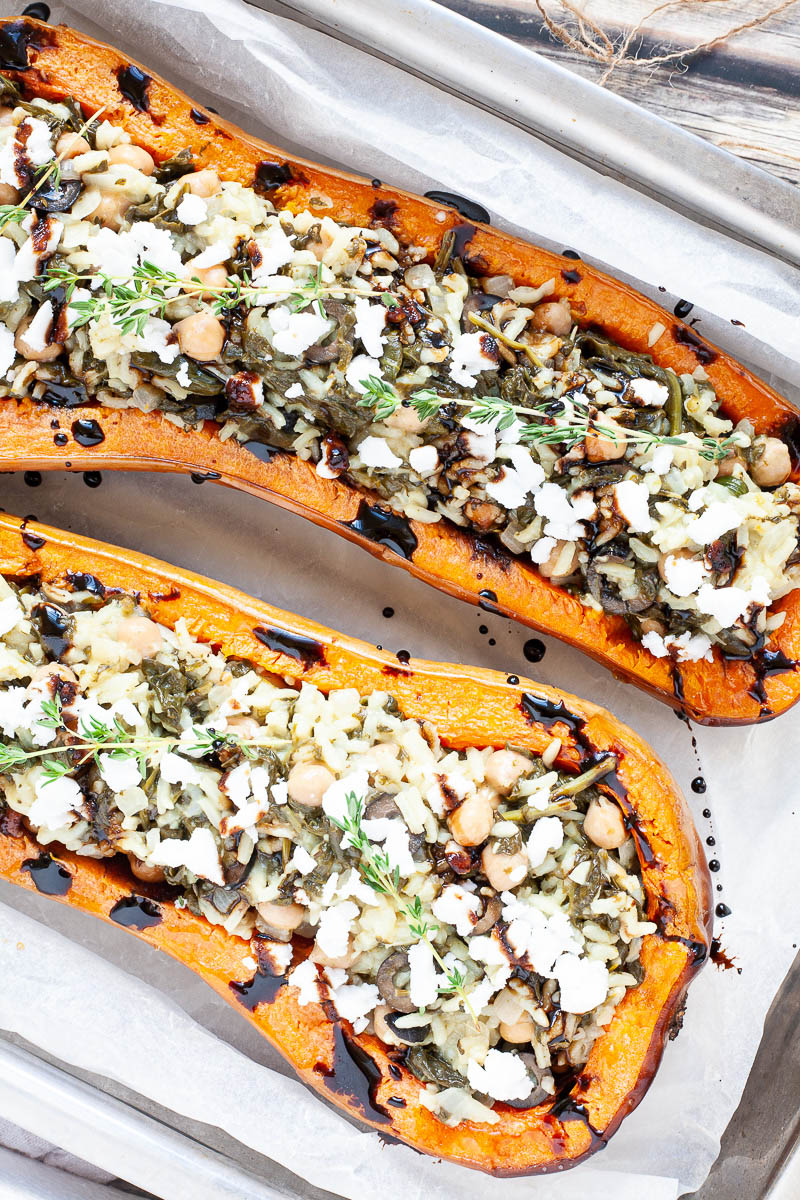 Ingredients
To make this Vegan Stuffed Butternut Squash, here is what you need to make the filling:
Risotto rice (we use Arborio rice)
Spinach leaves
Black olives or Kalamata olives
Feta cheese (we use Violife Vegan Feta*)
Chickpeas (pre-cooked or canned)
Onion
Garlic
Thyme, sage and rosemary
Freshly squeezed lemon juice
Balsamic reduction to glaze it
How to roast butternut squash?
Wash the butternut squash thoroughly.
Don't peel it otherwise it will not hold the stuffing.
Cut it in half horizontally and scoop out the seeds with a spoon.
Pre-heat the oven to 395 Fahrenheit (200 degrees Celsius).
Choose an oven-safe pan, a sheet pan or a baking tray. We don't recommend a baking sheet as the juicies may drip over the edges. Butternut squash can have a high water content that will be released during roasting. Place it with cut-side up.
Bake it for appox. 45 minutes or until you see the edges are getting lightly brownish. It has to be fork-tender. You can test it with a fork or knife if it is soft enough in the middle as well.
If a liquid is collected in the area where the seeds where you can scoop it out or wait and see if it is absorbed back while they are cooling down.
How to make the Mediterranean stuffing?
Prepare the ingredients
Wash the spinach. And wilt it aka sautee it over olive oil and a bit of lemon juice in a pan or shallow pot. It will take at most 5 minutes to do that. Remove from the heat and leave it to cool.
Peel and chop onion and garlic.
Pre-cook chickpeas or if you use a canned one, drain it. I usually put them in the sieve and hold them under running water.
Cut the olives into slices.
Crumble the feta cheese.
No need to wash risotto rice as you will wash down the starch you need to make the risotto creamy.
Cooking the filling
Take a medium pot or a Dutch oven* (like in the below collage) and heat it over medium heat.
Add olive oil, chopped onion and garlic and sautee them for 4-5 minutes.
Add dry rice and stir for 1-2 minutes to get it coated with the olive oil and fry it a bit (picture #1).
Add wilted spinach, ground dried thyme, sage and rosemary. Mix thoroughly. (picture #2)
Add vegetable broth and bring it to boil. (picture #3)
Now reduce it to low heat and cover it with a lid. Simmer it for approx. 15 minutes. Check after 10 minutes to see whether you need to add more veggie broth or not. (picture #4)
If the rice is soft, you can take the pot off the heat. Add chickpeas and olive slices. Stir well until combined. (picture #5)
If it is ready, you can stuff the roasted butternut squash with it. (picture #6)
Hollow out and stuff the butternut squash
Scoop the middle of the roasted butternut squash to leave enough room for the stuffing. We usually leave 1 inch (approx. 1-2 cm) all around the peel including sides and bottom. (see below picture)
Add as much as you want from the pre-cooked filling. We usually mount the same amount on top as we can fit inside.
Add the crumbled feta cheese on top and drizzle it with a balsamic glaze, which is really just balsamic vinegar heated until it is reduced to half.
What to serve with stuffed butternut squash?
To be honest, stuffed vegetable recipes do not really need any side dish as they can already be considered as a whole meal. However, you can always add a nice light side salad like this Quinoa Salad with Berries and Nuts (pictured below).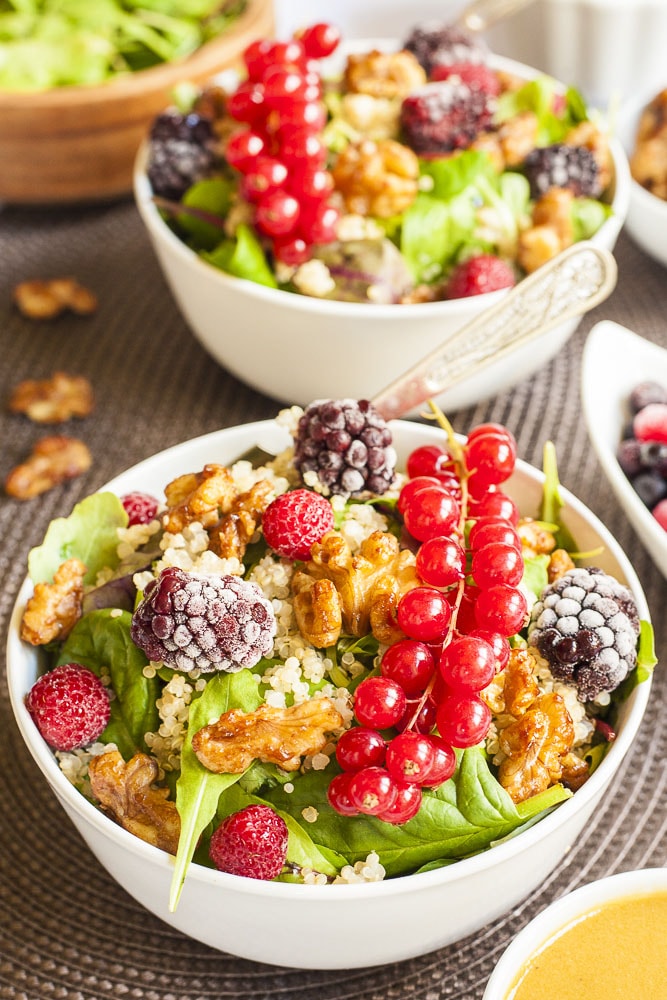 What else can be a good stuffing?
There are many alternatives you can choose from ragu, stew, rice, or other veggie recipes, even pasta if you are up for it. We roast the butternut squash without the stuffing, so you can choose really anything that is already pre-cooked. The most important thing is that you need something thick, not thin and runny.
We do have a couple of other ideas you can use as stuffing: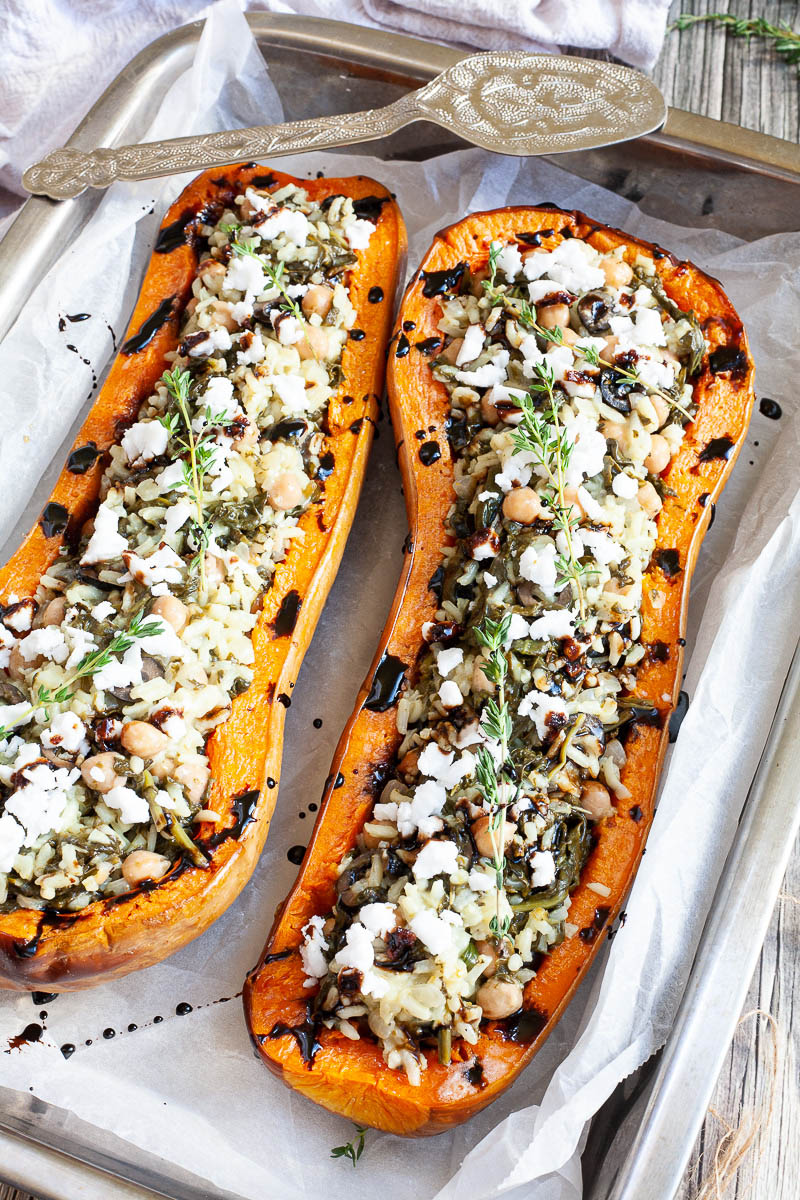 This Vegan Stuffed Butternut Squash recipe is meat-free, dairy-free, and egg-free. It is also suitable for vegan, vegetarian, nut-free, and gluten-free diets. It is only compliant with WFPB (whole foods plant-based) if you sautee veggies in water or veggie broth. Skip or use oil-free vegan feta cheese.
More vegan butternut squash recipes
More vegan dinner recipes
You can browse through our Vegan and Gluten-free Dinner Recipes or our Quick Vegan Meals collection or check out