This is The Best Hummus Recipe Without Tahini. Why? We don't just skip tahini and make a garlicky chickpea puree as most of the tahini-free hummus recipes would do. Nope. We found the perfect substitute which is roasted sunflower seeds (or sunflower butter). They add a nutty taste that you would need to wholeheartedly enjoy this dip as a proper hummus.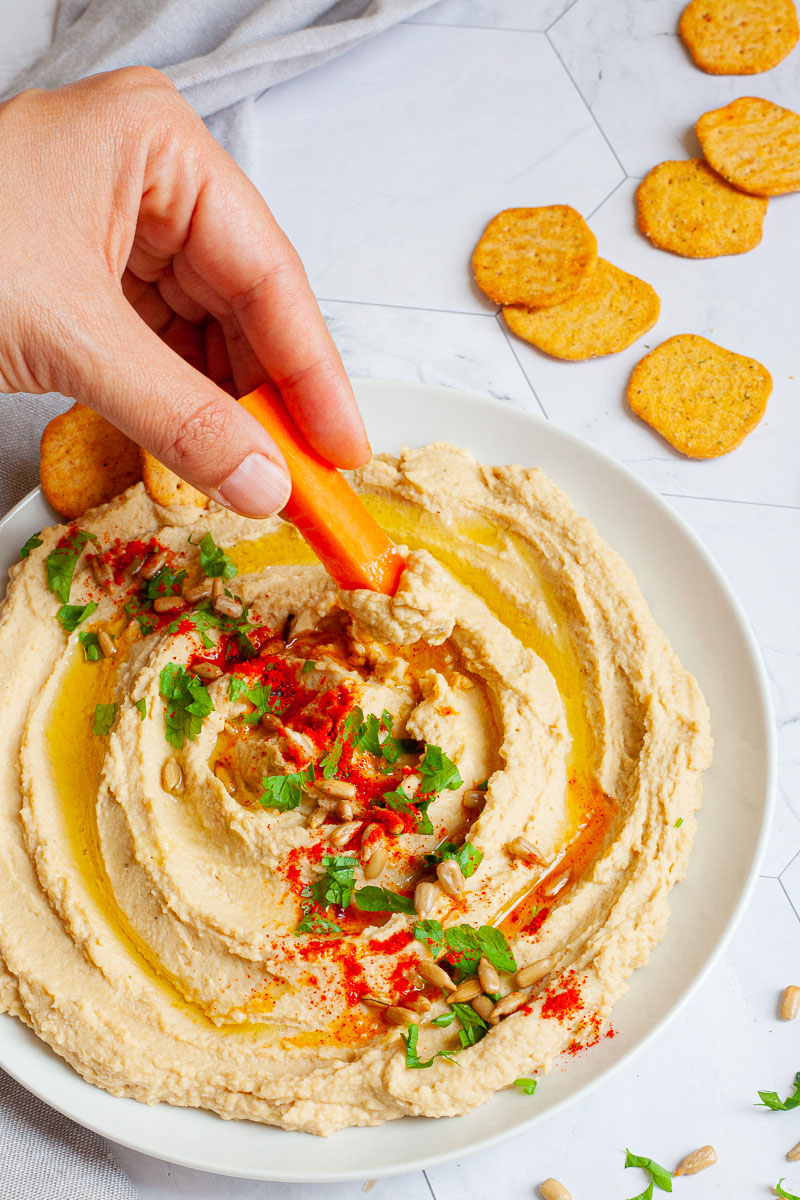 We love hummus. Full stop. Our go-to hummus recipe is this 5-minute Oil-free Hummus, which is unbelievable fluffy and silky smooth. We add them to pasta, wraps, sandwiches and pizza. Check out this stunning Mediterranean Hummus Pizza! But we have even more ideas in our What to Eat Hummus With post, like 25+ delicious combinations. See for yourself!
The best substitute for tahini in hummus
The short answer is roasted sunflower seeds or sunflower seed butter.
Have you found this recipe because you were searching for the perfect hummus recipe without tahini? Did you so far end up short? Why? Because most tahini-free hummus recipes JUST SKIP TAHINI and they think that is all. You don't want it so you don't need it. Job well done. Well, we completely disagree. If you just skip it, you will end up making a nice and tasty chickpea puree instead of a proper hummus.
Why do you need sunflower seeds?
Some might say that tahini is too bitter for their taste. By using sunflower seeds, you get the nutty flavor, but it is less bitter.
I saw some recipes with peanut butter. I don't know about you, but peanut butter has a sweeter aroma which doesn't sit well with hummus. Not to mention, it will not be nut-free anymore. Sunflower seeds are still seeds just like sesame seeds so your hummus remains allergy-friendly.
Last but not least, it is easy, cheap and available in most stores. It is much cheaper than buying tahini.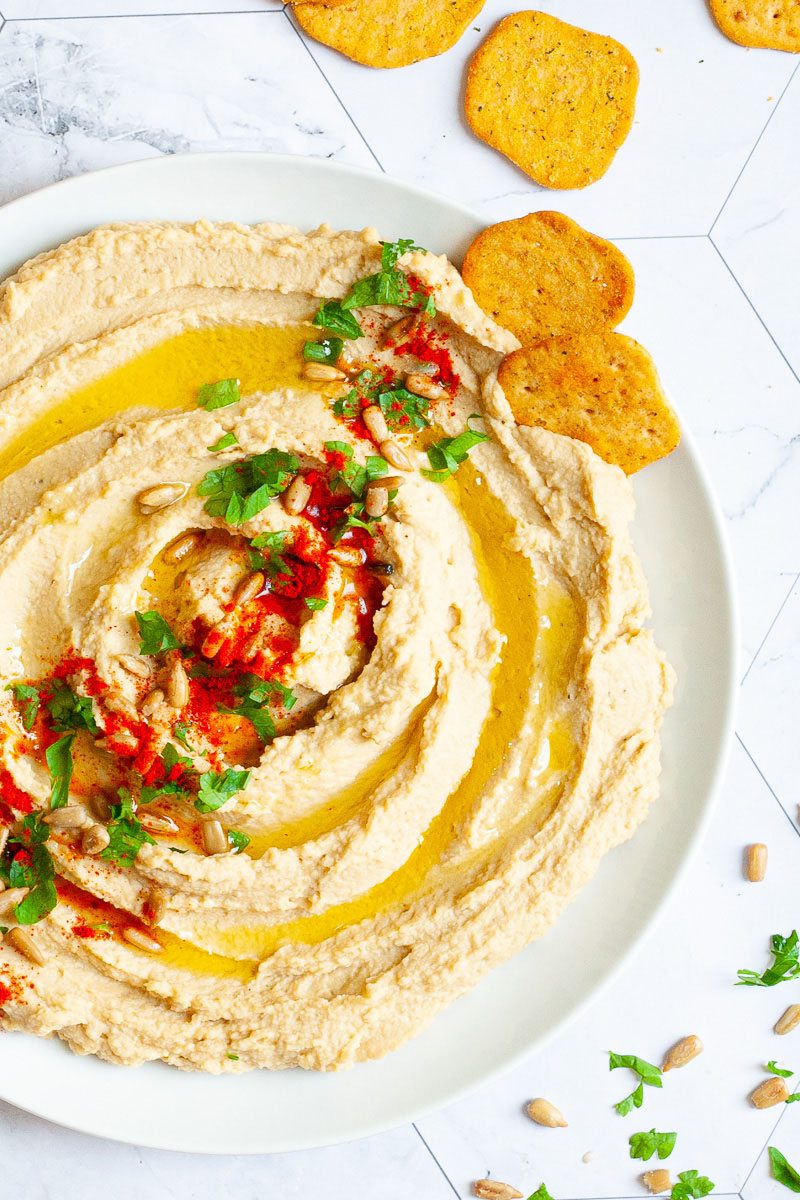 How to make Hummus without Tahini?
Prepare the ingredients
You can time it, but you will need 3 minutes tops to prepare all the ingredients. I mean mostly just measure.
Drain canned chickpeas
Peel the garlic cloves.
Squeeze one lemon.
Measure sunflower seeds.
Measure water.
Blend until smooth
Now, add all ingredients to your blender and blend it for 2 minutes until you get smooth and fluffy homemade hummus. Done! 5 minutes!
Top tips if you don't have a Vitamix
If you want a creamy hummus, but don't have a high-power blender like Vitamix or Blendtec, follow our top tips.
Peel chickpeas

– Take a bowl and fill it with water. Drop the drained chickpeas in it. Use your hands to rub the chickpeas together. You can see the peel are floating to the top. Take a fine mesh sieve and grab the peels from the top.

Use sunflower seed butter

– If your blender or food processor is not strong enough, use sunflower seed butter. Choose one which is 100% sunflower seeds* and there are no sugar or salt or other funny ingredients. First, you puree the chickpeas until creamy and then add sunbutter and other ingredients.

Make sunflower butter

– You can make sunflower butter with your food processor. Albeit if you have a large one, you may need too much to make it work. But it is totally doable. It is a similar method as making Homemade Peanut Butter. Start chopping the seeds with your food processor. Stop and scrape the sides time to time. Continue until you have a free-flowing paste.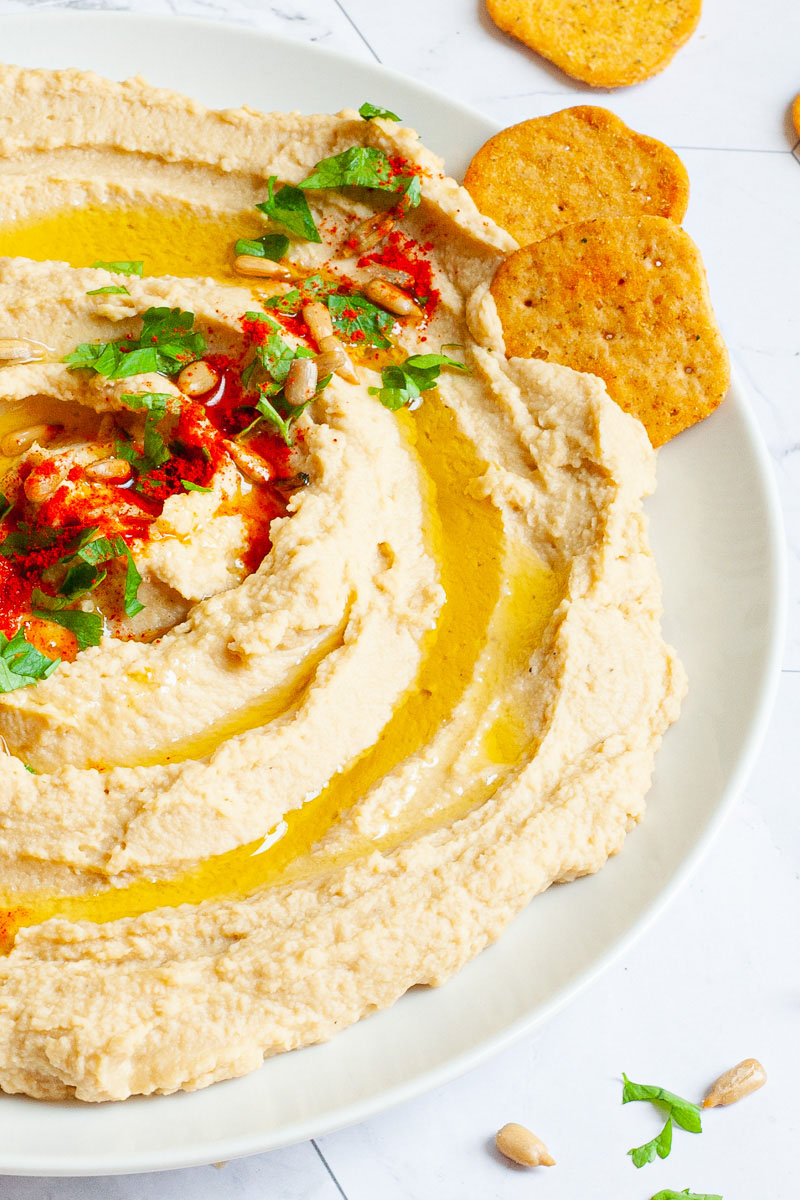 FAQs and Substitutions
Is it oil-free?
Yes. Traditionally, they only serve it with a drizzle of oil and there is none involved while making the hummus. That being said, you need something to make it fluffy, light and smooth. You either use WATER or AQUAFABA. Check out our 5-minute Oil-free Hummus recipe our our Roasted Beet Hummus recipe where we specifically use aquafaba to make it extra fluffy and smooth. Water and aquafaba are interchangeable, choose whichever you like.
Can I skip sunflower seeds?
As I mentioned above if you just skip it, you will end up making a nice and tasty chickpea puree. Sunflower seeds add a nutty taste that you would need to wholeheartedly enjoy this dip as a proper hummus. That being said there are other alternatives for tahini. Check out the Complete List of Tahini Substitutes and decide which suits you the best.
How to store hummus?
You can easily store it in the fridge for a week without any problem.
Can you freeze hummus?
Yes, you can. We recommend that you freeze them in smaller batches, so it can be easily thawed.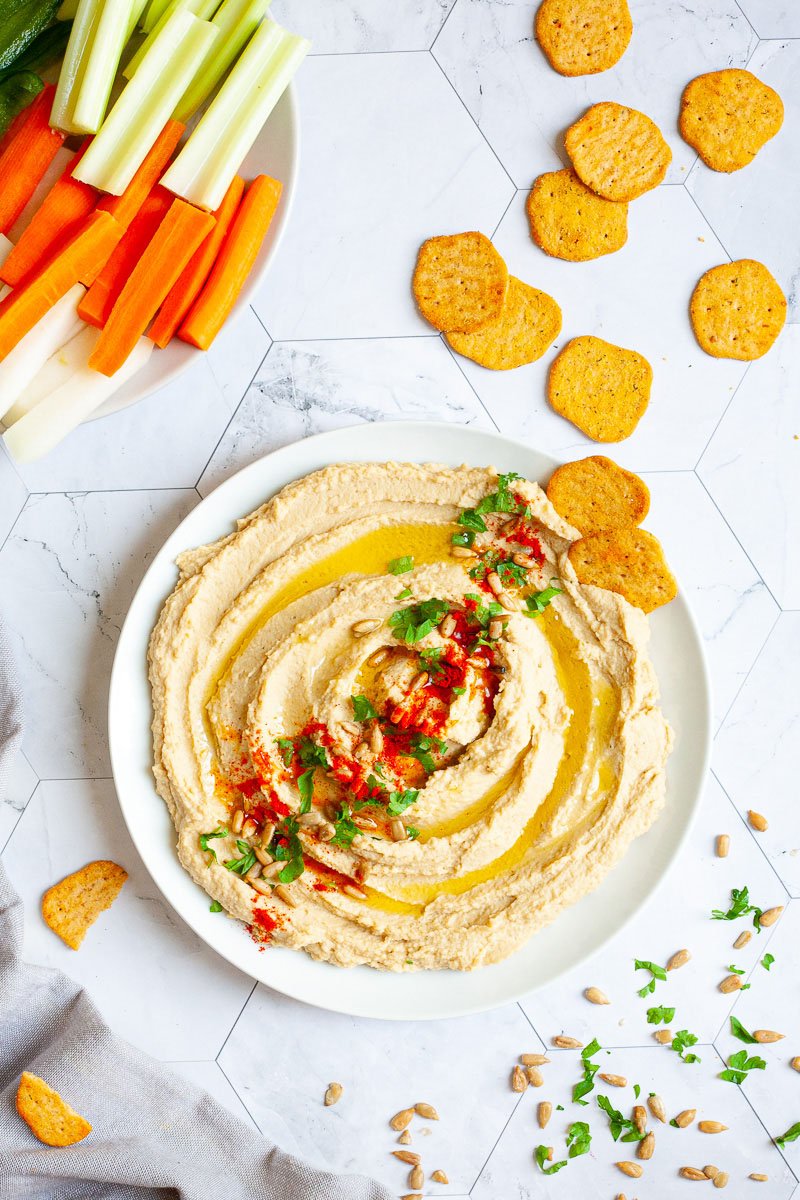 What to eat with hummus?
Everything. You would be surprised how many ways you can enjoy hummus. Check out this gorgeous Mediterranean Hummus Pizza (pictured below)!
We also collected 25 creative and delicious recipes using hummus in our What To Eat With Hummus roundup post. We covered all basis and included 4 appetizers, 4 breakfast sandwiches, 4 quick lunches, 4 salad bowls, 4 baked goods, and 4 dinner recipes so you can mix and match. If you want to you can eat hummus every day for every meal for a week. Happy browsing!
This Hummus recipe is suitable for a vegan, vegetarian, dairy-free, egg-free, gluten-free, nut-free, and soy-free diet. It is also WFPB-compliant (whole foods plant-based).
More condiment recipes
You can browse through our Vegan Condiment Recipes or check out