Do you have a packet of rice papers in your pantry or plan to buy some? We show you everything step by step and answer all your questions about how to use rice paper wrappers.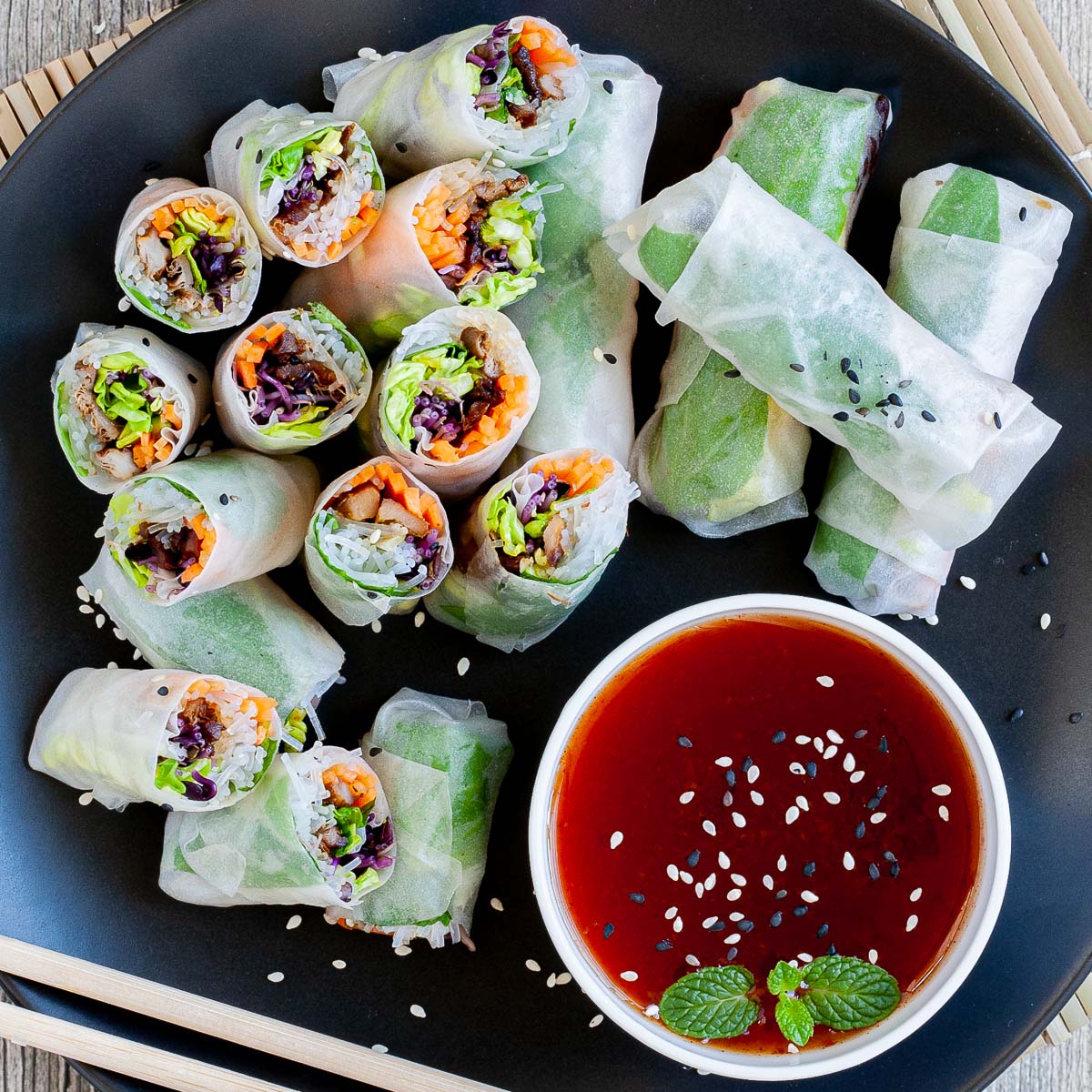 Jump to:
What are rice paper wrappers?
Rice paper wrappers have come to worldwide popularity from Vietnam, where they have a long history of making these wrappers (in Vietnamese bánh tráng) by hand through a long and laborious process. Traditionally, they are made of rice, water, and salt. Nowadays, tapioca starch is often added to make it thinner, and easier to soften and roll.
Rice papers are usually 22 cm in diameter (approx. 8.5-inch). They are transparent and very thin, paper-thin. Hence, its name. Companies may use different names for it, though. If you come across one of these from the below list, rest assured they are talking about the same thing.
rice papers
rice wrappers
rice wafers
rice paper wrappers
bánh tráng (Vietnamese name)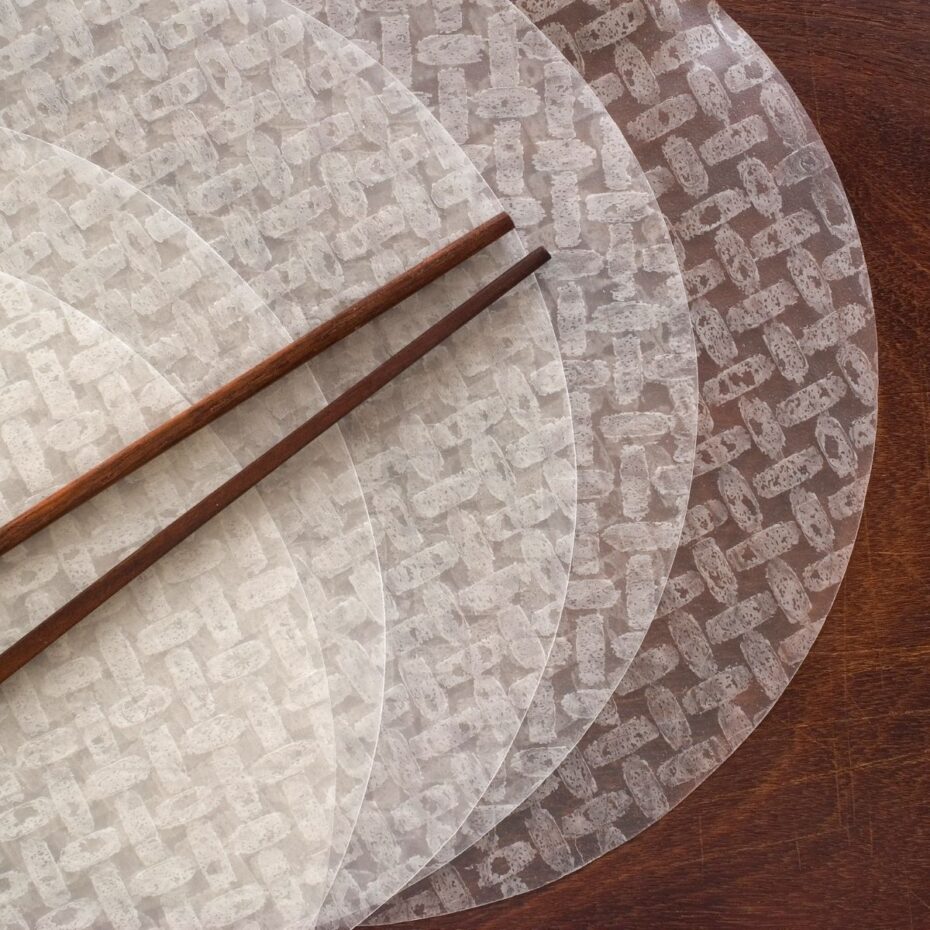 Ingredients
Traditionally, they are made of rice, water, and salt. Here is how they make rice paper by hand the authentic way. Let me keep it simple and explain it quickly.
Rice is soaked overnight.
The next day, they grind the soaked rice to a milk-like consistency.
They add salt and a dash of water if needed.
They spread the spoonful of paste on a piping hot stove to form a round shape.
After a couple of seconds, they use a rolling pin to transfer the ultra-thin rice paper to a bamboo or other woven mat to dry them one by one.
Traditionally, they dry it in the sun.
This video shows a more industrialized approach, though.
You can also try making them at home with a less than traditional way. Here is an easy to follow homemade rice paper recipe using rice flour, potato starch, salt and water. You can make one in a microwave in a nick of time if you are up for it.
Is rice paper gluten-free?
In short, they should be as rice papers are traditionally made of only rice, salt, and water. All of them are naturally gluten-free ingredients. However, there are 2 things you need to pay attention to:
Cross-contamination. Choose a brands that label its product gluten-free, to ensure that the rice paper is in fact gluten-free and not manufactured in a facility also processing gluten-containing ingredients.
Other ingredients. Companies tend to add some kind of starch (usually tapioca starch) partly for elasticity, partly to make it thinner and easier to handle. Tapioca starch should also be gluten-free, but in any case choose a brand that is labelled as gluten-free.
If you take a look in the packaging, you should see transparent, thin, round papers. If what you see is yellow, opaque, and square-shaped, then those are NOT rice papers but Chinese wheat flour spring roll wrappers. Don't be surprised if you get confused, there are 9 rice paper alternatives.
Where can you buy them?
Rice paper wrappers are a fairly common product in the Asian aisle of large stores. You can also buy them online. Here are the 7 most common brands you can find to buy. They use a mix of rice and tapioca starch which would be important for how you need to handle them. Try to avoid products with 100% tapioca as they are super thin and really hard to work with!
How to store them?
Unopened packages can be stored in your pantry. No need to put them in the fridge.
Always dry your hands before taking a rice paper from the package. Wet hands will activate them and they will stick together.
If you open a package but don't use all of them, transfer the rest to an airtight container or large zip lock bag. In high humidity areas, it can stick together if stored on open air.
How to soften rice paper wrappers?
Damp towel or submerging in water?
The short answer is "it depends on the tapioca starch content of your rice paper". You would think rice paper is just rice. But that is not always true. If you check your packaging you will see that there is tapioca starch.
—->The ratio of tapioca dictates how you need to handle your rice paper.
Rice paper from 100% tapioca starch – Put the rice paper in between the folds of a damp towel. Pet it gently for a couple of seconds to get it soft.
Rice paper from 100% rice – You need to submerge it in water to get them soft. A damp towel will not be enough.

Large tapioca : rice ratio

– If the first ingredient listed is tapioca starch then it means your rice paper is more tapioca than rice. The larger the ratio of the tapioca (it means the thinner your rice paper) the less time you need to submerge it. In short, keep it shorter and double up if needed.
How long you need to submerge it in water?
We have a rice paper spring rolls recipe, where we use a rice paper wrapper made of 100% rice. To get them soft, we need to submerge this type in water for 7-8 seconds.
So how to test it if you have rice paper with tapioca starch?
I use a shallow bowl a bit larger than the size of the rice paper sheets. I submerge one rice paper at a time and gently pet it with my hands in the water. I take it out while I still feel it hard. I usually start with 3-4 seconds. I place it on the surface I want to work on and wait for 2-3 seconds and gently pet it again and see whether they became soft or not. If yes, I add the filling. If no, I submerge it again for 2-3 seconds.
What if it is too wet at the end?
If it is too wet, it can get too sticky. I usually use a clean, dry kitchen cloth or a paper towel, and gently pet it dry. Too wet rice paper is your enemy for several reasons:
It is sticky and hard to work with.
It can pop or split during frying.
It will not turn crispy during baking.
So every step you take, you must ensure you keep moisture to the minimum. It means you need to care for the surface you use, the filling you prepare, and how you roll and cook it.
How to roll rice paper?
What kind of surface to use?
First things first, your surface HAS TO BE DRY. Especially if you roll several rice paper rolls after each other, you need to wipe your surface dry. Excess water can make the rice paper too wet. And too wet rice paper will pop during frying or get too sticky to handle.
You might have come across a rice paper wrapper tray* which is a kind of round plastic mesh plate. It has small holes, so the excess water can leave the surface. It is a practical tool to make sure that your rice paper will not get too wet.
Rolling it step by step
Gently submerge the rice paper. (See tips under How to soften rice paper wrappers? above.)
Once submerged, transfer it to a dry and smooth surface.
I place the filling in the middle around the lower third of the rice paper. If you have a standard size rice paper (8.5 inches (ca. 22 cm)), you can fit 2-3 Tbsp of filling, which would make 4 inches (ca. 10 cm) long spring roll.
First fold the sides gently but tight towards the middle.
Take the bottom seam and fold it upwards gently, but tight.
Use your fingers to tuck the filling tight within the rice paper before rolling it all the way up.
Roll it all the way up, but use your fingers to keep the filling tucked tightly.
Place your finished spring roll on a parchment paper with the closing seam on the bottom.
The best rice paper rolls recipes
Rice wrappers can be a perfect gluten-free alternative to other type of wrappers used in the Asian cuisine like Chinese wheat flour wrappers for spring rolls, or lumpia wrappers, or wonton wrappers, or samosa even phyllo pastry. Browse though to find your next favorite among these rice paper recipes.
More ingredient guides
We have been writing more and more guides for specific ingredients. We explain in detail how to prepare each ingredient, how to cook with them, what to serve with them, and so on. Here are some of the other articles you might be interested in: