Do you have a packet of rice wrappers in your pantry? Or plan to buy some? Want to know how to choose which one to buy? How to store them and use them? Which ones are the Best Rice Paper Rolls Recipes? We answer all these questions and more in this complete guide to rice paper wrappers. Let's get started! (See table of contents below if you want to jump around.)
What are rice paper wrappers?
Rice paper wrappers have come to worldwide popularity from Vietnam, where they have a long history of making these wrappers (in Vietnamese bánh tráng) by hand through a long and laborious process. Traditionally, they are made of rice, water and salt. Nowadays, tapioca starch is often added to make it thinner, and easier to soften and roll.
Rice papers are usually 22 cm in diameter (approx. 8.5-inch). They are transparent and very thin, paper-thin. Hence its name. Companies may use different names for it though. If you come across one of these from the below list rest assured they are talking about the same thing.
rice papers
rice wrappers
rice wafers
rice paper wrappers
bánh tráng (Vietnamese name)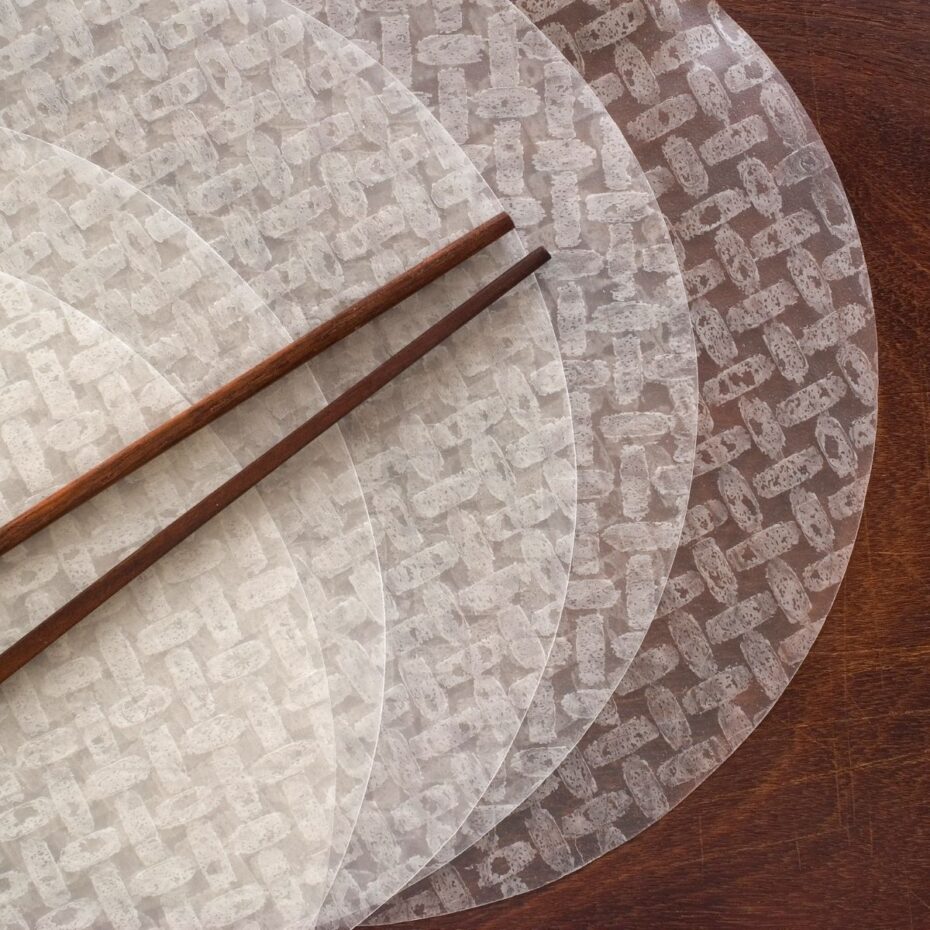 How rice wrappers are made?
Traditionally, they are made of rice, water, and salt. Here is how they make rice paper by hand the authentic way. Let me keep it simple and explain it quickly.
Rice is soaked overnight.
Next day they grind the soaked rice to a milk-like consistency.
They add salt and a dash of water if needed.
They spread the spoonful of paste on a piping hot stove to form a round shape.
After a couple of seconds they use a rolling pin to transfer the ultra thin rice paper to a bamboo or other woven mat to dry them one by one.
Traditionally, they dry it in the sun.
This video shows a more industrialised approach though.
You can also try making them at home with a less than traditional way. Here is an easy to follow homemade rice paper recipe using rice flour, potato starch, salt and water. You can make one in a microwave in a nick of time if you are up for it.
Is rice paper gluten-free?
In short, they should be as rice papers are traditionally made of only rice, salt, and water. All of them are naturally gluten-free ingredients. However, there are 2 things you need to pay attention to:
Cross-contamination

. Choose a brands that label its product gluten-free, to ensure that the rice paper is in fact gluten-free and not manufactured in a facility also processing gluten-containing ingredients.

Other ingredients

. Companies tend to add some kind of starch (usually tapioca starch) partly for elasticity, partly to make it thinner and easier to handle. Tapioca starch should also be gluten-free, but in any case choose a brand that is labelled as gluten-free.
If you take a look in the packaging, you should see transparent, thin, round papers. If what you see is yellow, opaque and square-shaped, then those are NOT rice papers but Chinese wheat flour spring roll wrappers.
If you are looking for more gluten-free info about spring rolls in general, we have a whole post titled "Are spring rolls gluten-free?". We write about popular ingredients for fillings to see which ones are gluten-free.
Where can you buy them?
Rice paper wrappers are a fairly common product in the Asian aisle of large stores. You can also buy them online. Here are the 7 most common brands you can find to buy. They use a mix of rice and tapioca starch which would be important for how you need to handle them. Try to avoid products with 100% tapioca as they are super thin and really hard to work with!
How to store them?
Unopened packages can be stored in your pantry. No need to put them in the fridge.
Always dry your hands before taking a rice paper from the package. Wet hands will activate them and they will stick together.
If you open a package but don't use all of them, transfer the rest to an air tight container or large zip lock bag. In high humidity areas, it can stick together if stored on open air.
How to soften rice paper wrappers?
Damp towel or submerging in water?
The short answer is "it depends on the tapioca starch content of your rice paper". You would think rice paper is just rice. But that is not always true. If you check your packaging you will see that there is tapioca starch.
—->The ratio of tapioca dictates how you need to handle your rice paper.
Rice paper from 100% tapioca starch

– Put the rice paper in between the folds of a damp towel. Pet it gently for a couple of seconds to get it soft.

Rice paper from 100% rice

– You need to submerge it in water to get them soft. A damp towel will not be enough.

Large tapioca : rice ratio

– If the first ingredient listed is tapioca starch then it means your rice paper is more tapioca than rice. The larger the ratio of the tapioca (it means the thinner your rice paper) the less time you need to submerge it. In short, keep it shorter and double up if needed.
How long you need to submerge it in water?
We have a Crispy Rice Paper Spring Rolls recipe, where we use a rice paper wrapper made of 100% rice. To get them soft, we need to submerge this type in water for 7-8 seconds.
So how to test it if you have rice paper with tapioca starch?
I use a shallow bowl a bit larger than the size of the rice paper sheets. I submerge one rice paper at a time and gently pet it with my hands in the water. I take it out while I still feel it hard. I usually start with 3-4 seconds. I place it on the surface I want to work on and wait for 2-3 seconds and gently pet it again and see whether they became soft or not. If yes, I add the filling. If no, I submerge it again for 2-3 seconds.
What if it is too wet at the end?
If it is too wet, it can get too sticky. I usually use a clean, dry kitchen cloth or a paper towel, and gently pet it dry. Too wet rice paper is your enemy for several reasons:
It is sticky and hard to work with.
It can pop or split during frying.
It will not turn crispy during baking.
So every step you take, you need to make sure you keep moisture to the minimum. It means you need to care for the surface you use, the filling you prepare, the way you roll it and cook it.
Summer rolls or spring rolls
The most well-known recipes to use rice paper are Vietnamese Summer Rolls (raw rice paper rolls, filled with fresh veggies and served as a cold appetizer) and Crispy Rice Paper Spring Rolls (fried rice paper rolls, filled with a pre-cooked filling and served as a warm appetizer). With summer rolls, the only preparation you need to do is cut your veggies julienne style. However, to prepare the perfect pre-cooked filling for spring rolls we have a couple of tips.
Top tips to prepare spring roll filling
Use minimal oil and sauce to prepare the filling. The steam from juicy sauces during frying or baking can pop or split the thin rice wrappers.
Your filling needs to be cool. The steam of hot filling will soften the rice paper further. Hot filling is also hard to touch and toll.
If you feel that the rolls are still too wet, pet them with a dry paper towel or put them in the fridge before baking, deep-frying or air frying.
Roll them as tight as you can.
How to roll rice paper?
What kind of surface to use?
First things first, your surface HAS TO BE DRY. Especially if you roll several rice paper rolls after each other, you need to wipe your surface dry. Excess water can make the rice paper too wet. And too wet rice paper will pop during frying or get too sticky to handle.
You might have come across a Rice Paper Wrapper Tray* which is a kind of round plastic mesh plate. It has small holes so the excess water can leave the surface. It is a practical tool to make sure that your rice paper will not get too wet.
Rolling it step by step
Gently submerge the rice paper. (See tips under How to soften rice paper wrappers? above.)
Once submerged, transfer it to a dry and smooth surface.
I place the filling in the middle around the lower third of the rice paper. If you have a standard size rice paper (approx. 22 cm /8.5 inches), you can fit 2-3 Tbsp of filling, which would make an approx. 10 cm (4-inch) long spring roll.
First fold the sides gently but tight towards the middle.
Take the bottom seam and fold it upwards gently, but tight.
Use your fingers to tuck the filling tight within the rice paper before rolling it all the way up.
Roll it all the way up, but use your fingers to keep the filling tucked tightly.
Place your finished spring roll on a parchment paper with the closing seam on the bottom.
The Best Rice Paper Rolls Recipes
Rice wrappers can be a perfect gluten-free alternative to other type of wrappers used in the Asian cuisine like Chinese wheat flour wrappers for spring rolls, or lumpia wrappers, or wonton wrappers, or samosa. Rice paper can be a great gluten-free alternative to phyllo pastry as well.
Vietnamese Summer Rolls
These rice paper rolls are served as cold appetizers in Vietnam. Fresh chopped veggies sometimes with rice are stuffed within and served with a dipping sauce. This Vietnamese Summer Rolls recipe by Drive Me Hungry looks absolutely gorgeous and one of the best way to try rice papers.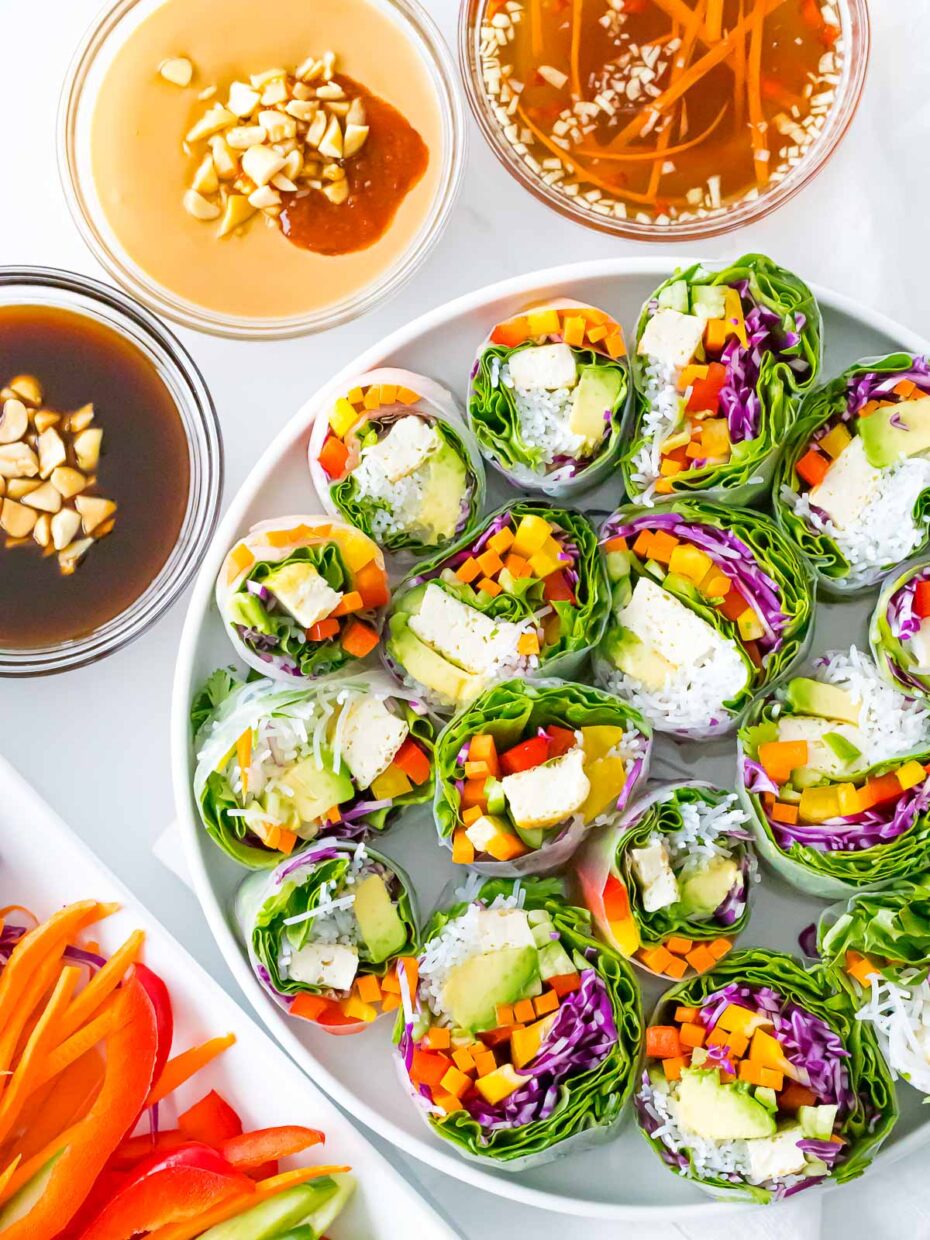 Thai Summer Rolls
These lovely and delicious Thai Summer Rolls by Eat Plant-based are not only full of shredded veggies wrapped first in collard green leaves but they also have sweet cantaloupe and rice noodles. They make a truly amazing dish especially dipped in Thai peanut sauce.
Crispy Rice Paper Spring Rolls
Spring rolls are savory rolls filled with cabbage and other veggies then they were pan-fried or deep-fried until crispy. Chinese recipes are using a wheat flour-based pastry shell, although they can be enjoyed with rice paper as well. Here is our Crispy Rice Paper Spring Rolls recipe with colorful julienne veggies and shredded hoisin tofu as a vegan protein option.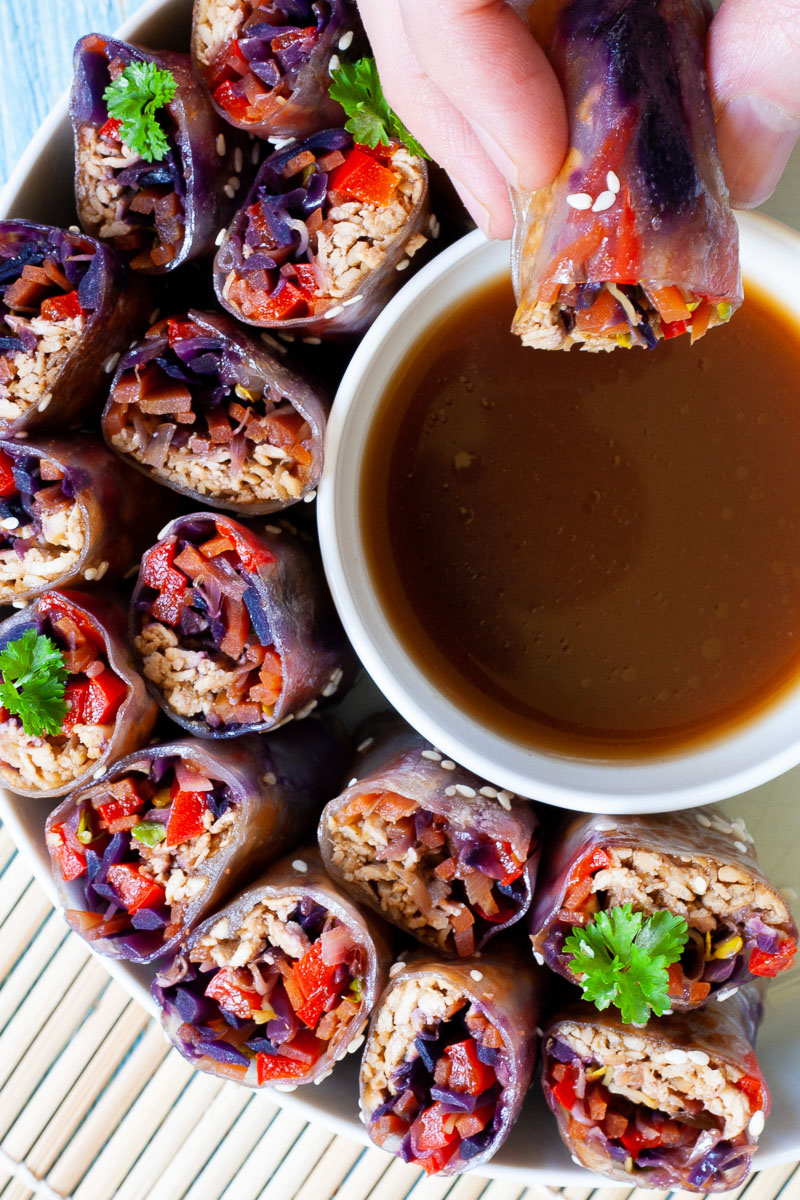 Rice Paper Samosa Rolls
How about some spicy Samosa filling? Samosa should be this triangle- or cone-shaped fried pastry packet popular in South Asia especially in India and Pakistan. If you have some rice paper, you can enjoy them as Crispy Samosa Rolls.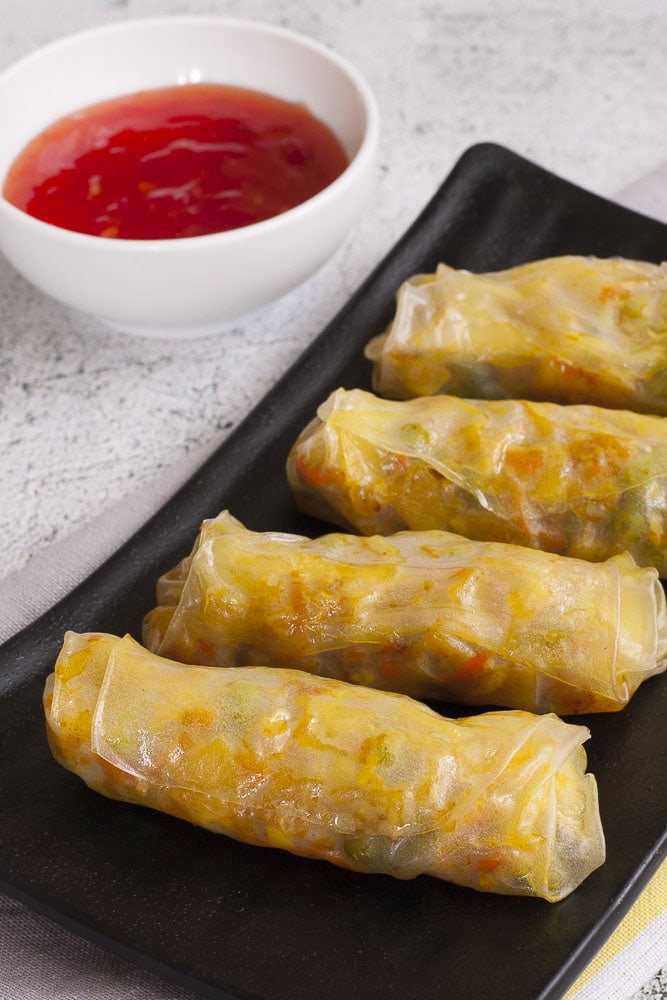 Winter Rolls
You don't have to forget about summer rolls during winter time. You will not get the usual fresh raw veggies you would during summer, but let's get creative, shall we? This Winter Rolls recipe by Pass The Plants have delicate squash, shredded sweet potato and purple cabbage. Aren't these absolutely lovely?
Edible Flower Rolls
You cannot get more colorful rice paper rolls than these Edible Flower Rolls by Live Eat Learn. Preparing these light and refreshing raw summer rolls with radishes, green onion, red and yellow bell pepper, avocado, cucumbers, and FLOWERS will be so much fun.
Quinoa Summer Rolls
In this Quinoa Summer Rolls by Strength & Sunshine recipe rice paper wraps are filled with raw veggies and cooked red quinoa and dipped into a sweet apricot sauce. This recipe makes for a light healthy and satisfying meal!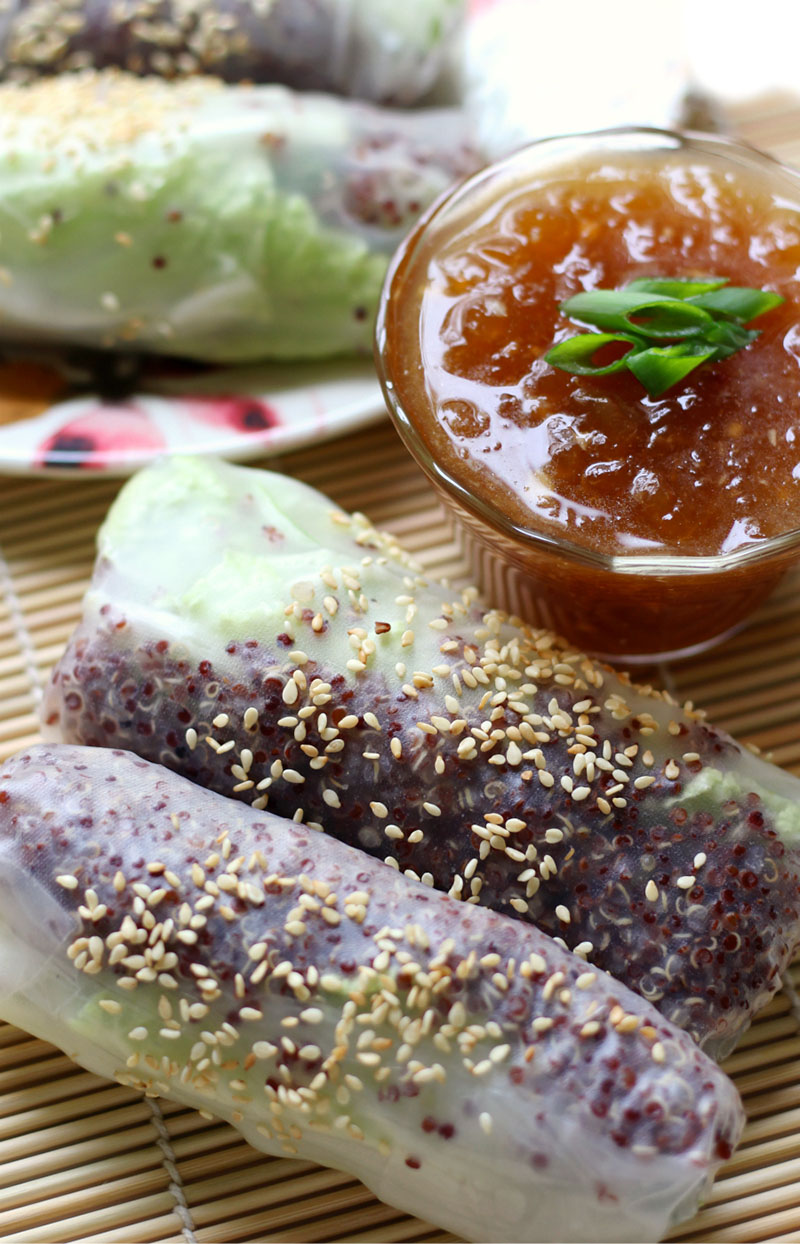 Thai Mango Sticky Rice Summer Rolls
Don't just think about savory dishes! Rice paper rolls can be turned into yummy sweet desserts, like this Thai Mango Sticky Rice Summer Rolls by Quite Good Food. Creamy sweet sticky rice, fresh mango slices and mint leaves.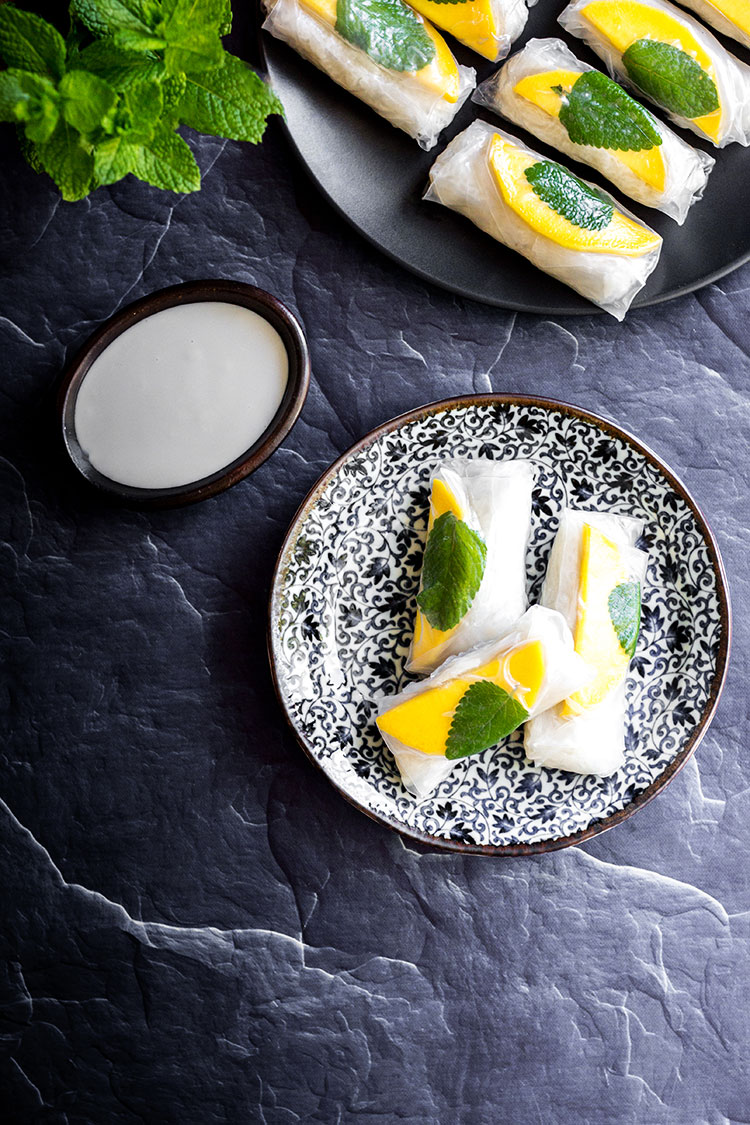 Sweet Pumpkin Rolls
These lovely Sweet Pumpkin Rolls recipe by Mind Body and Spirit Wellbeing reminds me of this gluten-free Apple Strudel recipe I saw a while back where phyllo pastry was replaced by rice paper.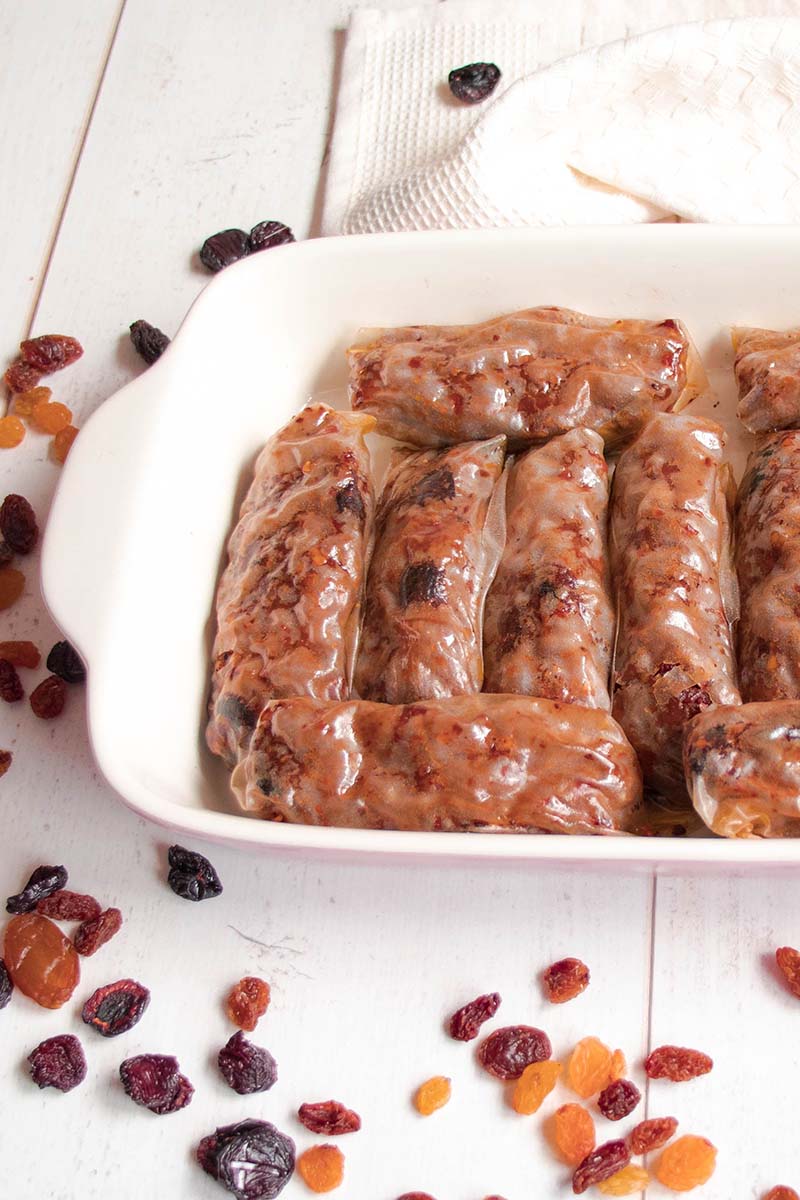 More ingredient guides
We have been writing more and more guides for specific ingredients. We explain in detail how to prepare each ingredient, how to cook with them, what to serve with them, and so on. Here are some of the other articles you might be interested in: