Here is a delicious and loaded Chipotle Veggie Bowl with Fajita Veggies, Black Beans, Cilantro Brown Rice, Tomato and Corn Salsa. Don't forget Sofritas, a quintessential Chipotle creation of fried tofu crumbles in hot spicy chili sauce. In this recipe we stacked NINE ingredients to make an epic Vegan Burrito Bowl. Are you excited too?
More Tex-Mex recipes yeah! Have you seen our Best Vegan Chili recipe? It is super simple, veggie-loaded, and delicious. We also have a no-mess, no-fuss, sheet pan Vegan Fajitas with Spicy Portobello Mushroom recipe that is just delish or this Epic Fajitas Portobello Mushroom Burger? We have other copycat recipes you may be interested in like this Copycat IKEA Veggie Balls or this Copycat Panda Express Vegan Orange Chicken.
What is in the original Chipotle Veggie Bowl?
Chipotle offers 4 different "Lifestyle Bowls". One for each of these diets: Keto, Paleo, Whole30, and Vegan. If you order a Chipotle Vegan Bowl, you will receive the following ingredients:
cilantro-lime brown rice,
black beans,
sofritas (spicy braised tofu crumbles),
tomato salsa,
corn salsa, and
lettuce.
If you build your own burrito bowl, you can add even more yummy ingredients and sides that Chipotle offers. They are for example:
guacamole,
sour cream,
queso blanco,
fajita veggies,
shredded cheese, and
more…
When we were putting together our meatless, veggie-packed, spicy, flavorful burrito bowl, we got inspiration from the wide variety of food you can order in Chipotle. If you are interested in recreating any of the above dishes at home, check out our copycat Chipotle vegan recipes list.
Ingredients of our Copycat Veggie Bowl
We combined NINE different food items you can order in Chipotle to build an Epic Vegan Burrito Bowl at home. We started off with the original ingredients of the Chipotle Veggie Bowl but added even more flavors and texture. Here is the most colorful, delicious, and loaded burrito bowl you will ever see.
So what do you need?
cilantro-lime brown rice,
sofritas
fajita veggies,
guacamole,
tomato and corn salsa,
shredded lettuce,
shredded vegan cheese,
canned black beans, and
sour cream.
Let's see how to make each item from the above list.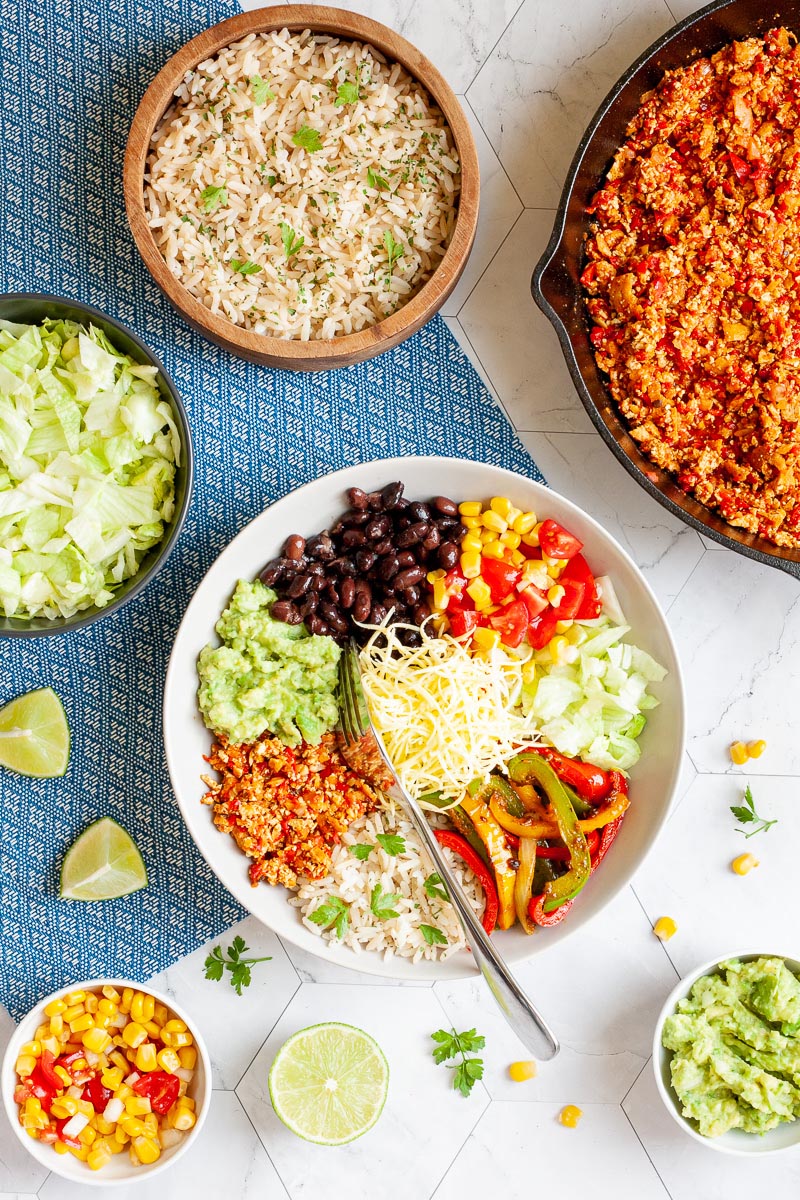 How to make Cilantro-Lime Brown Rice?
It is super easy to make cilantro and lime flavored brown rice. Cook the rice according to package instructions in salty boiling water. Drain them when it is ready. Once the rice is cooled a bit, add freshly squeezed lime juice, freshly chopped cilantro, salt, and pepper to taste. Mix it well and it is ready! Quick and easy. You can adjust the amount of lime and cilantro depending on your personal preference. We like it if we can only slightly taste each ingredient but one is not overpowering the other.
How to make Chipotle Guacamole?
Chipotle tweeted its guacamole recipe in May 2019. They use 2 ripe Hass avocados, 2 tsp lime juice, 2 tbsp cilantro (chopped), ¼ cup red onion (diced), ½ jalapeño including seeds (diced), and ¼ tsp kosher salt. Well, it is quite straightforward. To be honest, this is how most people – as well as us – prepare guacamole.
Take one ripe avocado and mash it with a fork. Add lemon or lime juice. Add finely chopped red onion and finely chopped fresh cilantro (photo #1). Mix it well and season it with salt if needed (photo #2).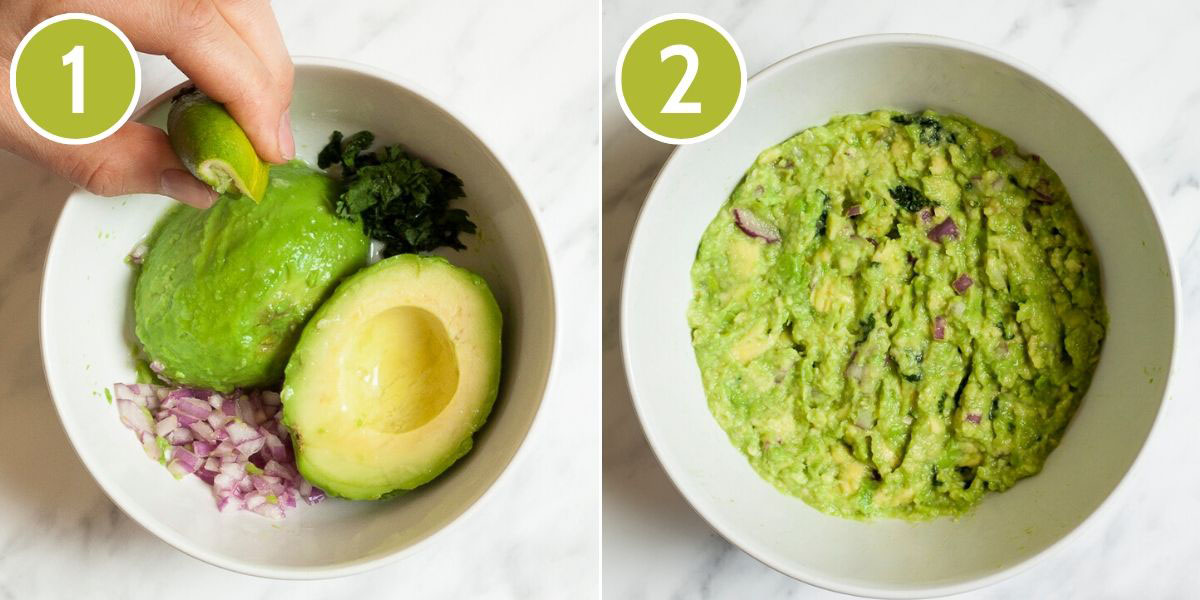 Quick tips to make guacamole:
Hot or not? – As the fajita veggies and the sofritas are already spicy, we skip adding any jalapeno or other hot sauce to the guacamole. If you like it hot, add it to your taste.
Finely chopped onion? – Do you have an immersion blender with a small chopping bowl? I use it the make finely minced onion. It will be more like a puree, so you will not taste the onion bits at all.
Creamy vs mashed? – The easiest to make guacamole is to mash the avocado with a fork. Depending on whether you like it creamy or chunky, instead of a fork, you can use an immersion blender you can make it extra creamy. It is also better if your avocado is not really ripe and soft and you have difficulty mashing it with a fork well.
How to make Tomato and Corn Salsa?
When it comes to salsa, there are several types. In Chipotle you can order a Fresh Tomato Salsa and a Chili-Corn Salsa. But at home, we like to keep it simple and make a combination of the two.
For this burrito bowl, we prefer to make a Tomato and Corn Salsa Fresca that is also known as Pico de Gallo (or Salsa Picada, or Salsa Mexicana). It is actually a simple chopped salsa with raw tomatoes, raw onions, raw garlic, fresh cilantro, and sweet corn. We drizzle them with olive oil, but you can skip that and just squeeze a lemon or lime on it. Add chopped jalapeno if you like it hot.
A quick tip: We like using cherry or plum tomatoes and chop them in quarters. As well as canned sweet corn instead of roasted corn. It is quicker and easier this way. If you want authentic Chipotle restaurant-style you need to chop the tomatoes as small as sweet corn and use roasted corn instead.
How to make Chipotle Fajita Veggies?
We prefer to roast the bell pepper and onion strips in an oven for the following reasons:
using a sheet pan is easy and no mess,
you can make a larger batch than in a skillet or frying pan,
you can do other things in the kitchen while the oven is busy roasting your fajitas veggies.
In our Sheet Pan Fajita Veggies post, you can find detailed instructions, useful tips, and even a quick video on how to make them in an oven.
However, if we need only 2 servings of fajitas veggies, we usually prepare them in a a frying pan or skillet. Peel and slice onion ¼-inch (4-5 mm) wide. Wash and slice bell peppers also ¼-inch (4-5 mm) wide. Pre-heat a frying pan on medium heat. Add olive oil. Once the oil is hot enough add the onion and the bell pepper slices and sprinkle them with fajitas spice mix (photo #1). Stir to combine and fry them for 5 minutes until they are tender (photo #2).
How to make Sofritas?
When we originally posted this recipe, we used large soy curls that resembled chicken or pork strips. However, after extensive research and testing we finally posted our Copycat Chipotle Sofritas recipe. It makes this veggie bowl a true Copycat Chipotle Bowl for sure. Now, you can make EVERY ingredient just as they serve them in the restaurant.
You can choose different plant-based protein alternatives to add to your burrito bowl like 1) Cauliflower, Walnut or Mushroom Mince for truly whole food plant-based alternative – we use them in our Vegan Spaghetti Bolognese recipe or 2) TVP (Textured Vegetable Protein) – for details visit our Vegan Taco Meat recipe.
Use a firm tofu and press it. We used our trusted TofuBud*, but you can choose any DIY method or tofu press. Pat it dry with a paper towel.
Fry thin tofu slices with a bit of olive oil until golden brown (photo #1).
Use a food processor to first chop the fried tofu.
Use a food processor to chop the marinade ingredients into a chunky sauce (photo #2).
Mix marinade and tofu and let it rest for 30 minutes.
We used our UnoCasa cast-iron skillet* but you can use frying pan as well and heat it over medium heat.
If you feel the sauce became too thick at the end of the marinating time, add a bit of veggie broth. Start with ¼ cup (0,5dl).
Add the marinated tofu crumbles together with the whole marinade sauce and cook for about 10 minutes (photo #3).
More Add-ins
What else you can add to a Chipotle-inspired Burrito Bowl? Well, still lots of tasty things come to my mind like: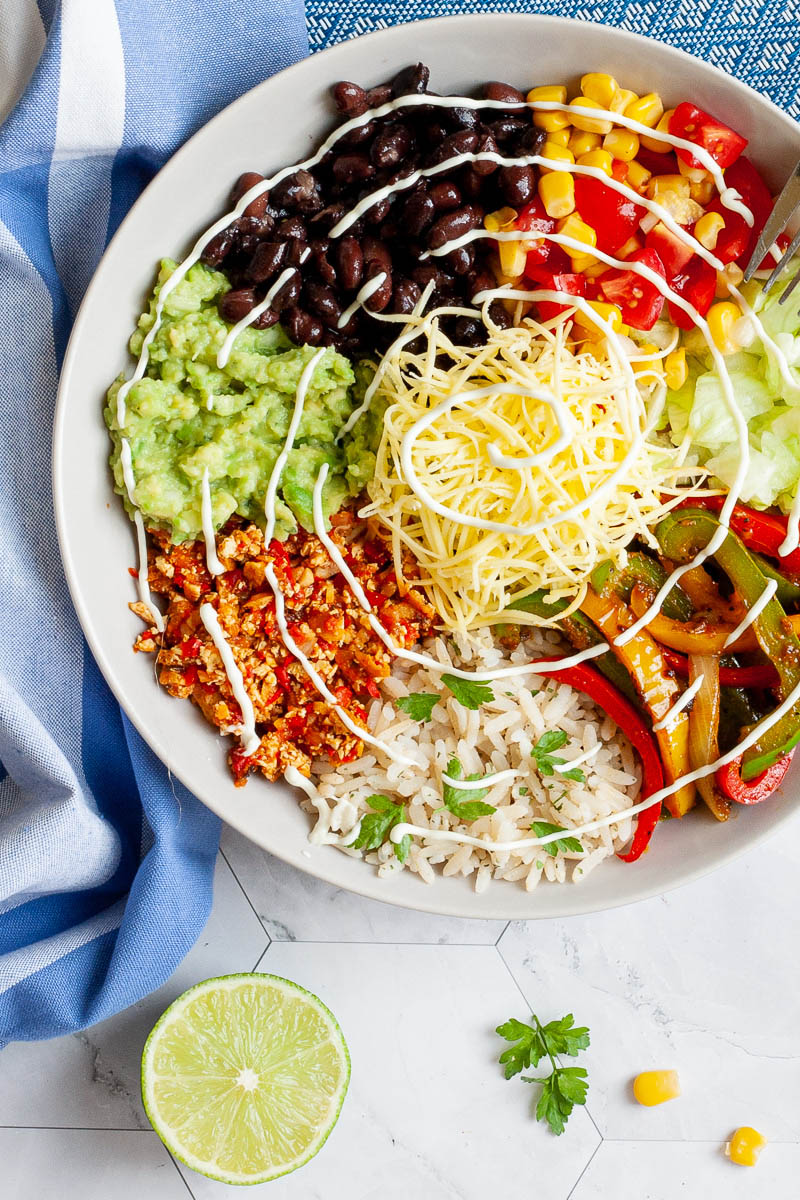 Let's see our Chipotle Vegan Burrito Bowl
As our girls are not a big fan of spicy food, we make this recipe usually only for the two of us: me and my husband. So, this recipe is for 2 servings. We often use our single-serving meal prep containers for easy storage and serving. So what have we put in them?
½ cup Cilantro-Lime Brown Rice
½ cup Shredded Lettuce
½ cup Sofritas
Half of the prepared Fajita Veggies
Half of the prepared Tomato-Corn Salsa
½ cup Canned Black beans
¼ cup Shredded Vegan Cheese
Half of the prepared Guacamole
Finish it off with a drizzle of sour cream or vegan mayo
Isn't it gorgeous, appetizing, and colorful? You can see all elements in the below collage after adding them one by one. What are your favorite add-ins? Let us know in the comments.
This Copycat Chipotle Veggie Bowl recipe is meat-free, dairy-free, and egg-free. It is also suitable for vegan, vegetarian, nut-free, and gluten-free diets. It can also be WFPB-friendly (whole foods plant-based) if you don't use olive oil.
More vegan Mexican-inspired recipes
UPDATED:This recipe was originally posted in May 2020, but we further tweaked the recipe, took new photos and rewritten it again in June 2021.