Do you want a unique twist to Mexican Rice Bowl? I skipped classic rice and made some fajita spiced riced sweet potato. It is a perfect addition to fajita veggies, guacamole, black beans, and tomato corn salsa, don't you think? Let me show you how to make Sweet Potato Rice.
Do you love spicy and rich Mexican or Tex-Mex flavors? We sure do. Try our Vegan Bean Chili, or our Veggie Burrito Bowl, or our Veggie Burrito. We have delicious Vegan Taco Soup that is ready in 20 minutes! And here is our popular Vegan Queso Dip recipe that is nut-free and soy-free.
What is Sweet Potato Rice?
If you are not sure whether you want to change rice to sweet potato rice yet, let me tell you what you can expect. It is evident that sweet potato goes great with Mexican or Tex-Mex-style recipes. Its sweetness combined with spicy ingredients works perfectly. We sure love them in our Quinoa Sweet Potato Chili.
Sweet potato rice has a lovely texture. It is quite soft and tender, but if you sautee it long enough it gets crispy. Its sweetness is more evident this way compared to a sweet potato that is cooked in water. We added a bit of fajita seasoning mix that complements this sweetness and turns it into a rich and flavorful side dish.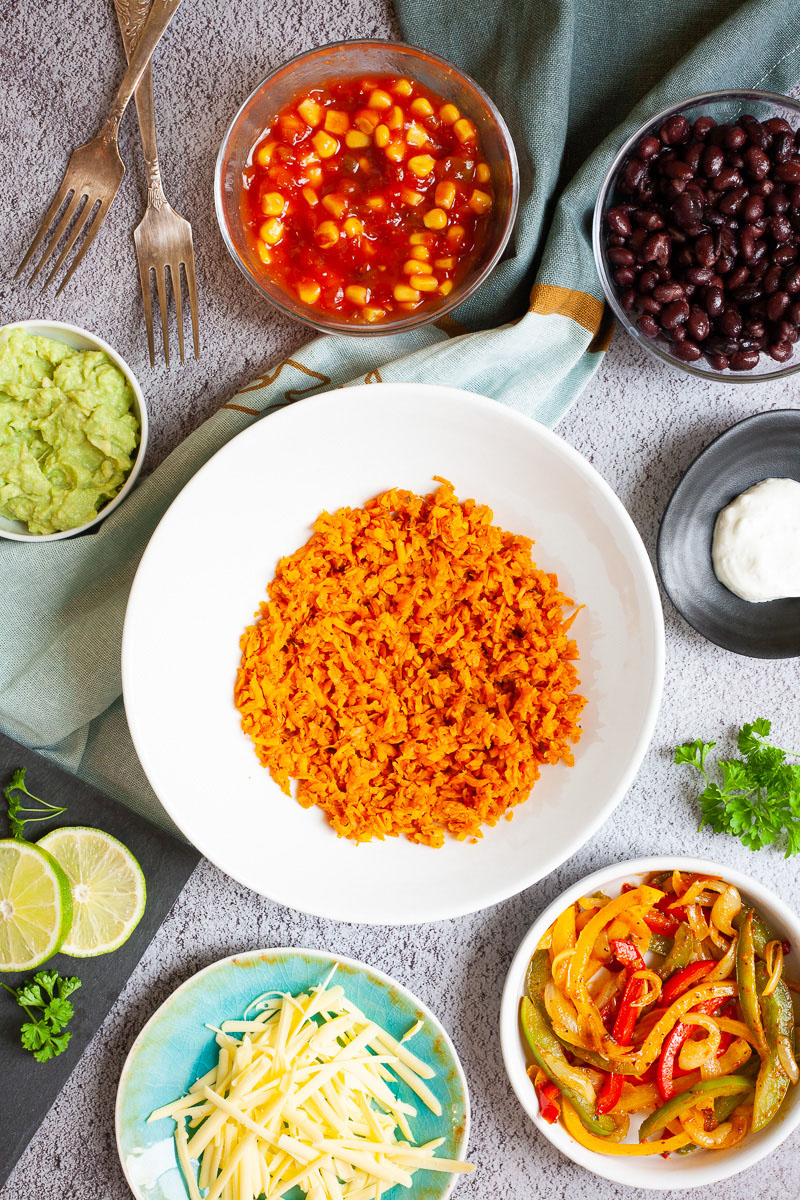 How to make Sweet Potato Rice?
You only need a couple of steps to make a crispy but soft riced sweet potato.
Wash and

peel

your sweet potatoes.
Use the grater of your food processor or a larger cheese grater to

shred

it. If it is too big for your chute, cut them in half or in quarters. Even if you seem to end up with long strips like grated cheese, don't worry it will break down to a more rice-like texture in the end.
Take a skillet or a frying pan and heat olive oil over medium heat.
Add the shredded sweet potato and

season

it with fajitas spice mix (or another seasoning to your taste), salt, and black pepper.

Sautee

. The sweet potato "rice" is tender and ready to be served after approx. 15 minutes. Although if you want a caramelized crispy coating you need to add an extra 10 minutes to your time. (This is how it looks like after 25 minutes! See below picture.)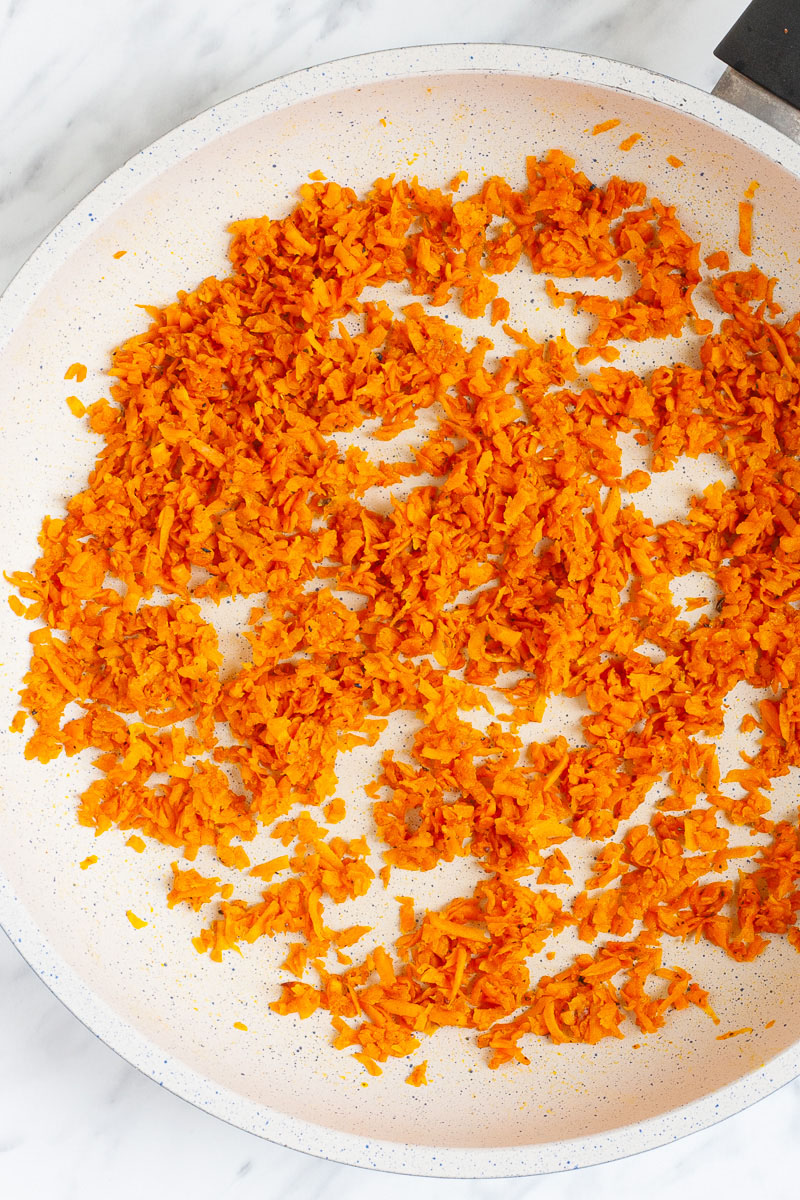 Let's make a Mexican Rice Bowl!
So you have your sweet potato rice, now what. I will not leave you hanging to figure out what to serve with it. I show you a quick and easy recipe that complements riced sweet potato perfectly. And the recipe is Mexican Sweet Potato "Rice" Bowl, where I also added several delicious ingredients to accompany the sweet potato:
How to make fajita veggies?
Especially if we want to make a larger batch, we prepare fajita vegetables in the oven. It is easy and no-mess to use a sheet pan, and you can also do other things in the kitchen while the oven is busy roasting your veggies. In our Sheet Pan Fajita Veggies post, you can find detailed instructions, useful tips, and even a quick video on how to make them in an oven.
However, if we need only 2 servings of fajita veggies, we usually prepare them in a frying pan or skillet. Peel and slice red onion ¼-inch (4-5 mm) wide. Wash and slice bell peppers also ¼-inch (4-5 mm) wide. Pre-heat a skillet over medium heat. Add olive oil. Once the oil is hot enough add the onion and the bell pepper slices and sprinkle them with fajitas spice mix. Stir to combine and fry them for 5 minutes until they are tender.
How to make guacamole?
We use the same guacamole recipe for all Mexican recipes on the blog. Take one ripe avocado and mash it with a fork. Add lemon or lime juice. Add finely chopped red or purple onion and finely chopped fresh cilantro (photo #1). Mix it well and season it with salt if needed (photo #2).
What else can you add to your bowl?
What else you can add to this Mexican Rice Bowl? Well, still lots of tasty things come to my mind like:
Let us know what is your favorite combination!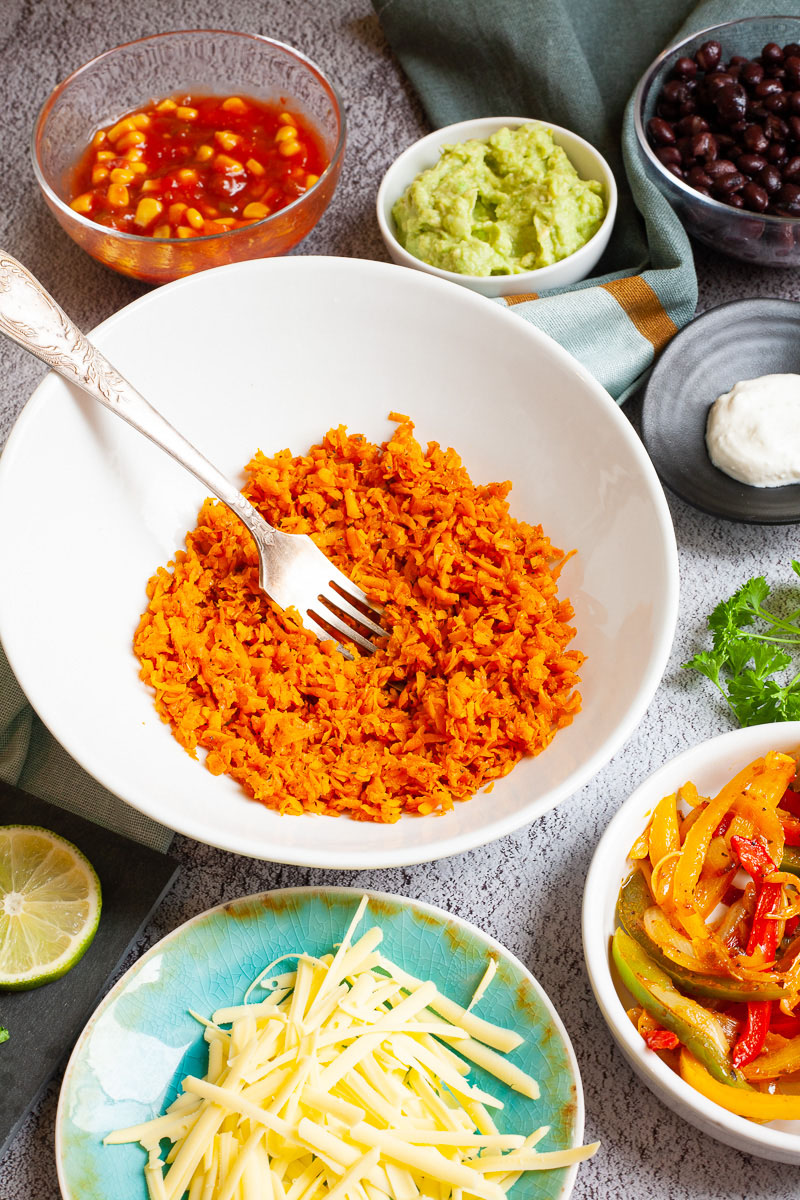 Where can sweet potato replace rice?
Do you mean apart from this delicious Mexican Rice Bowl? You can substitute sweet potato rice for regular rice in plenty of recipes. To give you some ideas, think of dishes like:
This Mexican Sweet Potato "Rice" Bowl recipe is meat-free, dairy-free, and egg-free. It is also suitable for vegan, vegetarian, nut-free, and gluten-free diets. It is WFPB-friendly (whole foods plant-based) if you sautee onion and bell peppers in water or veggie broth, and choose oil-free plant-based cheese and sour cream.
More vegan Mexican recipes