In my book, quick means super quick aka easy vegan meals that are done in 15 minutes. Yes, it is possible. I found 45+ delicious recipes that are perfect for lunch or dinner if you have only 15 minutes to get them ready. Are you interested?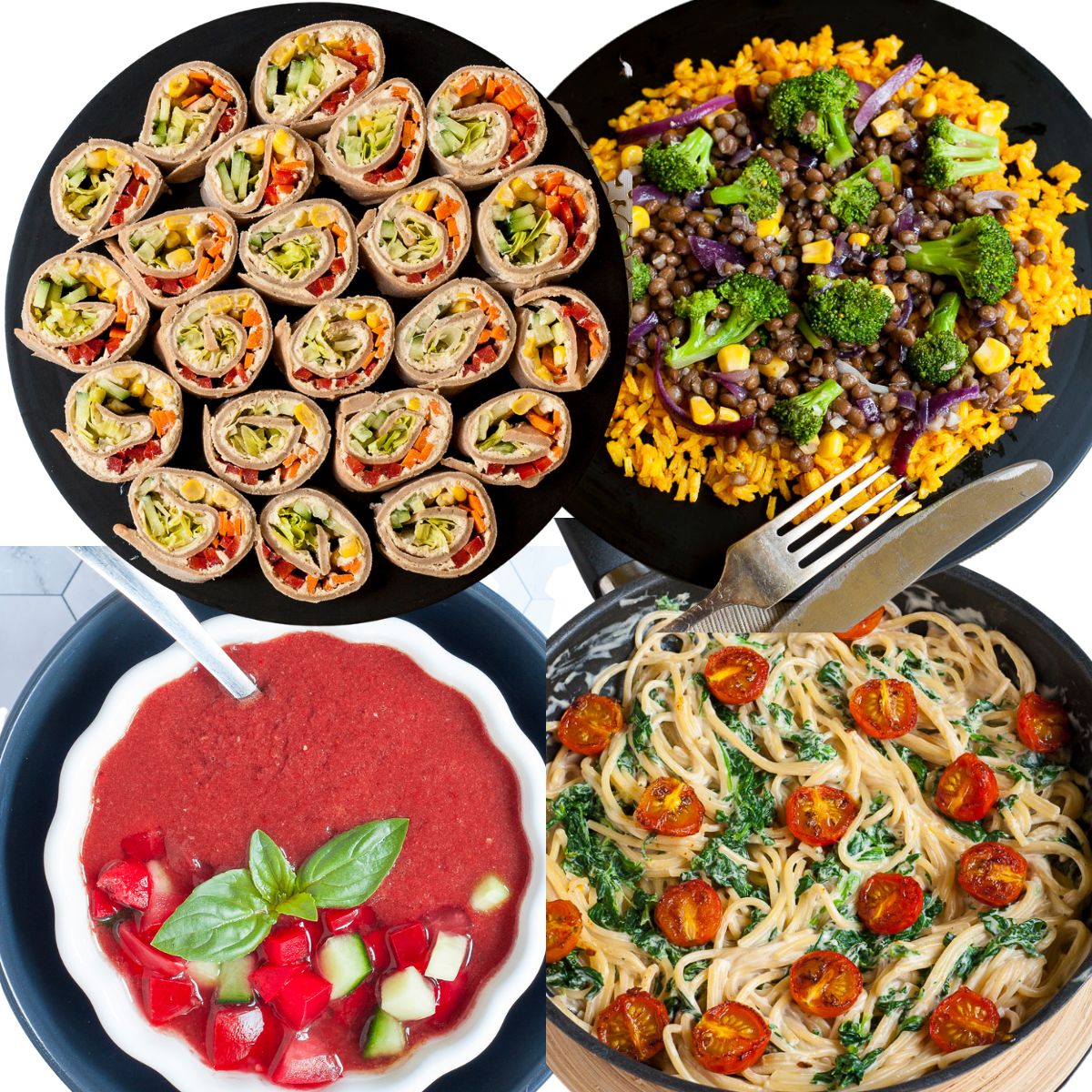 What do we mean by quick & easy?
Well, we mean you can make them really really quickly. There are definitely certain days when even 30 minutes seems like a lifetime to get dinner ready. But don't be afraid there are a lot of yummy vegan recipes you can do in or less than 15 minutes. What these easy recipes have in common?
NO soaking
NO pre-cooking
NO overnight preparation
NO resting or waiting to be chilled
NO lengthy ingredients list
NO need to use any special kitchen equipment
Sounds good, right?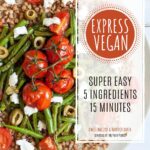 What kind of quick vegan meals are they?
We collected a series of delicious vegan recipes that are gluten-free as well. We included…
pasta recipes
stir-fry recipes
buddha bowls
loaded salad recipes
lunch ideas to go
veggie soups
hearty dinner recipes
Tips to make any recipe quicker
We have some go-to tips and tricks to make short-cuts and reduce the preparation time or cooking time:
Use canned products -> they are pre-cooked (e.g. lentils, beans, corn, peas)
Use frozen products -> e.g. frozen spinach is already pureed so you can skip blending the soup or sauce when ready
Use powders for seasoning -> if you use onion or garlic powder, you can skip chopping or cooking
Use rice noodles -> if you make a pasta dish rice noodles are one of the fastest to get them ready
Use a food processor for chopping and shredding -> you can save time a lot of time on preparation
Chop veggies small for cream soups -> chop veggies as small as you can to reduce cooking time. You will blend them at the end so it doesn't matter how do they look like at the beginning.
Quick & Easy Vegan Pasta Recipes
Of course, one of the quickest dishes are pasta dishes. You can make a delicious homemade pasta sauce that is ready at the same time your pasta has been cooked. Below you will find ONLY yummy, easy, vegan pasta sauce recipes that are ready in 10-15 minutes!
As you can never have enough recipes for pasta, here are some Asian-inspired vegan pasta dishes.
Quick & Easy Vegan Stir-fry Recipes
Making a healthy, veggie-loaded stir fry is just as easy as making a pasta sauce. The only difference really is that you add rice, quinoa, buckwheat or whatever grain you prefer to your veggies instead of pasta. Below we collected ONLY delicious, easy and vegan stirfry recipes that are ready in 10-15 minutes!
Vegan Buddha Bowls
Buddha bowls are similar to salads but loaded with a rainbow of ingredients. It is usually a cold one-bowl meal that consists of vegetables, grains and plant proteins (like tofu, beans or legumes). Eating a bowl for dinner is so filling, that it will not even leave any place for dessert. Here are some superfood bowls that you can make in 10-15 minutes.
Loaded Salads for a Complete Meal
Don't think about salads as boring side dishes! These easy salad recipes will have everything. If you eat them for lunch, you will feel that you have eaten a complete meal. And the best part is that you can make them under 15 minutes. However, you may be able to enjoy them much longer.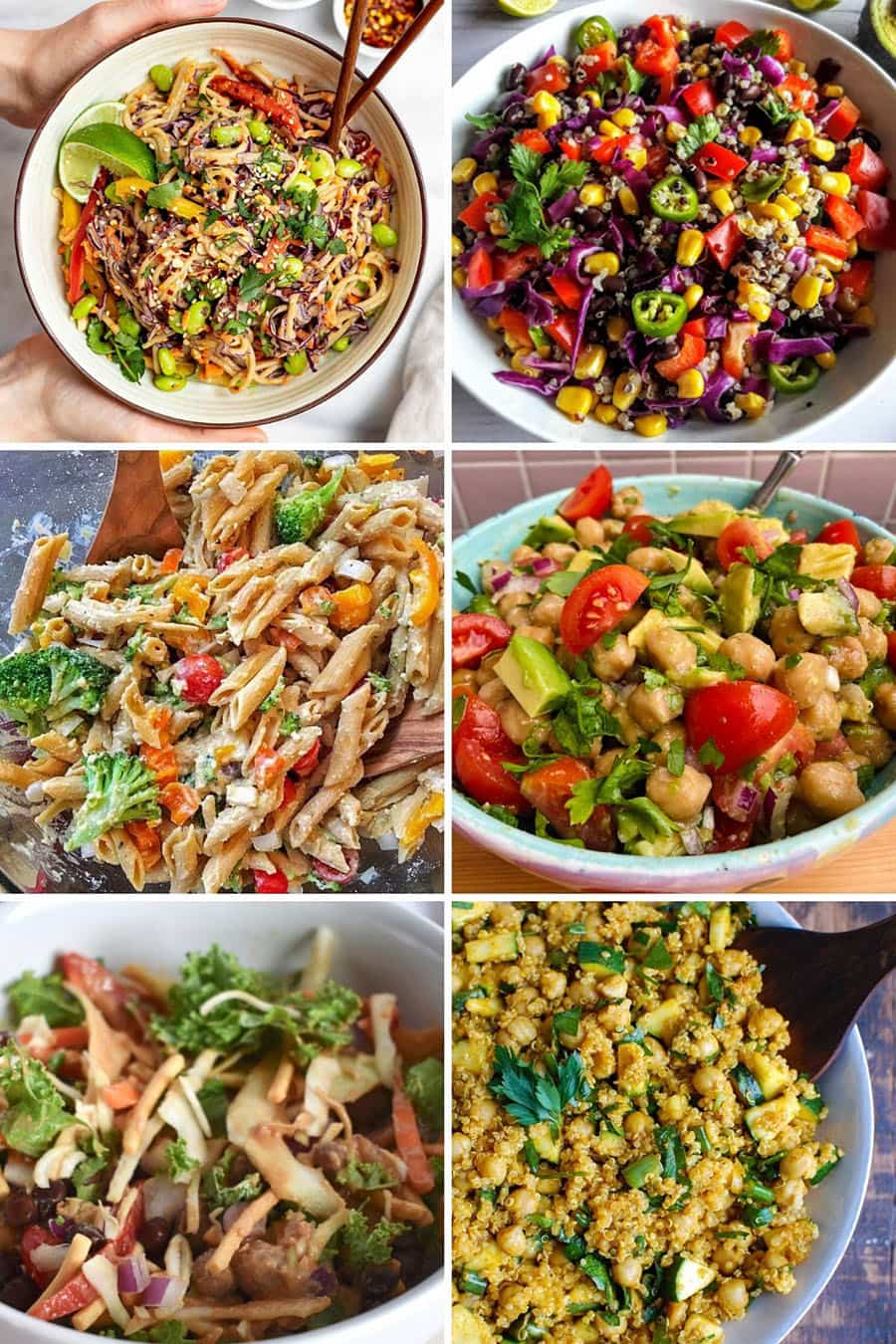 Quick & Easy Vegan Lunches to Go
If I am listing you quick and easy vegan meals here, I am sure not to miss the truly quickest meal recipes. You can never go wrong with a hearty, veggie-packed sandwich or wrap for lunch or dinner. It is the best lunch for the busiest people who don't even have time to sit down for eating. They will only have 10-15 minutes to prepare a quick sandwich, grab it and go!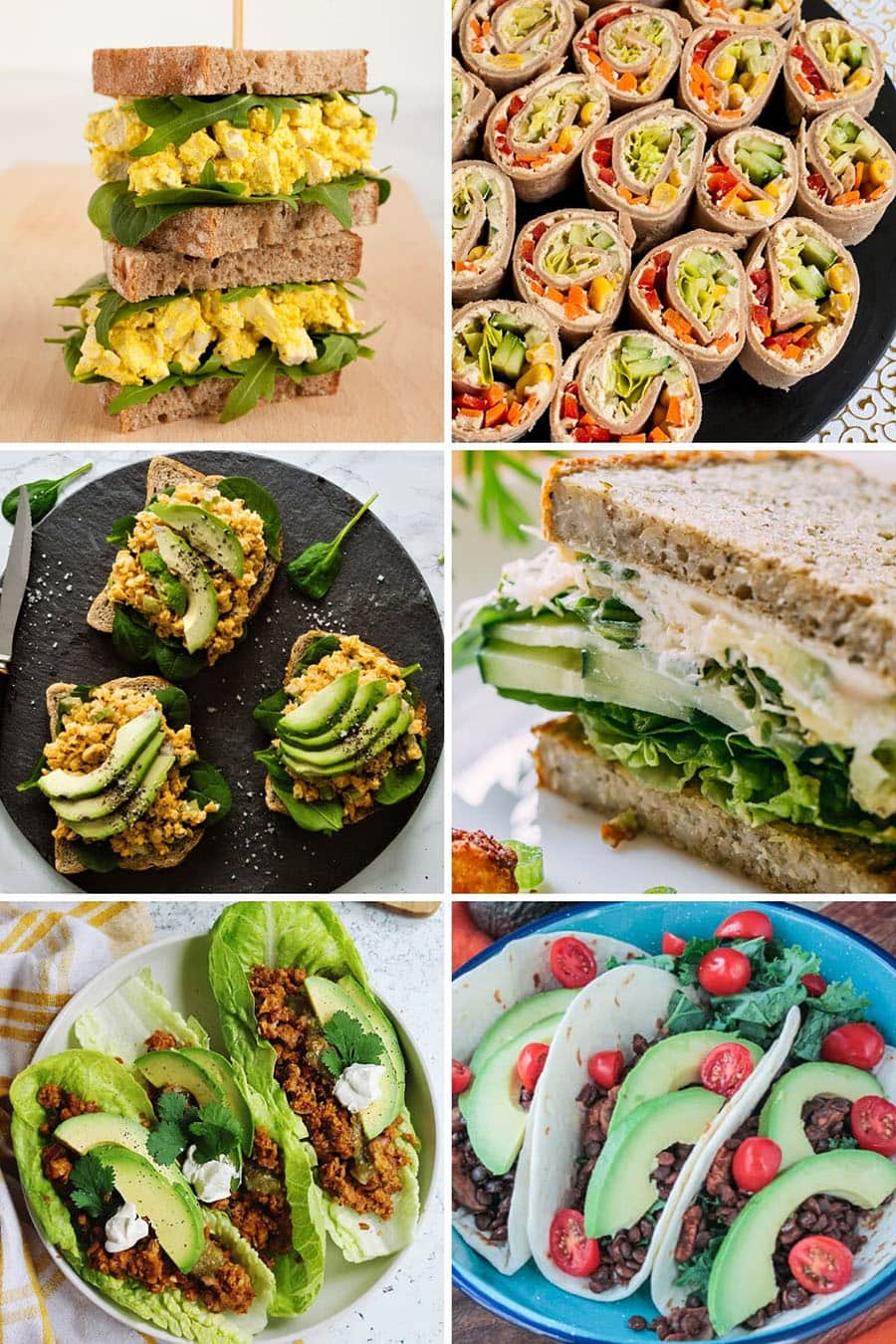 Easy Vegan Soups
Soups can be as hearty and as filling as any other meals or refreshing depending on the season. Boost your soups with various toppings to have a complete lunch or dinner. Below you will find ONLY delicious soup recipes that are ready in 15 minutes!
Hearty Dinner Recipes
You can surely have a hearty and filling dinner even if you have only 15 minutes to prepare it. You can eat a burger, a chili, a pizza or a quesadilla. Below you will find ONLY delicious vegan recipes that are ready in 15 minutes!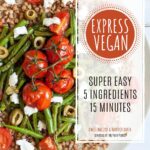 UPDATED: This recipe roundup was originally posted in April 2019, but was rewritten and republished with easier and quicker recipes in March 2020.