No idea what is eggplant or what to do with it? Which type, size, and color you should choose? How to store them at home? How to prepare them for cooking, roasting, or grilling? Here is a complete guide to cooking with eggplants. Everything you ever wanted to ask!
I don't want to bore you with the history of eggplants, or how to grow them. I will only write about the things you need to know to make delicious eggplant recipes. Nothing less, nothing more.
Types of eggplant
The first thing is to know what kind of eggplant can you buy. There are at least 10 different types, but you most definitely will meet these 4 in your local grocery store (you can see all of them in the picture below):
Globe or American: You will most probably find these at first as they are the most common and well-known ones. They have dark purple skin and are shaped like a large pear.
Baby or Indian: Not always available in general, but you might find them in specialty stores most likely. They are small, in size of a large egg, really cute with dark purple skin.
Japanese or Chinese: They are not usually stocked in supermarkets. These eggplants are light purple, long and thin like jalapeno peppers. Their skin is usually thinner as well.
Graffiti or Fairy Tale or Zebra: All 3 types are very similar. Their names come from their appearance as their skin is purple with white stripes. They look really eye-catching, don't they?
And remember that another name for eggplant (among others) are aubergine or brinjal. So if you find a recipe calling for these ingredients, you know now that they mean the same.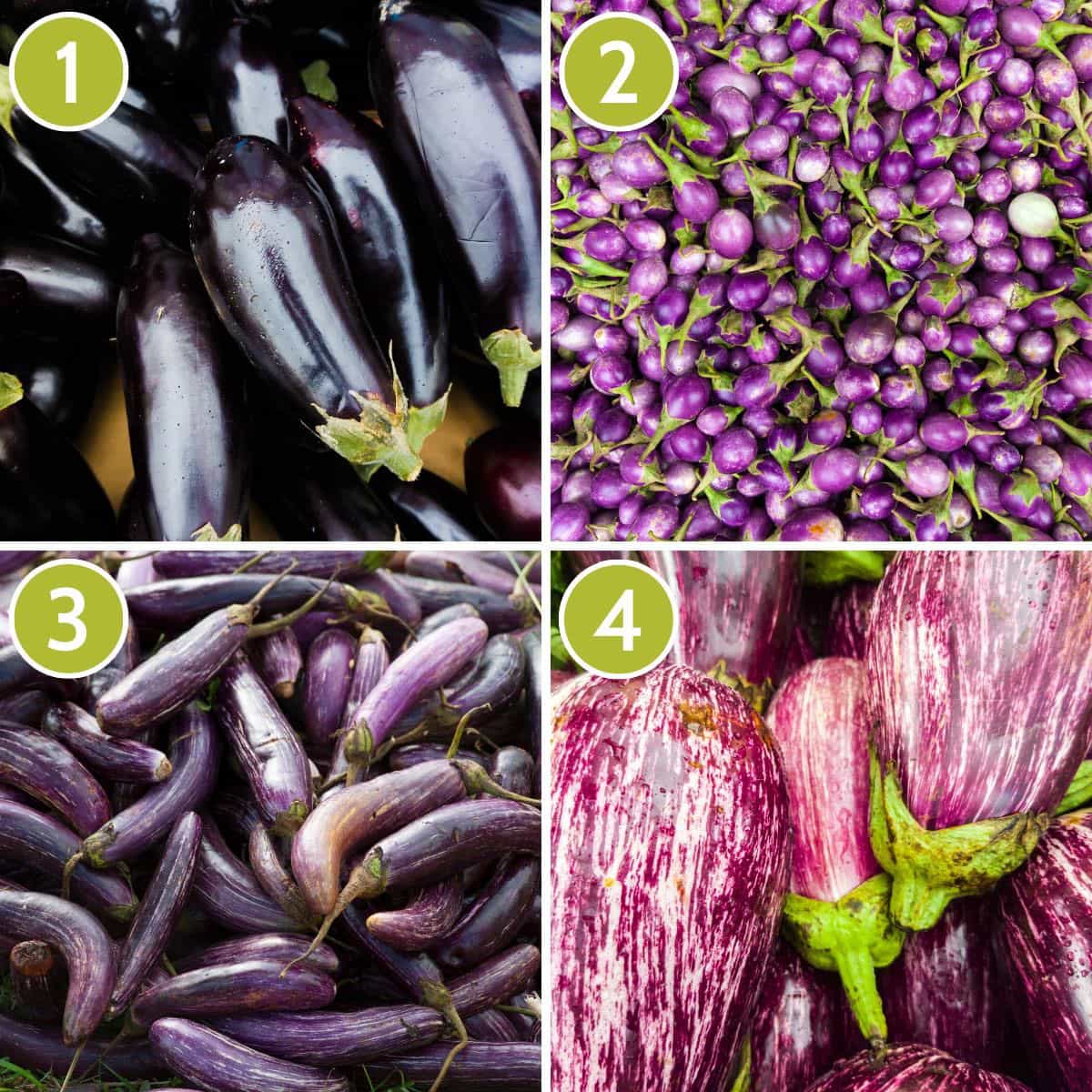 How to choose the perfect eggplant?
Let's talk about the most common one, the Globe Eggplant. If the recipe calls for a medium-sized eggplant, then you need to look for the ones that are the size of your two fists together. If you are more of a metrics person than approx. 10 oz / 250-280 g. You will get the freshest and tastiest eggplants at the end of summer, although they are usually available all year around.
What other tips we have that are applicable to all types?
The skin should be shiny and spotless. If there are bruises, or scratches then the inner flesh may be damaged too.
When you touch it, it has to be firm, so you shouldn't be able to dent it with your fingers.
The eggplant should have weight, should feel heavy and sturdy for it to be fresh.
It has to have a green stem rather than a brownish one, which indicates how freshly have they harvested it.
How to store eggplants at home?
So, when we are back at home with our fresh eggplant. What do we do next? We always place them in the bottom vegetable bin of our refrigerator unwashed, uncut. Our little hack is to place a disposable paper towel below them. We found that it is especially important during summer when the vegetables can damage easier. Eggplant goes bad if the skin wrinkles, or if it gets soft to the touch or if brown patches appear on the skin.
We never had problems storing eggplants this way up to a week.
What happens if I have raw, cut leftover eggplant slices?
I sprinkle the eggplant slice with salt and rinse them after 10 minutes. Then I stack them up and cover them in foil. I usually store the slices in the fridge for up to 2 days. It will get brownish, but I don't find it off-putting as even if I roast them or sautee them, they will get brown at the end.
What does eggplant taste like?
It is a very divisive vegetable (I mean fruit), especially because it is part of the nightshades family and a lot of people are allergic to it.
It has a soft, spongy texture, which I find very similar to mushrooms. If you like mushrooms, there is a good chance you will like eggplants too.
However, it has a slight bitter taste compared to other veggies. Fresh eggplant tastes less bitter though. The reason is that as time passes from the harvest time, and the eggplants are getting "older", sadly they may get bitter. But don't worry you can get rid of the bitterness and turn them into tasty vegetables.
Is it really bitter?
Fortunately, most of the bitterness can be found in the skin. So if you peel it, you can get rid of most of it. Any leftover bitterness can be overcome by cooking, frying, grilling, or roasting, which turns eggplants into a soft, and a rather sweet vegetable.
Here is an interesting read on Bon Appetite about why eggplants are change botanically through the ages to reduce bitterness from the start. So it seems that it is only a habit to call eggplants bitter now.
Therefore, we recommend NOT TO PEEL THEM. Why? When you grill them or roast them in slices it is beneficial to leave the skin on to hold the slices together after they soften.
3 most important features you should know
There are THREE things you should know about eggplants before deciding on which recipe you will choose.
Eggplants are 90% water and have a spongy texture, so they can soak up juices pretty fast. On one hand, it is super helpful if you want to marinade them as the flavors get in easily. On the other hand, you need to watch out how much olive oil you use to cook them as your eggplant can turn into a greasy, oily, and mushy nightmare. That's why we recommend sprinkling the slices with salt and leave it for an hour to release the moisture. It will soak up less oil/juices.
They get brown very quickly after cutting. I was told to use ceramic or wooden utensils as using the usual knife may accelerate the discoloring. You can slow it down by brushing it with a bit of lemon juice. I find it not necessary at all as after roasting or frying they will get brown all over anyway. So what's the point?
It is not advised to eat them raw. We read this university article speaking about the fact that eating eggplants raw may cause digestive problems. However, it is its bitter taste that is off-putting for us to eat it raw.
How to prepare eggplants?
4 ways to cut them for cooking
There are 4 ways you can prep eggplants after washing them of course:
Cut them lengthwise in half.
Make thin slices lengthwise.
Slice them into 1-inch (1-1.5 cm) thick discs.
Chop them into 1-2-inch (2-3 cm) cubes.
Now, you're asking what to do next? Well, there are a number of things you can do with eggplants to turn them into a tasty dish. But first…
Is salting necessary?
Yes and yes! Sprinkle the cut eggplant with salt and leave them to rest until they release moisture. Why?
They will soak up less oil/juices during roasting and grilling. Also, they release less moisture when they are added to other veggies (in stir-fry or casserole-type dishes).
You can increase your chance to end up with anything but mushy eggplant.
The only time I don't salt it, if I roast them in the oven to make eggplant puree. Here is how to roast eggplant oil-free to make dips.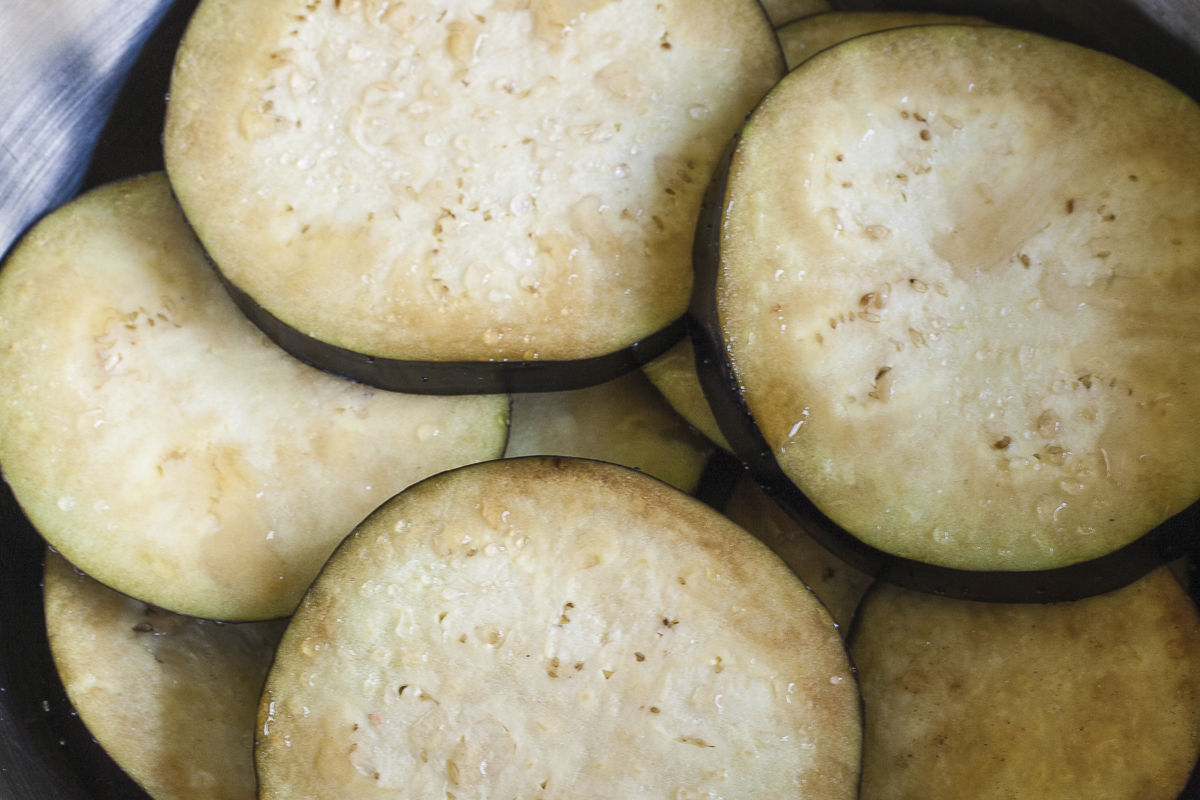 If you cut them in half…
Roast them and puree the eggplant flesh. -> Here is how to roast eggplant oil-free to make dips or meatballs.
Roast them with a wide variety of stuffing. -> You can stuff them with this easy bean chili.
If you slice them into discs…
Roast them.
Grill them.
Baked eggplant slices are a perfect side dish or addition to other roasted vegetables like roasted asparagus, zucchini, mushrooms, or other root vegetables. You can also add them to sandwiches, salad bowls, or burgers.
If you make thin lengthwise slices…
Use them as pasta sheets for classic lasagna or roll-up.
Add them as a roasted vegetable layer to any casserole.
Turn them into vegan bacon.
If you cut them into cubes…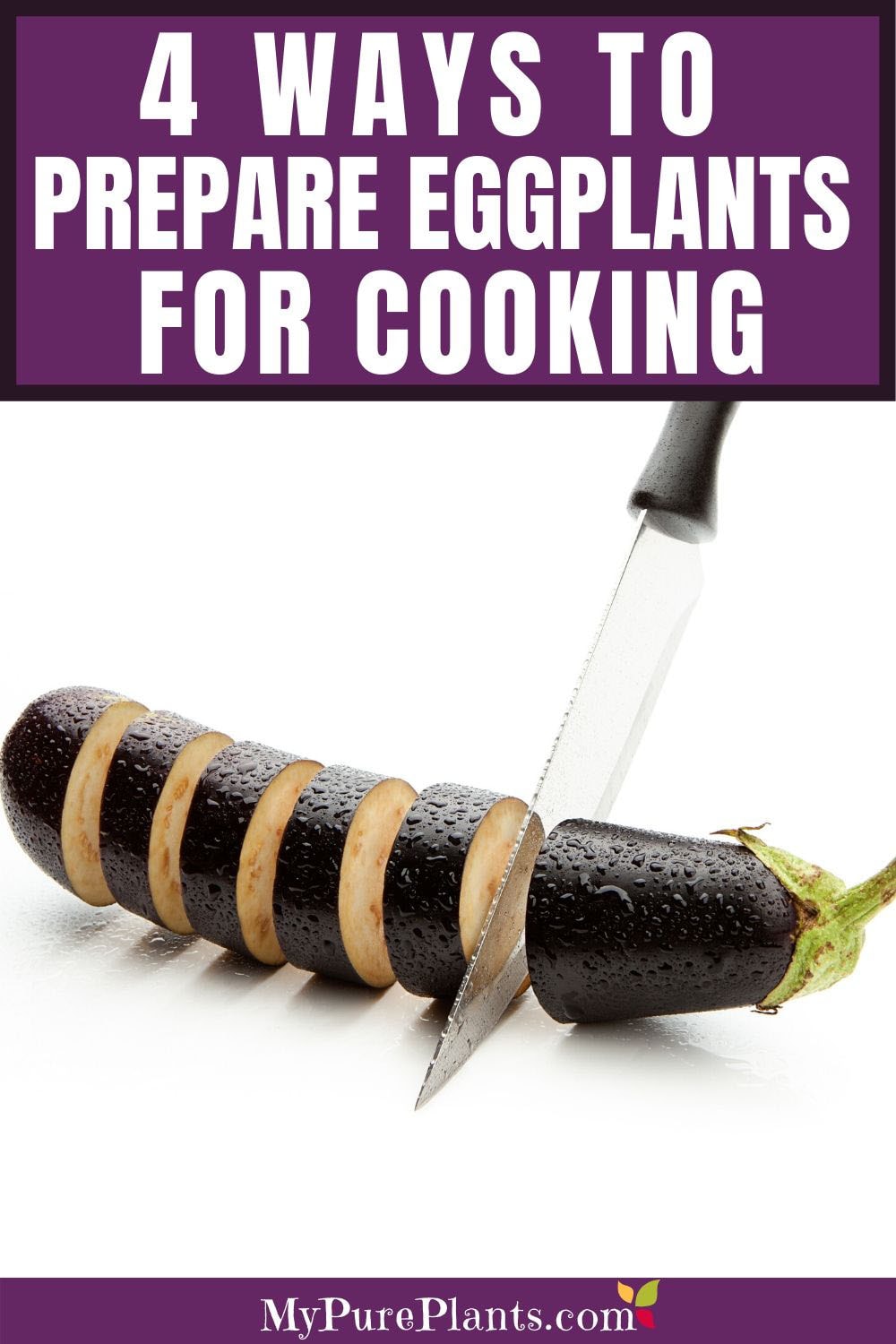 The most popular eggplant dishes
Hands down the first eggplant recipe that came to everyone's mind is Eggplant Parmesan aka Eggplant Parmigiana. You submerge roasted eggplant slices (breaded or not) in tomato sauce, top it with parmesan cheese and bread crumbs, and bake it in the oven.
However, there are other delicious dishes that are quite popular for a good reason. These are:
Moussaka – It is minced meat in a bolognese pasta sauce with eggplant slices and topped with a creamy bechamel white sauce.
Ratatouille – A light French summer veggie stew, that includes also zucchini, bell pepper, tomatoes, and onions.
Lasagna – It is a fun twist on the classic lasagna where thin eggplant slices.
Rollatini – It is similar to a lasagna roll-up where the eggplant slices are used as pasta.
Caponata – It is a Sicilian appetizer where eggplant cubes are sauteed with tomatoes.
Casserole – You can add chopped eggplant pieces to many veggie casseroles like this Meatless Shepherd's Pie.
Eggplant Meatballs – These are completely meatless "meatballs" served with spaghetti marinara with fresh basil.
Stuffed Eggplant
Roasted Eggplant or Grilled Eggplant to add to Pasta or Salad or Sandwich
Kabobs – It is a great addition to any veggie kabob.
Eggplant Pizza – It is a fun way to make mini pizzas, where you top grilled eggplants with your favorite pizza topping.
Dips – The most well-known one is Baba Ghanoush, but we love our Smoky Roasted Eggplant and Bell Pepper Dip.
Eggplant Bacon – It is a vegan dish where eggplants are cut lengthwise very thin, marinated in a mix of spices, and roasted in the oven to get a crispy bacon-like taste and texture.
Eggplant Fries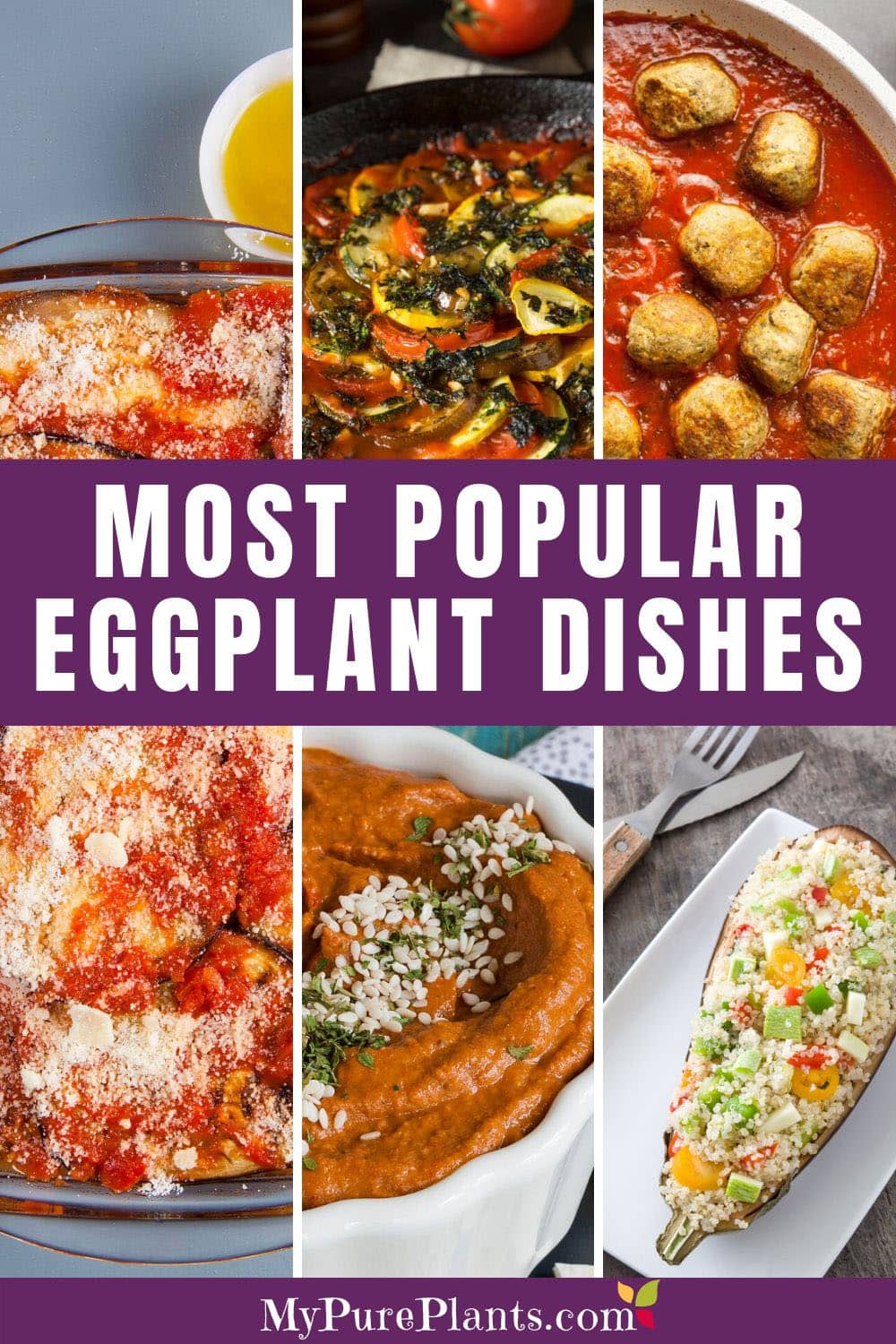 Our favorite eggplant dish
You can browse through our eggplant recipes, but our favorite ones are:
We also made a list of delicious Meatless/Vegan Eggplant Recipes you can choose from.
So, are you ready to cook eggplant? If you have any questions, let us know in the comments! Otherwise, happy cooking!