Do you know what is the meatiest vegan alternative to taco meat? Without a doubt, it is TVP (textured vegetable protein). As it mimics both the texture and the taste of ground beef perfectly. If you are looking for real beef-like vegan taco meat, this is the closest you will ever get.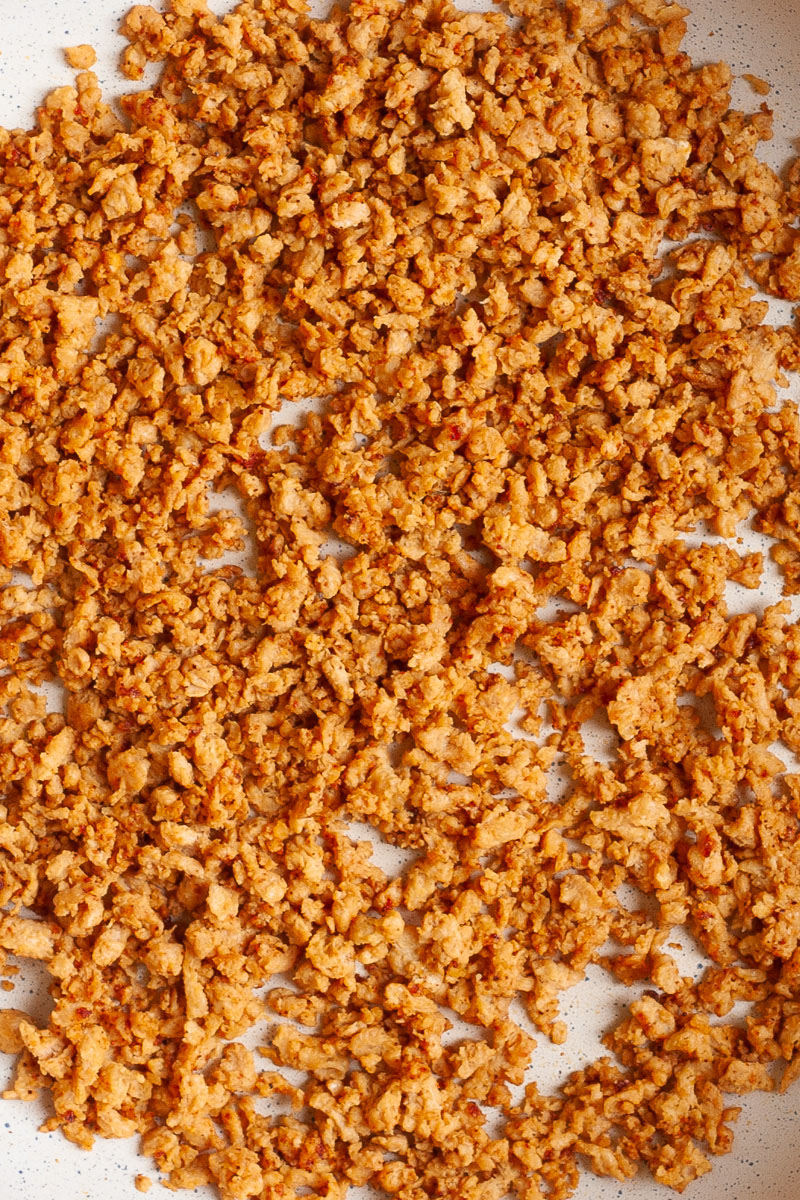 If you haven't heard about TVP (textured vegetable protein) before, you would be amazed by this ingredient. It is the best ground beef substitute ever. We use it to make the meatiest meatballs, burger, lasagna, or moussaka.
Why is TVP the meatiest vegan ground beef?
I would say more and more meat substitutes came to be as plant-based and vegan diets become more and more popular. All of them have pros and cons. What you decide can be based on personal taste, but sometimes it has to be based on medical issues like allergies and intolerance.
TVP* (textured vegetable protein) is a dehydrated ingredient that you can use in place of meat in vegan and vegetarian recipes. It is actually only defatted soy flour, no other ingredients. They add water to it to make a paste, then it is pressure-cooked, then dehydrated. The texture is spot on. This is the best plant-based alternative to vegan ground beef by far. You can read more about TVP in our ingredient guide titled "What is TVP? 13 TVP Recipes You Should Try First".
Other popular alternatives are
Some can give a good minced texture albeit much smaller, while others can mimic the meaty flavors, but none of them is as convincing as TVP as a vegetarian taco filling.
How to make the best vegan taco meat?
Soaking and squeezing
Boil water in a kettle and add veggie stock or bring veggie broth to boil.
Take a heat-resisting bowl or saucepan and soak TVP* in hot veggie broth for 10 minutes.
When the time is up, drain and squeeze the liquid out with your hands. As a result, you need to have moist, soft "minced meat". (See below picture for reference.)
Why do you need vegetable broth? You can soak TVP in hot water as well, but this will provide additional flavors.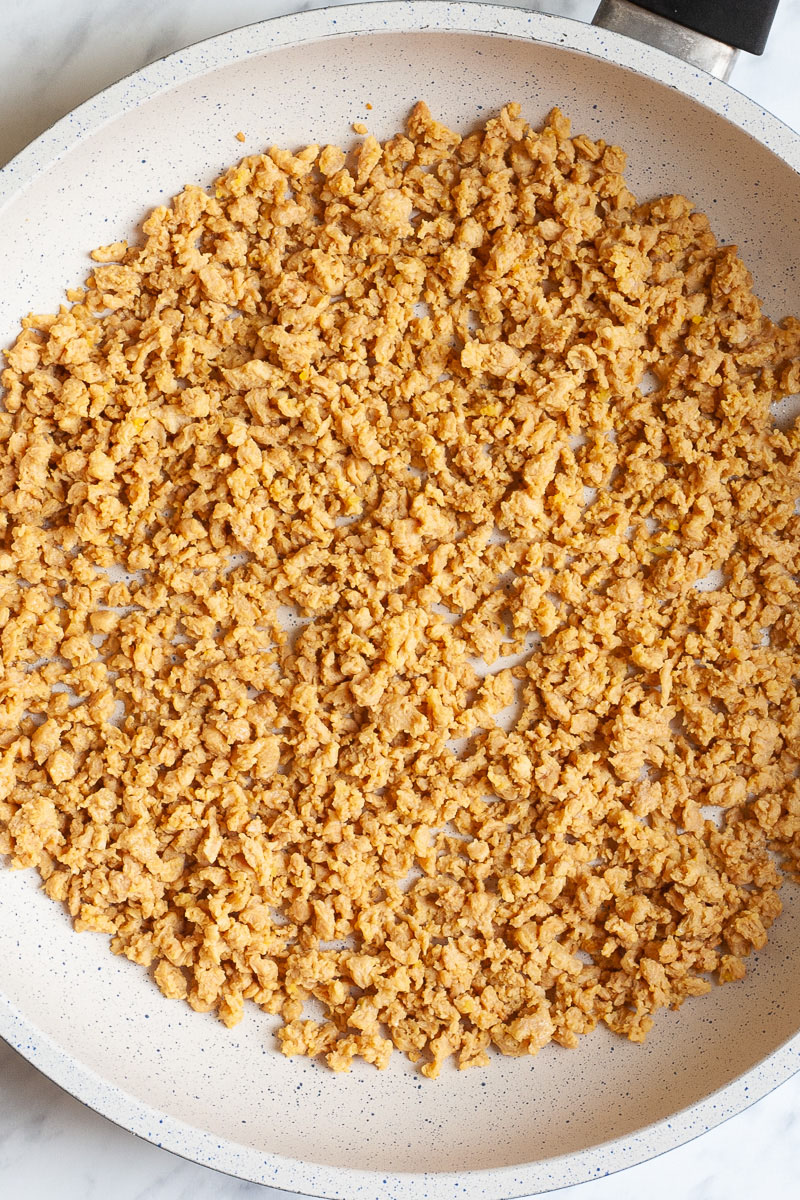 Spice it up!
Pre-heat your frying pan or large skillet over medium heat.
Add olive oil and softened TVP. Stir.
Add taco seasoning mix* (chili powder, smoked sweet paprika powder, cumin, oregano), onion powder, and garlic powder. Mix well.
Fry the TVP for about 5 minutes to get them crispy on the edges a bit.
Now, your meatless taco meat is ready to add to tacos.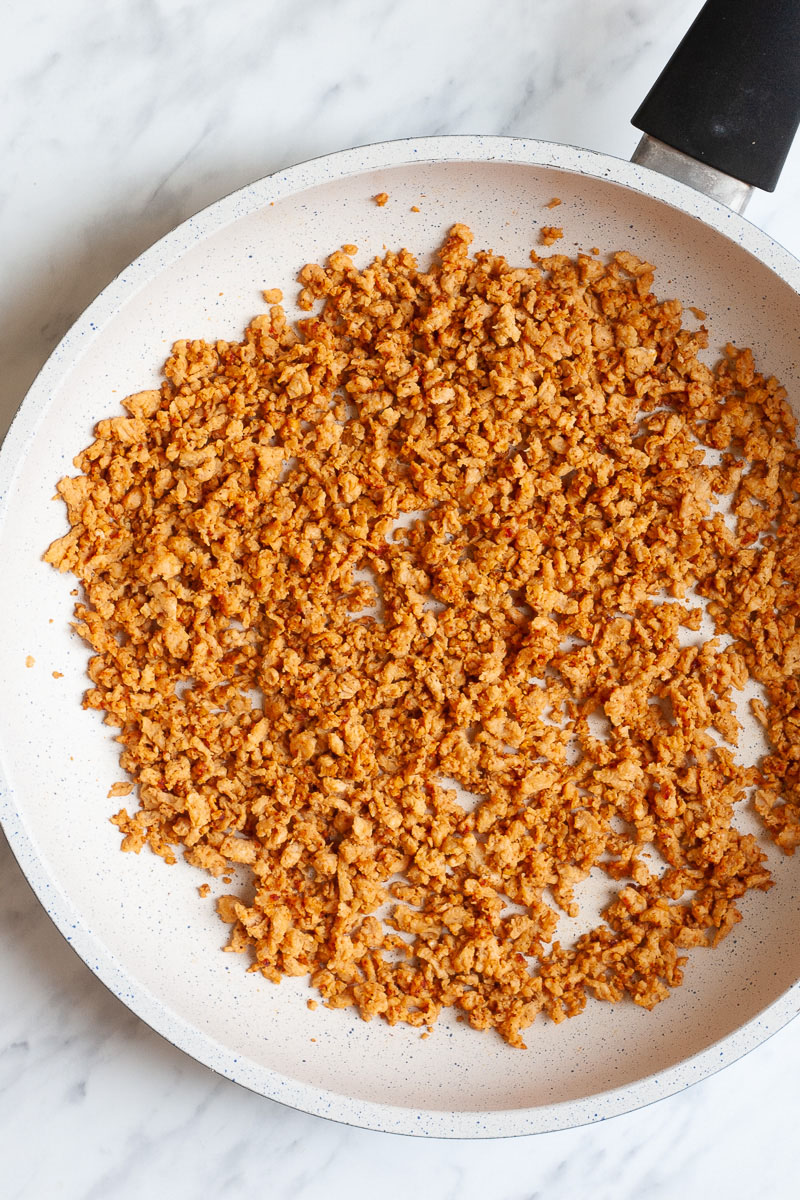 TVP tacos without a recipe
Obviously, TVP taco meat can be a great addition to any vegan tacos. Here is a list of ingredients you can use to match your taste and create your own hard shell tacos or taco salads:
What to serve with it?
We have lots of delicious Mexican or Tex-Mex inspired ideas you can use this meatless taco meat in.
FAQs and substitutions
How to store it?
You can store it in an airtight container in the fridge for 3-4 days without a problem. We haven't experienced changes in texture, while the flavor profile can deepen as days go by.
What is the closest substitute for tvp?
So what if you can find TVP in your local store? Or if you are allergic to soy products? The good news is that TVP is not just made of soy flour. For example, Noble Plate's TVP (crumbles)* is made of pea protein, but you still get the experience of a minced beef-like texture.
Other alternatives can be lentils (picture #2) (see in our vegan lentil lasagna recipe), cauliflower-walnut mince (picture #3) (see in our vegan spaghetti bolognese recipe), or grains like millet or quinoa (see in our vegan bean chili recipe). You can see the texture differences very clearly on the below image, which shows 3 vegan minced meat alternatives we use to make vegan moussaka No.1 being obviously TVP.
This TVP Taco Meat recipe is vegan (so meat-free, egg-free, and dairy-free) and vegetarian. It is gluten-free, nut-free but not soy-free.
More tvp recipes
Start with checking out these must-try vegan tvp recipes or choose from the below list:
UPDATED: The original recipe was posted in February 2021. It has been updated with more tips, FAQs and republished in February 2022.