If you need Vegan Christmas Dinner Recipes to prepare a delicious holiday dinner for your family and friends, stop right here. It is not another list of 100 different recipes to get you overwhelmed and frustrated in deciding which one to choose. This is the list of our FAVORITE Vegan Christmas Dinner Recipes.
What vegans eat on Christmas?
Nothing out of the ordinary. They eat an appetizer, a main dish, sides, and some dessert. Just, joking…
…but you'll see that you can have an absolutely delicious Vegan Christmas Dinner without eating the traditional roasted meat and dairy-based dishes.
If you "Jump to the Recipe" to the bottom, you will see our
FAVORITE Vegan and Gluten-free Christmas Dinner Menu.
If you need it in a printable e-book with SHOPPING LIST, click here!
⇒ DOWNLOAD THE PRINTABLE RECIPES WITH SHOPPING LIST
Have you seen our Vegan Thanksgiving Dinner Recipes? Not yet? You can also download it for FREE in a form of a printable e-book with shopping list.
List of Vegan Christmas Dinner Recipes
As I said before it is not an overwhelmingly long list of hundred different options, it is our FAVORITE Vegan and Gluten-free Christmas Dinner Menu. Why?
Becauce all of the dishes
are vegan and gluten-free
are easy to make
have a short list of simple ingredients
have no processed ingredients
are made from scratch
can be made ahead time
keep well in the fridge
AND
the most important thing is that all dishes are absolutely D – E – L – I – C – I – O – U – S!
We think that Christmas is about being with family and friends, having a good time, sharing a good laugh and spending quality time together. Therefore, we usually don't opt for a restaurant-style 8-course menu to be exhausted right before the holidays. We make our favorite delicious recipes and then enjoying having family and friends over.
Are you ready for the list of our FAVORITE Vegan Christmas Dinner Recipes? Here we go.
Vegan Christmas Appetizer
We especially created this festive and spectacular appetizer to start Christmas dinner on a high note. It is a Pistachio Nut Cheese with Cranberry Jelly molded to look like a Christmas wreath. Don't be afraid, it is really easy to make.
It is sure to be a stunning centrepiece of any vegan cheeseboard. You can even turn it into a holiday party platter if you add different roasted eggplant walnut dip, classic hummus or beet hummus or cream cheese as well as different crackers, pretzels, raw veggie sticks (like bell pepper, celery, carrots, or cucumber), fruits (like grapes, apples, or pear), nuts (like pecans, walnuts, or almonds), olives, raisins, dried cranberries and so on. Wouldn't it be a gorgeous way to start your Christmas dinner? Browse thorough our Vegan Dips gallery for more inspiration.
⇒ DOWNLOAD THE PRINTABLE RECIPES WITH SHOPPING LIST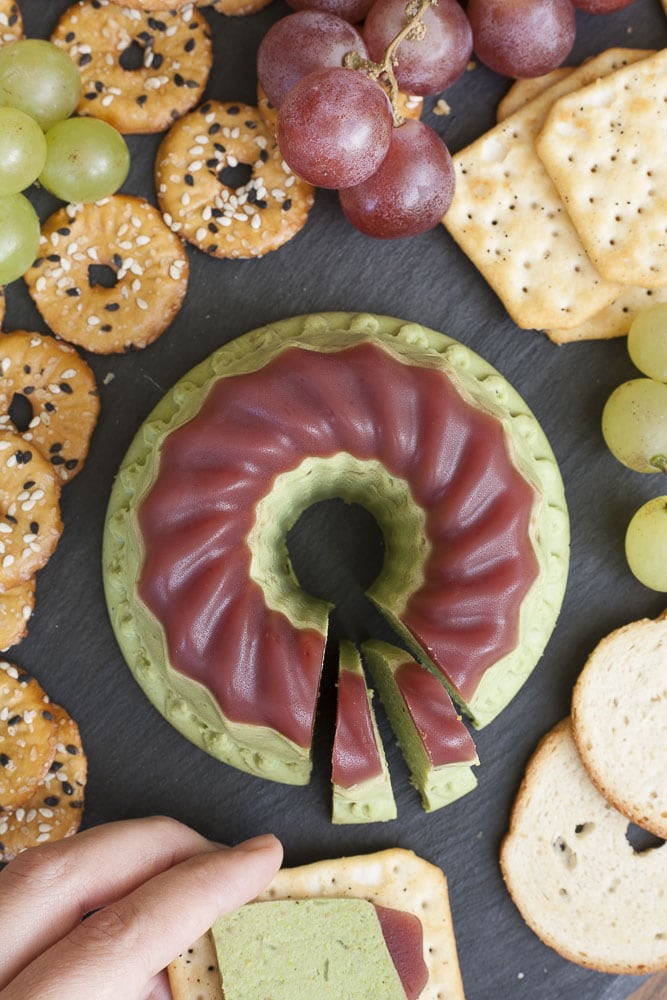 Soup for First Course
Start you festive Christmas dinner with a lovely, creamy veggie soup as the first course. We love so many soups like Creamy Cauliflower Soup, or Vegan Cream of Mushroom Soup or Vegan Cabbage Potato Sausage Soup. However, our FAVORITE soup to eat before the main dish we chose for the Christmas dinner is our Simple Hokkaido Pumpkin Soup.
While the butternut squash is perfect for pie, Hokkaido – for us – is better for a hearty and wholesome dish. Moreover, butternut squash may have this fibery texture even after blending, but Hokkaido turns into a mousse. I mean this soup will practically be a dessert as the first course. Yeah!
⇒ DOWNLOAD THE PRINTABLE RECIPES WITH SHOPPING LIST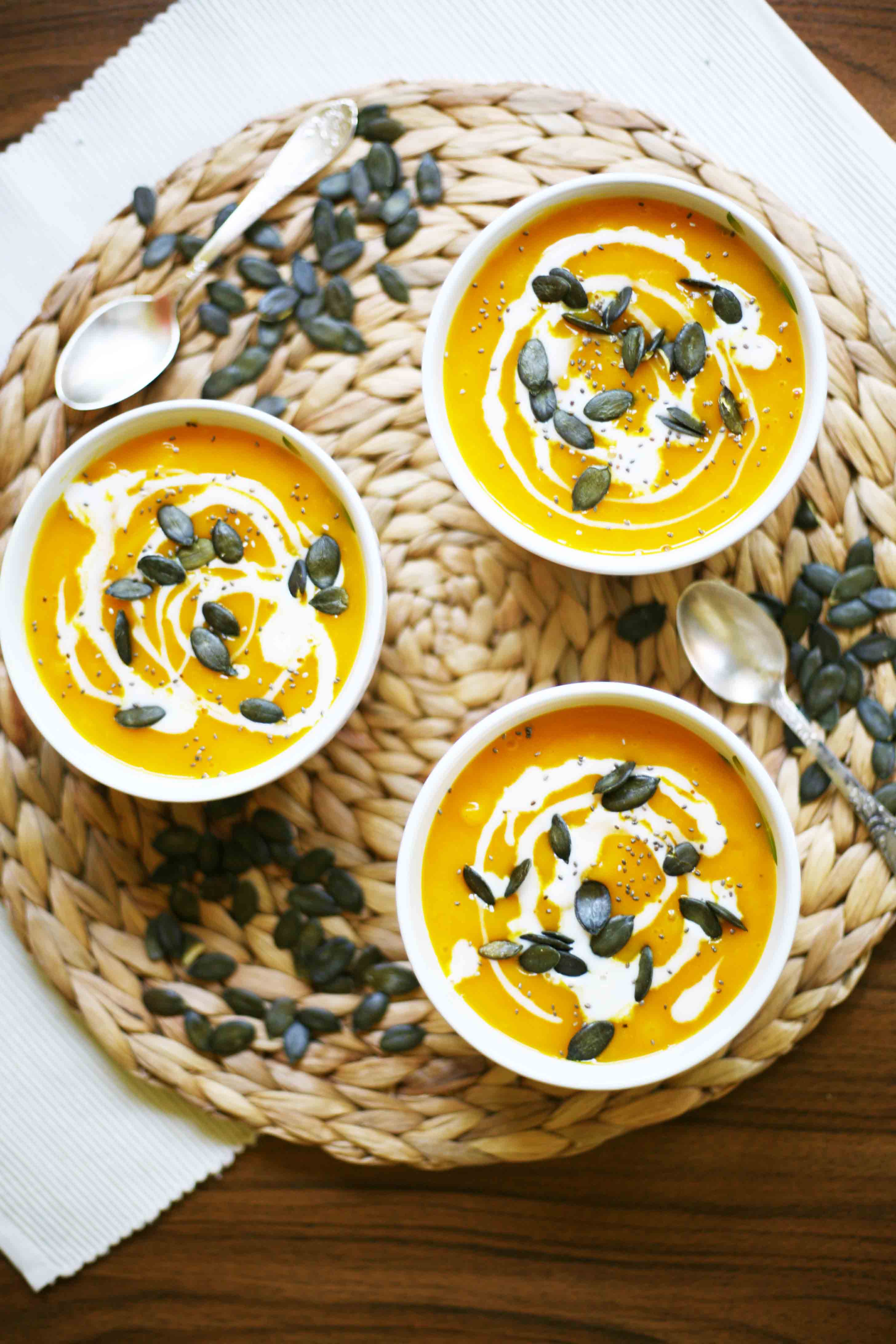 Vegan Christmas Main Dish
We have many great main dish recipes like Vegan Pot Pie, Vegan Lentil Loaf, Vegan Beef Stew or Vegan Pot Roast to make as the main attraction. However, since this is our FAVORITE list of Vegan Christmas Recipes, we must encourage you to make our Vegan Shepherd's Pie. See? It is perfect after our creamy Pumpkin Soup.
It is a light veggie stew filling, so no legumes, no grains, and no nuts topped with creamy mashed potatoes. This recipe is our Classic Vegan Mashed Potato recipe with CELERY ROOT. We only add as much as not to deviate from the potato taste, but to get an extra zing at the end. They make your mashed potatoes so unique that your guests will wonder: "Why does your version taste more flavorful than their usual recipe?"
⇒ DOWNLOAD THE PRINTABLE RECIPES WITH SHOPPING LIST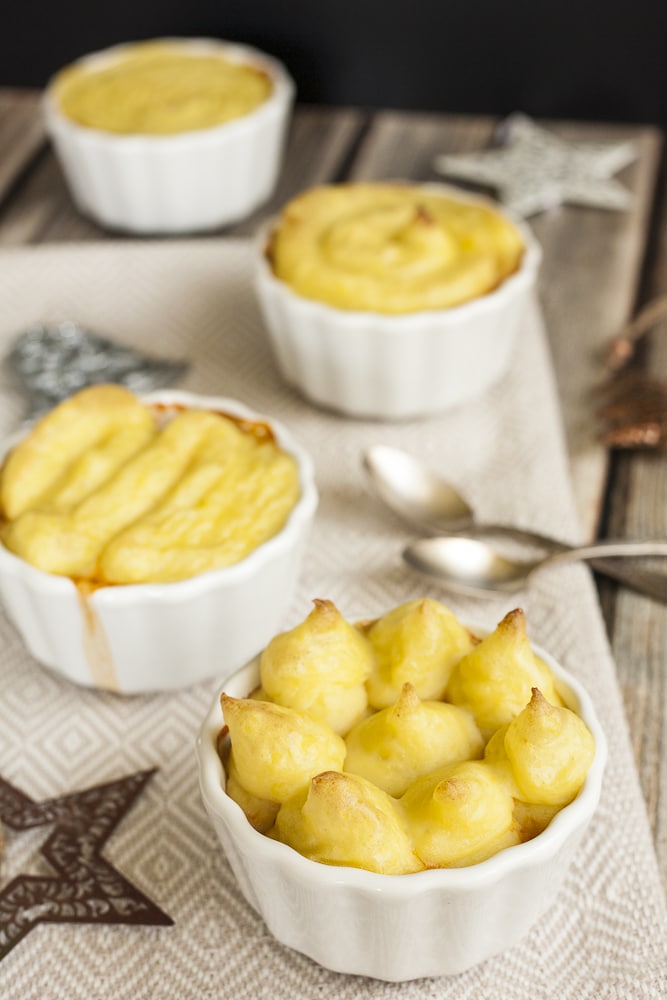 What else can you add next to Vegan Shepherd's Pie?
Let us introduce you to some other side dishes that would pair well with this Vegan Shepherd's Pie. Wouldn't they be lovely on your Christmas dinner table next to it?
Vegan Christmas Dessert
Most people would say that the main attraction of the Christmas dinner is the main course, but for me, the dessert is always the one I am looking forward to the most.
If you are a chocolate lover then you might say that "But I want something with chocolate!" and you may choose this Double Chocolate Cake, or this fudgy Sweet Potato Brownie or this decadent Chocolate Pudding.
BUT take a look at this gorgeous Vegan Custard Tart. It is so light and creamy, but festive and spectacular at the same time. After eating a full Christmas dinner menu, I will always have room for 1-2 slices of this custard tart.
⇒ DOWNLOAD THE PRINTABLE RECIPES WITH SHOPPING LIST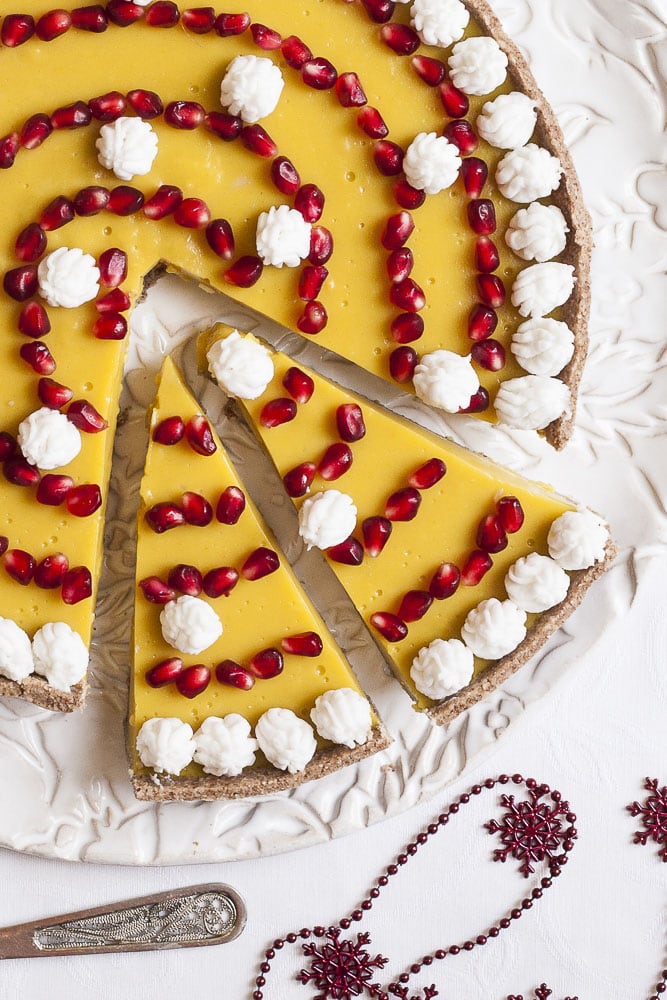 Edible Christmas Gifts or Party Delights
Walnut Crecent Cookies
There is no Christmas in our household without these Walnut Crescent Cookies. The original recipe was passed down from generations to generations. These cookies are definitely kid-favorites and the first ones to disappear, so we always make sure to bake enough. We munch on these in-between meals, but they also appear in the evening when we are just enjoying ourselves, chatting, playing and opening presents. Not to mention they are also prefect as little gifts.
Vegan Baileys
Baileys – to me – means celebration, holidays, and Christmas. The original can be quite pricey, not to mention there weren't any vegan versions until some time. So I experimented some to get a delicious this Copycat Vegan Baileys Almond Milk Liqueur recipe just right. Since then I make it for Christmas as a gift or just as a holiday treat to enjoy while our family is spending time together.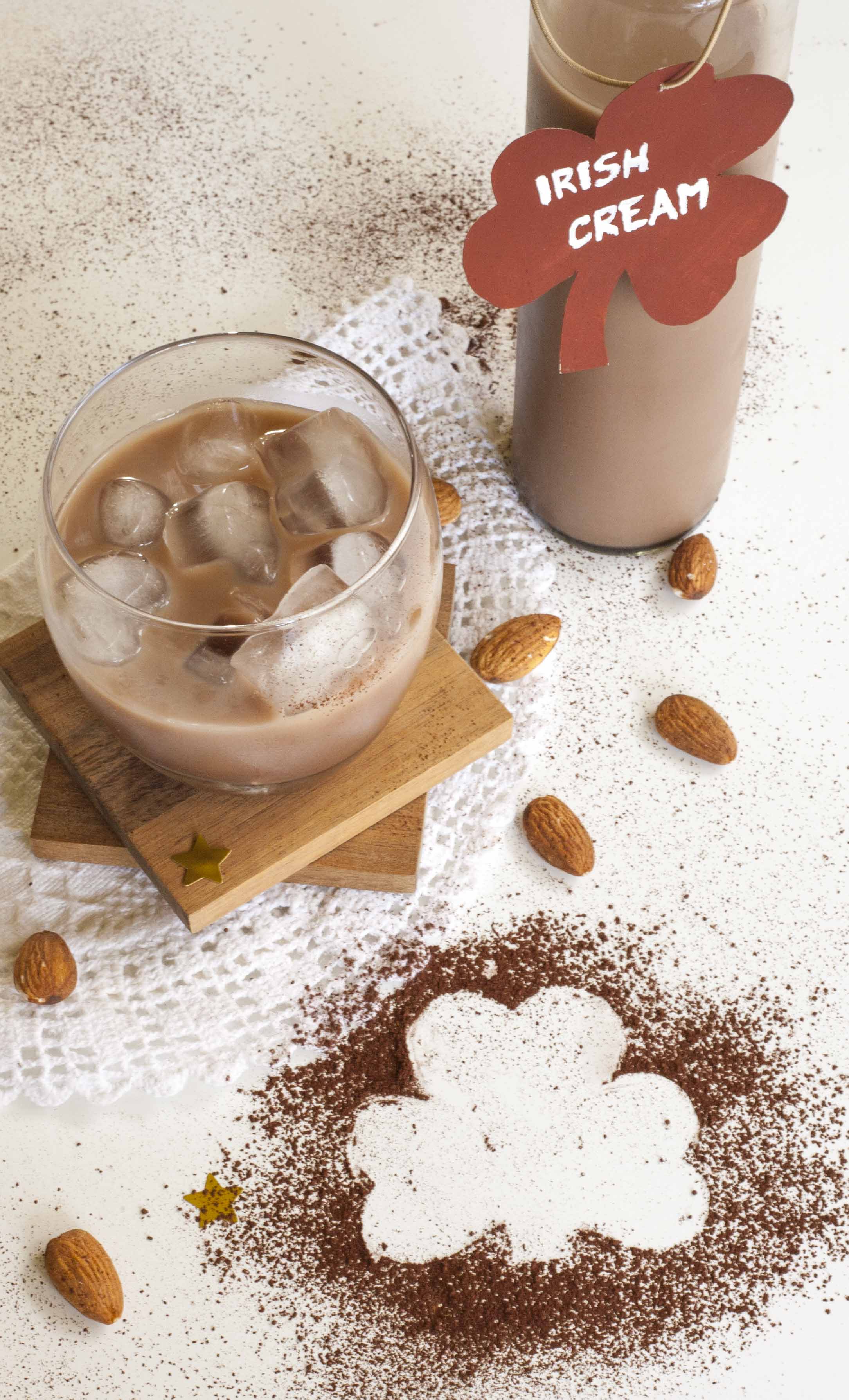 What more you need to try it? If you're ready, watch this short video:
Print Recipe
Vegan Christmas Dinner Menu
This is the list of our FAVORITE vegan and gluten-free recipes so you can make a delicious vegan Christmas dinner with ease.
Download our FREE 7-day Vegan Meal Plan now!
Click here!
Instructions
Pistachio Nut Cheese with Cranberry Jelly
Nut cheese as well as cranberry jelly keeps very well in the fridge. You can make them 5-6 days in advance. I use agar agar powder for the both, which sets super quick. You can even made them last minute and they will still set before the guests arrive.
Hokkaido Pumpkin Soup
You can do a little preparation in advance. Peel and cut your pumpkin in advance and freeze them until you are ready to make the soup. This creamy pumpkin soup keeps well in the fridge, so you can make it 2-3 days ahead.
Vegan Shepherd's Pie
If you want to make them ahead, we recommend to make and store the stew separately from the mashed potatoes. The Shepherd's Pie will be the best if it is served hot. So, layer them in your oven-safe pan or mini ramekins the night before and pop in the oven when you are serving the appetizer. As all parts have already been cooked, you need to keep it in the oven / under the broiler only long enough to get the mashed potatoes some nice light brown colour.
Vegan Custard Tart
This keeps well in the fridge and you can bake in in advance 2-3 days. However, we recommend that you add any topping (whipped cream, caramel sauce in particular) right before serving.
Walnut Crescent Cookies
They are quick to disappear in my household, so I would say 2-3 days. But if you make a large batch they can last for several weeks. That is why they are perfect as Edible Christmas Gifts.
Vegan Baileys
It keeps well in the fridge for a week, tops 10 days.
Helpful Info for All Recipes
Precision in baking is key to success. We ALWAYS measure all ingredients in grams with a scale. So all gram measurement in the recipe cards are EXACT, not converted from cups.
Making this recipe? We'd love to know.
Leave a comment and rate it below or share it on Instagram and mention @mypureplants or tag #mypureplants!