Are you looking for some epic Vegan Christmas Dinner Recipes? Do you also need them to be easy to prepare? Don't worry it is not another list of 100 different vegan recipes to get you overwhelmed and frustrated in deciding which one to choose. This is a list of carefully curated vegan and gluten-free recipes that will ensure you miss not a single moment or sentiment this holiday season.
What vegans eat on Christmas?
When Christmas is just around the corner and all of us are busy dreaming about and planning for our delicious dinners. Non-vegans have steak, prime rib, roast turkey, glazed ham, wellington, stuffing, mashed potatoes and other dishes, while vegans are left to rethink their options. But don't get yourself into a tizzy just yet!
We have created (and uncovered) vegan and gluten-free versions of all the classic Christmas dishes for you, and we promise they're just as tasty as the originals! From mains and sides, to salads, soups and desserts, we have it all, so keep reading for your one-stop vegan Christmas solution.
Have you seen our Vegan Thanksgiving Dinner Recipes? If you missed it, be sure to check out in time next year.
What kind of recipes are they?
We carefully selected all recipes in this post to fulfil the below criteria:
vegan AND gluten-free
easy to make
have a shortlist of simple ingredients
have no processed ingredients
made from scratch
can be made ahead time
keep well in the fridge
AND
the most important thing is that all dishes are absolutely D – E – L – I – C – I – O – U – S!
Stunning Vegan Christmas Appetizer
We especially created this festive and spectacular appetizer to start Christmas dinner on a high note. It is a Pistachio Nut Cheese with Cranberry Jelly molded to look like a Christmas wreath. Don't be afraid, it is really easy to make.
It is sure to be a stunning centerpiece of any vegan cheeseboard. You can even turn it into a holiday party platter if you add different dips like roasted eggplant walnut dip, classic hummus or beet hummus or cream cheese as well as different crackers, pretzels, raw veggie sticks (like bell pepper, celery, carrots, or cucumber), fruits (like grapes, apples, or pear), nuts (like pecans, walnuts, or almonds), olives, raisins, dried cranberries and so on. Wouldn't it be a gorgeous way to start your Christmas dinner? Browse through our Vegan Dips gallery for more inspiration.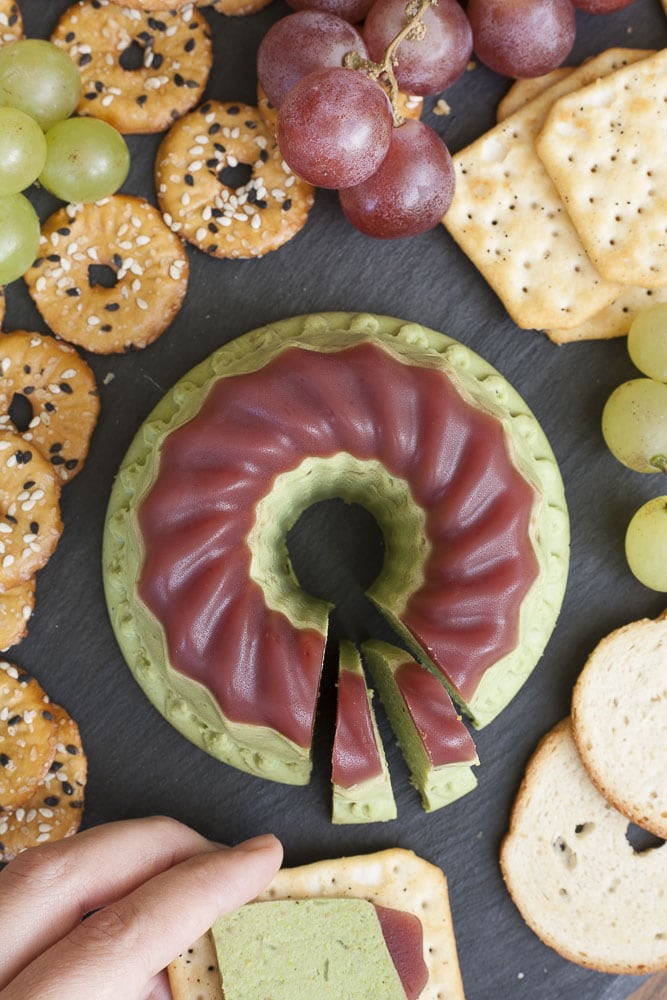 Grazing Board
Put together a grazing board with your favorite dips, crackers, fruits, and veggies. It will look absolutely stunning, colorful, appetizing. It is easy to put together and everyone enjoys it. The below is a Mediterranean Grazing Board for some inspiration and tips on how to create your own.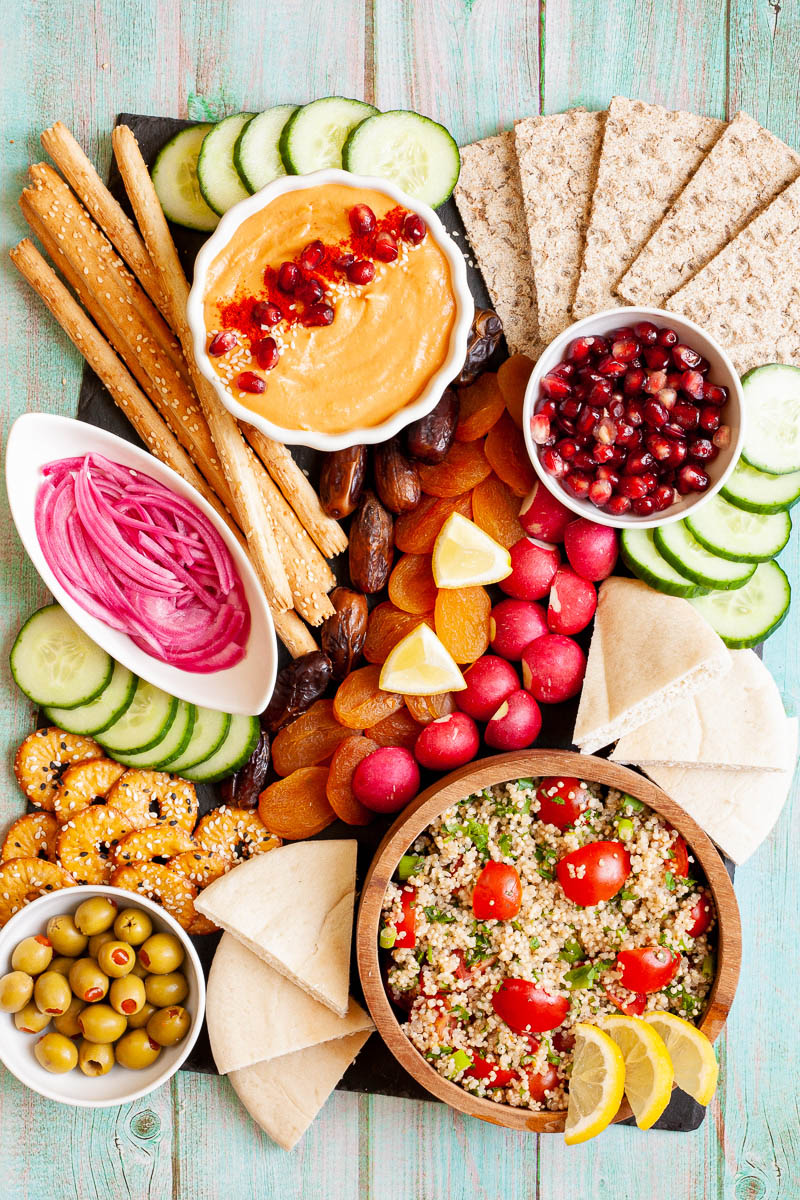 Soup as a First Course
Nothing compares to cozying up and slurping down some steamy soup with your loved ones on snowy winter nights. Our vegan soups will certainly become your cold-weather favorites, giving Classic Broccoli Cheese Soup and Chicken Noodle soup a run for their money!
Hokkaido Pumpkin Soup
Our Hokkaido Pumpkin Soup made with fresh pumpkin and vegetables blended together and seasoned with salt and pepper will be the star of the show at your home this Christmas.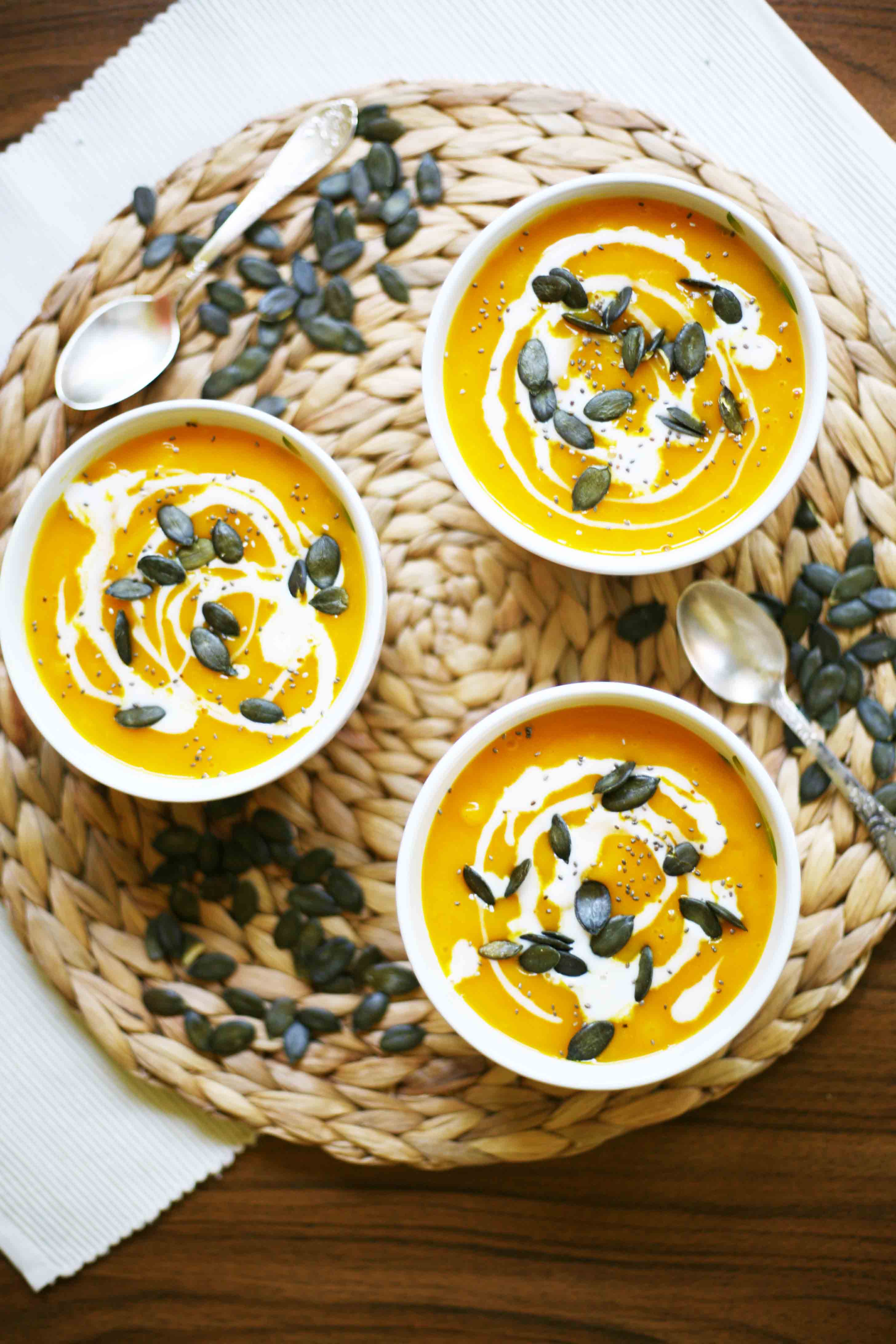 Roasted Broccoli Sweet Potato Soup
Grab your blender, some sweet potato, broccoli, and prepare to taste one of the best holiday soups of the season. The ingredients are roasted in the oven, then combined to make a creamy blend that tastes best when hot and seasoned with ginger. Our Roasted Broccoli Sweet Potato Soup is the delightful entree you don't want to miss!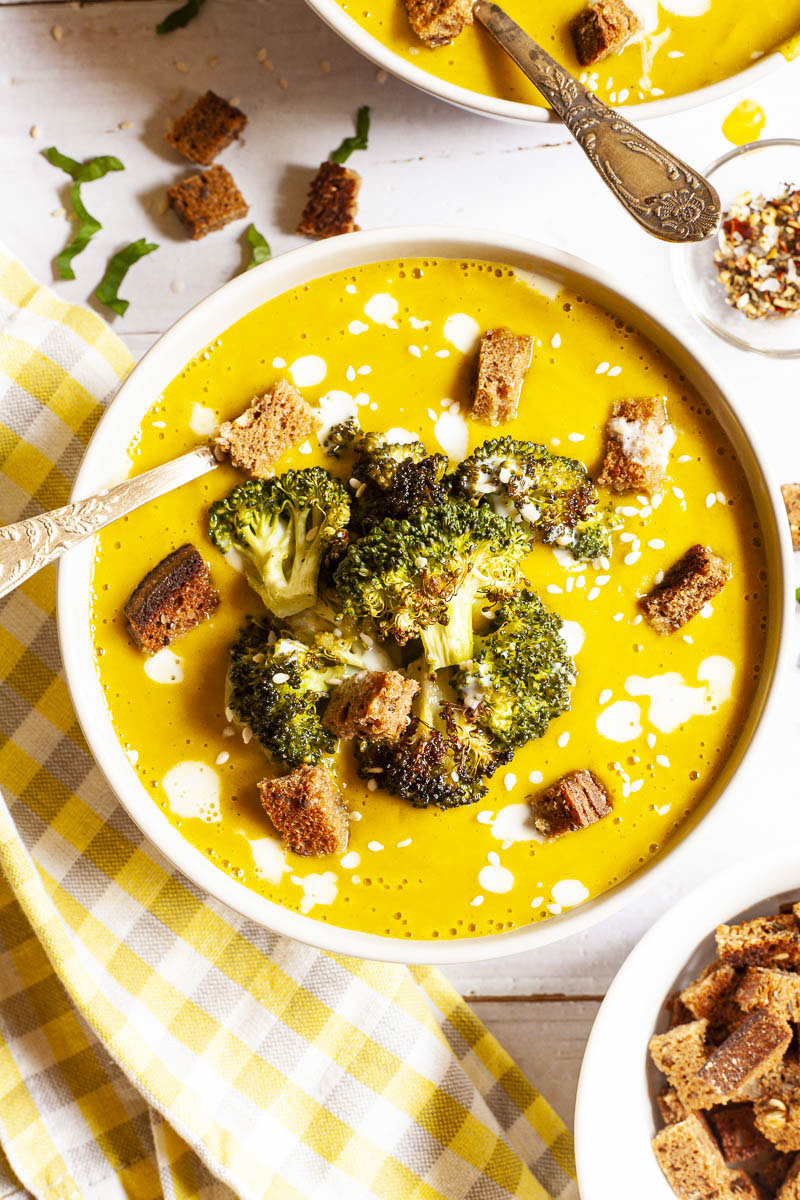 Vegan Cauliflower Soup
In our Vegan Cauliflower Soup, cauliflower is blended with sauteed garlic, onion, carrots and potatoes, brought to a simmer and then spiced with pepper, cumin and salt. While this soup is already pretty hearty and soothing as is, you can always use some Vitamix magic to make it extra creamy.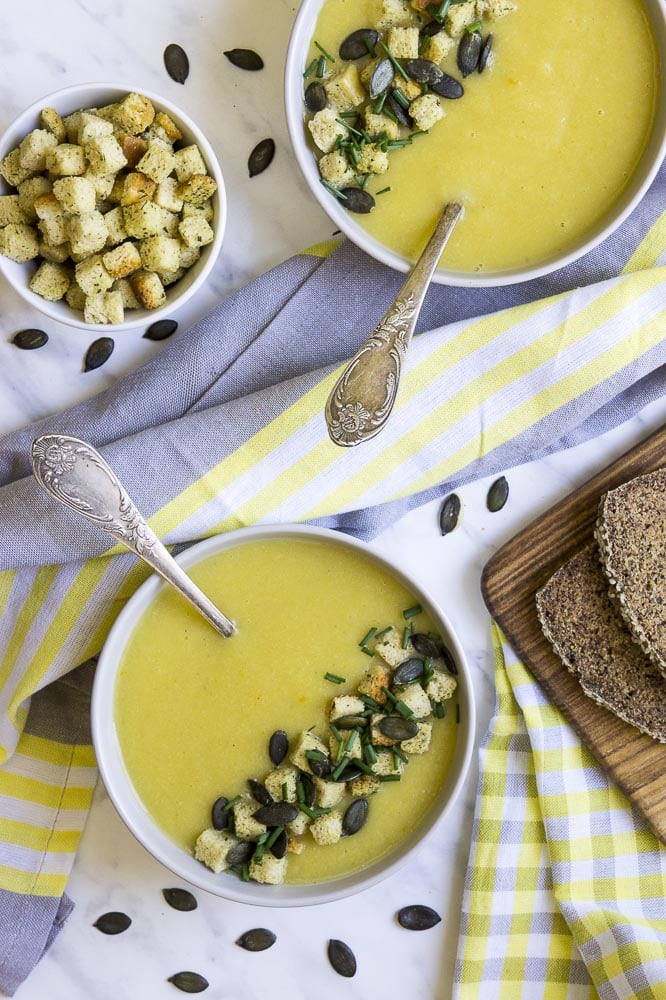 Vegan Cream of Mushroom Soup
Wholesome, creamy and so quick to make, you'll have our Vegan Cream of Mushroom Soup whipped up and ready to serve in under 30 minutes. Made by blending together three types of mushrooms, it's so silky smooth that you and your guests will be surprised that there isn't an ounce of dairy in this warm bowl of comfort!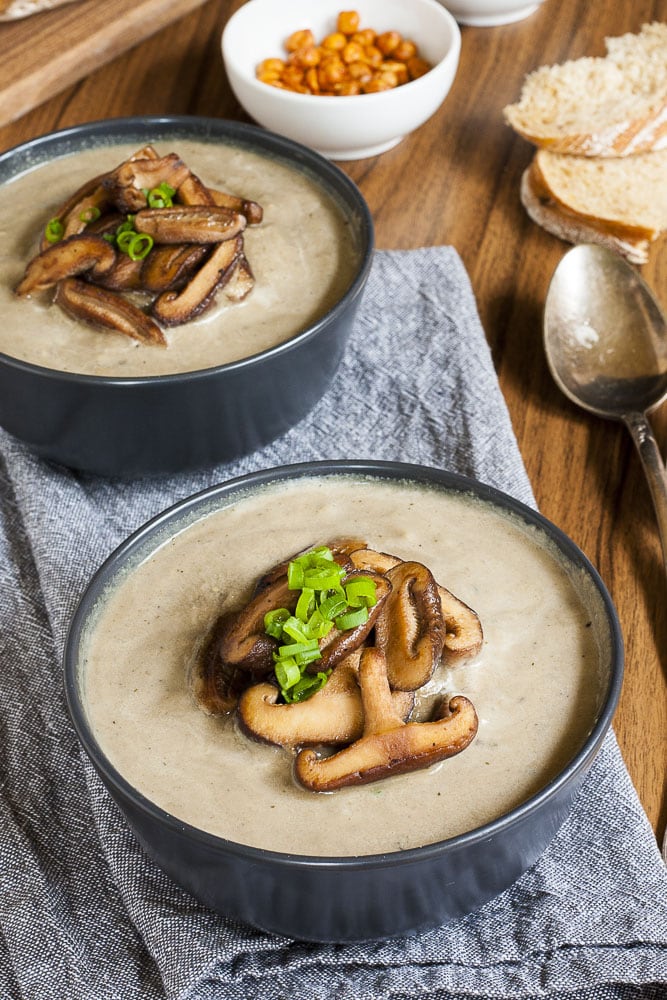 Vegan Main Dishes for Christmas
If mains have got you stumped, don't beat yourself up. Making vegan versions of traditional mains taste good can be a challenge sometimes but that's why you're lucky we've already done it!
Our list of full-fledged vegan main course recipes will have you spoiled for choice. By the time you get through Vegan Wellington, Pot Roast, Lentil Loaf and all the rest on this list, you'll have forgotten you were having any trouble to begin with!
Vegan Wellington
This Vegan Wellington consists of a flavorful, "meaty" filling wrapped in puff pastry, and makes for the perfect main course dish. The herbs and spices used in our recipe are simply – chef's kiss, and the tenderness of the stuffing will leave you wanting more. The dish is best served with cranberry sauce and Vegan Gravy.
Portobello Pot Roast
If you need something tasty but don't have all the time in the world, our Portobello Pot Roast will be your savior. The distinctive taste of vegetables doused in wine and seasoning hit just the right spot. You'll know you've got it right when the aroma fills your home.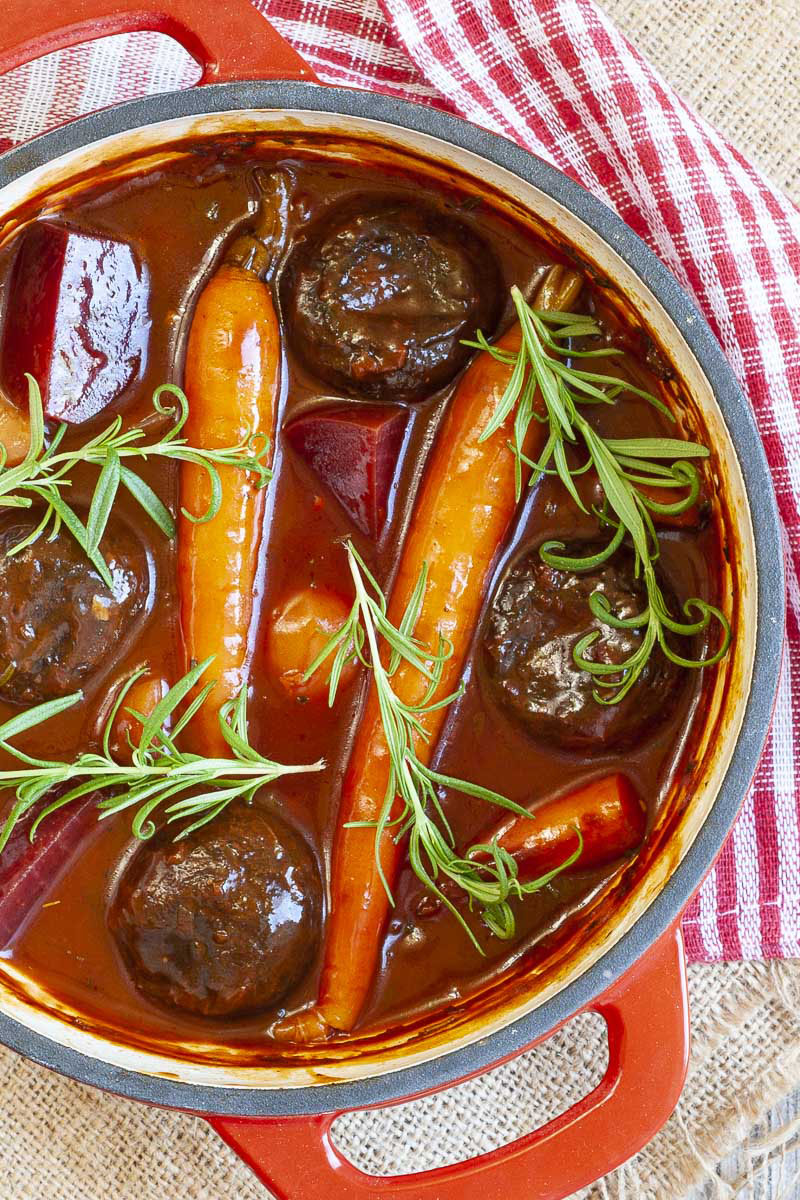 Vegan Lentil Loaf
Try our easy and tasty Vegan Lentil Loaf served with Vegan Mashed Potatoes or Roast Potatoes that will have even kids asking for second helpings. The combination of vegetables and lentils in the right proportions accompanied by the perfect amount of seasoning make this dish as hefty as it is luscious. What really sets it apart, however, is the glaze of tomato sauce and maple syrup that goes on top to finish it off.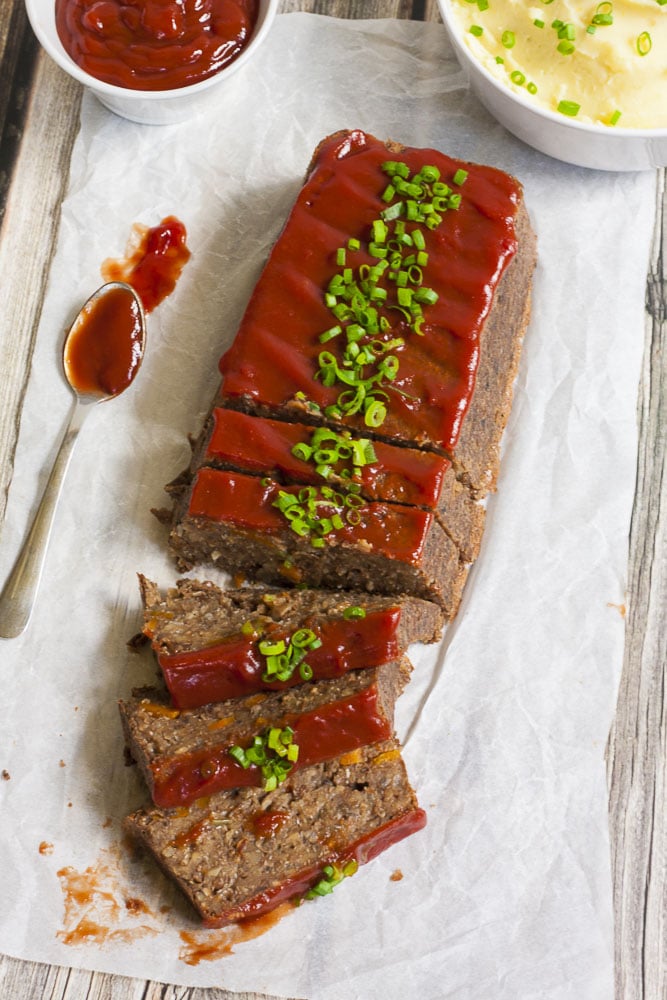 Vegan Chicken Pot Pie
Chicken pot pie for the win! – we mean the vegan version, of course. Our Vegan Chicken Pot Pie consists of a flaky vegan gluten-free crust that contains a creamy filling made of sautéed veggies, vegetable broth and cornstarch. It's the perfect Christmas recipe to invoke a sense of nostalgia to the table, whether your guests are vegan or not!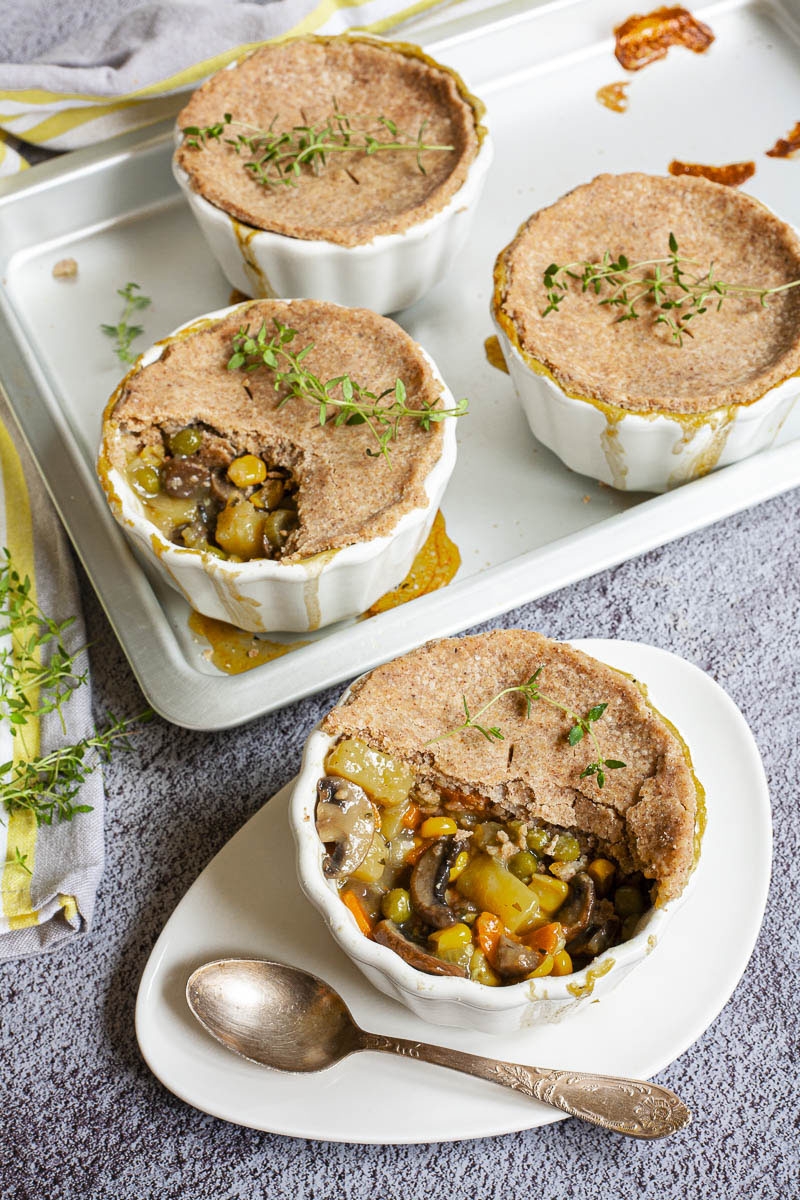 Vegan Shepherd's Pie
Our delightful Vegan Shepherd's Pie incorporates carrots, onions and zucchini, and then is topped with mashed potatoes to make it a nutritiously filling meal. You won't be able to stop after just one bite – it's simply delicious.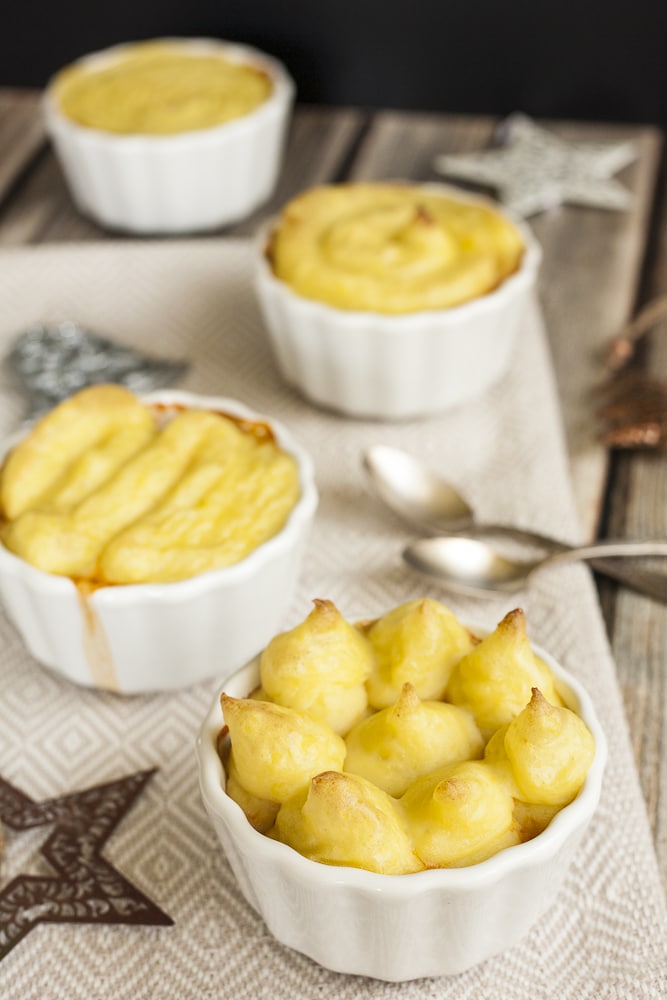 Stuffed Butternut Squash
How to turn your butternut squash into a stunning main course meal? One way would be to turn it into a Stuffed Butternut Squash. This recipe was inspired by the Greek Spanakorizo, which is a spinach and rice dish, but boosted with chickpeas, black olives and crumbled feta cheese.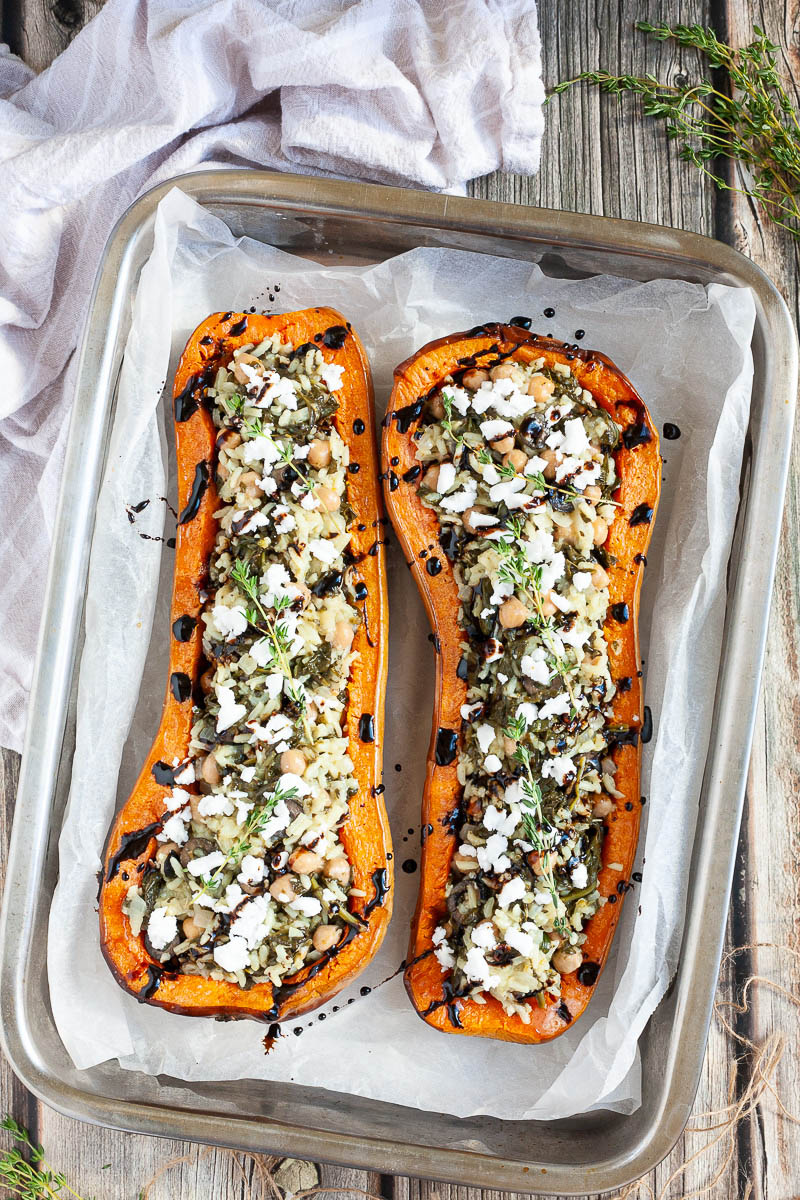 Must-have Side Dishes
Side dishes make dinner more interesting, and that's what we're here for with our list. Whether you choose our mashed potatoes, green beans or fries, you'll find that all of these vegan sides are both easy to cook and finger-licking good!
Vegan Mashed Potatoes with Celeriac
You can never go wrong with potatoes for mash and this extremely easy to cook Vegan Mashed Potatoes recipe will prove it. Flaky potato, celeriac, butter and dairy-free milk are all the ingredients you need to master this dish. It's sure to become your go-to side for all of your special dinners to come!
Sauteed Carrots in Maple Thyme Glaze
Do you want a truly kid-friendly side dish? Check out these Sauteed Carrots in Maple Thyme Glaze. In this recipe, julienned carrots are stir fried and doused in maple syrup and thyme in order to add that extra oomph and bring out the flavor of the carrots. Quick, healthy and delicious, this is one dish you'll be thankful to have up your sleeve.
Vegan Scalloped Potatoes
Caramelised onions layered on top of tender potatoes that are marinated in a creamy white sauce, with a sprinkling of spring onions on top – yup, our elegant Vegan Scalloped Potatoes will have you drooling!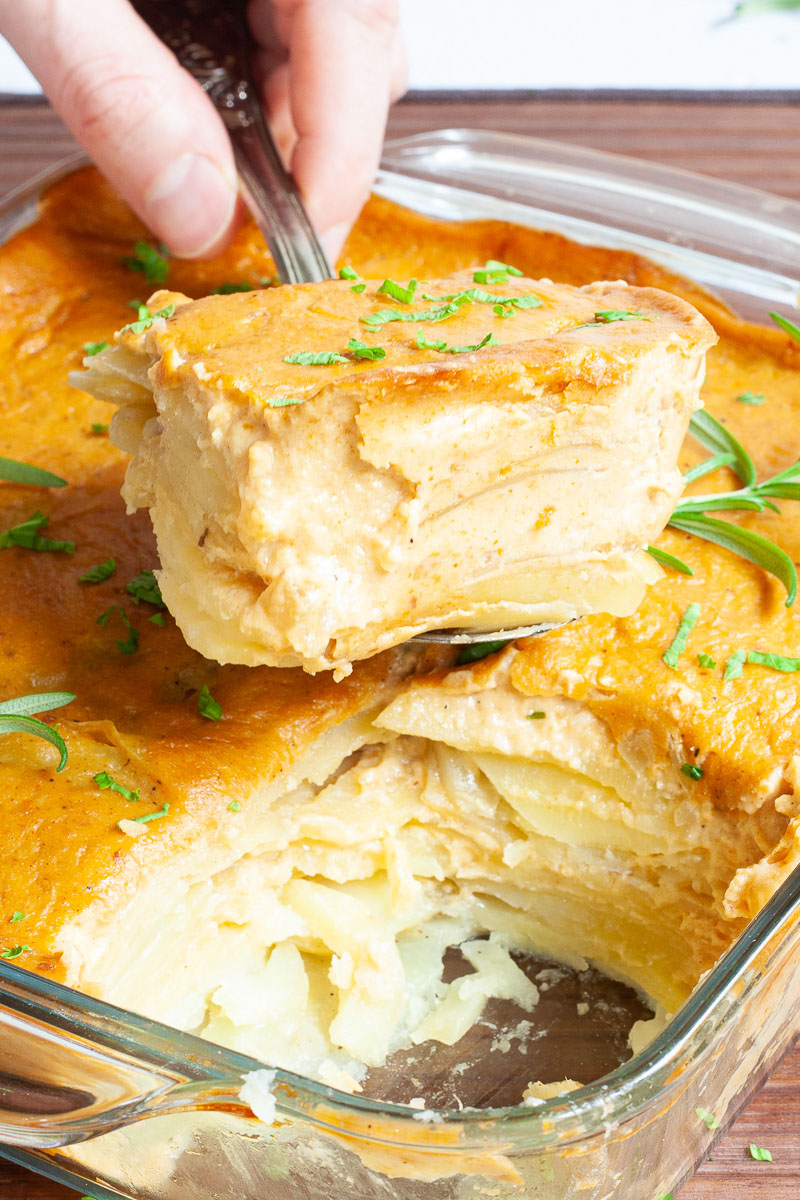 Savory Sweet Potato Casserole
If you want a real savory sweet potato side dish, try this Savory Sweet Potato Casserole. We topped an aromatic sweet potato mash with caramelized onions and thyme-sage-rosemary-infused grated crumbles.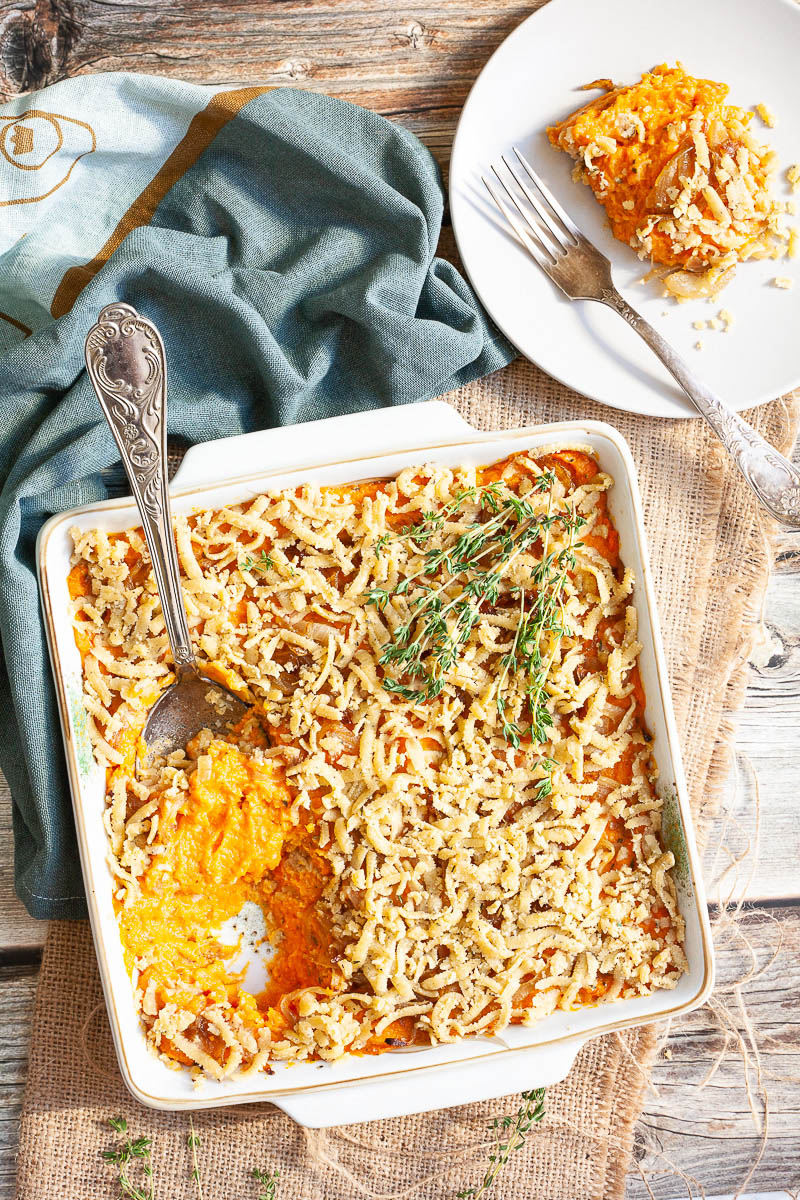 Mushroom Stuffing
This Mushroom Stuffing recipe by Bakerita features toasted bread tossed with a wild mushroom, celery and onion mixture containing herbs like sage and thyme, which is then baked until crispy. Add apples, cranberries or roasted nuts for an even more festive finish.
Green Beans
The perfect healthy side-kick to a hearty Christmas meal, Green Beans by Keto Vegetarian is simple and packed with flavor. All you need are green beans, garlic, balsamic vinegar, some walnuts and butter – and voila! Your side is ready in a cinch. Green beans are best served with our delicious Vegan Lentil Loaf.
Roasted Asparagus and Mushrooms
Don't want to spend too much time in the kitchen over the holidays? Our easy Roasted Asparagus and Mushrooms will make sure you spend all the time you want with your loved ones. They are drizzled with olive oil, seasoned with garlic, pepper and salt and baked until they become tender enough to pierce with a fork. And there you go, your side-dish is ready!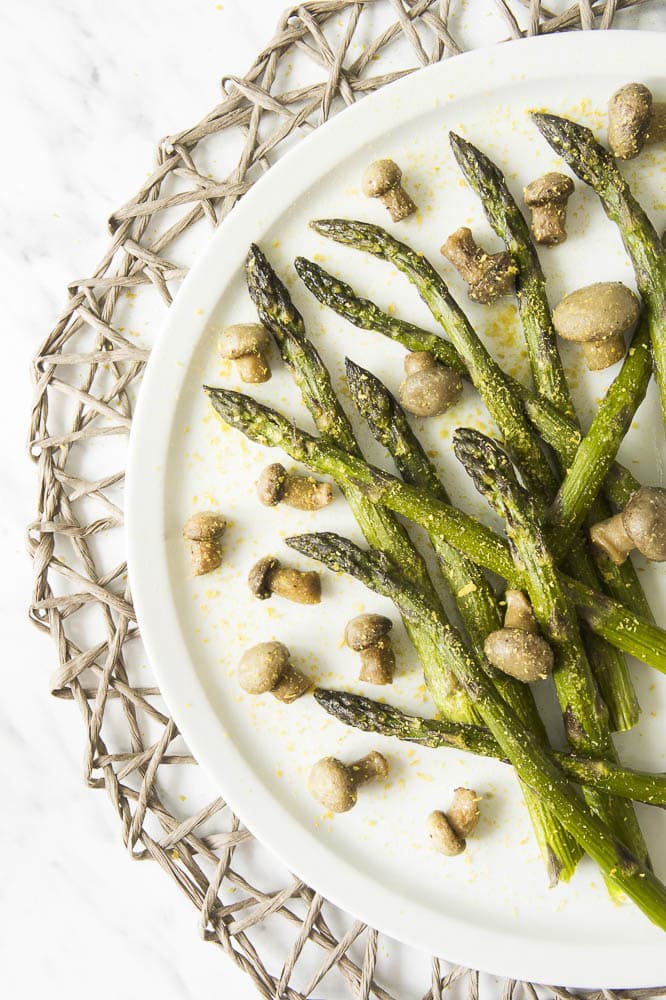 Deep Fried Sweet Potato Fries
In this hassle-free Deep Fried Sweet Potato recipe by Short Order Cook, shoestring cut sweet potatoes are deep fried until they form a golden-brown crispy exterior and are sprinkled with some lip-smacking sweet paprika. You won't want to eat this slowly because let's admit, none of us enjoy sharing our fries!
Roasted Brussels Sprouts
This Roasted Brussels Sprouts recipe by Marathon and Motivation does not disappoint on taste or the visuals. After all, roasted brussels sprouts tossed with cranberries and pecans, drizzled with balsamic vinegar makes for a colorful side-dish. Get a picture for the gram before it all disappears because it's bound to be quick!
Roasted Acorn Squash
This Roasted Acorn Squash recipe by A Dash of Megnut only requires six ingredients to make, but is so beautiful and full of flavor. In this dish, acorn squash is topped with pomegranate seeds and salted pistachios, both of which contribute to its exemplary taste. The result truly is a feast for the eyes and for the palate.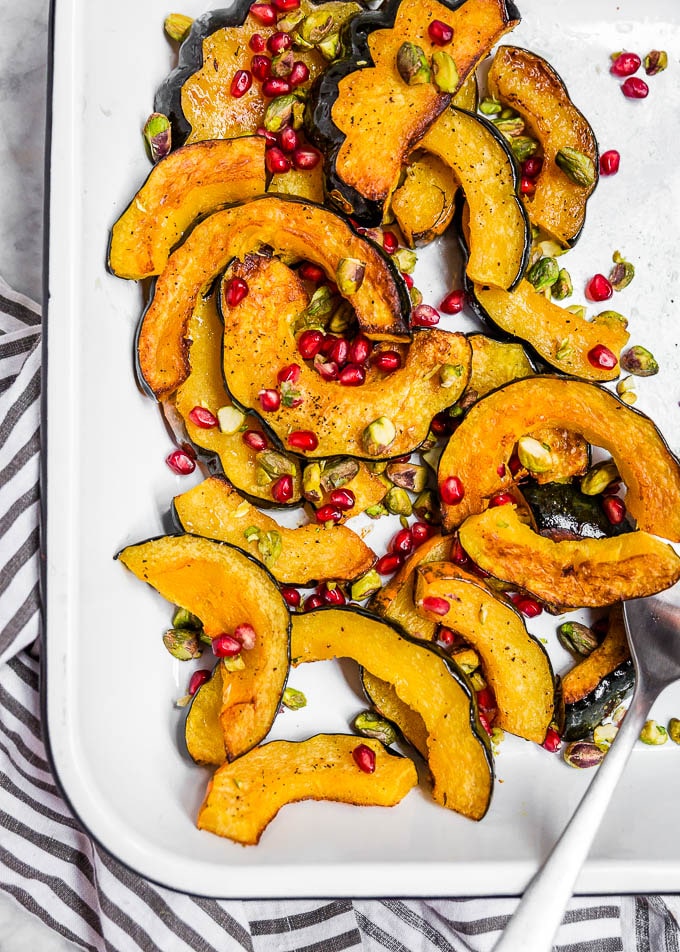 Yorkshire Pudding
If you haven't tried the Yorkshire pudding recipe by A Virtual Vegan yet, you are missing out, my friend. Perfected after a lot of trial and error, this version is crispy, golden on the outside and fluffy on the inside. They're a sheer delight during the holidays. And get this, there's a gluten-free option too!
Festive Salads
The ideal way to round off any Christmas menu is a fresh and crunchy Christmas Salad. Plus, salads serve as the perfect reminder that truly good food does not need to be complicated. Our simple, yet top-notch vegan salad recipes are the perfect replacements for those traditional non-vegan ones, and will leave you feeling full and content.
Warm Sorghum Salad
This Warm Sorghum Salad by Strength & Sunshine is slightly-sweet, warm and ideal for the winter. So, pair it with roasted kohlrabi, ginger gold apple and fennel, and you'll be in love.
Sweet Potato Salad
If you're looking to make a good impression this Christmas, then this Vegan Gluten-free Sweet Potato Salad by My Quiet Kitchen is the way to go. This eye-catching delicacy consists of spinach, cranberries, roasted sweet potatoes and candied pecans, all dressed in lemon vinaigrette, tenderness and love.
Mexican Christmas Eve Salad
The Mexican Christmas Eve Salad by Veggies Save The Day is a fresh take on the Mexican salad that is definitely fit to save your Christmas Day! With some lettuce, beet root, pineapple, pomegranate seeds and a drizzling of some orange vinaigrette, this refreshing salad can be put together in less than 15 minutes.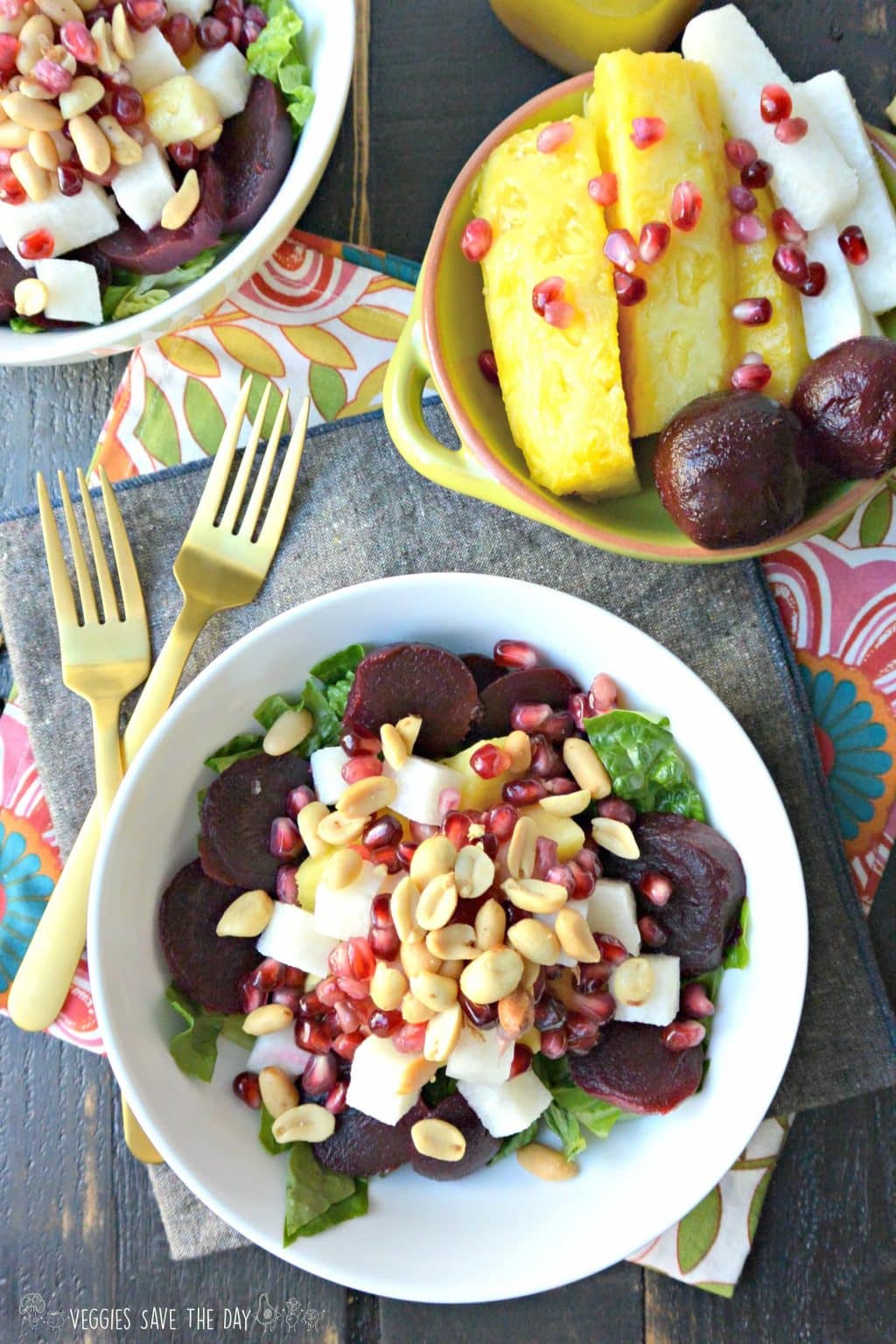 Layered Salad
A pasta salad that looks like a rainbow? Yes please, to the Layered Salad by Rainbow Nourishment that features roasted and fresh veggies and a basil dill pesto. Tasty, hearty and such a visual treat, this one is great for both the colder months when a pop of color is much appreciated, as well as the warmer months when something crunchy and refreshing is what we need.
Cranberry Broccoli Salad
This oil-free Cranberry Broccoli Salad from This Healthy Kitchen is far from an old dull salad. The cranberries, broccoli, chickpeas and pecans are all bound together by a creamy maple syrup-poppy seed dressing, making it an appetizing blend of health and flavor.
Roasted Delicata Squash Salad
This Roasted Delicata Squash Salad by Simple Veganista is just the kind of colorful salad you need on your Christmas dinner table. Warm, colorful and nutty is what describes this dish that is made with roasted squash, cranberries, candied pecans, red onion, spinach, quinoa and a light dressing.
Decadent Vegan Christmas Desserts
Christmas dinners are incomplete without dessert, which is what makes foregoing them so hard! However, without having dairy products and wheat flour up our sleeves, you might think dessert is a tough one to crack. Don't worry, we got you covered – actually, multiple solutions! Read on to add them all to your menu. Even if these dessert recipes are vegan and gluten-free, they are as satisfying and heavenly as all the classics.
Vegan Pumpkin Cheesecake
All it takes to make this Ultimate Vegan Pumpkin Cheesecake is a moist thin Gingerbread Pie Crust under a creamy filling of blended cashews, coconut milk, maple syrup, butternut squash, and a touch of pumpkin spice. What's better for the heart and soul than some delicious, oil-free indulgence on a gorgeous Christmas evening? Can you smell the cinnamon yet?
Baked Vegan Cheesecake
Made with an oil-free "cream cheese" of blended coconut milk, cashews, and maple syrup set atop a crispy crust, this recipe is a delectable treat waiting to be had. The garnish made of fresh raspberry puree is the icing on the cake – quite literally, if you think about it! Gluten-free, creamy and oh-so-sweet, this New York style Vegan Cheesecake recipe is the stuff of dreams.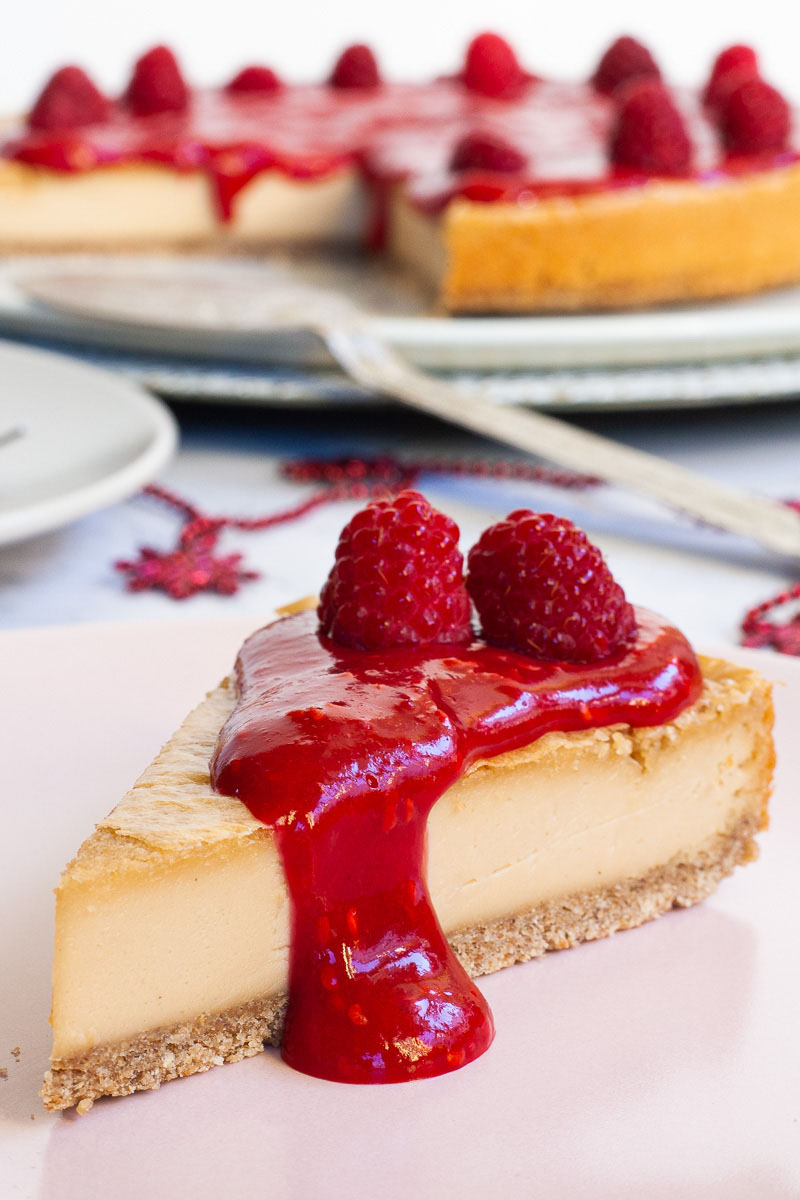 Vegan GF Chocolate Cake
There's no better love story than Christmas morning and chocolate cake, which is why this gluten-free version is such a godsend! Our exquisite Vegan Gluten-free Chocolate Cake recipe makes a decadent double dessert that's topped with Chocolate Coconut Whipped Cream Frosting. There's just no going wrong with this chocolate cake and your Christmas guests will agree!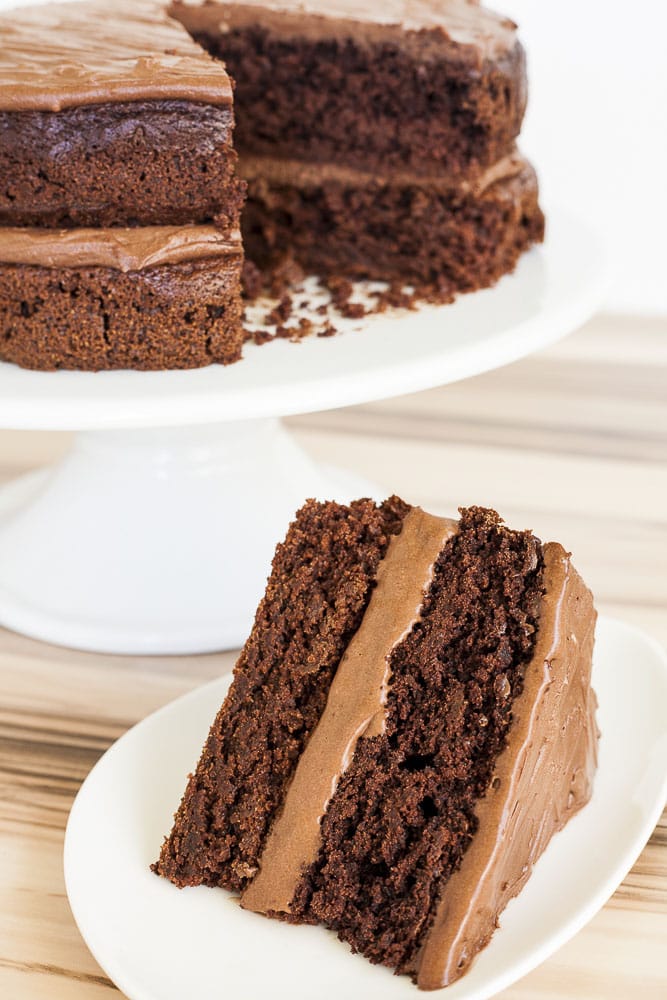 Vegan GF Brownie Cupcakes
Vegan Gluten-free Brownie Cupcakes that are fudgy and moist? No, you aren't dreaming – you've found what you've been looking for! All you need are 9 whole foods ingredients and one bowl to make these delicious Christmas brownie cupcakes, and they do not disappoint!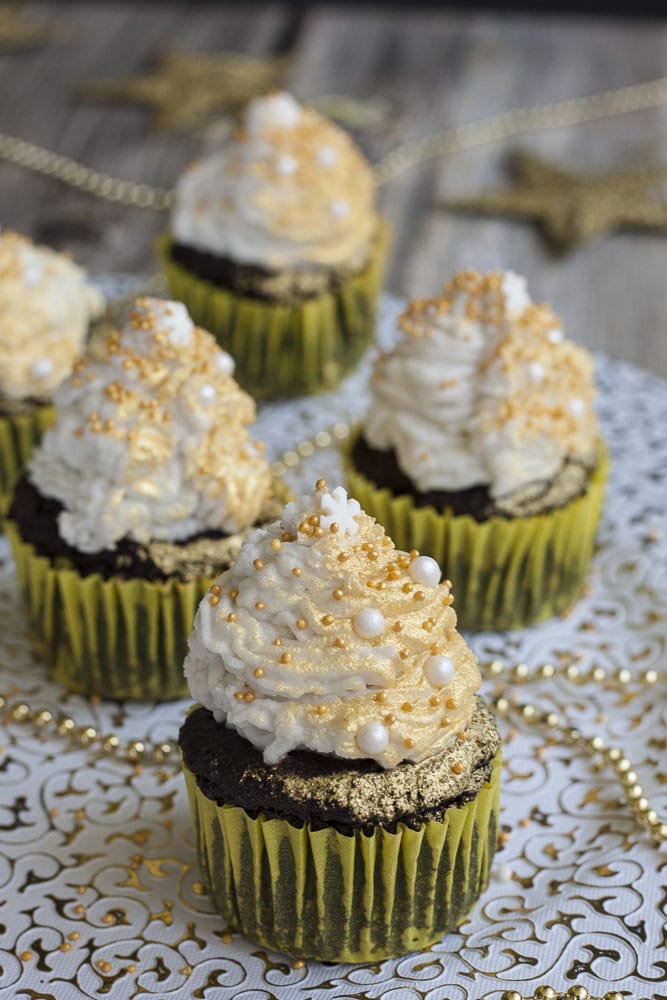 Vegan Custard Tart
Our Vegan Custard Tart recipe comes together easily with just five basic ingredients using maple syrup for sweetener and not white sugar. It is one of the easiest tart you can make. So this recipe is sure to impress and most certainly a keeper.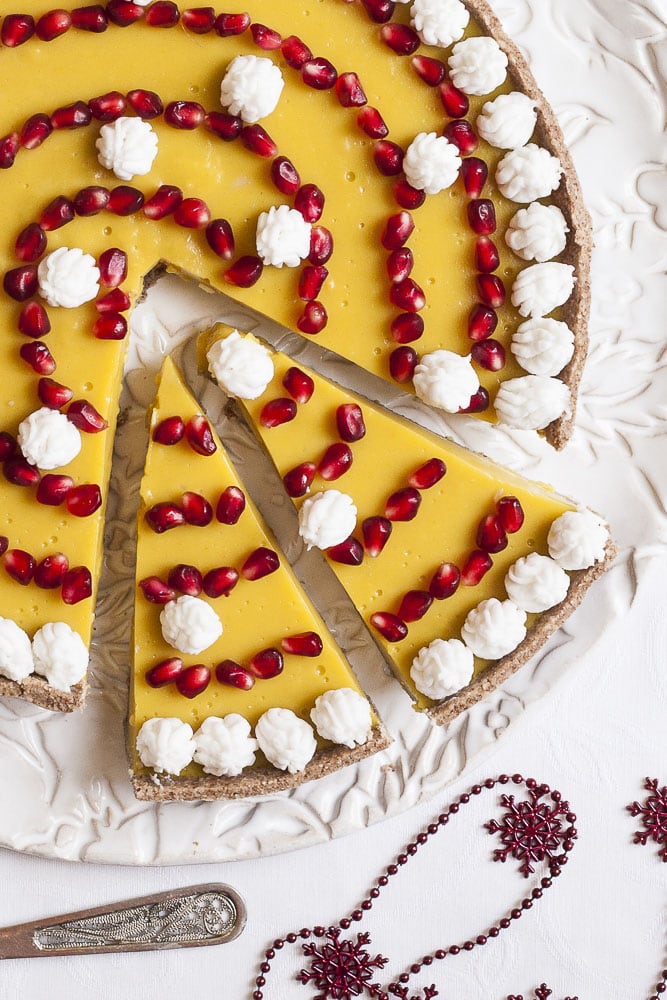 Vegan Mince Pie
Vegan Mince Pie by Wow Its Veggie features a perfect medley of Christmas flavors that will bring a smile to your guests' faces. In this recipe, a golden flakey crust is filled with viscous vegan mincemeat and topped with vegan brandy butter. Best described as a festive symphony of ingredients complete with fruits, spices and spirits, this one is an assured hit!
Something to drink
Baileys – to me – means celebration, holidays, and Christmas. The original can be quite pricey, not to mention there weren't any vegan versions until some time. So I experimented a lot to get this Copycat Vegan Baileys Almond Milk Liqueur recipe just right. Since then I make it for Christmas as a gift or just as a holiday treat to enjoy while our family is spending time together.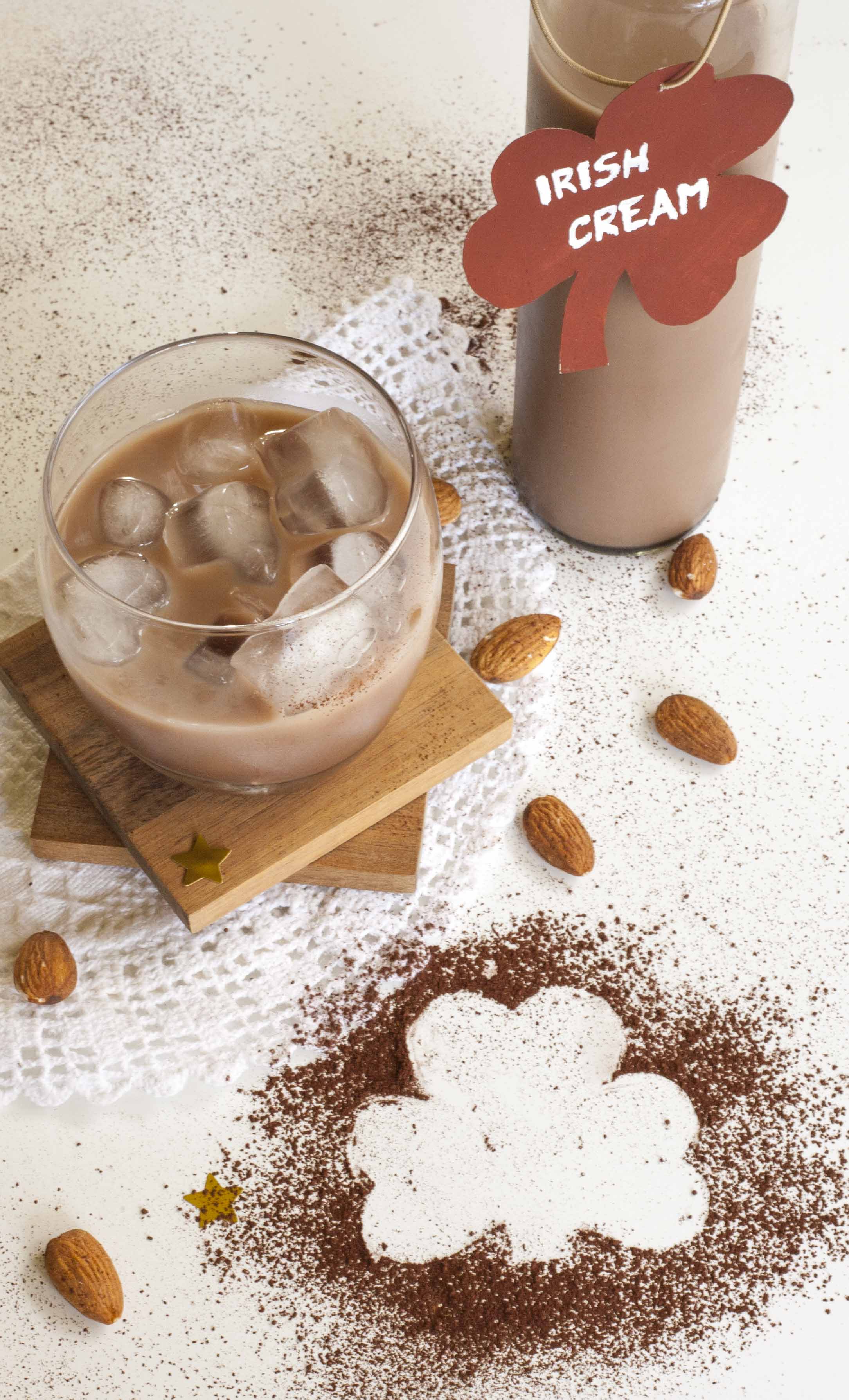 UPDATED: It was originally published in December 2019, but it was updated with new recipes in October 2021.