Why is it the meatiest vegan beef burger? Because it has a chewy, ground beef-like texture (thank you tvp), and it does not taste like veggies at all. It holds together during grilling and frying even if you make thin patties. It is juicy and moist (not mushy) on the inside, but has a crispy crust on the outside. Did I mention it is also gluten-free!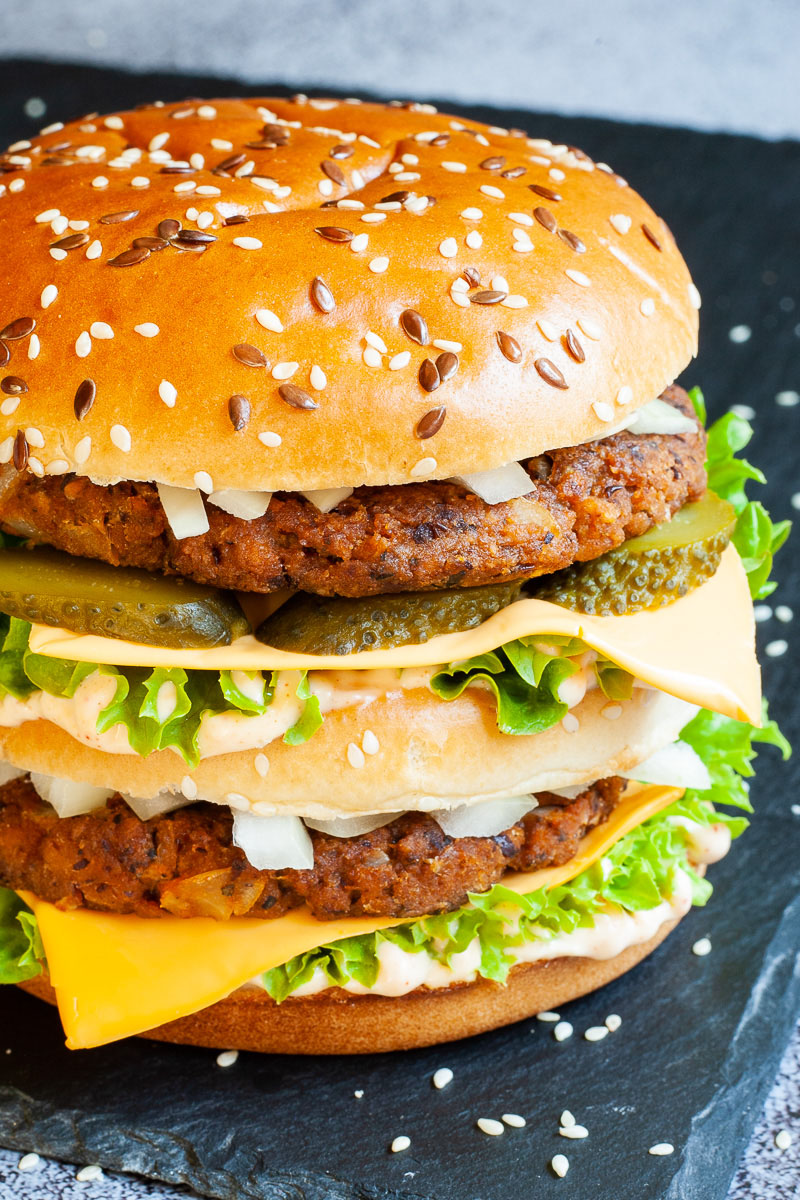 If you haven't heard about TVP (textured vegetable protein) before, you would be amazed by this ingredient. It is the best ground beef substitute ever. We use it to make the meatiest meatballs, taco meat, lasagna, or moussaka.
Why is it the best homemade vegan burger?
This is the first question you would ask, right? How would it taste like? Your answer is probably pretty specific. You want it to taste like a real beef burger.
If you want a veggie burger, you would have searched for a veggie burger recipe. But you want the meatiest vegan beef burger recipe, the one that is the closest in taste and in texture, right?
But how to do it? I found this article on Eater about what makes the perfect beef burger. Several chefs have weighed in and said:
crisp crust
juicy, moist inside
shouldn't fall apart
thinner patty
seasoned only with salt and pepper
low fat meat (less than 20% fat content)
How to interpret the above and make sure a vegan beef burger would meet these expectations? We think a meatless alternative should…
have a chewy, ground beef-like texture
not taste like veggies
hold together during grilling or frying
be easy to make
need high-protein ingredients
not have fake meat substitutes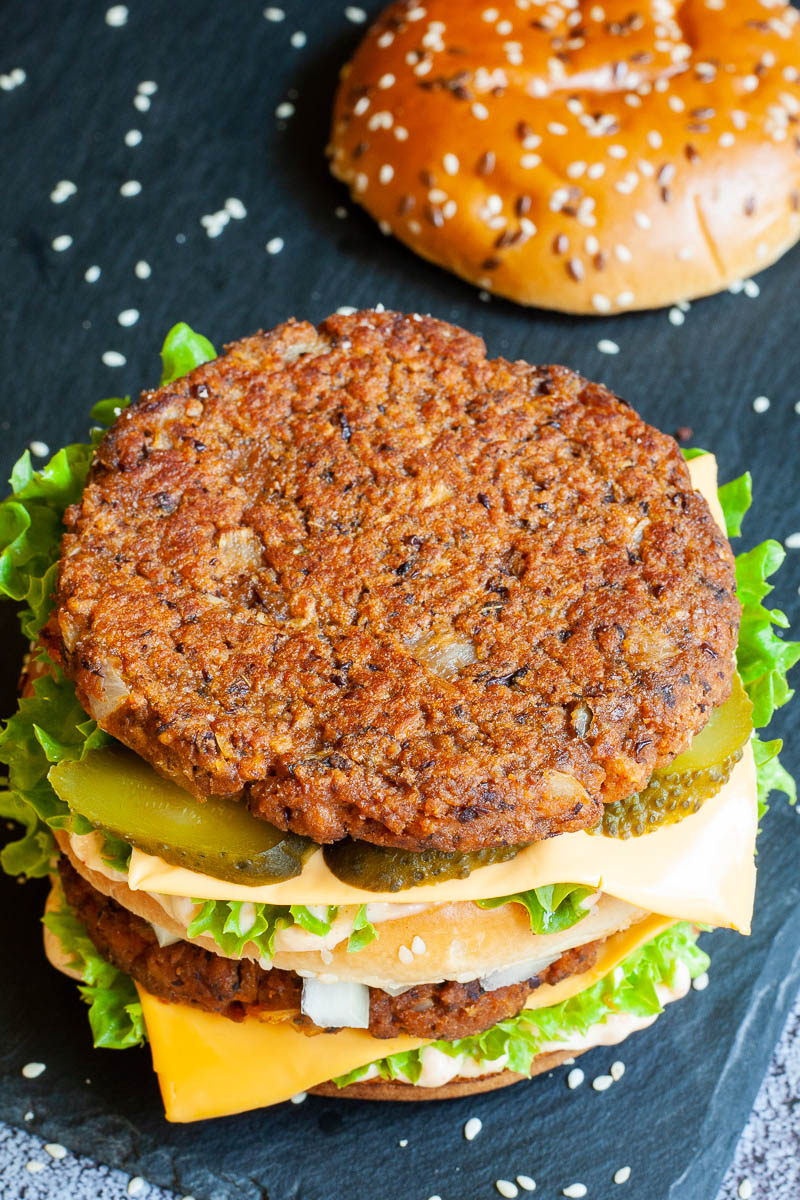 Ingredients
The main ingredient is this perfect minced beef substitute called TVP* (textured vegetable protein). What is TVP? It is actually only soy flour, no other ingredients. They add water to it to make a paste, then it is pressure cooked in a sense, then dehydrated. The chewy texture is spot on due to the tvp chunks. This is the best plant-based alternative by far. And no, you don't need vital wheat gluten to achieve that!
So what else do you need to make high-protein tvp burgers?
Onion
Garlic
Black beans
Tomato puree
Rice flour – hence it is gluten-free as well.
Tapioca starch – or any other substitute
Seasoning – smoked sweet paprika, Worcestershire sauce (vegan and gluten-free), dried oregano, dried basil, ground cumin, balsamic vinegar, olive oil, salt and black pepper
Optional spices – you can add liquid smoke for a charred finish, or chili powder if you like things spicy.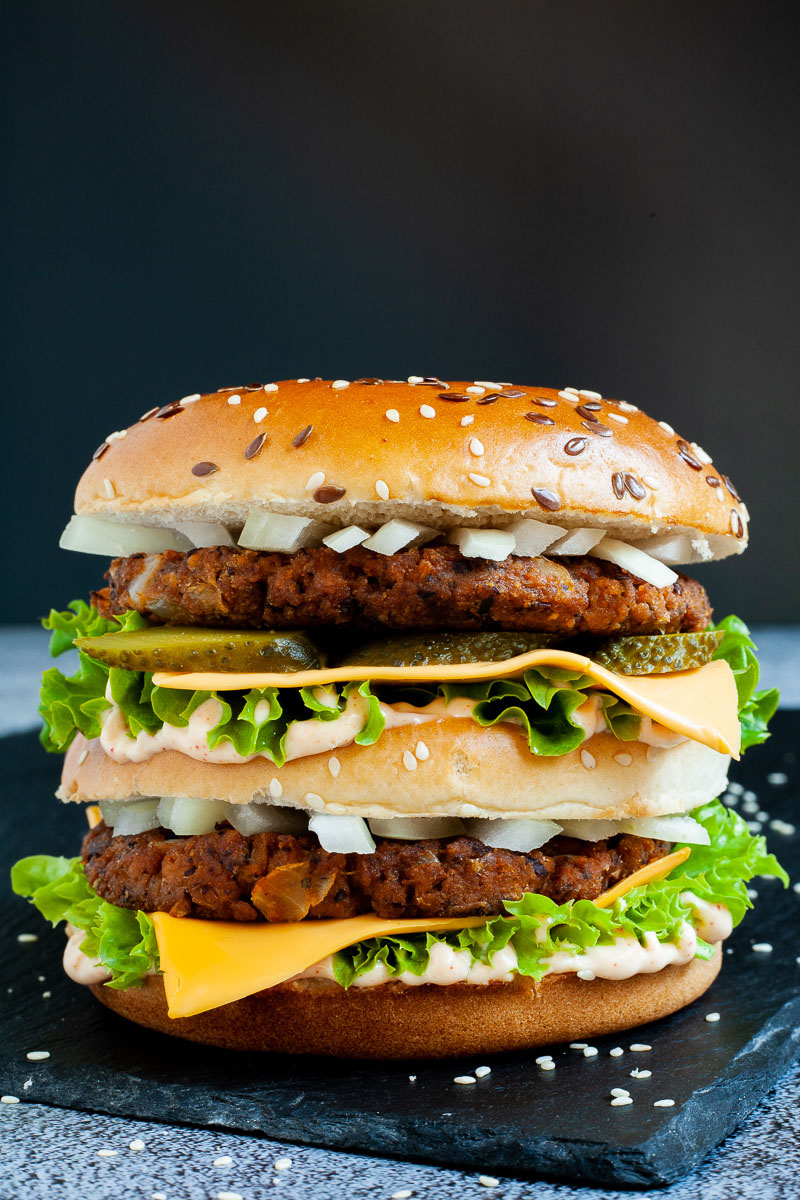 How to make a meatless burger with TVP?
Turning TVP into vegan meat
Boil water in a kettle and add veggie stock or bring vegetable broth to boil.
Take a heat-resisting bowl or saucepan and soak TVP* in the hot veggie broth for 10 minutes.
When the time is up, squeeze the liquid out. As a result, you need to have moist, soft "minced meat". (see below picture for reference)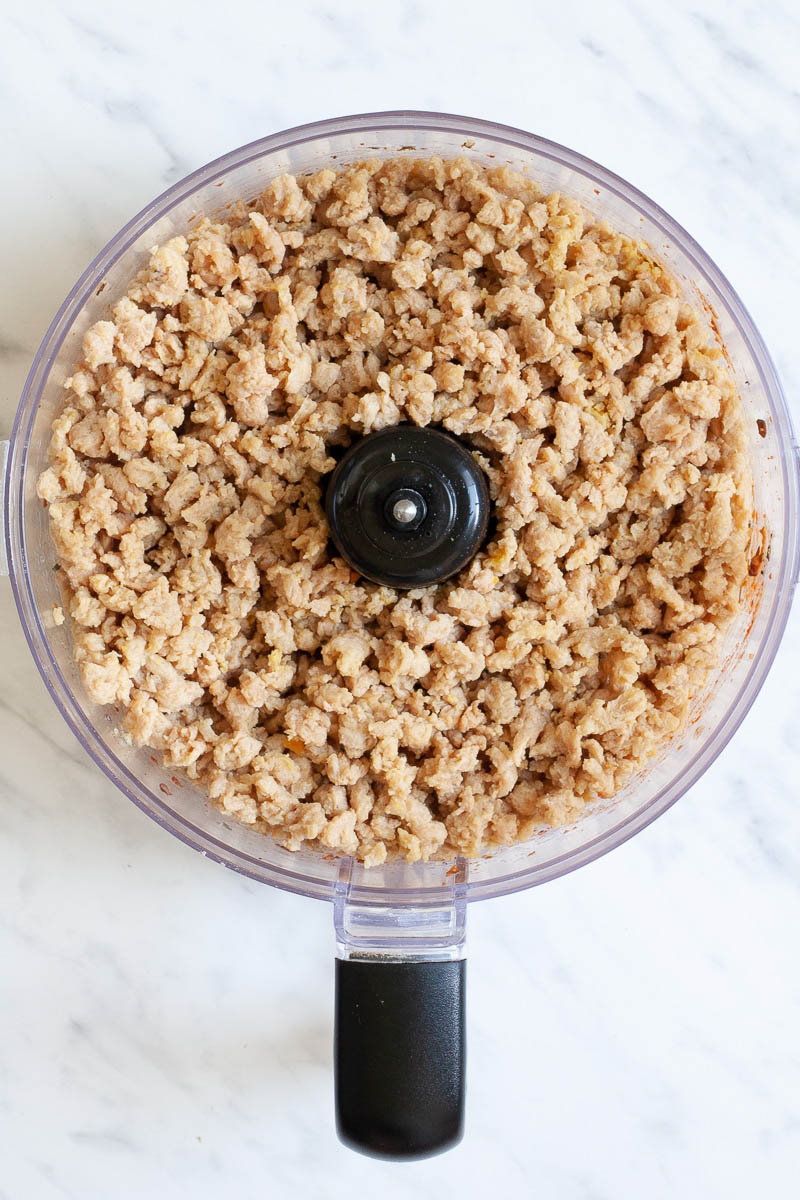 Pre-cooking onion and garlic
While you wait for the TVP to get ready, peel and chop onion and garlic.
Take a frying pan or we often use our UnoCasa cast-iron skillet* and pre-heat to medium heat.
Add a dash of olive oil and the finely chopped onion and garlic.
Cook onion and garlic until tender, but opaque, yellow and not caramelized.
Mixing
Add black beans, sauteed onion and garlic, canned drained black beans, tomato paste, and all spices (smoked sweet paprika, Worcestershire sauce (vegan and gluten-free), dried oregano, dried basil, ground cumin, balsamic vinegar, olive oil, salt and black pepper) to a food processor.
Blend them until you get a chunky texture.
Then add soaked TVP and pulse for a couple of times. You don't want to lose the ground beef-like texture the TVP has, but you need to chop them a bit to make sure the burger patties hold together. See below picture as reference.
Forming and frying the burger patties
Take a mixing bowl and add the chopped mixture from the food processor.
Add rice flour and tapioca starch and mix with a spatula.
Take 2-3 Tbsp of mixture and roll a ball with your hands.
Flatten it out between your palms. We went as thin as 0.5 inch (approx. 1 cm).
Take a non-stick frying pan or we often use our UnoCasa cast-iron skillet*.
Heat over low/medium heat with a bit of olive oil.
Cook both sides for 5 minutes.
Let's build your vegan Big Mac burger!
Here is the best part. You can build your own meatless burger with your favorite toppings or you can try this Big Mac-inspired combination.
We started off with a toasted bun (cut into 3 horizontally).
First, we spread a generous layer of vegan Big Mac sauce on it.
Then, we added green leaf lettuce because the ruffles look so pretty.
Next up, sliced vegan cheese.
Now, here comes the star of this recipe, the vegan burger patty.
Topped it with sliced raw onions.
Second part of the toasted bun.
Again vegan Big Mac Sauce, lettuce, and sliced vegan cheese.
Then we added a couple of sweet pickle slices.
Here comes another burger patty and sliced raw onions on top.
Cover it with the top of the bun.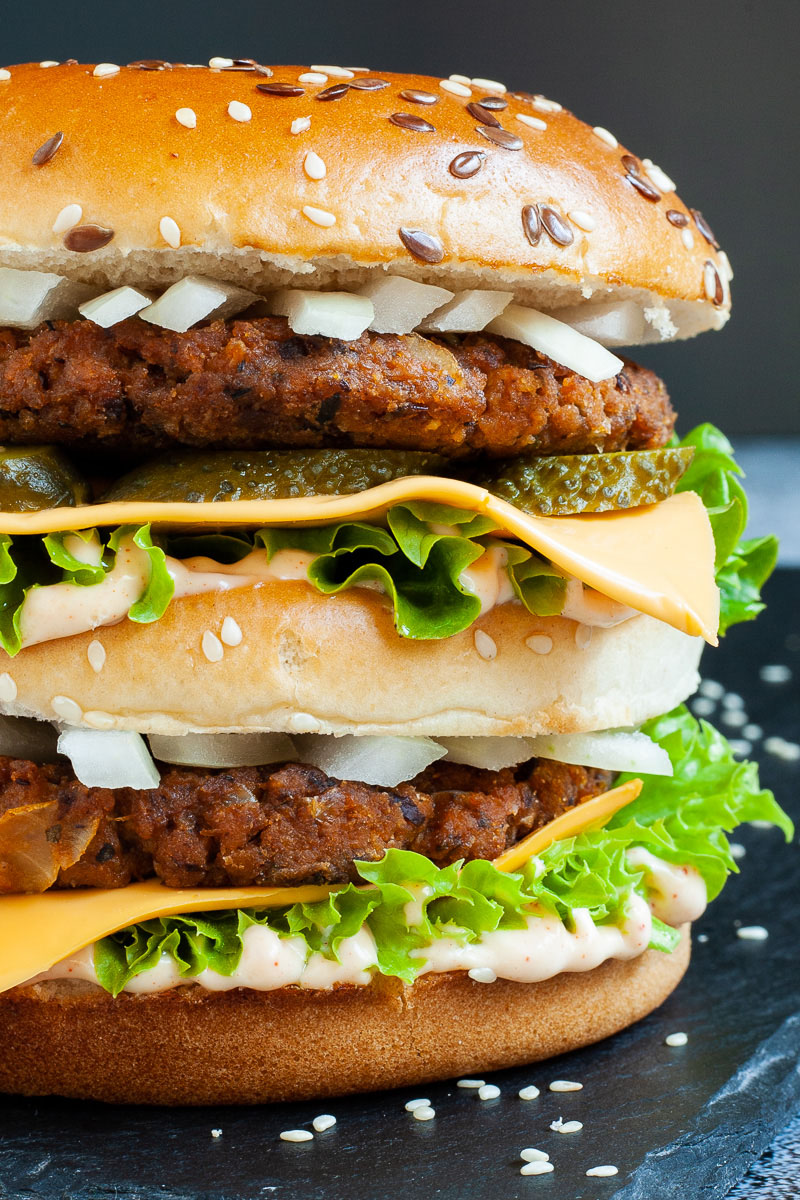 FAQs and substitutions
Can you use fresh herbs?
You can absolutely use fresh basil and oregano instead. You can also add fresh parsley, just keep the total amount of green herbs as per the recipe card.
Can you use other flour and starch?
If you don't need to eat gluten-free, you can use all purpose flour instead of rice flour and tapioca starch.
If you don't want to use other gluten-free flour, you can try buckwheat or maybe millet flour. I find oat flour will alter the taste too much in this case.
I also tested this recipe with cornstarch instead of tapioca starch. For more options, check out our post about tapioca flour substitutes where I explain when and how each substitute should be used.
Is Worcestershire sauce gluten-free and vegan?
Yes, there are some brands that are both gluten-free and vegan. Check out our post titled "Is Worcestershire sauce gluten-free?" for the list of brands.
If you don't have Worcestershire sauce, you can use soy sauce as an alternative. Please note that soy sauce is not gluten-free, we listed 5 substitutes here, but we usually use tamari*.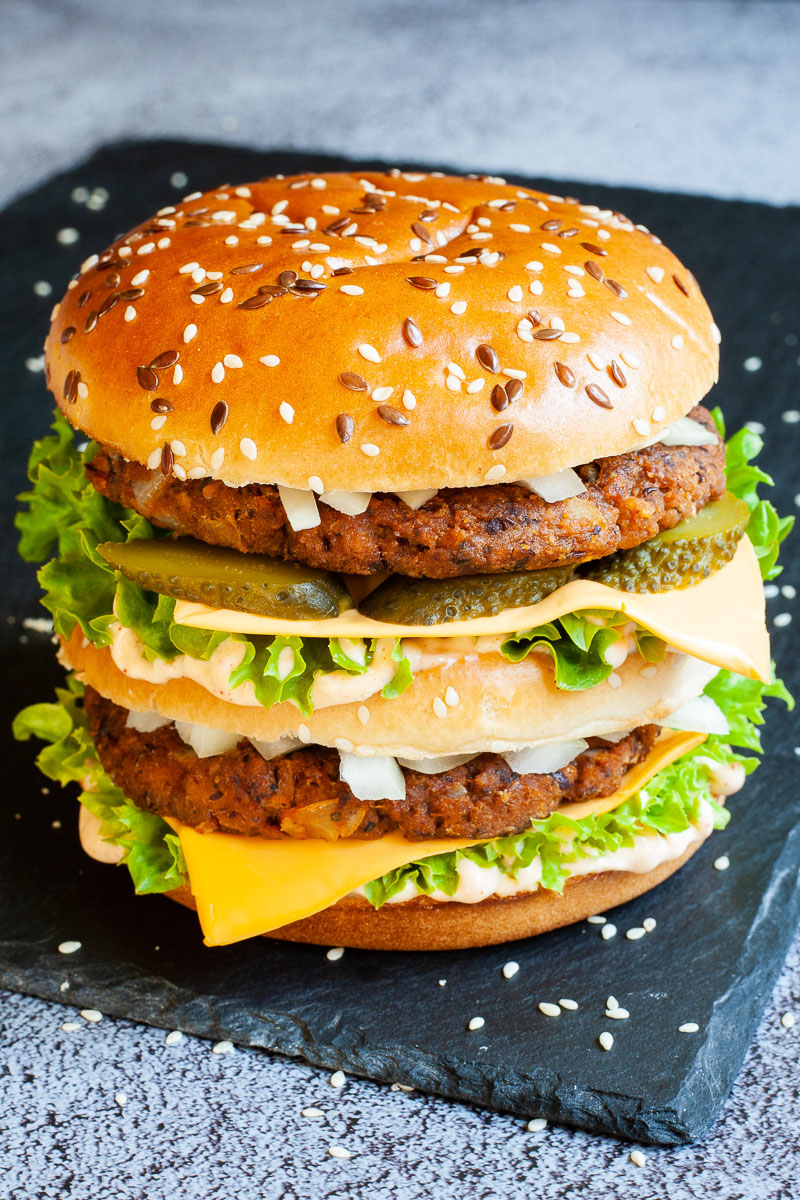 This TVP Burger recipe is vegan so meat-free, dairy-free, and egg-free. It is suitable for a vegetarian, gluten-free, and nut-free diet. This recipe is WFPB-friendly (whole foods plant-based) if you skip the oil.
More tvp recipes
Start with checking out these must-try vegan tvp recipes or choose from the below list:
More vegan burger recipes