The smoothest, vegan, gluten-free hummus that you can imagine. You only need basic, whole food ingredients AND FIVE MINUTES to make the best oil-free hummus ever. Once, you taste it, you will make it over and over and over and over…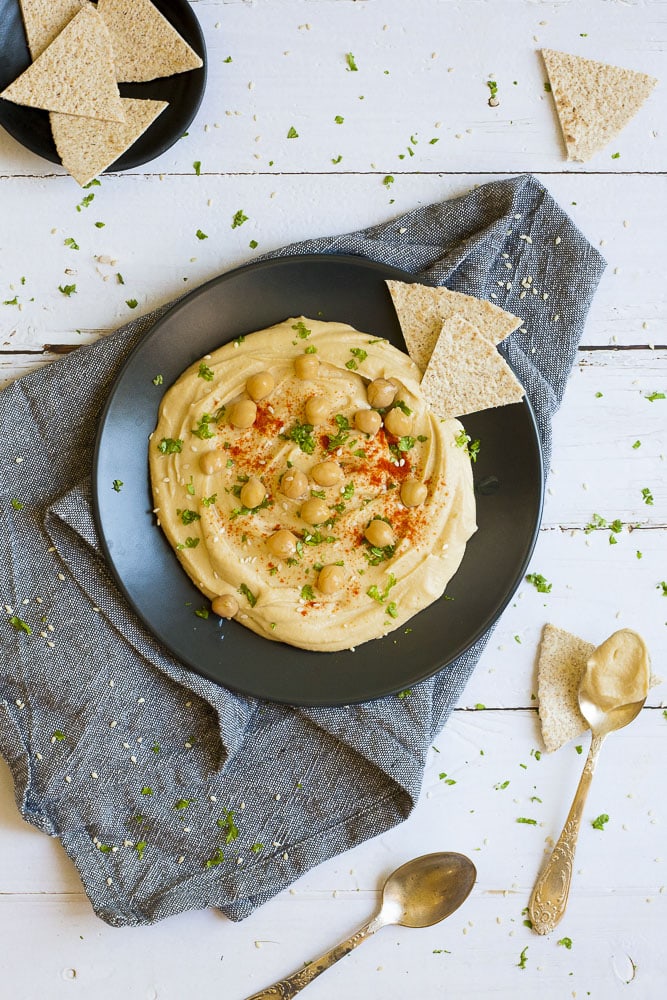 What's for breakfast in our house? – you ask. Well, hummus always and forever. The best thing that can happen to chickpeas. I mean I do love a good Chickpea Mushroom Curry or Falafel, but I just can't get bored with hummus. We love savory breakfasts, and we often make this Roasted Eggplant Bell Pepper Dip or this Vegan Egg Salad Sandwich. But hummus is just so quick, you can make it in the morning even if you are in a hurry. Are you interested?
Ingredients of our Oil-free Hummus
The classic hummus is naturally gluten-free and vegan, but not oil-free. When we first started making homemade hummus, we used extra virgin olive oil. It was delicious, I can't say it wasn't. However, later we found an awesome and probably not so surprising ingredient that works perfectly to make silky hummus. What was it you ask? Well…
It was AQUAFABA aka chickpea water from the can.
To make fluffy, oil-free hummus in 5 minutes, you will need 5 ingredients:
canned chickpeas + aquafaba (water from the canned chickpeas)
tahini (aka toasted sesame paste)
fresh garlic
freshly squeezed lemon juice
sea salt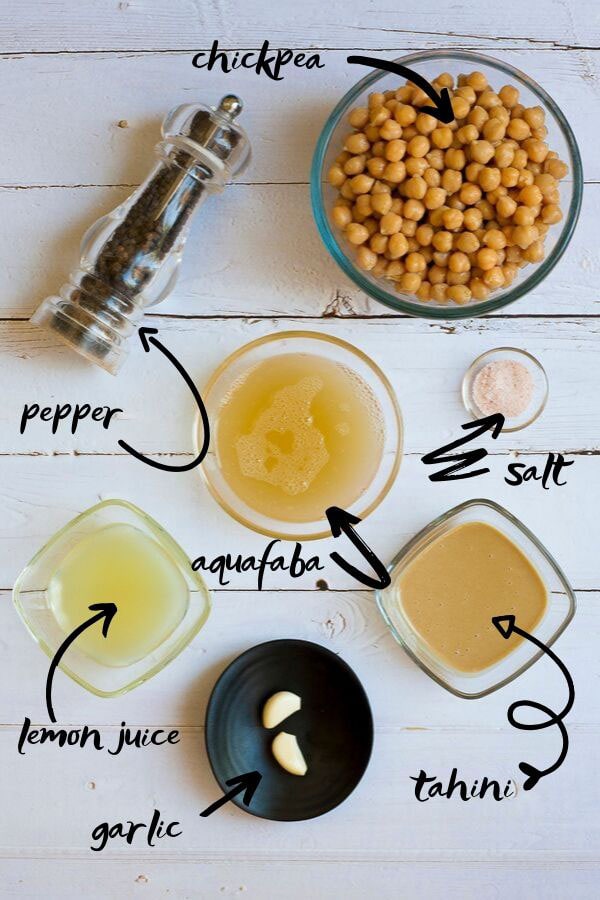 How to make hummus without oil?
Prepare the ingredients
You can time it, but you will need 3 minutes tops to prepare all the ingredients. I mean mostly just measure.
Drain canned chickpeas but save the liquid (aka aquafaba).
Peel the garlic cloves.
Squeeze one lemon.
Measure tahini.
Blend until smooth
Now, add all ingredients to your blender and blend it for 2 minutes until you get smooth and fluffy homemade hummus. Done! 5 minutes!
Vitamix hummus is the best hummus
We have used literally every kitchen appliance there is to make hummus. We tried a hand blender (aka immersion blender), a food processor, a regular blender. They all make great hummus and we enjoyed them even so, but it was a compromise on creaminess for sure.
However, when we made hummus with our Vitamix* for the first time, we were like Janice from Friends: "Oh My God!" It was the most amazing silky, smooth, fluffy homemade hummus ever. You would think that only store-bought hummus can be this soft and creamy. No, not at all. It is better than store-bought.
QUICK TIP: If you don't have a Vitamix, you need to remove the skins of the chickpeas to get the creamiest hummus possible with a food processor or regular blender. If you don't want to, that is also fine, it will taste the same but less silky.
Useful tips to make hummus in Vitamix
Turn on the Vitamix and slowly increase the speed to the maximum.
Use the tamper to push down the ingredients, if anything stuck to the sides.
Add liquid (aquafaba and lemon juice) first, then the dry ingredients.
When ready, use a silicone spatula to gently scrape all the yummy hummus out of the container.
We have a Vitamix with a 64 oz (2-liter) wet container in which 3 cups of chickpea (500 g) is the minimum you need to make fluffy hummus.
Top tips if you don't have a Vitamix
If you want a creamy hummus, but don't have a high-power blender like Vitamix or Blendtec, follow our top tips.
Peel chickpeas

– Take a bowl and fill it with water. Drop the drained chickpeas in it. Use your hands to rub the chickpeas together. You can see the peel are floating to the top. Take a fine mesh sieve and grab the peels from the top.

Mince the garlic

– I just drop the garlic as a clove in the blender, but you can mince it before with a garlic press* (I have a similar one).

Blend separately

– First, try to blend the chickpeas with the aquafaba as smooth as possible before adding any other ingredients.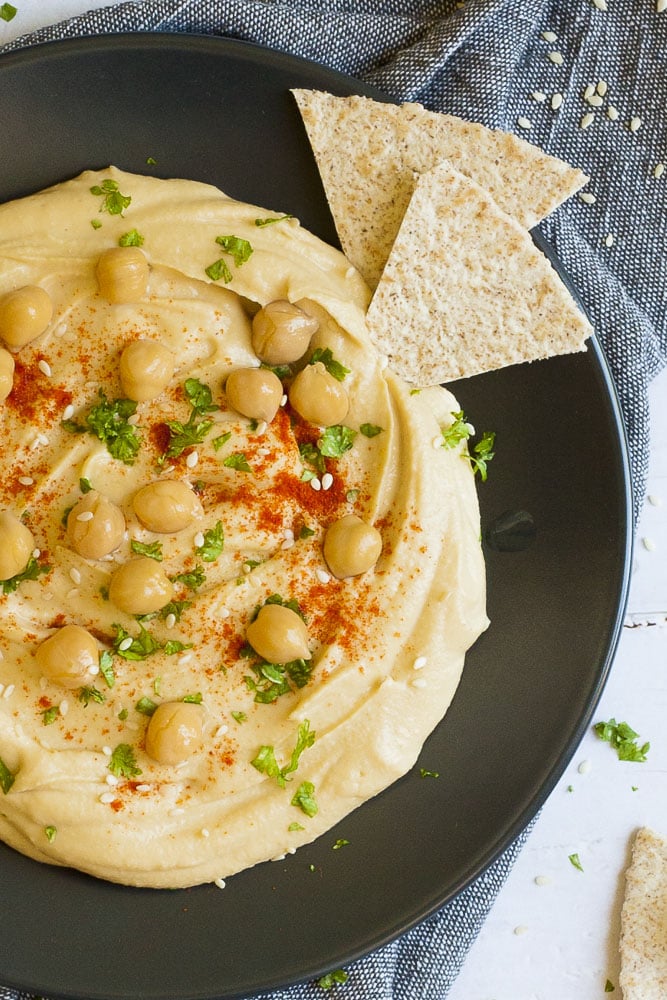 What to Eat with Hummus?
Everything. ? You would be surprised how many ways you can enjoy hummus. That is why we collected 25 creative and delicious recipes using hummus in our What To Eat With Hummus roundup post. Check out this gorgeous Mediterranean Hummus Pizza (pictured below) as an example!
We covered all basis and included 4 appetizers, 4 breakfast sandwiches, 4 quick lunches, 4 salad bowls, 4 baked goods, and 4 dinner recipes so you can mix and match. If you want to you can eat hummus every day for every meal for a week. Happy browsing!
FAQs and Substitutions
What to use instead of tahini?
Tahini is actually toasted sesame seeds blended into a paste. If you have a high power blender like Vitamix or Blendtec you can add toasted sesame seeds in whole to the hummus. You can buy them online* or toast raw sesame seeds at home. How to toast sesame seeds? It's easy. There is a really handy guide on The Spruce Eats.
Or you can use sunflower seeds. We have a delicious recipe for Hummus without Tahini, where sunflower seeds gives the nutty taste you need. If you don't like tahini, find it too expensive or not available where you live, give this tahini free version a chance.
Check out the Complete List of Tahini Substitutes and decide which suits you the best.
Can you skip aquafaba?
Yes you can. Add water instead. Aquafaba makes it fluffy and extra smooth, but water works fine as well.
How to store hummus?
You can easily store it in the fridge for a week without any problem.
Can you freeze hummus?
Yes, you can. We recommend that you freeze them in smaller batches, so it can be easily thawed.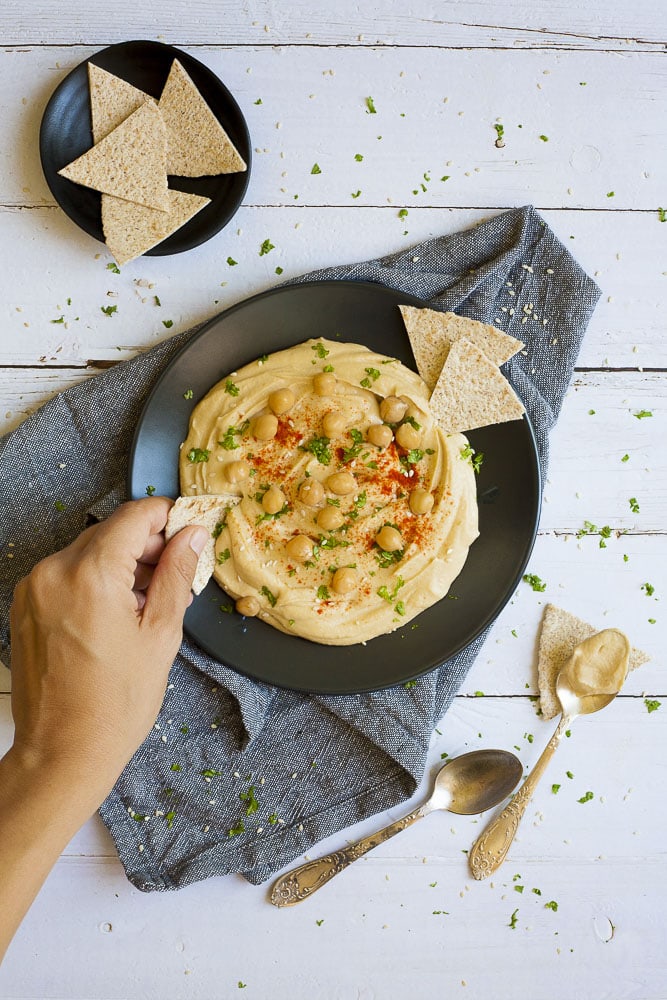 This Hummus recipe is suitable for a vegan, vegetarian, dairy-free, egg-free, gluten-free, nut-free, and soy-free diet. It is also WFPB-compliant (whole foods plant-based).
More hummus recipes
Do you want to try flavored hummus? Check out this Roasted Beet Hummus recipe where we show you how to roast beetroot in 15 minutes. Or try Hummus without Tahini if you don't like tahini, or not available where you live, or too expensive for you. We use sunflower seeds, which is a budget-friendly alternative.
More condiment recipes
You can browse through our Vegan Condiment Recipes or check out
UPDATED: This post was originally published in October 2019, but it has been updated with more tips and details in April 2021.