This roasted eggplant and red pepper dip is a smoky, rich, flavorful dip. It is the combination of two popular Middle Eastern classics baba ganoush and muhammara. Serve it with vegetables or with sliced pita bread, but it is especially delicious added to a grilled cheese sandwich.
If you are looking for more eggplant recipes, try our eggplant meatballs or this one-pot quick and easy ratatouille.
What to expect from this recipe?
The eggplant is kind of a controversial vegetable, some people love it, and some people hate it. Wait, scratch that, I just read that eggplant is actually a fruit, a type of berry. That's interesting, never thought of it as a fruit. Anyway.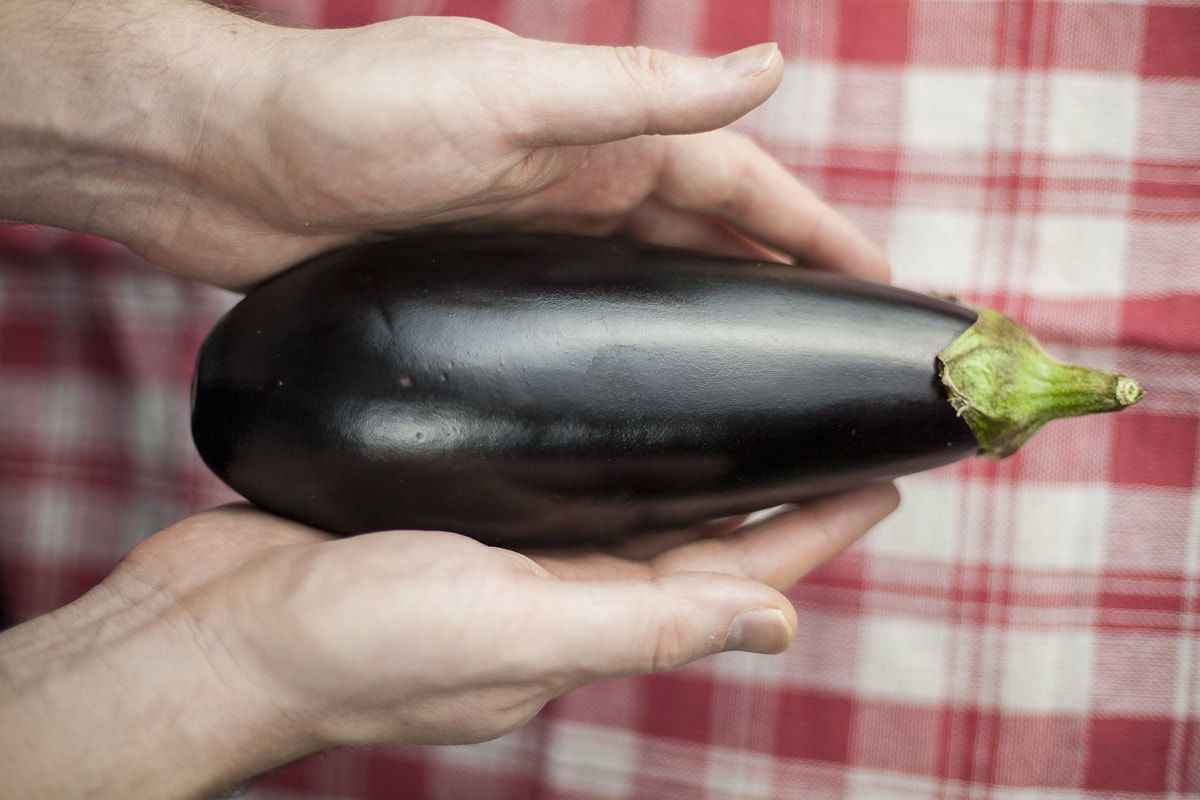 It is not easy to make eggplant delicious. Why? It is similar to how you handle meat or tofu. All of them including eggplants have a fairly neutral taste (aka taste like nothing) without proper seasoning they are bleh. However, with the right combination of spices, herbs, marinade, or sauce they can be turned into a delicious dish.
Why is this eggplant dip so delish? We chose the combination of spices and ingredients to make it
light, but deep in flavors
creamy, but rich
savory with a bit of umami and smoky flavor
Have you tried a traditional muhammara or baba ganoush yet? The texture of our dip is very similar to those. They are light veggie-based dips that are thin, but still deep in flavors.
So that's why we kind of blended the best part of both worlds and made an even better, yummier, and richer spread. Would you like to try it?
Ingredients
To make this roasted eggplant bell pepper dip, you need 9 ingredients. All of them are there to complement each other and to give you an eggplant pepper dip that is rich, deep, and smoky.
Eggplant -> There are several types, but we chose globe eggplants.
Red peppers -> You can choose red bell peppers, Italian red peppers, or Hungarian wax peppers. We recommend using sweet peppers since this dip doesn't mean to be hot and spicy.
Onion -> You can use purple or red onion, maybe even shallots. But not spring onions or chives for sure. They just don't have a strong enough flavor.
Garlic
Walnuts or Pecans -> Depending on where you live, one or the other are easier and cheaper to buy. Their taste is quite close, so this recipe will work with both. If you don't have a strong blender or food processor, try to buy ground walnuts or walnut meals instead of whole ones.
Tahini -> It is toasted sesame seeds turned into a paste that gives this dip a really smooth and creamy texture. If you don't like it for any reason, choose one from these tahini substitutes.
Soy sauce -> If you need to eat gluten-free, please note that soy sauce is not gluten-free. We recommend using tamari as the closest substitute.
Tomato paste -> It is a flavor enhancer.
Nutmeg
Sweet smoked paprika powder
Salt and black pepper
🛒 You can find detailed measurements for all ingredients in the printable version of the recipe card at the bottom of this post.
Instructions
Roasting eggplant and red bell pepper
If you roast whole eggplants, then you will need much more time than 30 minutes. If you roast them in cubes, you need to peel them in advance. I read somewhere that if you touch raw eggplant with anything else than wooden cutlery, it will turn brown quicker and may enhance the bitterness. Therefore, I minimize the time by cutting them raw.
Wash eggplants and peppers.
Cut eggplants in half vertically. You can cut off the stem, but that is not necessary.
Place the halves upside down in an oven-safe glass dish or on a silicone baking sheet.
Place the red bell peppers next to them. No need to add oil to any of the vegetables. You can bake them successfully oil-free as well.
Bake them in a preheated oven of 350 Fahrenheit (180 degrees Celsius). Depending on the size of the veggies, you need approx. 30 minutes to get them soft enough. The bell pepper might get some blackish color here and there. Don't worry about it as you will peel all veggies before turning them into a dip! You can see it in the below photo of how eggplants look after roasting without oil in the oven.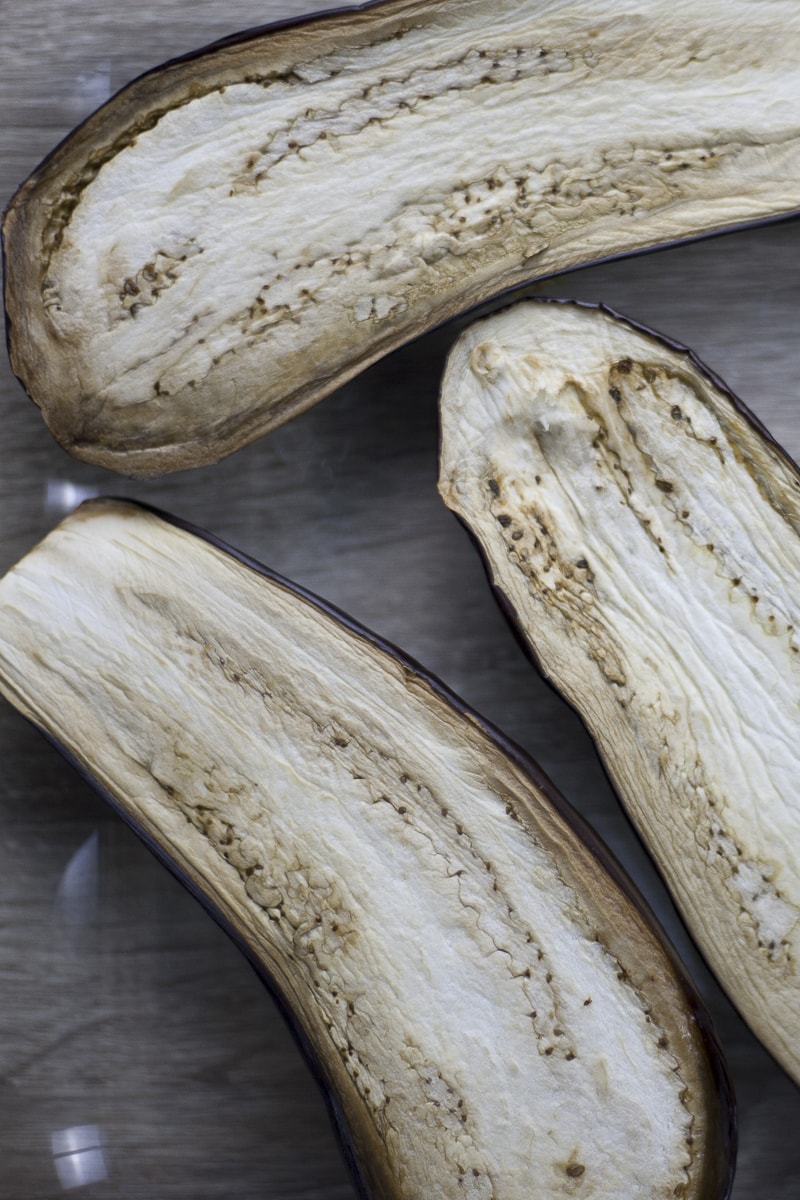 Pre-cook the other ingredients
Sautee chopped onion and garlic cloves in a frying pan or skillet for 2-3 minutes or until they are tender and yellowish.
Add walnut meal and stir to combine. Cook for another 1-2 minutes.
Add tahini, soy sauce, tomato paste, nutmeg, sweet smoked paprika powder, salt, and black pepper. Stir to combine. Take it off the heat after 1-2 minutes.
Making the dip
Peel bell peppers with your fingers after they cooled. It will come off easily. The same goes for eggplants. You can peel it with your fingers or scoop the flesh with a spoon.
Now, take a tall but thin bowl (usually it is part of the immersion blender kit) and add both roasted and cooked ingredients.
Blend them until they are creamy like the one in the below picture.
When you are ready, taste it and adjust the seasoning according to your preference. Voila! Your roasted eggplant red pepper dip is ready! Enjoy!
What to serve with it?
So you have a roasted red pepper eggplant dip, now what? You can top it with fresh herbs, like parsley, or sprinkle it with sesame seeds and a bit of lemon juice…
DIP IT!
Take some flatbread or pita wedges (maybe make our flourless red lentil tortilla) and dip them in it.
Have some pita chips, crackers, or even tortilla chips with it for a quick snack.
Cut up some fresh raw veggies into sticks, like carrot, cucumber, rutabaga (Oh so delicious…), celery, or even more bell peppers, and scoop up some.
This dip is a great addition to this Mediterranean grazing board or to any appetizer platter next to classic hummus, beetroot hummus, or tofu cream cheese.
SPREAD IT!
Use it as a sandwich spread on a toasted baguette or bagel with your favorite veggies.
Add it as a bottom layer to your vegan grilled cheese sandwich.
Spread it on a soft tortilla to make a lunch wrap or veggie pinwheels.
If you need more inspiration, we have a what to eat with hummus post with 25 creative recipes to use hummus. However, you can make several recipes with this roasted eggplant dip instead of hummus like
veggie spring rolls
vegetable-loaded crostini
pita pockets
sauce for pasta (casserole or not)
sauce for pizza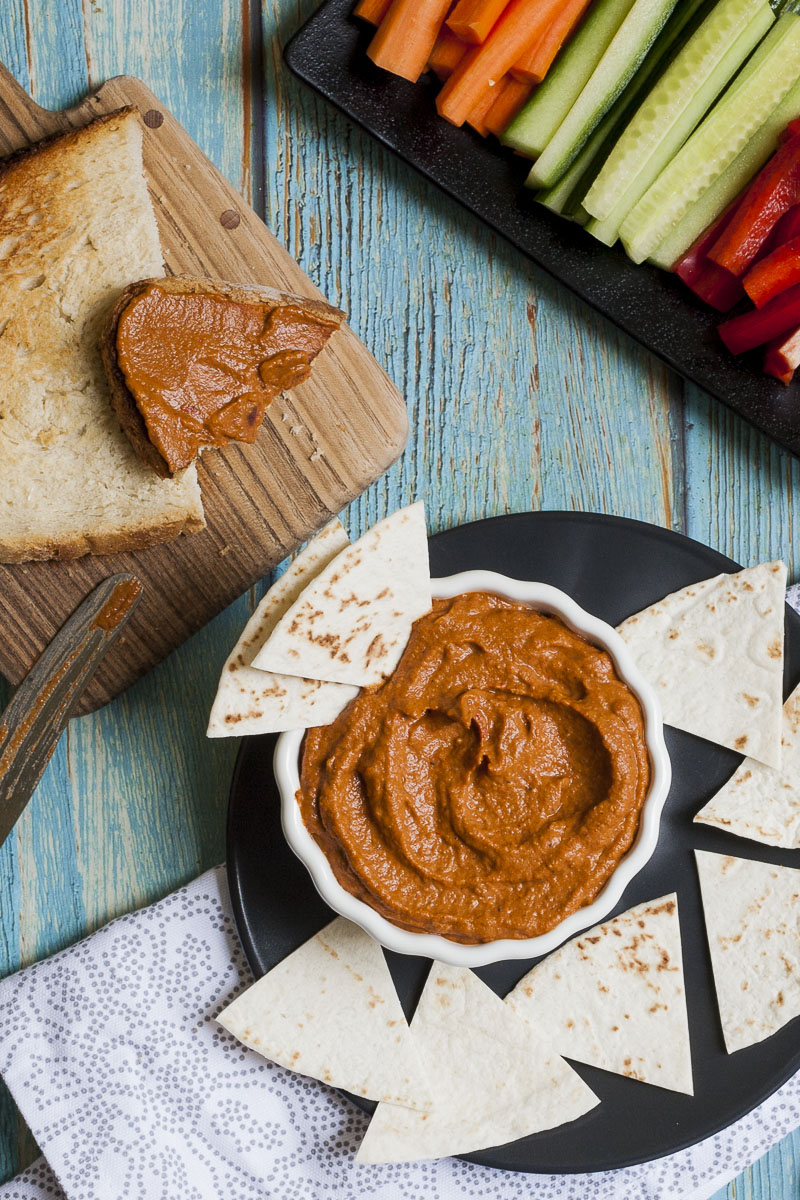 FAQs and substitutions
How do you store it?
You can keep it in the fridge for 5-6 days tops without any problem.
Can you make them ahead of time?
Yes, you can. You can roast both eggplants and bell peppers in advance and store them in the fridge for 1-2 days without a problem. The only thing you need to pay attention to is that they might release liquid, so they might be more watery. Drain the liquid they have released and go from there.
Can you freeze it?
I never had to freeze it as it is usually gone by day 3. If you try to freeze it, let me know how it turns out.
Allergen info
This Roasted Eggplant Red Pepper Dip recipe is meat-free, egg-free, and dairy-free.
Vegan

– All ingredients are supposed to be vegan.

Nut-free

– We used walnuts for this recipe to make it richer. The closest alternative would be sunflower seeds or adding a bit more from the tahini.
WFPB-friendly (whole foods plant-based) – To make it compliant you need to avoid using oil. We already baked both eggplant and bell pepper oil-free. So the only thing you need to pay attention to is sauteeing onion and garlic in water or veggie broth instead. We don't recommend adding them raw as the flavors will be too strong.

Gluten-free

– Soy sauce is not gluten-free, so we recommend using tamari instead. All other ingredients are supposed to be gluten-free but always cook with certified products.

Soy-free

– Soy sauce is the only non-compliant ingredient. We recommend using coconut aminos.
More vegan dip and spread recipes
You can browse through our vegan dips galleries or check out
More vegan eggplant recipes
We love eggplant recipes so much. We even made a 30+ MUST-TRY vegan eggplant recipes list. If you are the same, you will be over the moon with these delicious dishes:
THANK YOU so much for visiting our website. Please comment below if you have tried this recipe. We LOVE hearing from you! If you loved the recipe, please don't forget to give us a ⭐⭐⭐⭐⭐ RATING. We appreciate all of our readers.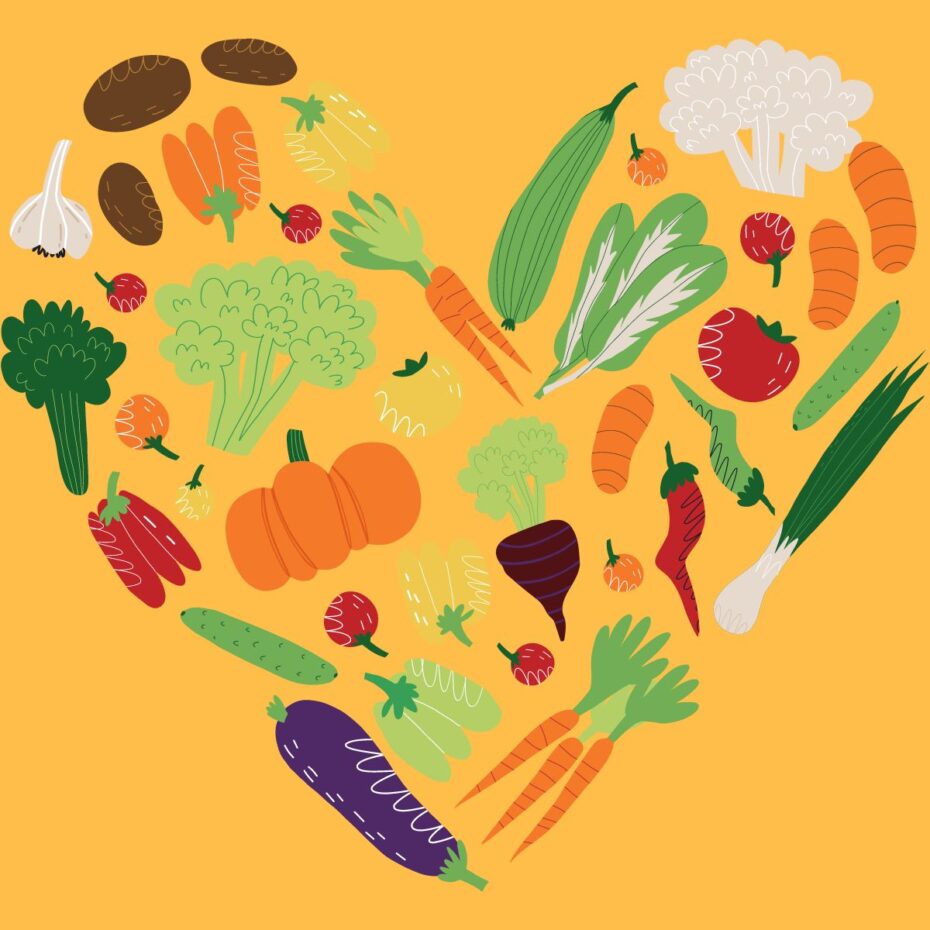 Smoky Roasted Eggplant Red Pepper Dip with Walnuts
This roasted eggplant and red pepper dip is a smoky, rich, flavorful dip. It is the combination of two popular Middle Eastern classics baba ganoush and muhammara. Serve it with vegetables or with sliced pita bread, but it is especially delicious added to a grilled cheese sandwich.
EXCLUSIVE 5-ingredient recipes for busy home cooks that are ready in 15 minutes!
Check out our Express Vegan Cookbook!
Instructions
Preparing the vegetables
Wash and cut eggplants in half. I usually cut the stem off, but no worries if you leave them on.

Wash the bell pepper. No need to cut it, as we will roast them in whole.

Peel and chop onion and garlic.

If you don't have a walnut or pecan meal, then use a food processor and mince whole/chopped nuts until they are the right consistency.
Roasting eggplants and bell peppers
Preheat the oven to 350 Fahrenheit (180 degrees Celsius).

Drizzle a parchment paper with olive oil and place the half eggplants upside down so their peel is up. (If you use a non-stick baking sheet, you can roast oil-free.) And add the whole bell peppers next to it.

Roast the veggies in the oven for approx. 30-40 minutes. You know the eggplants are ready, if their peel is wrinkled. The bell pepper might get some blackish color here and there, but that is completely all right.

When the veggies are ready, let them cool at least for a bit so you can touch them and peel them. (See notes on how to peel them easily step by step.)
Cook all other ingredients
While the vegetables are roasting, take a frying pan and heat to medium. Add oil and sautee the chopped onion and garlic in a frying pan on medium heat for 1-2 minutes. (If you do oil-free, sautee with water or veggie broth). Add walnut meal, tahini, soy sauce, and all seasoning and stir to combine. Cook for another 1-2 minutes.
Blend the dip until creamy
Add roasted and peeled eggplant and bell pepper, and pre-cooked ingredients in a tall but thin container and puree them thoroughly with an immersion blender.

Ready to dip in it or spread them on your toast. Enjoy!
Notes
How to peel roasted eggplants easily?
You need to allow them to cool a bit, so it is not too hot to touch them.
Place them on a wooden cutting board with their peel down.
Hold the bottom tip of the eggplant with one hand and gently scrape the eggplant flesh with a spoon in the other direction (where the stem was).
If the eggplants are very soft and tender, you can just pull off the peel with your fingers easily.
How to peel roasted bell peppers easily?
You need to allow them to cool a bit, so it is not too hot to touch them.
Place them on a wooden cutting board with the stem up.
Roasted bell peppers are super soft, so you can easily remove the stem and the seeds with your fingers at this point. Just hold down the pepper and pull the stem upwards. Most of the seeds should come out like that.
Now place them sideways.
Cut the top half vertically from stem to bottom, but do not cut it in half. This way you can spread it out like a carpet with its peel down.
Finally, scrape the bell pepper flesh with a spoon.
Nutrition
Nutrition Facts
Smoky Roasted Eggplant Red Pepper Dip with Walnuts
Amount Per Serving (1 cup)
Calories 233
Calories from Fat 63
% Daily Value*
Fat 7g11%
Sodium 645mg28%
Potassium 1500mg43%
Carbohydrates 42g14%
Protein 9g18%
Vitamin A 2464IU49%
Vitamin C 95mg115%
Calcium 83mg8%
Iron 3mg17%
* Percent Daily Values are based on a 2000 calorie diet.
UPDATE: We posted originally a roasted veggie dip 3 ways recipe here in Aug 2018, but after some consideration, we updated this post in Jun 2020 to share with you ONLY our best and most delicious roasted veggie dip recipe out of all 3. More info, tips, and details were added and it was republished in June 2022.