If you love baba ganoush or muhammara, you'll love this recipe for Roasted Eggplant Dip with Bell Peppers and Walnuts. It feels like the love child of these two. The best of both worlds, but still unique on its own right. It is rich, flavorful, and especially delicious added to a vegan grilled cheese sandwich.
I didn't really like eggplant at the beginning as they were somehow always served as grilled. To me, if the peel was still on, the whole grilled eggplant slice became bitter. The first-ever dish I really liked that featured eggplant was baba ganoush. Then came our Eggplant Meatballs recipe, and I was hooked. But this Roasted Eggplant Dip is my favorite eggplant recipe ever. I spread them on toast, top it with cheese, and put it until the broiler to get a cheezy, melty, warm breakfast. Oh my, delicious and healthy! Just how I like it.
⇒ Get our FREE 7-DAY VEGAN MEAL PLAN now! or check out all vegan meal plan recipes here! ⇐
How does our roasted eggplant dip taste like?
The eggplant is kind of a controversial vegetable, some people love it, some people hate it. Wait, scratch that, I just read that eggplant is actually a fruit, a type of berry. That's interesting, never thought of it as a fruit. Anyway.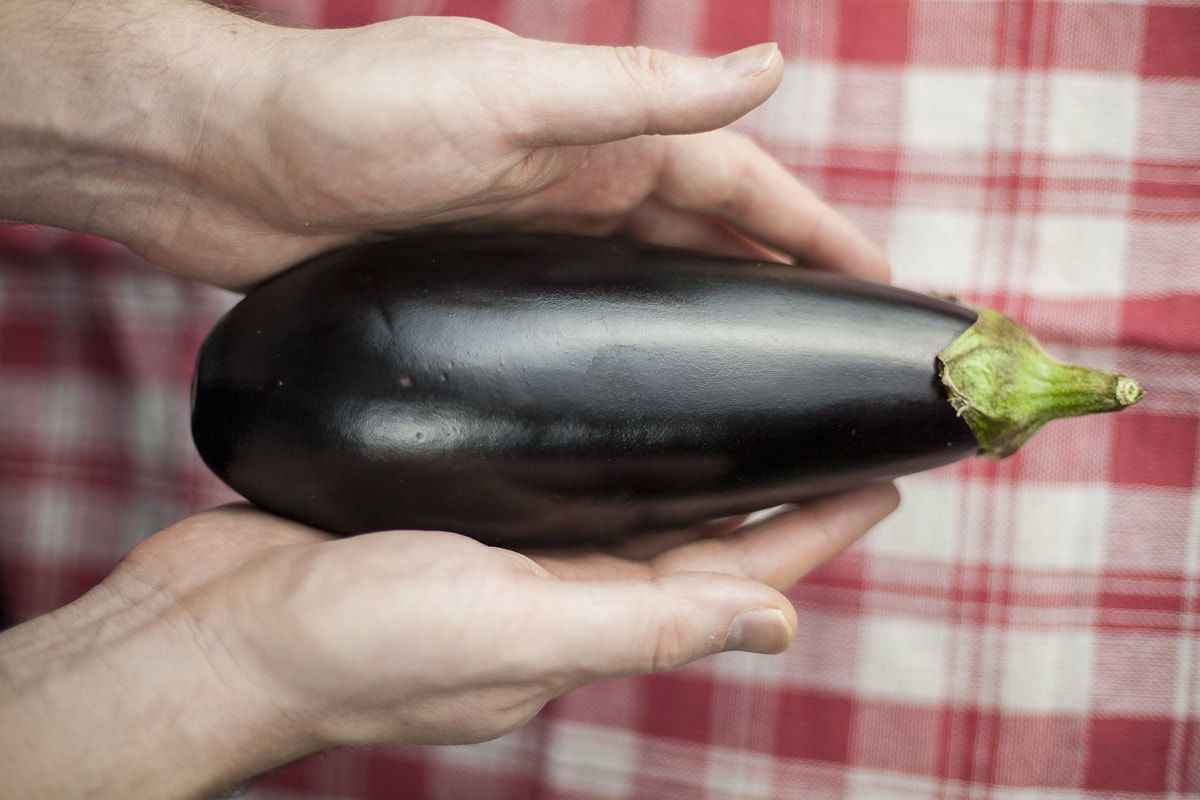 It is not easy to make eggplant delicious. Why? It is similar to how you handle meat or tofu. All of them including eggplants have a fairly neutral taste (aka taste like nothing) without proper seasoning they are bleh. However, with the right combination of spices, herbs, marinade, or sauce they can be turned into a delicious dish.
But this eggplant dip is so delish. We chose the combination of flavors to make this eggplant-based dip
light, but deep in flavors
creamy, but rich
savory with a bit of umami and smoky flavor
Have you tried a traditional muhammara or baba ganoush yet? The texture of our dip is very similar to those. They are light veggie-based dips that are thin, but still deep in flavors. The authentic muhammara pairs roasted bell pepper with walnuts but it is usually quite spicy and hot, which we don't like. The original baba ganoush recipe uses tahini, which we like a lot (and use it to make our 5-min Oil-free Hummus weekly) and turns any dip creamy and smooth. So that's why we kind of blended the best part of both worlds and made an even more yummy and rich spread. Would you like to try it?
Ingredients of our eggplant red pepper dip
As this is a roasted eggplant and roasted bell pepper dip, obviously these 2 veggies will be your main ingredients.
However, the trick is in the seasoning. We added 7 different flavors. All of them are only in small amounts so that none of them would overpower the other, but rather complement each other. This way, you can get this roasted eggplant dip, rich, deep and smoky.
red onion
garlic clove
walnut or pecan meal
tahini
soy sauce
tomato paste
nutmeg
smoked paprika
salt and pepper (obviously)
(The exact amounts are detailed in the recipe card below.)
How to roast eggplant and bell pepper?
Roasting them is easy. I usually use a glass container or a baking mat so I can roast them oil-free.
After washing the eggplants I cut them in half vertically and place the halves upside down. You can cut off the stem, but not necessary. I also wash the red bell pepper and place them on the baking mat next to the eggplant halves without any oil or other preparation.
Depending on size, you need approx. 30 minutes to get the veggies soft enough. The bell pepper might get some blackish color here and there. Don't worry about it as you will peel all veggies before turning them into a dip! You can see it in the below photo of how eggplants look like after roasting without oil in the oven.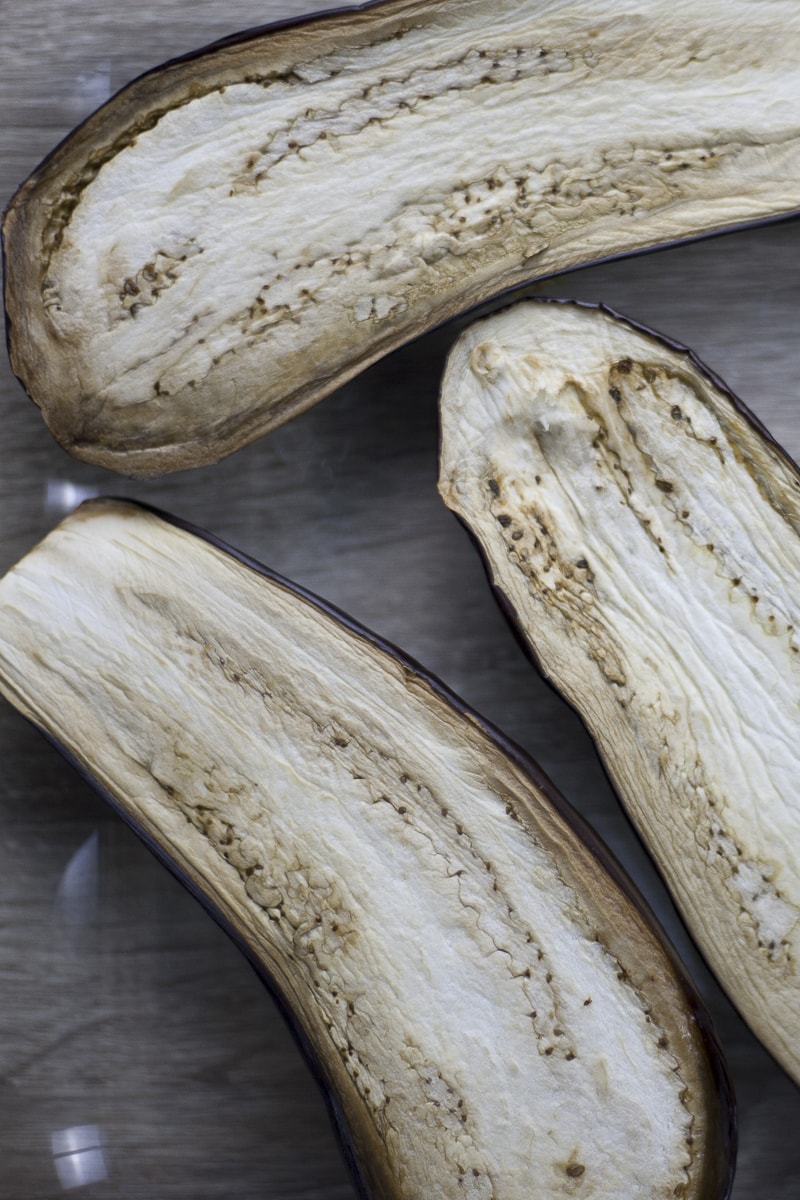 Top tips for roasting eggplants
Roasting in advance – You can roast the eggplants and the bell peppers in advance and store them in the fridge for 1-2 days without a problem. The only thing you need to pay attention to is that they might release liquid, so you might be more watery. Drain the liquid they released and go from there.
In whole, in half or in cubes – If you roast whole eggplants, then you will need much more time than 30 minutes. If you roast them in cubes, you need to peel it in advance. I read somewhere that if you touch raw eggplant with anything else than wooden cutlery, it will turn brown quicker and may enhance the bitterness. Therefore, I minimize the time by cutting them raw.
Making this roasted veggie-based dip
The first thing to do is to roast the eggplants and the bell peppers as described in the previous section. How to easily peel them after roasting? Check out the Notes section in the recipe card.
While they are in the oven, prepare the other ingredients.
First, sautee chopped onion and garlic in a frying pan for 2-3 minutes or until they are tender and yellowish. Add minced walnut and stir to combine. Cook for another 1-2 minutes. Add tahini, soy sauce, tomato paste, nutmeg, smoked paprika, salt, and pepper. Stir to combine.
Now, take a tall but thin bowl (usually it is the part of the immersion blender kit) and add both roasted and cooked ingredients. Blend it until creamy. When ready, taste it and adjust seasoning according to your preference. Voila! Your eggplant dip is ready! Enjoy!
Is it a dip or a spread?
So you have a roasted vegetable dip, now what? You can top it with fresh herbs, like parsley or sprinkle it with sesame seed and…
DIP IT!
Take some flatbread or pita wedges (maybe make our grain-free red lentil tortilla) and dip them in it.
Have some pita chips, crackers, or even tortilla chips with it for a quick snack.
Cut up some fresh raw veggies into sticks, like carrot, cucumber, rutabaga (Oh so delicious…), celery, or even more bell peppers and scoop up some.
This dip is a great addition to any veggie platters or Mediterranean inspired appetizer boards next to classic hummus or beetroot hummus or tofu cream cheese.
SPREAD IT!
On toasted baguette or bagel topped with sliced cucumber or tomato just like here instead of cream cheese.
Add it as a bottom layer to your vegan grilled cheese sandwich.
Spread it on a soft tortilla to make a lunch wrap or veggie pinwheels.
If you need more inspiration, we have a What to Eat with Hummus post with 25 creative recipes to use hummus. However, you can make several recipes with this roasted eggplant dip instead of hummus like
veggie spring rolls
vegetable-loaded crostini
pita pockets
sauce for pasta (casserole or not)
sauce for pizza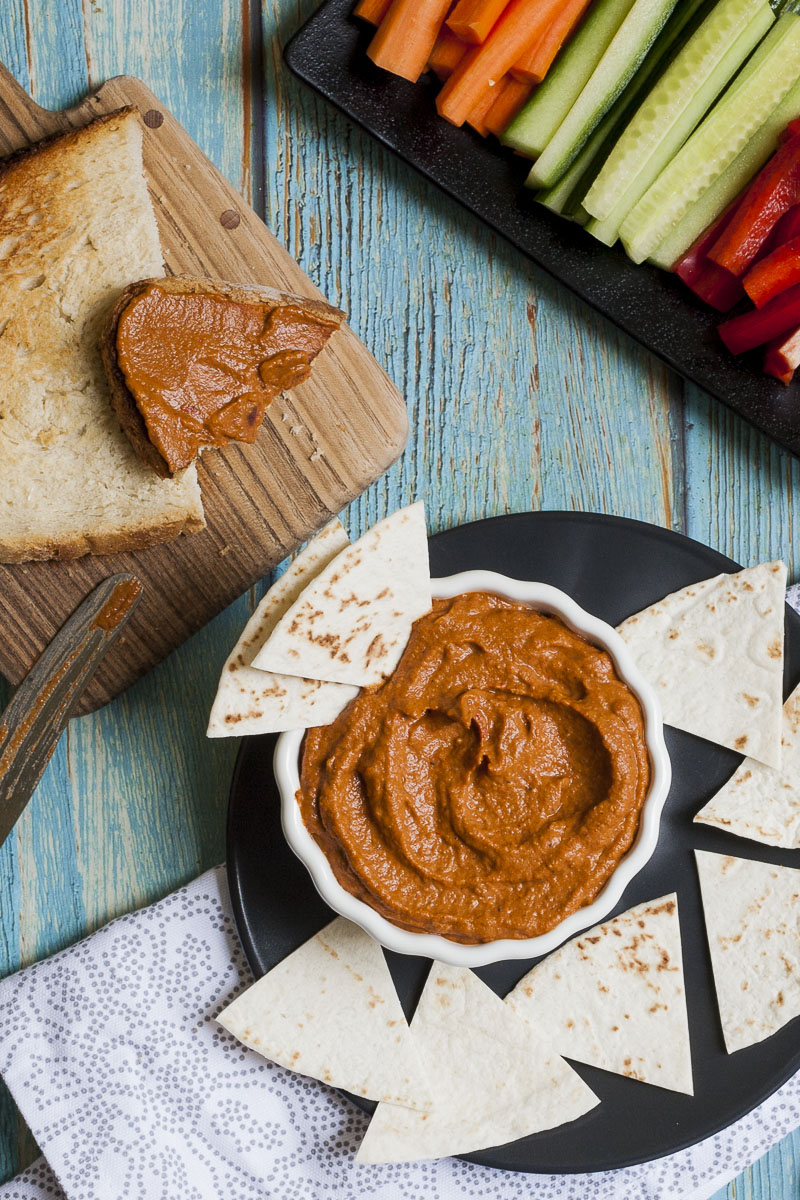 This Roasted Eggplant Dip recipe is vegan (so egg-free and dairy-free), vegetarian, soy-free, and WFPB-friendly (whole foods plant-based) if you roast the veggies oil-free.
⇒ Get our FREE 7-DAY VEGAN MEAL PLAN now! or check out all vegan meal plan recipes here! ⇐
More dip and spread recipes
You can browse through our Vegan Sides or Vegan Appetizers or Vegan Condiments galleries or check out
If you love eggplant like we do, try our other eggplant recipes like this Vegan Moussaka or this 30-min Ratatouille recipe.
SAVE THIS RECIPE ON PINTEREST FOR LATER.
You can also find a collection of our recipes here on Pinterest.
TRIED THIS RECIPE? CAN WE SEE IT?
Please share a picture with us by uploading an image to Pinterest below ours.
Smoky Roasted Eggplant Dip with Bell Pepper and Walnut
A little bit of baba ganoush and a little bit of muhammara, but not quite. This is a rich, flavorful and delicious dip or spread. Especially yummy added to a vegan grilled cheese toast.
Ingredients
Roasted Eggplant Veggie Dip
Instructions
Preparing the vegetables
Wash and cut eggplants in half. I usually cut the stem off, but no worries if you leave them on.

Wash the bell pepper. No need to cut it, as we will roast them in whole.

Peel and chop onion and garlic.

If you don't have walnut or pecan meal, then use a food processor and mince whole/chopped nuts until they are the right meal consistency.
Roast the eggplants and the bell pepper
Pre-heat oven to 180 degrees (350 Fahrenheit).

Drizzle a parchment paper with olive oil and place the half eggplants upside down so their peel is up. (If you use a non-stick baking sheet, you can roast oil-free.) And add the whole bell pepper.

Roast the veggies in the oven for approx. 30-40 minutes. You know the eggplants are ready, if their peel is wrinkled. The bell pepper might get some blackish colour here and there, but that is completely all right.

When the veggies are ready, let them cool at least for a bit so you can touch them and peel them. (See notes on how to peel them easily step by step.)
Cook all other ingredients
While the vegetables are roasting, take a frying pan and heat to medium. Add oil and sautee the chopped onion and garlic in a frying pan on medium heat for 1-2 minutes. (If you do oil-free, sautee with water or veggie broth). Add minced walnuts, tahini, soy sauce and all seasoning and stir to combine. Cook for another 1-2 minutes.
Blend the dip until creamy
Add the roasted eggplant and bell pepper, and the cooked spicy onion garlic base in a tall but thin container and puree them thoroughly with an immersion blender.

Ready to dip in it or spread them on your toast. Enjoy!
Notes
How to peel roasted eggplants easily?
You need to allow them to cool a bit, so it is not too hot to touch them.
Place them on a wooden cutting board with their peel down.
Hold the bottom tip of the eggplant with one hand and gently scrape the eggplant flesh with a spoon in the other direction (where the stem was).
If the eggplants are very soft and tender, you can just pull off the peel with your fingers easily.
How to peel roasted bell peppers easily?
You need to allow them to cool a bit, so it is not too hot to touch them.
Place them on a wooden cutting board with stem up.
Roasted bell peppers are super soft, so you can easily remove the stem and the seeds with your fingers at this point. Just hold down the pepper and pull the stem upwards. Most of the seeds should come out like that.
No place them sideways.
Cut the top half vertically from stem to bottom, but do not cut in half. This way you can spread it out like a carpet with its peel down.
Finally, scrape the bell pepper flesh with a spoon.
Nutrition
Serving:
1
cup
Calories:
236
kcal
Carbohydrates:
42
g
Protein:
9
g
Fat:
7
g
Saturated Fat:
1
g
Sodium:
645
mg
Potassium:
1458
mg
Fiber:
17
g
Sugar:
23
g
Vitamin A:
2459
IU
Vitamin C:
95
mg
Calcium:
70
mg
Iron:
3
mg
UPDATE: We posted originally a roasted veggie dip 3 ways recipe here in Aug 2018, but after some consideration, we updated this post in Jun 2020 to share with you ONLY our best and most delicious roasted veggie dip recipe.