The best vegan gyros are, without a doubt, shredded oyster mushrooms (not cut, but torn apart). The texture and the taste are just perfect. Fill your pita pockets with the crispiest vegan gyro meat, fresh vegetables, and a homemade tzatziki sauce.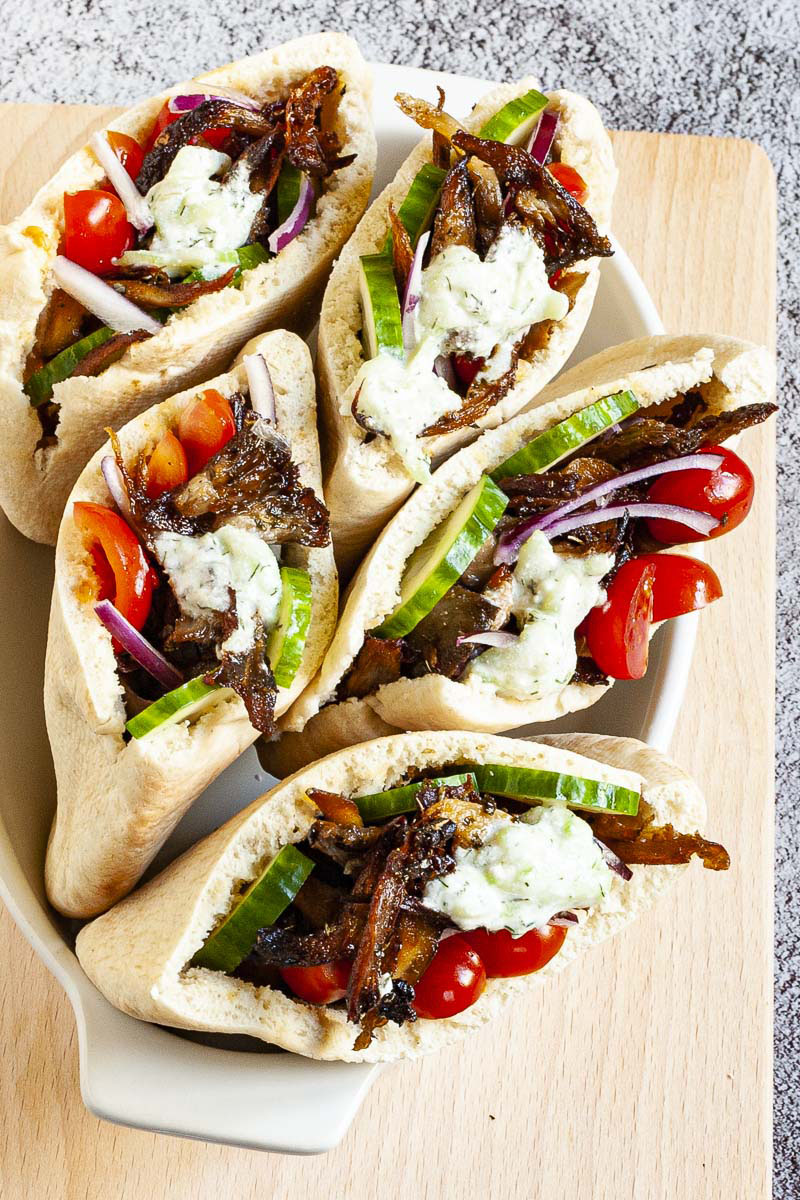 Since oyster mushrooms are a fantastic vegan meat substitute, if you are looking for more recipes with this ingredient, try our vegan Philly cheesesteak, BBQ vegan pulled pork burger, vegan fried chicken, or vegan buffalo chicken wings.
Jump to:
What to expect from this recipe?
Classic gyro meat is tender but has a crispy crust. It is usually not seasoned with more than salt and black pepper. To make it vegan, we wanted to find an ingredient that could deliver on the texture.
We love to work with oyster mushrooms. Our love for these fungi started with this vegan buffalo chicken dip recipe, where we wanted to find the best alternative to vegan shredded chicken.
When you taste our vegan gyro meat, you can expect a firm and chewy texture and a hearty and satisfying flavor. The crispy texture of the mushrooms will give them a lovely bite and a crunchy texture. Look at the below picture. Would you have guessed that these are mushrooms and not meat? It looks amazing. I promise you, not only does it look good, it tastes good as well.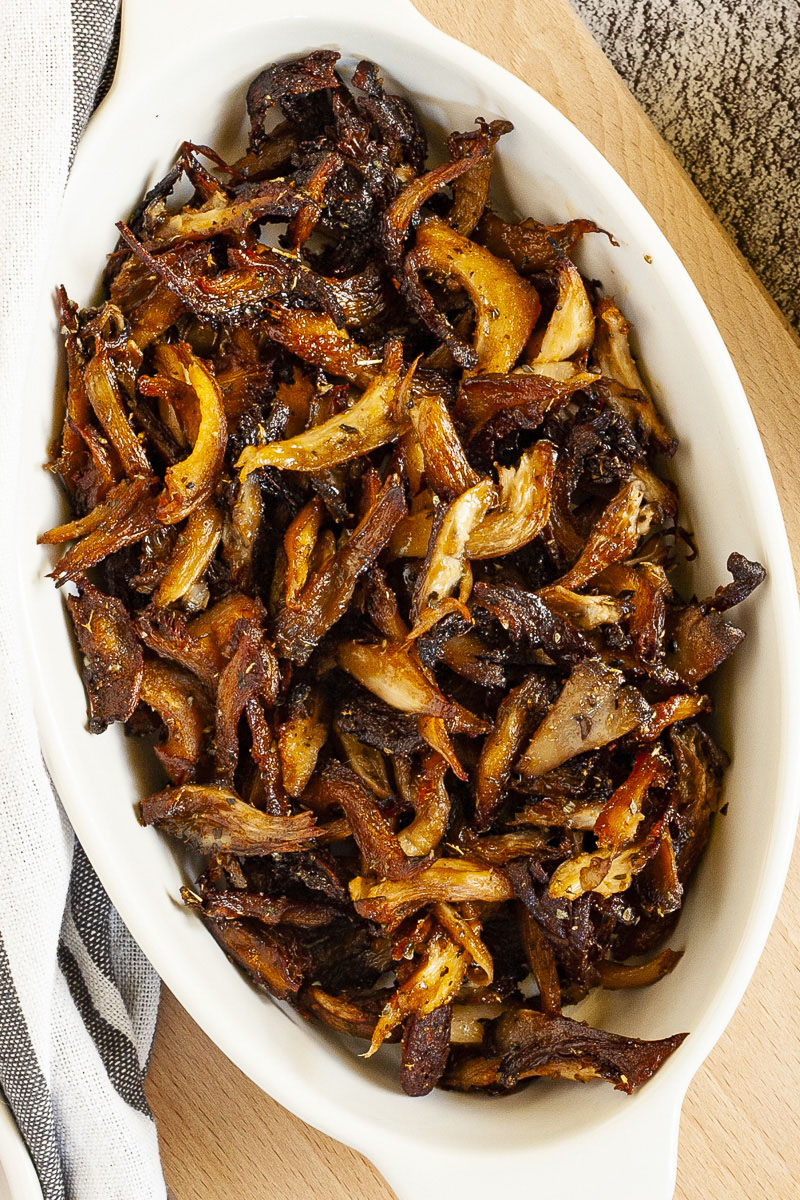 Ingredients
Classic gyro meat is only seasoned with salt and black pepper. But you need more seasoning to turn these mushrooms into the perfect vegan gyros.
🛒 You can find detailed measurements for all ingredients in the printable version of the recipe card at the bottom of this post.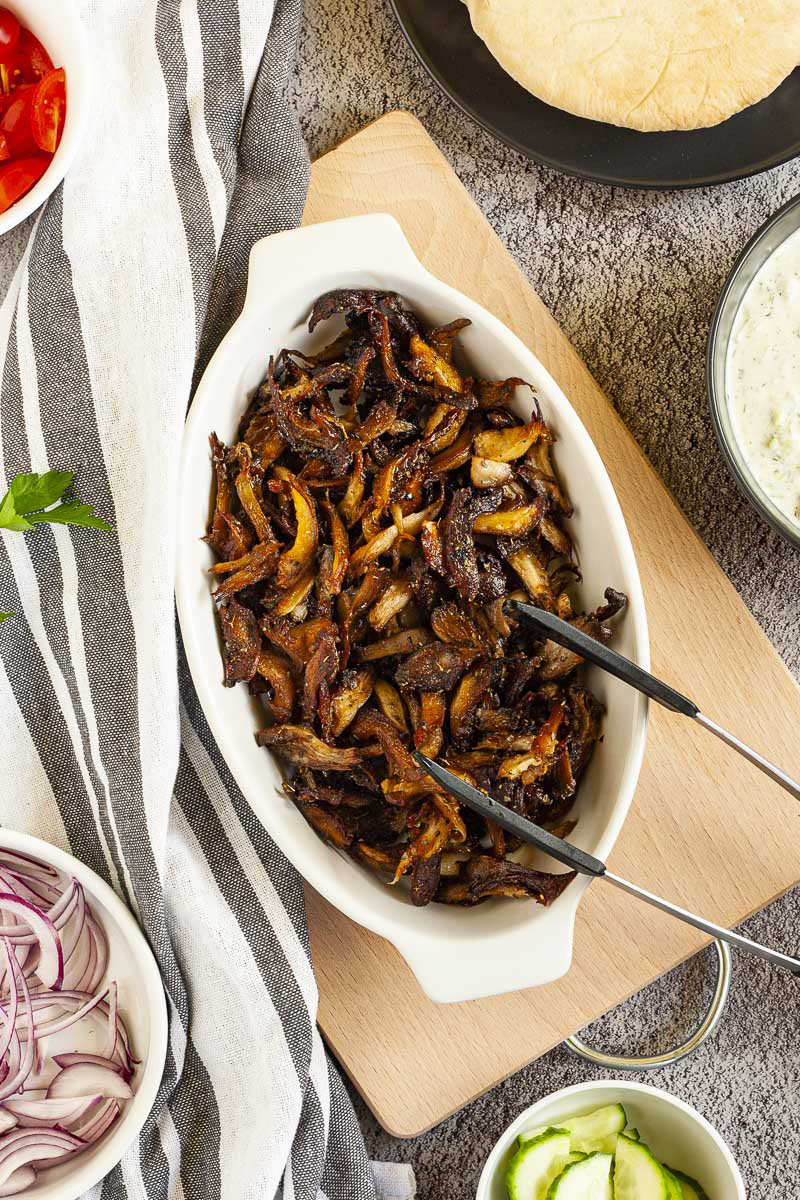 Instructions
There are 11 ways to cook oyster mushrooms, but this time the best method which gives you the right texture and flavor is baking. Not to mention you get to make a large batch in one go.
Cut the end of the stem of pearl oyster mushrooms and tear the cap into smaller shreds with your hands. If the stem is soft enough, you can shred them as well.
Take a small bowl and mix the marinade (olive oil, soy sauce (or tamari), freshly squeezed lemon juice, oregano, cumin, garlic powder, onion powder, sweet paprika powder, salt, and black pepper).
Place parchment paper in a sheet pan or baking tray and spread the marinated oyster mushroom shreds in one layer. See the below picture for reference.
Bake them in the oven at 425 Fahrenheit (ca. 218 °C) for 40 minutes, or until crispy. Check it after 20 minutes. Baking time largely depends on the size of the strips.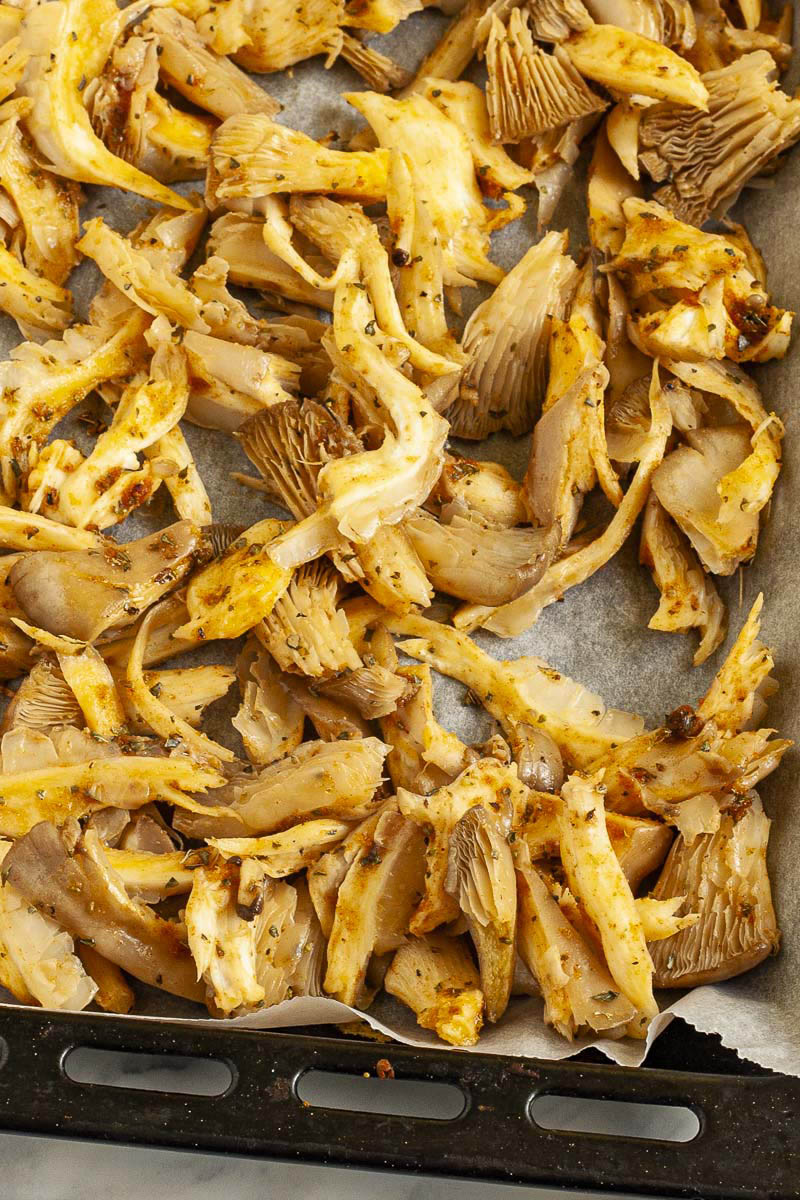 Cooking tips
Don't wash oyster mushrooms. Since they don't grow in the dirt but on logs, they rarely need any cleaning. If the end of the stem feels too hard or log pieces stubbornly stick to the tip, trim it. Here is everything you need to know about preparing oyster mushrooms.
The size of the strips is important. Baking time depends on the size of your shredded mushroom. We have torn them into at least an inch wide in this vegan gyros recipe. If you shred them thinner, 40 minutes will likely be too much. We recommend checking at around 20 minutes to be on the safe side.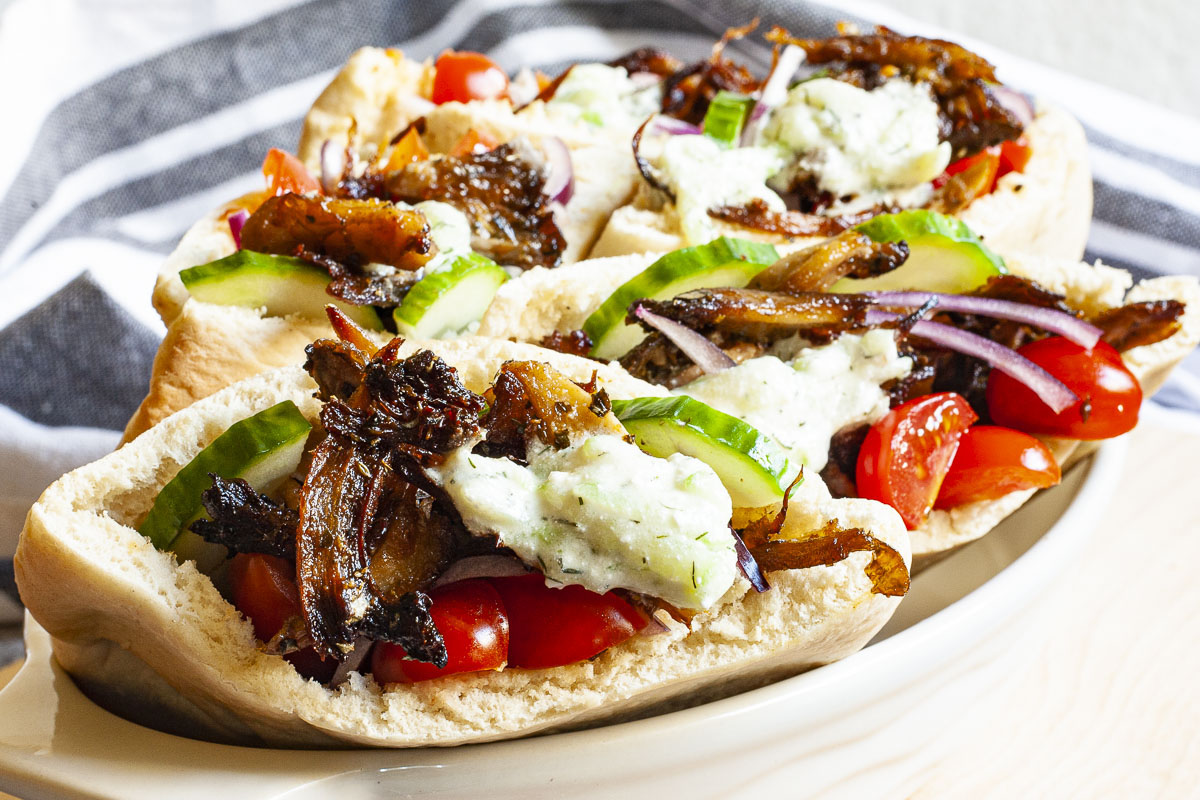 Variations
Spicy: If you prefer your oyster mushroom gyros spicy, try adding some diced jalapeños or one teaspoon of chili flakes to the spice mix.
Herby: Instead of using oregano as the only green herb, you can use Greek or Mediterranean spice blends. Since they include other spices like thyme, marjoram, rosemary, and sometimes even coriander, or fennel seeds, they will give your vegan mushroom gyros a more complex and aromatic flavor.
Lemony: Squeezing a bit of lemon juice on top is quite a common thing to do when it comes to Greek or Mediterranean dishes. If you like a stronger lemony flavor, go for it.
Sun-dried tomato and olives: Try stirring in some chopped sun-dried tomatoes and olives for a bold and flavorful twist. They pair well with many Greek or Mediterranean dishes.
Serving ideas
In pita pockets – You can serve vegan gyro meat in pita bread or wraps with fresh veggies like red onion and tomato drizzled with some homemade vegan tzatziki sauce.
On a plate – You can also serve it as a main dish with french fries or roasted potatoes. And use the tzatziki sauce as a dip, served in a small bowl or on top of the mushrooms.
As a salad – Make a vegan Greek salad, tabbouleh, or any other Mediterranean or Middle Eastern-inspired lettuce or bean salad.
Part of a platter board – We have this fantastic falafel platter with hummus, tzatziki, and tahini dressings, where you can substitute vegan falafel for vegan gyros. Or prepare this Mediterranean grazing board which can be even better if you add this dish.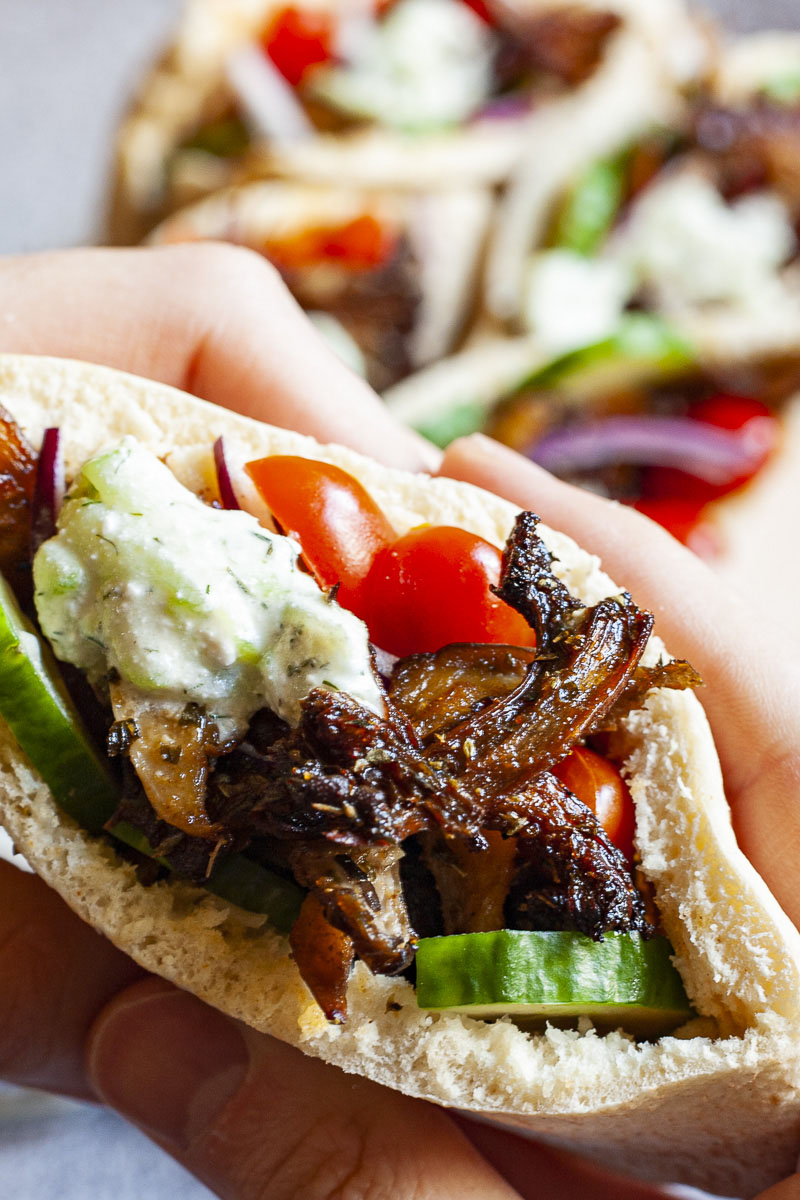 Equipment
Baking sheet with parchment paper or silicone baking mat. Even if the mushroom marinade includes oil, it is best if you use something non-stick to bake them.
Cast-iron skillet. We have plenty of recipes with oyster mushrooms where we use a skillet or frying pan, like in this pan-fried oyster mushrooms recipe. They make them equally crispy, but they only have a limited capacity. If you were to make 2 servings, a skillet is enough. For more servings, we recommend using the oven.
Storing tips
You can store them in an airtight container in the fridge for 3-4 days without any problem. Mushrooms may lose their crispiness as time goes by or dry out. We recommend eating them sooner rather than later.
When you are ready to serve them, reheat them in a frying pan or skillet, instead of the microwave, to get them crispy again.
You can store raw oyster mushrooms easily for up to a week in the refrigerator, or at room temperature for 1-2 days. For more tips, read our how to store oyster mushrooms article.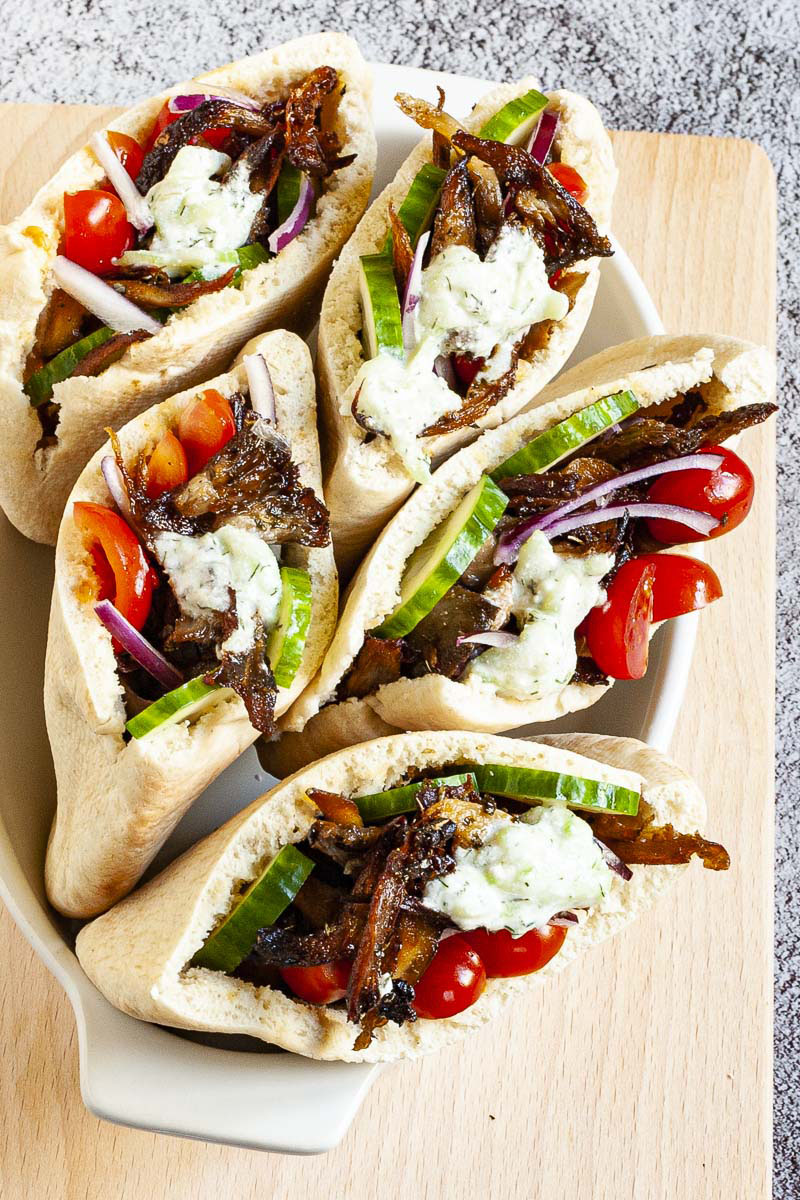 FAQs
Can you use other mushrooms?
There are 8 types of oyster mushrooms but except for king oysters, all the others would work to make vegan gyros. King oyster mushrooms are better for vegan pulled pork. We also listed here 13 oyster mushroom substitutes which can deliver same or similar result. The best would probably be lion's mane. If you have classic button mushrooms or portobello mushrooms, you can certainly make vegan gyros as flavor profile matches, but the texture will be quite different.
What else can you use to make vegan gyros?
Besides shredded pearl oyster mushrooms, you can use jackfruit, seitan, tempeh, portobello mushrooms, chickpeas or grilled tofu. All of which has pros and cons, but if you try oyster mushrooms you will experience its perfect texture.
More vegan oyster mushroom recipes
We have more than 30 oyster mushroom recipes from all over the world so you can pick the perfect one to try first or check out one from below:
More vegan sandwich recipes
You can browse through our quick vegan meals or check out
THANK YOU so much for visiting our website. Please comment below if you have tried this recipe. We LOVE hearing from you! If you loved the recipe, please don't forget to give us a ⭐⭐⭐⭐⭐ RATING. We appreciate all of our readers.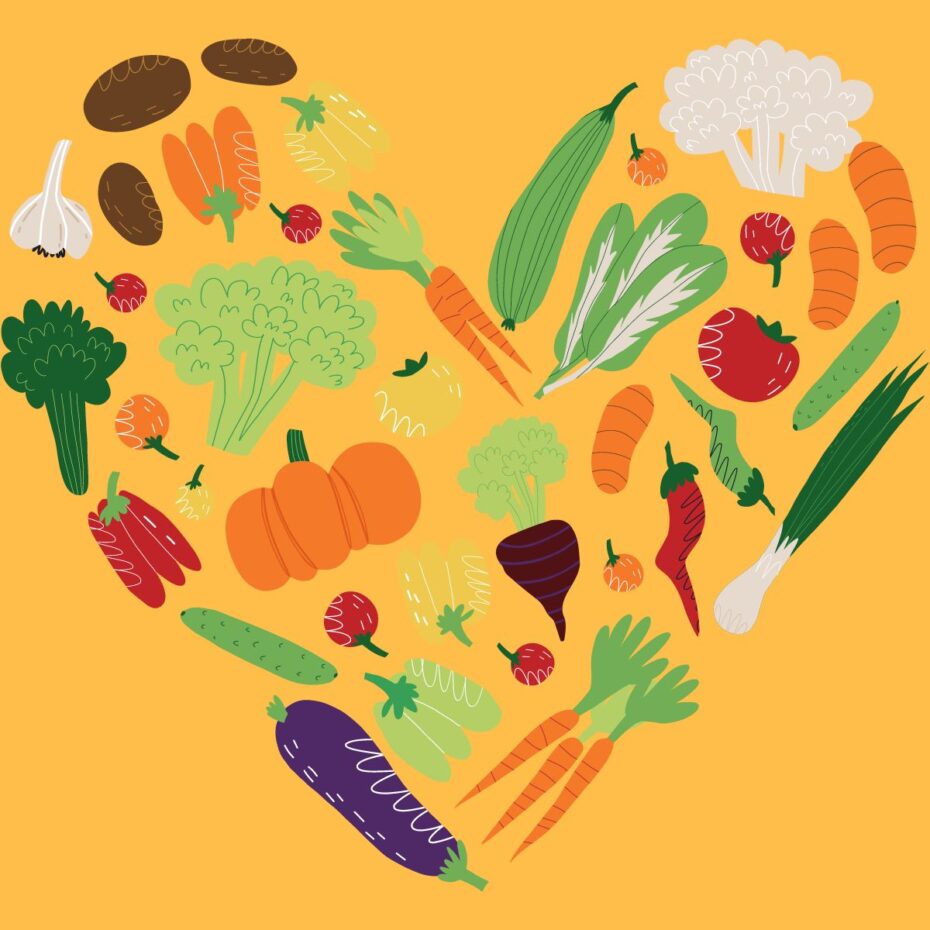 Vegan Gyros (Shredded Mushrooms)
The best vegan gyros are, without a doubt, shredded oyster mushrooms (not cut, but torn apart). The texture and the taste are just perfect. Fill your pita pockets with the crispiest vegan gyro meat, fresh vegetables, and a homemade tzatziki sauce.
EXCLUSIVE 5-ingredient recipes for busy home cooks that are ready in 15 minutes!
Check out our Express Vegan Cookbook!
Instructions
Take your pearl oyster mushrooms. Cut the end of the stem off. Tear both caps and stem with your hand into shreds.

Take a bowl and make the marinade by mixing olive oil, soy sauce or tamari, lemon juice, oregano, cumin, paprika powder, garlic powder, onion powder, salt, and black pepper. Mix this marinade with the oyster mushrooms.

Place a parchment paper in a sheet pan. Spread the shredded oyster mushrooms preferably in one layer.

Preheat the oven to 425 Fahrenheit (220 degrees Celsius) and baked them for 40 minutes or until crispy on the edges. Watch how it progresses, and check it after 20 minutes. It may already be done if you shredded them thinner than ours. Baking time largely depends on the size of the strips.

Take your pita pocket or wrap and stuff them with all the goodies: vegan gyro meat, tomatoes, onion slices, vegan tzatziki. Enjoy!
Nutrition
Nutrition Facts
Vegan Gyros (Shredded Mushrooms)
Amount Per Serving (1 serving without pita)
Calories 408
Calories from Fat 279
% Daily Value*
Fat 31g48%
Sodium 1307mg57%
Potassium 634mg18%
Carbohydrates 29g10%
Protein 7g14%
Vitamin A 242IU5%
Vitamin C 4mg5%
Calcium 30mg3%
Iron 3mg17%
* Percent Daily Values are based on a 2000 calorie diet.
UPDATED: This recipe was originally posted in January 2021. More info, tips, and FAQs were added and republished in Jan 2023.