The best plant-based alternative for vegan gyros is without doubt shredded oyster mushrooms (not cut, but torn apart). The texture and the taste are just perfect. We filled our pita pockets with lots of vegan gyro meat, fresh veggies and a homemade vegan tzatziki sauce.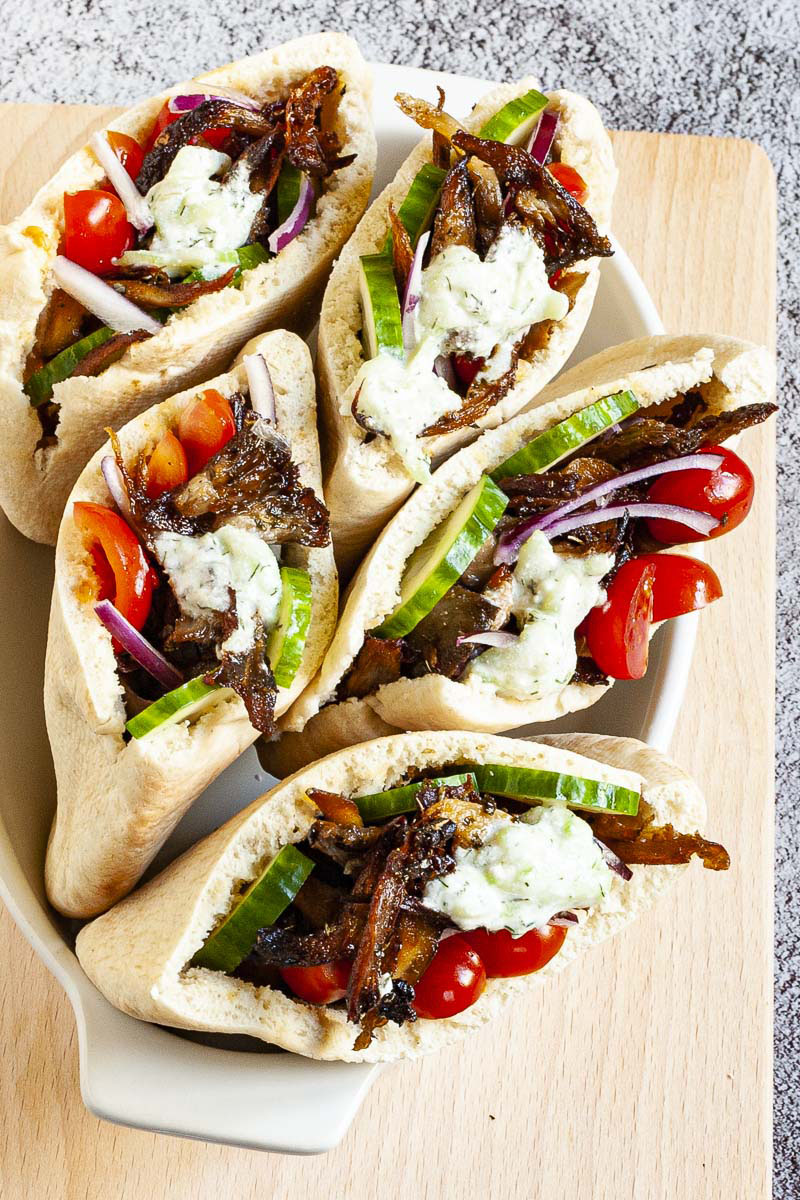 We love to work with oyster mushrooms. We have even written a Guide to Oyster Mushrooms with the Best 20+ Oyster Mushroom Recipes to give you even more ideas to enjoy this awesome ingredient. Our love for this fungi started with this Vegan Buffalo Chicken Dip recipe, where we wanted to find a plant-based, soy-free, gluten-free, not to mention delicious alternative to shredded chicken. And we found it in Shredded Pearl Oyster Mushrooms. The rest is history. 🙂
What is gyros?
Gyros is a popular Greek street food, where meat slices (pork or chicken usually, sometimes lamb or beef) are stacked on a large skewer. The skewer is turning around its axis to get all sides roasted. The server trims the edges of the meat as it gets crispy. Then the meat are wrapped up or stuffed into pita breads with tomato, onion and tzatziki.
The best vegan gyro meat
I would say the most important part to get right is what would you use instead of meat. I have been seeing recipes using
However, it seems nobody thought that the best plant-based alternative is shredded oyster mushrooms, not king oyster but regular ones. I have 5 reasons for you:
allergy-friendly -> no soy, no nuts, no gluten
pantry staple -> you probably already have a handful at home
easy to buy -> available in all local stores compared to jackfruit or seitan, tempeh
cheap -> way cheaper than e.g. buying Gardein products
quite neutral in taste -> they soak up any seasoning you add
tough spongy texture -> perfectly replicating meat
I mean look at the below picture, can you tell whether it is meat or mushroom?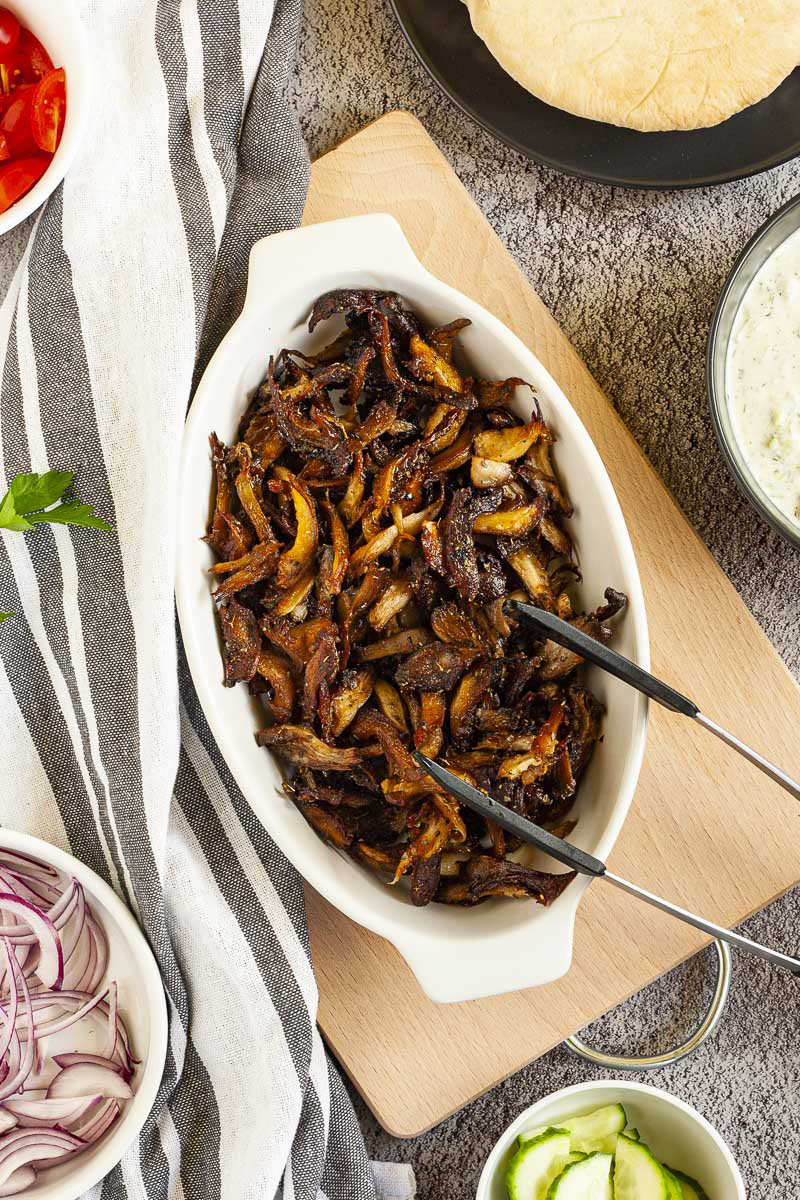 How to make vegan gyros?
Cut the end of the stem of pearl oyster mushrooms and tear the cap into small shreds with your hands. If the stem is soft enough you can shred them as well.
Take a small bowl and mix the marinade (olive oil, soy sauce (or one of the gluten-free substitutes), freshly squeezed lemon juice, oregano, cumin, garlic powder, onion powder, sweet paprika powder, salt, and black pepper).
Place a parchment paper in a sheet pan and spread the marinated oyster mushroom shreds in one layer.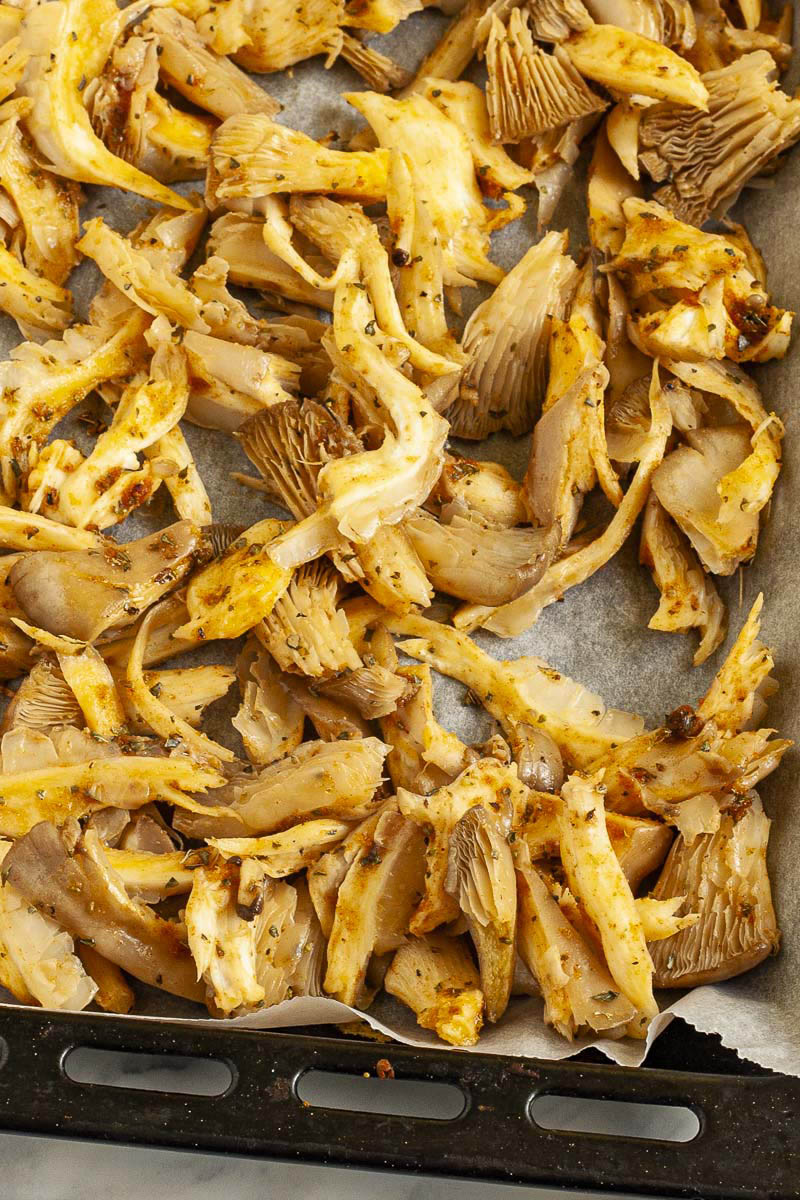 4. Bake them in the oven on 425 Fahrenheit (220 degrees Celsius) for 40 minutes or until crispy. I mean look at the below picture. Would you have guessed that these are mushroom and not meat? It looks pretty amazing, right? I promise you, not only does it look good, it taste good as well.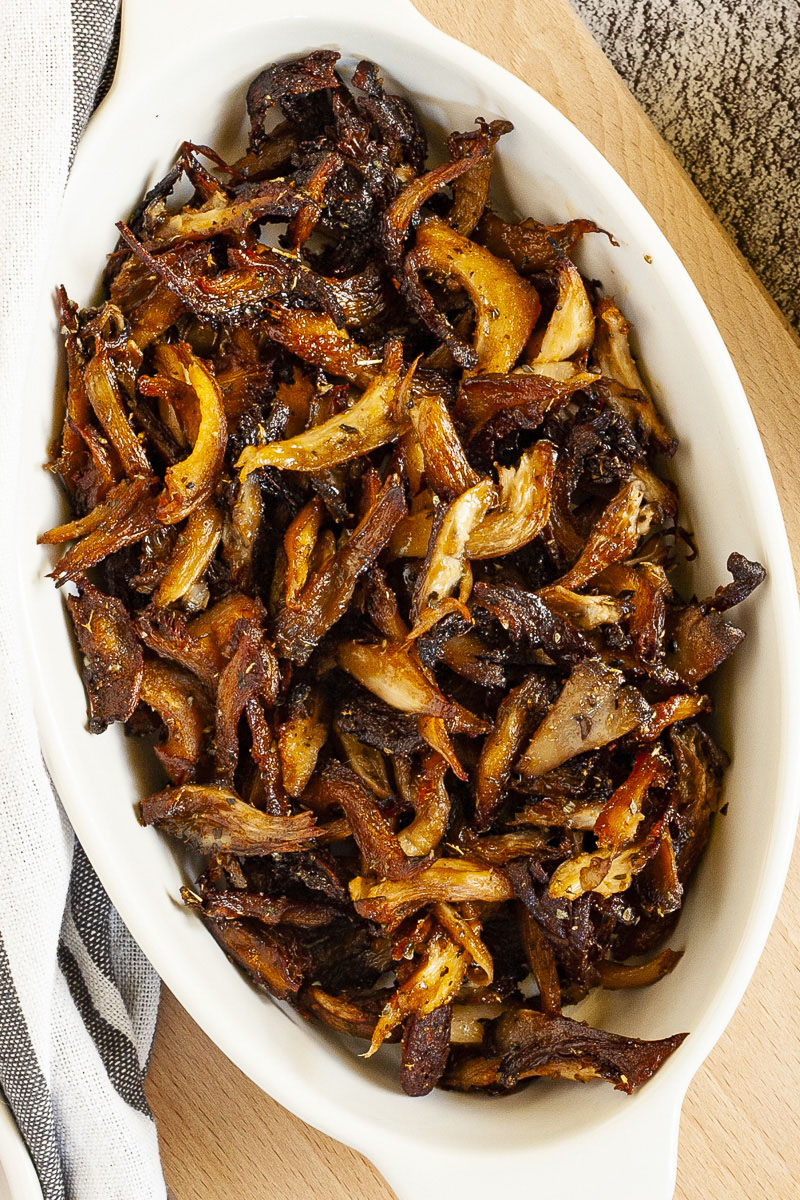 Vegan tzatziki sauce
Tzatziki sauce is a must-have condiment generously drizzled over your vegan gyros. What do you need to make them at home?
Grated cucumber
Garlic
Dill (fresh or dried)
Vegan yoghurt
Vegan sour cream (you can use store-bought, or try our Vegan Sour Cream (Nut-free, Soy-free) recipe)
White vine vinegar
Olive oil
Salt and black pepper
How to make homemade tzatziki?
Wash the cucumber and use a cheese grater to make grated cucumber. Take a bowl and transfer the cucumber to it. Sprinkle it with salt and wait for 5-10 minutes for the cucumber to release water. When you see water, squeeze the grated cucumber in between your palms. If you skip this step, the cucumber will release the moisture directly to the sauce and your vegan tzatziki will be super runny.
Take a bowl and add all sauce ingredients (yoghurt, sour cream, white wine vinegar, olive oil, finely chopped garlic, dill, salt, and pepper. Mix them well. Finally, add the grated cucumber and mix again. Now it is ready for your vegan gyros.
How to serve vegan gyros?
In pita or in wraps with lots of fresh veggies and tzatziki sauce.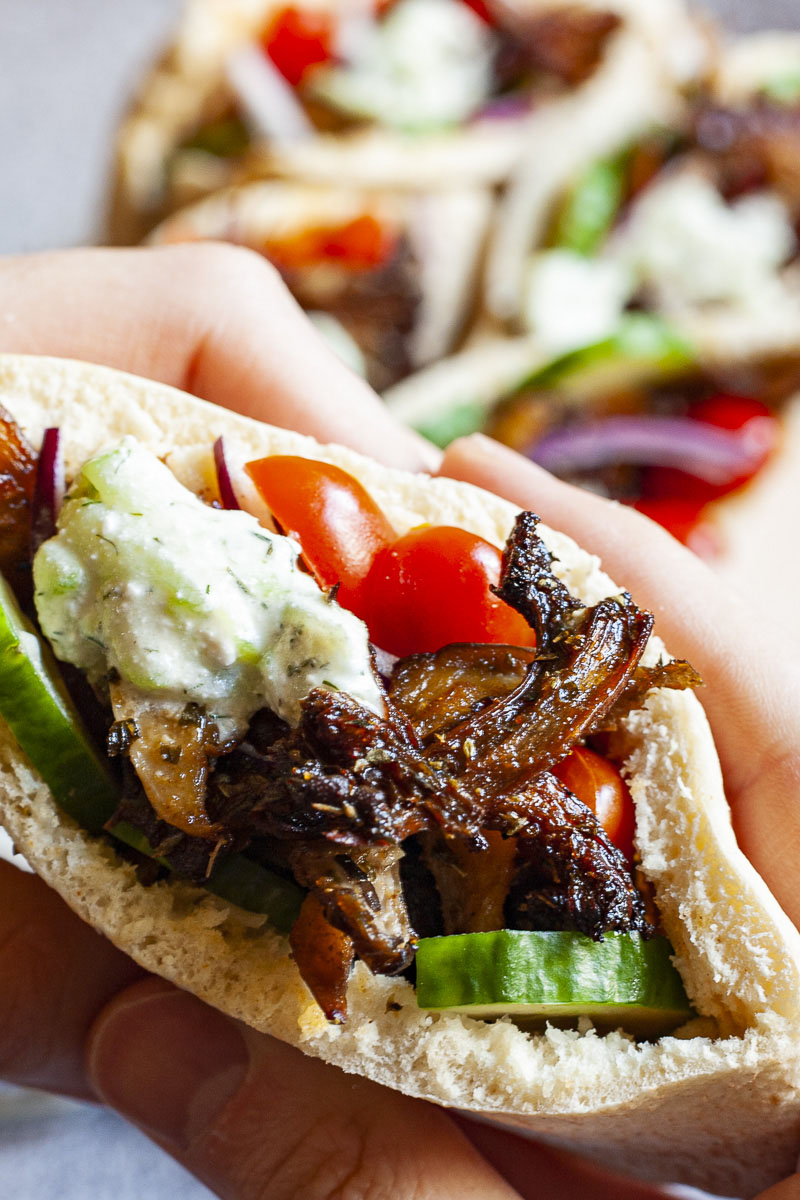 This Vegan Gyros recipe is meat-free, egg-free and dairy-free. It is suitable for a vegan, vegetarian, soy-free, nut-free, gluten-free diet. It is not WFPB-friendly (whole foods plant-based) as it is not possible to make this way without oil.
More vegan grab-n-go recipes
You can browse through our Quick & Easy Vegan Meals or check out