If you need delicious Vegan Thanksgiving Recipes to cook and bake the perfect Thanksgiving dinner for your family and friends, stop right here. It is not another list of 100 different recipes to get you overwhelmed and frustrated in deciding which one to choose. This is the list of carefully curated vegan recipes that will ensure you miss not a single moment or sentiment this holiday season.
What vegans eat on Thanksgiving?
The picture of Thanksgiving we're all familiar with involves family and friends huddled around a big table to express their gratitude for the year gone by. And of course, this image is never complete without the food!
A multicourse feast to celebrate the harvest season is a must on this special day, the most well-known dish associated with Thanksgiving being the stuffed turkey. Other fall meals are hot soups, roasted hams, mashed potatoes and gravy, pot pies, cranberry sauce, and pumpkin or apple pies!
Autumnal veggie side dishes like green bean or sweet potato casseroles, dinner rolls and sweet corn are always loved, if not just tolerated by the kiddos. While everyone leaves the table stuffed, leftovers for the next day are usually assured by the end of the night as well.
When looking at lists of Thanksgiving classics, one can't help but start to wonder, what does this mean for vegans? Is all lost, will there be nothing to eat on Thanksgiving? Absolutely not! While most traditional dishes include meat and dairy, there are tons of options for people who are vegetarian and vegan too. Here's our list of carefully curated vegan Thanksgiving recipes that will ensure you miss not a single moment or sentiment this holiday season.
Have you seen our Vegan Christmas Dinner Recipes? Not yet? Click here.
What kind of recipes are they?
We carefully selected all recipes in this post to fulfil the below criteria:
vegan AND gluten-free
easy to make
have a shortlist of simple ingredients
have no processed ingredients
made from scratch
can be made ahead time
keep well in the fridge
AND
the most important thing is that all dishes are absolutely D – E – L – I – C – I – O – U – S!
We think that Thanksgiving is about being with family and friends, having a good time, sharing a good laugh and spending quality time together. Therefore, we usually don't opt for a restaurant-style 8-course menu to be exhausted right before the holidays. We make our favorite delicious recipes and then enjoying having family and friends over.
Classic Dinner Menu Made Vegan
Juicy Vegan Lentil Loaf
A spin-off on traditional meatloaf, this gluten-free side will surely be a hit even with non-vegans. Go ahead and sink your teeth into our moist, rich and Juicy Vegan Lentil Loaf recipe this Thanksgiving.
Vegan Mashed Potatoes
Give standard mashed potatoes a twist with our Vegan Mashed Potatoes recipe containing celery roots. All you really need is some vegan butter and a bit of dairy-free milk. So, head on over to our page to bring the fluffiest and creamiest mashed potatoes you'll ever make to your next holiday dinner.
Sauteed Julienne Carrots
A must at family gatherings, this dish is super popular with children. Simply plate up our healthy Sauteed Julienne Carrots in Maple Thyme Glaze, and watch how it disappears before your eyes. The simple recipe involves julienning carrots and sautéing them in sweet maple syrup until they're crunchy.
Vegan Brown Onion Gravy
Superlative in appearance, smell and taste, this Vegan Brown Onion Gravy is made from garlic and onions in just 20 minutes! The gravy goes well with a main dish or mashed potatoes at both Thanksgiving and Christmas dinners.
Vegan Mushroom Stuffing
Pair the Vegan Mushroom Stuffing by Bakerita made with gluten-free bread with your Thanksgiving Vegan Turkey Roast. Trust me when I say it's going to be your vegan holiday savior!
Vegan Green Bean Casserole
The creamy Vegan Green Bean Casserole by Allergy Awesomeness has a flavorful punch to it due to two secret ingredients. When it comes to vegetable-based side dishes, you'll find that few are able to match the spice this recipe brings to Thanksgiving meals; vegan and gluten-free, or not!
Savory Sweet Potato Casserole
If you want something different to try, you should skip the marshmallow-topped sweet potato casserole for this Savory Sweet Potato Casserole. It is topped with caramelized onions and an aromatic fluffy grated crumble with thyme, sage, and rosemary.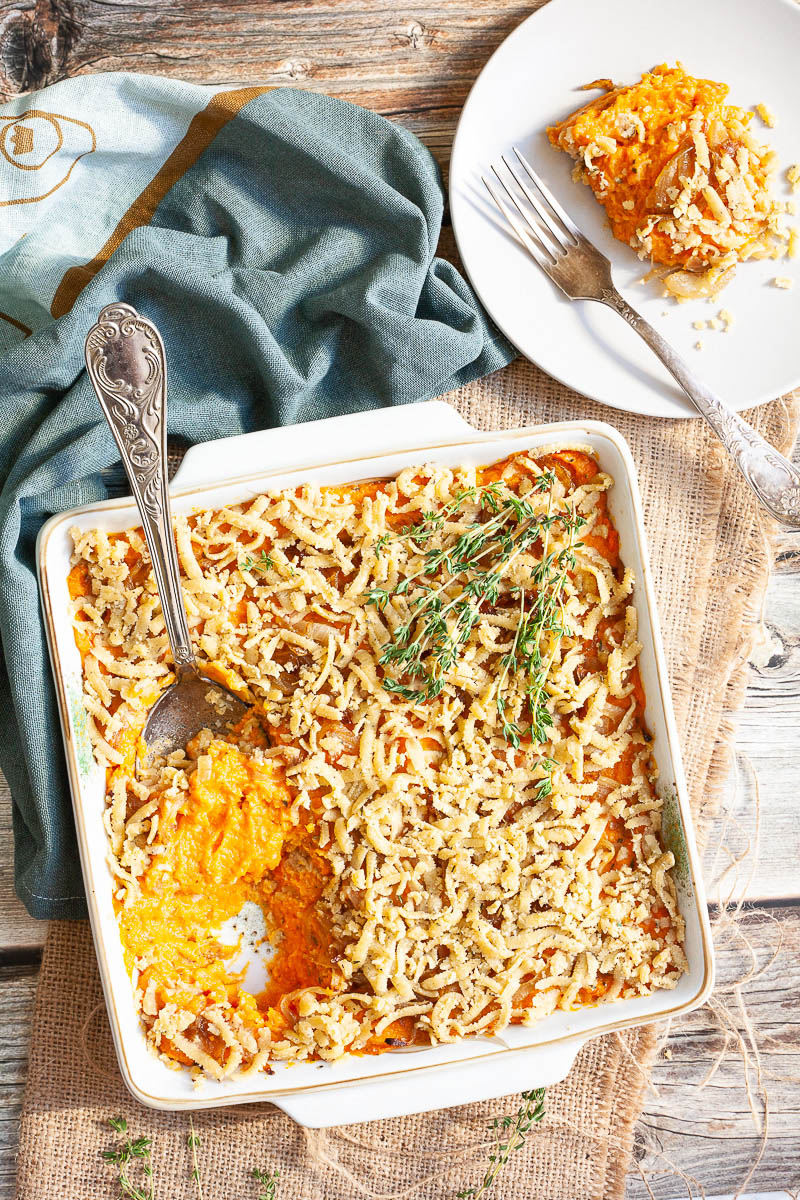 Quick Cranberry Jelly
This is the quickest Cranberry Jelly you can ever make. It is made of only 3 ingredients, including dried cranberries, and served in cute heart and star-shaped molds.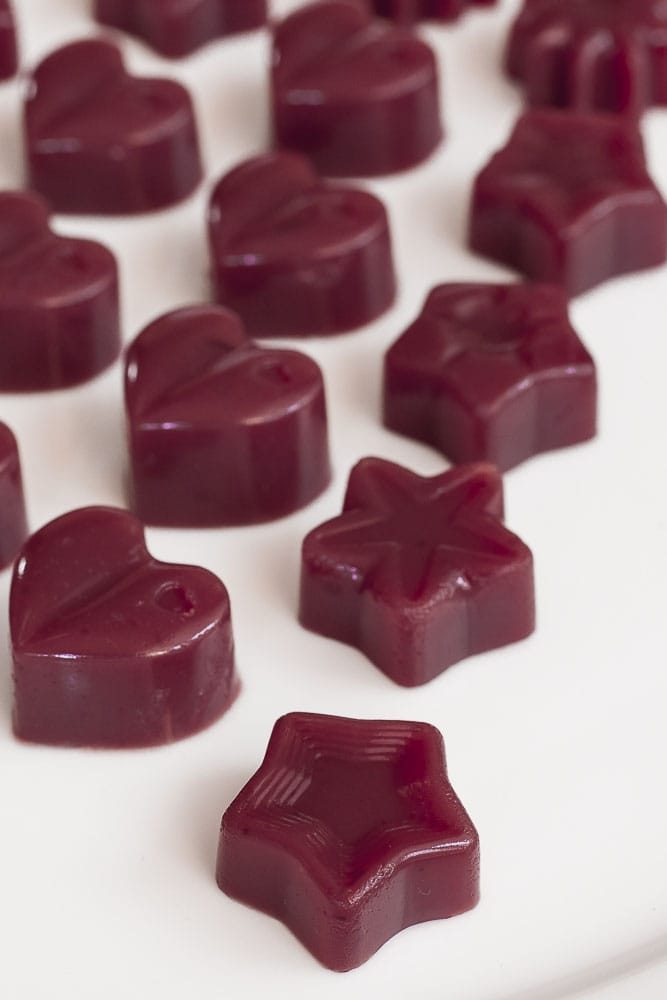 Juicy Caramel Apple Crisp Pie
We bring to you a slice of heaven this festive season with this classic dessert. Sweet caramelised apples in a crispy crust, served with a dollop of vanilla ice cream – our Apple Crisp Pie recipe is sure to be the talk of the town till the next gathering.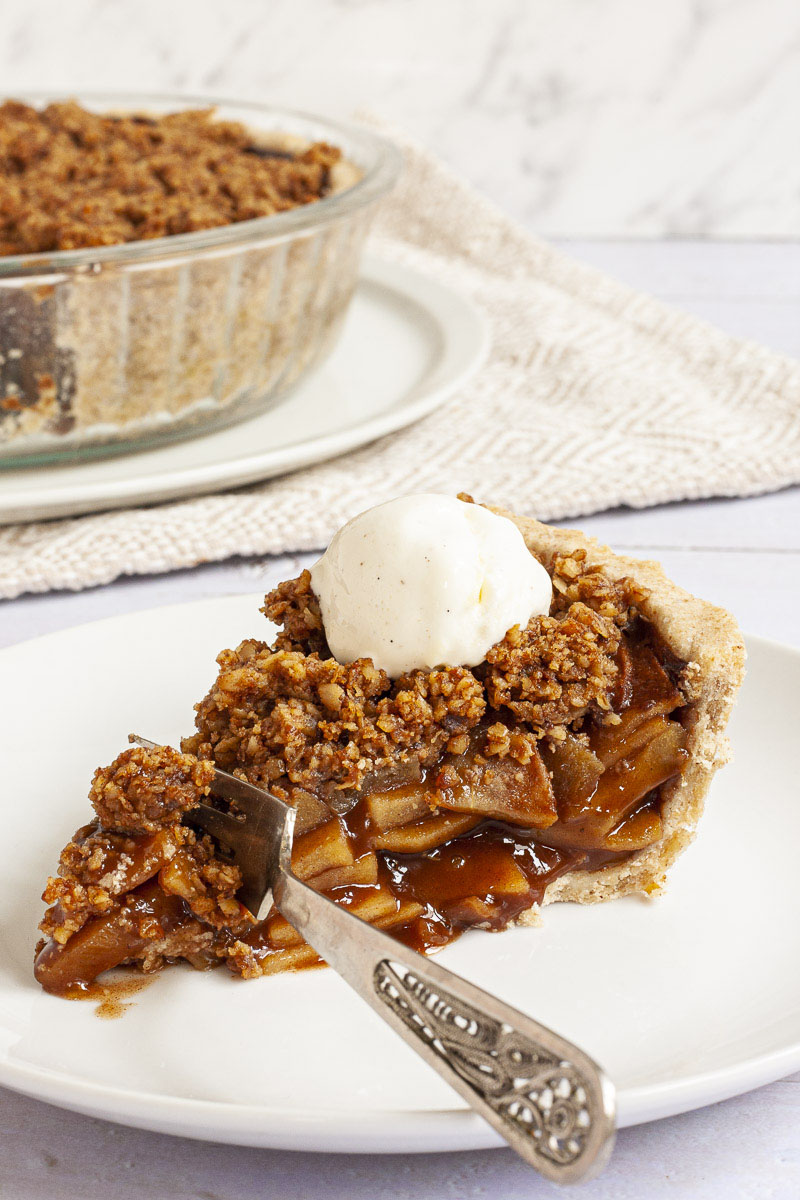 Soup as a First Course
Warm hearts and hearths with soups this fall. As winter sets in, incorporate the season's veggies into your next bowl of soup. Fall soups can be a perfect first course for your holiday dinner menu.
Hokkaido Pumpkin Soup
Besides being extremely nutritious, our Hokkaido Pumpkin Soup recipe is thick, creamy, and has a lovely savory flavor to warm you up on cold autumn nights. With even a step-by-step video to show you the best way to peel and cut the thick-skinned winter squash, cooking from scratch will have never been easier.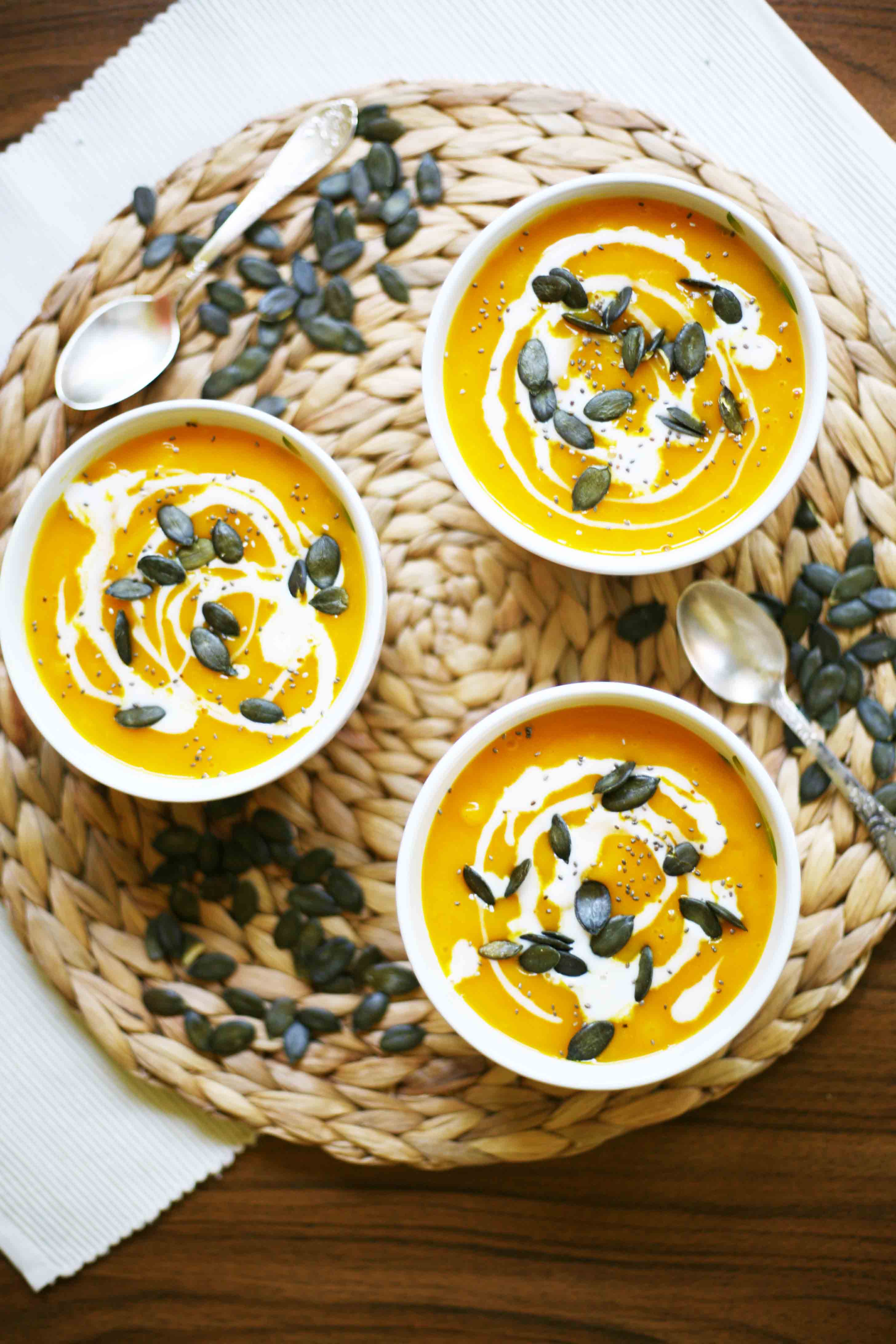 Vegan Cauliflower Soup
Start your Thanksgiving meal with a rich autumnal soup made using cauliflowers, carrots, and potatoes. This cozy Vegan Cauliflower Soup is simple, gluten-free, and suitable for paleo diets too.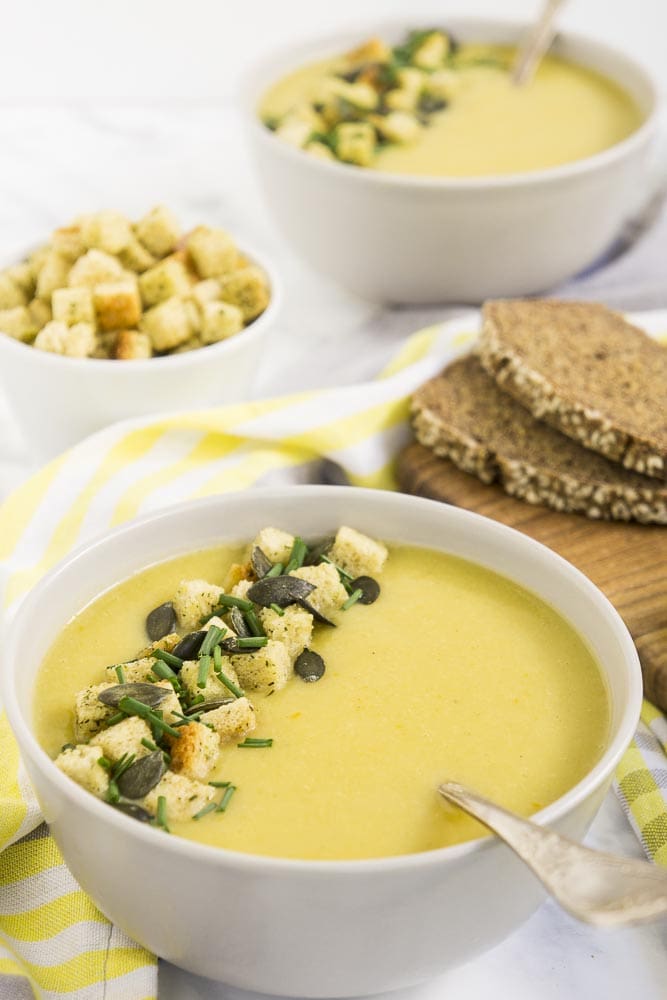 Vegan Cream of Mushroom Soup
This Vegan Cream of Mushroom Soup utilizes a variety of mushrooms to achieve a delectable earthy flavor that pairs perfectly with a Thanksgiving casserole. Easy, creamy and ready in just 30 minutes, this soup is for the soul.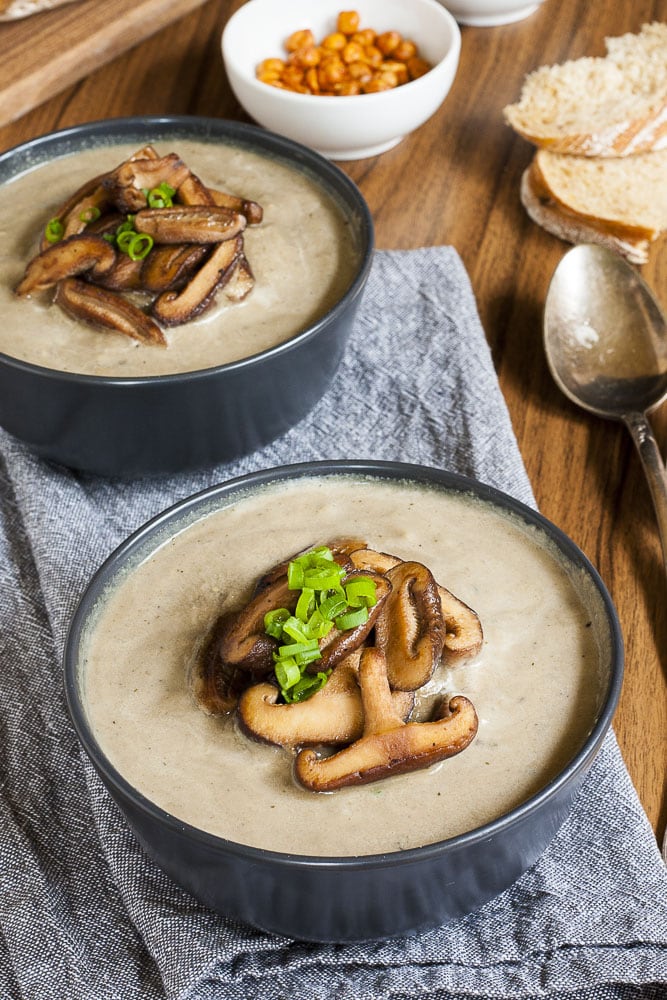 Roasted Broccoli Sweet Potato Soup
A gorgeous creamy yellow soup to tempt kids and adults alike into eating broccoli, this soup will feel like fall time in a bowl. Seasoned with the healing powers of turmeric, along with blended garlic and ginger, this Roasted Broccoli Sweet Potato Soup will add some needed spice to your Thanksgiving meal.
Vegan Main Dishes for Thanksgiving
While the Thanksgiving turkey is usually the star of the day, vegans can prepare alternate main dishes to celebrate the festive cheer. Make Thanksgiving memorable with our collection of mains created just for you.
Vegan Chicken Pot Pie
Battle the chills of winter with our steaming hot Vegan Chicken Pot Pie. Laden with vegetable stew, this gluten-free, dairy-free alternative even makes for some yummy leftovers the day after Thanksgiving!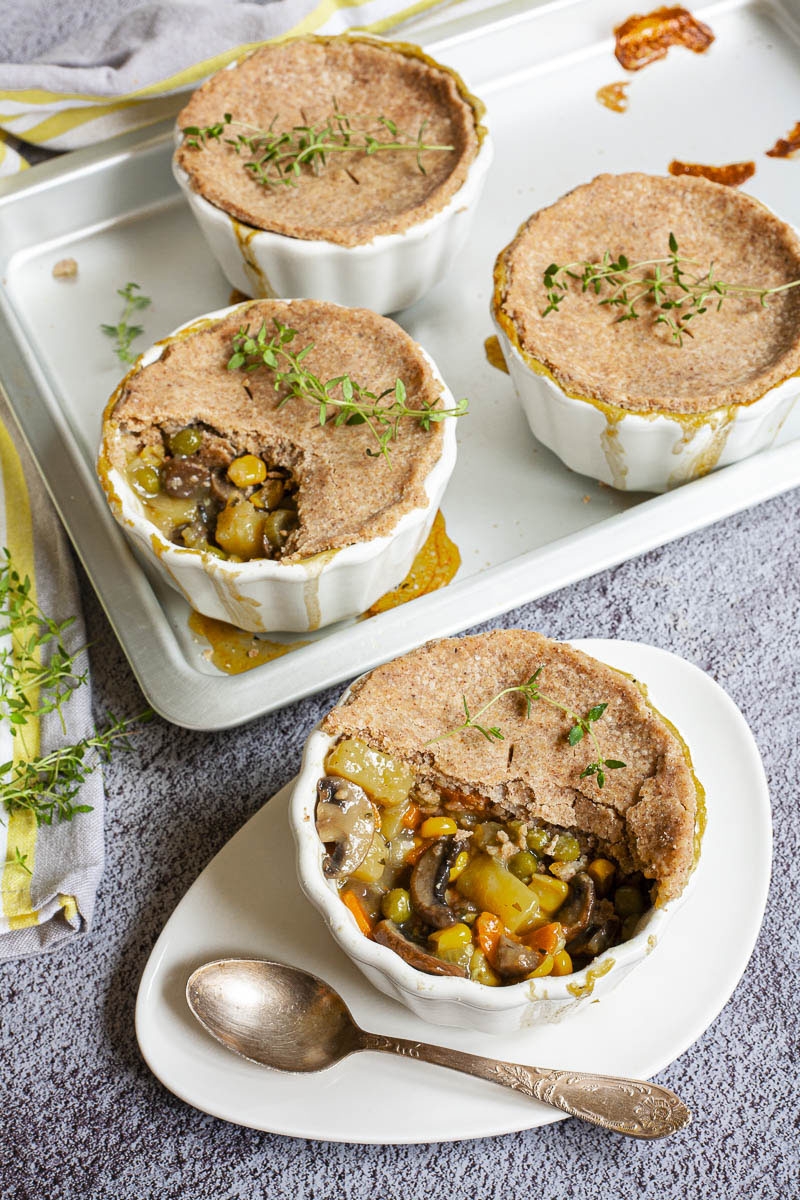 Vegan Shepherd's Pie
When the cold sting in the air overcomes you, settle back and watch the graying skies with a plate of our Vegan Shepherd's Pie. The vegan version of this English staple specialty replaces meat with a mixture of seasonal vegetables.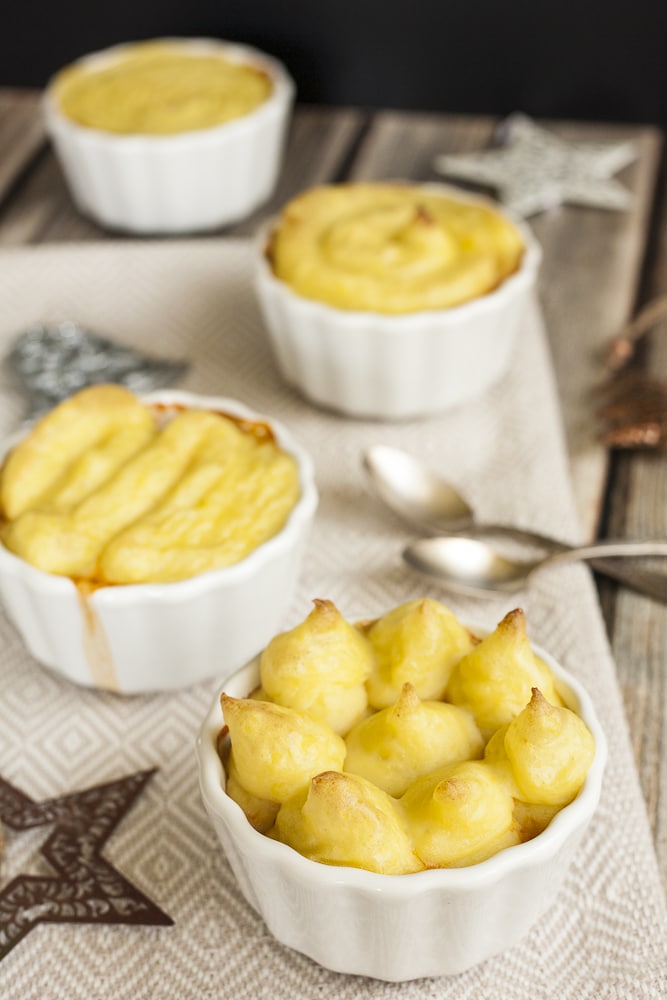 Mushroom Meatballs with Caramelized Carrot Sauce
This holiday season, Mushroom Meatballs soaked in our family secret Caramelized Carrot Pasta Sauce will be the highlight of your Thanksgiving evening. Don't waste a single minute more, and go check out this stunning showstopper already. Thank us later!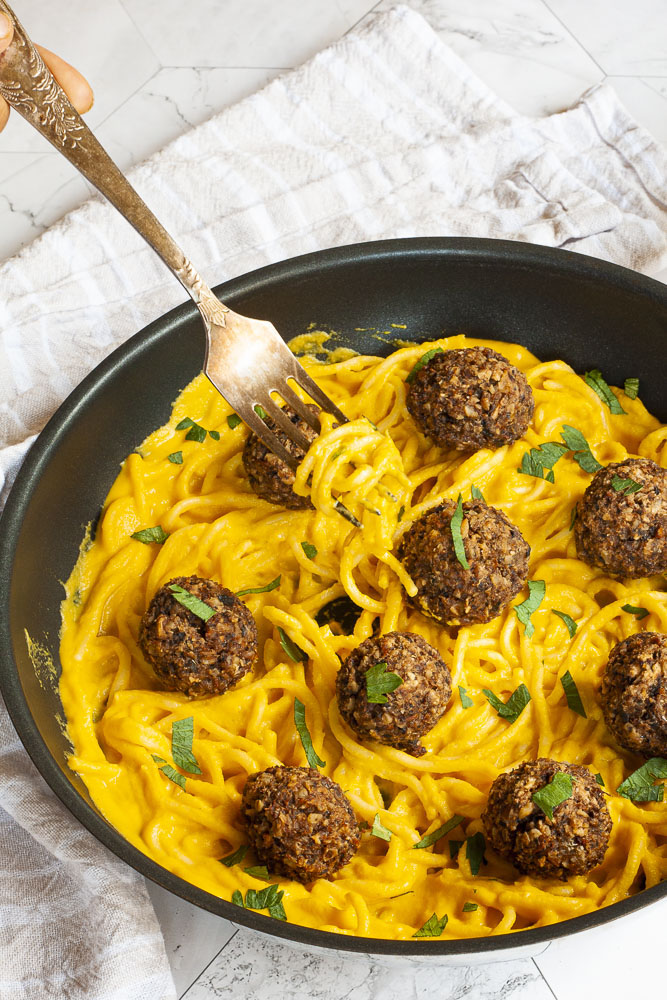 Cauliflower Steak in Green Peppercorn Sauce
Crispy on the outside, tender on the inside, the Cauliflower Steak is a refreshing option for vegans. Add a helping of spicy green peppercorn sauce and a heaping of mashed potatoes to balance this hearty meal.
Tofu Steak with Chimichurri Sauce
Entice your family and friends at Thanksgiving with our Tofu Steak with Chimichurri Sauce. It embraces the smoky and spicy flavors of beefsteak seasoning, pairing especially well with garlic-roasted asparagus and baked baby potatoes at the Thanksgiving table.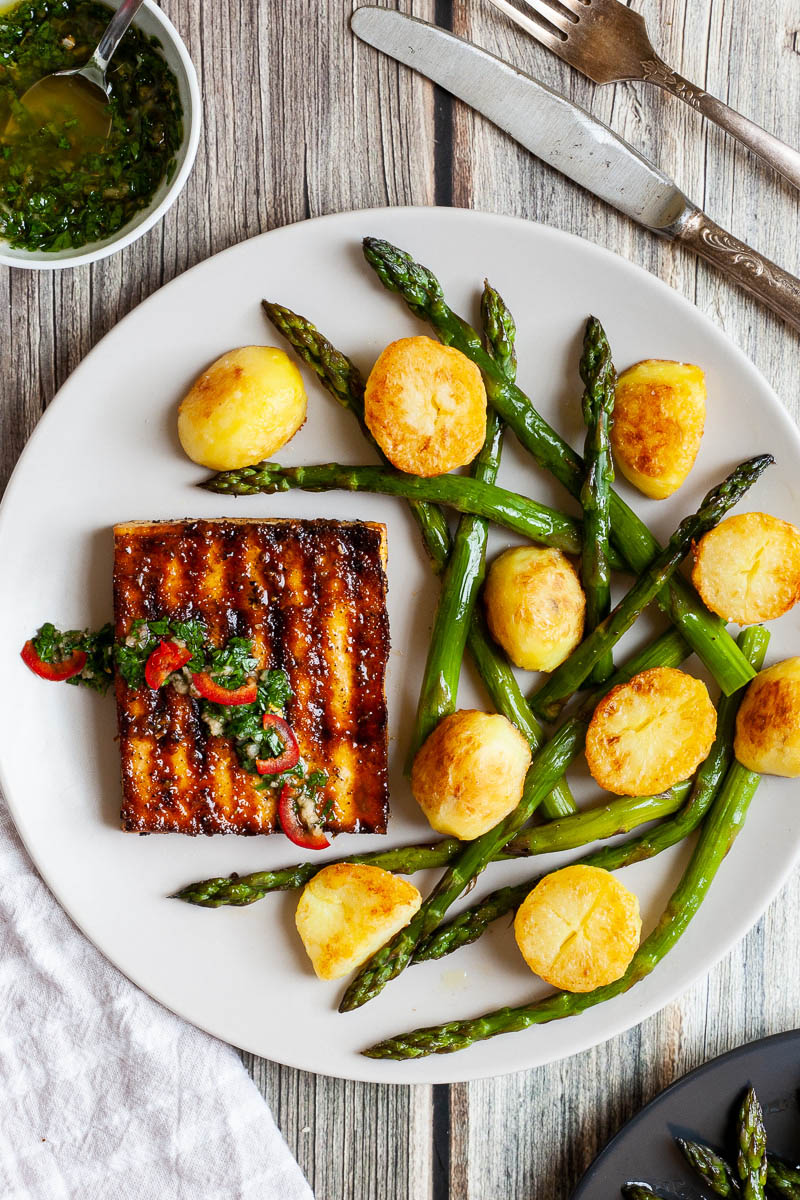 Stuffed Butternut Squash
Have you heard of Spanakorizo? It is a Greek spinach and rice dish which was the inspiration to create this Vegan Stuffed Butternut Squash recipe. We added chickpeas, black olives, and crumbled feta to make it a complete main course.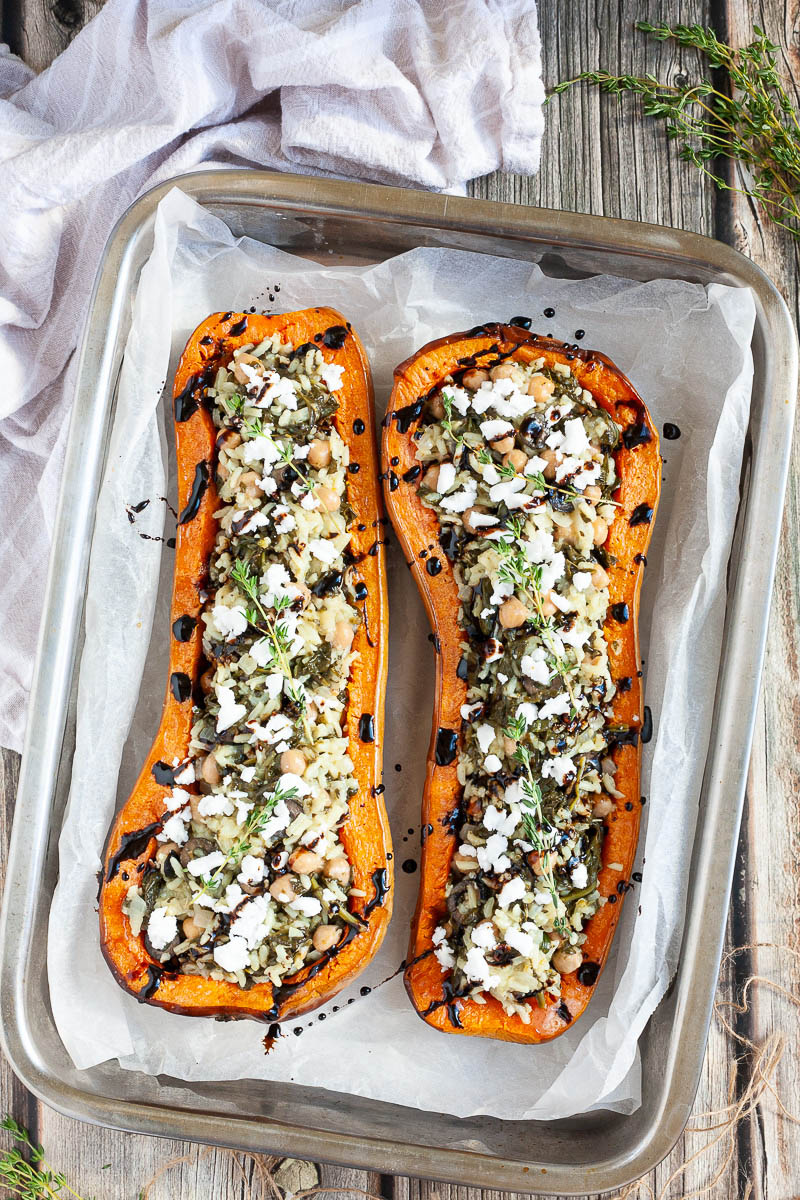 Must-have Side Dishes
A diverse range of dishes to cater to all kinds of tastes and diets, our list of side dishes is precisely what you need this Thanksgiving. These recipes are all you need to dazzle and impress guests this holiday season.
Vegan Scalloped Potatoes
No Thanksgiving feast is complete without baked potatoes, which is why you need our Vegan Scalloped Potatoes at yours. The recipe is scrumptious. We tested so many recipes until we created this perfect sour cream-based sauce for it.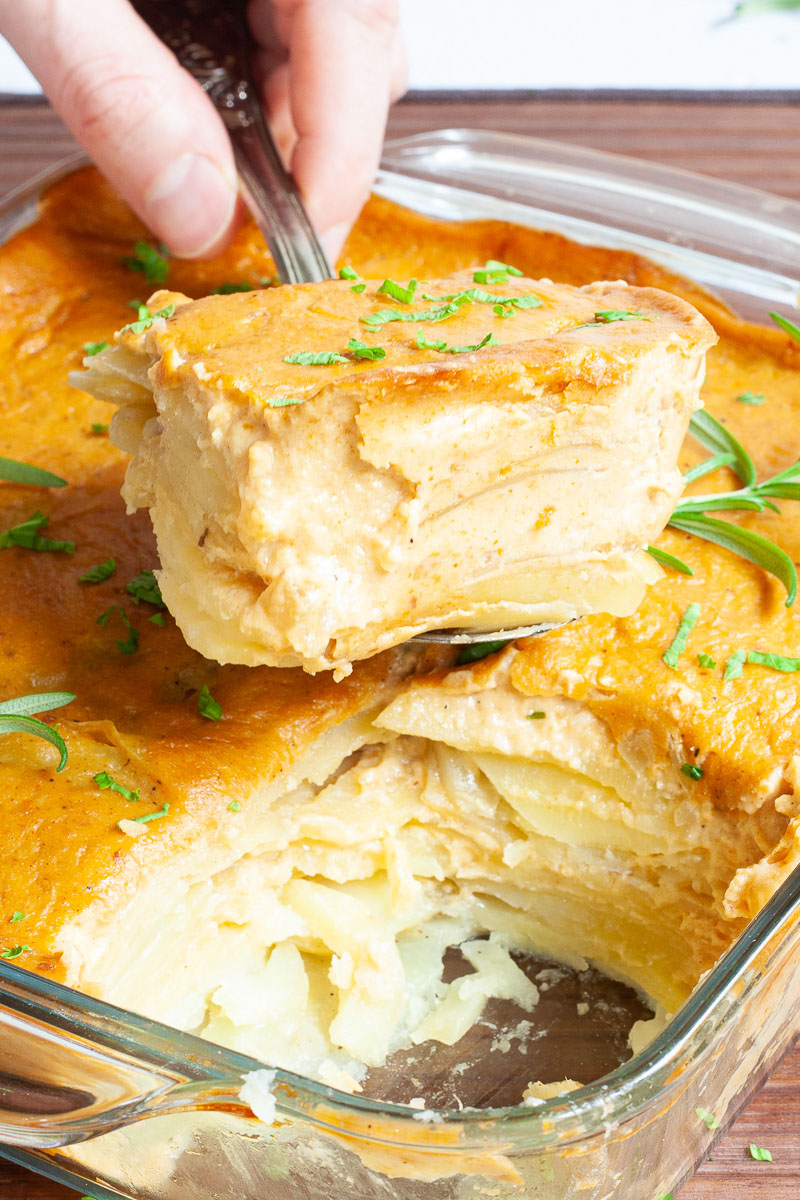 Hasselback Butternut Squash
Herald the festivities with this low-carb Hasselback Butternut Squash recipe by Lovely Lentils that is a delight for the eyes and the taste buds alike. In this recipe, textured squash is baked to perfection, and then spiced and topped with ruby red pomegranate seeds.
Roasted Brussels Sprouts and Cranberries
For amateur chefs aiming to be the next MasterChef, the Roasted Brussels Sprouts and Cranberries with Pecans and Balsamic Vinegar by Marathons & Motivation can become your secret recipe. Sophisticated yet simple, this one will prove to be an award-worthy side dish at your next family holiday.
Roasted Asparagus and Mushrooms
If you dread cleaning up after cooking, you're not alone. You'll be pleased that our no-mess, one-sheet Roasted Asparagus and Mushrooms side is an explosion on the palate (as much as it isn't on the kitchen counter)! This dish is an ideal side for many kinds of diets as it is vegan, dairy-free, paleo, keto, gluten-free and low-carb too!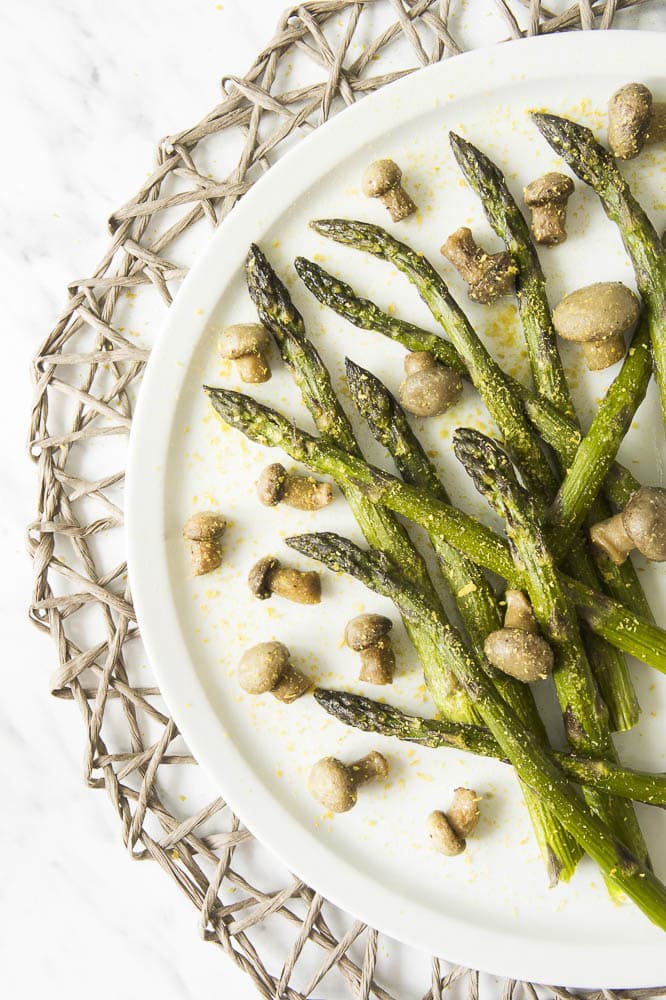 Mashed Purple Sweet Potatoes
Amaze your guests with the vibrant and savory Purple Mashed Sweet Potatoes by Running to the Kitchen. The extraordinarily purple-colored Stokes purple sweet potatoes are mashed and served with a luscious herb butter sauce to create this masterpiece. Use vegan butter and milk (like a nut or oat milk) in your own recipe to achieve essentially the same tasty results.
Melting Sweet Potatoes
Try The Best Vegan Sweet Potatoes by A Virtual Vegan to see why it's a huge fan favorite. The dish, made of caramelised sweet potatoes roasted in vegan butter and stock, is bound to leave guests licking their plates at dinner.
Homemade Cranberry Sauce
The Cranberry Sauce recipe by No Sweat Vegan promises a luxurious and elegant sauce that is sweetened with maple syrup, orange juice and cinnamon. Spoil the little ones with this delightful sauce without worrying about sugar highs.
Vegan Cream-Style Corn
This Cream-style Corn by Strength & Sunshine is the decadent side that every family needs at the dining table during the festive season. It is not only vegan and gluten-free, but is also sugar-free. You will not be disappointed with the 5 minutes you spend whipping this one up!
Festive Salads
Take a break from heavy eating with these exquisitely crafted salads. Explore the benefits of jumping aboard the healthy-lifestyle bandwagon with recipes made using colorful harvest vegetables and whole foods. Impeccably seasoned and flavored, these salads can convince even the most stubborn kids to try a bite (and maybe even go for seconds).
Kale Fennel Dried Fig Salad with Lemon Chive Dressing
Balance the strong earthy taste of kale with the zest of citrus, and top it off with a crunchy mix of figs and fennel seeds to create a sweet and tangy flavored salad. The Kale Fennel Dried Fig Salad with Lemon Chive Dressing by Elise Tries to Cook is guaranteed to have even the most stubborn anti-veggie going in for second helpings!
Wild Rice Salad
Perfect to make when you're short on time, this Wild Rice Salad recipe by Fifteen Spatulas is the best holiday salad for people who love rice. The best part is that you can eat it hot or cold, and it still remains so very tasty!
Lemon Brussels Sprouts Kale Chiffonade Salad
Binge on a big bowl of fresh greens this festive season with this super quick salad made in the chiffonade style. Enjoy the Lemon Brussels Sprouts Kale Chiffonade Salad by Spa Bettie, which boasts a wonderful range of flavors thanks to the lemon cider maple vinaigrette.
Fall Harvest Wild Rice Salad
Greet the orange season with a salad made from butternut squash, cranberries and maple Dijon dressing. Sweet, tangy, earthy and savory – experience autumnal flavors with the Fall Harvest Wild Rice Salad side dish by The Rustic Foodie.
Butternut Squash Quinoa Salad
For the health-conscious, the Butternut Squash Quinoa Salad by Veronika's Kitchen will be more than just something beautiful to look at, it will be a celebration for the taste buds! Versatile, filling and nutritious, this one will earn a permanent place at your table for the next family gathering.
Quinoa Harvest Salad
Warm your body and heart with this Quinoa Harvest Salad by Healthy World Cuisine. Combine the superfood quinoa with the season's stars – butternut squash, pepitas and apples, to make this Thanksgiving harvest salad.
Vegan Thanksgiving Desserts
Most people would say that the main attraction of the Thanksgiving dinner is the main course, but for me, the dessert is always the one I am looking forward to the most. So always remember to save room in your stomach for dessert. Read on and discover some classic Thanksgiving desserts that are vegan, delicious, and absolute must-try's!
Pumpkin Cheesecake
Do you start craving Pumpkin Spice Lattes as soon as fall rolls around? Well, here's something that will blow those out of the water. Our Pumpkin Cheesecake is just perfection personified because besides being absolutely delicious, it is better than the original dairy version!
Baked Vegan Cheesecake
With just 5 whole foods ingredients for the filling, this New York style cheesecake is for the gluten-free guest who has a massive sweet tooth. We tested and tasted to deliver the creamiest, lightest and healthiest Baked Vegan Cheesecake for your next Thanksgiving dessert. Top it with a dash of red raspberry sauce, and enjoy!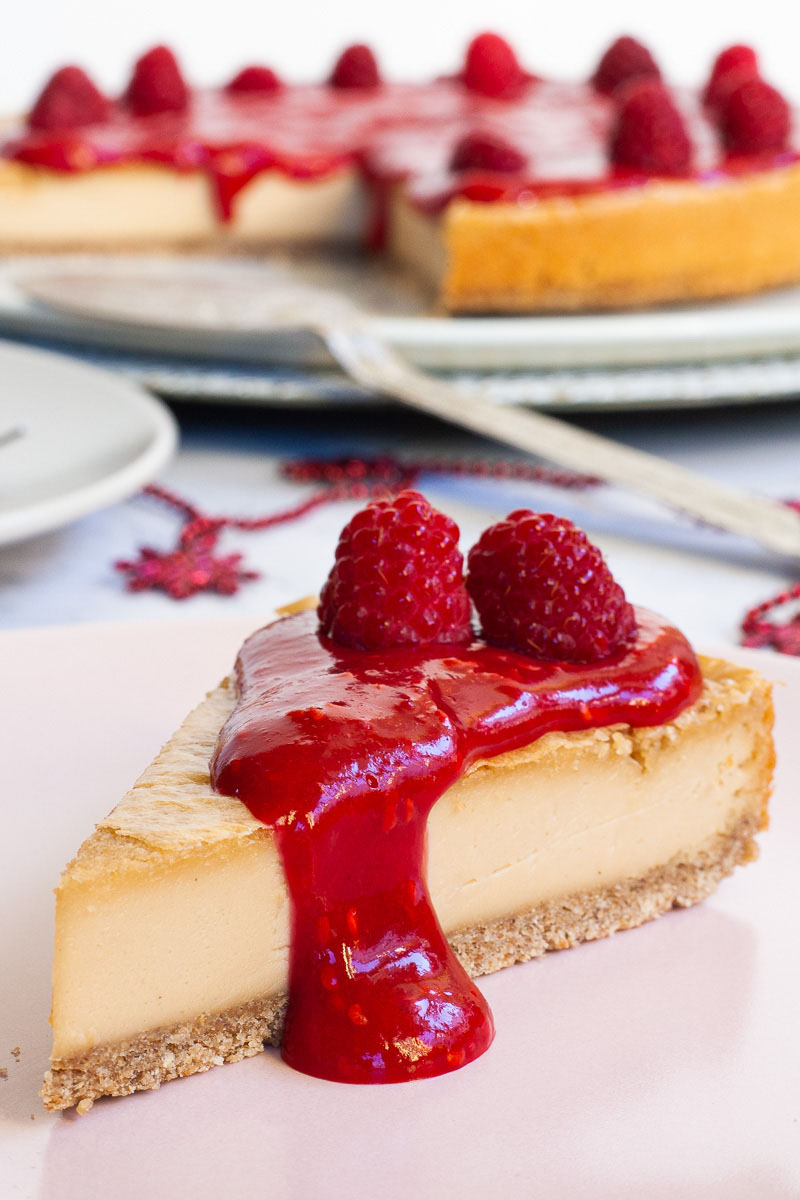 Caramel Apple Crisp Pie
Nothing gets more classic than the humble American apple pie during the holiday season. Serve a warm slice of our mouthwatering Juicy Caramel Apple Crisp Pie after dinner with a cold scoop of vegan vanilla ice cream. But be warned! It's highly unlikely you'll have any leftovers.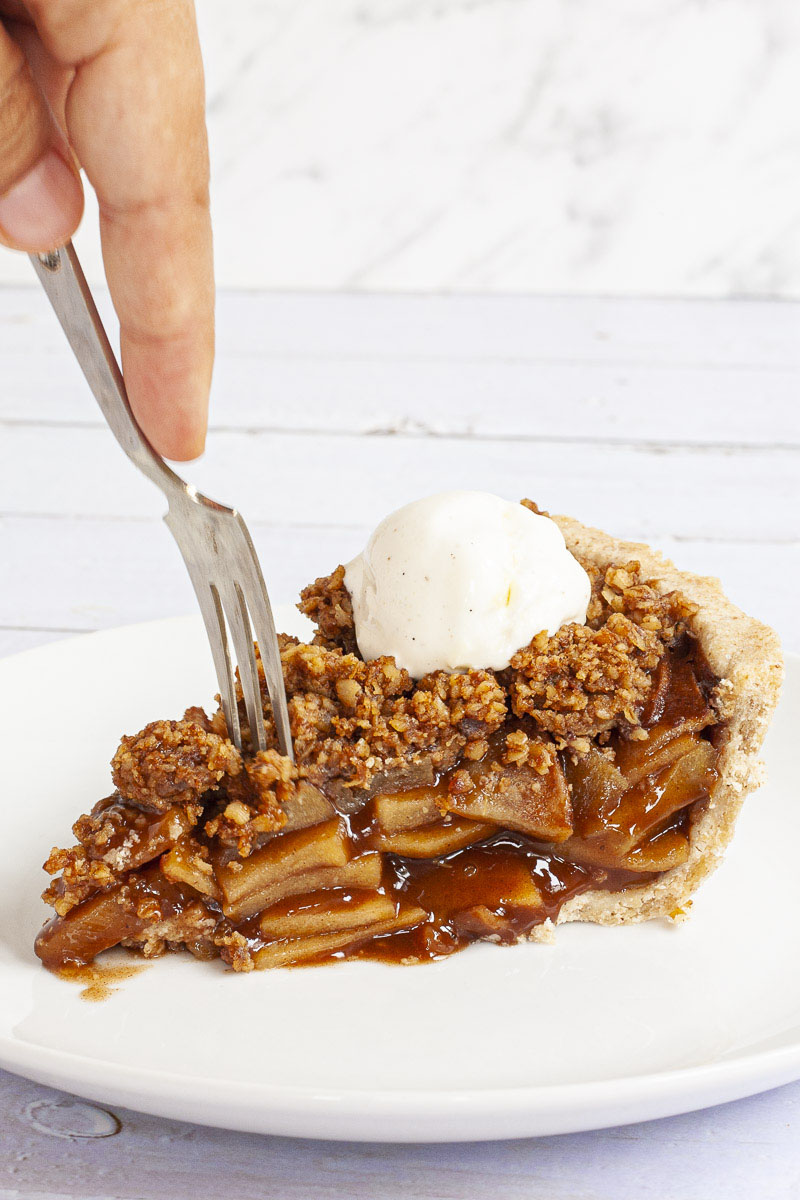 Caramel Apple Crumble
If you're looking for the perfect Fall dessert, this Gluten-free Caramel Apple Crumble is what you need. The warmth of cinnamon sweetened by caramel sauce brings out the tanginess of fresh apples in this gluten-free version of crumble. A no-fuss favorite, amaze your family and guests by whipping this up in less than an hour.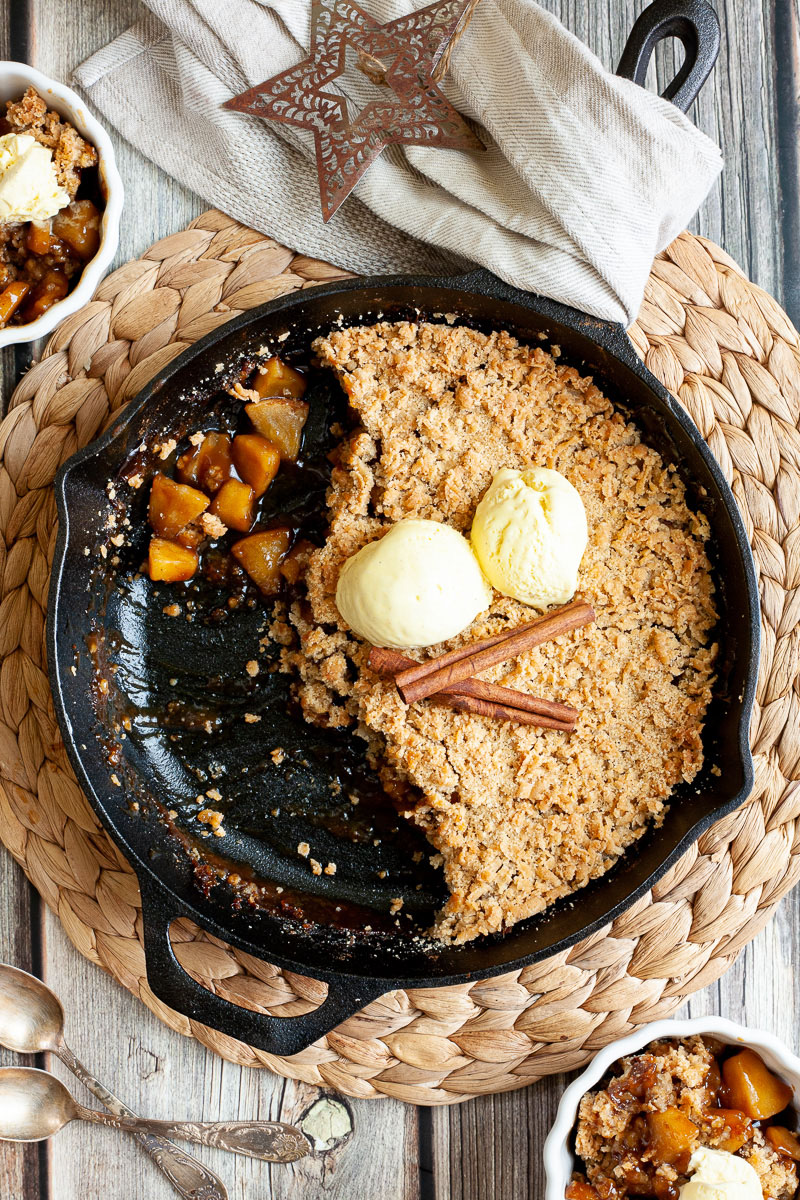 Plum Crumble with Walnut Oat Topping
Developed to impress, this Plum Crumble with Walnut Oat Topping is the perfect match for dessert novices. All you have to do is toss the topping ingredients in a food processor, mix the three-ingredient filling together, and voila!