What are oyster mushrooms? How do they taste? How to clean, store, and prepare them? How to cook them? Here is a complete guide to oyster mushrooms. Everything you ever wanted to ask we have the answer for!
It is a cooking guide, so I don't want to bore you with the history of oyster mushrooms. I will only write about the things you need to know to make delicious oyster mushroom recipes. Nothing less, nothing more.
What are oyster mushrooms?
There are more than 200 varieties, but you will most likely find one of these 7 common oyster mushroom types to buy: pearl, king, golden, blue, pink, black, and phoenix.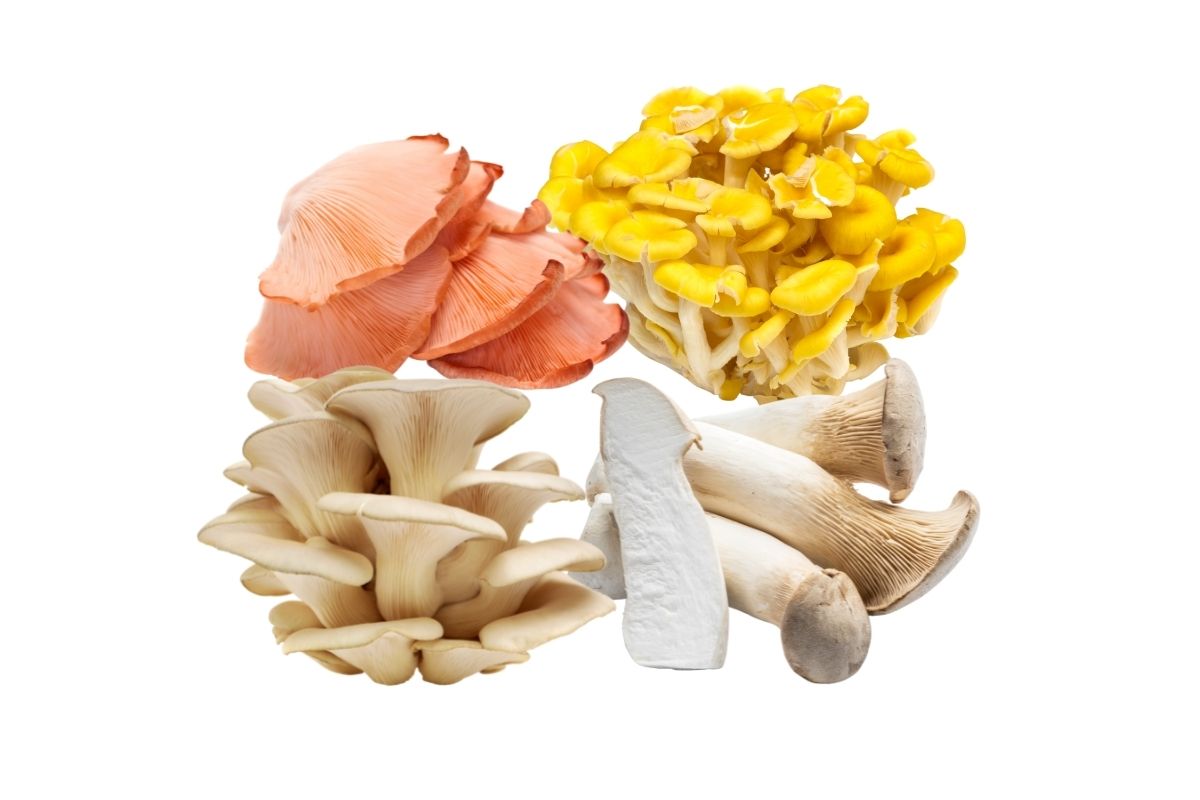 Except for king oyster mushrooms, all the others look quite similar. Namely, they have short (or absent) stems and wide, fan-shaped caps which resemble their namesake, the oyster.
What do oyster mushrooms taste like? It does have a bit of a nutty, earthy taste, but it doesn't have a very strong aroma. If you haven't been a fan of fungi, this one will change your mind.
They are all edible and would make a nice and colorful addition to any recipe. You can read more about the different types, how to identify them, what do they look like (including pictures!), and taste like as well as their similarities and differences in great detail.
READ MORE: Common Types of Oyster Mushrooms for Cooking
Most popular types
King oyster mushrooms and pearl oyster mushrooms are the most well-known of all types. They are also the easiest to find in stores to buy. However, they look and taste slightly different: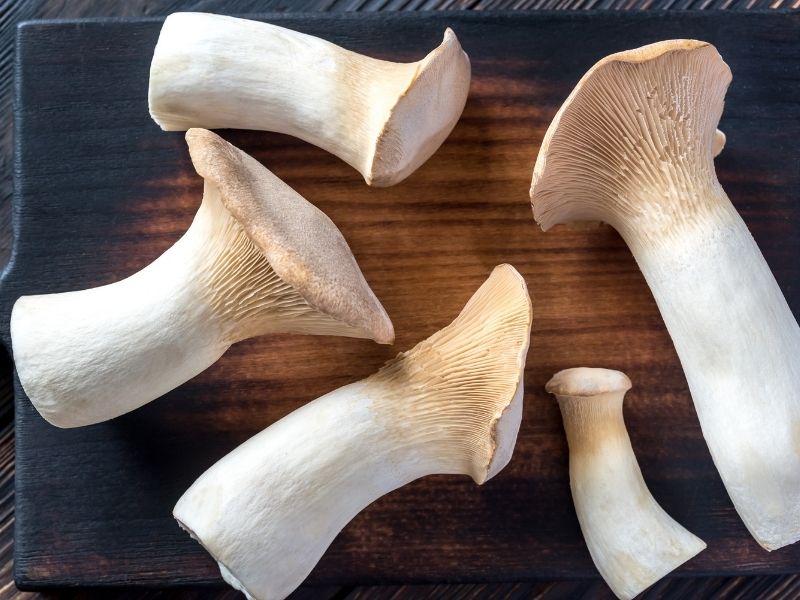 Pearl oyster mushrooms (Pleurotus ostreatus) are white or light brownish-greyish. Their large cap is shaped like an oyster shell (hence their name) and tilted to the side. They have large visible gills with the same color as the cap. Pearl oysters have a thick and short stem. (pictured above)
King oyster mushrooms (Pleurotus eryngii) are also known as King trumpet mushrooms or French horn mushrooms. They have large thick stems shaped like a trumpet (hence their name) usually in white brownish color. They have rather small caps compared to pearl oysters in a darker brown color. (pictured above)
Nutritional info
Oyster mushrooms are low-calorie, fat-free, and fiber-rich. Being high in nutrients like vitamins and minerals, and a great source of antioxidants they have 7 impressive health benefits among others for the heart, the gut, and the immune system says Healthline.
According to USDA's Food Data Central, 1 cup of sliced oyster mushrooms (86g) has
28.4 kcal
2.85 g protein
5.24 g carbohydrates
1.98 g fiber
2.58 g calcium
1.14 g iron
0.21 g copper
103 mg phosphorus
361 mg potassium
24.9 IU vitamin D
4.27 g vitamin B3 (niacin)
Best substitutes
We firmly believe this is THE type of mushroom that will turn ANYBODY into a mushroom lover. But there can be a number of reasons why you might need to think about substitutes. The main reason we usually hear is that people find it more expensive than button mushrooms and that they are not available all around the world all year round.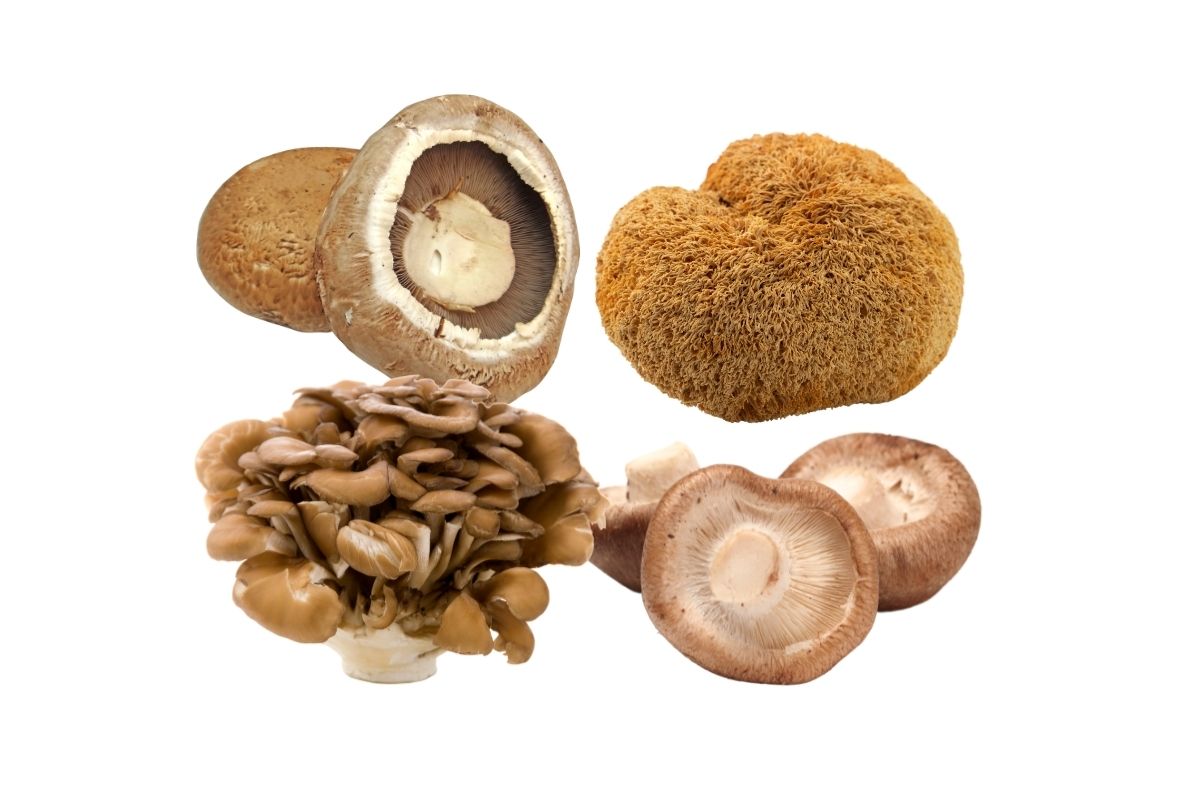 We can name exactly 13 oyster mushroom substitutes (not necessarily other types of mushrooms) that are closest in taste and/or texture, but if you are looking for the best alternatives here are our top picks:
Porcini or Matsutake to replace king oyster mushrooms
Chanterelle or Maitake to replace pearl oyster mushrooms
READ MORE: 13 Oyster Mushrooms Substitutes
Where to buy them?
The most common question about oyster mushrooms we receive is "Okay, we love to try your delicious oyster mushroom recipes but where can we buy them?"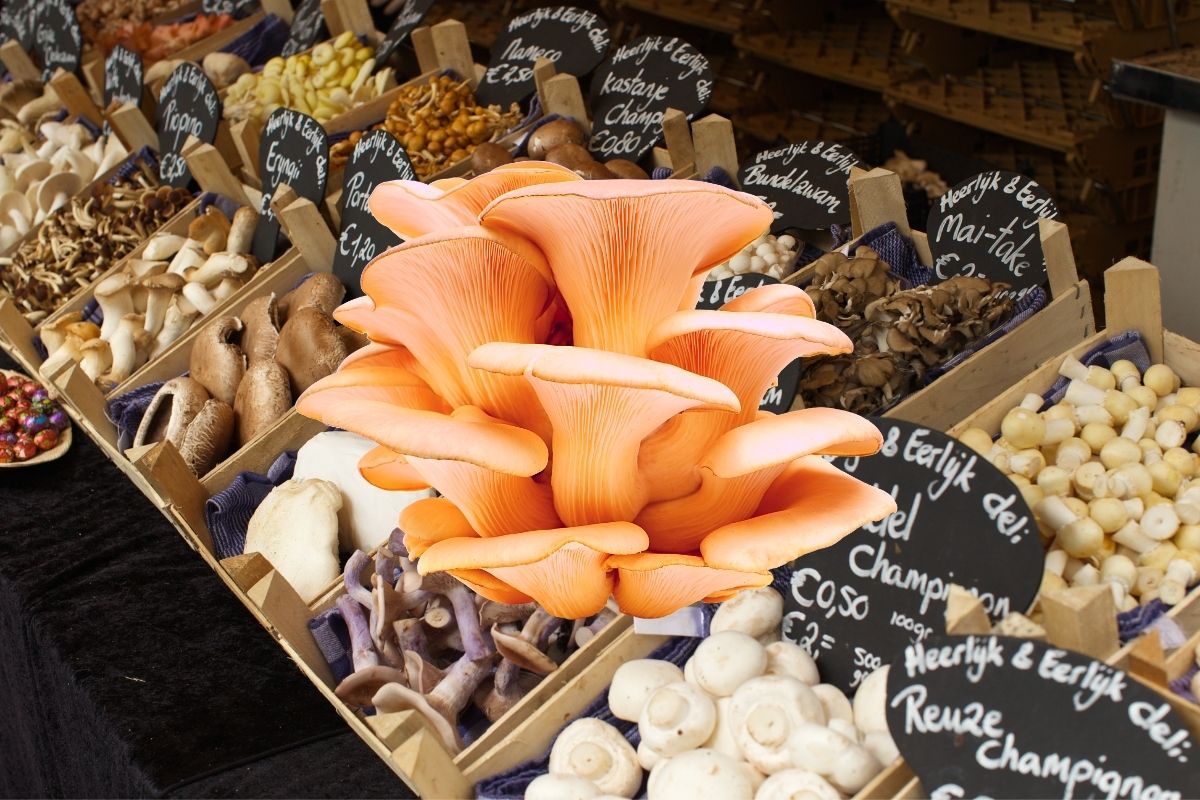 If you want to know where to buy oyster mushrooms fresh, dried, or canned, be sure to read our detailed guide listing store locations, online shops, and specialty markets all around the US. However, you have the best luck if you try one of these below options:
Asian specialty stores like H Mart, Asia Market in New York, or Tai Nam Food in Chicago. As oyster mushrooms are quite popular in Asian cuisine (Chinese, Japanese, and Korean mostly), you can most probably find them in these stores.
Asian or Oriental section of large stores like Whole Foods, Wal-Mart, Kroger, or Target.
Online stores like Guan's Mushroom, Gourmet Food Store, Amazon, and Whole Earth Harvest. They not only sell fresh* oyster mushrooms but dried ones* as well.
READ MORE: Where to Buy Oyster Mushrooms
Can you grow them at home?
If all the above fails by any chance and you can't seem to buy oyster mushrooms anywhere, you can always grow your own at home.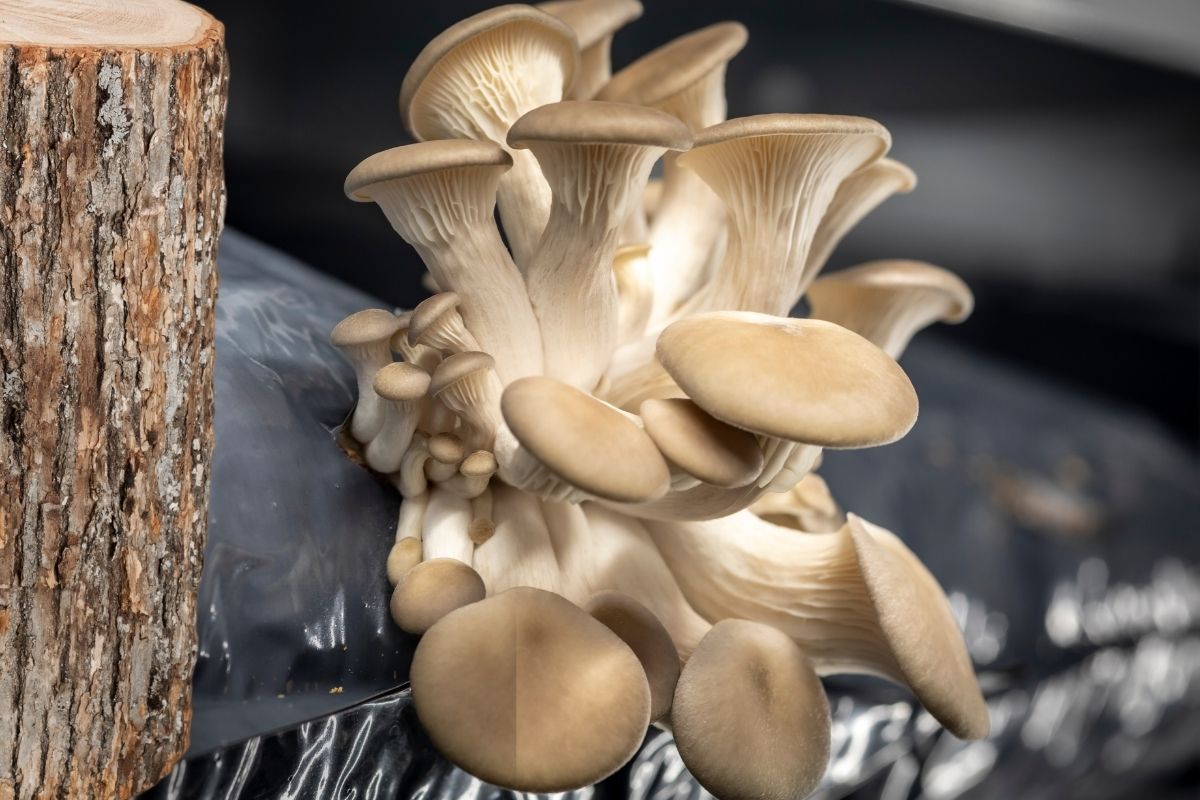 They are supposed to be one of the easiest mushrooms to grow at home especially if you use a growing kit. In nature, they grow on hardwood tree logs and eat bacteria and nematodes, which are easy to mimic with substrates like sawdust, coffee ground, or straw. It needs nitrogen and a dark, moist environment which can be arranged by using buckets with lids, plastic bags, or other airtight containers.
READ MORE: 4 Ways to Grow Oyster Mushrooms
How to choose fresh mushrooms?
Mushrooms are delicate ingredients and oyster mushrooms are no exception. If they are not stored properly, they can go bust really fast. It is important that you choose fresh mushrooms so they last longer at home. How do you know if they are fresh?
The date of harvest on the package is within 1-2 days of your shopping as they deteriorate usually within a week if not less.
The caps have one,

uniform color

. No brown spots.
The mushroom caps have a firm,

smooth surface

. No indentation.
The oysters appear to be

dry

. No moisture or condensation can be seen on the packaging.
If there are small cracks or cuts around the edges of the caps, that is fine. These mushrooms are tender and if they are wrapped tightly they sometimes crack. If there are

no color or texture changes

, you are good to go.
However, if you see white fuzz, furry, mold growing on the caps. Or the gills have yellow spots, yellow slime, or mushroom is turning yellow anywhere, you shouldn't buy them. See the below picture as a reference for when oyster mushrooms go bad.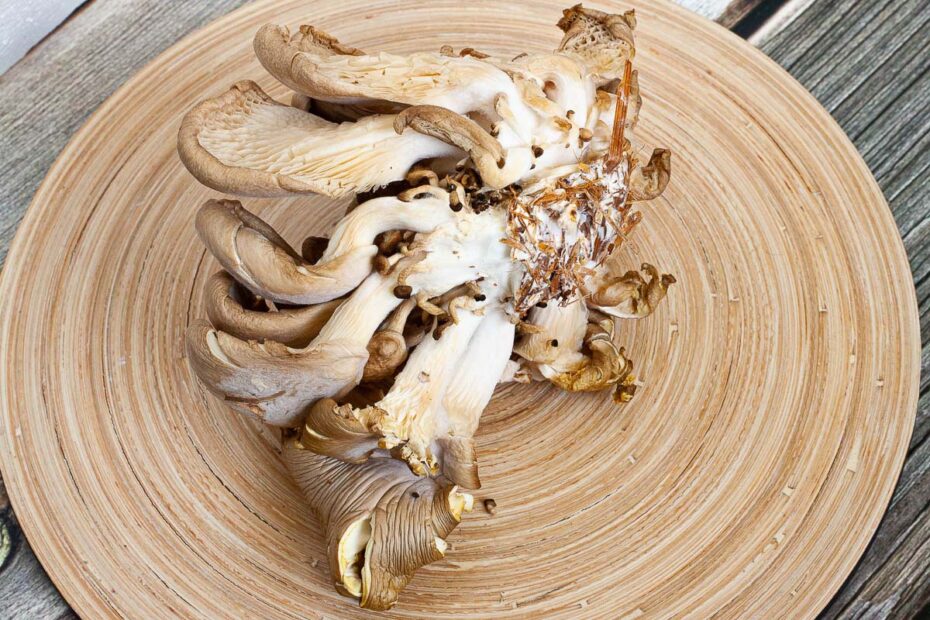 How to store them?
If you buy oyster mushrooms, you will likely get them in a plastic container that is wrapped tightly with cling foil or saran wrap. Don't keep them in the packaging if you can! Choose one of the 5 ways to store oyster mushrooms properly (in the fridge, in the freezer, in the pantry, by dehydrating, or canning) to prolong their life.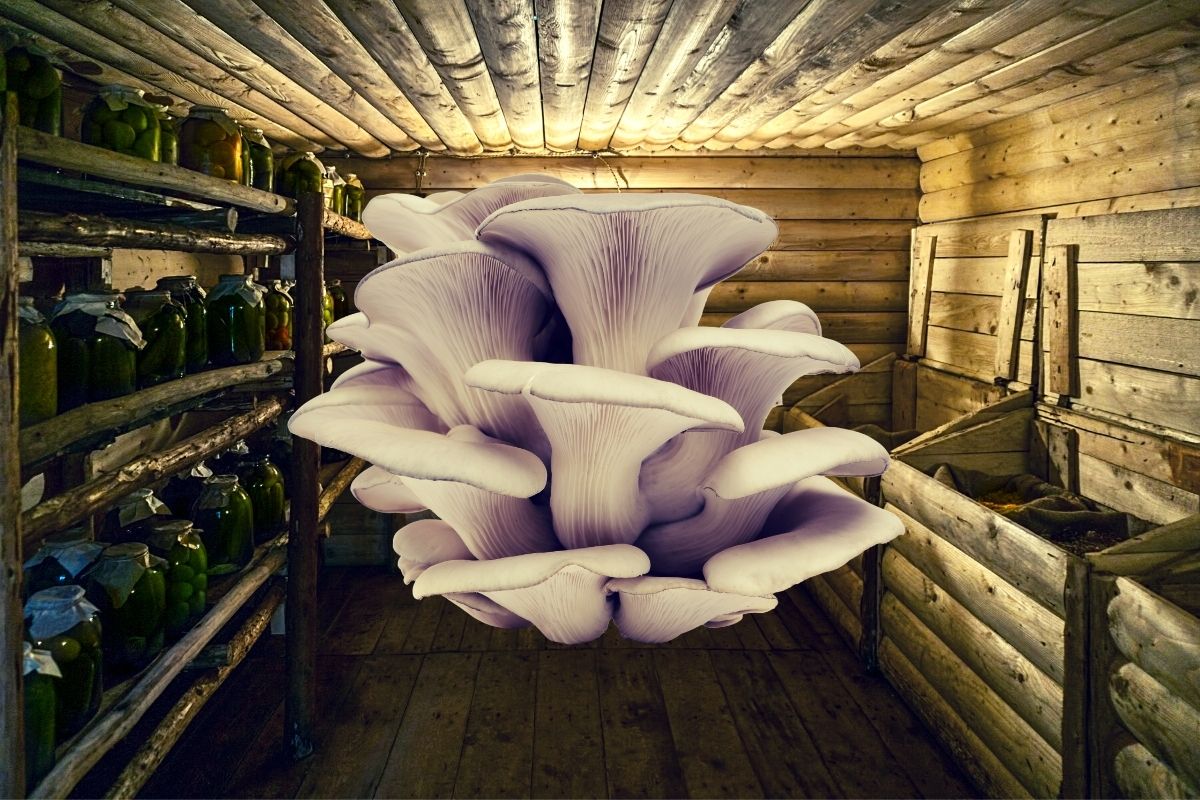 The best thing you can do is to take them out of the plastic packaging as soon as you arrive home. Keep them in the fridge in the bottom drawer in a paper bag. Mushrooms like a dark and moist environment, but they also like to breathe. So don't wrap them up again or store them in airtight containers. If there were any moisture or condensation within the packaging, wipe them dry with a towel before placing them in the fridge.
READ MORE: 5 Ways to Store Oyster Mushrooms Properly
How to prepare them?
Oyster mushrooms don't need much preparation. All parts of them are edible, the caps, the gills, and the stem.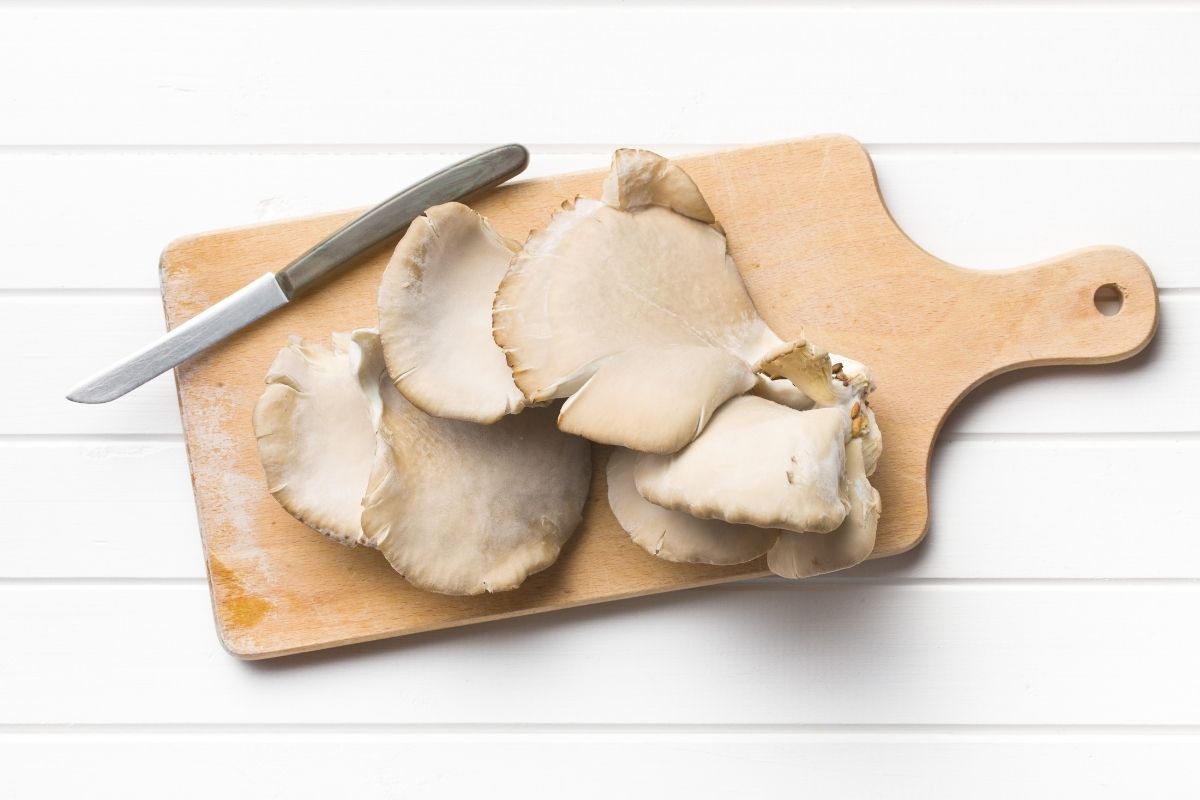 Oyster mushrooms are grown on trees, so they don't usually too dirty. If you find any dirt around the end of the stem, just

wipe it clean with a damp cloth or paper towel

or cut that part out.
Don't need to clean oyster mushrooms with water. Don't ever soak them.
You

don't need to peel

them either. If the end of the stem feels too hard or dry or discolored, cut out that part.
Similar to all mushrooms, pearl oysters release moisture (maybe not as much as button mushrooms) and will shrink. Try

not to slice them too thin

or they disappear in front of your eyes during cooking. Okay, not quite, but you get the gist…
No need to cut pearl oyster mushrooms actually, because they are soft and can be

torn apart with your fingers

along the gills.
You can cut king oyster mushrooms into

rings

or slice them in half lengthways or use a fork to pull them into stripes.
READ MORE: Prepare Oyster Mushrooms in 3 Steps (When to Clean, Peel, Trim, and Cut)
3 features you should know about
There are 3 things you should know about oyster mushrooms before deciding on which recipe to choose:
There is a

huge difference between pearl oyster and king oysters

. Pearl oysters are used similar to common button mushrooms. They are sliced and then sauteed or roasted or added to soups and stews. However, king oyster mushrooms have a very sturdy, large, thick stem, which means they are not easy to fry and do not end up something hard and chewy. That is precisely why king oyster mushrooms are perfect to make mushroom steaks or other vegan beef dishes or even vegan scallops, cause you need this meaty feature to remain after cooking.
Like any other mushrooms, pearl oysters also release water while cooking. This means

they will shrink

. Even if you have a pot or sheet pan full of mushrooms, you probably end up with half of the size. Take this into account when you decide how many mushrooms you need or how thin you want to cut them. (See the below picture for reference.)
Both have a

spongy texture

, which means they

soak up juices

. On one hand, it is super helpful if you want to marinade them as the flavors get in easily. On the other hand, you need to watch out for how much oil you want to or need to use to cook them.
How to cook with them?
Let's start with pearl oyster mushrooms first. If you have been using white button mushrooms, you can pretty much do the same with them.
Pan-fry

them in a cast-iron skillet until they are crispy.

Sautée

them in a pan or skillet then add them to pasta sauces, risotto, burgers, and sandwiches.

Stir-fry

them with other veggies and legumes and serve with fried rice or noodles.

Roast

them in an oven and they get to become the perfect side dish.

Grilling

them.

Deep fry

them with a crispy breaded crust or pakora.

Air fry

them as an oil-free alternative to deep frying and sautéing.

Add to soups and stews

– they can be a great addition to many soup and stew recipes.
How to cook king oyster mushrooms? Due to their sturdy, large, thick stem, they are perfect to turn into mushroom steaks, vegan scallops, or vegan pulled pork because you need this meaty texture to remain after cooking.
Pan-fry

them on medium-high heat.
Sautée them in a pan or skillet after.

Grill

them on a skewer.
Roast them in the oven.
There are many other ways like braising, steaming, poaching, or smoking. Read our cooking guide via the below link where we explain in great detail all 11 methods of cooking.
READ MORE: 11 Ways to Cook with Oyster Mushrooms
Recipes with oyster mushrooms
Let me tell you that there is no shortage of recipes for both types (pearl and king). They are a very popular and versatile ingredient that works well with lots of different flavors, textures, and cuisines. You'll see I have more than 30 oyster mushroom recipes from all over the world so you can pick the perfect one to try first. And then you'll love them just as much as we do. Here are our top 6 favorite recipes at the moment:
More cooking guides