Our favorite Vegan Queso Dip is based on our creamy, delicious, nut-free and veggie-based cheese sauce. Way healthier than any store-bought processed stuff. You can make this dip within 20 minutes. Super quick right? No cashews here, so I dare to say that it is also quite budget-friendly.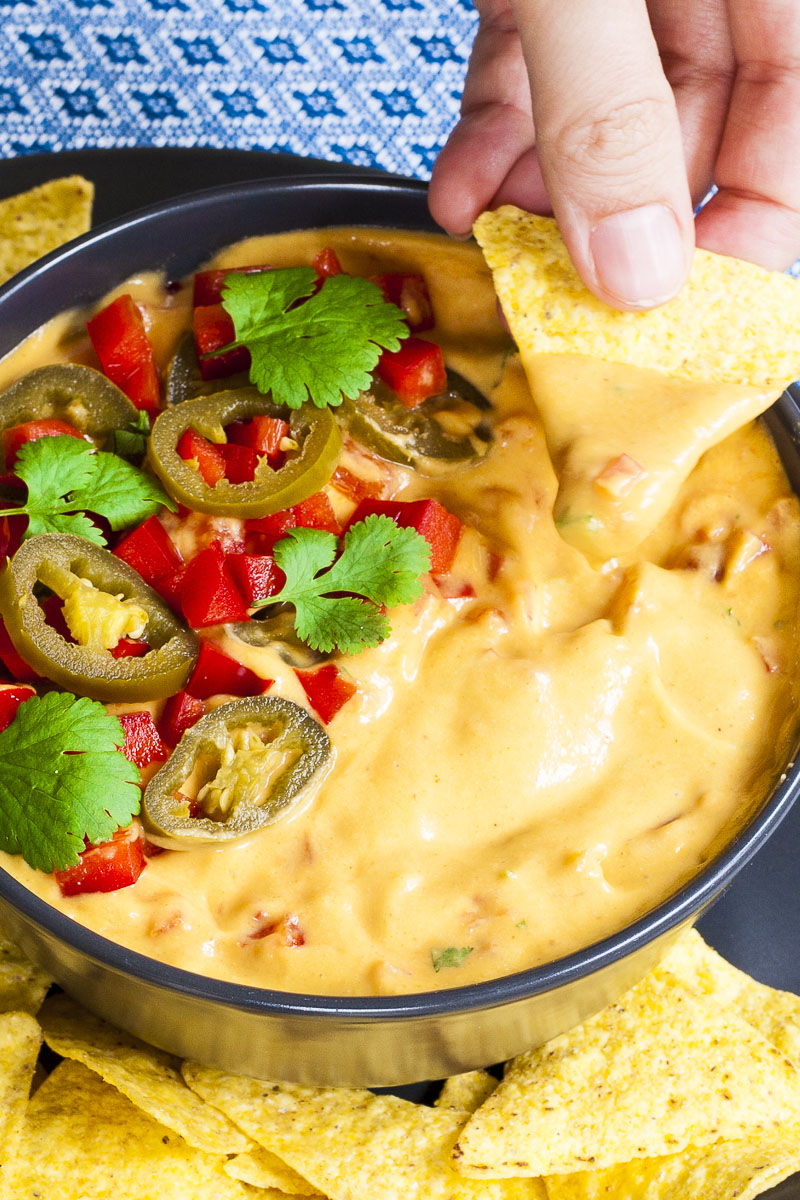 Let's talk Tex-Mex! We are alternating between making this Vegan Queso Dip and our Vegan Nacho Cheese Sauce. They are both delicious next to or added to this Copycat Chipotle Veggie Bowl or Burrito. Not to mention perfect for Vegan Portobello Fajitas with Fajita Veggies. We have lots of ideas apart from dipping tortilla or nachos in it.
What can you expect?
There are really 3 types of recipes out there to veganize the classic Velveeta cheese-based dip:
veggie-based
nut-based (usually cashews)
store-bought vegan cheese-based
Obviously, none of the above versions will be an EXACT match for the dairy version. Especially as the original is super processed stuff. However, if you change your expectations a bit, and willing to try something healthier and more nutritious, you might be surprised how delicious and cheezy this dip can be.
So here is our favorite recipe that is veggie-based, nut-free, dairy-free, egg-free, oil-free (so no cashews haha). Enjoy!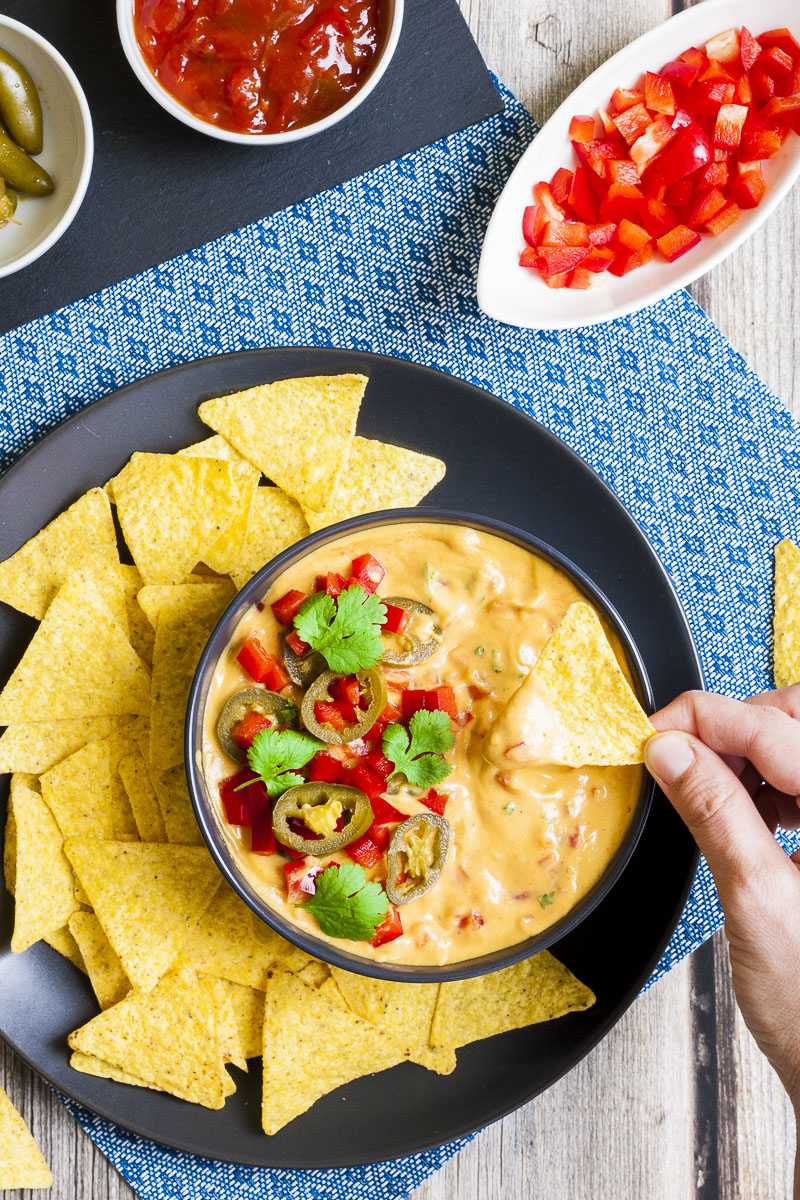 What do you need to make our version?
Queso also known as Chile con queso ("chili with cheese") is a warm side dish or apperizer with a blend of melted cheeses and chili pepper on top. How to make it vegan aka dairy-free?
Our vegan queso requires only 7 main ingredients and a good blender
or food processor.
No soaking or overnight preparation is needed. This is a nut-free and veggie version, so we use
a handful of sunflower seeds,
one carrot,
one potato,
one sweet potato,
half onion,
one clove of garlic,
a little bit of nutritional yeast
and SPICES!!! (the most important part obviously) – see the exact amounts in the recipe card at the bottom
and ADD-INS like chopped bell pepper, chopped jalapeno, fresh cilantro and chunky salsa.
The above will give you approx. 2 cups of creamy cheezy spicy dip for any Tex-Mex dish you can imagine. It is simple, easy and budget-friendly. You don't need to plan ahead to make this, just get any leftover carrot, potato, and sweet potato you don't use for your next lunch or dinner and you are good to go.
How to make a veggie-based Queso?
Prepare your ingredients
Peel and dice potatoes, sweet potatoes and carrots. The smaller you dice them, the shorter will be the cooking time. Peel and chop onion and garlic.
Cook your vegetables
Add all diced and chopped vegetables (potatoes, sweet potatoes, carrots, onion, and garlic) to stockpot (photo #1). Fill it with veggie broth and cook them until soft (photo #2). When ready, drain it, but reserve 1 cup of the cooking water.
Blend it until you have a smooth vegan cheese sauce
Transfer all cooked vegetables into a blender (photo #3). Add sunflower seeds (no need to soak them), nutritional yeast, and all spices (photo #4). Blend them until you have a creamy sauce (photo #5). When ready, turn it into vegan queso by adding chopped bell peppers, chunky salsa sauce, sliced jalapeno peppers and freshly chopped cilantro.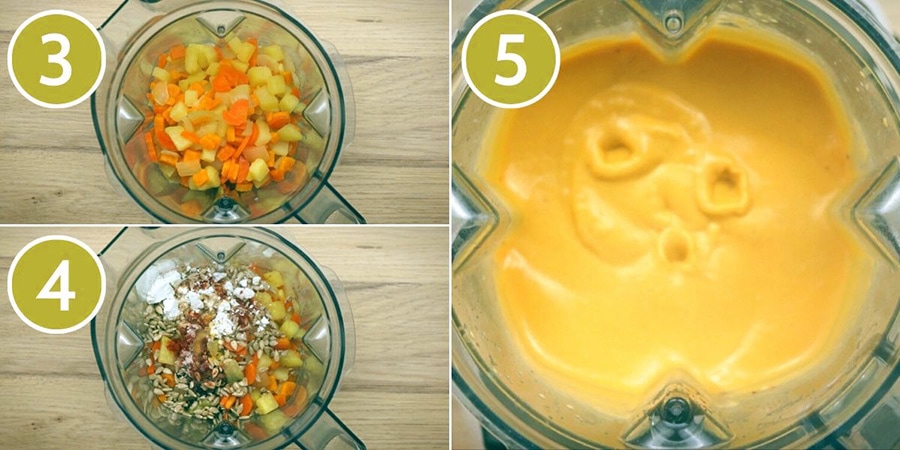 Use Vitamix for a crazy smooth cheese sauce
You can certainly use a hand blender (aka immersion blender) or a regular blender. They all make a creamy sauce. However, if you need this sauce to be extra smooth without a single little piece to find, we recommend using a high powered blender like Vitamix*. We made this recipe before and after buying a Vitamix and the sauce just went from smooth to crazy smooth.
FAQs and Substitutions
How do you store this queso dip?
You can keep it in the fridge for 2-3 days tops without any problem.
Can you freeze the sauce?
I never had to freeze it as it is usually gone by day 2. If you try to freeze the sauce, let me know how it turns out.
Is sunflower seed healthy?
Raw, unsalted sunflower seeds are surprisingly packed with a lot of nutrients. Not to mention compared to cashews or almonds, they are on the cheap side.
According to Cronometer 1 cup of raw sunflower seeds contains an astonishing amount of good plant-based protein (approx. 30g) and healthy plant-based Omega-6 fat (approx. 33g). It is very rich in Vitamin E, B1, B3, B6 and folate and high in minerals like copper, iron, magnesium, manganese, phosphorus and zinc.
Who knew? Read more about sunflower seeds in Healthline's article about 6 healthy seeds.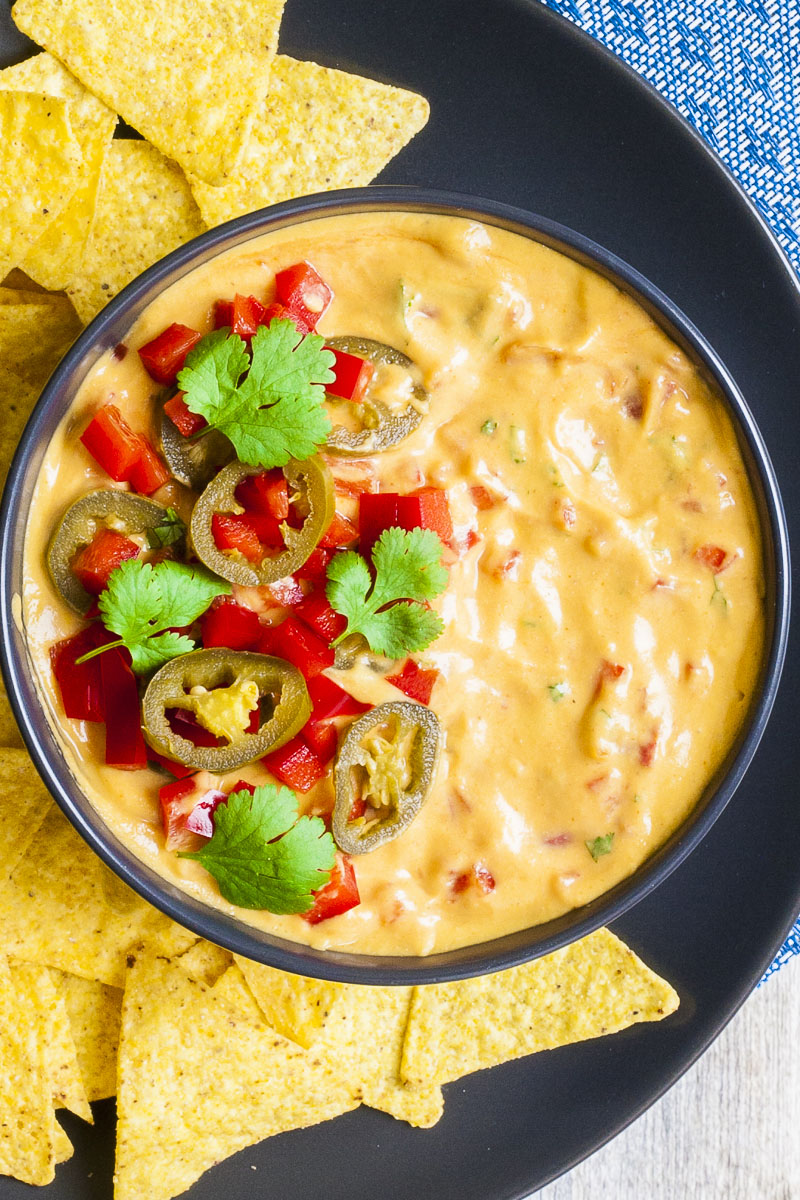 This Easy Vegan Queso Sauce recipe is vegan, vegetarian, nut-free and WFPB-friendly (whole foods plant-based).
More vegan dips and sauces
You can browse through our Vegan Condiment Recipes or check out