If you would like to make Orange Chicken, the most popular dish in Panda Express vegan at home, this is the recipe you need to try. We used the BEST plant-based alternative to crunchy fried chicken strips and covered them with a citrus-y, sticky, spicy sauce. We made it allergy-friendly so everyone can enjoy this dish. Which means there is NO TOFU and NO GLUTEN!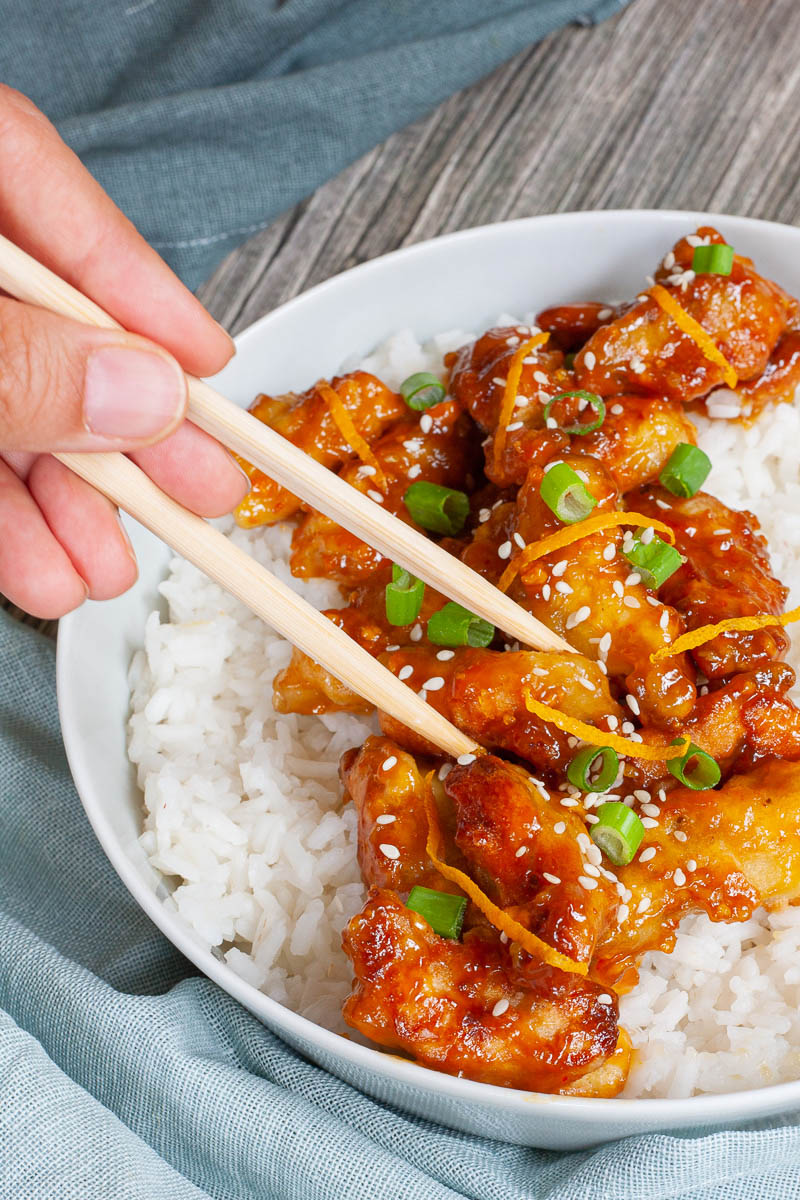 We have other copycat recipes you may be interested in like this Copycat IKEA Veggie Balls or this Copycat Chipotle Veggie Bowl or this Copycat Chipotle Veggie Burrito with Fajita Veggies. More to come I promise. Email us which copycat recipe you would like to see next.
What is in the original Panda Express Orange Chicken?
Orange Chicken is a signature dish in Panda Express. It is one of the most popular dish on their menu. According to Mashed, they sell more than 100 million pounds of this entree PER YEAR. That is a lot. But sadly there is no vegan, vegetarian or gluten-free version in their restaurants. Which leaves us with one thing to do. Make it at home. How?
Mashed's article makes a pretty amazing job at trying to analyze what are the ingredients that made up this dish. Here is what they come up with:
dark meat chicken (thighs not breast) deep fried in a crunchy coating
the orange sauce is umami which means sour, sweet, bitter, salty, and spicy at the same time
the key ingredients of the sauce:

ginger, brown sugar, garlic, crushed chile peppers, soy sauce, orange peel oil
Ingredients to make Orange Chicken vegan
They say that the sauce is the heart of this dish. Partly that is true as we made great emphasis on getting it right. But we also paid equal amount of attention to use the best vegan substitute for dark meat chicken and to make the best crunchy coating. We are a vegan and gluten-free blog, so this coating is undetectably gluten-free. Look how gorgeous they look in the below picture!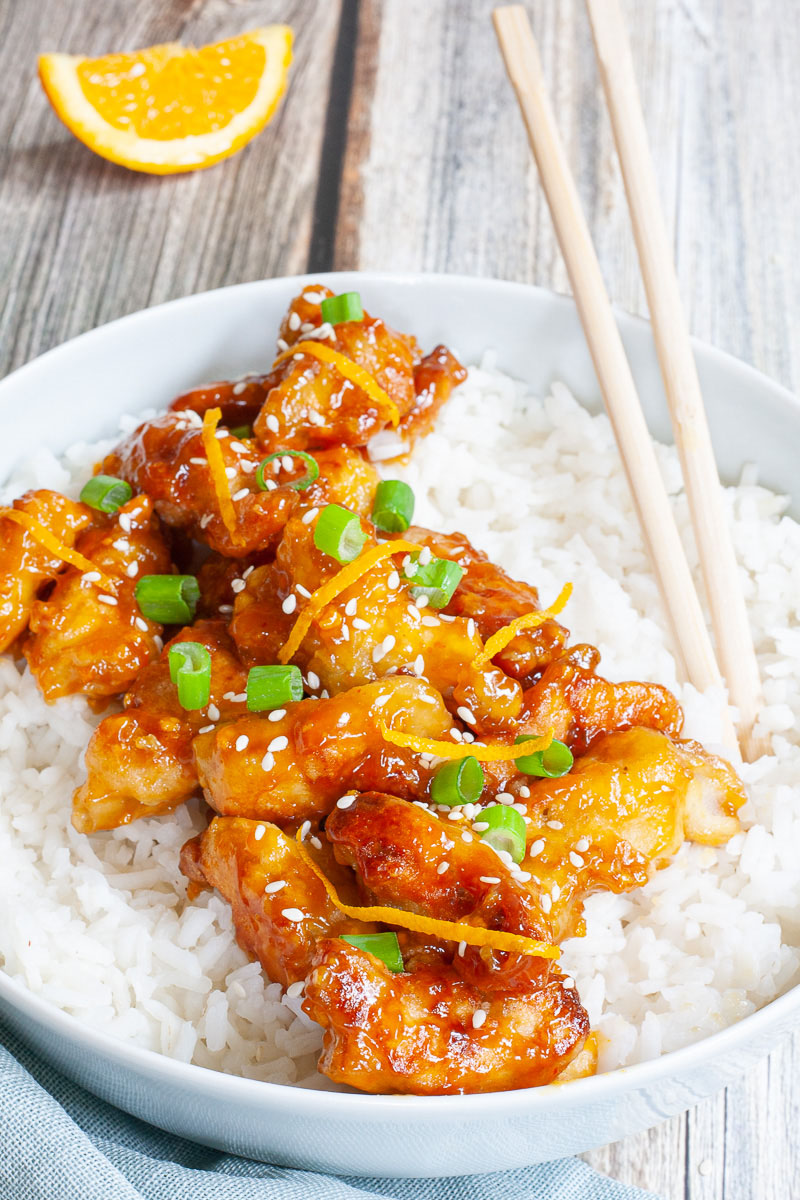 Orange sauce
orange juice
orange zest
cane sugar
molasses
freshly minced garlic
freshly minced ginger
sriracha sauce
soy sauce (to make it gluten-free chose one of the 5 best gluten-free soy sauce substitutes)
rice wine vinegar
vegetable oil
corn starch
Crunchy gluten-free coating
chickpea flour
white rice flour
corn starch
garlic powder
salt
black pepper
dairy-free milk
The best vegan chicken
Oyster mushrooms! If you have been on our blog, you saw that we have been raving about this ingredients all the time. They are the best vegan meat alternative to shredded meat and meat strips (may they be originally chicken, pork or beef). They are super easy to prepare and have a fantastic meaty, chewy texture. They are allergy-friendly and delicious. No mushroom taste at all! Check out our Guide to Oyster Mushrooms with 20+ Must-try Vegan Recipes for more info and inspiration.
How to make the Best Vegan Orange Chicken?
Prepare the crunchy coating
Wet batter – Take a shallow bowl and mix dairy-free milk, chickpea flour, white rice flour, garlic powder, salt, and black pepper with a whisk. It should have a texture of a thick pancake batter, slow-flowing but not too dense. In time the flour may thicken the batter a bit, so add 1 tsp of water to thin it again.
Dry mix – Take another shallow bowl and mix white rice flour, corn starch, salt, and black pepper with a spoon.
Bread oyster mushroom strips
Tear oyster mushroom into shreds with your hands. No need to wash or peel them. They grow on trees not in dirt, so they shouldn't be dirty at all.
Have both wet batter and dry mix in two separate shallow bowls.
Dip the oyster mushroom first in the

wet batter

. Coat it evenly. I found it is easier to use your fingers to do that instead of using a fork or spatula.
Transfer gently the coated mushroom to the

dry mix

. Sprinkle the top and pat it gently.
When it is coated you can place it on a plate or fry it immediately. The coating will hold on room temperature for an hour or so without a problem if you need to wait before frying.
Frying or deep-frying?
You don't need to deep-fry in a ton of oil. You can use a non-stick frying pan and coat it with ½-inch oil. Heat it over medium/high heat.
You can test whether it is hot enough by dropping a bit of coating in it. If it sizzles, you are good to go. Why do you need the oil to be hot? If it is not hot enough it will take a long them to get them crispy and in the meantime the mushroom and the coating will soak up a lot of oil.
When the oil is sizzling, add the coated strips. Flipping them occasionally. It shouldn't take more than 2 minutes to fry them. They will be nice, crunchy and golden brown just like in the below picture.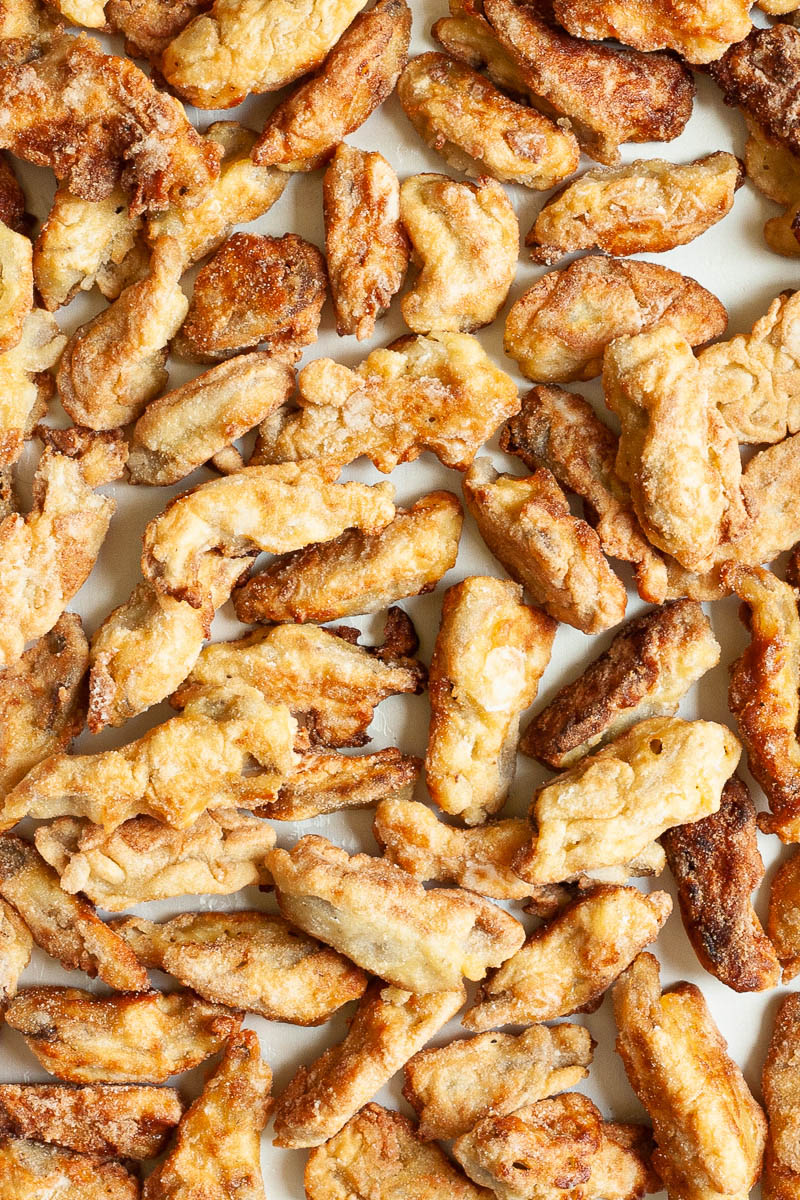 Prepare the orange sauce
Peel and mince ginger and garlic. Wash and grate some orange zest.
Take a small bowl and mix corn starch, orange juice (100%), orange zest, cane sugar, soy sauce (or tamari for gluten-free), sriracha (or other chili paste), and white rice vinegar.
Take a saucepan and heat it over medium heat. Add oil and minced garlic, ginger and saute them for 1-2 minutes.
Add the mixture from the small bowl and mix well. Cook it for a couple of minutes until the corn starch is activated and the sauce starts to thicken.
Add molasses and stir well. Your sauce is ready now!
Top tips on how best to serve it
You have your fried crispy vegan chicken strips and you have the sticky orange sauce. The amount of sauce in the recipe is enough to coat 4 servings of oyster mushroom (7-8 oz). How best to serve it? Here are a couple of tips to make sure you have perfect Vegan Orange Chicken.
Coat to strips while the

sauce is hot

. The battered oyster mushroom can cool on a rack or paper towel though, but a warm/hot sauce sticks to it more evenly than a cold one.
If you let the sauce cool, you can

re-heat

it over medium heat.

Never on high

as you can mess with the corn starch and the sauce might lose its thickness.
We recommend doing the

coating per serving

. We take ¼ of the orange sauce and add it to a warm skillet or pan. Add 1 serving of fried mushroom strips and mix well.

Serve it immediately

over steamed or cooked rice.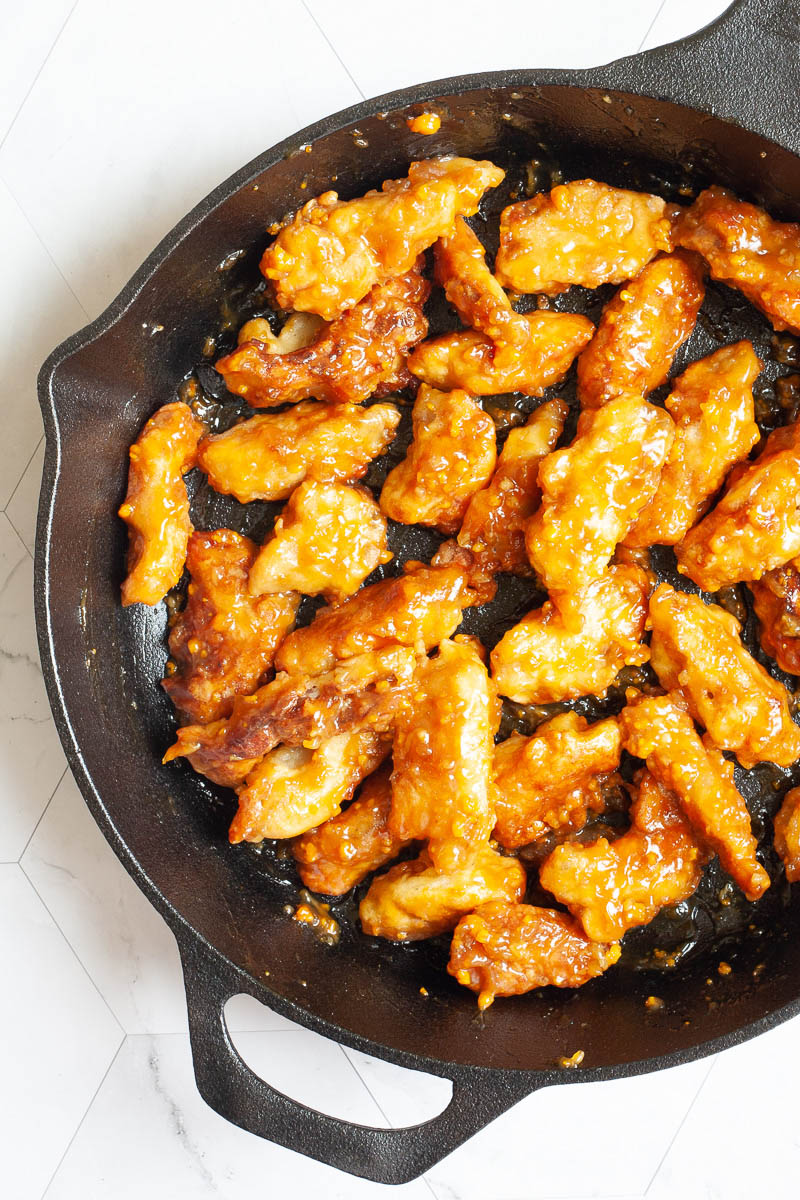 FAQs and Substitutions
Can you use an air fryer?
I don't have an air fryer to test it properly, but the air fryers main purpose is the deep fry food without oil. Place the breaded oyster mushrooms on the basket of the air fryer in one layer. Turn the air fryer on and set the temperature high. Fry for a couple of minutes.
Can you bake them in the oven?
We tested this recipe in the oven as well. Sadly, the coating was not as crispy as when you fry them in oil. But in my opinion that is the case with every food. The difference between baking and frying is huge.
Can you use other flours?
We only tested this recipe with these ingredients as we wanted the crispiest gluten-free coating possible. If you want to substitute chickpea flour you can use maybe yellow corn flour or instead of corn starch you can use tapioca starch. If you need other tapioca starch substitutes, check out this list. In any case, let us know in the comments.
How to store it?
Let's be honest it is really hard to store breaded and fried food (any type) in a way that keeps the crunchiness for long. This dish is also best served while it is hot. With that being said I stored the strips an air tight container without any sides in the refrigerator and the coating was more or less remained intact and crunchy for the next 24 hours. On the 2nd day it was rather dry and soggy.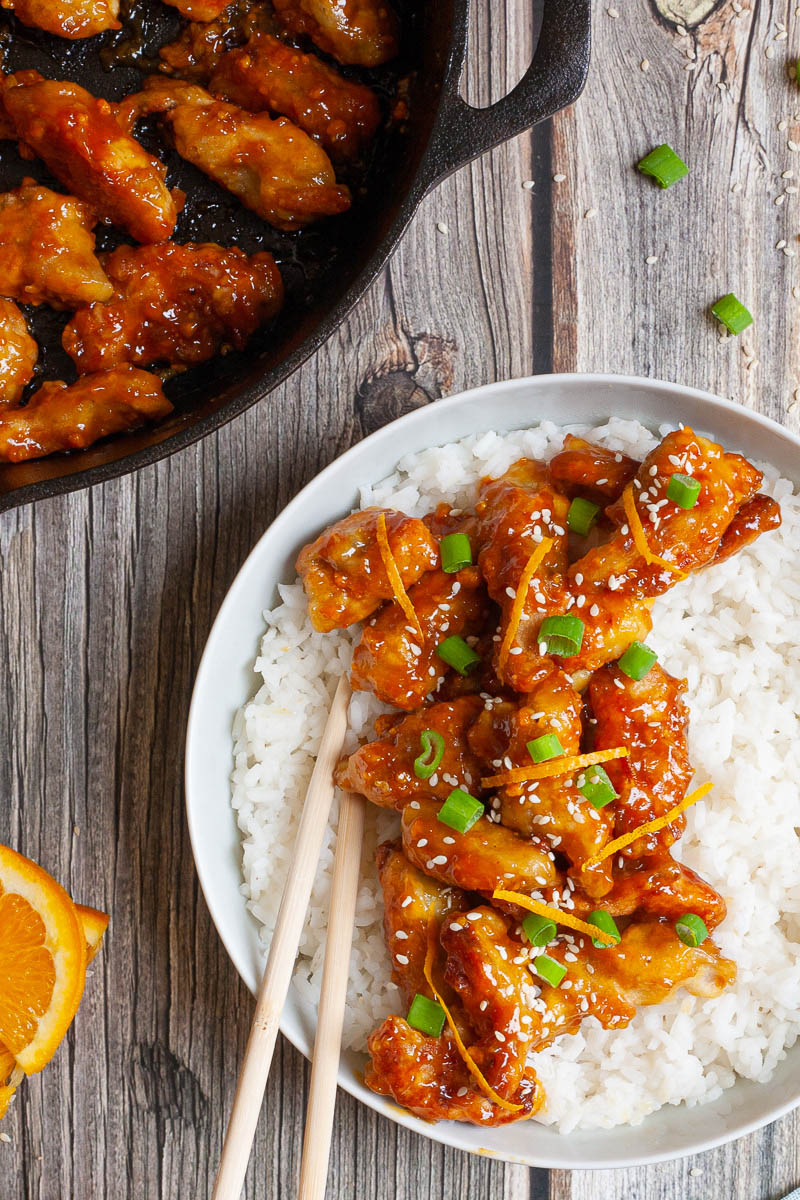 This Vegan Orange Chicken recipe is meat-free, egg-free and dairy-free. It is suitable for a vegan, vegetarian diet. It is nut-free, and gluten-free, but not WFPB-friendly (whole foods plant-based) unless you use and air fryer or bake them in the oven. It is soy-free if you use liquid aminos instead of soy sauce.
More vegan recipes using oyster mushrooms
We have even written a Guide to Oyster Mushrooms with the Best 20+ Oyster Mushroom Recipes to give you even more ideas to enjoy this awesome ingredient. Here are some of our favorites as well: