Can I just say that hummus might be one of the world's most popular spreads or dips? Whether it is because hummus is so tasty, easy to make, and versatile with an endless combination of flavors. Would you need some new inspiration on what to eat with hummus? Here is what to grab & dip and the best toppings you must try.
Make classic homemade hummus or flavored ones like beetroot hummus, roasted red pepper hummus, avocado hummus, kale pesto hummus, cauliflower hummus or even sunflower seed hummus and check out the below list.
Jump to:
Flatbread
Since hummus is a Middle Eastern dish and is eaten widely throughout this region in countries Syria, Lebanon, Israel, Egypt, Palestine, Jordan, and Turkey, the most popular type of bread they serve with hummus is pita bread. You can find similar substitutes from other cuisines that go great with hummus like any Greek flatbread, Mexican tortilla, Indian naan, or roti (chapati), zataar manakesh (see below photo), Armenian lavash, or even Italian focaccia.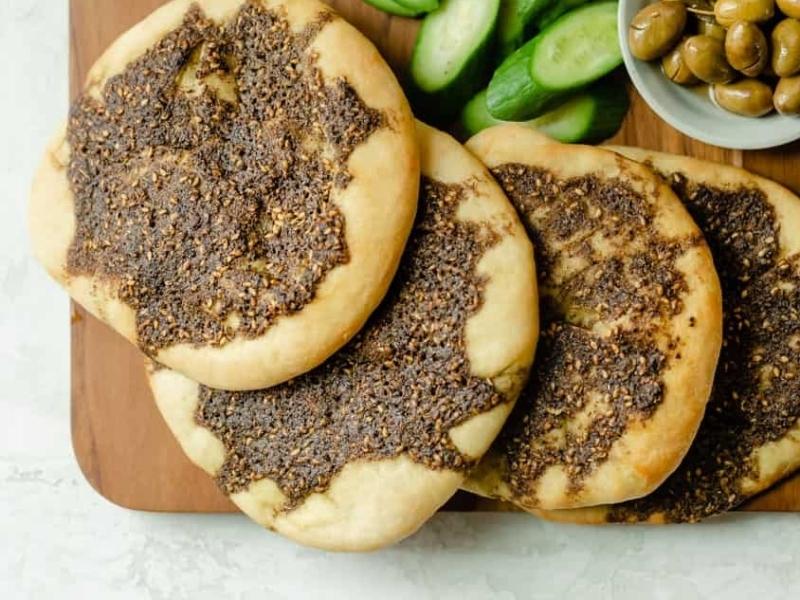 Crunchy snacks
If you don't have any type of flatbreads, you can dip rice crackers, tortilla chips, toasted bread, baguette, breadsticks, pretzels, bagel chips, pita chips, or any other types of chips. Basically, any crunchy bread that is hard enough to scoop up some hummus.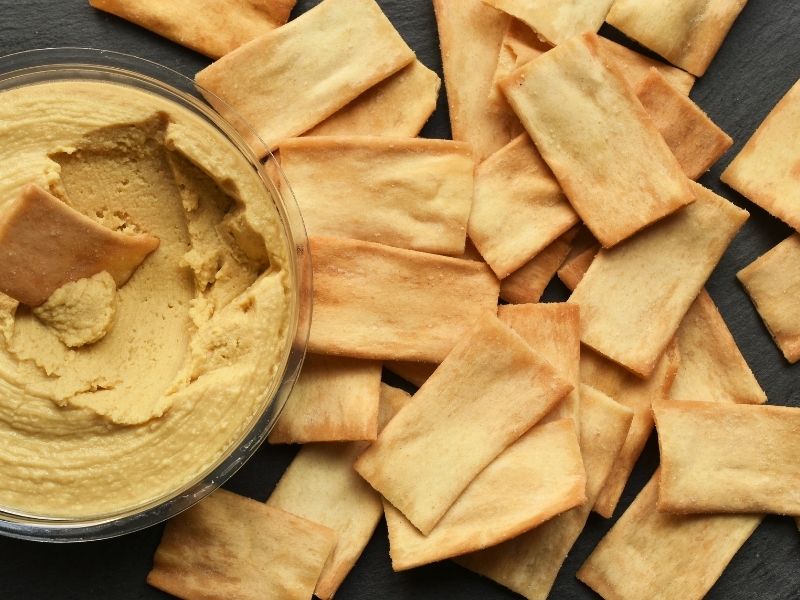 Raw vegetable sticks
Veggies and hummus are a match made in heaven. Any raw vegetables are fair game like carrot sticks, cucumber, kohlrabi (this is one of our favorite. Oh, so delicious…), celery, bell pepper, radishes, or snap peas. Even asparagus, broccoli, or cauliflower if you pre-cook them.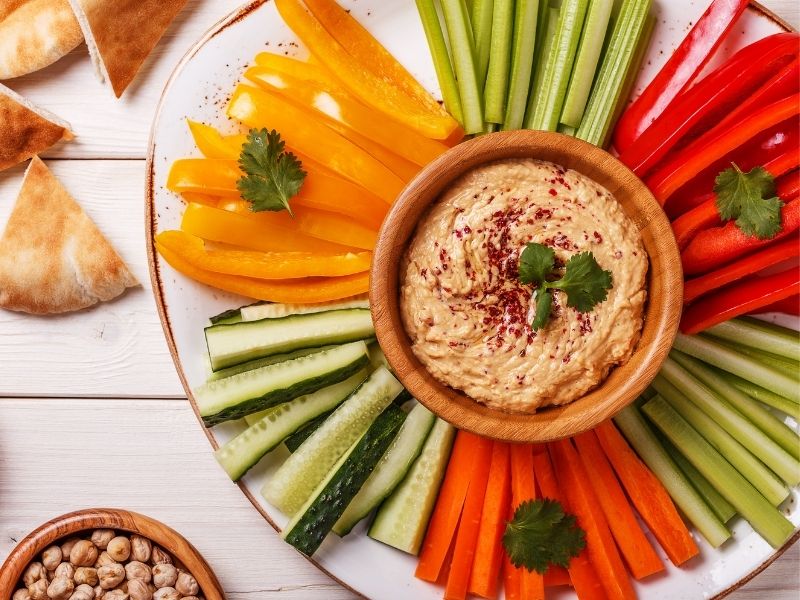 Veggie chips
Have you heard of beetroot chips or kale chips? You can certainly make them at home, but there are many brands that sell them. Try these yummy lentil chips, these mixed root veggie chips (see below photo), or these kale chips. Have you seen these colorful veggie straws? Our kids love them too. These zucchini crisps would also be a unique addition to the mix.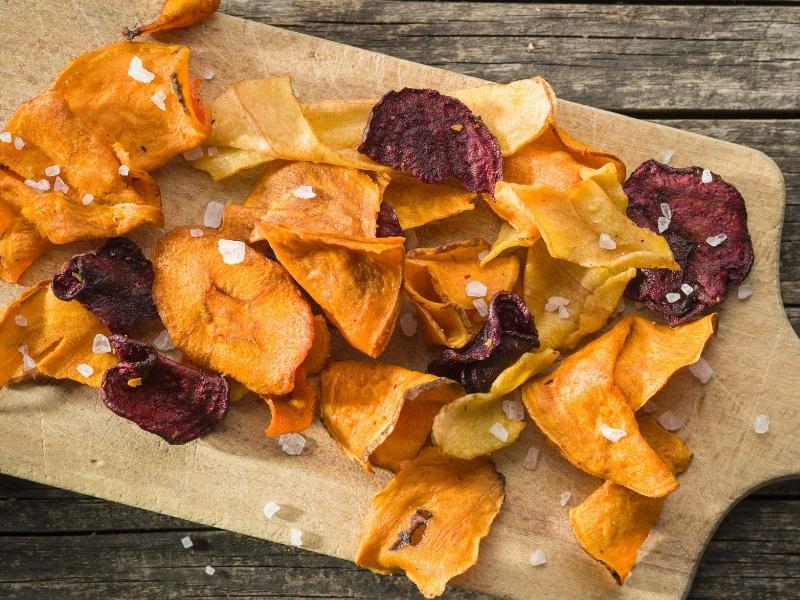 Pasta chips
Have you seen the latest craze over pasta chips? It has made everyone turn on their oven or air fryer to create crispy snacks out of any type of pasta. Cook, season and bake them away. Unflavored or flavored they could be the trendiest thing you can dip into hummus. See for yourself below.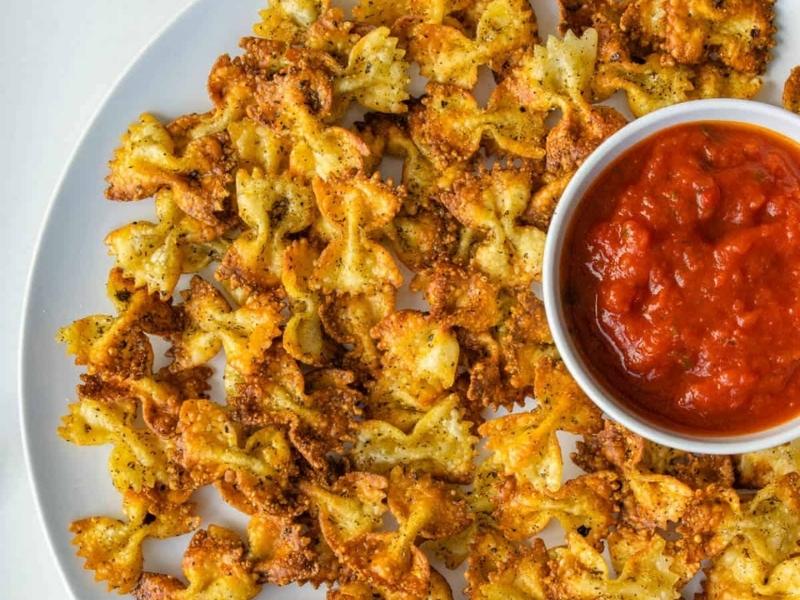 Fries
You cannot imagine how good it is to dip deep-fried or baked crispy sweet potato sticks into creamy hummus until you try it. Here again salty and sweet make a perfect couple. We also tried it with seasoned potato fries, but you can experiment with other "fries" as well like zucchini fries, carrot or other root veggie fries, polenta fries, even crispy tofu sticks.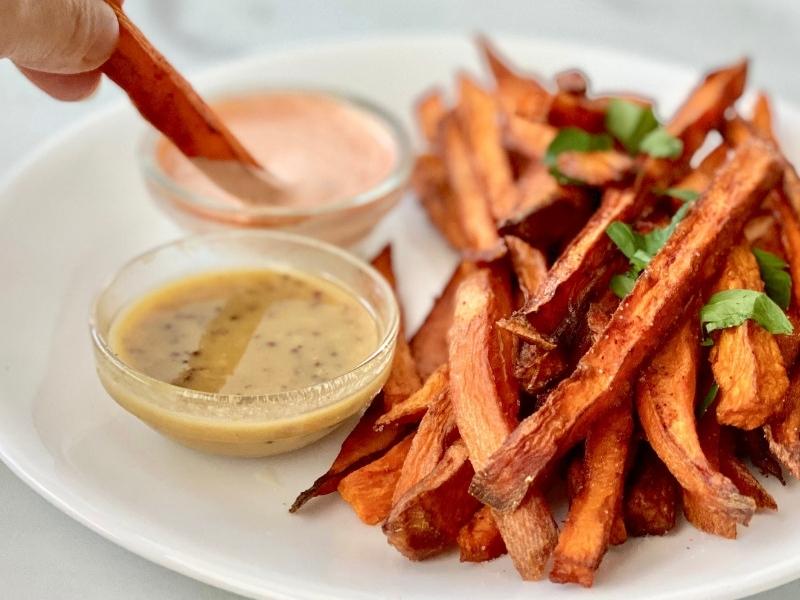 Fruits
You would be surprised how hummus and fruits are such a tasty combination. Try dried dates, figs, apricots, or fresh apple, pear, strawberries. Fruit is not only great served with chocolate dessert hummus (see below picture). There is something decadent in pairing sweet and salty things, don't you think?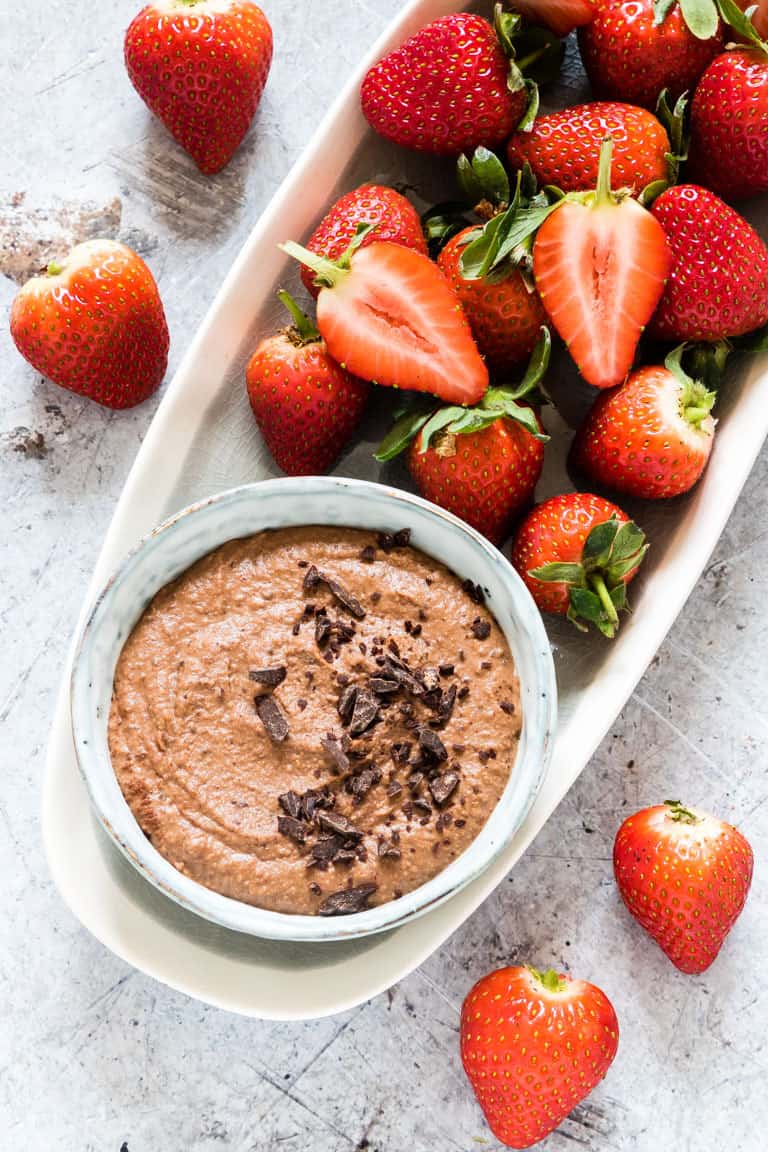 Roasted veggies
If you are looking for new ways to eat hummus with. Try adding some roasted veggies on top like zucchini, eggplant, roasted asparagus, tomatoes, or mushrooms seasoned with Middle Eastern spice mixes like Za'atar, Ras el Hanout, or Baharat. For a really hot & spicy variation, add harissa paste.
Falafel
It is hard to say whether falafel or hummus is the most popular Middle Eastern recipe when it comes to using chickpeas as the main ingredient. The good news is that falafel is often served with hummus, so you can really load up on chickpeas if you pair up these two.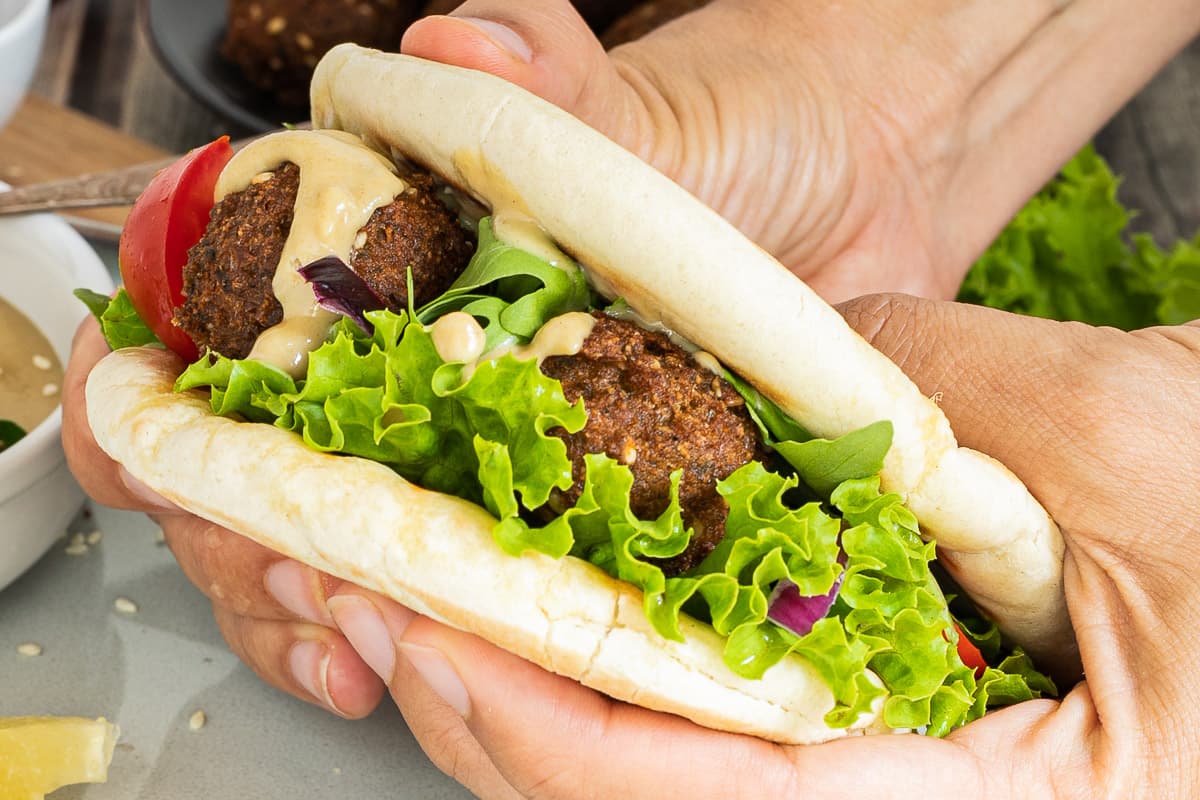 Chickpeas
If you don't use up all your chickpeas to make hummus, the leftovers can be a good topping alternative. Even if you just add them unseasoned or get creative and roast them in the oven covered in Middle Eastern spice mixes like Za'atar, Ras el Hanout, or Baharat.
Freshly chopped parsley
If you go to an authentic Middle Eastern restaurant you will see two very typical decorations on hummus: freshly chopped parsley and smoked sweet paprika powder. Look at this list of where to eat the best hummus around the world, most pictures show beautifully plated hummus with these toppings as well as cooked unseasoned chickpeas.
Toasted nuts
The most popular nuts in the Middle East are pistachios, walnuts, pine nuts, and almonds. If you lightly toast them in a skillet oil-free, you give them a delicious flavor that goes perfectly with the creamy texture of hummus.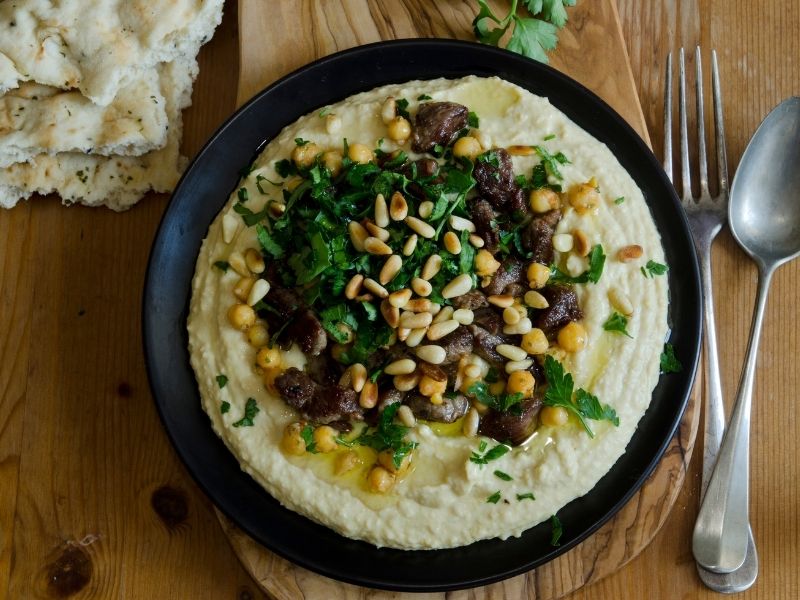 Pomegranate
Pomegranate seeds and pomegranate molasses are also very typical ingredients in Middle Eastern cuisine. They are the main ingredient to Fesenjan, the Persian walnut pomegranate stew, but also part of a typical Mediterranean grazing board. Aren't they perfect toppings on this roasted red hummus below?
You have probably heard of Yotam Ottolenghi, the most popular chef creating delicious Middle Eastern dishes. He recommends eating hummus with pomegranate molasses and parsley salsa.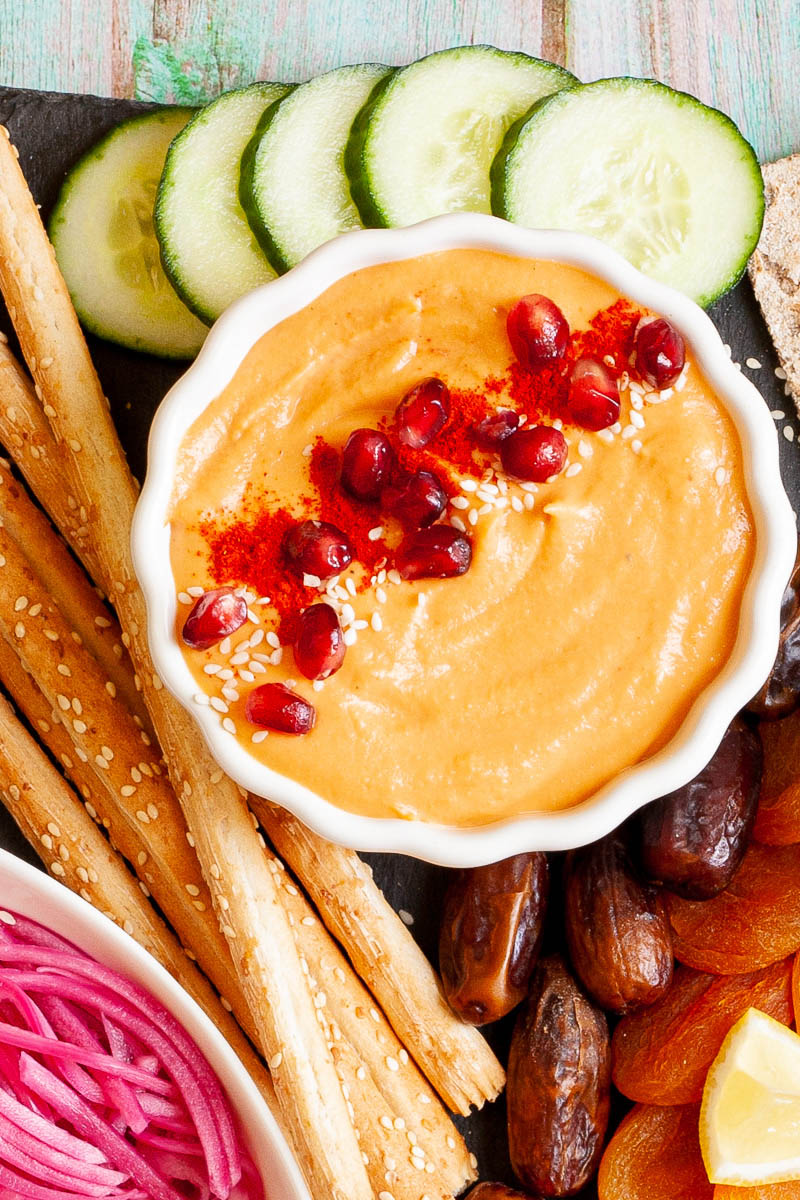 Olives
If you love olives, you'll love them with hummus as well. They are staples in the Mediterranean and Middle Eastern recipes. No wonder we added them to our hummus pizza.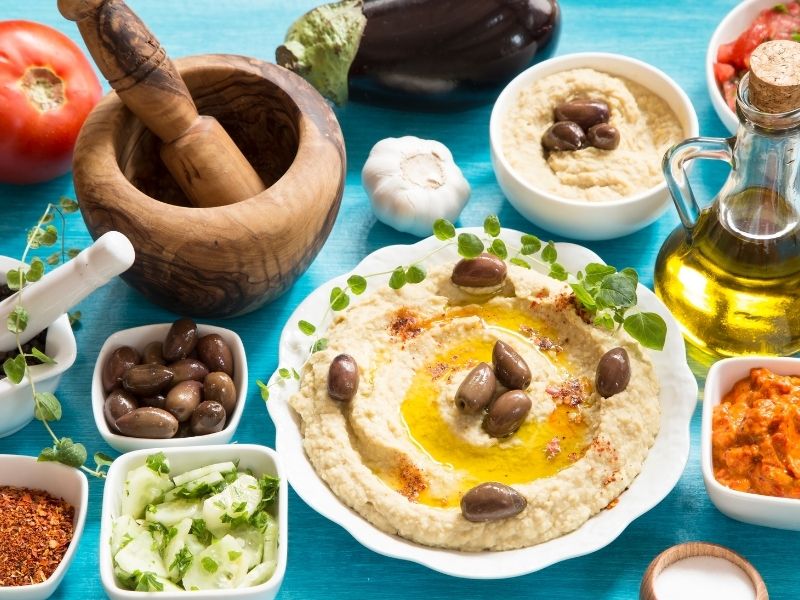 Yogurt
Turkish yogurt is an essential part of their cuisine and as such, they are frequently used not only as a condiment but as a topping or ingredient. Try to top your hummus with olives and yogurt or even feta, and you'll see that they complement each other perfectly.
Shawarma
Shawarma or gyro meat are two typical toppings as well if you were to create a complete main course instead of serving hummus as an appetizer. Let me show you a delicious meatless alternative. In the below photo you can see vegan gyros made from oyster mushrooms. It is incredibly flavorful and crispy.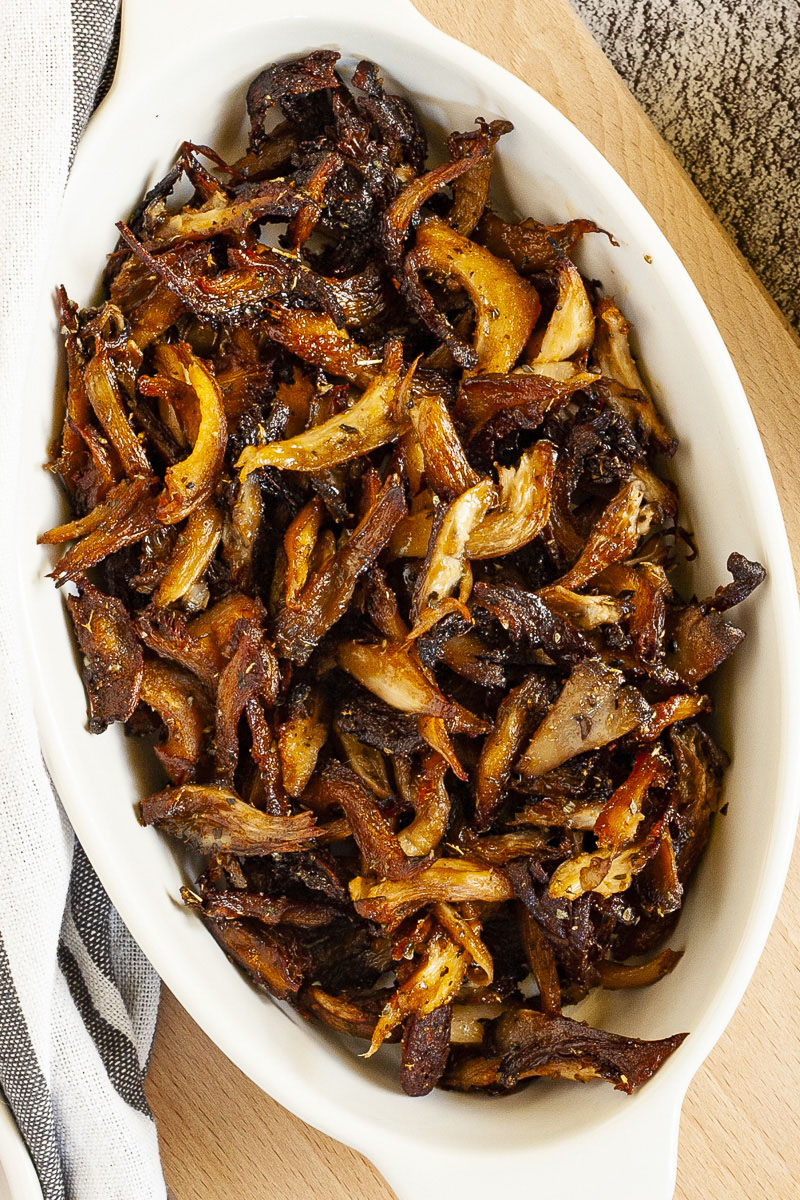 Recipes using hummus
Do you have some leftover hummus and need some creative and easy recipes with hummus like sandwiches, wraps, salad bowls, pizza, pasta, or more?