What to eat with hummus? Well, you probably already know that hummus is damn delicious. Dipping veggies and crackers in it are just heavenly, but need more ideas? Okay, but what's good with hummus? Maybe something healthy? We collected 25 healthy and delicious recipes to use hummus in creative ways.
What is hummus?
Do I really need to start with what is hummus? I hope not. But just in case you haven't come across one of the most versatile and nutritious dips of all time.
The main ingredients of the classic, traditional hummus are
cooked and mashed

chickpeas

aka garbanzo beans aka grams,

tahini

, which is toasted sesame seeds blended into a paste
fresh garlic,
fresh lemon juice,
extra virgin olive oil, and
salt.
However, you can find so many flavored hummus as well: beetroot hummus, roasted red pepper hummus, avocado hummus, kale pesto hummus, cauliflower hummus just to name a few. There is even a recipe for delicious hummus without tahini if you don't like it, can't buy it or too expensive for you.
Hummus fits within lots of diets as it is vegan, gluten-free, nut-free, and soy-free. Check out our "Is hummus gluten-free?" guide where we listed all vegan and gluten-free brands we know of.
So what to eat with hummus?
Everything. 🙂 You would be surprised how many ways you can enjoy hummus.
Can I just say that hummus might be the world's most popular spread? Don't you agree? Whether it is because
I don't know. Maybe all of the above. So what's good with hummus?
The most popular way to eat hummus
As a dip! Without a doubt, the most popular way to enjoy hummus is to take a pita, a flatbread, a tortilla (maybe our homemade grain-free tortilla), or a cracker. Tear off a bit with your bare fingers and scoop some hummus with it. Now, eat it. It is just so good.
What to dip in hummus?
Our favorite things to dip in hummus are veggies and tortilla chips. Here are some examples we usually pair it with:
Veggies: carrot sticks, cucumber sticks, kohlrabi sticks (Oh so delicious…), celery sticks, bell pepper stripes – any veggies really that you can eat raw, but we usually eat these.
Bread: pita, flatbread, tortilla, naan, rice crackers, toast sticks, toasted bread – any type of bread that is hard enough to scoop up some hummus.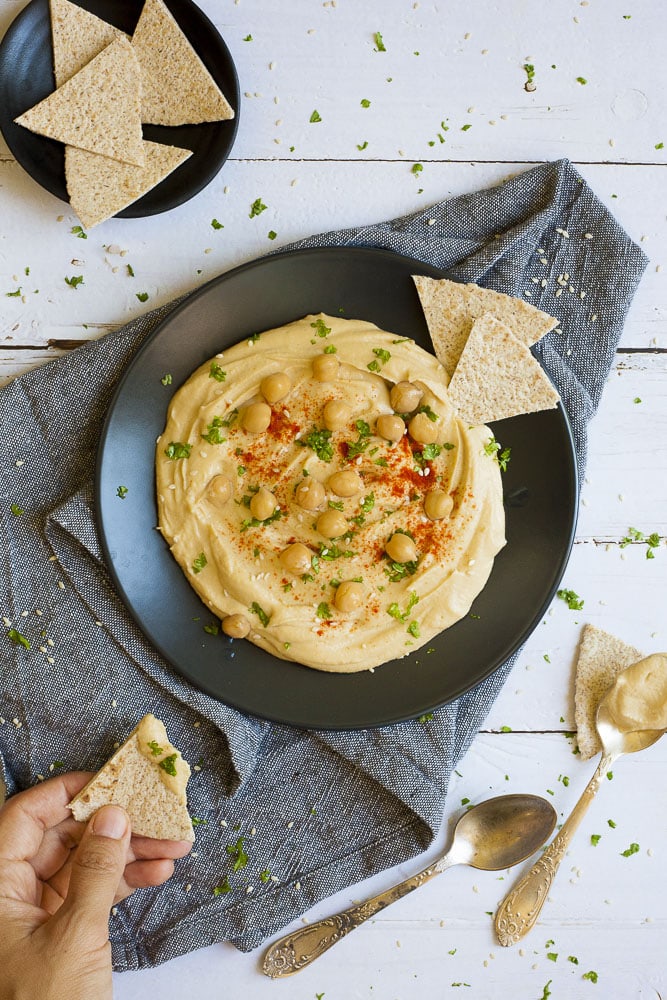 25 creative ways to eat hummus
Now, if you are over dipping veggie sticks or pita in hummus, you absolutely must try some of these recipes using hummus.
We called all of our food blogger friends to collect for you 25 delicious and creative recipes to eat hummus with. We listed below
4 appetizers,

4 breakfast sandwiches,

4 quick lunches,

4 salad bowls,

4 baked goods,

4 dinner recipes
You can mix and match to your heart's content. If you want to you can even eat hummus every day for every meal for a week. And one bonus recipe is waiting for you at the end. Hint: it is a dessert recipe.
Hummus appetizers
You can call it appetizer, finger food, or hand-held lunch box meal, these yummy ideas will be a great addition to your regular recipes. They are colorful, packed with nutritious ingredients, and absolutely delicious. Oh yes, almost forget, all of them have hummus in it.
Veggie Pinwheels
Cute, colorful finger foods that are yummy and easy to make, are the best kind. Make our Veggie Pinwheels using nothing more than tortillas, cream cheese (or in this case, hummus) and a few of your favorite veggies. Don't miss out on these – your party guests will thank you!
Hummus Spring Rolls
These Carrot Ginger Hummus Spring Rolls by Yup It's Vegan are made using seasonal veggies, rice paper sheets, and hummus with a creative twist. The result is a tasty, gluten-free Asian-inspired snack that's as pretty as it is filling!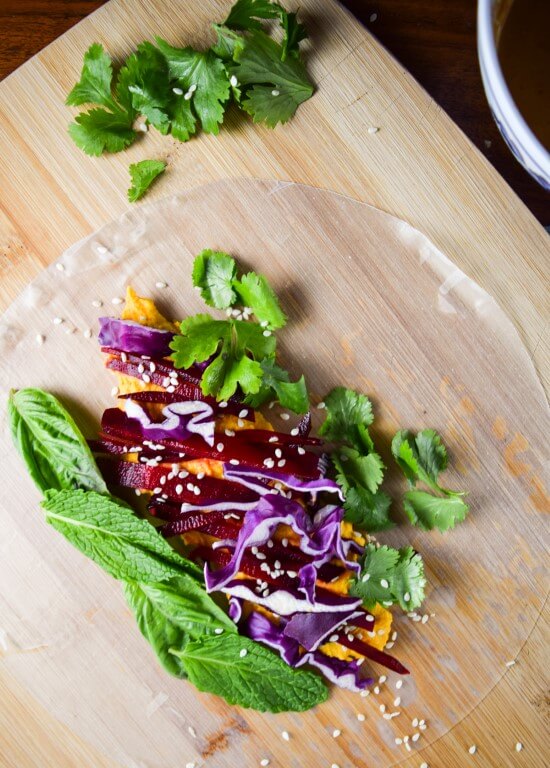 Artichoke Crostini
This super easy Artichoke Crostini with Hummus and Marinated Cashews by Cadry's Kitchen is tangy, light and full of flavor. Think layers of hummus, marinated cashews, grilled artichoke hearts (from a jar to ensure zero hassle) all arranged on top of perfectly toasted bread. Are you salivating yet? Because we are!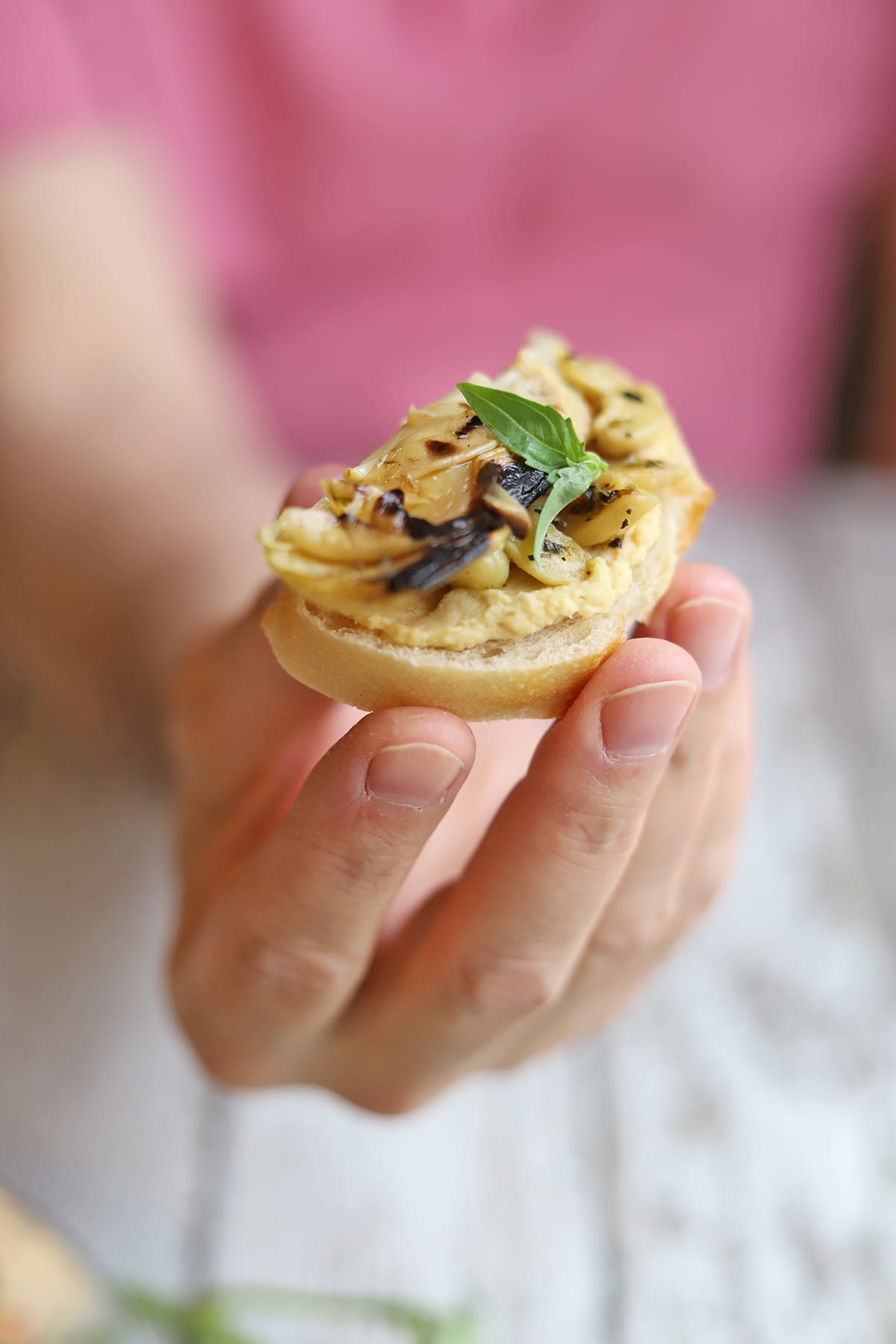 Vegan Crab Cake Sliders
Vegan "Crab" Cake Sliders with Hummus by Sunny Side Hanne are quick and easy to make, and totally nail the textures you'd want in a fried seafood entrée. Golden brown, crispy outsides and soft, melt-in-your-mouth insides made using hearts of palm, onion, chickpeas, some spare veggies and some Old Bay seasoning. And of course, hummus!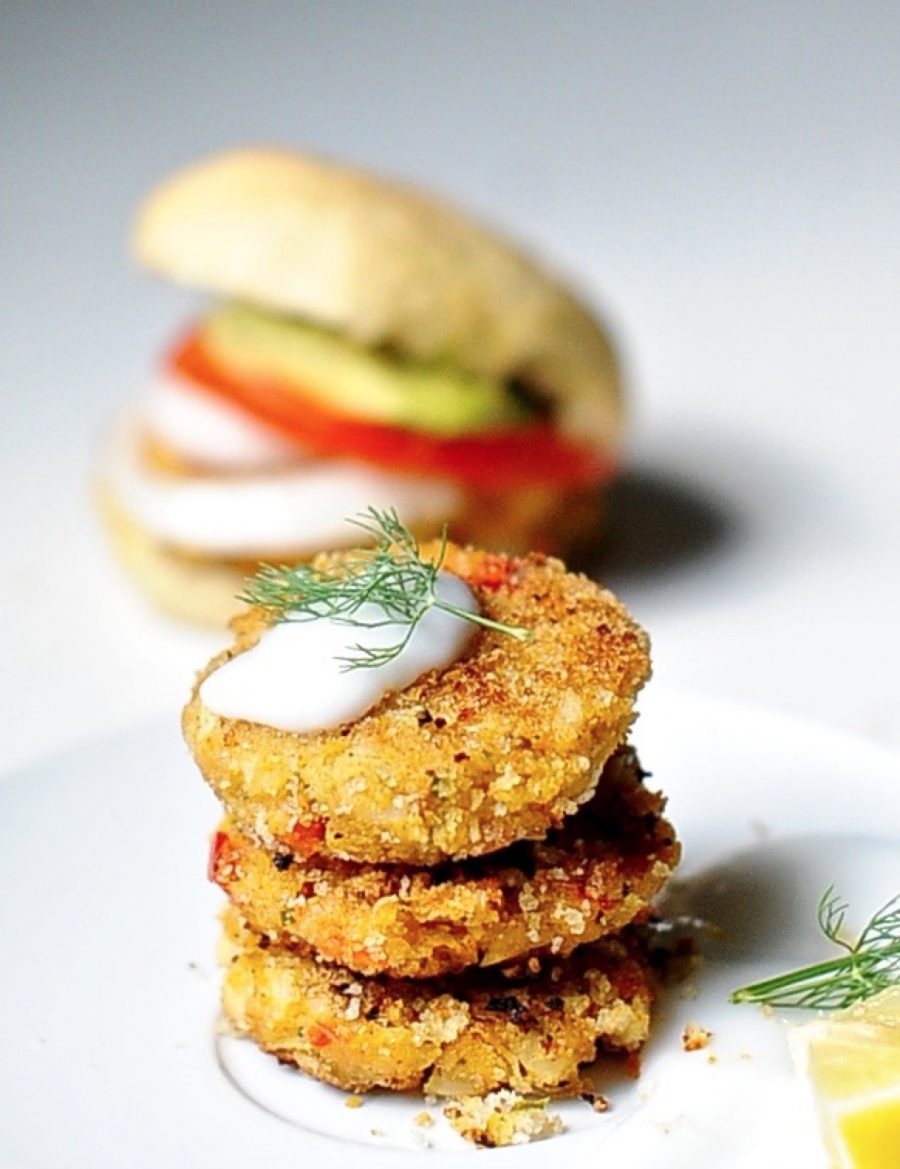 Breakfast recipes with hummus
Breakfast is an important meal and you should start your day on the right foot. These savory breakfast ideas will give you a nutritious, protein-based first meal of the day. Choose your "vessel" whether it is toast, sandwich bread, pita bread, naan, tortilla, flat bread or else. Apply a generous layer of hummus (think of flavored hummus to give it an extra pizzazz). Pack it with lots of veggies. That's all.
Roasted Butternut Chickpea Hummus Sandwich
This Roasted Butternut Chickpea Hummus Wrap by Live Eat Learn features aromatic, savory flavors wrapped up in a warm flatbread. These slightly spicy, ultra-creamy wraps use roasted butternut squash, baked chickpeas, crisp arugula and hummus for dressing. Especially perfect for winter night dinners, this quick and easy recipe will have you whipping up a tasty, filling meal in a matter of minutes.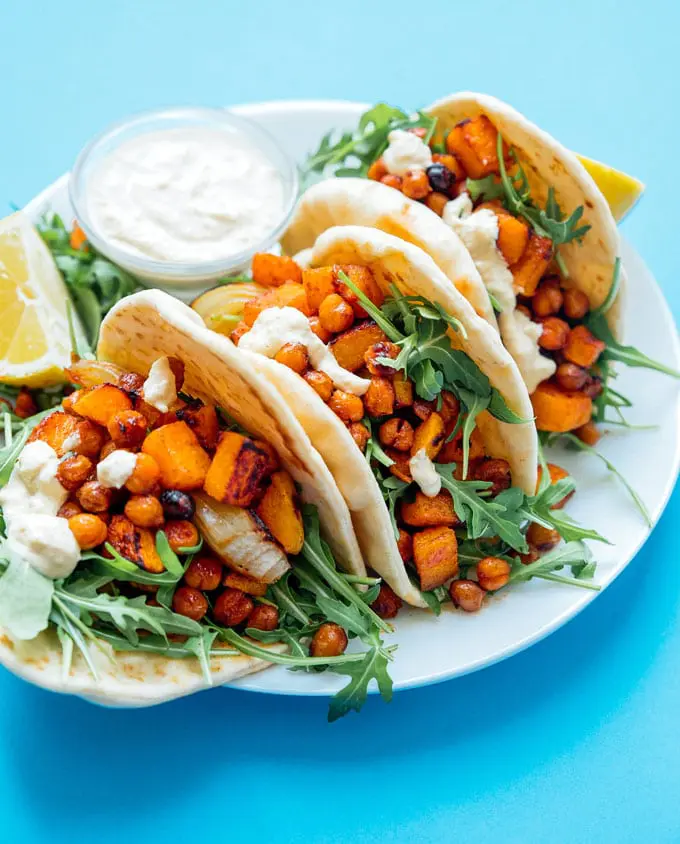 Pita Pockets
Need a lunchbox meal that transports and keeps well? Well, these colorful Pita Pockets with Roasted Veggies and Hummus by Happy Kitchen do just that, while also tasting and looking absolutely delicious. Offer these up warm or cold, for lunch or dinner. Just be prepared to have everyone asking for your recipe!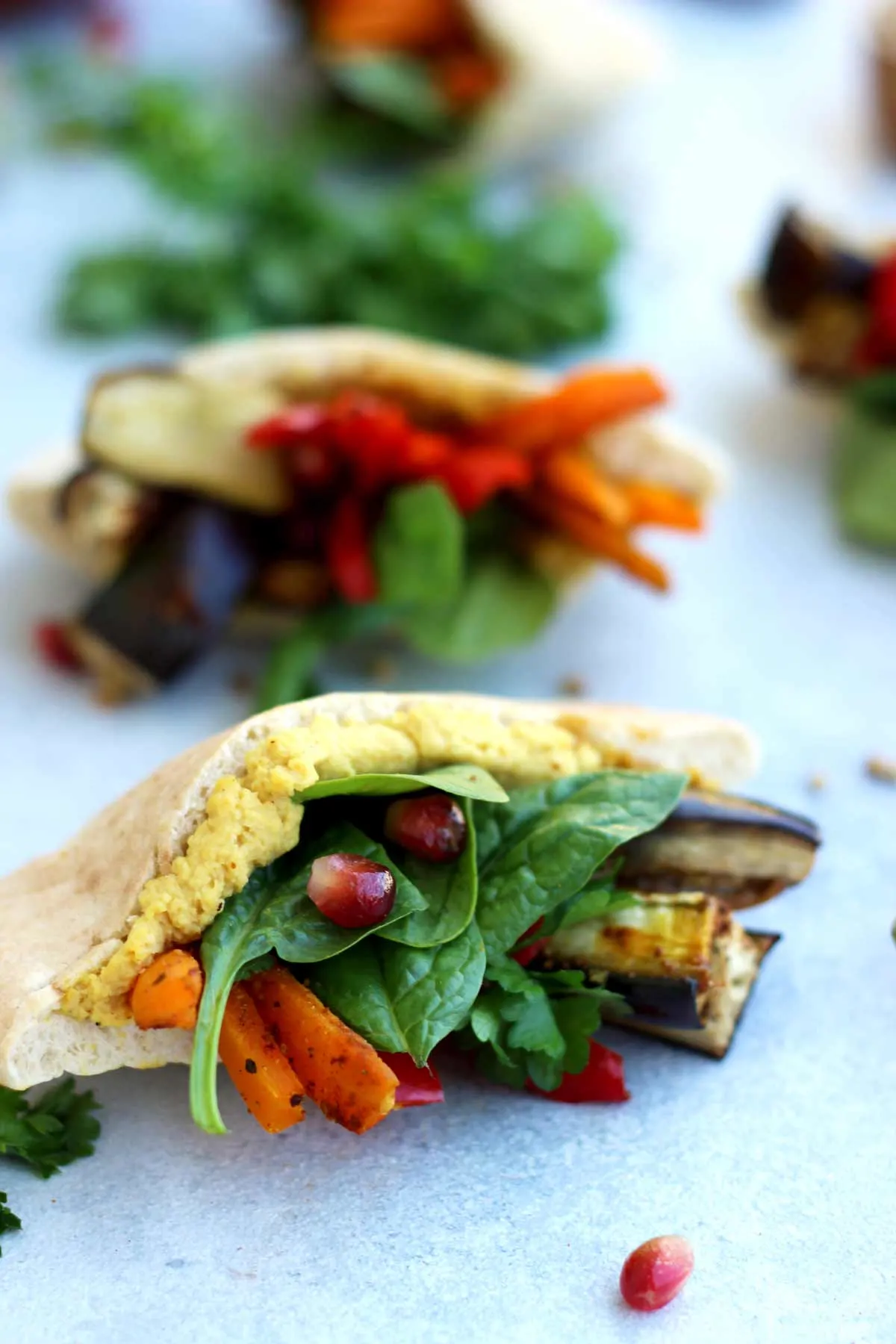 Grilled Green Goddess Wrap
Grilled Green Goddess Wraps by Strength & Sunshine are a creative combo of her easy-to-make lima bean hummus, broccoli and hearts of palm. Spread and wrap up the ingredients, grill them to perfection and you'll have the greenest, most flavorful wraps ever in all but a few minutes. These are great for packed lunches and freeze really well too.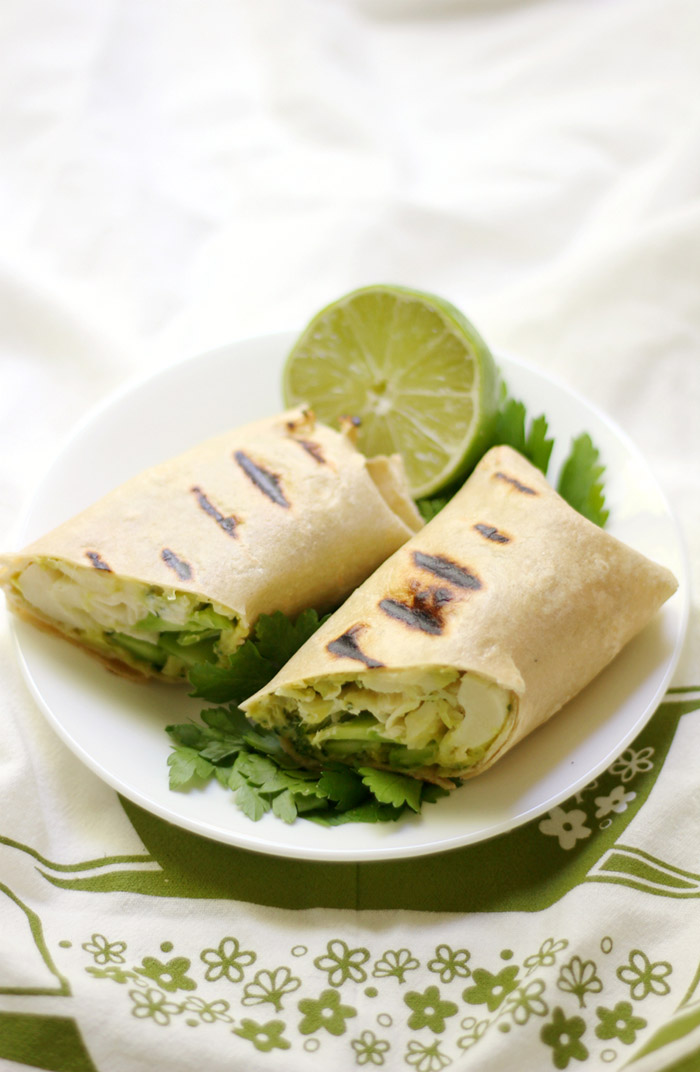 Tabbouleh Hummus Sandwich
This Tabbouleh Hummus Avocado Sandwich by Kroll's Korner is full of healthy fats and wholesome ingredients, and couldn't be easier to make. Once you have the tabbouleh hummus out of the way and in the fridge, it's just about layering the ingredients with the spread on two slices of bread. If you are looking for a veggie sandwich alternative, this sandwich is the one for you!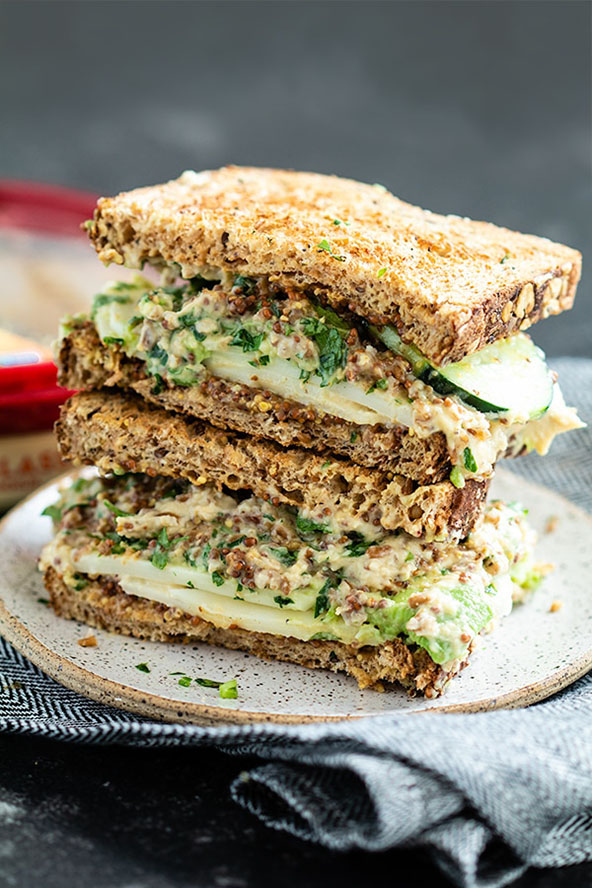 Quick lunch recipes with hummus
We are warming up and getting even more creative. Are you fed up with regular tomato-based pasta sauces? Hummus for pasta sauce anyone? My favorite hummus pasta is with sun-dried tomatoes, olives and dairy-free feta cheese (recipe is available in our cookbook). So yummy! But there are more. Add hummus to soups for an extra protein kick.
Creamy Butternut Squash Hummus Pasta
This Creamy Butternut Squash Hummus Pasta recipe by Hungry Healthy Happy uses hummus and spaghetti, topped with arugula for a peppery kick. Garnish it with some chili flakes, and it's really just as simple as that! Using roasted butternut squash hummus not only adds some hidden vegetables to the dish but also a pop of color, making it ideal for serving to picky kids.
Jalapeno Hummus Corn Chowder
This Jalapeno Hummus Corn Chowder by Byte Sized Nutrition is a dairy-free meal that is warm, tangy and wholesome. Many traditional chowders are high-fat and a calorie bomb but not this one. That's because hummus works wonderfully when used in combination with potato for both consistency and nutrition.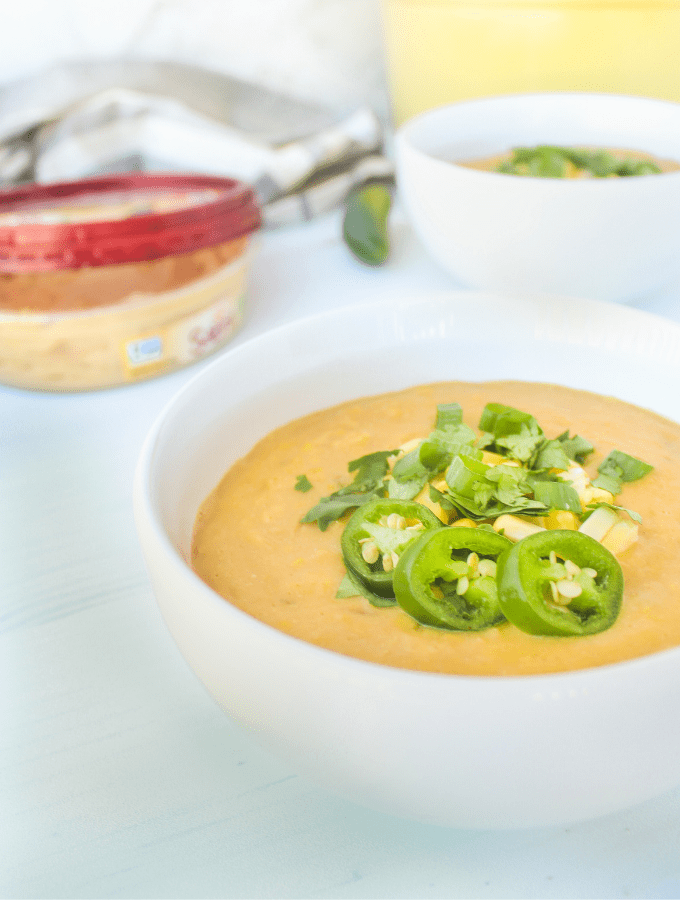 Hummus Quesadilla
Spinach Mushroom Hummus Quesadilla by Lively Kitchen are made with sautéed veggies and hummus for a hearty balance of saturated fats, fiber, and plant-based protein. Pack the ingredients into your favorite tortilla wrap and you'll have a deliciously satisfying meal in no time! Serve them up with guacamole, salsa, plain Greek yogurt or sour cream and enjoy!
Creamy Hummus Pasta
Bare pantry? That's nothing to worry about when you've got the 5-ingredient Creamy Hummus and Greens Pasta by Occasionally Eggs up your sleeve. Whip up a scrumptious lunch in minutes with nothing more than hummus, your vegetables of choice and pasta.
Hummus as Salad Dressing
Who would have thought that hummus can be a delicious salad dressing as well? You can make it thinner by adding vinegar or lemon juice or olive oil. Or just add it as it is right from the package or from the blender. Hummus goes great with nourish bowls and Buddha bowls packed with veggies, grains, legumes and mixed greens. Not only fresh salads, but think of roasted or veggie salads as well, hummus is perfect with grilled eggplants, zucchini, cauliflower and so on.
Zoodles with Hummus Dressing
Zoodles with Roasted Red Pepper Hummus Dressing by Rachel Cooks is made special with a simple dressing of hummus and red wine vinegar. Your choice of veggies doused in a creative, low-cal, creamy dressing – how good does that sound!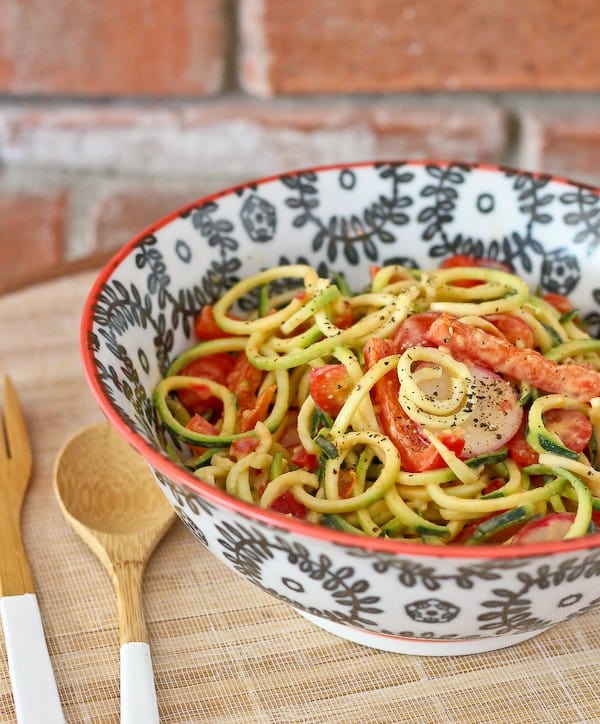 High Protein Salad with Hummus
This High Protein Fresh Salad with Hummus by The Live-In Kitchen is as beautiful as it is filling and flavorful. A bowl full of fresh vegetables, hemp seeds, leafy greens and a dollop of hummus will leave you wondering how you ever thought salads were boring!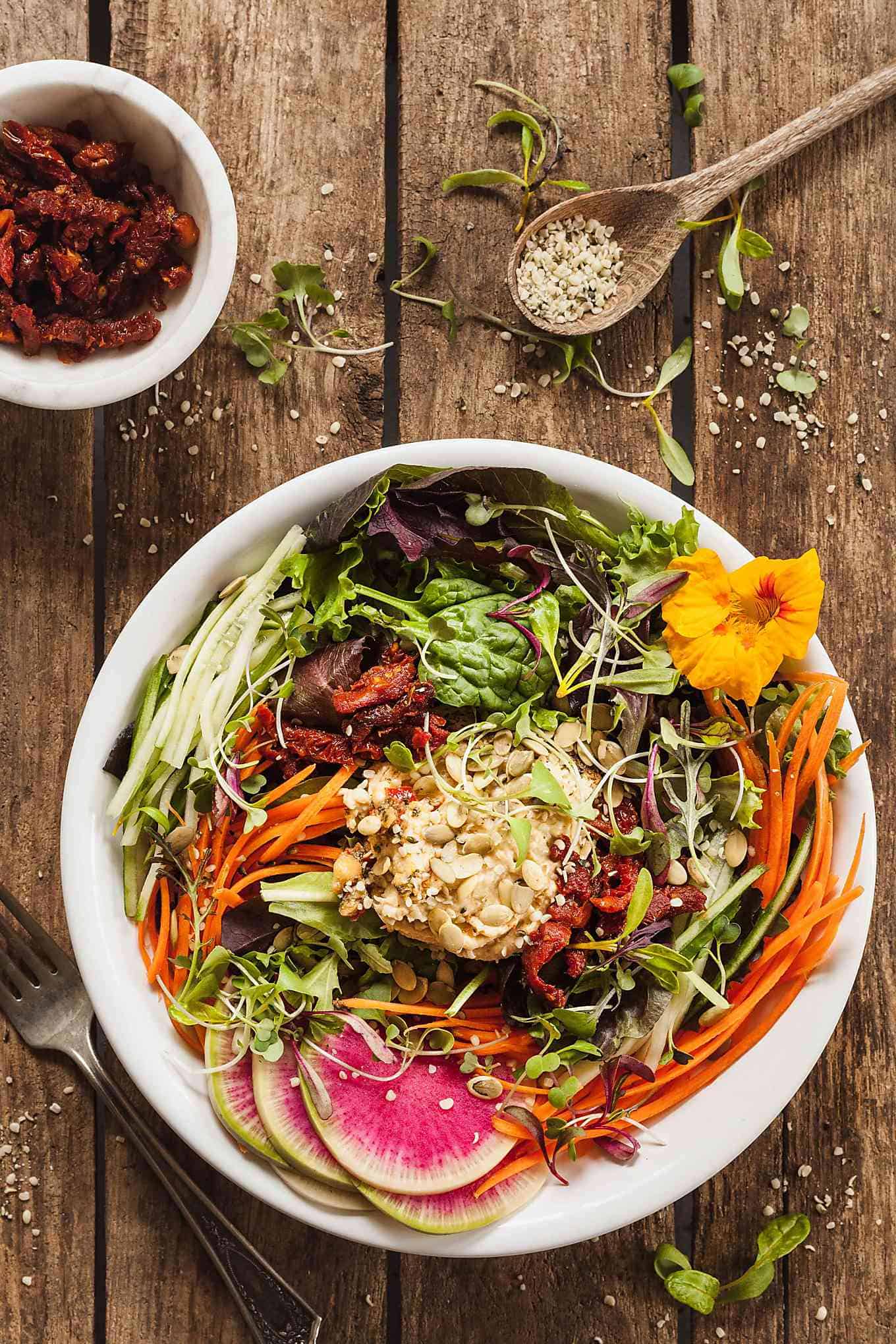 Roasted Cauliflower Salad
Combining flavors from green olives, sweet onions, hummus and watercress, this Roasted Cauliflower Salad with Hummus by The Cook Report will delight your taste buds and leave you feeling thoroughly satiated. Served either warm or cold, as a light lunch or as a side for dinner – it simply ticks all the boxes, and there's no going wrong when you've got this on the menu!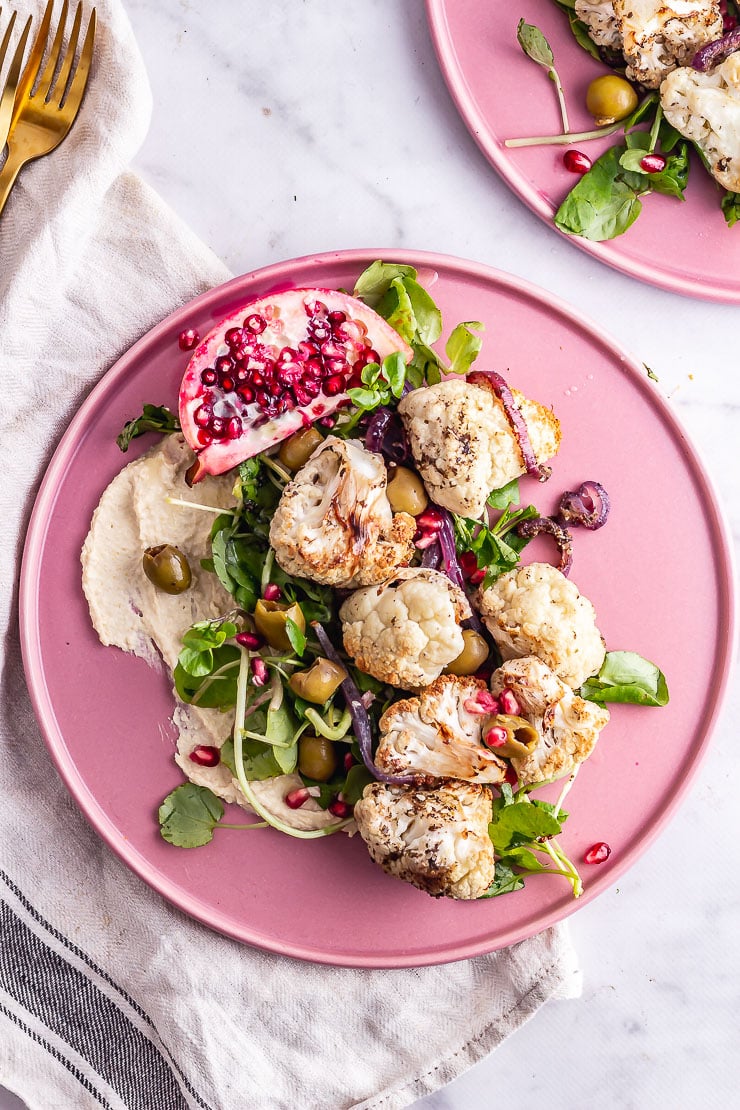 Roasted Winter Veggie Quinoa Bowl
Delve into your own version of Roasted Winter Vegetable Quinoa Bowl with Basil Hummus Dressing by Whole Food Bellies by playing around with the quantities of roast veggies, quinoa and toppings you use. Some of them can be chopped walnuts, hemp seeds and chopped shallots. Just don't skip or skimp on the basil pesto hummus. You'll thank us later!
Baking with Hummus
Are you bored with tomato-based quick dinner recipes? They are popular for a reason but if you want to mix it up, grab some hummus. Spread it on your pizza crust or flatbread or puff pastry, add you favorite toppings and bake. Warm, delicious and nutritious dinner. You can also think of hummus and thinking of pasta bake recipes. They make a creamy, rich and filling dinner.
Hummus Pizza
Our delectable Mediterranean Hummus Pizza is a twist on the classic pizza we all know and love, with ingredients like olives, feta, fresh basil and cherry tomatoes on top of a luscious hummus sauce. We have included all sorts of options to choose between for vegetables and toppings making this a must-try for every type of pizza lover.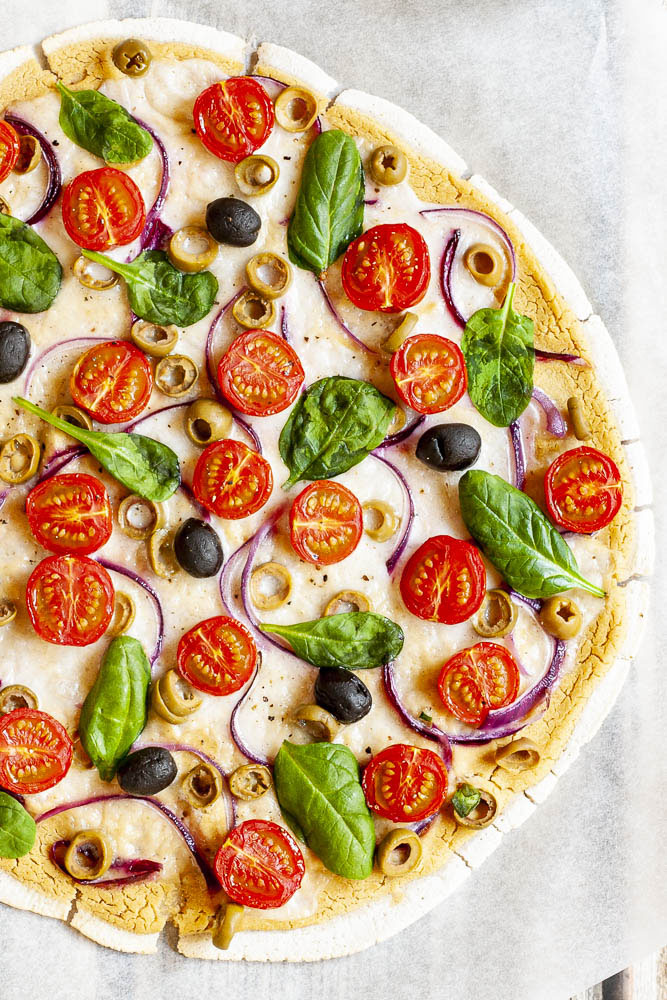 Hummus and Carrot Tart
Hummus and carrot is a match made in heaven. Add to it a crispy puff pastry base covered in caramelised onions, and what you've got is a divine masterpiece in a dish. This Hummus and Carrot Tart recipe by Thinly Spread is perfect for brunch or as a colorful part of your Christmas buffet table. So give it a try and make it a regular on your family's special's menu!
Veggie Pasta Bake
Loaded with 20 grams of protein per serving, this creamy High Protein Vegan Pasta Bake by Meals with Maggie certainly delivers on its promise. The dish is made of tofu, nutritional yeast, hummus and chickpea noodles, making it a filling, tasty and wholesome meal, especially perfect for fall time.
Spicy Thai Flatbread
This Spicy Vegetable Thai Flatbread by Erica's Recipes will entice your guests, while also preserving your sanity on account of being so easy to make. In this recipe, crispy flatbread is loaded with succulent mushrooms, zucchini and squash on top of an exotic gourmet pizza sauce made of hummus!
Make dinner with hummus
There are so many ways you can boost your dinners with extra flavor or just create a twist for a classic dish. Stuff your sweet potato, squash, eggplant, zucchini or whatever veggies you like with hummus, add your favorite toppings and bake. Add hummus to lasagna or risotto to make it creamier, richer and even more filling. Hummus is also a great addition to veggie burgers, gives them moisture and extra nutrients. How can you reject a chickpea burger like the one on the below picture?
One-bowl Hummus Chickpea Burger
These easy Hummus Chickpea Veggie Burgers by Kitchen Treaty require no food processor and are ridiculously easy to make. Just mix a can of chickpeas, hummus, a handful of ingredients, and sauté in a pan. Tasty, filling and loaded with protein, these burgers will be the perfect main for your family burger night!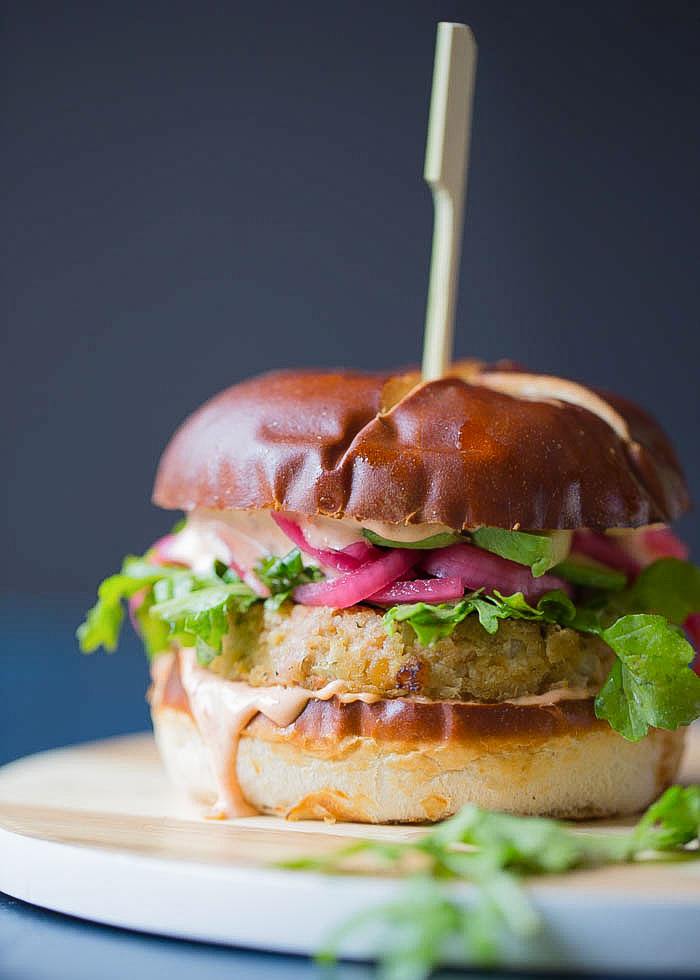 Grilled Stuffed Sweet Potatoes
Grilled Southwest Stuffed Sweet Potatoes with BBQ Hummus – say what?! That's a mouth-full to say and eat, and all for all the right reasons. This delish dish by The Endless Meal is made by grilling half-cut sweet potatoes until they're tender, and then topping them with a hearty serving of creamy hummus and southwest flavor inducing toppings. These work great for dinner as well as for a side to whatever you've got on the grill.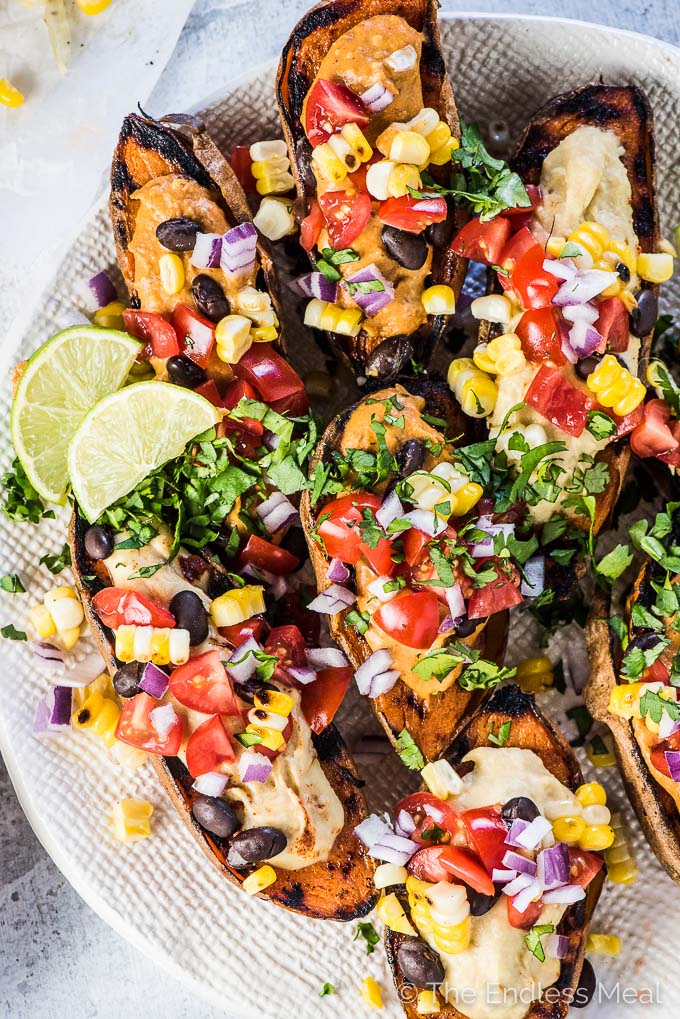 Mushroom Hummus Risotto
Mushroom Hummus Risotto by V Nutrition is one of those dishes that looks like it takes hours to make but actually takes only 10 minutes! Use pre-cooked rice, mushrooms, and hummus for the creaminess and you've got a unique risotto that'll have all the rest making a run for their money.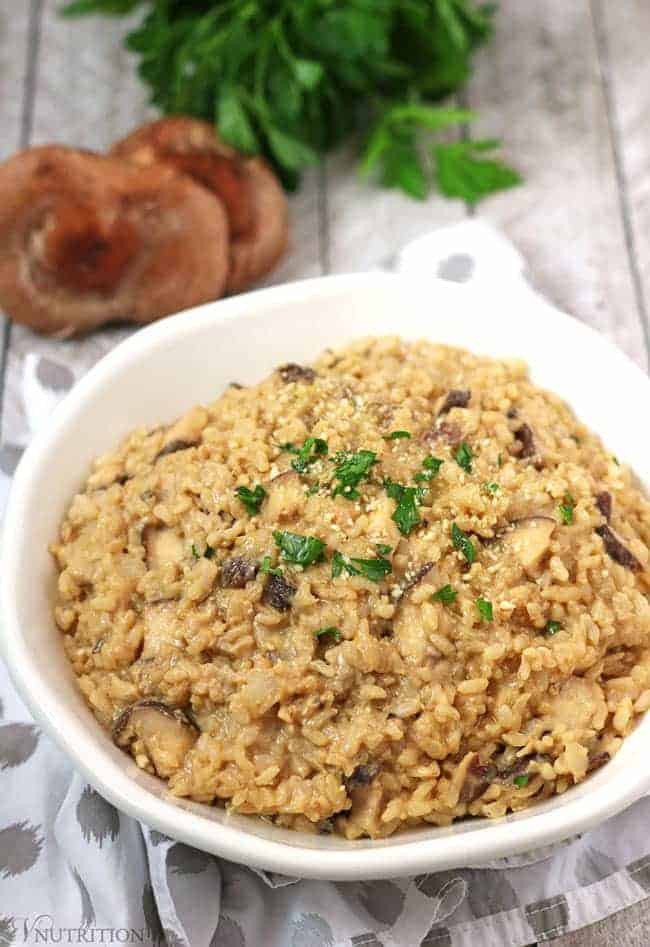 Hummus Lasagna
Running late and need a dump and cook recipe that is fool-proof but still absolutely delicious and homely? This Vegan Hummus Lasagna recipe by The Taste Space is what you're looking for. Made with pasta, basil, cauliflower, marinara sauce, tofu and hummus as its main ingredients, this one is a sure shot hit and is sure to become a regular in the household!
Bonus recipe: Dessert Hummus
Oh yes. You can even make desserts with hummus. Not to mention such a decadent chocolate one. Dip your strawberries in it and you will make it over and over again. Here is a yummy Chocolate Hummus from Recipes from a Pantry (pictured below).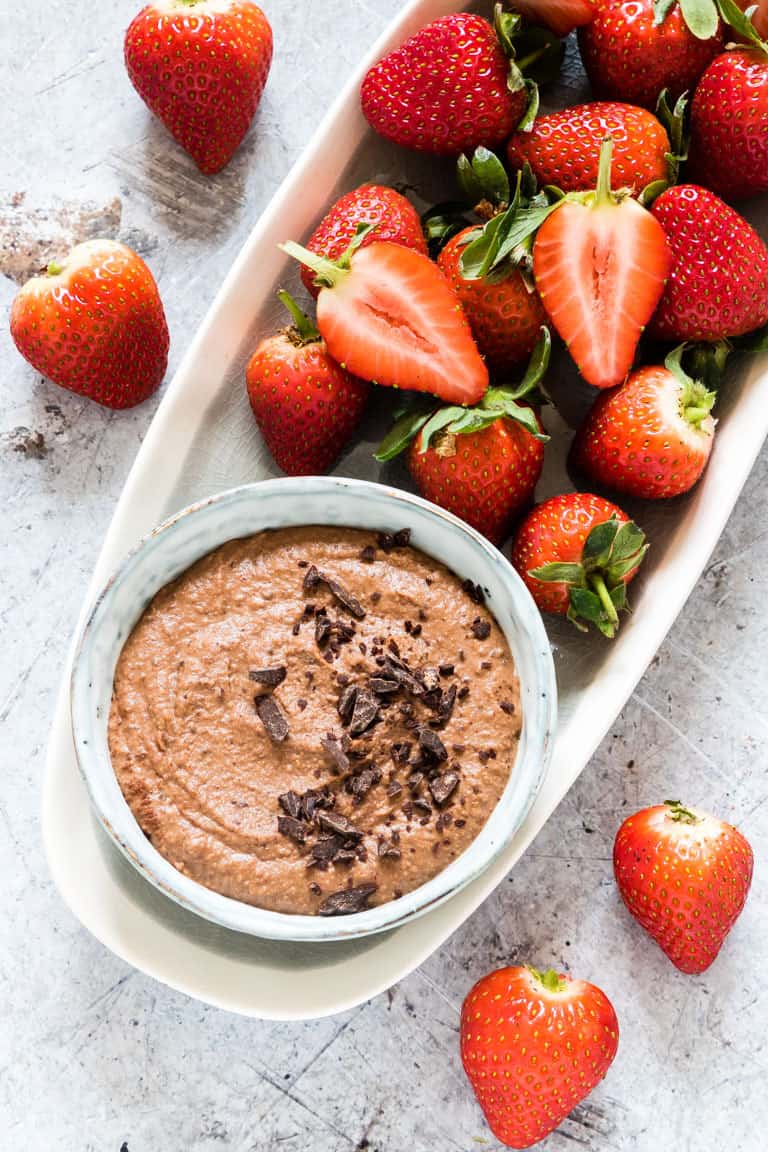 Let us know in the comments what is your favorite way to eat hummus!
Even more what to serve with ideas