What to eat with hummus? Well, you probably already know that hummus is damn delicious. Dipping veggies and crackers in it are just heavenly, but need more ideas? Okay, but what's good with hummus? Maybe something healthy? We collected 25 healthy, delicious, vegan and gluten-free recipes to use hummus in creative ways.
What is hummus?
Do I really need to start with what is hummus? I hope not. But just in case you haven't come across one of the most versatile and nutritious dips of all time.
The main ingredients of the classic, traditional hummus are
cooked and mashed

chickpeas

aka garbanzo beans aka grams,

tahini

, which is toasted sesame seeds blended into a paste
fresh garlic,
fresh lemon juice,
extra virgin olive oil, and
salt.
However, you can find so many flavored hummus as well: beetroot hummus, roasted red pepper hummus, avocado hummus, kale pesto hummus, cauliflower hummus just to name a few. There is even a recipe for delicious hummus without tahini if you don't like it, can't buy it or too expensive for you.
Hummus fits within lots of diets as it is vegan, gluten-free, nut-free, and soy-free. Check out our "Is hummus gluten-free?" guide where we listed all vegan and gluten-free brands we know of.
So what to eat with hummus?
Everything. 🙂 You would be surprised how many ways you can enjoy hummus.
Can I just say that hummus might be the world's most popular spread? Don't you agree? Whether it is because
I don't know. Maybe all of the above. So what's good with hummus?
The most popular way to eat hummus
As a dip! Without a doubt, the most popular way to enjoy hummus is to take a pita, a flatbread, a tortilla (maybe our homemade grain-free tortilla), or a cracker. Tear off a bit with your bare fingers and scoop some hummus with it. Now, eat it. It is just so good.
What to dip in hummus?
Our favorite things to dip in hummus are veggies and tortilla chips. Here are some examples we usually pair it with:
Veggies: carrot sticks, cucumber sticks, kohlrabi sticks (Oh so delicious…), celery sticks, bell pepper stripes – any veggies really that you can eat raw, but we usually eat these.
Bread: pita, flatbread, tortilla, naan, rice crackers, toast sticks, toasted bread – any type of bread that is hard enough to scoop up some hummus.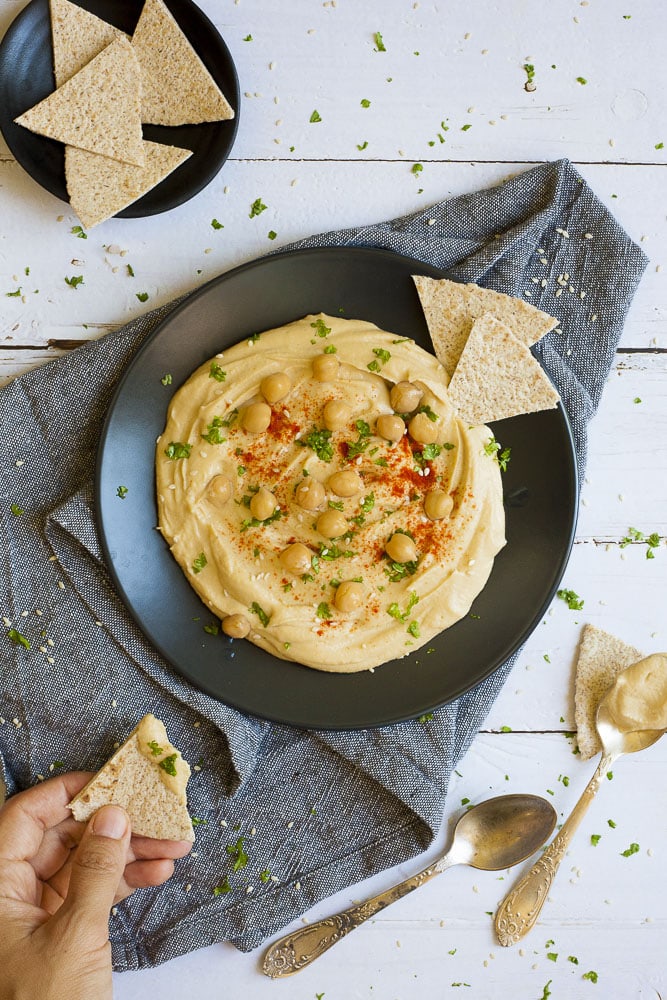 25 creative vegan recipes to eat hummus
Now, if you are over dipping veggie sticks or pita in hummus, you absolutely must try some of these recipes using hummus.
We called all of our food blogger friends to collect for you 25 delicious and creative recipes to eat hummus with. All recipes are vegan or vegetarian and gluten-free or provide you with a gluten-free option.
We listed below
4 appetizers,

4 breakfast sandwiches,

4 quick lunches,

4 salad bowls,

4 baked goods,

4 dinner recipes
You can mix and match to your heart's content. If you want to you can even eat hummus every day for every meal for a week. And one bonus recipe is waiting for you at the end. Hint: it is a dessert recipe.
Hummus appetizers
You can call it appetizer, finger food, or hand-held lunch box meal, these yummy ideas will be a great addition to your regular recipes. They are colorful, packed with nutritious ingredients, and absolutely delicious. Oh yes, almost forget, all of them have hummus in it.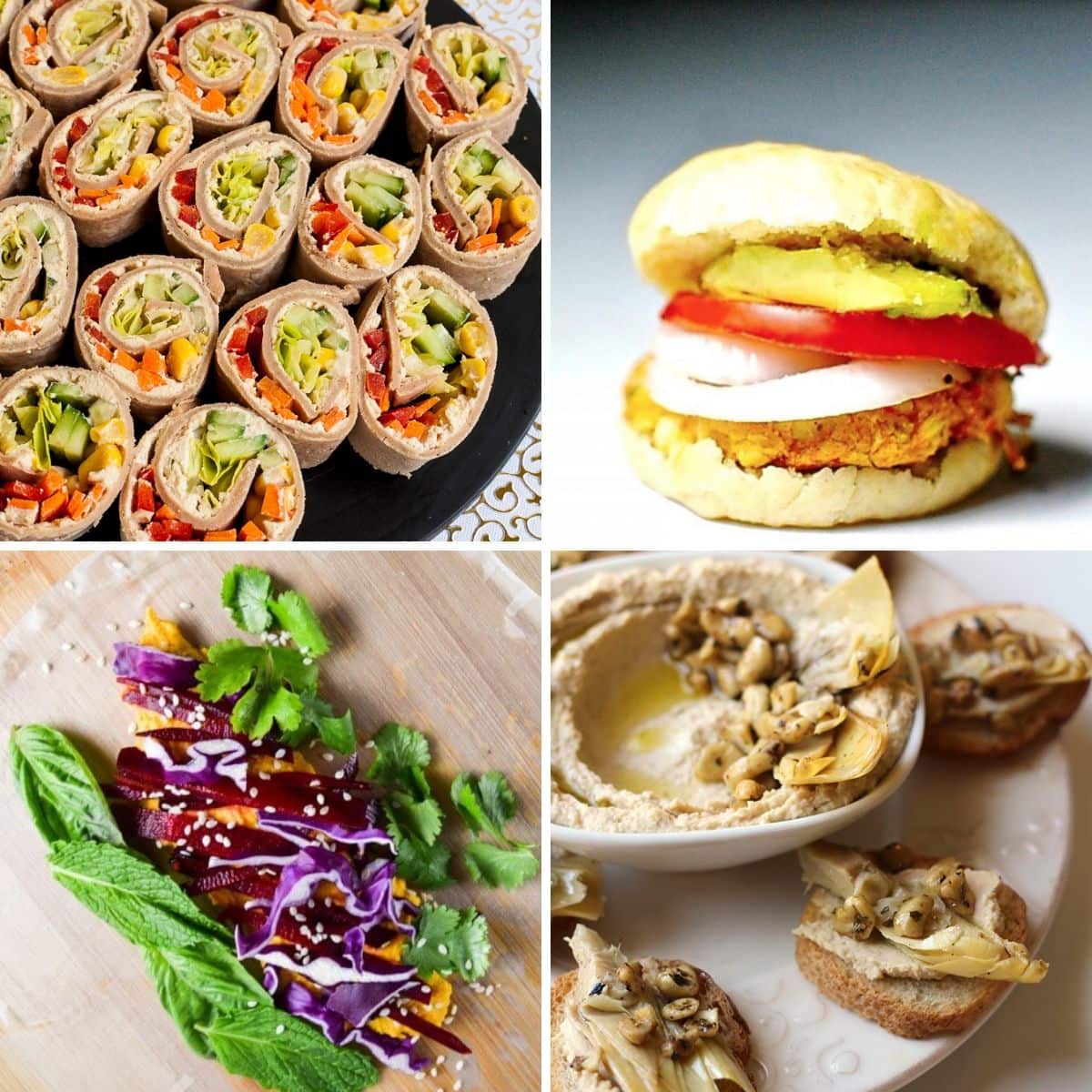 Breakfast recipes with hummus
Breakfast is an important meal and you should start your day on the right foot. These savory breakfast ideas will give you a nutritious, protein-based first meal of the day. Choose your "vessel" whether it is toast, sandwich bread, pita, naan, tortilla, flat bread or else. Apply a generous layer of hummus (think of flavroed hummus to give it an extra pizzazz). Pack it with lots of veggies. That's all.
Quick lunch recipes with hummus
We are warming up and getting even more creative. Are you fed up with regular tomato-based pasta sauces? Try hummus instead. My favorite hummus pasta is with sun-dried tomatoes, olives and vegan feta cheese. So yummy! But there are more. Add hummus to soups for an extra protein kick.
Hummus as Salad Dressing
Who would have thought that hummus can be a delicious salad dressing as well? You can make it thinner by adding vinegar or lemon juice or olive oil. Or just add it as it is right from the package or from the blender. Hummus goes great with nourish bowls and Buddha bowls packed with veggies, grains, legumes and mixed greens. Not only fresh salads, but think of roasted or veggie salads as well, hummus is perfect with grilled eggplants, zucchini, cauliflower and so on.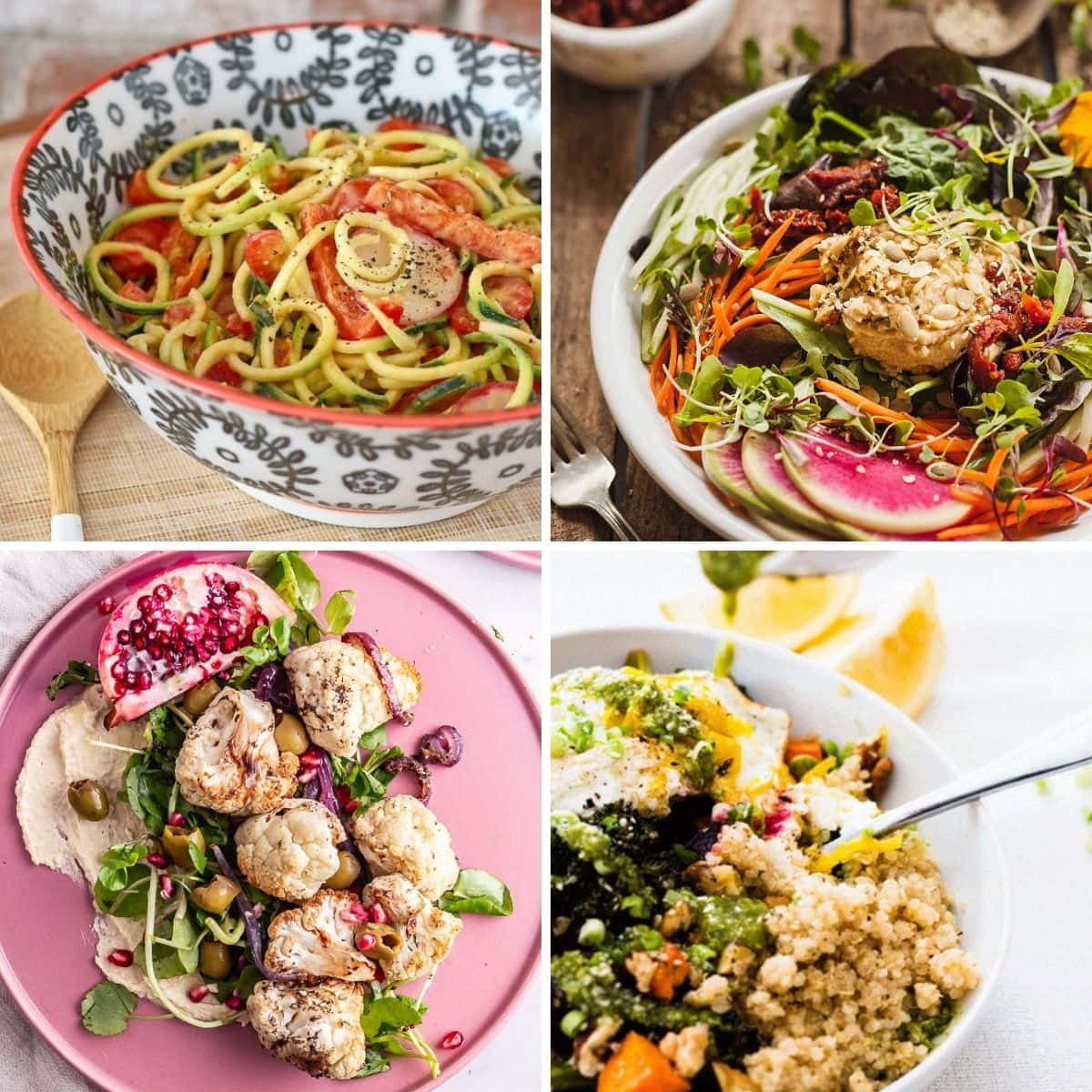 Baking with Hummus
Are you bored with tomato-based quick dinner recipes? They are popular for a reason but if you want to mix it up, grab some hummus. Spread it on your pizza crust or flatbread or puff pastry, add you favorite toppings and bake. Warm, delicious and nutritious dinner. You can also think of hummus and thinking of pasta bake recipes. They make a creamy, rich and filling dinner.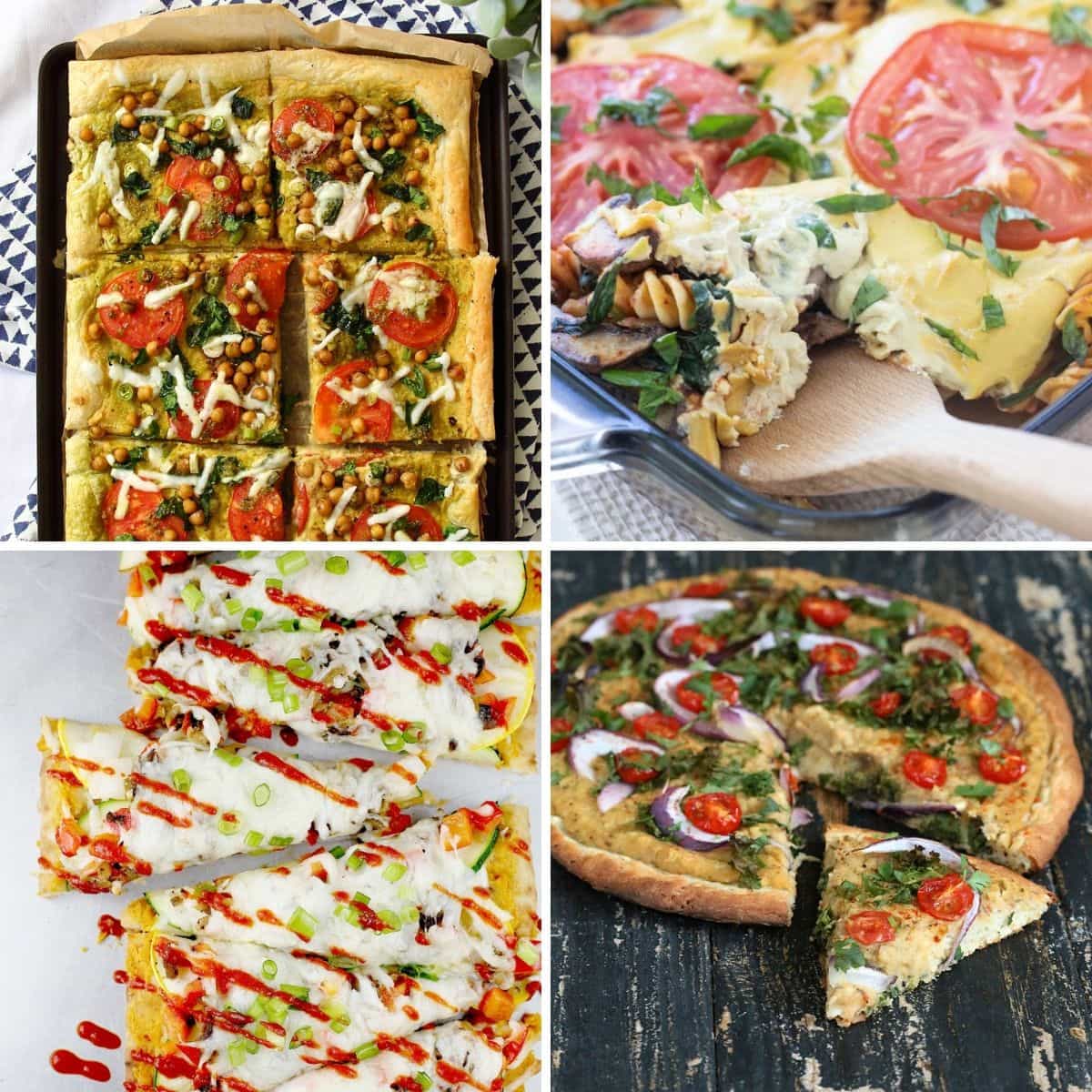 Make dinner with hummus
There are so many ways you can boost your dinners with extra flavor or just create a twist for a classic dish. Stuff your sweet potato, squash, eggplant, zucchini or whatever veggies you like with hummus, add your favorite toppings and bake. Add hummus to lasagna or risotto to make it creamier, richer and even more filling. Hummus is also a great addition to veggie burgers, gives them moisture and extra nutrients. How can reject a chickpea burger like the one on the below picture?
Bonus recipe: Dessert Hummus
Oh yes. You can even make desserts with hummus. Not to mention such a decadent chocolate one. Dip your strawberries in it and you will make it over and over again. Here is a yummy Chocolate Hummus from Recipes from a Pantry (pictured below).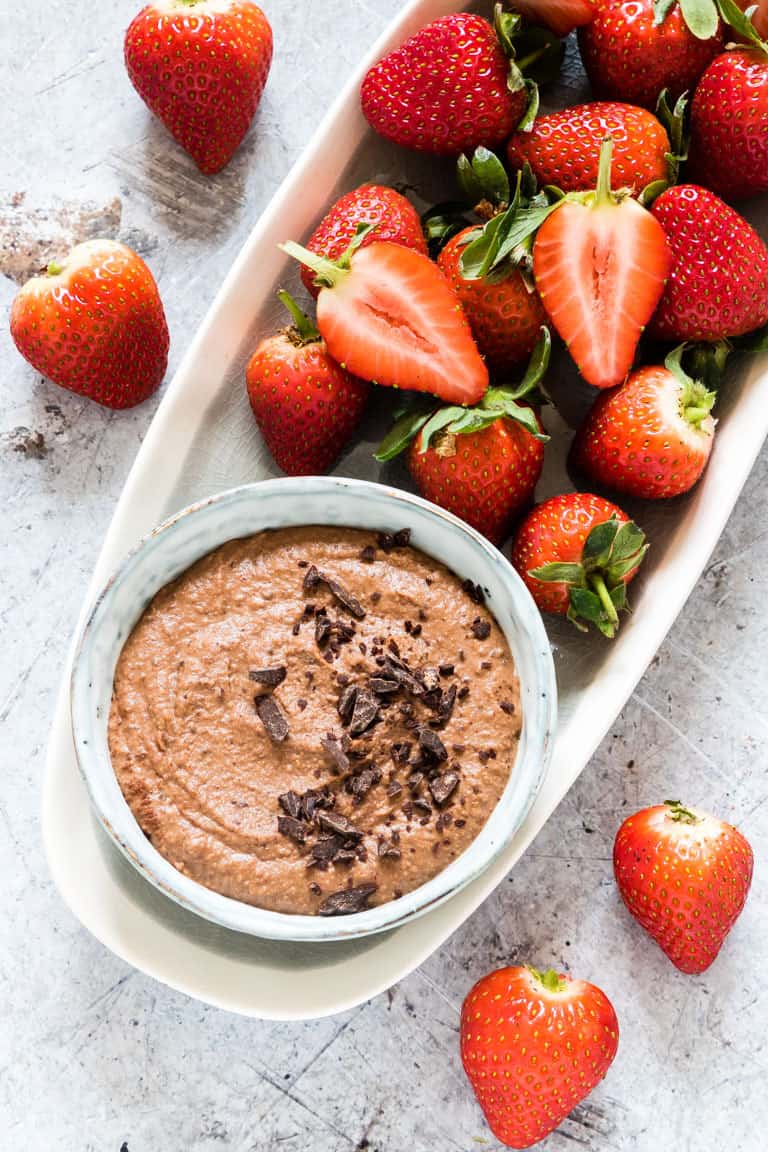 Let us know in the comments what is your favorite way to eat hummus!