These Veggie Pinwheels with Cream Cheese are such an easy and stunning appetizer that they are the FIRST things to go every time. Not only that, but they are also a perfect addition to any back to school lunch box or breakfast table. Veggie loaded and quick to make. What else do you need?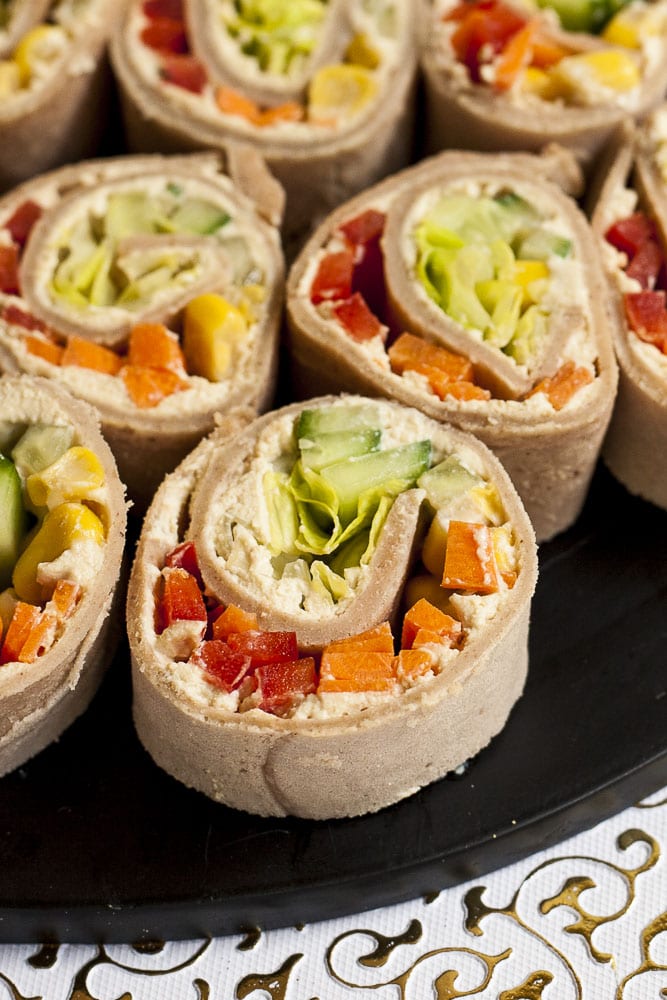 We love savory breakfasts, not to mention quick savory recipes. On a busy weekday, we make sandwiches with 5-minute Oil-free Hummus or 5-minute Tofu Cream Cheese then load them with a rainbow of veggies. If we plan ahead, we can mix things up and make one of our Smoky Roasted Eggplant Dip.
What are veggie pinwheels?
Pinwheels are these cute little tortilla roll-ups filled with your favorite spread and filling. My husband calls them sushi look-a-likes. I call them chameleons, as they change colors depending on your mood or on what you have in your pantry. You can't go wrong by making pinwheels if you have these 3 main ingredients:
So do you wanna make people-go-crazy-about-it vegetable pinwheels?
All right. In short, take a large tortilla, add a generous layer of your favorite spread and then arrange your favorite veggies on top. Roll the tortilla up tightly, chill, cut and impress your party guests.
Ingredients
Out of all the vegetarian pinwheels, let us show you how to make a cream cheese pinwheels packed with a rainbow of fresh vegetables.
tortilla of your choice (we used this Grain-free Tortilla recipe)
cream cheese of your choice (we used this Tofu Cream Cheese recipe)
red bell pepper
corn (fresh or canned)
cucumber
carrots
lettuce
This recipe also started out as a breakfast. When I finally perfected a Flourless Tortilla recipe, I really wanted for my 4-year old daughter to try it. There was no way she would eat a whole tortilla wrap, so I cut them into pinwheels. And all of a sudden they were a hit and quickly became a requested snack for family gatherings.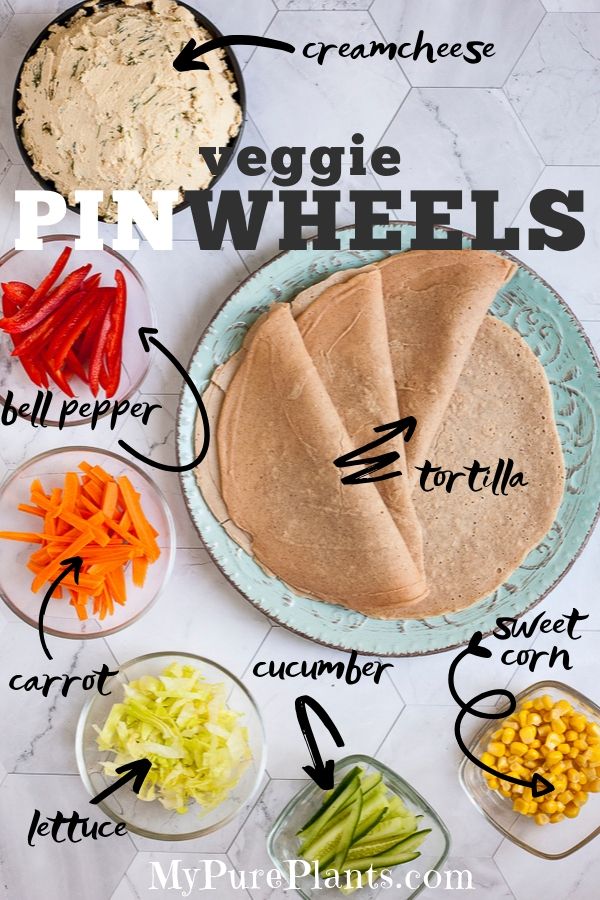 Can I add more veggies?
I mix and match depending on what do I have available. To fully pack and successfully roll up the tortilla we recommend keeping the number of different veggies to 5-6. These are some of our favorite add-ins:
bell peppers in all color,
shredded purple cabbage (any cabbage really, but purple is especially fun due to its lovely color),
fresh spinach leaves, arugula or kale (although kale can be bitter if you eat it raw)
spring onion, scallion, or chives
daikon radish (thinly sliced or cut to matchsticks)
olives (my husband loves them)
Let us know in the comments what is your favorite combination.
How to prepare veggies for pinwheels?
As a golden rule for making pinwheels you need to take into consideration that you will roll the tortilla up as a burrito and then cut them into inch-size pinwheels, so you should cut all of your chosen veggies thin and long. We recommend using a mandolin especially a multi-blade mandolin* which makes cutting julienne-style easy and quick.
Cut bell pepper to stripes
If you consider bell pepper as a cube, then first cut off all four sides of this cube. Lay it flat with skins up and cut nice, thin stripes approx. ¼ inch wide (about 5 mm).
Julienne carrots
I have a Sauteed Julienne Carrots recipe, where I explain it in detail which carrots to choose and how to cut carrots julienne-style. In short, choose young carrots, not baby carrots. Cut them in half to have approx. 4-inch long (approx. 10 cm) carrot stalks. Then, cut them in quarters vertically ¼-inch thick (approx. 5 mm).
Cut cucumbers to stripes
Slice through the length of the cucumber to create columns that are approx. 4 inches long (about 10 cm). Now, slice them length-wise to create thin cucumber slices (about 2-3 mm). Finally, take each slice and cut them to matchsticks.
Shred lettuce
We usually go with iceberg or romaine lettuce. You can definitely use a pre-shredded lettuce mix for a quicker finish.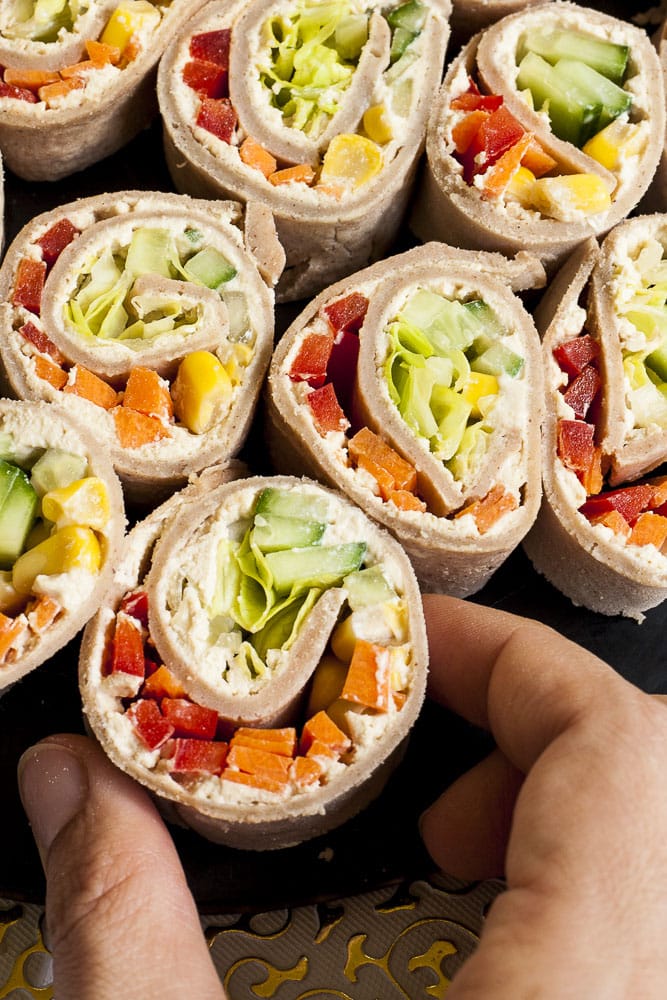 How to make veggie pinwheels with cream cheese?
Collect all your prepared and cut vegetables and arrange them in small bowls for easy access.
Take your favorite brand of tortilla and lay it flat. (On the photos and in the video we use Flourless Tortilla recipe)
Add a generous layer of cream cheese and coat your tortilla entirely. (On the photos and in the video we use our homemade Vegan Cream Cheese)
Add the veggies starting from the bottom up until the top. Leave a little room at the bottom and at the top so the tortilla roll-up can stick together.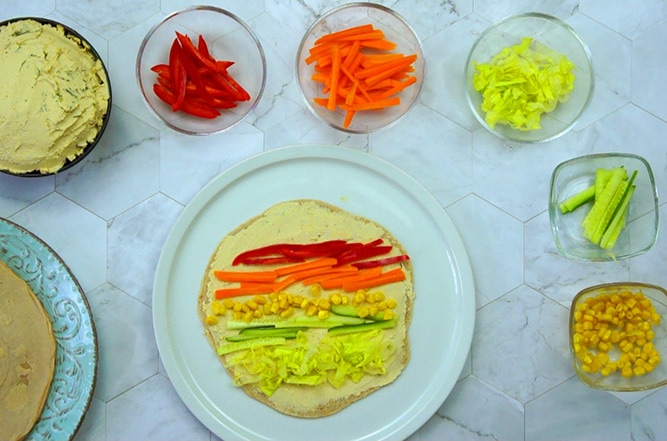 When your tortilla is all filled up, roll it tightly.
Depending on the cream cheese you use, you might need to chill the tortilla roll ups (covered in saran wrap/cling foil) in the fridge to set them completely.
Cut them approx. 1-1.5 inch (about 2-3 cm) before serving. If you want to prepare them the day before, cover them up tightly with saran wrap/cling foil or pack them up to an airtight container.
The last step is to amaze your kids when they open up their lunch boxes or impress your party when you serve this gorgeous pinwheels as an appetizer.
Top tips to make it perfect every time
Don't stack your veggies, try to arrange them in thin layers.
Don't cut them too short or they might fall out of the pinwheels.
Apply a generous layer of cream cheese, so the veggies don't fall out (this is especially true for corn).
Roll the tortilla up tightly. The tighter it is the nicer will be the pinwheels.
Discard the end pinwheels… Khm… I mean eat the end pinwheels. They are yummy, but usually not good looking.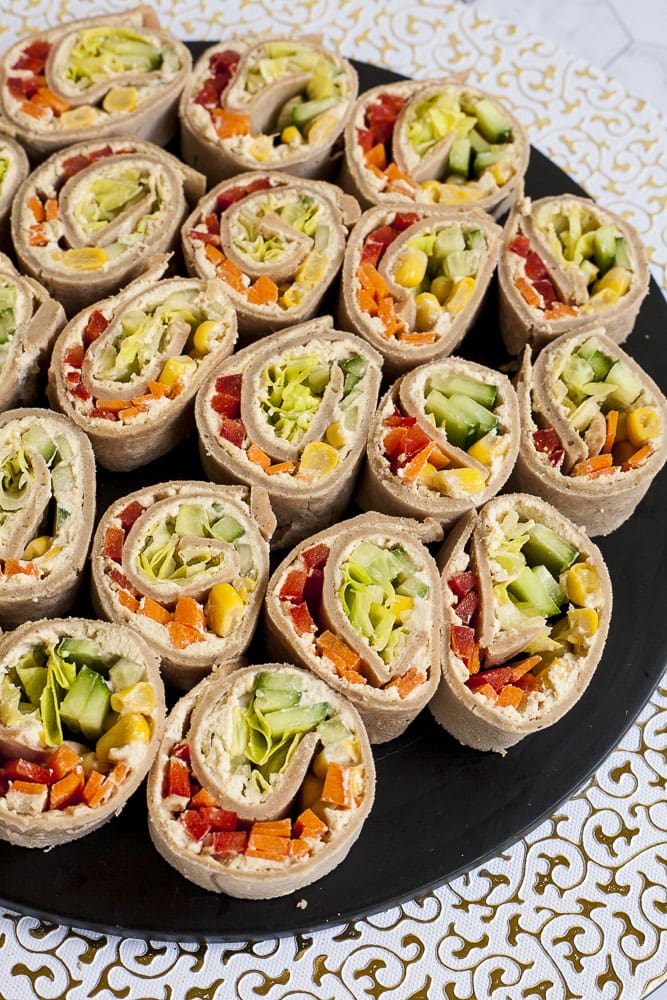 FAQs and substitutions
What can I use instead of cream cheese?
Cream cheese is a classic spread for pinwheels. But if you'd like to spice things up, you can definitely change it to any spread you like. You can browse through our Vegan Dips gallery to find inspiration or check out
What kind of vegetables can I add?
We recommend keeping the number of different veggies to 5-6. These are some of our favorite add-ins:
bell peppers in all color
shredded cabbage (purple is especially fun due to its lovely color)
fresh spinach leaves, arugula or kale,
spring / green onions, scallions, or chives,
daikon radish (thinly sliced or cut to matchsticks),
olives (my husband loves them).
What NOT to add?
Don't add any sauce or dip that are too thin and might damp the tortilla or flow out of the roll-ups like Marinara Sauce or No-Cook Pizza Sauce. Stick to thick spreads.
How to store it?
If you prepare it ahead of time, store it under a saran wrap, cling foil or place it in an airtight container. It should last for 2 days in the fridge, but more days will make the tortilla stiff.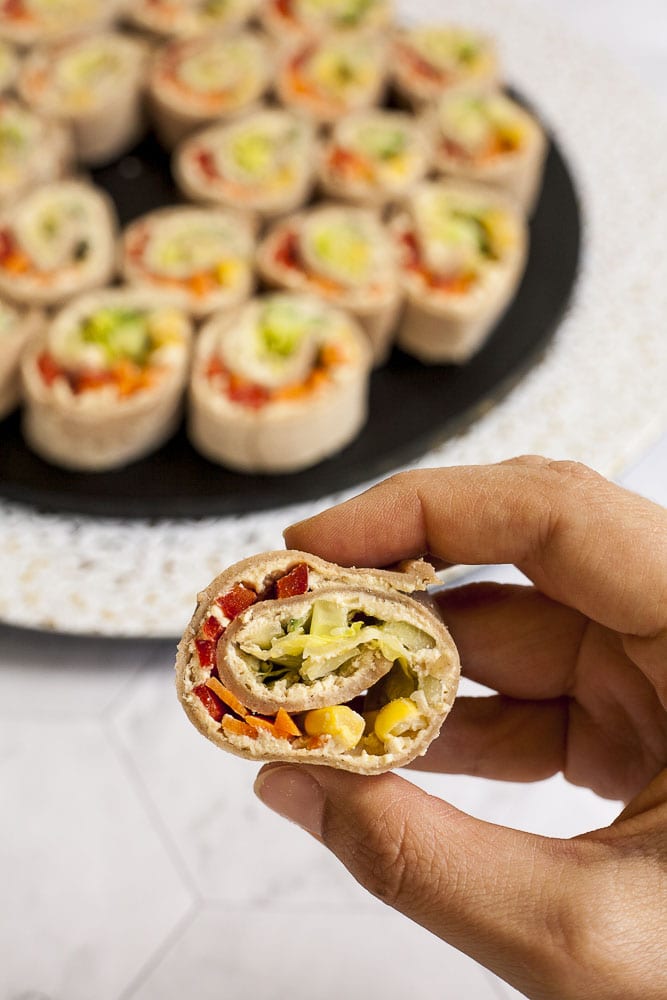 This Veggie – Cream Cheese Pinwheels recipe is meat-free, dairy-free and egg-free. It is suitable for vegan, vegetarian, gluten-free and nut-free diets. Gluten-free only if you use certified GF tortilla or use a homemade tortilla recipe.
More appetizer recipes
You can browse through our Vegan Appetizer Recipes or check out
UPDATED: This recipe was originally posted in October 2019, but it was re-written with more tips and detailed instructions in October 2021.