Are you looking for the tastiest, and easiest Vegan Buffalo Wings? The "chicken" itself is only ONE ingredient! No vital wheat gluten or seitan or any other soy product is needed. It is hot and sticky on the outside, meaty on the inside. Just what you would expect from Vegan Hot Wings. We even used a gluten-free coating so 100% plant-based and allergy-friendly. Are you interested?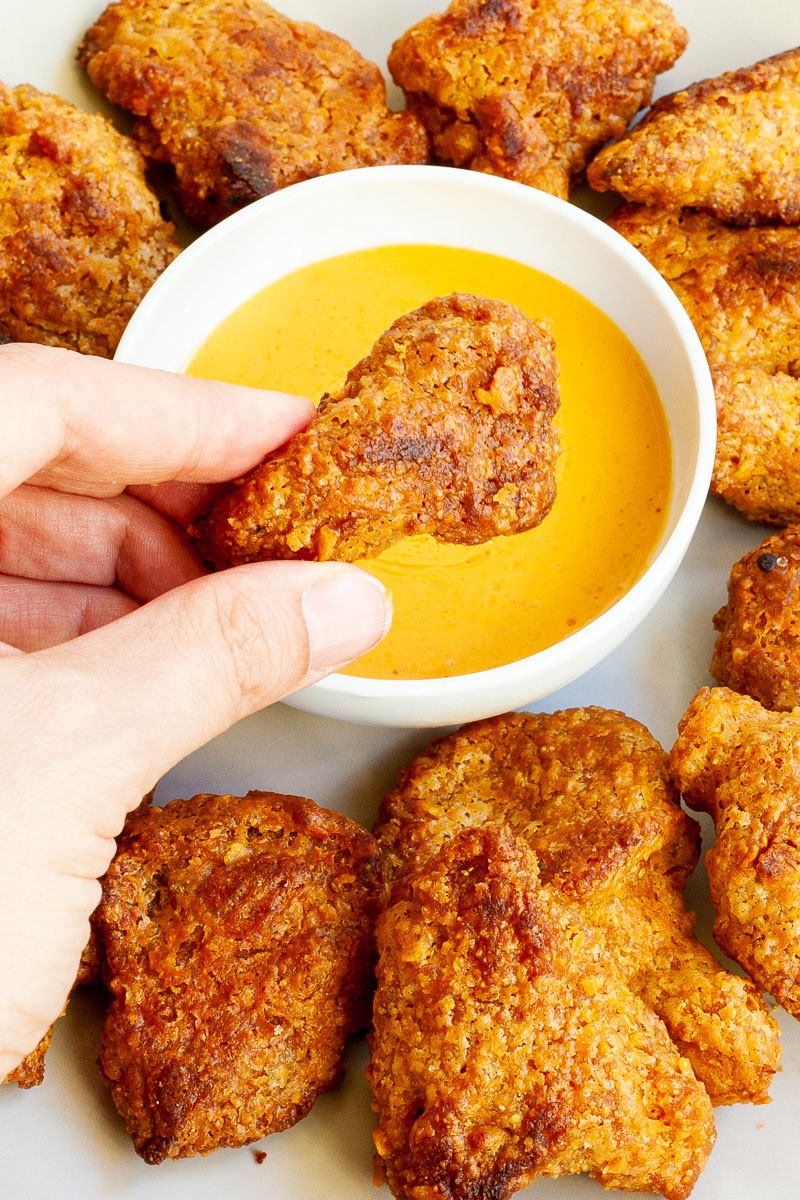 When it comes to fake meats, we prefer to choose plant-based alternatives. We love chopped cauliflower and walnut for minced meat in Vegan Spaghetti Bolognese or eggplant for meatballs in Vegan Eggplant Meatballs Spaghetti or large portobello mushroom caps for Vegan Burger Patties. But after we found oyster mushrooms we just couldn't get enough of them and we make Vegan Fried Chicken, Vegan Shredded Chicken, Vegan Philly Cheesesteak, and Vegan Gyros.
Best vegan wings
If you search for vegan chicken wings, you will see that most recipes to make a meatless aka vegan chicken use seitan (using vital wheat gluten), cauliflower, or tofu. There are also some super crazy ones out there on YouTube using grapefruit peels or jackfruit with soy milk skin or pulled mushroom with rice paper skin.
However, if you need an easy, simple, and plant-based alternative to make fake chicken wings, you should choose oyster mushrooms (any of these 7 types of oyster mushrooms). I have 5 reasons for you to consider:
allergy-friendly -> no soy, no nuts, no gluten
pantry staple -> mushrooms are usually in all vegan grocery or shopping list
easy to buy -> usually available in all local stores (unlike seitan or vital wheat gluten)
cheap -> way cheaper than company branded products
quite neutral in taste -> they soak up any seasoning or marinade you add
tough spongy texture -> perfect to replicate chicken
So what do you think? Since we found oyster mushrooms and made Vegan Buffalo Chicken Dip, there was no turning back. It became our favorite "chicken" substitute. Isn't it a perfect ingredient for a nutritious and healthy plant-based diet? We have even written a Guide to Oyster Mushrooms with the Best 20+ Oyster Mushroom Recipes to give you even more ideas to enjoy this awesome ingredient.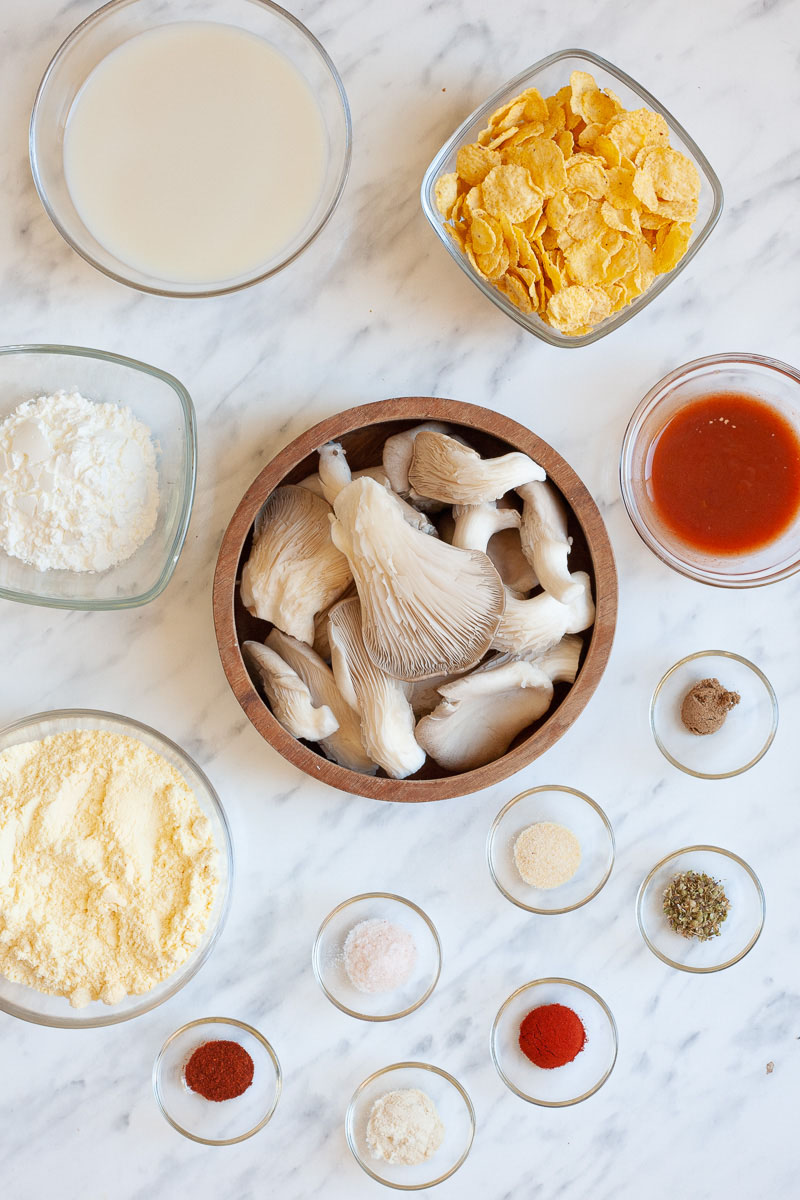 From mushrooms to fake hot wings
It is super easy to prepare oyster mushrooms.
Oyster mushrooms are grown on trees so it is

highly unlikely that they are dirty

. If you think yours need a bit of cleaning, use a wet paper towel or kitchen cloth. Dry them before using.
We

never peel

mushrooms especially oyster mushrooms, but sometimes cut off the end of the stem if it doesn't look good.

No need to cut

or shred them. They are perfect the way they are.
See the below photo with all ingredients you need to make Buffalo Vegan Chicken Wings from oyster mushrooms.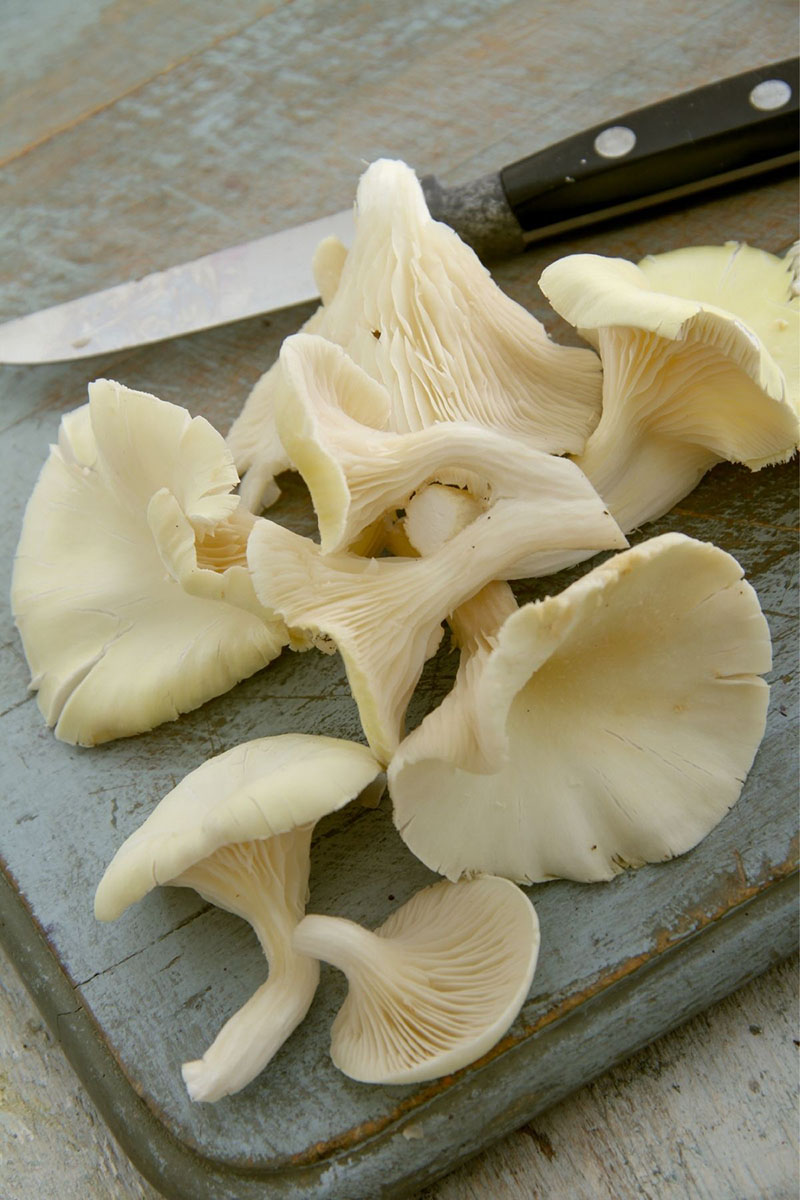 Why do you need a double coating?
First, we deep-fried the oyster mushrooms in a crispy breading like for Vegan Fried Chicken, then baked them again covered in Vegan Buffalo Sauce. So why did we make a double coating?
Originally, buffalo wings are made by deep-frying or baking chicken wings without coating or even flour. Just like that with skin on. When they are ready and while they are hot, they are tossed in a red hot sauce, which coats the crispy chicken skin without losing the crispiness. So here is 2 reasons while it is impossible to make it vegan without a coating:
If you deep-fry or bake oyster mushrooms (or any other vegan chicken alternatives for that matter like seitan or cauliflower), they

will lose their shape and texture.

They will even shrink as well. It works when we make Vegan Shredded Chicken, but to make a whole wing, it won't. So the coating helps to keep the mushrooms in shape and in texture.
Even if you try without the coating, the

hot sauce will not melt

around these fake wings as it would around actual chicken skins. You will end up with something mushy and soft.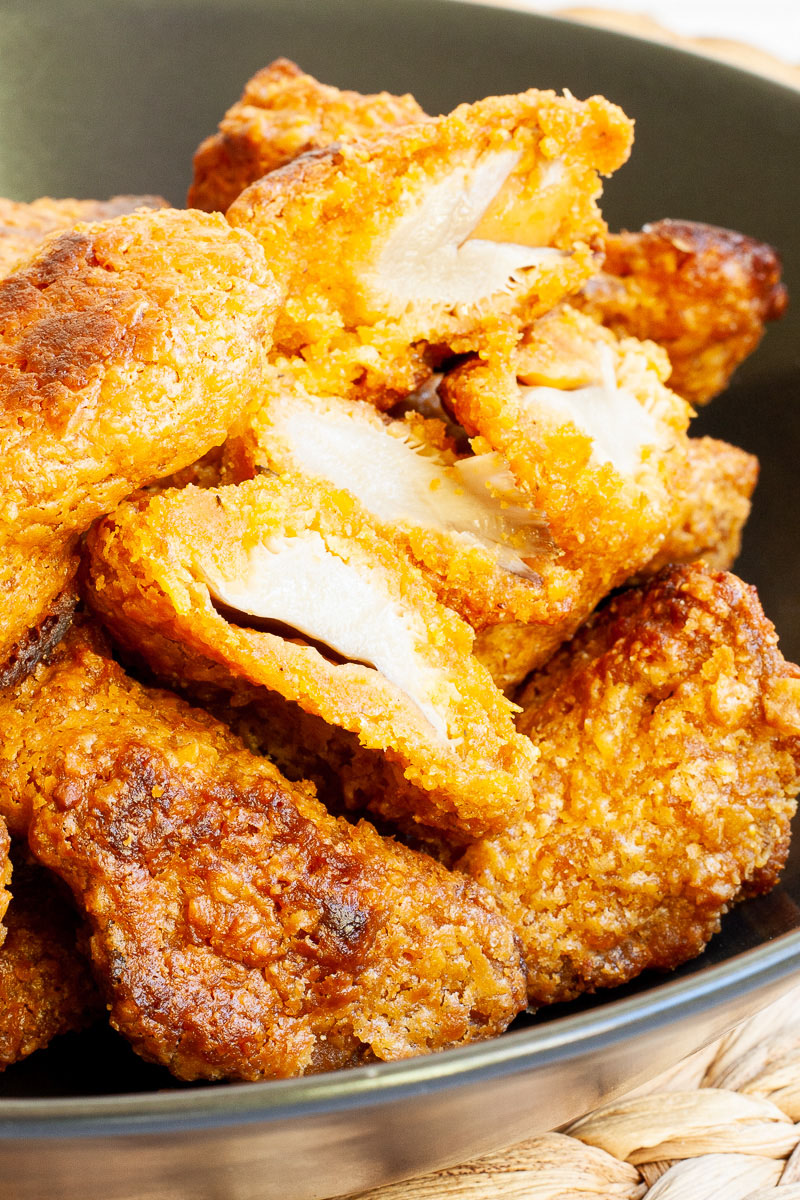 How to make Vegan Chicken Wings?
Preparing the spice mix
In a small bowl mix together onion powder, garlic powder, smoked sweet paprika powder, cayenne pepper, cumin, oregano, salt, and black pepper.
Preparing the coating
Dry mix

aka breadcrumbs -> We used the small chopping bowl of our immersion blender to crush corn flakes to a fine, breadcrumb-like texture. Then mix it with 1 tsp of our homemade spice mix as well as a bit of corn starch. We added the corn starch to get the coating extra crispy.

Wet batter

aka "egg coating" -> Mix in a shallow bowl dairy-free milk, yellow corn flour (not corn starch), 2 Tbsp Frank's Red Hot Sauce, and 2 tsp of our homemade spice mix. It should have a texture of a pancake batter, slow-flowing but not too dense. In time the flour will thicken the batter a bit, so add 1 tsp of water to thin it again.
Breading the oyster mushrooms
Have both wet batter and dry mix in two separate shallow bowls.
Dip the oyster mushroom first in the

wet batter

. Coat it evenly. I found it is easier to use your fingers to do that instead of using a fork or spatula.
Transfer gently the coated mushroom to the

dry mix

. Sprinkle the top and pat it gently. Make sure the crushed corn flakes-based mix sticks to it evenly.
When it is coated you can place it on a plate or fry it immediately. The coating will hold at room temperature for an hour or so without a problem if you need to wait before frying.
Deep frying or baking?
We deep fry breaded oyster mushrooms in our Vegan Fried Chicken recipe to get the crispiest finish. That recipe won't work as well as in the oven as the coating will not be crispy but rather dry. However, with this Vegan Chicken Wings recipe baking is an option as there is a double coating. 🙂
If you choose to bake them. Pre-heat the oven to 390 Fahrenheit (200 degrees Celsius) and bake the breaded oyster mushrooms on a non-stick parchment paper or silicone baking sheet for approx. 20 minutes flipped midway. If you choose to deep-fry them, follow the below instructions:
Pour sunflower

oil

into a skillet or pot.

Heat

oil on medium/high heat. You can test whether it is hot enough by dropping a bit of coating in it. If it sizzles, you are good to go. Why do you need the oil to be hot? If it is not hot enough it will take a long them to get them crispy and in the meantime, the mushroom will soak up a lot of oil.
Gently

drop the breaded "wings"

in the oil. The oil is hot so pay attention to drop it gently without a splash. Don't overcrowd the pan as the oil will cool down and the oyster mushrooms will need a longer time and thus will soak up more oil.

Fry

oyster mushrooms for 2-3 minutes until the coating gets crispy.
When they are ready,

transfer them to a paper towel

so the excess oil is absorbed.
Baking vegan wings in buffalo sauce
When you are ready with the baking, keep the oven on 390 Fahrenheit (200 degrees Celsius). If you chose deep frying,

pre-heat your oven

now.
Prepare the

vegan buffalo sauce

. Take your blender and add Frank's Red Hot Sauce, veggie broth, soaked cashew nuts, white wine vinegar, garlic powder, onion powder, maple syrup, soy sauce (or choose from these 5 gluten-free soy sauce alternatives if you need GF). Blend until smooth.

Take a large bowl

enough to fit all your vegan wings and pour the vegan buffalo sauce from the blender. (This recipe results in 15-18 wings depending on the size of your oyster mushrooms. The amount of buffalo sauce is more than enough to coat them generously.)
Add all of your "wings", cover it with a plate and

shake it well

. Alternatively you can use a large enough zip lock bag. Coat evenly with the sauce.

Spread

them in one layer on a non-stick parchment paper or silicone baking sheet.

Bake

them for approx. 10 minutes flip midway. It is ready when the coating gets crispy again. Serve it with vegan ranch dressing.
FAQs and substitutions
Can you use an air fryer?
I don't have an air fryer to test it properly, but the air fryers main purpose is the deep fry food without oil. Let me know if you do try it.
Can you use other flours?
We only tested this recipe with these ingredients as we wanted the crispiest gluten-free coating possible. However, you can choose any other breadcrumbs substitutes instead of crushed corn flakes or you can try chickpea flour instead of yellow corn flour or tapioca starch instead of corn starch. If you need other tapioca starch substitutes, check out this list. In any case, let us know in the comments.
Can you use other mushrooms?
Yes, you can either choose any of the 7 types of oyster mushrooms or seek out one of these 13 oyster mushroom substitutes. You can have good results with porcini, chanterelle, or abalone. One of our readers said Lion's mane is also perfect.
This Hot "Chicken" Wings recipe is meat-free, egg-free, and dairy-free. It is suitable for a vegan, vegetarian diet. It is soy-free, nut-free, and gluten-free, but not WFPB-friendly (whole foods plant-based) unless you use and an air fryer or bake them in the oven.
More vegan recipes using oyster mushrooms
We have even written a Guide to Oyster Mushrooms with the Best 20+ Oyster Mushroom Recipes to give you even more ideas to enjoy this awesome ingredient. Here are some of our favorites as well: