You might think that Bechamel sauce is something complicated, but it is far from it. It is actually called a simple white sauce because you need only 3 main ingredients: flour, butter, and milk. Making a vegan version, not to mention a gluten-free one is super easy. Go see for yourself!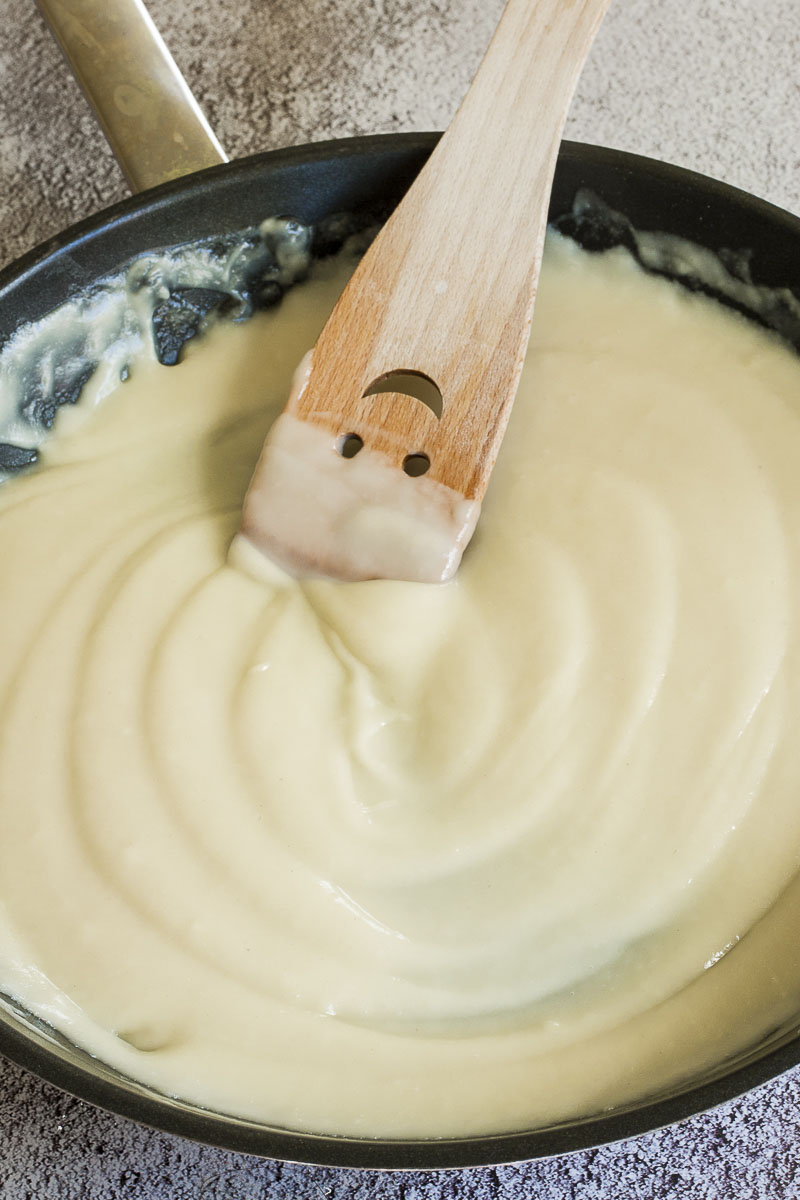 Why do you need to make Bechamel sauce? Because it makes a damn delicious vegan moussaka and super easy vegan lentil lasagna. Depending on our mood, we often substitute our cashew alfredo sauce for this white sauce. Like we did in this vegan cabbage lasagna recipe, where we even added some wilted spinach to the mix.
What is actually a Bechamel sauce?
Also known as white sauce. It is a classic French sauce recipe, where they use wheat flour, dairy butter, and dairy milk. This is considered to be the base of all sauces. Well, not quite. I can list a couple of delicious sauce recipes which has nothing to do with a white sauce. Still, it is an important base recipe to turn any sauce or soup creamier and thicker.
How do they do it? First, they make a roux, which is melted butter and an equal amount of all-purpose flour. They cook it a bit down before adding the milk. At last, they keep stirring until it gets thick and creamy. See below how creamy our vegan bechamel is in this vegan moussaka recipe.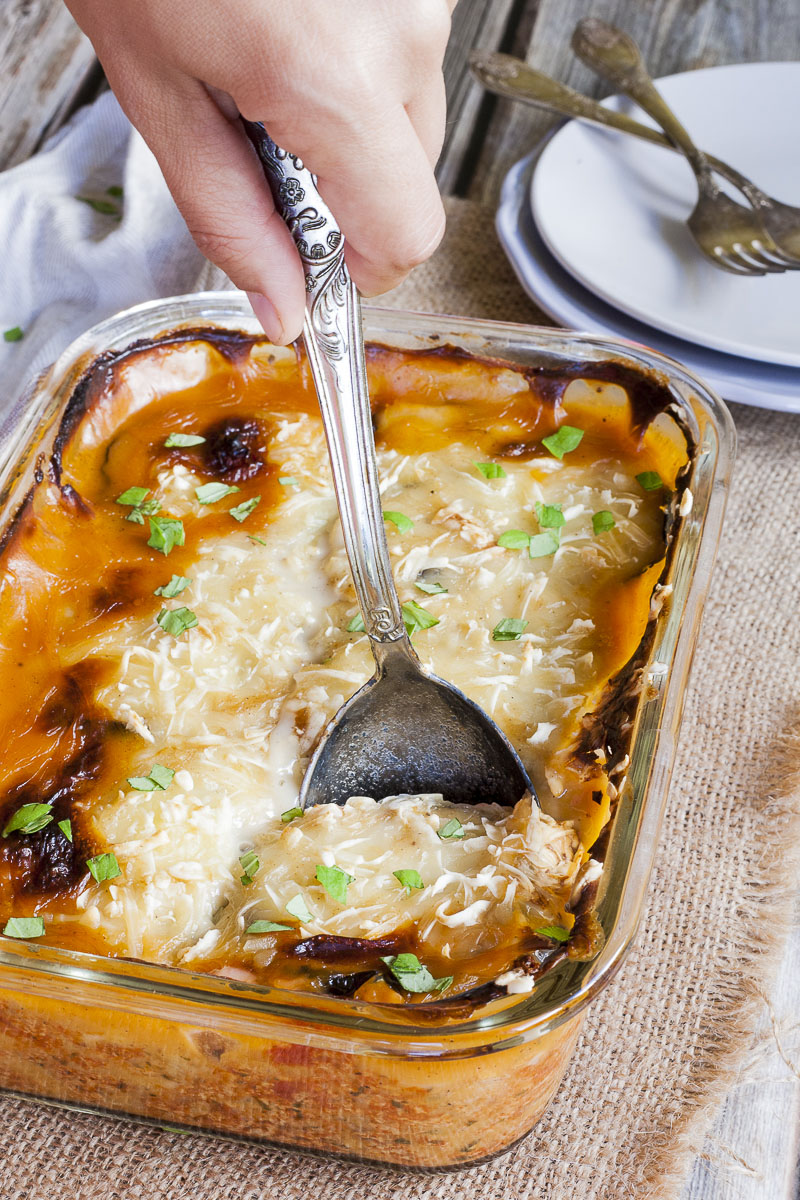 Ingredients
How to make a vegan white sauce that is not only dairy-free and gluten-free as well? Well, you need any plant-based fat, any plant-based milk, and the perfect combination of gluten-free flours.
Plant-based fat

-> We used vegan butter (Earth Balance), but any type of oil (coconut oil, olive oil, sunflower oil…) works. The more neutral-tasting one you choose the tastier will your sauce be.
Plant-based milk -> Definitely choose unflavored, unsweetened milk. We hear a lot of complaints about sauces that turn out too sweet. It is almost always due to the choice of milk. Even if the store-bought milk calls itself unsweetened, it can still be quite sweet compared to any homemade version. We recommend using homemade oat milk, almond milk, or cashew milk.
Flour -> We use a combination of rice flour and corn starch. If you only use starch, then the sauce will end up more like a pudding than a sauce. If you use only flour, then the sauce may not be thick enough and you end up adding way too many flours. Alternatively, you can use a GF flour blend but check whether it has both flour and starch in it.

Seasoning

-> We use a combination of salt, nutmeg, and white pepper. You can use black pepper of course but you will see the small black spots. No need to use nutritional yeast as this is a creamy sauce, there is no need to add cheezy flavor.
How to make vegan white sauce?
Preheat your frying pan to medium heat and melt the

vegan butter

.
When the butter has melted completely, turn down the heat to low and add

rice flour

. Stir and cook for 2-3 minutes until the "batter" is boiling up like in the below photo.
In a small bowl, combine ½ cup of

dairy-free milk and corn starch

. Add the slurry to the pan and stir until they are combined. Add the next ½ cup of dairy-free milk and stir until combined. You need to go in small batches to make sure you get a smooth sauce. Go until you run out of milk.
When the sauce has thickened (you need it thick so that it firmly stands on top of your moussaka or lasagna), add the

salt

,

nutmeg

, and

white pepper

. Stir to combine.
Top tips to make it perfectly
This vegan bechamel sauce recipe has only 3 ingredients and can be easy to make for some. If it is your first time cooking a roux-based sauce, read our top 4 tips to make a creamy white sauce successfully and fuss-free.
Cook it on low heat -> Never ever on high heat. You can start on medium until the butter is melted, but then turn the heat to low. If I am making a larger batch, I even take it off the heat for the beginning. If I have a runny batter without any lumps, I put it back on the stove.
Add non-dairy milk in batches -> It is the safest way especially if it is your first time making a vegan Bechamel sauce. I usually go with ½ cup at a time.
Use a whisk -> I always use a silicone whisk*, as I found it to be a fool-proof way to make the white sauce lump-free. If you use a spatula or a wooden spoon, definitely take the pan off the heat (even off low heat) and stir thoroughly until you get a smooth sauce.
Add seasoning at the end -> You will see below under "Troubleshooting tips" that if the sauce is not thick enough or too thick you need to adjust the flour and the milk amounts. If you add salt, pepper, and nutmeg only at the end when the sauce reached the right consistency, you can be sure that the sauce will not turn out to be too salty or too peppery.
Troubleshooting tips
If you run into some problems, here is a quick checklist or guide that will help you troubleshoot. There is no batter that cannot be saved don't worry. Only maybe if you burn it. 🙂
Not thick enough? -> Add more flour but make sure you first dissolve it in a bit of milk. Like 1 Tbsp flour or starch – 2 Tbsp milk. Alternatively, you can take it off the heat, wait for it to cool a bit and add flour or starch directly to the sauce and stir vigorously with a whisk to avoid any lumps.

Note:

The sauce will thicken a bit more when it is cooling down.
Too thick? -> Add more milk, like ¼ cup at a time.
How to get rid of lumps? -> Strain the sauce through a fine-mesh sieve before continuing to add more milk. Push everything through with a spatula or spoon.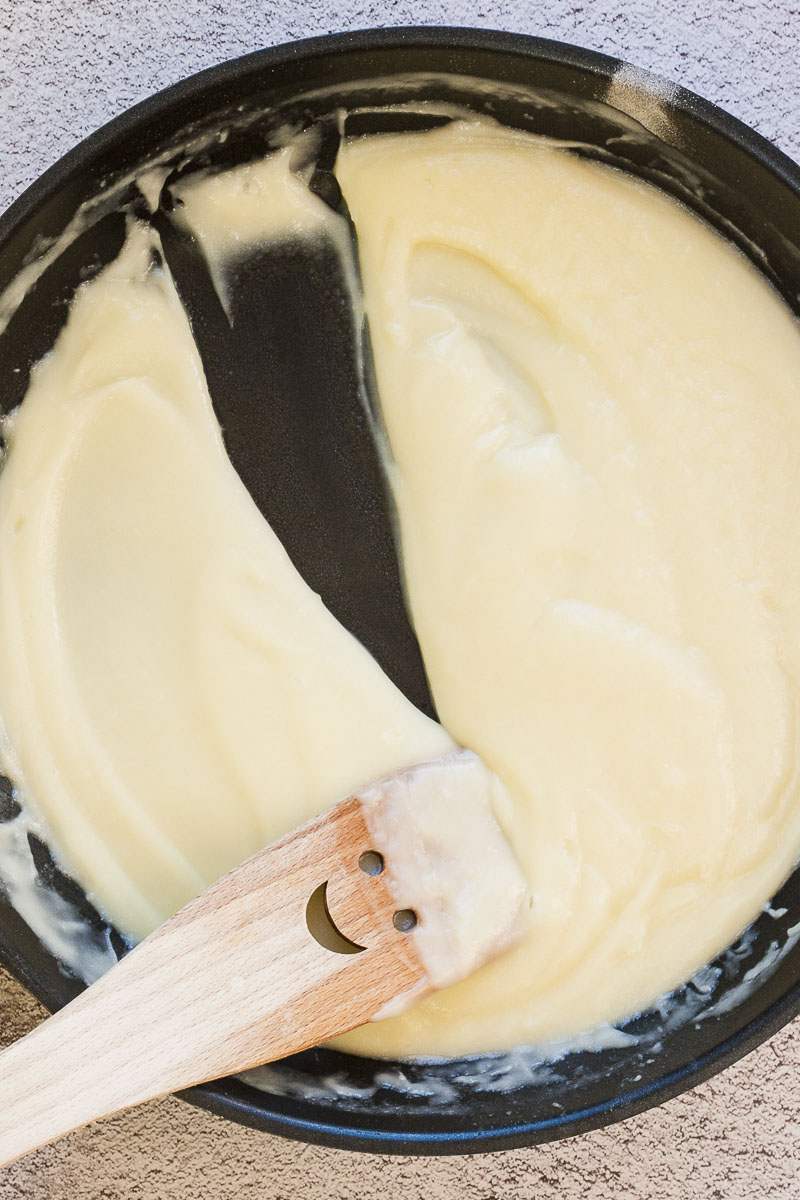 FAQs and substitutions
Can you use any other flour or starch?
Yes, you can make this vegan bechamel sauce with any type of flour or starch, but the thickening power of each and every one of them is different. The measurements I gave in the recipe card may not be the same if you use wheat flour or almond flour or tapioca starch, etc.
Different flours make the sauce also tastes different. If you are using coconut flour, expect it to taste coconutty. Same for oat flour or buckwheat flour, I can taste their slight bitterness. That is why we opted to use rice flour and corn starch since they have the most neutral taste.
Why flour AND starch?
If you only use starch, then the sauce will end up more like a pudding than a sauce. If you use only one type of flour, like rice, oat, or almond, the sauce will not thicken properly.
I specifically have this experience with rice flour that if you thicken a soup or pasta sauce with solely this flour and you reheat your meal the next day, all the thickening has gone. That is why I recommend combining flour and starch or using a store-bought gluten-free flour blend that contains both.
How to store it?
You can store this sauce in an airtight container for up to 2-3 days without any problem. We really don't recommend storing it longer as you may lose the thickness as time goes by. I have never frozen it, never needed to as I always used it in other dishes right after I made it.
How to use a vegan bechamel?
There are plenty of delicious recipes you can use this vegan white sauce with. Think of pasta bakes, gratins, lasagne, moussaka, soups, chowders, or savory pies. Here are a couple of our gluten-free vegan recipes for you to try:
This vegan béchamel sauce recipe is meat-free, dairy-free, and egg-free, not to mention gluten-free. This recipe is not WFPB-friendly as you need some kind of plant-based fat (oil or butter).
More vegan sauce recipes
You can browse through our vegan sauce recipes or our quick vegan meals collection or check out
UPDATED: The original recipe was posted in July 2020, but it has been updated with more tips, useful info, and ways to use it and republished in May 2022.