You can still have a smooth, luscious, and creamy vegetable soup even if you don't want to use any dairy products. All 30 vegan soup recipes listed below are full of flavor without compromising on creaminess. We have stove top, Instant Pot and blender recipes for all your favorite vegetables. We also added 9 ways on how to turn any cream soup vegan.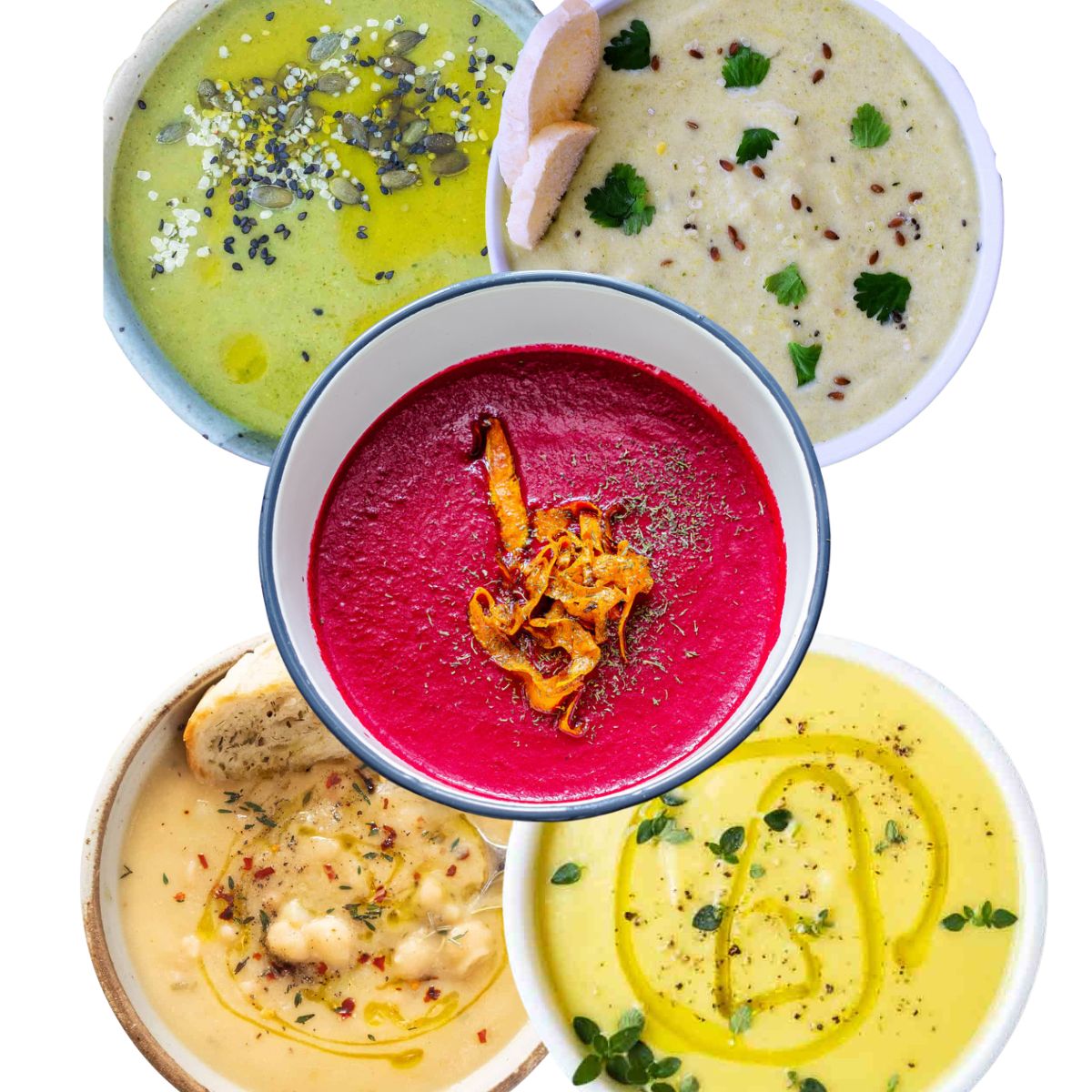 Are you a soup lover and looking for delicious vegan creamy soups or just want to avoid dairy? Then you came to the right place. We have so many wonderful recipes you can try or get inspired by. Check out our Vegan Soup Recipes gallery which includes not only creamy soups, but lots of veggie-packed soups, stews and chilis. Happy browsing!
9 Ways to Make Vegan Soups Creamy
A lot of people are under the impression that vegan soups are bland, raw and uninspired, but that's not at all true. One of the things that people miss most are thick cream-based soups. Thankfully, there are many ways that you can make creamy soups, even when you're sticking to a vegan diet and just want to avoid dairy products.
Full-fat or light canned coconut milk

is a popular dairy-free alternative to heavy cream that you can use to make your soup creamy and thick. However, coconut milk can impart a strong flavor and can turn your soup coconut-ty, so it isn't suited to every recipe. But it is perfect to thicken curries, like this Chickpea Mushroom Curry.

Starch/flour mixed with dairy-free milk

is a great way to turn add creaminess and thickness at the same time. We prefer to use corn starch but you can use other starches like tapioca starch, potato starch or arrowroot starch. All of which have different advantages and disadvantages, which we explain in details in our "Tapioca Flour Substitutes" guide. The most important thing is to mix them with the milk separately and add it to your hot soup as a liquid. Otherwise, you will end up with lumps.

Roux

is another effective way to thicken any soup. In a small saucepan, melt dairy-free butter and milk and stir in flour until a paste forms. Pour the paste into your soup and let it simmer until it thickens. This is also how you make Vegan Bechamel.

Potatoes

are such a classic way to thicken soups. We use it all the time. Their starch content makes them the perfect ingredient. As opposed to potato starch, here you get the whole foods alternative. Add a dash of dairy-free milk for extra creamy thickness.

Nuts and seeds

might sound like a bit unconventional. However, cashew nuts are extremely popular in the vegan diet. After soaking and blending them you get a delicious thick cream. It will have a bit of nutty taste, but usually used in soups this nutty taste can be overpowered by the vegetables like in this Vegan Corn Chowder recipe. Other nuts and seeds can work as well, but cashews have the most neutral taste.

Chickpeas or other beans

certainly cannot been used in all types of soups. If you add them cooked and pureed you can make a delicious thick soup with a slight bean-y taste. Chickpeas and cannellini beans have the most neutral taste. We make a delicious Hidden Veggie Sauce, where we use chickpeas to end up with a thick sauce.

Stale bread

can be an effective way to thicken up your soup. Drop stale bread into the broth and let it soak. After a few minutes, take it out and blend it. Add everything back into the soup, stir, and simmer. The most popular dish which uses stale bread is

Gazpacho

.
Dairy-free products can serve as an easy alternative to turn the soup creamy and thick. Think of dairy-free sour cream*, cooking cream* or yoghurt*.
Soft silken tofu* is another unusual ingredient, but easy-to-use and available in must stores. It is really soft and easy to crumble. You can puree or blend it and you will get a thick cream. The consistency will be really close to heavy cream. It is made of soy beans, so it is not allergy-friendly per se. It is also used to make cheesecake, dips, sauces etc.
Creamy Vegan Soups on Stove Top
Now you know everything about making cosy soups thick and creamy. Choose your favorite out of the 9 different ways from above and you are good to go. We also collected 20 delicious vegan soup recipes you can make on a stove top. They are super dreamy and creamy, nobody can tell that they are dairy-free.
Roasted Broccoli Sweet Potato Soup
It is one of the easiest cream soup you can make. Roast broccoli, sweet potato and garlic in the oven. When they are ready, blend them with the other ingredients and spices. Quick and easy! You can enjoy this Roasted Broccoli Sweet Potato Soup within 30 minutes.
Vegan Cauliflower Soup
For this recipe, potatoes are used to thicken the soup. To begin, lightly fry chopped onion and garlic in olive oil. Add in diced carrots and potatoes (feel free to substitute ordinary potatoes for sweet potatoes). Next, add in your chopped cauliflower florets. After you've added the vegetables, pour in vegetable stock, cumin, pepper, and salt. Once cooked, blend everything together, and voila you have a creamy Vegan Cauliflower Soup!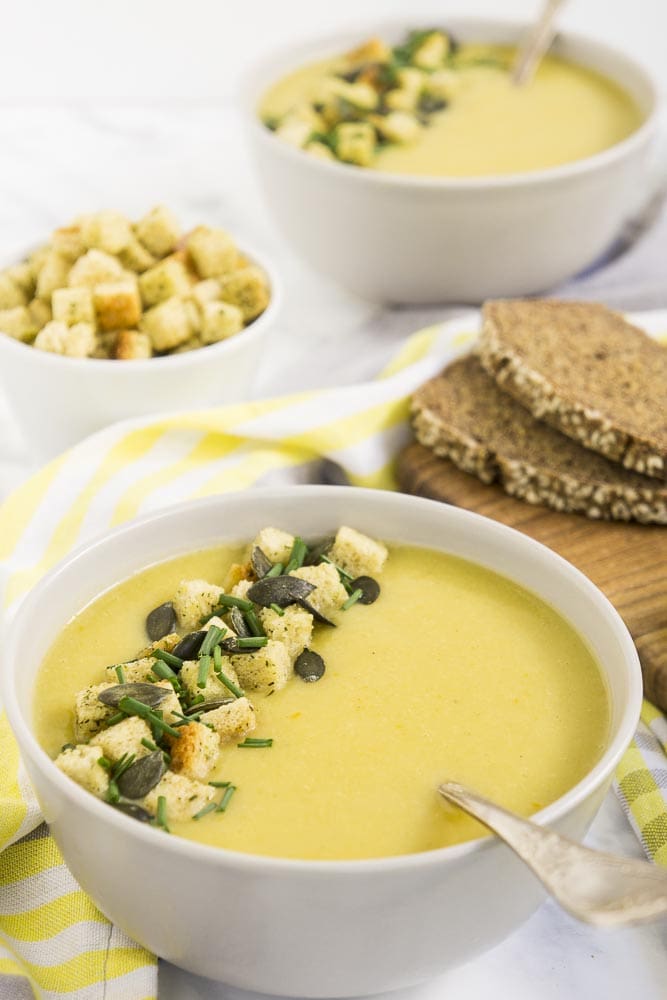 Vegan Cream of Mushroom Soup
It is a delicious, healthy, and flavorful Vegan Cream of Mushroom Soup. This recipe needs very few ingredients and makes for a great lunch. It is silky smooth as the half of the soup is blended with a Vitamix. You can add vegan sour cream, unsweetened cashew cream, or silken tofu to make it even creamier.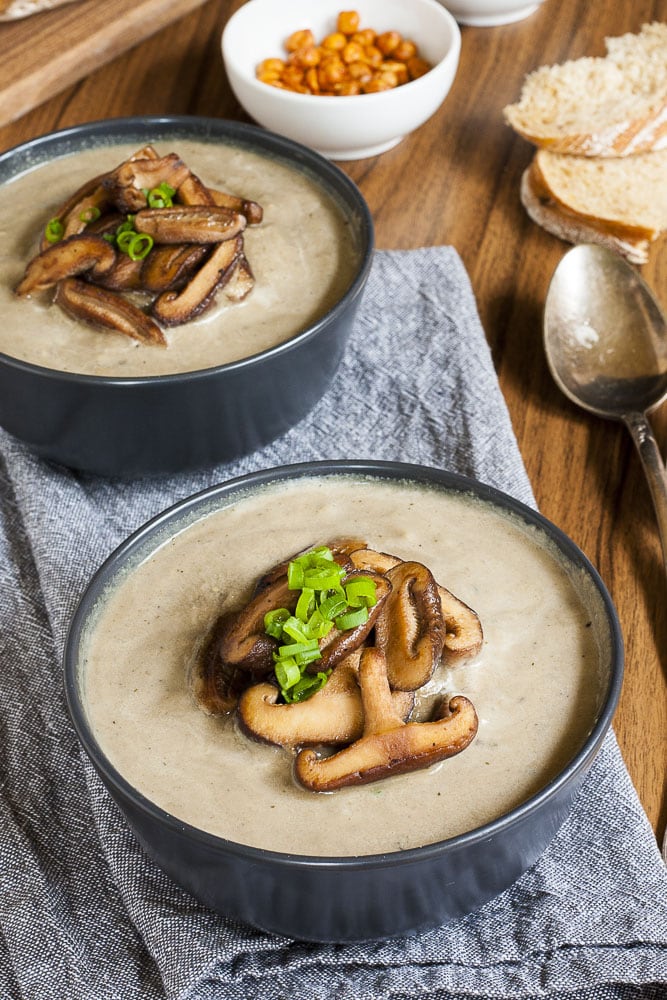 Cream of Spinach Soup
Spinach is healthy, delicious, and affordable. In this Vegan Cream of Spinach Soup we substitute heavy cream for potatoes, and use them as a thickener. It is dark green, smooth, and creamy. Perfect with crusty bread.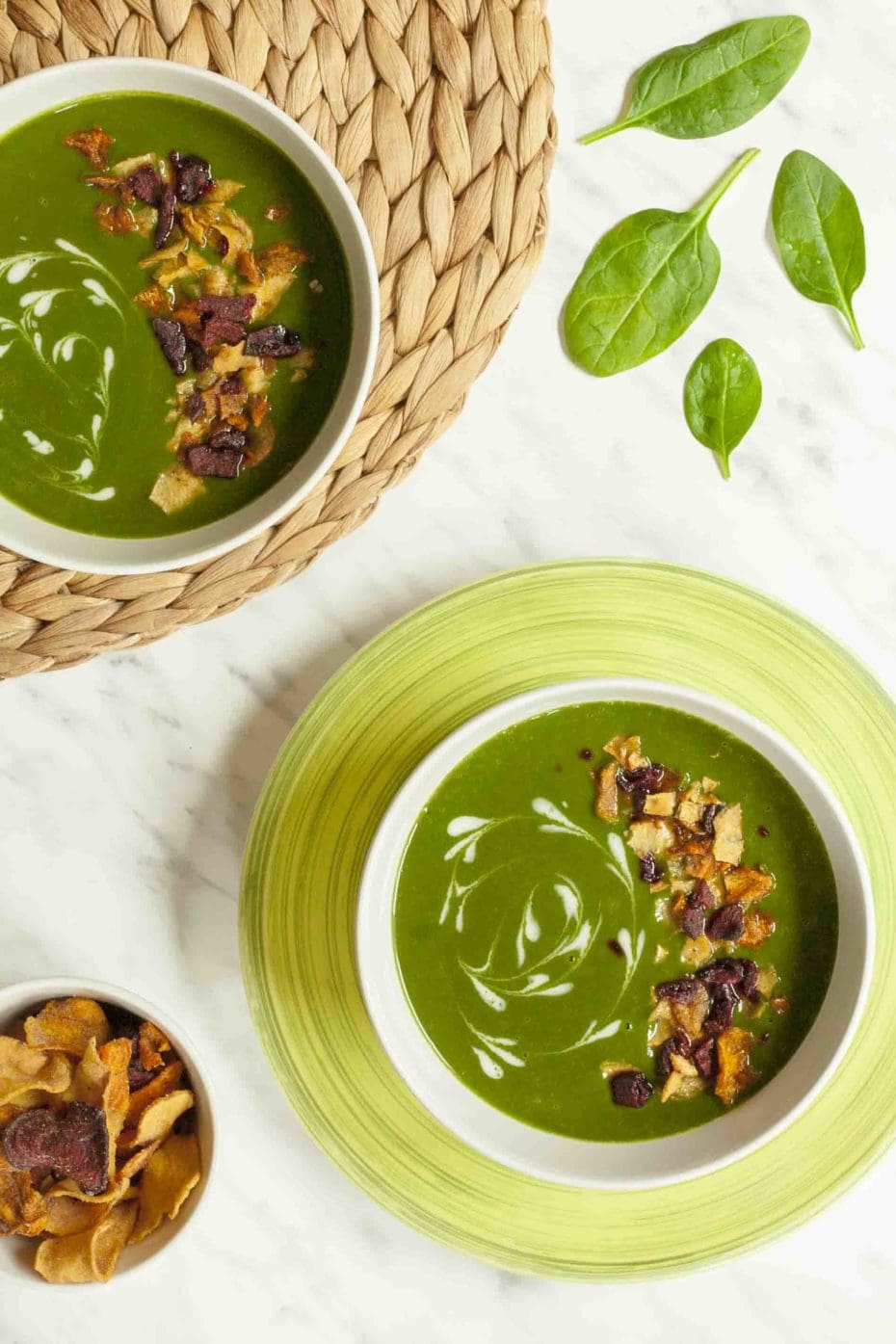 Simple Hokkaido Pumpkin Soup
The best pumpkin soup you can make is from Hokkaido pumpkin. This pumpkin is rather aromatic, but more on a savory side. While butternut squash is perfect for pie due to its syrupy sweet taste, Hokkaido – for us – is better for a hearty and wholesome dish like this Simple Hokkaido Pumpkin Soup.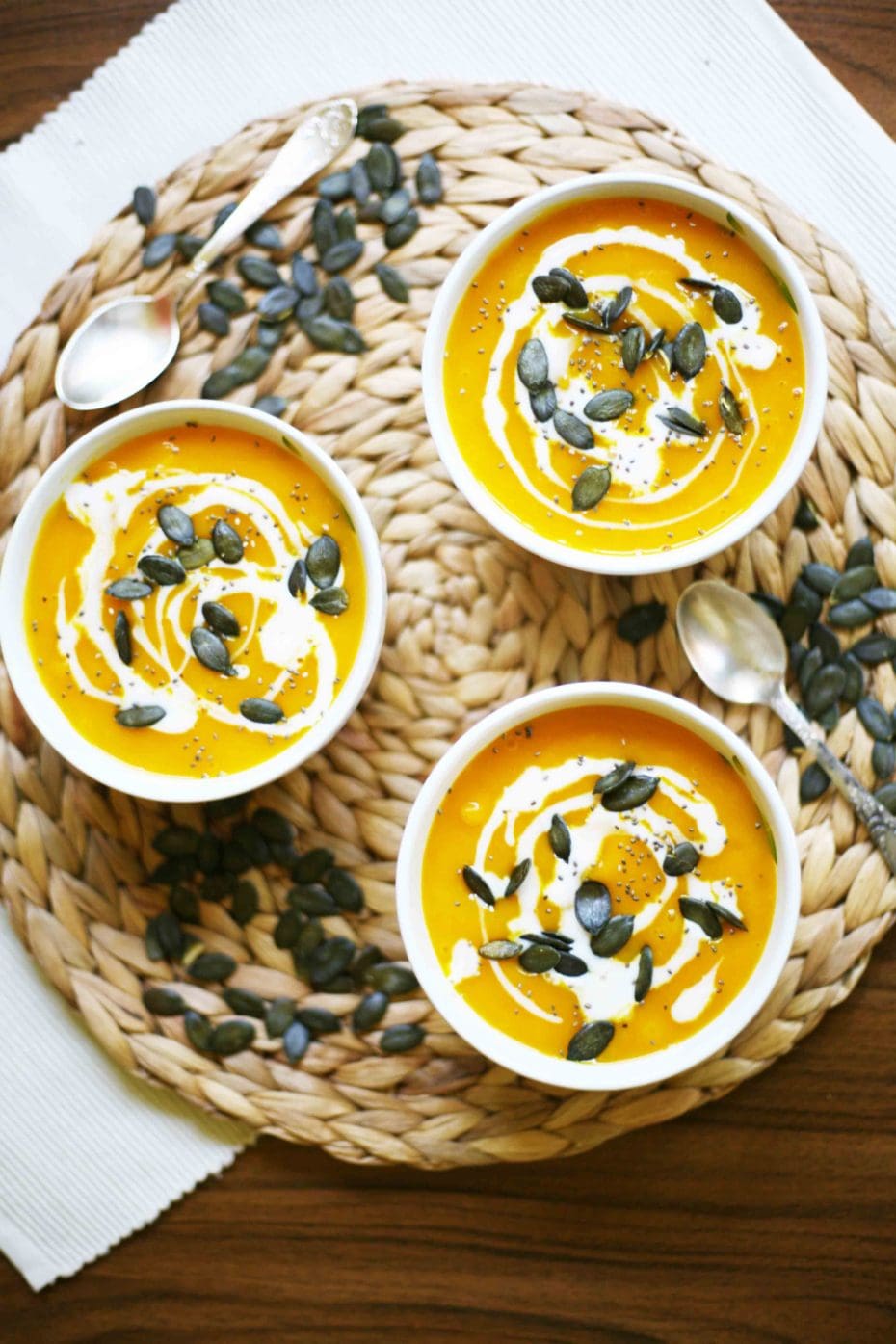 Vegan Corn Chowder
This Vegan Corn Chowder is delicious, easy to make, and very healthy. The recipe is oil-free as you need to pan-sear the corn kernels and deglazed pan with veggie broth. It is thickened with potatoes and turned creamy with a smooth cashew cream.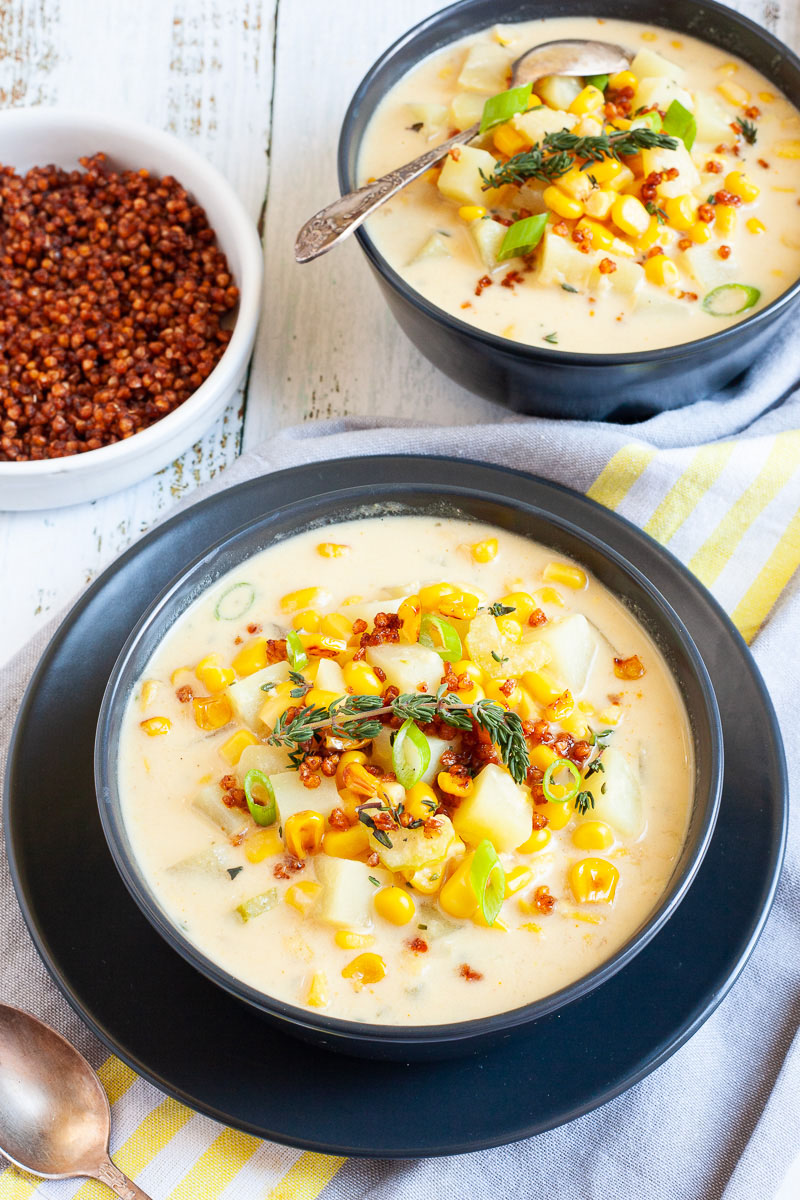 Cream of Celery Soup
Celery is healthy and tastes even better when you incorporate it into soup. The ingredients for this recipe are easy to find, and will likely already be in your pantry. Be sure to serve this Vegan Cream of Celery Soup from 24Bite.com hot with a thick piece of bread.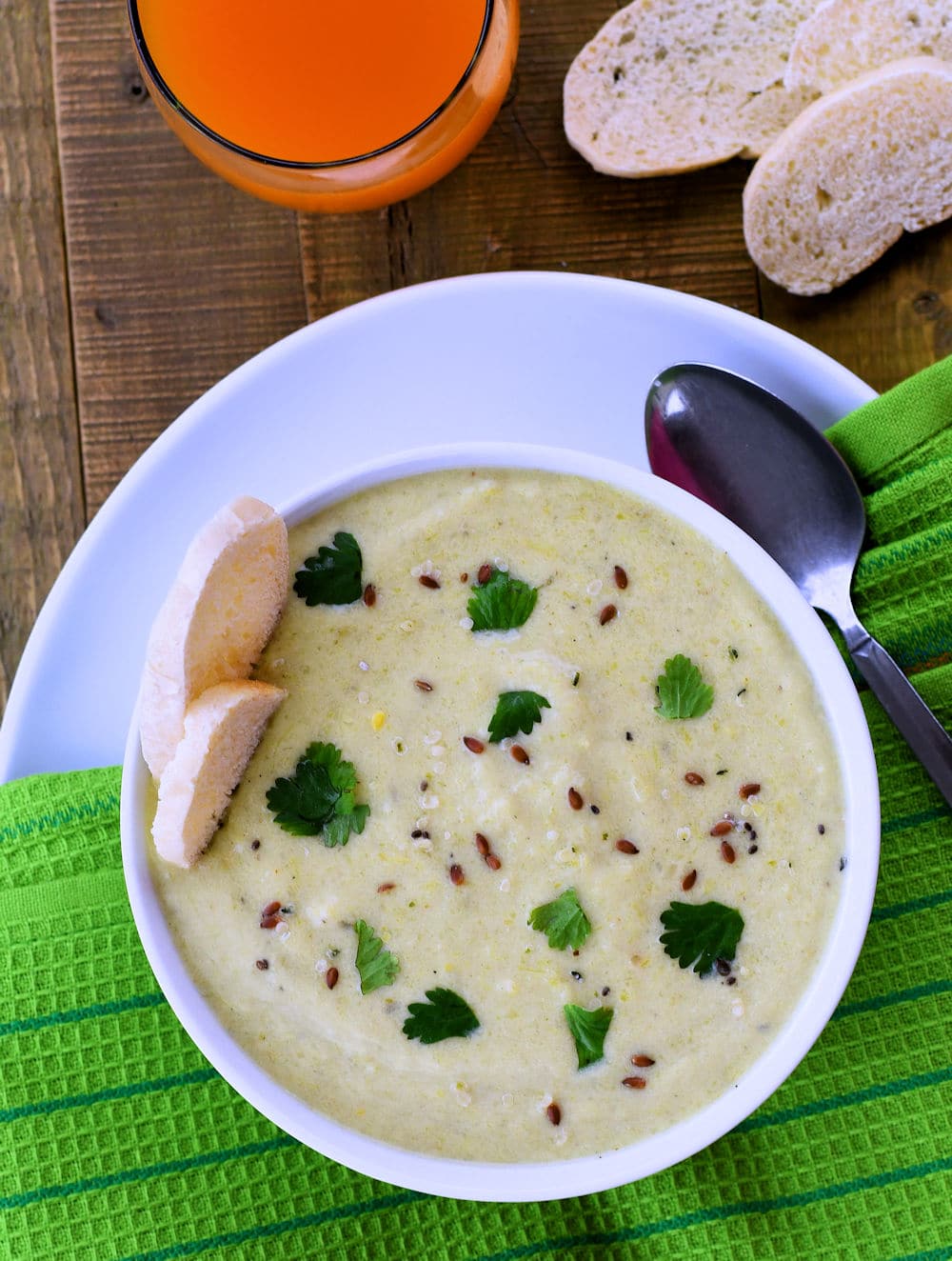 Spicy Broccoli Soup
Spice compliments broccoli very well and parsnip is served to make it thick and creamy. If you're a fan of broccoli-based soups, then you'll love this one. It's very easy to make and requires very few ingredients. This Spicy Broccoli Soup from Natalie's Health healthy, straightforward, and will definitely warm you up.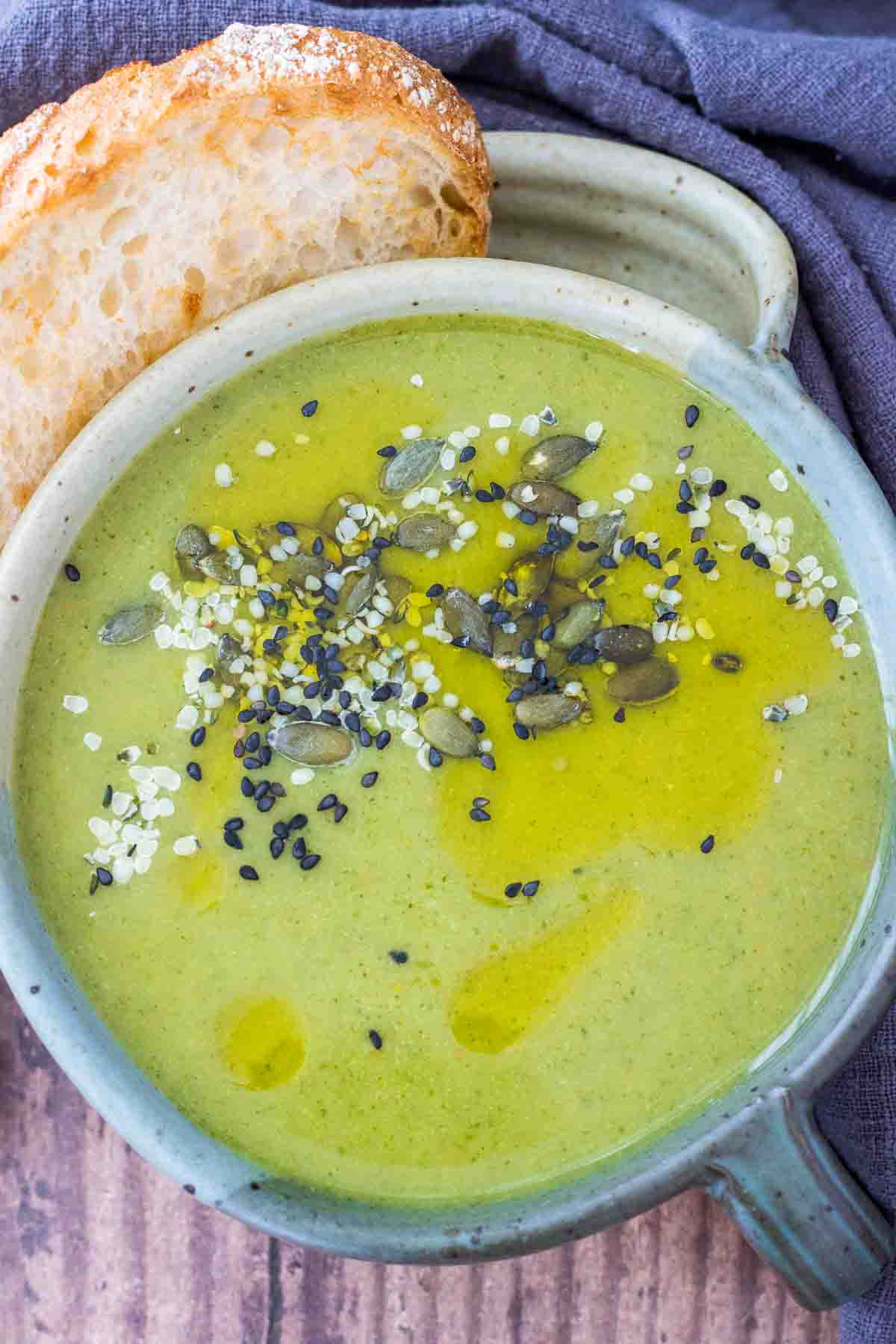 Creamy Vegan White Bean Soup
This is a creamy, Tuscan-style rustic white bean soup with rosemary, white wine and a dash of coconut milk. Cannellini beans are blended into a thick soup which is warm and comforting. If you want to cosy up for the fall, try this Creamy Vegan White Bean Soup from Watch Learn Eat.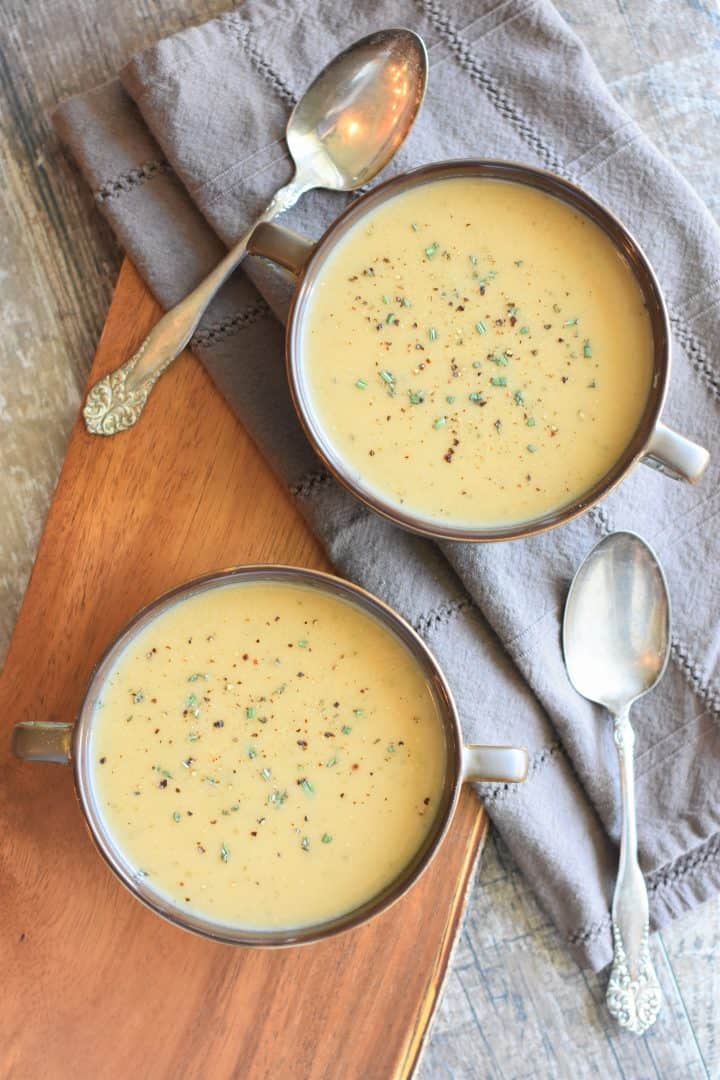 Jerusalem Artichoke Soup
Jerusalem artichoke has nothing to do with the popular green artichoke where you have to peel it almost entirely to have something to cook. It looks more like potatoes and it has a sweet but nutty taste with a hint of mushroom. It is also called sunroot or sunchoke. You should definitely try this Jerusalem Artichoke Soup from Little Sunny Kitchen.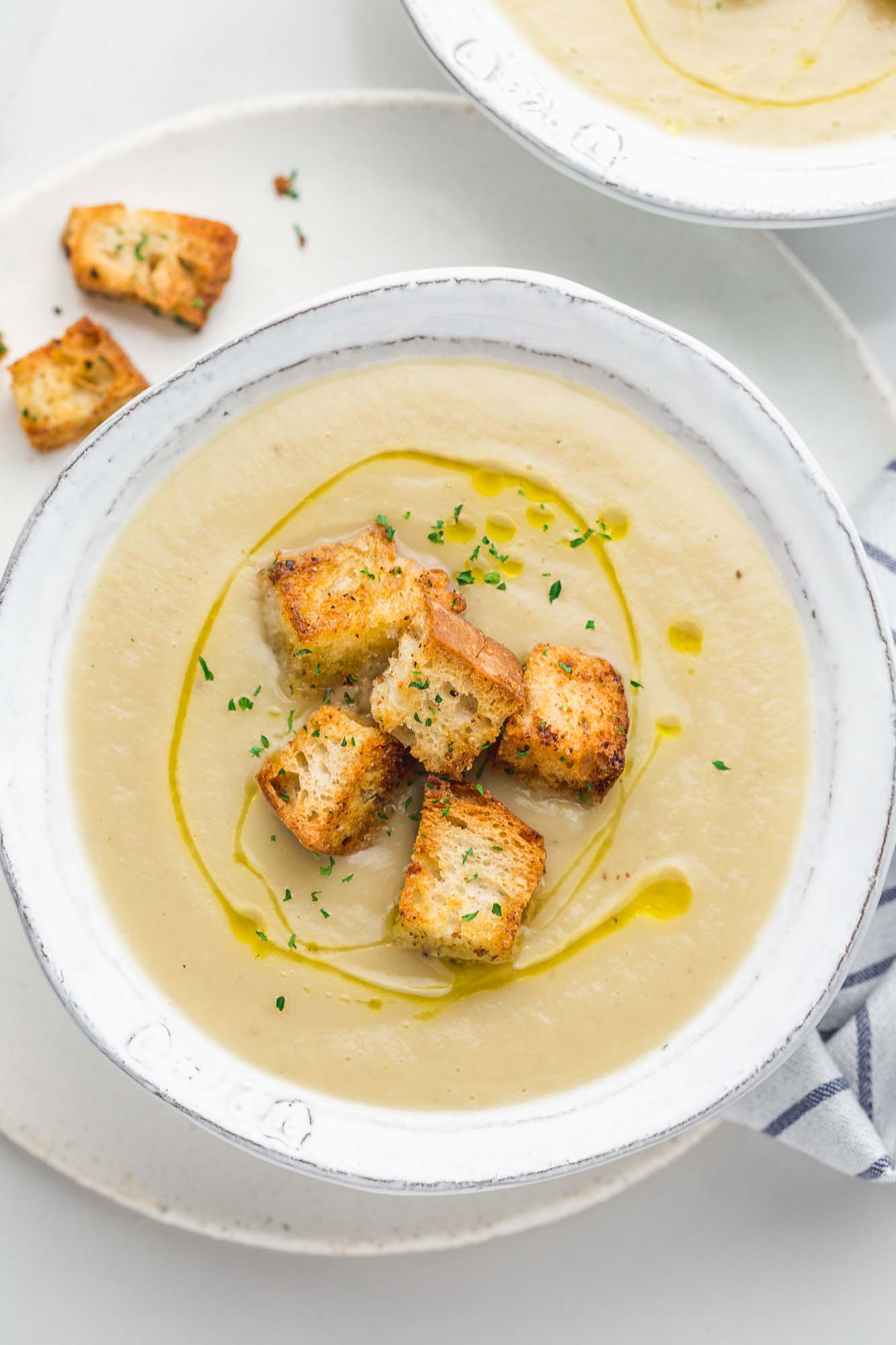 Spicy Thai Carrot Soup
The best thing that can happen to carrots is turning them into a fragrant spicy dish. This Spicy Thai Carrot Soup recipe from Tao of Spice uses ginger, garlic, and Thai chili peppers, thickened with coconut milk and topped with a lime pickled red onion relish and cilantro.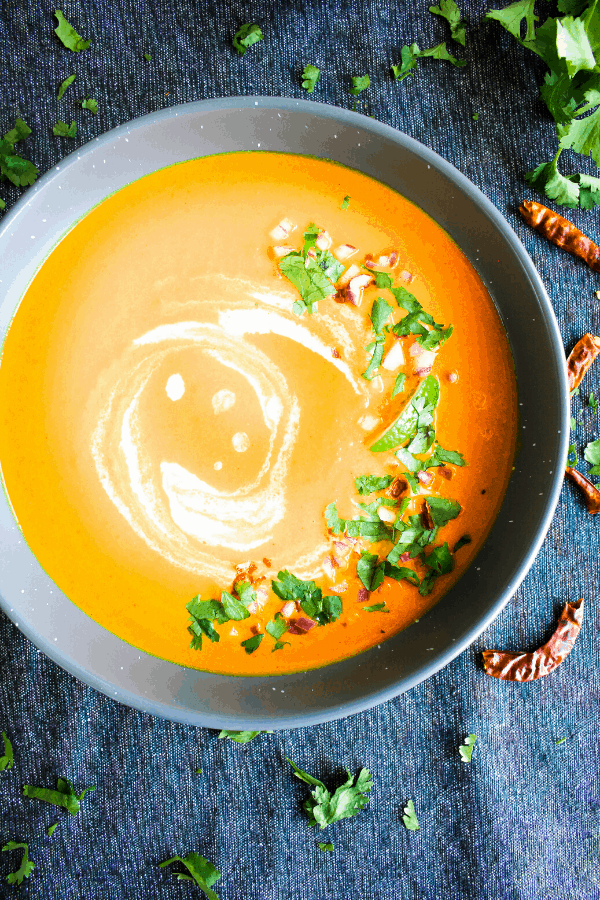 Vegan Garlic Chickpea Soup
Rosemary, thyme and sweet paprika powder makes this Vegan Garlic Chickpea Soup from The Clever Meal absolutely delicious. If you think of chickpeas, don't just think of hummus or curry, they make a perfect soup which thickens itself. If you puree any soup with legumes, you will end up a thick and creamy soup.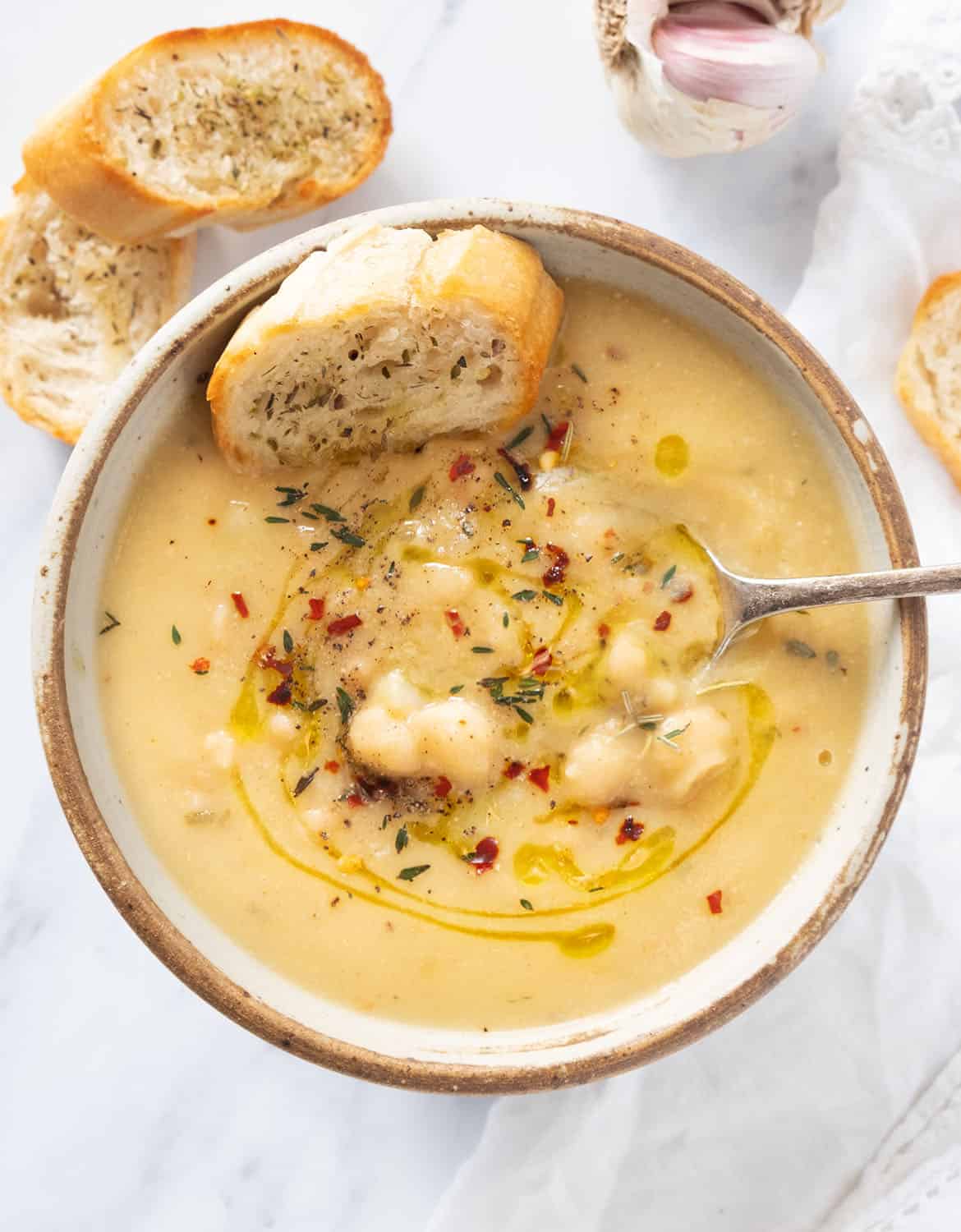 Creamy Summer Squash Soup
It is a lemony refreshing summer soup with summer squash, fresh thyme, and a bit of coconut milk. If you have an abundance of zucchini or other summer squash or you find them fresh and ripe in the farmer's market, try this Creamy Summer Squash Soup from Peel with Zeal.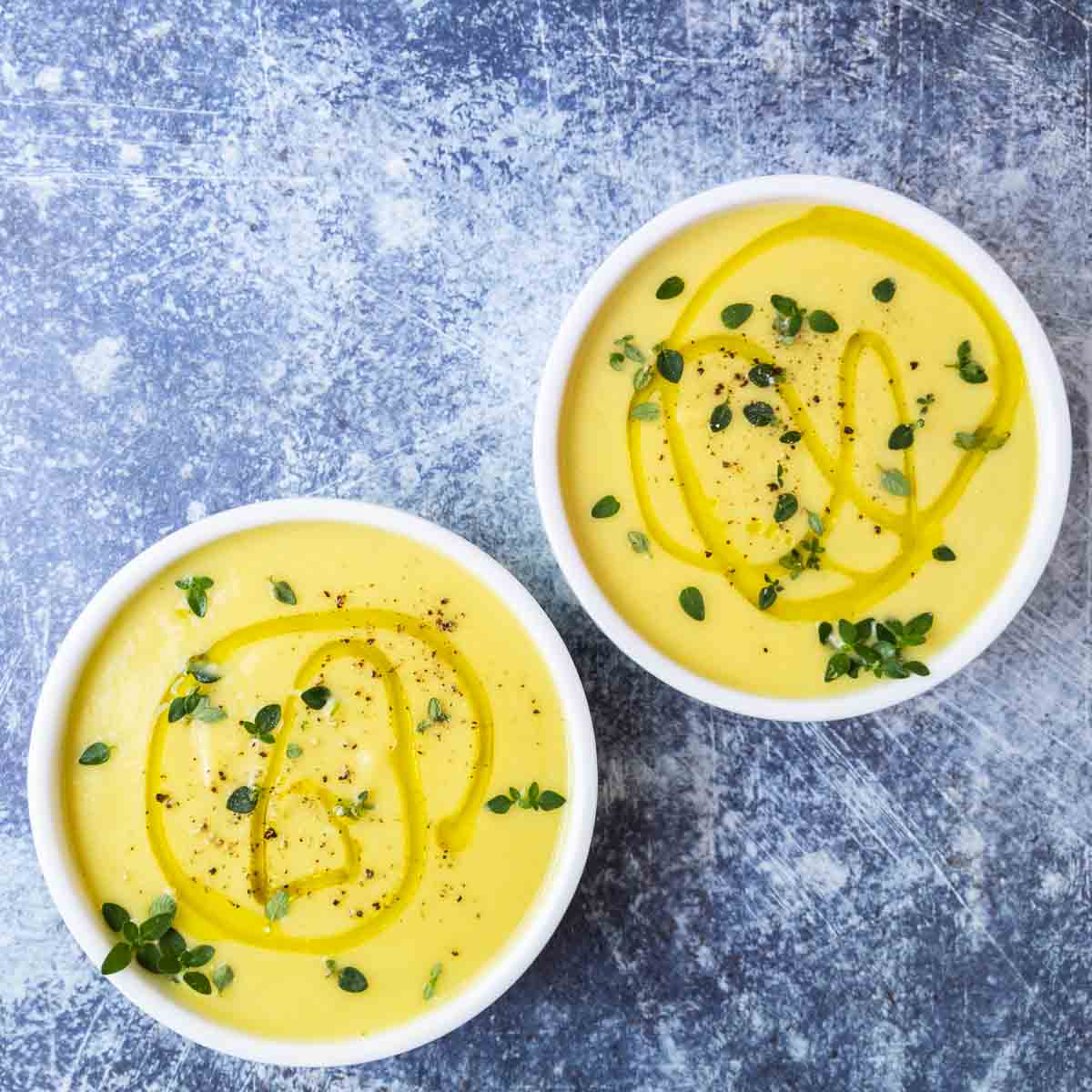 Creamy Asparagus Soup
Have you thought of pairing asparagus with cauliflower, celery and parsnip? Well, we do love roasted asparagus immensely, but this combination sounds super exciting. This Creamy Asparagus Soup from Debra Klein is a must-fry during spring when asparagus is in season.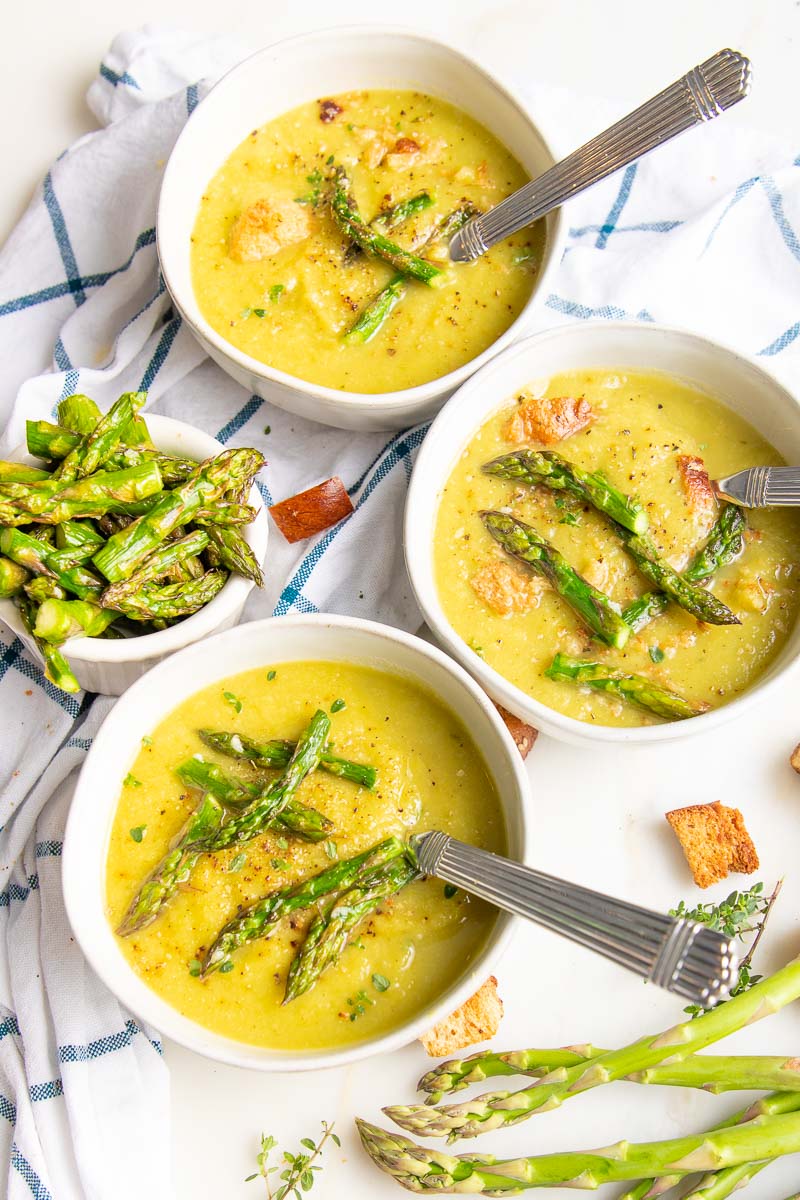 Oven Roasted Beet Soup
Who can resist such a vibrant pink soup? I sure cannot. Coconut milk pairs perfectly with the earthy flavors of beetroot. And look at the carrot shavings. They are just another colorful topping that makes it even more appetising. Don't hesitate to try this Over Roasted Beet Soup from Happy Foods Tube when you have some beets at hand.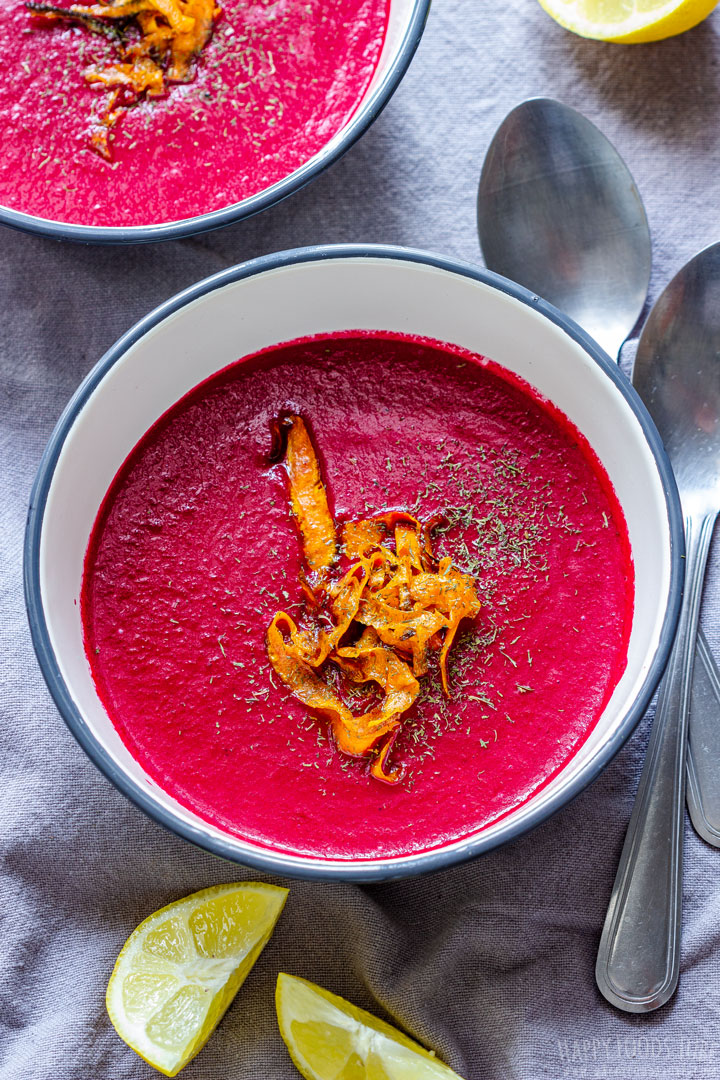 Oven Roasted Cherry Tomato Soup
It is similar to our Roasted Broccoli Sweet Potato Soup from above. In this Oven Roasted Cherry Tomato Soup recipe from The Art of Food and Wine starts with roasting all veggie ingredients in the oven. The soup is spiced with Italian herbs and made creamy using coconut cream. Sounds amazing, isn't it?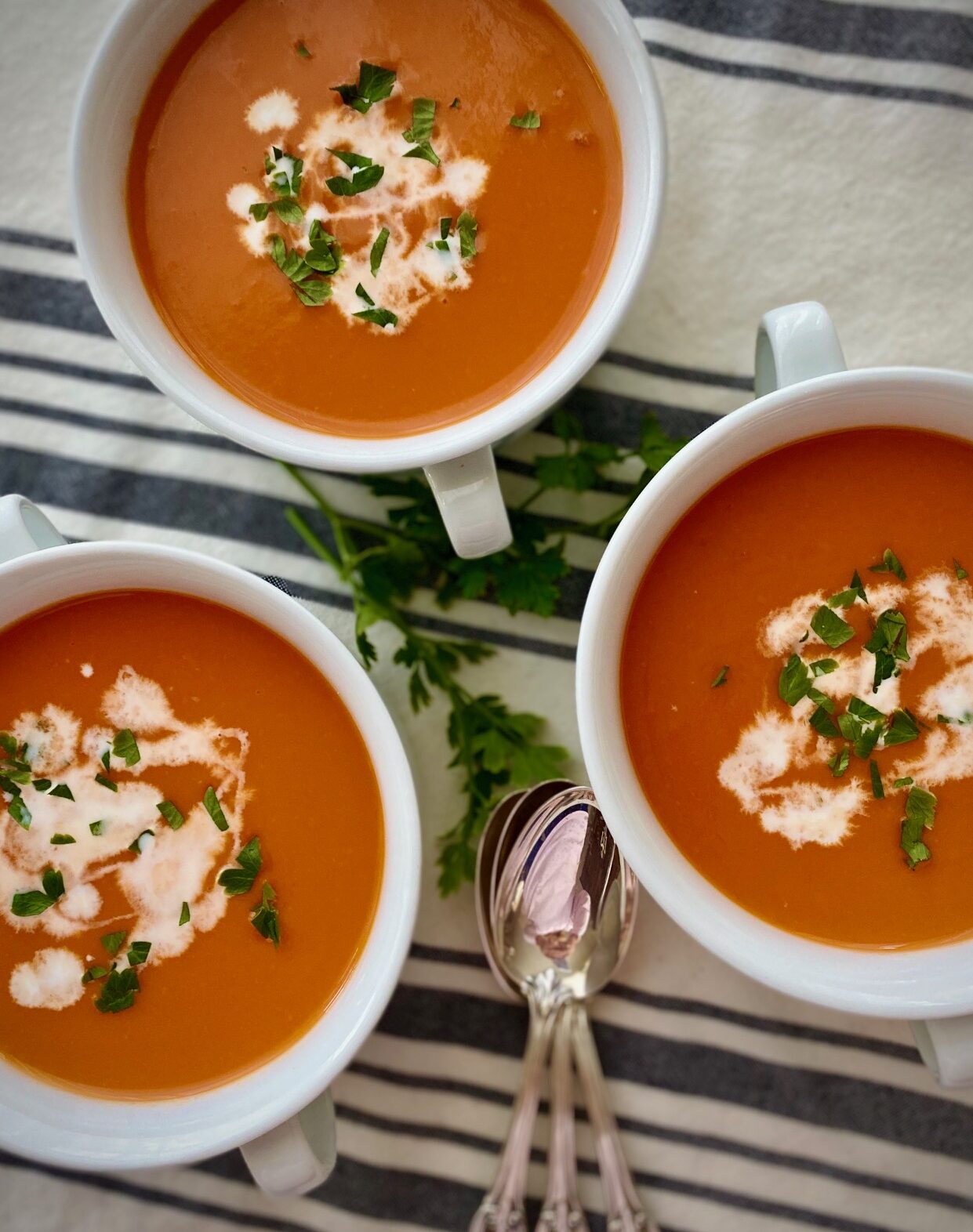 Cauliflower Tikka Masala Soup
This list wouldn't be complete without some Indian flavors like ginger, cumin, turmeric, garam masala, or cayenne pepper. I had roasted cauliflower in tikka masala sauce several times, which was so delicious. Turning this combination into a soup is such an amazing idea. Try this Cauliflower Tikka Masala Soup from Vegan in the Freezer now.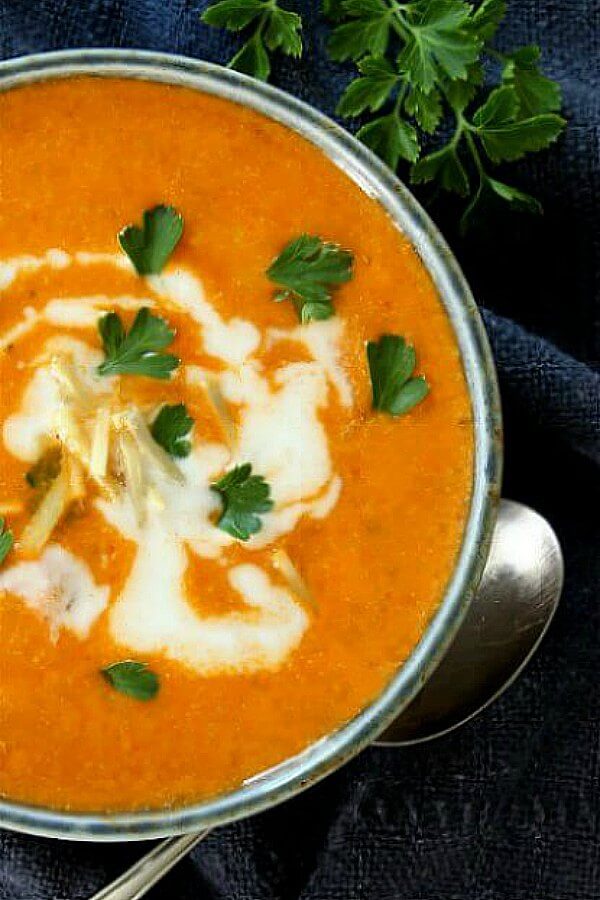 Creamy Brussels Sprout Soup
You either love Brussels sprouts or hate them. There is a huge number of people behind both. However, if you haven't tried it yet, check out this Creamy Brussels Sprout Soup recipe from Running in the Kitchen. It is the perfect candidate especially with these crispy garlic chips on top.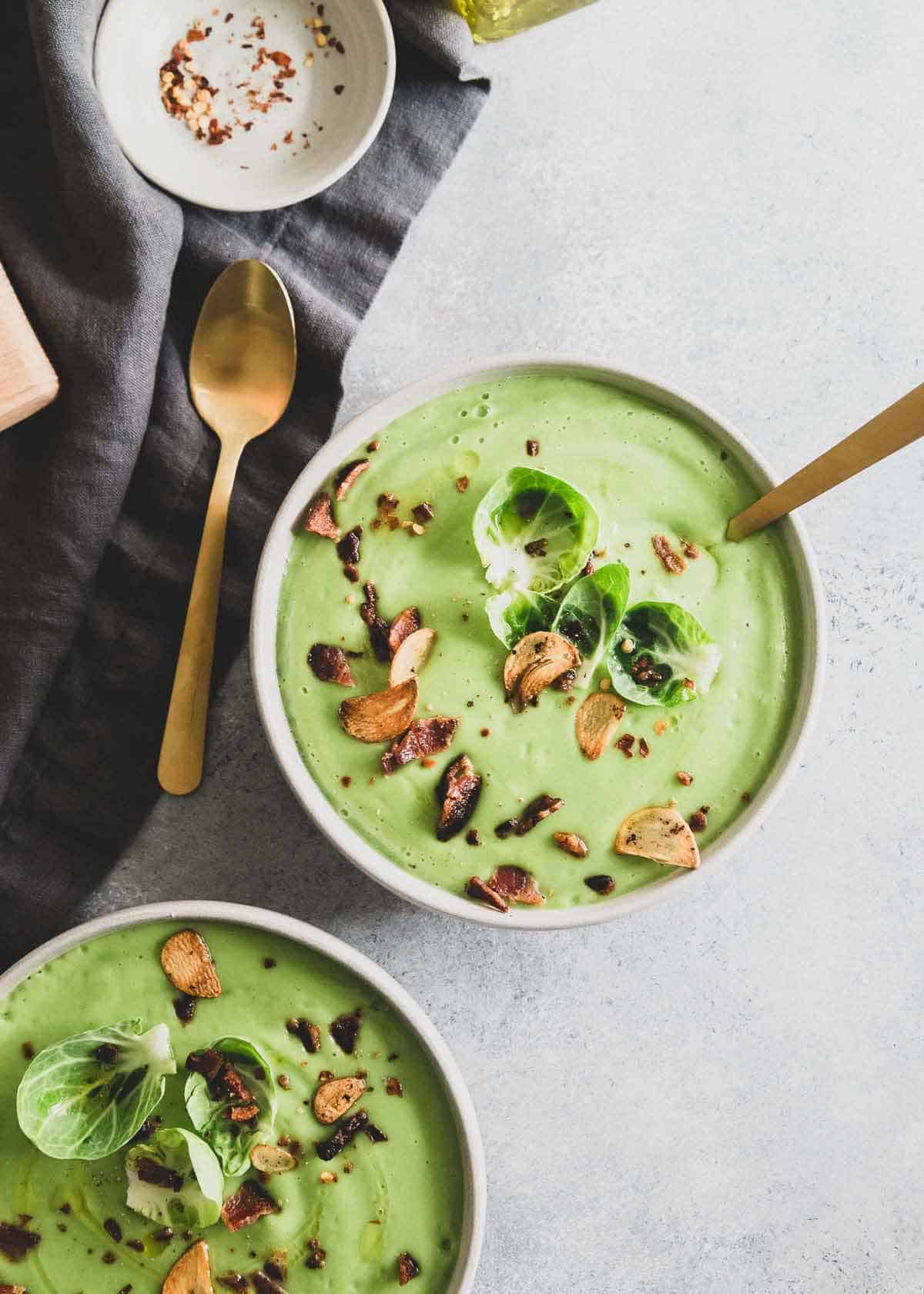 Lemon Coriander Soup
This light vegetable soup is actually a nutrient-packed veggie stock seasoned with fresh coriander leaves, garlic and freshly squeezed lemon juice. This Lemon Coriander Soup from Veg Buffet can be a light mid-day meal or an evening tea replacement or a cosy soup to feel better if you catch a cold.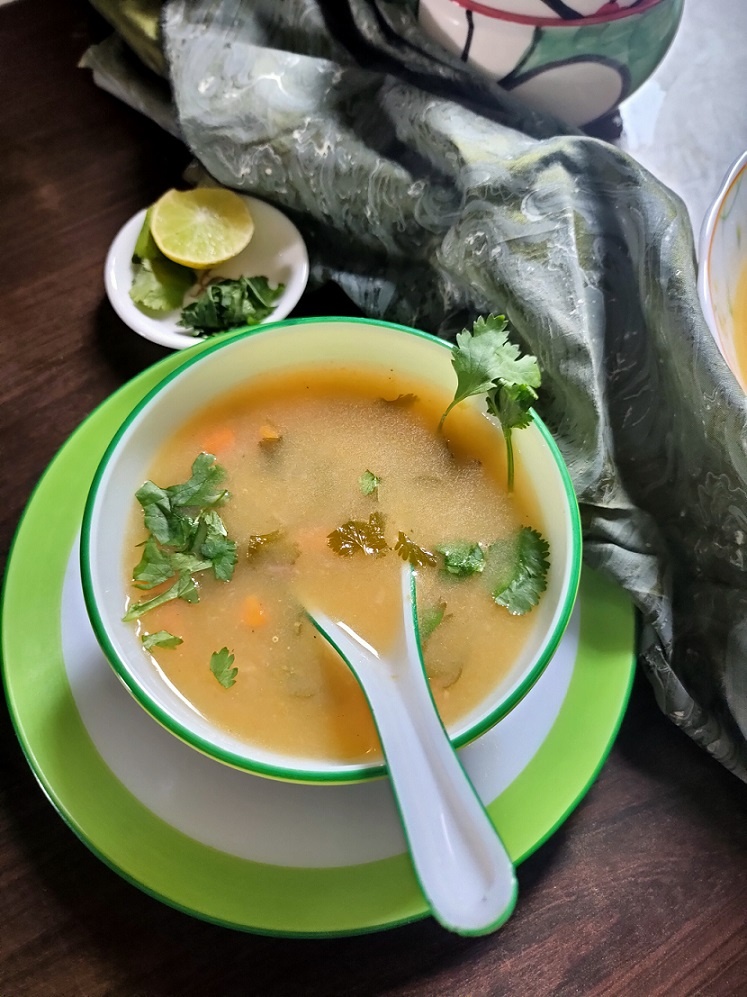 Creamy Zucchini Potato Soup
It is not your classic zucchini soup thickened with potato. No, this Creamy Zucchini Potato Soup from The Powdered Apron adds a dash of curry powder and freshly squeezed lemon to make it interesting.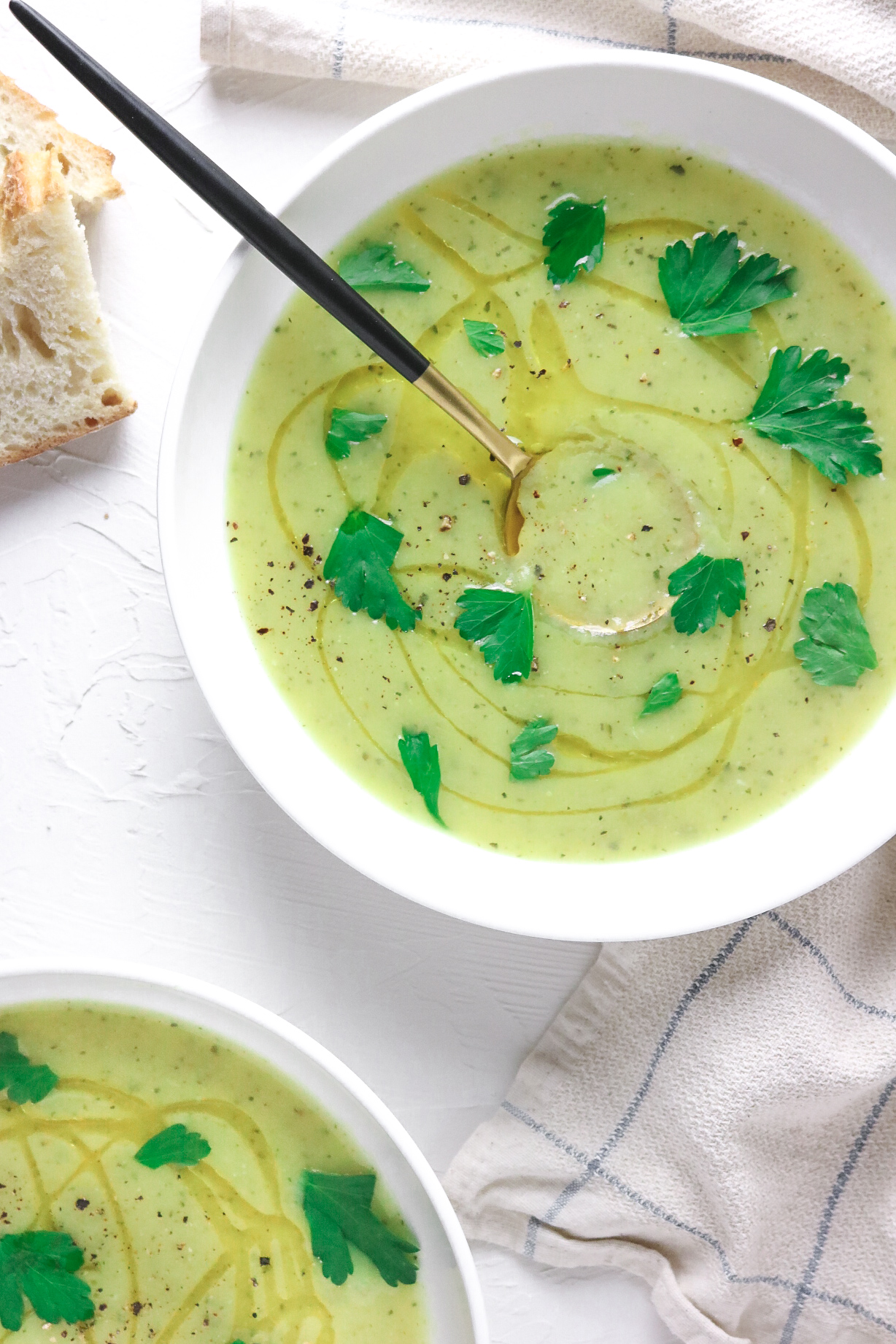 Creamy Vegan Soups in an Instant Pot
If you have Instant Pot or any other pressure cooker here are 5 recipes you can try. The whole idea behind it is that you can dump all ingredients, set it and forget about it until it is ready.
Butternut Squash Soup
There's nothing quite like a soup made of butternut squash. While this Instant Pot Butternut Squash Soup recipe from Corrie Cooks does not call for sweet potato to be included, it's a great way to add more flavor to your soup. Carrot also incorporates very well into butternut squash-based soups.
Potato Leek Soup
This Instant Pot Potato and Leek Soup from Vegan Huggs is an absolute classic. It's a great lunchtime soup that can be served with chunky bread or eaten on its own. You can also serve this creamy soup as a side dish to warming main courses, like nut roast or lentil loaf.
Carrot Ginger Soup
This Instant Pot Carrot Ginger Soup from Bake Me Some Sugar is a velvety vegan cream of soup. The sweetness of the carrots is counterbalanced with spicy ginger. It is simple with pantry staples. Not to mention ready in 20 minutes.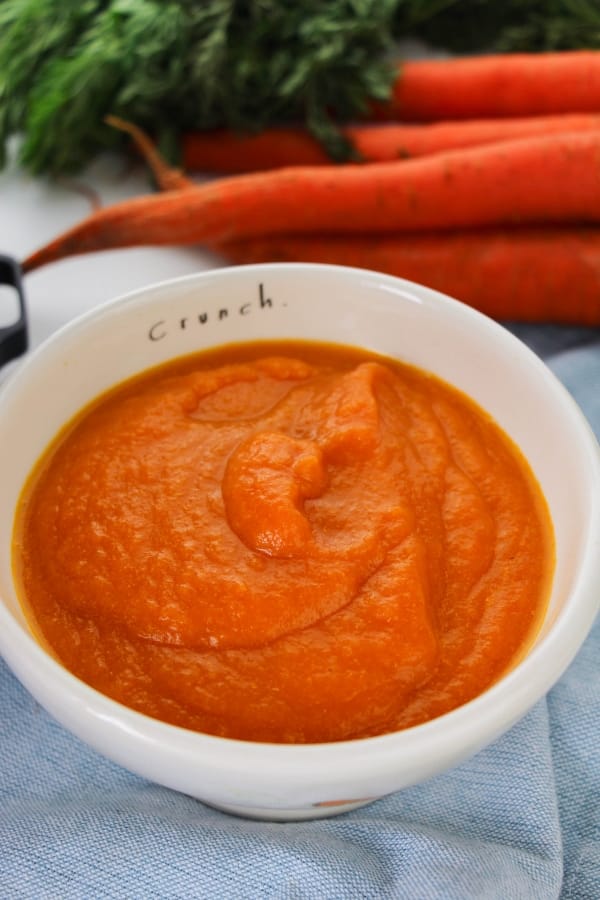 Crushed Red Lentil Soup
Have you tried red lentil recipes? They are the easiest lentil to work with as you can cook them in 20 minutes without soaking them in advance. I love using them to make not only savory but sweet recipes as well like waffle or pancake. This Instant Pot Crushed Lentil Soup from Veggie Chick has a delicious Middle Eastern vibe due to saffron, coriander, cumin, bay leaves and red pepper.
Classic Tomato Soup
Tomato soup is a classic dish, loved by young and old. What's better when you feel under the weather? Instead of tinned soup, why don't you whip up your own? Not only will it be healthier, but more rewarding. Try this Instant Pot Tomato Soup recipe from Hint of Healthy using Italian herbs and plum tomatoes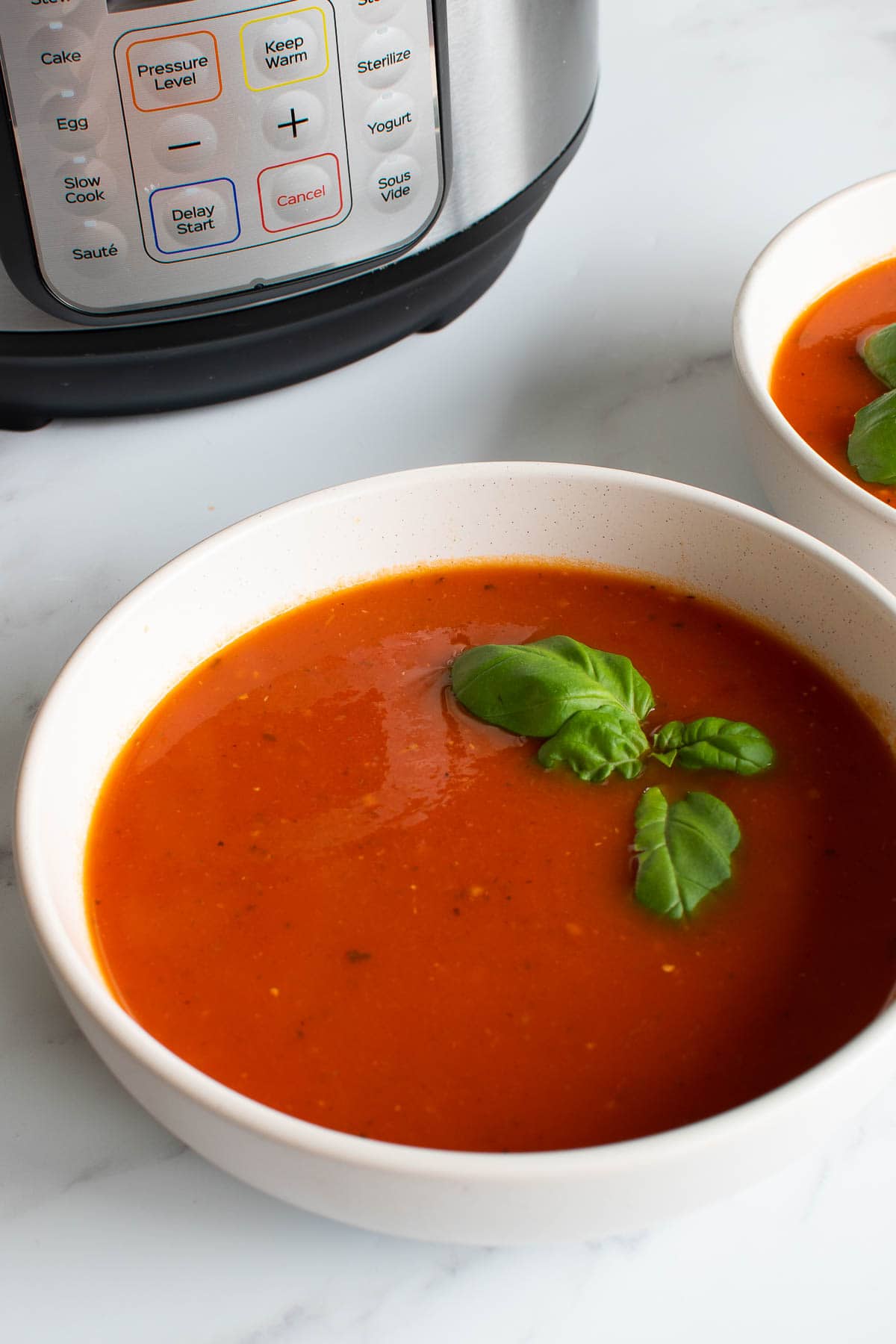 No-Cook Vegan Blender Soups
Is it too hot outside and you have no intention to cook? Well, these 5 delicious and refreshing summer soups will help you out. All of them is full of flavor containing raw veggies and fruits to make it super nutritious as well.
Cold Watermelon Soup
This Watermelon Soup is unconventional but delicious as it is prepared in gazpacho style. If you're feeling experimental, then give this recipe a go. This dish is sure to cool you down on a warm summer's day.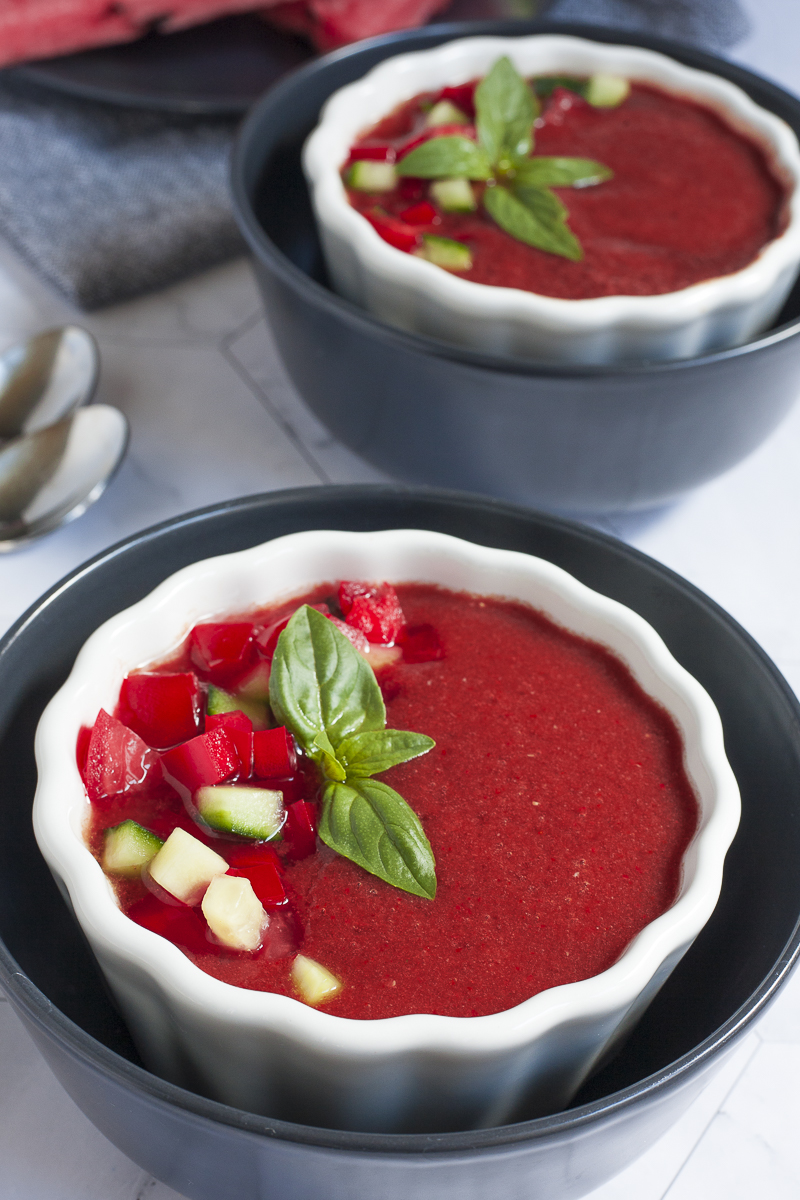 Chilled Cucumber Avocado Soup
Have you tried combining cucumber and avocado? If you have you already know they go great together. Take you blender, dump all ingredients and your Chilled Cucumber Avocado Soup from Drive Me Hungry is ready in 10 minutes! Look at all those colorful toppings! This soup is certainly one of the most spectacular raw veggie soups I have every seen.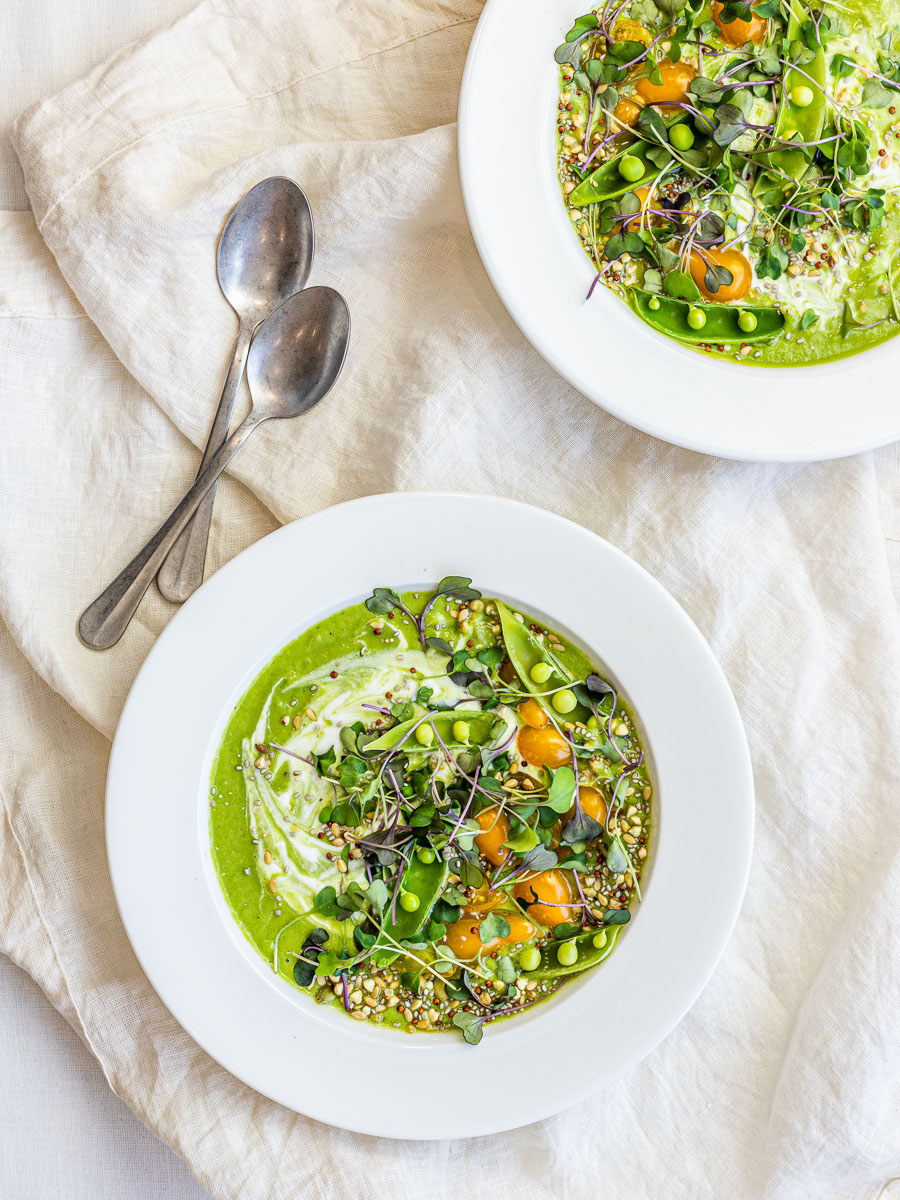 Traditional Gazpacho with a Kick
Gazpacho is made from raw, blended vegetables and served chilled. If you enjoy cold soups, then you're sure to enjoy this Traditional Gazpacho recipe from Housewives of Frederic County. It's healthy and easy to make. This soup tastes much better when you add a bit of jalapeno and hot sauce to the mix.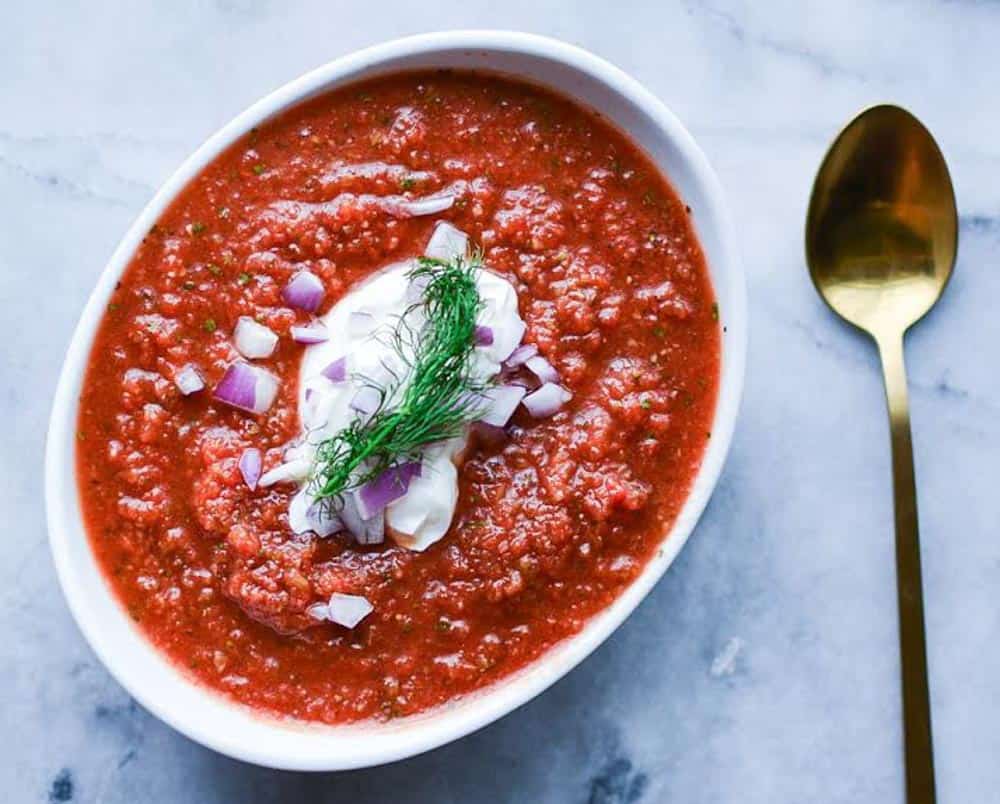 Refreshing Zucchini Soup
Once you've tried this Cold Summer Zucchini Soup recipe from Seven Roses, it'll become your personal favorite. Summer is the best time to pick up fresh, organically farmed zucchinis, although you can usually find them in supermarkets year-round. We can describe this recipe with 3 words: refreshing, quick and simple.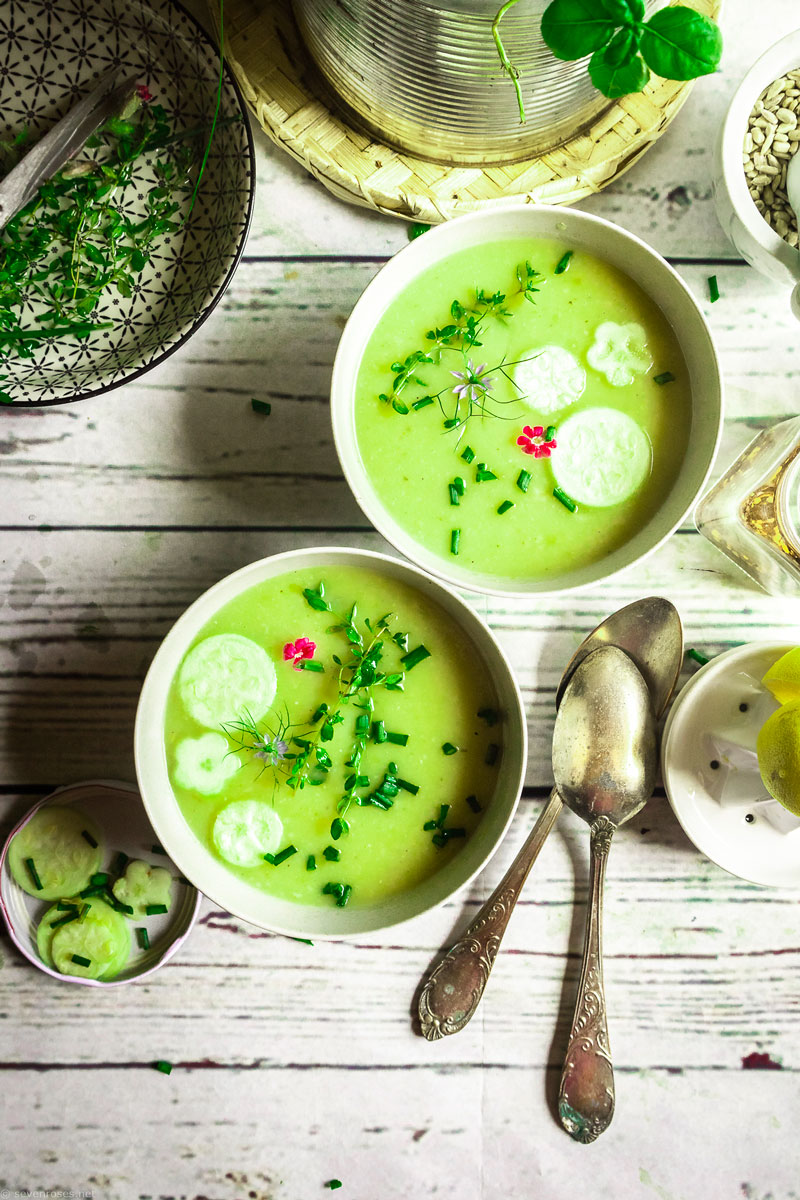 Cucumber Gazpacho with Melon
When you hear gazpacho you might think of a red tomato based raw vegetable soup. This Cucumber Gazpacho from Picky Eater Blog is certainly an intriguing alternative. It is full of veggies and fruits. Garnish this soup with mint, and add in a touch of dairy-free cream for maximum flavor.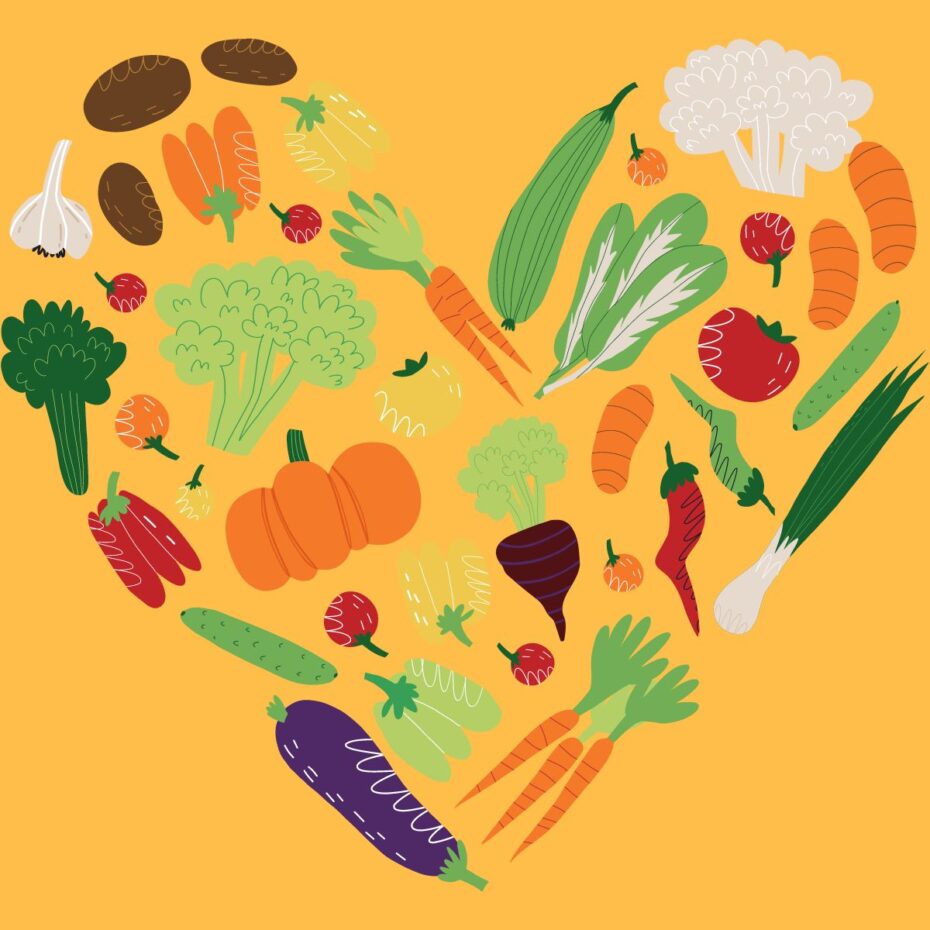 More vegan soup recipes