How to make a cheezy, gooey cream cheese sauce that is not only vegan but nut-free and soy-free as well? The not-so-secret ingredient is cannellini beans. To make delicious vegan buffalo chicken dip, you also need the best plant-based alternative for shredded chicken which is oyster mushrooms. Wanna know more?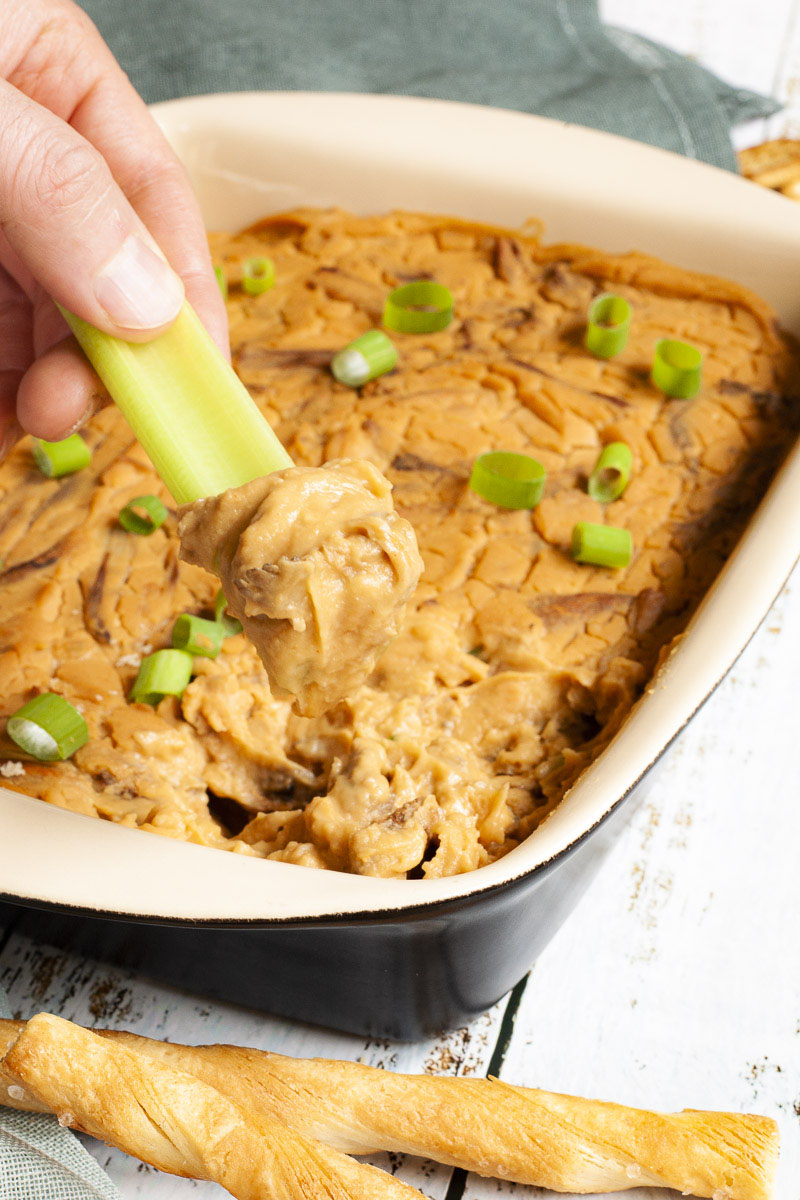 Dips are one of the most versatile appetizers you can serve for a party, for Game Day, for tailgating, for movie night, or for snacking. We also have some up at our sleeves you can try like this oil-free hummus, roasted eggplant bell pepper dip, vegan queso dip, or vegan nacho cheese sauce recipes.
What to expect from this recipe?
The classic buffalo chicken dip became so popular as it is deliciously creamy, super easy to make, with only a couple of pantry ingredients, and you can even use leftover chicken breasts to make it.
How easy it is to make this vegan? I would say not easy since the original is loaded with dairy products like cream cheese, ranch dressing, and loads of shredded cheese, as well as chicken. However, if you change your expectations a bit, and are willing to try something healthier and more nutritious, you might be surprised how delicious and cheezy this dip can be.
In this recipe, we used a homemade, hot, piquant vegan buffalo sauce, which we also use to make vegan buffalo chicken wings and grilled buffalo tofu skewers. We also made a hearty, rich, cheezy cream cheese substitute using white beans. So what will it taste like?
Rich, cheezy, and filling sauce
Hot and spicy
Meaty oyster mushroom shreds that mimic the texture perfect and no mushroom flavor at all!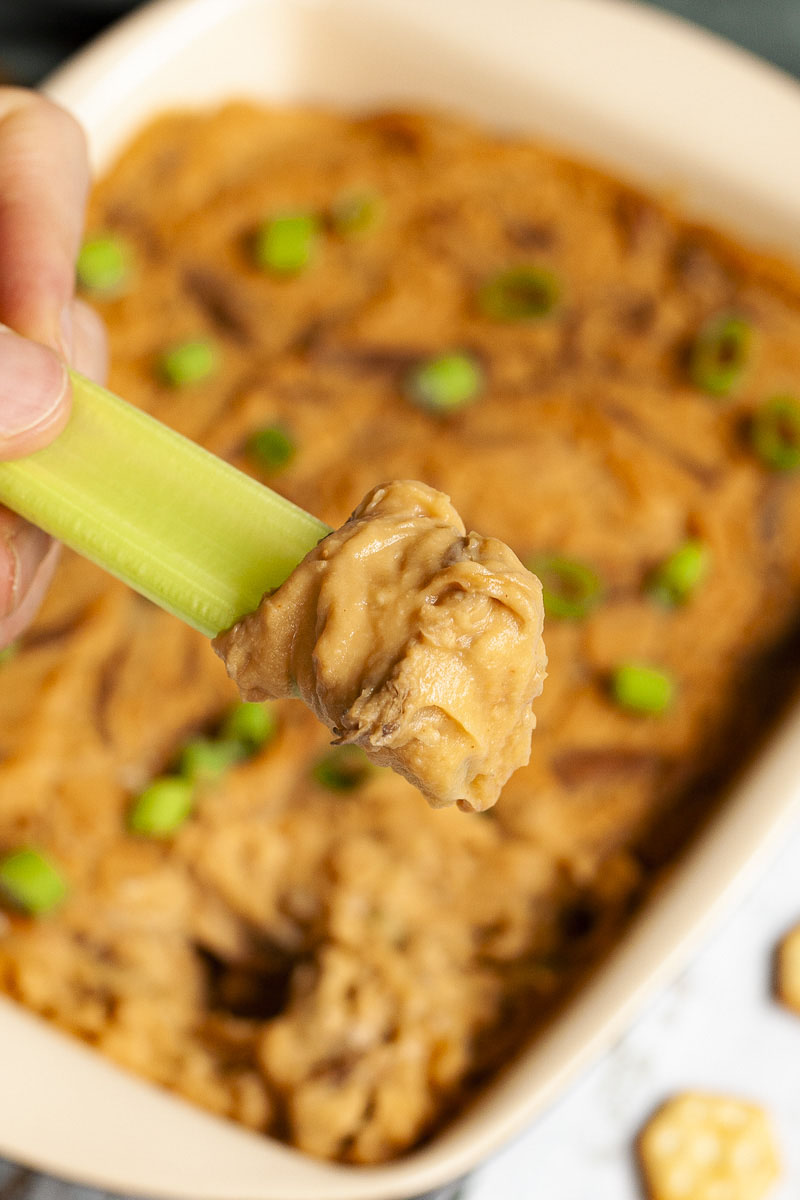 Best vegan shredded chicken for this dip
I would say the most important part to get right is what would you use instead of shredded chicken breast. I have been seeing recipes using jackfruit, shredded tofu, cauliflower florets, artichoke hearts, or store-bought plant-based chicken products.
However, it seems nobody thought that the best plant-based alternative is pearl oyster mushrooms, not king oysters, but any of these 6 types of oyster mushrooms (see below photo). I have 5 reasons for you:
allergy-friendly -> no soy, no nuts, no gluten
pantry staple -> these mushrooms are part of the usual vegan grocery or shopping list
easy to buy -> more available in all local stores than jackfruit or artichoke hearts – here is where to buy them or how to grow them at home
cheap -> way cheaper than e.g. buying Gardein products
quite neutral in taste -> they soak up any seasoning you add
tough spongy texture -> perfectly replicating meat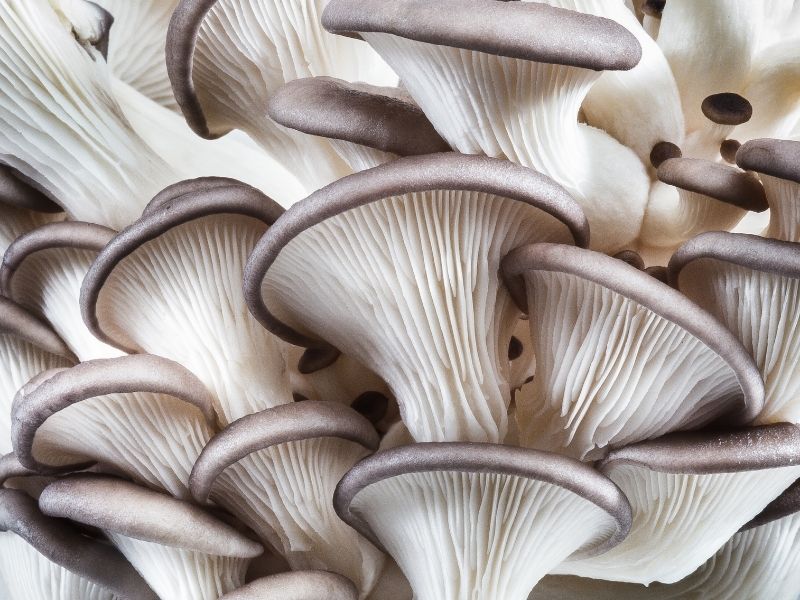 Ingredients
This vegan cream cheese sauce is inspired by our vegan eggplant parmesan recipe. It made the dish so much richer and creamier without the heavy, fat texture. It was absolutely fantastic.
So back to this vegan buffalo dip. What do you need to make it?
How to make vegan buffalo chicken dip?
Making the homemade vegan buffalo sauce
Add all ingredients Frank's Red Hot Sauce, vegetable broth, cashew nuts (or use sunflower seeds to make it nut-free), white wine vinegar, garlic powder, onion powder, maple syrup, and soy sauce (or any of these gluten-free soy sauce alternatives like tamari) to a high-speed blender.
Blend it until creamy and smooth.
Making the vegan shredded chicken
We used our easy vegan shredded chicken recipe. Look at the below picture. Would you have guessed it is mushroom and not chicken? It looks pretty amazing, right?
Cut the stem of the oyster mushrooms and tear the cap into small shreds with our hands. If the stem is soft enough you can shred them as well. Basically, you only need these 3 steps to prepare oyster mushrooms before baking.
Mix them with ¼ cup of homemade buffalo sauce.
Bake them in the oven at 425 Fahrenheit (220 degrees Celsius) for 20 minutes.
Making a hot cheezy sauce
Peel and chop onion and garlic.
Take a frying pan and add olive oil.
Cook chopped onion and garlic for 2-3 minutes until tender and soft (photo #1).
Drain and add canned cannellini beans (photo #2). Mix thoroughly.
Add dairy-free milk (photo #3). Stir well.
Add apple cider vinegar and nutritional yeast (photo #4). Stir and bring to boil.
When ready, add it to the blender with ¼ cup of homemade vegan buffalo sauce. You can certainly use a hand blender (aka immersion blender) or a regular blender. They all make a nice creamy sauce. However, if you need this sauce to be extra smooth without a single little piece to find, we recommend using a high-powered blender like Vitamix*.
Let's bake it in the oven
It is delicious on the next day as well, but best to serve it while still warm.
Take an oven-safe baking dish. Add the baked shredded oyster mushroom and the hot vegan cream cheese sauce and mix thoroughly.
Layer it evenly.
Preheat the oven to 350 Fahrenheit (180 degrees Celsius) and bake for 15 minutes. Not more though as the beans can thicken the dip too much and the upper layer will dry out soon. It should only be in the oven long enough to get it piping hot. See the result for yourself and dig in.
Top it with some green onions or herbs like parsley or cilantro.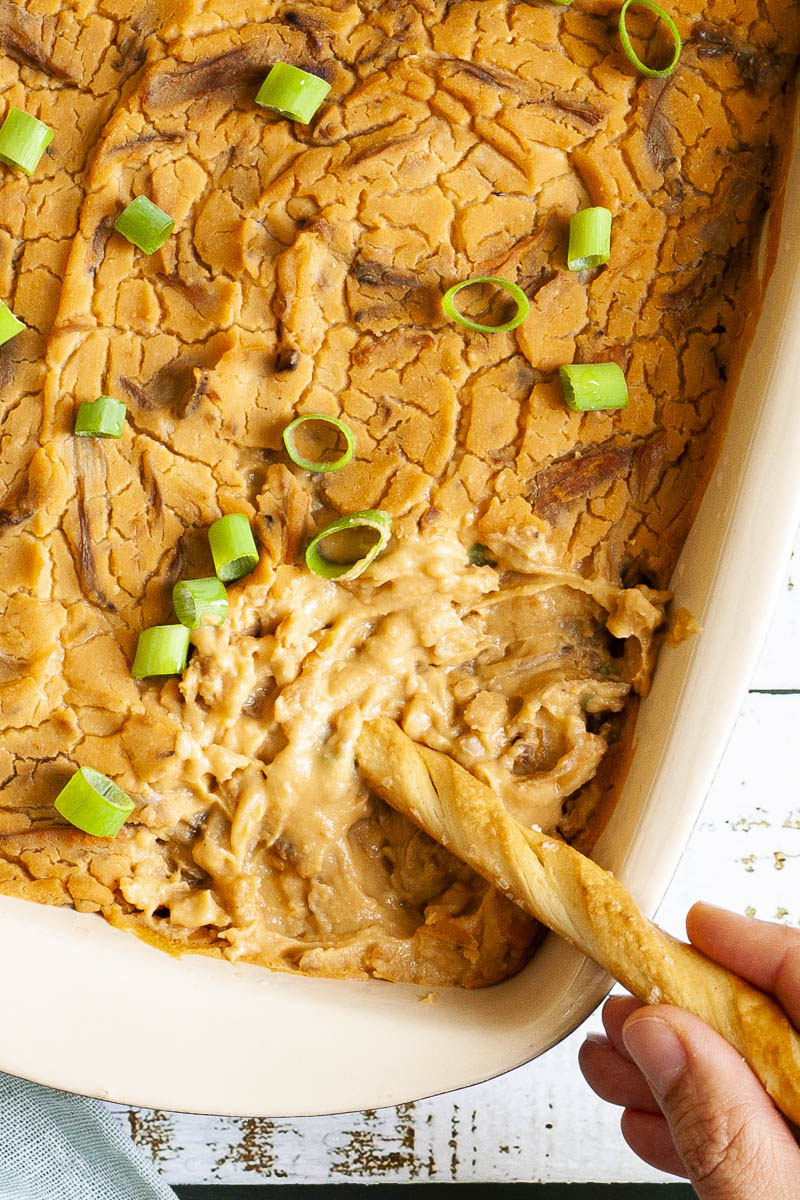 FAQs and substitutions
How do you store it?
You can keep it in the fridge for 3-4 days tops without any problem.
Can you make them ahead of time?
You can store oyster mushrooms easily for up to a week in the fridge, or at room temperature for 1-2 days. For more tips, read our how to store oyster mushrooms article. The finished dish can be stored in the fridge for up to 3-4 days. When you are ready to serve them, reheat them in the oven.
Can you freeze the sauce?
I never had to freeze it as it is usually gone by day 2. If you try to freeze the sauce, let me know how it turns out.
What can you use instead of oyster mushrooms?
You can use any of these oyster mushroom substitutes. The closest ones are probably shiitake mushrooms and maitake mushrooms.
What to dip in it?
Take a sliced baguette, flatbread, or pita wedges (maybe make our flourless grain-free tortillas) and dip them in.
Have some pita chips, crackers, or even tortilla chips with it for a quick snack.
Cut up some fresh raw veggies into sticks, like carrot, cucumber, rutabaga (Oh so delicious…), celery, or bell peppers, and scoop up some.
This dip is a great addition to any party platters or grazing boards next to classic hummus or tofu cream cheese.
This Vegan Buffalo Chicken Dip recipe is egg-free and dairy-free. It is suitable for a vegan, vegetarian, soy-free diet. It is nut-free if you use sunflower seeds instead of raw cashews. It is gluten-free if you use certified products and proper substitutes for soy sauce. Skip sauteeing the onion, to make it WFPB-friendly (whole foods plant-based).
More vegan dip recipes
You can browse through our vegan dips or check out
More oyster mushroom recipes
Don't know what else to cook with oyster mushrooms? You can find several delicious oyster mushroom recipes here or check out one from the below list where they used instead of meat :
UPDATED: The original recipe was published in October 2020. It has been updated with detailed instructions and more top tips in April 2022.