This is the easiest vegan shredded chicken ever. Seriously, you need only ONE ingredient! That's right. No need to know what vital wheat gluten or seitan is. You don't need any soy products what so ever. This "vegan chicken" recipe is 100% plant-based, gluten-free and soy-free. I mean look at the below picture would you have guessed it is not meat?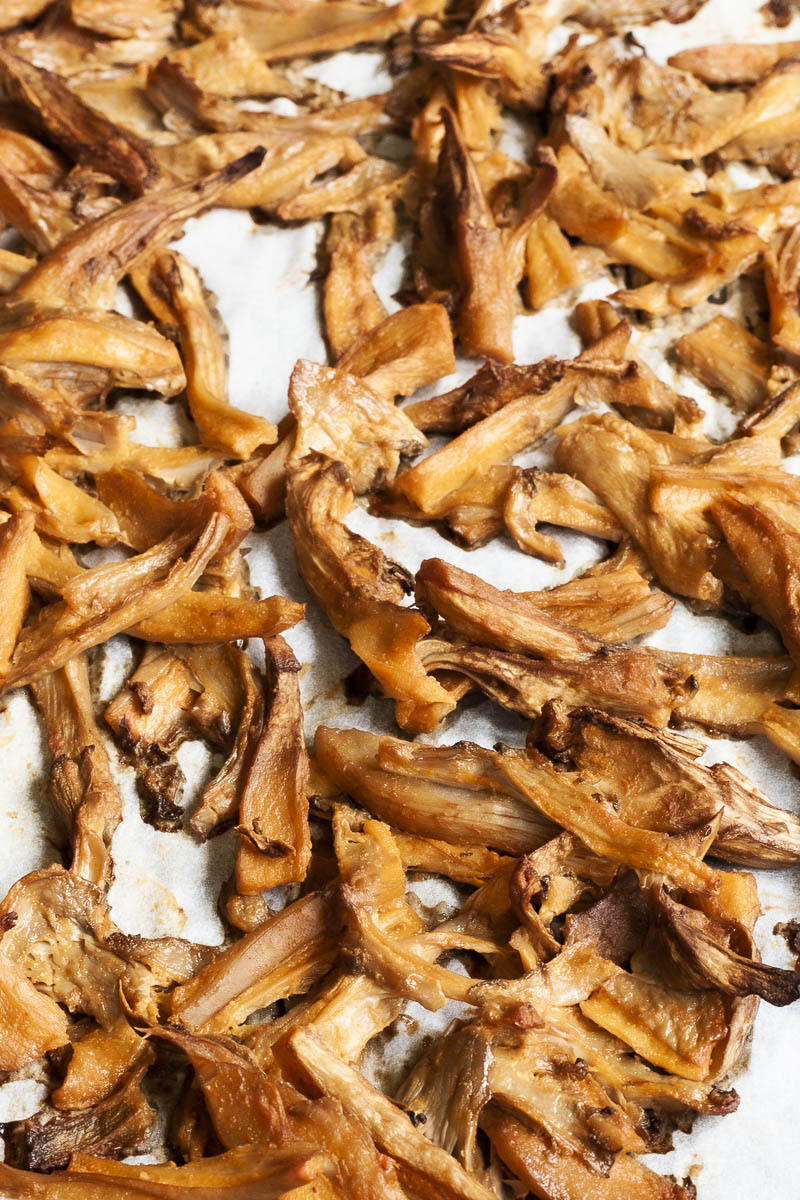 We don't really do fake meats. Not at least in a sense to try to replicate the texture and the taste exactly. But we love to find delicious and nutritious alternatives that could mimic classic meat-based dishes. We love chopped cauliflower and walnut for minced meat in Vegan Spaghetti Bolognese or eggplant for meatballs in Vegan Eggplant Meatballs Spaghetti or large portobello mushroom caps for Vegan Burger Patties.
Vegan shredded chicken alternatives
I would say more and more alternatives came to be as plant-based or vegan diet becomes more and more popular. I have seen and tried some of them and I can say it in all honesty that all of them has pros and cons. And what you decide can be based on personal taste, but sometimes it has to be based on medical issues like allergies and intolerance. Here is some examples that can work as a meatless alternative to shredded vegan chicken:
jackfruit,
seitan,
shredded tofu,
soy curls,
artichoke hearts,
oyster mushroom (king sized and regular),
store-bought vegan or vegetarian chicken strips (like Simple Truth, Beyond Meat, Gardein, Linda McCarthy or Quorn).
But which one is the best alternative and why?
Best fake plant-based chicken
So here we go. Drumroll, please! The best plant-based alternative is shredded oyster mushrooms, not necessarily king oyster but the regular type. I have 5 reasons for you to consider:
allergy-friendly -> no soy, no nuts, no gluten
pantry staple -> mushrooms are usually in all vegan grocery or shopping list
easy to buy -> usually available in all local stores (unlike seitan or artichoke hearts)
cheap -> way cheaper than company branded products
quite neutral in taste -> they soak up any seasoning or marinade you add
tough spongy texture -> perfect to replicate chicken
So what do you think? Isn't it a perfect ingredient for a nutritious and healthy plant-based diet? We have even written a Guide to Oyster Mushrooms with the Best 20+ Oyster Mushroom Recipes to give you even more ideas to enjoy this awesome ingredient.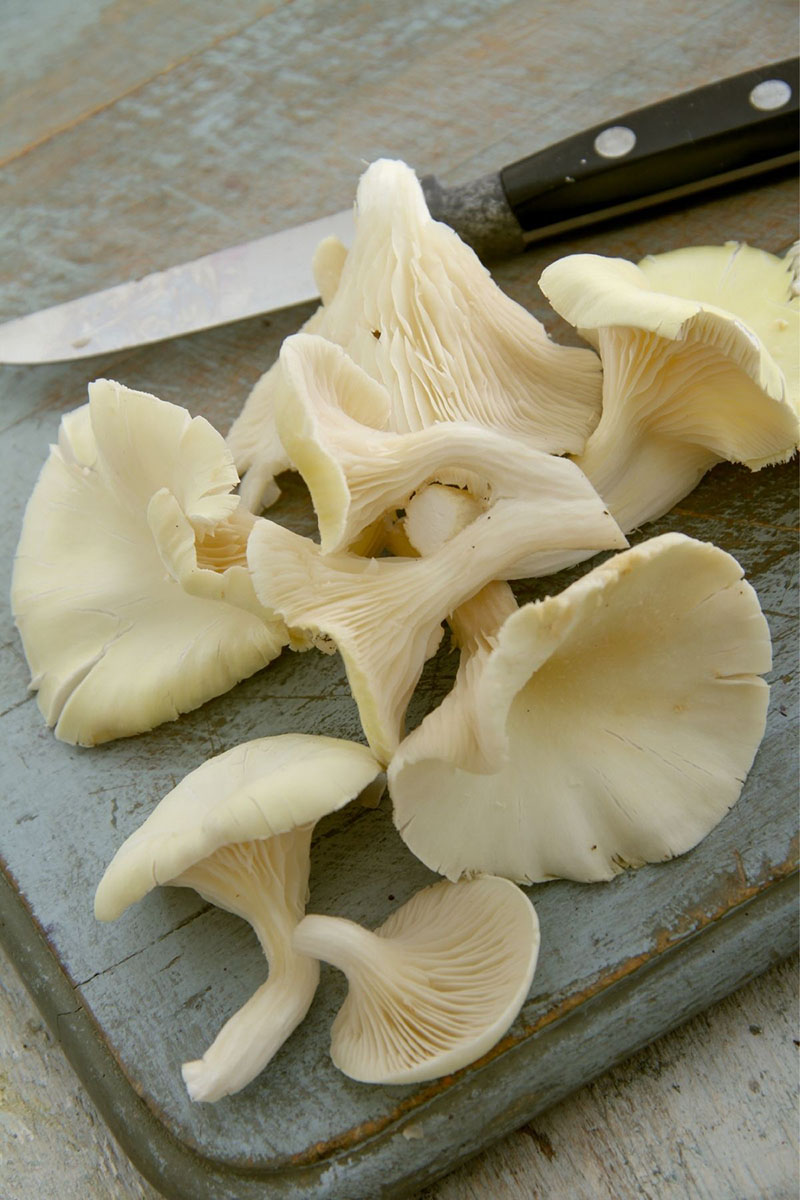 How to make vegan chicken strips
Prepare the mushroom
It is super easy to prepare oyster mushrooms. You can gently wash any dirt off of them by using a colander* or a sieve*. Dry them with a paper towel or clean kitchen cloth. We never peel mushrooms especially oyster mushrooms, but sometimes cut off the end of the stem if it doesn't look good.
Then cut each of them into two parts 1) stem and 2) cap. Tear the cap into small shreds with your hands The horizontal gills/lamellae of the mushrooms will be your guide (see below photo). If the stem is soft enough you can shred them as well. The goal is to have thin strips of mushrooms that are uneven and not cut clean.
Marinade and bake
Take a large bowl and add the mushroom strips. Use your favorite marinade and spice mix and gently cover them thoroughly using a spatula. Baked them in the oven on a non-stick parchment paper or baking sheet on 425 Fahrenheit (220 degrees Celsius) for 20 minutes. Use them in your favorite recipe. Look at the below picture. Would you have guessed it is mushroom and not chicken? It looks pretty amazing, right?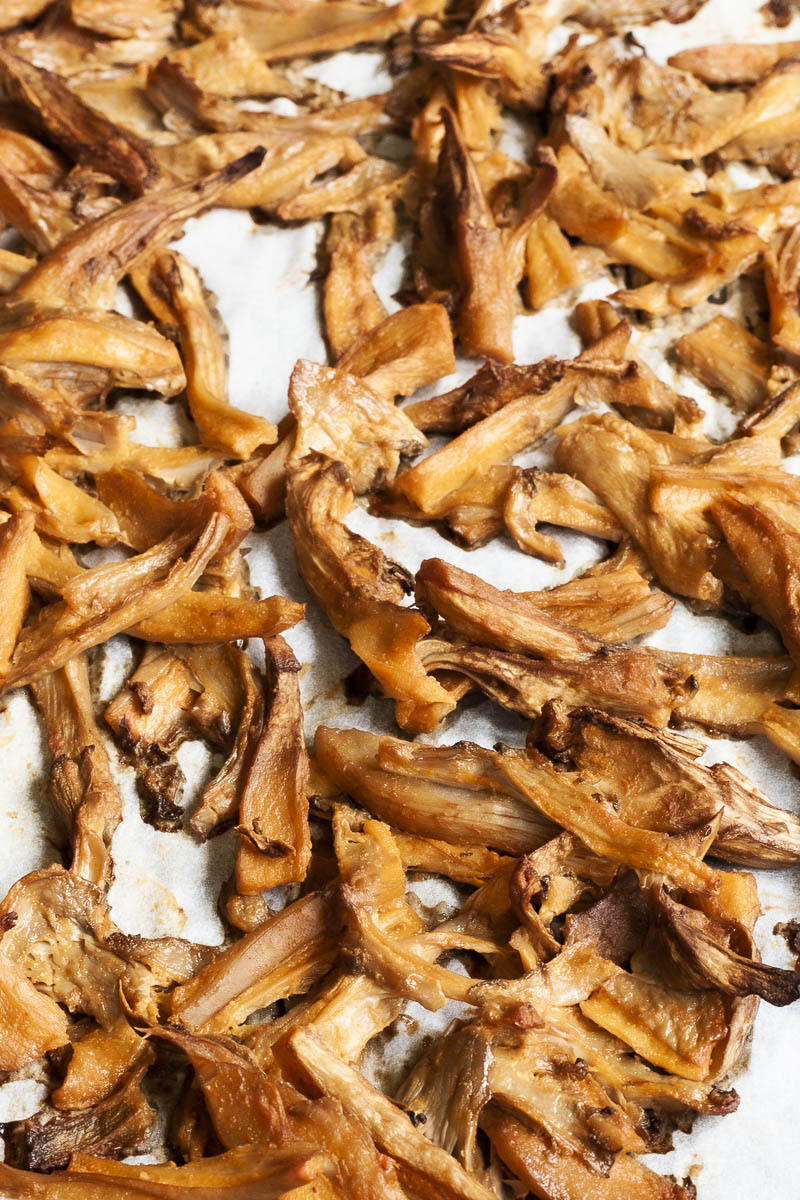 Marinade and serving ideas
Here are some recommendation for marinade and spice mix depending on what you want to pair your vegan shredded chicken with:
Let us know in the comments what is your favorite combination. Here is the Vegan Buffalo Chicken Dip for reference.
This Vegan Shredded "Chicken" recipe is meat-free, egg-free and dairy-free. It is suitable for a vegan, vegetarian diet. It is soy-free, nut-free, gluten-free diet, and even WFPB-friendly (whole foods plant-based) if you use allergy-friendly marinade.
More vegan mushroom recipes
You can browse through our Vegan Gluten-free Mushroom Recipes or check out