Oyster mushrooms are one of the most popular types of mushrooms out there. They come in a number of different varieties, each with its own unique flavor profile and characteristics. This article is just one part of our complete guide to oyster mushrooms that aims to help you familiarize yourself with all the tastiest oyster mushroom types out there. There's a lot to learn, so get reading!
What are oyster mushrooms?
Beloved worldwide for their unique texture and savory flavor, oyster mushrooms, scientifically categorized as Pleurotus ostreatus, are one of the most common types of cultivated mushrooms in the world. These fungi have extremely short (or absent) stems and wide, fan-shaped caps which resemble their namesake, the oyster.
Usually found in clusters of small, overlapping mushrooms, these frilly-edged fungi caps can be spotted growing on dead and dying logs, fallen hardwood trees, and coniferous trees. Due to their fast growth, they are also one of the easiest mushrooms to grow. If you want to try it, read our article about how to grow oyster mushrooms at home.
How to identify oyster mushrooms
Oyster mushrooms are easily identifiable because of their distinctive fan-shaped caps. Usually 5 to 25 cm in size, these fleshy caps do not have any scales or warts, are white in color, and are generally firm to the touch.
They grow in a shelf-like formation, and typically do not have a stem. If they do have a stem, they tend to be quite short and unnoticeable.
The gills of oyster mushrooms are white and decurrent, which means they extend down onto the stem. It is also common for them to have white or lilac-gray colored spore prints on them, and smell faintly like black licorice or anise.
Another way to identify oyster mushrooms is by looking at where they grow. Since these mushrooms are saprotrophic, meaning they feed on dead things, you are most likely going to find them growing on dead logs. As there are similar-looking mushrooms growing on healthy trees, you're probably better off avoiding them or consulting with a certified forager.
There are several edible look-alikes that are similar in texture or in taste. When you find that you've run out of the real deal right in the middle of a recipe, you can save yourself the hassle of making a dash to the grocery store, and just reach for one of these 12 oyster mushroom substitutes instead like Lion's Mane, Chantelle, Maitake or Shiitake!
Different types of oyster mushrooms
There are more than 200 oyster mushroom varieties, but we choose the 7 common types you can buy easier to use for cooking.
Pearl oyster mushrooms (Pleurotus ostreatus)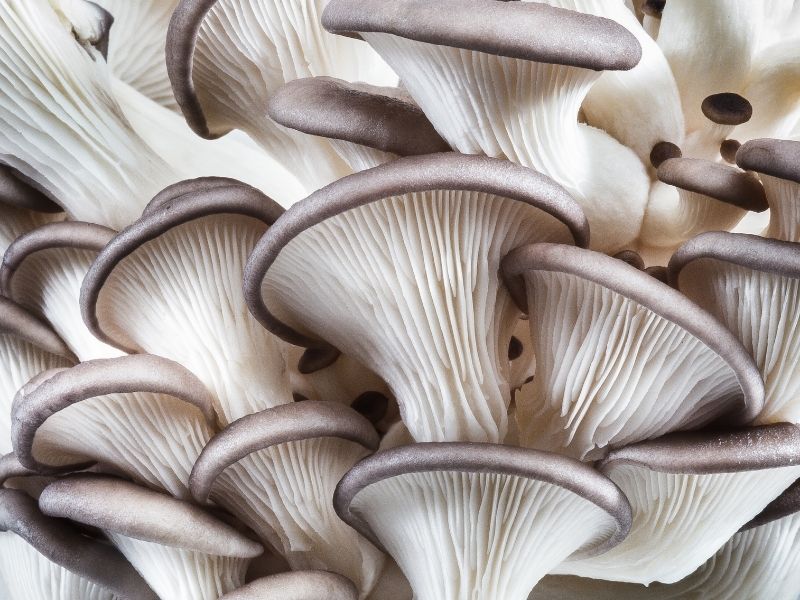 Out of all the different types of oyster mushrooms out there, pearl oyster mushrooms are the ones that are most commonly available in stores. They are white or light brownish-gray in color, with large visible gills of the same color, and thick, short stems. They have a sweet, woody flavor, and are excellent for adding to dishes to enhance the flavors of the other ingredients.
We have many pearl oyster mushroom recipes for example: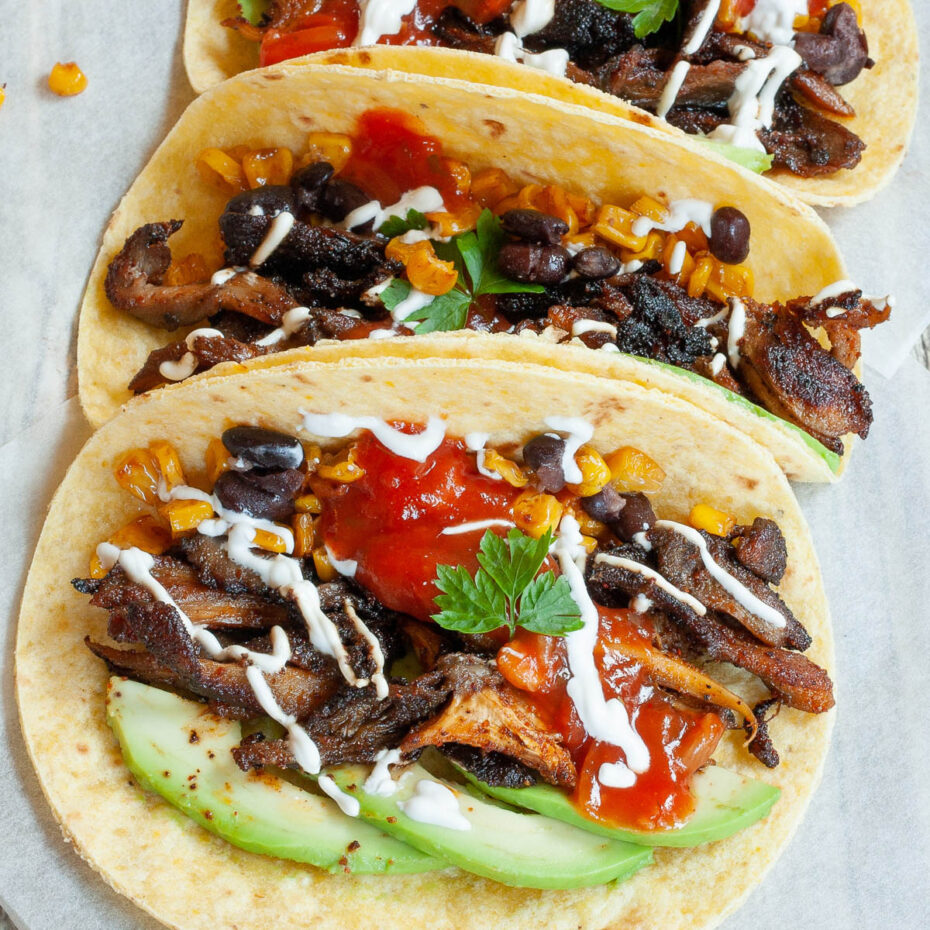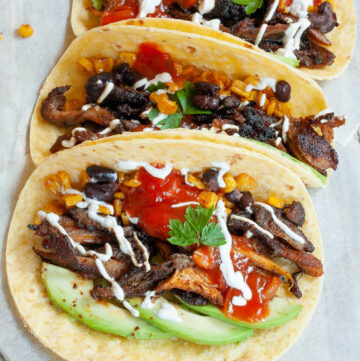 Crispy Oyster Mushroom Tacos
If you are looking for a meatless taco alternative, you need to try this flavorful and delicious Oyster Mushroom Tacos recipe. These mushrooms are just the best vegan alternatives to meat strips (both beef and chicken). Fill up your tacos with salsa, avocado, pan-roasted corn, and black beans, and enjoy a Meatless Taco Tuesday!
Check out this recipe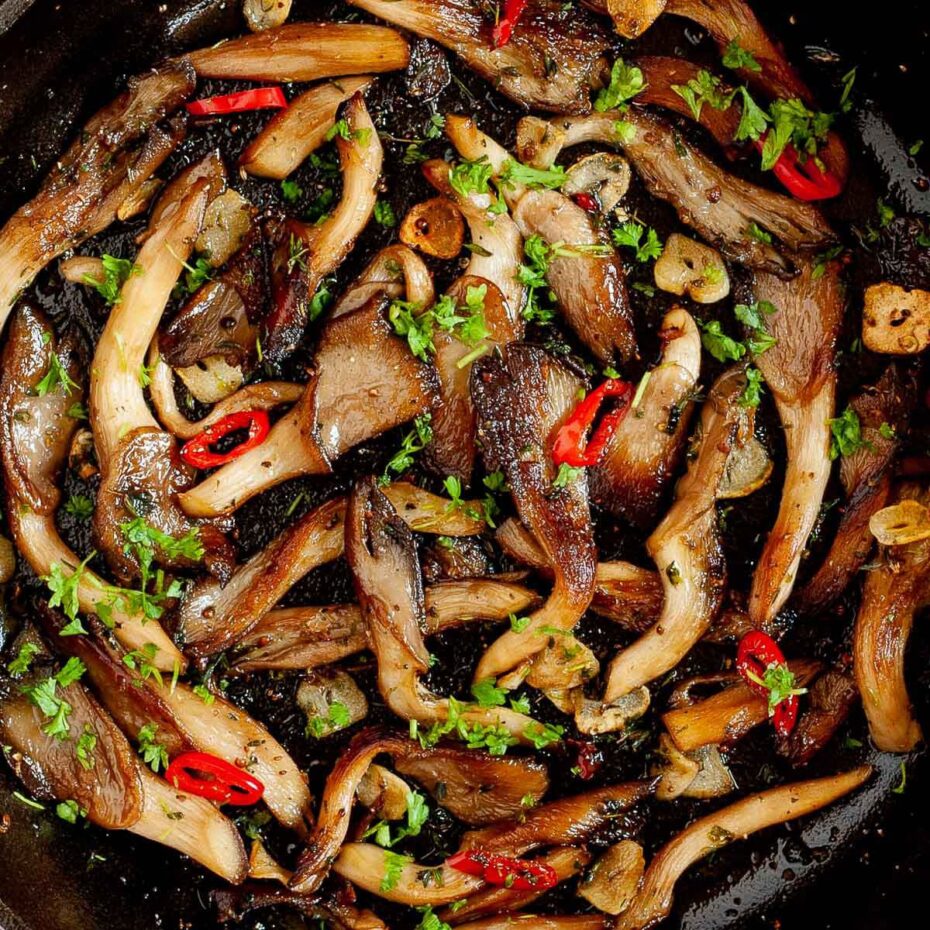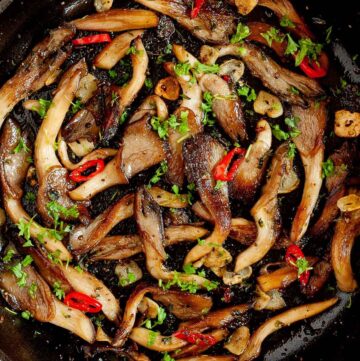 Pan-fried Green Herb Oyster Mushroom
If you are looking for an easy oyster mushroom recipe you can serve as a side dish, this will surely be your favorite. Green herbs like thyme and parsley with a smidgen of chili peppers and a splash of lemon juice will bring out the natural mushroom flavor that can accompany any main course.
Check out this recipe
King oyster mushrooms (Pleurotus eryngii)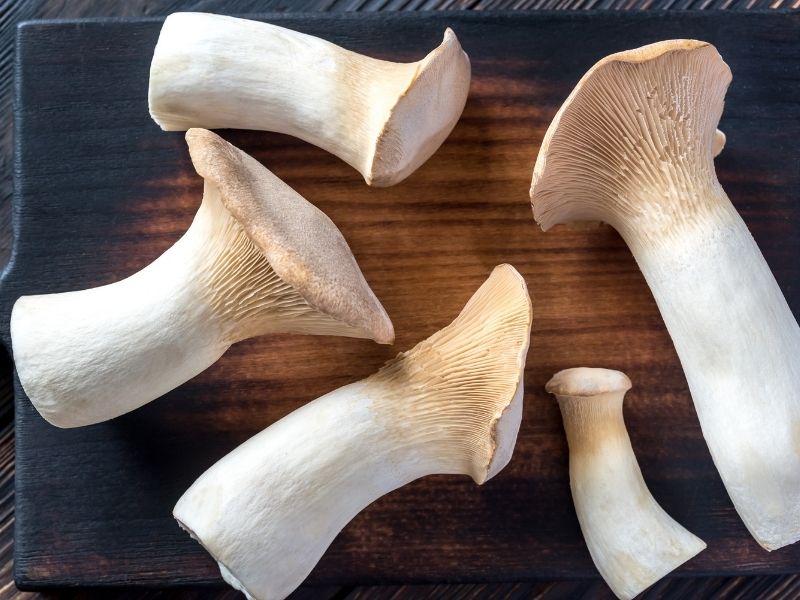 King oyster mushrooms are characterized by small caps and tall, fat stems. Commonly known as French horn mushrooms or King trumpet mushrooms because of their large trumpet-shaped stems, these mushrooms are brownish-white in color and have smaller caps than those of their cousin, the pearl oyster mushroom. They're meaty and full-flavored, and make interesting additions to dishes that use them.
We have many king oyster mushroom recipes for example:
Rice Paper Dumplings (Chinese Potstickers)
These are the best crispy rice paper dumplings that look just like traditional dumplings. We used shredded king oyster mushrooms marinated in Hoisin sauce, carrots, cabbage, scallion, and mung bean sprouts. These cute little dumplings are truly aromatic and flavorful.
Check out this recipe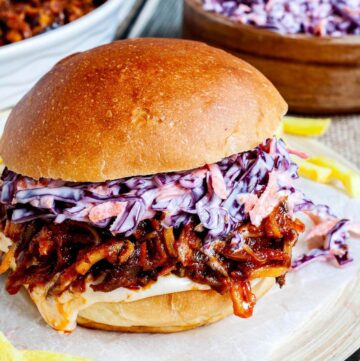 BBQ Vegan Pulled Pork Burger (Mushroom)
Shredded king oyster mushrooms make the best vegan pulled pork. Their meaty texture is way better to roast, grill, or fry than jackfruit. In 40 minutes, you can have this BBQ pulled mushroom burger with a vegan coleslaw.
Check out this recipe
Golden Oysters (Pleurotus citrinopileatus)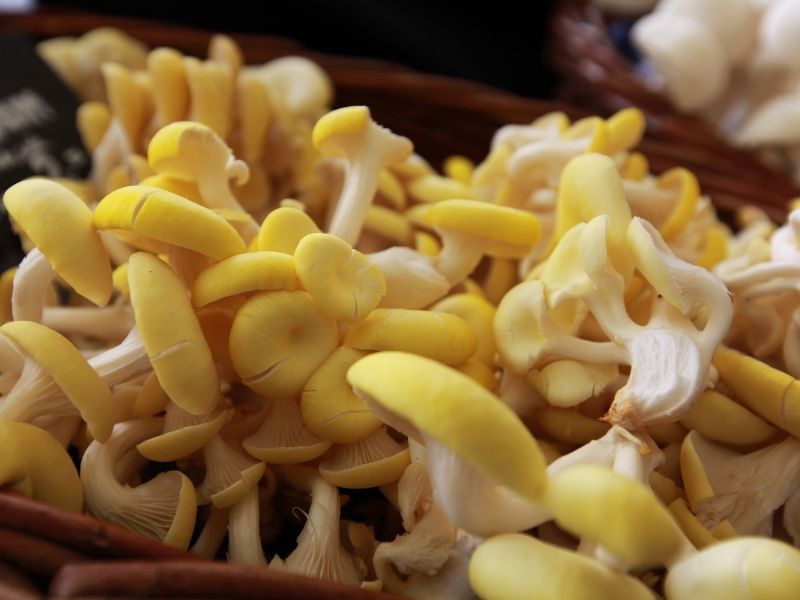 Golden oysters, also known as yellow oysters due to their color, are one of the hardest mushrooms to find. Because they aren't easily available commercially, mycologists usually grow them at home!
They have delicate caps, grow in multiple clusters, and have a nutty flavor when cooked well. When undercooked, however, these mushrooms can taste bitter. Any recipes calling for pearl oyster mushrooms can be substituted for golden.
Blue Oysters (Pleurotus columbinus)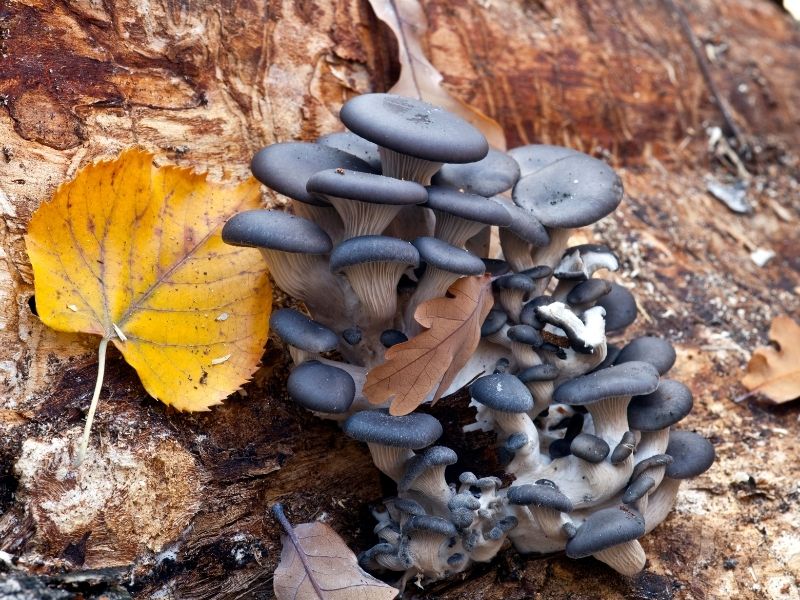 Blue oysters, set apart by their beautiful blue caps, are one of the best mushrooms to use as a meat substitute due to their chewy texture. These mushrooms feature darker caps and paler gills than other oyster mushroom species, and although they start out with a beautiful bluish tinge, they do turn grayer as they age.
When it comes to taste, blue oysters are very similar to pearl oysters, in that they carry a mild flavor with woody and sweet undertones. Any recipes calling for pearl oyster mushrooms can be substituted for blue.
Pink Oysters (Pleurotus Djamor)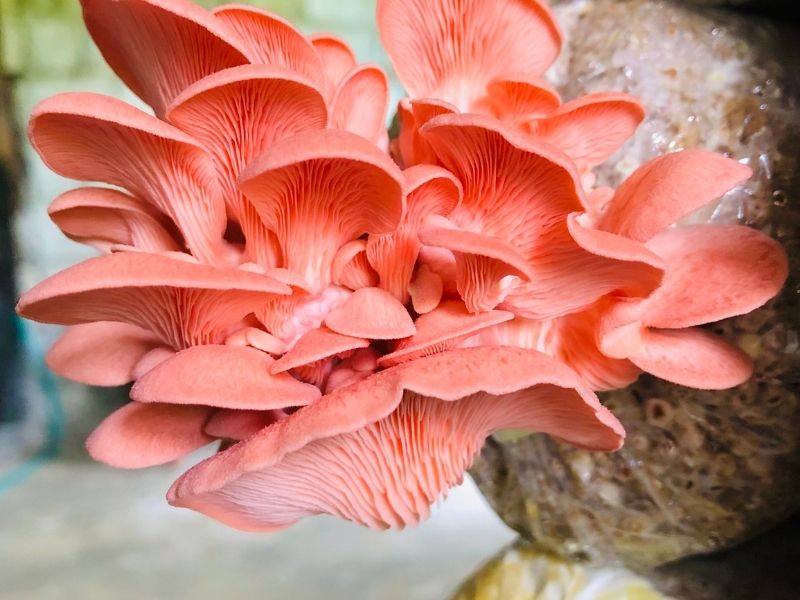 Pretty and vibrantly colored, pink oysters are most easily identified by their attractive ruffles. The undersides of these mushrooms are deep pink in color and feature white spores. Usually found growing in large clusters or bouquets, they can be delicate and thin, or thick and meaty depending on the conditions of the area in which they grow.
They are known for having a woody flavor, and for being a rare variety of mushrooms. That means you'll be hard-pressed finding them on a grocery store shelf. But, don't think you have to miss out on trying them because they're quite easy to grow at home! Any recipes calling for pearl oyster mushrooms can be substituted for pink.
Black Oysters (Shimofuri)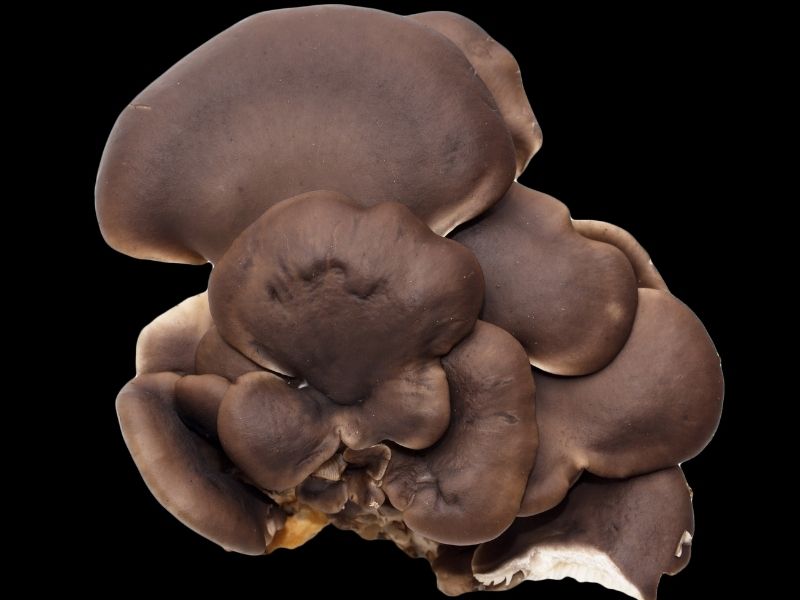 This beautiful mushroom is known to grow in shelf-like structures and has a one-of-a-kind, black cap with white marbling on its surface. It's because of this that black oysters are also referred to as Shimofuri, which means "marbling" in Japanese. They feature caps that appear convex when they're young but become more flat and wavy as they grow, and are known for being meaty and chewy in texture.
They're said to taste mildly of anise with a touch of umami. Because it is a rare variety that is not typically sold commercially, you are likely to only find it growing in specialty farms. Any recipes calling for pearl oyster mushrooms can be substituted for black.
Phoenix Oysters (Pleurotus Pulmonarius)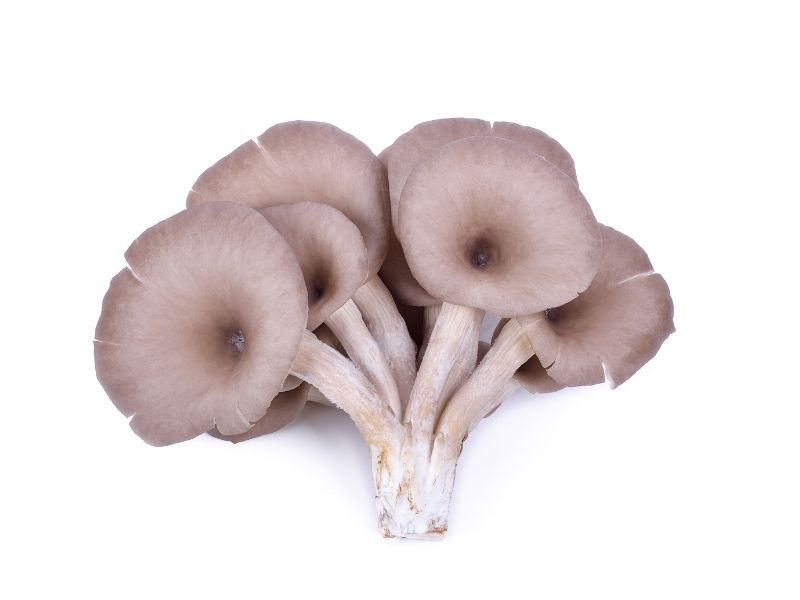 Phoenix oysters are very similar to pearl oyster mushrooms, with the main difference being that the caps of these mushrooms are smaller and paler in color. They also tend to be slightly taller than pearl oyster mushrooms because of their long stems.
From a taste and texture point of view, they are pretty much the same as pearl oysters except for their thicker flesh, which makes them pair well with pretty much any dish. Any recipes calling for pearl oyster mushrooms can be substituted for phoenix.
Main characteristics
Oyster mushrooms are a mild, delicately flavored type of mushroom with subtle hints of sweet anise flavor. Aromatic and creamy, these mushrooms are known for their subtle umaminess and flavors reminiscent of seafood, as well as their smooth oyster-like texture when cooked.
Unlike other mushrooms, oyster mushrooms have fewer earthy flavors that can interfere with the balance of a dish. This makes them a favorite ingredient to add to almost any dish, whether you plan to pickle, grill, or fry them. They work great as both the main component of a standalone dish or as a side to the main course meal. Did you know that there are 11 ways to cook oyster mushrooms?
Due to their light and delicate nature, they also make tasty additions to sauces and soups, and you can even use your leftover stems to make your vegetable stock more flavorful!
Where to buy them
Oyster mushrooms are easy to find if you know where to buy them. While all the oyster mushroom types might not be available at your ordinary old corner store, you will definitely be able to find most of them at your local Asian specialty store and online stores like Amazon.
Other places to look for oyster mushrooms sold in both fresh and dried forms include the Asian sections of large-scale outlets like Whole Foods and Wal-Mart.
FAQs
Are oyster mushrooms edible?
Yes, they are edible if you cook them properly. We never eat them raw though. Make sure you don't mistake it with other lookalikes which might be poisonous.
Are oyster mushrooms chewy?
Yes, they have a quite sturdy, chewy stem that contains less moisture than button mushrooms. That is why they are great meat substitutes in the vegan or vegetarian diet.
How do oyster mushrooms taste?
There are 7 common types of oyster mushrooms we can use for cooking and each has a bit different, unique taste. In general, they don't have a strong mushroom taste though, and soak up marinades and juices easily.
How do oyster mushrooms smell?
They don't have a particularly strong mushroom smell at all. There might be slight differences between the various types.
What do oyster mushrooms look like?
They got their names after oysters as they have fan-shaped gills that go along the stem. Their cap is large and their stem is short. Each type has a different color like yellow, pink, blue, and black. The only type which looks different is the king oyster mushroom which has a small cap with really small gills and a huge stem.
Which one is the best tasting oyster mushroom variety?
It depends on what kind of flavor you are after. Black oysters may have a slight anise flavor and blue ones are more nutty, earthy. The best ones for you to try first are pearl and king oyster mushrooms.
More information on oyster mushrooms
If you need some delicious oyster mushroom recipes to try or read more about them here: