This 5-minute tofu cream cheese recipe is a surprisingly tasty spread to make your breakfast protein-packed and delicious. If you are craving a bagel and cream cheese sandwich this vegan (not to mention dairy-free, oil-free, and gluten-free) version will not leave you hanging.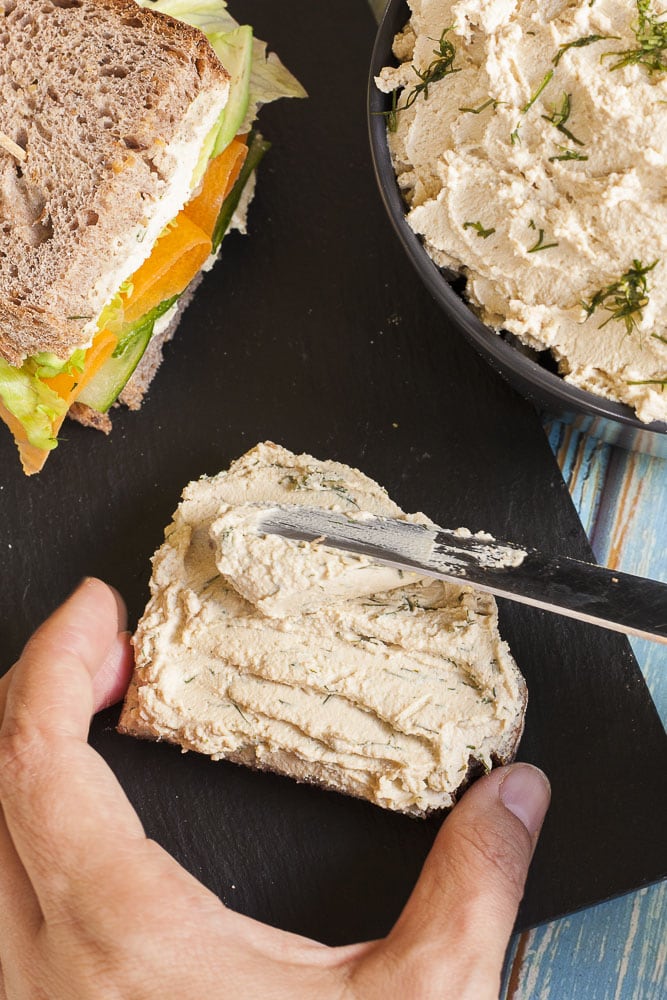 If you love savory breakfasts such as veggie-packed sandwiches to start your day, you might like these recipes. Make a vegan egg salad sandwich, or roll up some veggie pinwheels. You cannot go wrong with a yummy vegan Philly cheesesteak sandwich as well.
What to expect from this recipe?
As far as commercial brands go these 4 seems to be the most popular store-bought vegan cream cheese brands:
Personally, we love Violife and Tofutti. They are both very good in taste and in texture, but there are just so many ingredients. On one hand, I understand that they want to make it EXACTLY like dairy cream cheese. On the other hand, do we really need an EXACT match?
We fell in love with this tofu cheese cream recipe despite it doesn't quite taste like a store-bought one.
I mean can you really make exactly the same cream cheese as Philadelphia at home? I don't think so.
But can you make a cream cheese that you'll love without any unpronounceable ingredients? Sure, you can.
Ingredients
This homemade tofu cream cheese is cheezy, tangy, spreadable, with only 6 simple ingredients, and ready in 5 minutes. And what are these ingredients?
unflavored firm tofu (drained) – You can use silken tofu though. With the firm one you get a thick, firm spread, while with the silken one you will get a very soft almost dip-like consistency. It depends on your taste, but both versions are equally delicious.
cashew nuts (soaked)
nutritional yeast
fresh lemon juice
apple cider vinegar – Choose one of these gluten-fee vinegars, if you must.
salt
A quick note: If you're new to tofu, you probably have loads of questions about it, and one of those might be "Is tofu gluten-free?" Read about that in our article because the answer isn't always straightforward.
How to make tofu cream cheese?
You can time it, but you will need 5 minutes tops to prepare all the ingredients. With prepare, I mean mostly just measure.
Soak cashews in boiling hot water for 5-15 minutes or cook it in boiling water for 5 minutes.
Squeeze some lemon juice.
Unpack and drain your tofu. No need to press it. It is one of those rare cases when you can skip pressing tofu.
Add all ingredients to a high-power blender like Vitamix. (picture #1)
Blend them for 2 minutes until you get smooth cream cheese texture. (picture #2)
A quick note: You can use a food processor or other blender, but you may need to compromise on creaminess a bit, but not on taste. Also, you need to soak cashews longer to ensure they are soft enough for your blender to handle them.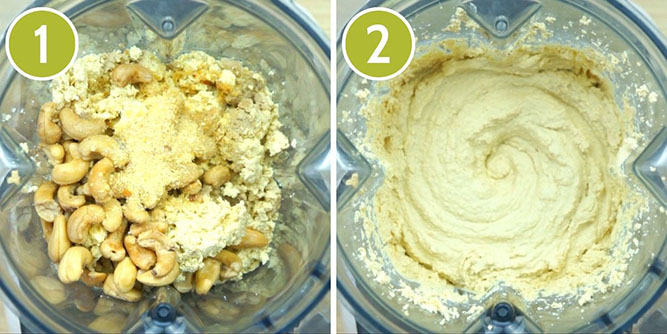 Useful tips to make it in Vitamix
Turn on the Vitamix* and slowly increase the speed to the maximum.
Use the tamper to push down the ingredients, if anything stuck to the sides.
Add liquid ingredients first, then the dry ingredients.
When ready, use a silicone spatula to gently scrape all the yummy vegan cream cheese out of the container.
We have a Vitamix with a 64 oz (2-liter) wet container in which 13 oz (380 g) is the minimum you need. If you add less than the blades will not reach it and everything will be pushed to the sides. In that case you need to stop and scrape a lot and still you might not reach the desired consistency and texture.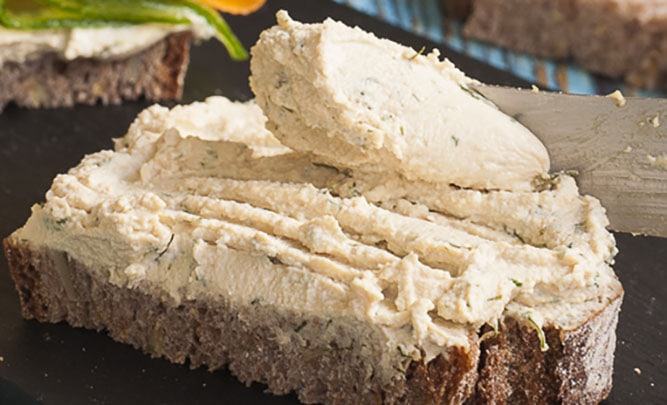 Variations – 3 popular flavors
I would say our favorite vegan tofu cream cheese flavor is garlic & herbs, tomato & basil, and scallion & chives. But there are so many unique combinations so you can make cream cheese every week with different spices and never get bored with it.
Garlic & herbs
Add ¼ cup fresh herbs (dill and parsley, mixed, freshly chopped) and 2 teaspoon garlic powder to a 13-oz tofu block.
Tomato & basil
Add ¼ cup basil (freshly chopped) and 2 Tablespoon tomato paste to a 13-oz tofu block. To make it extra zingy, you can add ¼ cup chopped sun-dried tomatoes.
Scallion & chives
It is a classic cream cheese flavor I would say. Add ¼ cup freshly chopped scallion and chives mixed to a 13-oz block of tofu.
How to use this tofu cream cheese?
So your vegan tofu cream cheese is ready. Now you are wondering what to do with it? We have many ideas you'll see for all the flavors we mention in this recipe. Let us know in the comments which one do you like the best.
As a spread
roasted veggie bagels

– Start with a generous layer of unflavored tofu spread, and add roasted asparagus, eggplant, or bell pepper. Then turn it into a gourmet breakfast by making this pan-fried oyster mushroom recipe or this vegan shredded chicken recipe for additional topping.

raw veggie breakfast sandwiches

– I love a good old veggie-packed sandwich (pictured below) with thinly sliced raw cucumber and carrots, a bit of romaine lettuce or iceberg lettuce and avocado slices in between two layers of vegan garlic and herbs cream cheese.
tea sandwiches for brunch – Tiny, thinly sliced crustless cucumber and spinach sandwiches with scallion tofu cream cheese are sure a crowd-pleaser.
cream cheese pinwheels – Spread a generous amount of tomato and basil cream cheese on a tortilla wrap and add raw bell pepper, corn, cucumber, carrot, avocado, lettuce… (or even better roasted zucchini, eggplant and bell pepper) and tightly roll them up and eat it or slice them into pinwheels.
As a dip
It is a great alternative to hummus to dip crackers or veggies like cucumber, carrot, or celery sticks in it. Perfect appetizer for your next gathering. May it be Mother's Day Brunch or 4th of July or anything else.
Let us know your favorite combination in the comments!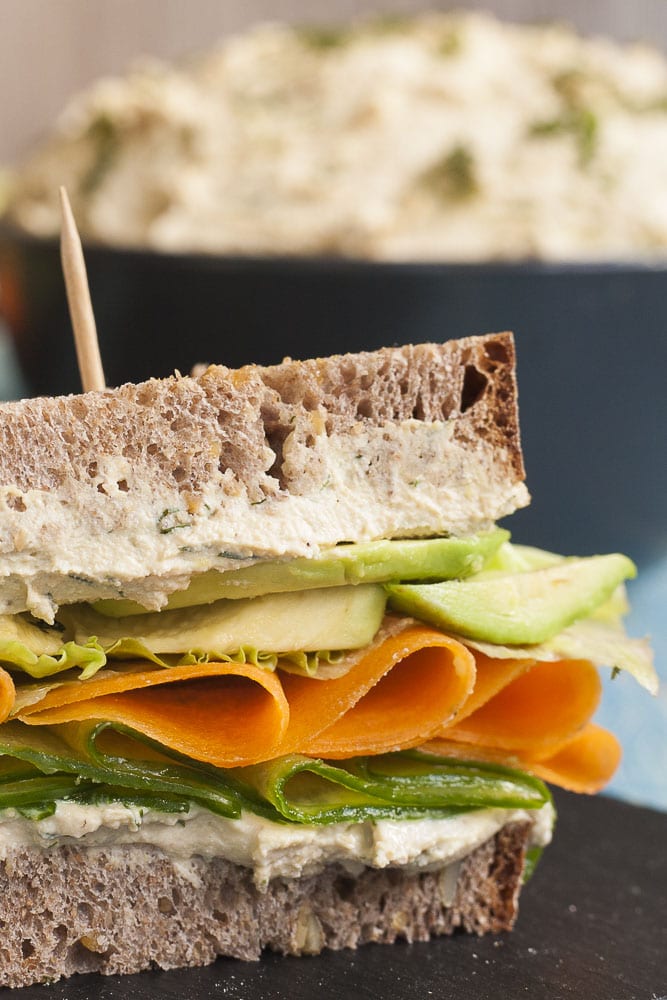 FAQs and substitutions
Can you make it nut-free?
Since cashews are one of the main ingredients they would be really hard to substitute for and still end up with the same result. However, cashews are often substituted for sunflower seeds (like we did in this dairy-free sour cream recipe), but they have a stronger flavor so the seasoning has to be heavily adjusted. I also saw recipes that only use tofu, so you can also try that.
Can you make it soy-free?
It is really no alternative you can substitute tofu for and end up with the same recipe. I saw other recipes using coconut cream or coconut yogurt, even butter beans. This vegan cream cheese recipe was tested with cashews and tofu only.
What can you use instead of nutritional yeast?
I heard white miso is a good alternative, as they both have cheezy flavor.
Why do you need to soak cashews?
First, it breaks down the phytic acid and enhances nutrient absorption for better digestion. Second, it is easier to blend and work with. If you have a high-power blender, you only need like 5 minutes in hot water to soften them up a bit. – source
Can you use roasted and/or salted cashews?
Yes and yes. Roasted cashew tastes awesome. If you have only salted cashews on hand, no worries wash the salt off with a sieve and strainer and you are good to go.
How to store it?
You can easily store it in the fridge in an airtight container for a week without any problem.
Can you freeze it?
Yes, you can. We recommend that you freeze them in smaller batches, so they can be easily thawed.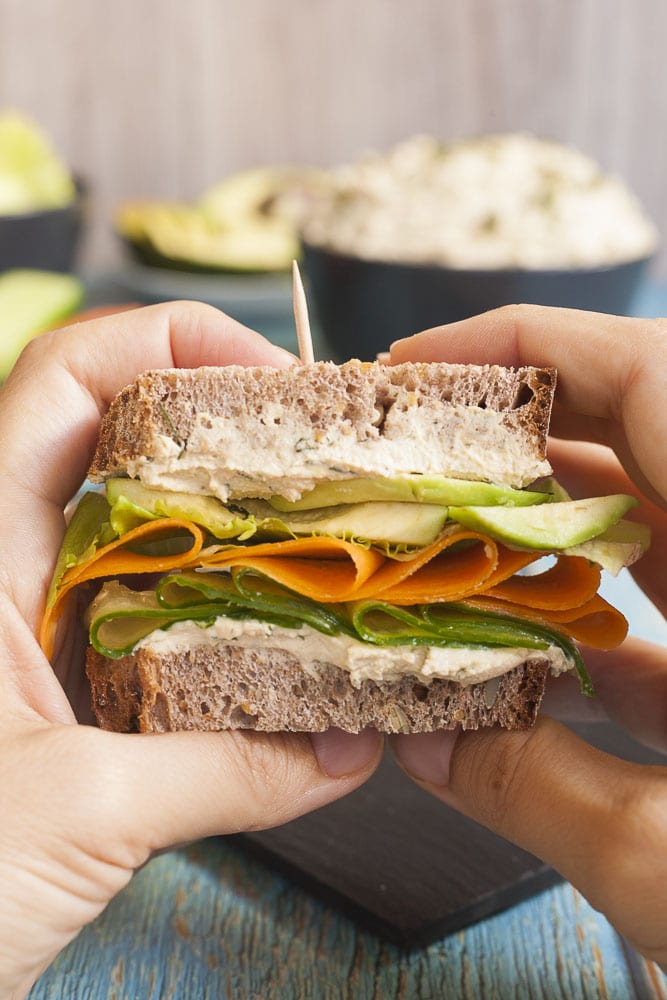 This tofu cream cheese recipe is vegan (so meat-free, egg-free, and dairy-free) and vegetarian. It is gluten-free, but not suitable for a nut-free or soy-free diet.
More vegan condiment recipes
You can browse through our vegan condiment recipes or check out
UPDATED: This recipe was originally posted in October 2019. It has been updated with flavor suggestions, tips, and serving ideas on February 2022.