Don't have any idea where to start or what to do with a cluster of oyster mushrooms? Don't worry we give you 11 different cooking methods and plenty of recipes for you to try. We also show you the best way to cook oyster mushrooms, and how to make several out-of-the-ordinary dishes using this versatile ingredient.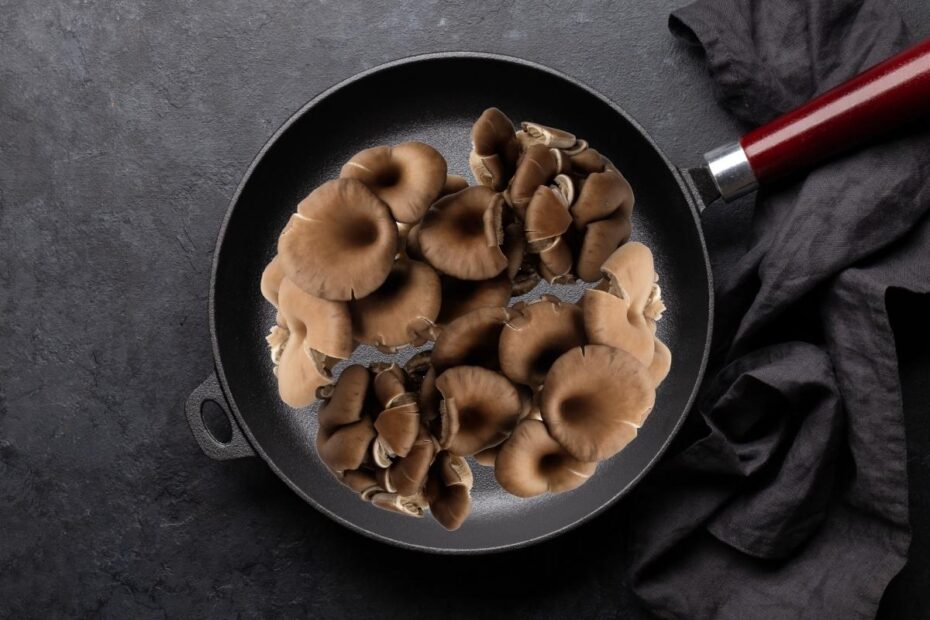 What are oyster mushrooms?
Oyster mushrooms (a.k.a Pleurotus ostreatus) are known worldwide for their texture and unique savory flavor. Commonly found growing in overlapping clusters on logs and trees, they are characterized by their broad oyster-like top caps and short, nearly non-existent stems.
There are more than a few common types of oyster mushroom, whose colors range from light gray to dark brown, with white to cream flesh and decurrent gills. Undoubtedly, the two most popular types are the king oyster mushroom variety and pearl oysters.
Since its popularity in the culinary field is growing, you can be sure to find some if you know where to buy them. If they are not available for whatever reason, just check out our list of oyster mushroom substitutes or look into growing your own at home. Some of them are just as good as the original, making them the perfect solution to an oyster mushroom emergency!
Prepare oyster mushrooms for cooking
Once you pick them up in a supermarket or in your local farmer's market and bring them home, it's time to figure out what to do with oyster mushrooms! But first things first, read our guide on how to store oyster mushrooms and chose one of the 5 ways described there. This will ensure you that mushrooms are fresh and free from any possible rot or mold, as well as ready for cooking.
One last thing you need to do before cooking is to prepare your oyster mushrooms. In short, cut off any parts that look wet, dirty, or moist. Avoid washing them as they may rot quicker and damage more easily. Instead, you can gently wipe them clean with a piece of cloth or paper towel. Now, your oyster mushrooms are ready to be turned into delicious meals.
11 ways to cook oyster mushrooms
When it comes to using oyster mushrooms in your culinary quests, a lot depends on the method you choose to cook them with. Here, we give you all the insider tips on how to cook oyster mushrooms! So you'll be adding them to soups, ramen, pizza, or any other recipe in no time.
pan-frying until crispy
turning them into a steak
sauteeing
deep frying
air frying
roasting them in the oven or under the broiler
grilling
braising
steaming
poaching
smoking
Pan-fried
Whether it be king or pearl oyster mushrooms, pan-frying them is the best way to cook them because these mushrooms marinate easily and cook fast. Crispy fried mushrooms work great as a side or topping due to their ability to add textural contrast to any kind of dish you're making.
The important thing to remember is to use high heat, or else risk them releasing moisture, shrinking, and turning soggy – especially the smaller pearl oysters! For this reason, remember not to shred pearl oyster mushrooms thinner than ¼th of an inch.
King oyster mushrooms, on the other hand, are meatier and will need to be cooked longer. Make sure to check for their tenderness before taking them off the heat.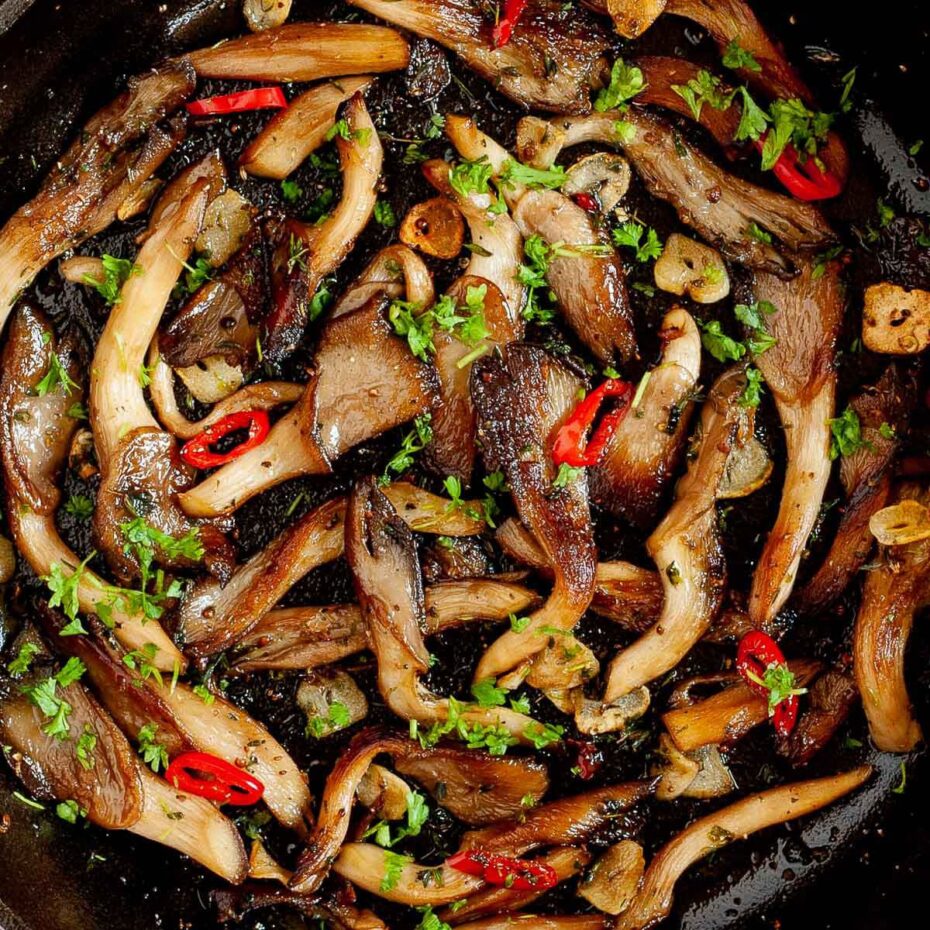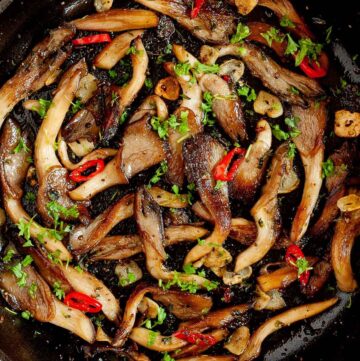 Pan-fried Green Herb Oyster Mushroom
If you are looking for an easy oyster mushroom recipe you can serve as a side dish, this will surely be your favorite. Green herbs like thyme and parsley with a smidgen of chili peppers and a splash of lemon juice will bring out the natural mushroom flavor that can accompany any main course.
Check out this recipe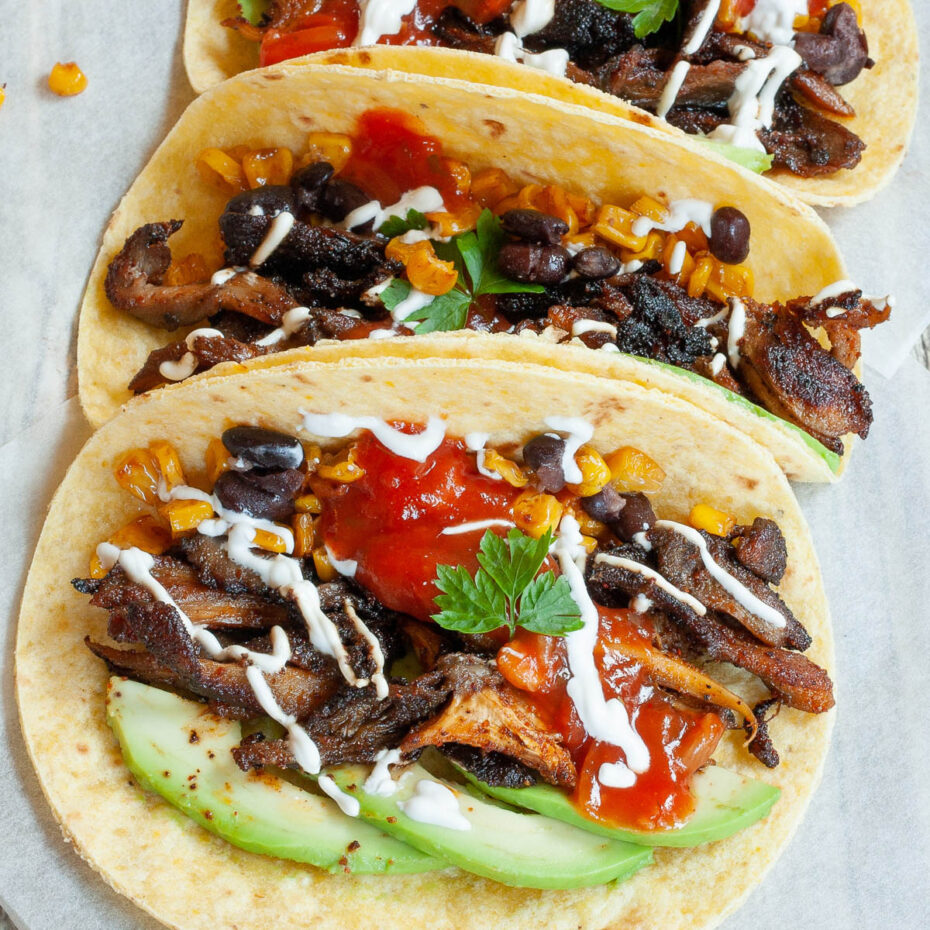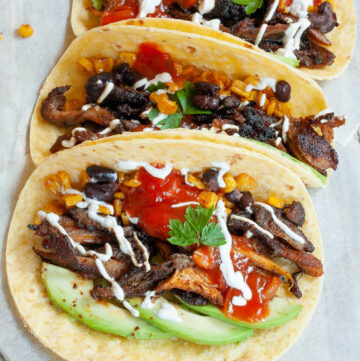 Crispy Oyster Mushroom Tacos
If you are looking for a meatless taco alternative, you need to try this flavorful and delicious Oyster Mushroom Tacos recipe. These mushrooms are just the best vegan alternatives to meat strips (both beef and chicken). Fill up your tacos with salsa, avocado, pan-roasted corn, and black beans, and enjoy a Meatless Taco Tuesday!
Check out this recipe
Vegan Breakfast Hash
Fire up your skillet and make fried potatoes and crispy oyster mushrooms, mixed with a rainbow of veggies like green peas, onions, and bell peppers. I promise you that this vegan breakfast hash is the best way to start your day.
Check out this recipe
Steak
Who would have thought that you can turn both pearl oysters as well as king oyster mushrooms into a juicy "steak" and serve them with sides like roast vegetables, potatoes, sauces, or gravies?
Since one of the best things about oyster mushrooms is their ability to absorb flavor like a sponge due to their texture, you can easily season them as a "steak".
What do you need to do? Pan-fry a whole cluster of pearl oyster mushrooms like in the below teriyaki oyster mushroom steak recipe or oven-bake king oysters sliced lengthwise (also pictured below).
For the marinade, you can use staple ingredients you already have in your pantry like salt, pepper, garlic cloves, some herbs, and olive oil, or go all out and get creative with something different like teriyaki sauce, bbq sauce, soy sauce, or Worcestershire sauce.
Teriyaki Oyster Mushroom Steak
You can turn pearl oyster mushrooms into a deliciously crispy, chewy beef-like steak. Just take a cluster of mushrooms marinated in teriyaki sauce and pan-fry it between two cast iron skillets to make them flat and crispy. In 20 minutes, you will have yourself a flavorful mushroom steak.
Check out this recipe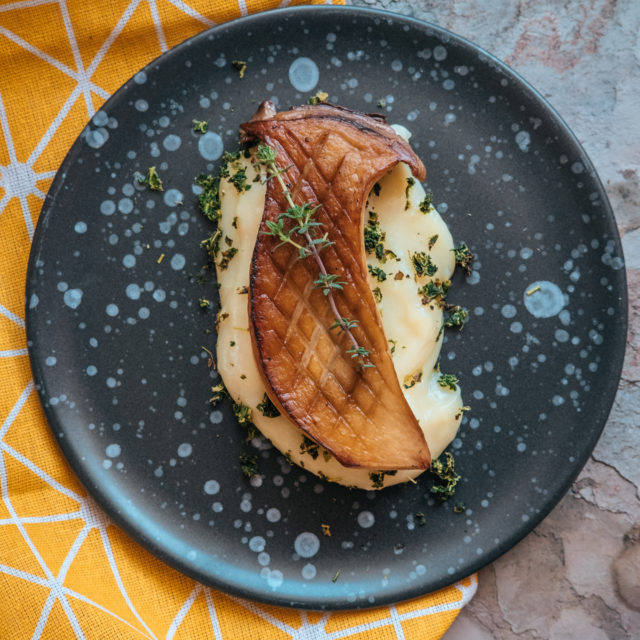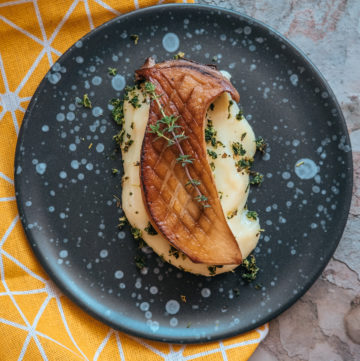 King Oyster Mushroom Steak
It is an oven baked "steak" seasoned with thyme and garlic served with cream potatoes and crispy kale. King oysters are perfect for make "steak"-like dishes with their sturdy, chewy texture.
Check out this recipe
Sauteed
Oyster mushrooms can also be sauteed and deglazed in a liquid to infuse flavor through heat, making them more chewy than crispy. Pearl oyster mushrooms work best for this method because of their spongy texture allowing them to absorb maximum flavor.
Sauteed mushrooms are great as sides or as additions to sauces like our vegan cajun pasta sauce (pictured below). They're also perfect for adding to Asian-inspired dishes like our oyster mushroom noodle stir fry (also pictured below). Both of these recipes make for a quick, easy, and satisfying lunch or dinner!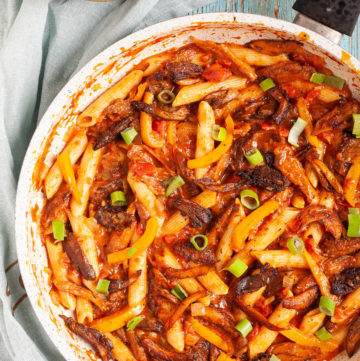 Creamy Cajun Oyster Mushroom Pasta
This oyster mushroom pasta is a flavor-packed delight that you won't be able to resist. The recipe has crispy oyster mushrooms, vibrant bell peppers, sweet onions, and juicy chopped tomatoes, all tossed in a blend of aromatic Cajun seasonings and rich coconut cream. The best part is that you can enjoy it in 30 minutes!
Check out this recipe
Oven-roasted, baked, or broiled
Oyster mushrooms can be made using the age-old, convenient method of oven roasting. Cooking them using this method highlights the mushrooms' mild umami flavor, makes them crispy on the outside, as well as meaty and juicy on the inside.
This method is as easy as tossing some oyster mushrooms with salt, pepper, and oil, placing them on a baking sheet in a single layer, and tossing them in a pre-heated oven. Cooking time varies based on the kind of mushroom you're using and their size as mentioned before.
Our pulled king oyster mushroom burger recipe (pictured below) is a great place to start trying this cooking method. But the oven also makes wonderfully crispy and juicy pearl oyster mushrooms as well, that we use as vegan gyro meat (pictured also below).
Broiled mushrooms can also be added to salads and soups to lift the flavor of the dish by adding some complexity and texture.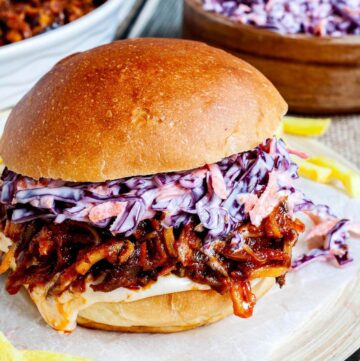 BBQ Vegan Pulled Pork Burger (Mushroom)
Shredded king oyster mushrooms make the best vegan pulled pork. Their meaty texture is way better to roast, grill, or fry than jackfruit. In 40 minutes, you can have this BBQ pulled mushroom burger with a vegan coleslaw.
Check out this recipe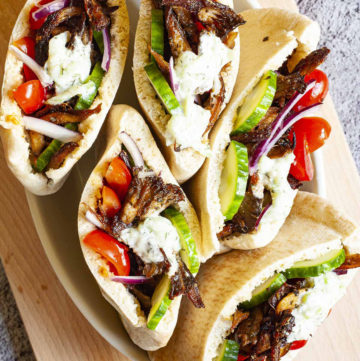 Vegan Gyros (Shredded Mushrooms)
The best vegan gyros are, without a doubt, shredded oyster mushrooms (not cut, but torn apart). The texture and the taste are just perfect. Fill your pita pockets with the crispiest vegan gyro meat, fresh vegetables, and a homemade tzatziki sauce.
Check out this recipe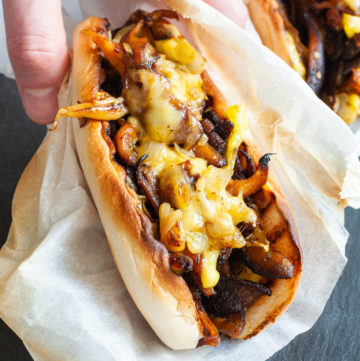 Perfect Vegan Philly Cheesesteak
The best vegan alternative to make Philly Cheesesteak is, without a doubt, shredded oyster mushrooms (not cut, but torn apart). You will have the perfect beefy texture and taste. Fill your hoagie roll with mushrooms and a generous amount of vegan melted cheese.
Check out this recipe
Deep-fried
Deep-fried mushrooms are golden brown and crispy on the outside, and perfectly juicy and meaty on the inside. Any type of oyster mushrooms can be marinated, coated with breadcrumbs, and deep-fried to make an easy snack. You just have to remember not to cut them too small or they will lose their texture.
In the below recipes, we just tore off each mushroom cap from the cluster and coated them like that. Since they have a tough meaty texture, they are popular meat substitutes in vegan recipes. So we call them "fried chicken" or "buffalo chicken wings" while in fact, they are just perfect fried oyster mushrooms with a super crispy gluten-free coating mainly since we used crushed corn flakes.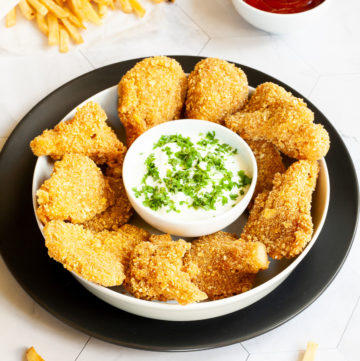 Vegan Fried Chicken (Oyster Mushrooms)
Oyster mushrooms make the tastiest and easiest vegan fried chicken ever! It is perfectly golden brown and crispy on the outside, but meaty on the inside. The vegan chicken itself is only ONE ingredient!
Check out this recipe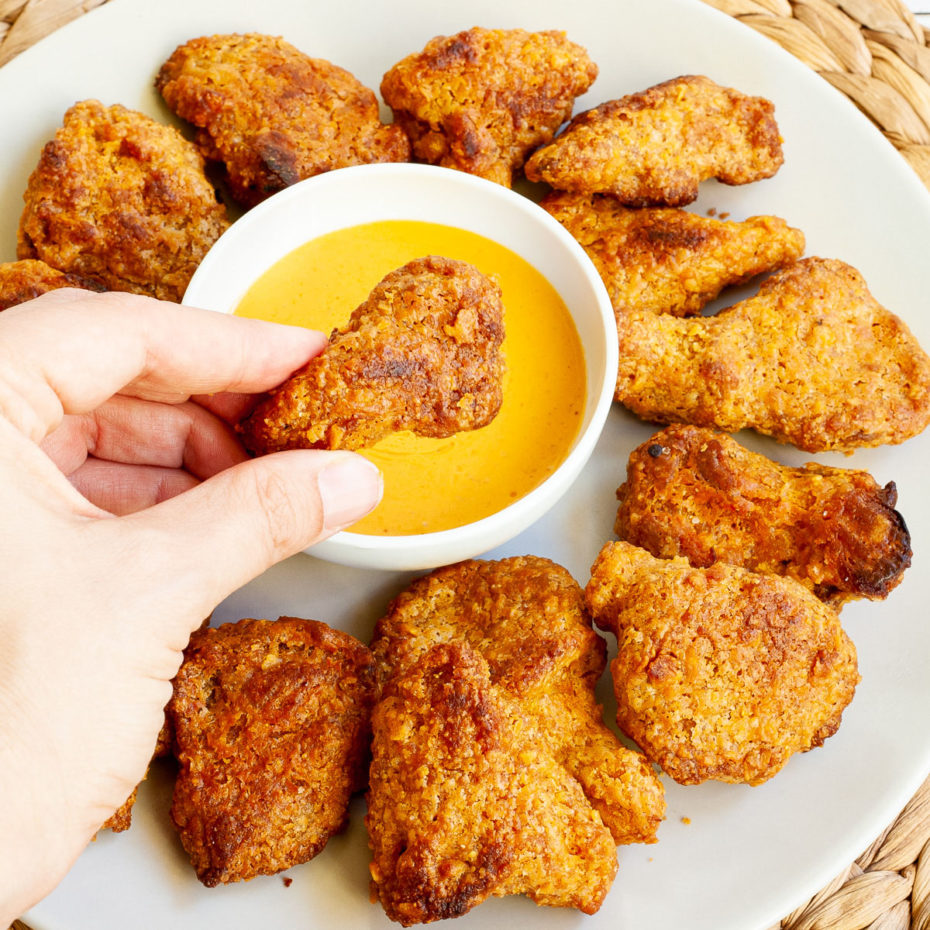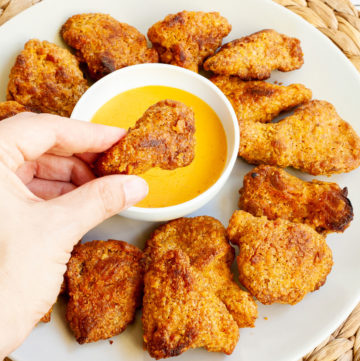 Buffalo Vegan Chicken Wings
Are you looking for the tastiest and easiest Vegan Buffalo Wings? The "chicken" itself is only ONE ingredient! It is hot and sticky on the outside and meaty on the inside. Just what you would expect from Vegan Hot Wings.
Check out this recipe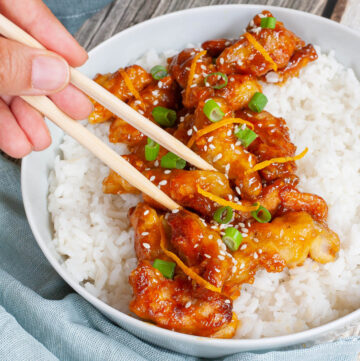 Vegan Orange Chicken (Copycat Panda Express)
If you would like to make Orange Chicken, the most popular dish in Panda Express vegan at home, this is the recipe you need to try. We used the BEST plant-based alternative to crunchy fried chicken strips and covered them with a citrusy, sticky, spicy sauce.
Check out this recipe
Air fried
Craving a snack but want to avoid the oil and waiting for the oven? Try air frying marinated and crumb-coated oyster mushrooms. They make for a crispy snack while completely avoiding the oil and time spent in front of the hob.
You can air fry both pearl and king oyster mushrooms, only keeping in mind the cooking time – king oyster shrooms take slightly longer to cook than pearl owing to their meatiness.
Also, take care not to overlap your pieces of crumbed or marinated mushrooms when you air fry them in order to get uniformly crispy delicious mushrooms.
This method of cooking makes great shredded mushroom snacks and sides without coating and doesn't need much apart from some spices and a dab of oil.
Grilled or barbecued
Oyster mushrooms can be grilled or barbequed to bring out a smoky flavor that goes so well with their characteristic earthy flavors. This method works best for meatier oyster mushrooms like the king oysters due to their toughness.
Grill them in lengthwise cut slices or in thick disc-like slices (like in the below yakitori skewers recipe) to achieve crispy and golden outsides, as well as soft and tender insides. They will make the perfect addition to your Sunday Barbeque!
To add visual contrast to your dish, you can even consider grilling your mushrooms with a crosshatch design. Either way, your friends will be begging you for more! Just remember to grill them on medium heat as oyster mushrooms can be a little delicate and quick to burn.
Oyster Mushroom Yakitori Skewers
The sturdy texture of king oyster mushrooms makes them a perfect candidate for bbq skewers. They are coated with a special Teriyaki sauce and charcoaled to give it a bit of a smoky texture.
Check out this recipe
Braised or added to stew
Oyster mushrooms are fibrous, and hence really good at absorbing flavors from liquids and don't overcook easily, maintaining their texture. King or pearl oyster mushrooms can be added to a stew or braised in an aromatic liquid with some veggies of your choice to make a great side or main for your bread or rice.
It is also recommended to use dehydrated mushrooms for this method as they are more concentrated in flavor and will add their savory flavor to your stew. Just remember to rehydrate the mushrooms before using them and they will plump up as well while cooking. Remember to cook them on low heat to let the flavor develop in the stew.
Vegan Tikka Masala
King oyster mushrooms are cooked in a creamy sauce seasoned with garam masala, cardamom, coriander, cumin, paprika, nutmeg, and ginger. It is served with basmati rice and naan bread.
Check out this recipe
Steaming
Steamed oyster mushrooms are light and savory in flavor and mouthfeel, making them perfect for adding to salads or serving as is. Steaming and seasoning them with little more than salt is also a great way to bring the natural flavor and shape of these mushrooms to the forefront of the dish.
Steam them until they release their moisture and serve along with the broth that's left after steaming. This method of cooking is easy and a refreshing change from the usual methods.
Both king and pearl oyster mushrooms can be steamed, with the only difference being their steaming times. The final product is tender and light; a great appetizer, side, or snack on a busy workday.
Poaching
The gentle process of poaching is great for infusing oyster mushrooms with delicate flavors. You can use liquids like butter (dairy-free as well), wine, milk (dairy-free as well), stock, and more, along with spices. All this method needs is a little time and care, and you'll be left with mushrooms that look and smell the part.
Poaching in butter includes steeping the seasoned mushrooms in slowly melted butter for a maximum of 15 minutes. If you cut king oysters in a way that has them resemble scallops, you can use this method to make a vegan or vegetarian version of the classic seafood dish that is just as divine!
Either serve them directly or sear them in a pan to make the outsides crispy. Oyster mushrooms can also be cooked sous vide in a liquid marinade if you're looking for a quicker and more flavorful method of prep.
Smoking
One way to imbue oyster mushrooms with some smokiness and depth is to smoke them for about half an hour with any kind of wood chips you prefer, like hickory, apple, or pecan chips. Add some fresh thyme, rosemary, chili flakes, or any seasoning that is to your liking while smoking them and you will be left with mushrooms that exhibit hints of these flavors.
Oyster mushrooms cooked this way are a great addition to any dish and can be used as a filling when making burgers and sandwiches. To make them even more flavorful, toss them in some sauce (buffalo, hot sauce, or any that you like) after the first smoke and smoke them again for about 15 minutes. This technique helps them retain their moisture and prevents the sauce from drying out. Remember to soak your woodchips for about 30 minutes before smoking your mushrooms.
Fresh vs dried mushrooms
Mushrooms are unique in that they can be used and stored fresh or dry. Both options have different flavor profiles and concentrations, as well as different textures, making each one most ideal to use in certain specific ways.
Now, you're probably pondering over how to cook oyster mushrooms when they're dry versus when they're fresh. Well, don't worry, because it's not a whole lot different!
Dried mushrooms

have a more concentrated umami flavor and chewy texture, and need to be rehydrated before use. Due to being slightly chewier they make better additions to stews, stocks, and soups, but are also fine to use just as you would use fresh oyster mushrooms.

Fresh mushrooms

, on the other hand, are lighter on the palette, absorb more flavor, and are more versatile when it comes to texture. They can be made chewy, crispy, or meaty depending on the method you use to cook them.
More information on oyster mushrooms
It's only one part of our oyster mushrooms guide, which teaches you everything from growing, buying, storing, preparing, and, yes, cooking them! There's a lot to know and just as many dishes to try out so get reading! If you need recipes, browse through these 30+ amazing oyster mushroom recipes.