Oyster mushrooms are one of the most popular types of mushrooms out there. Prepared properly, these 'shrooms can be a great addition to any meal, party spread, or even a stand-alone tasty snack. This article is just one part of our complete guide that aims to help you learn how to prepare oyster mushrooms for cooking.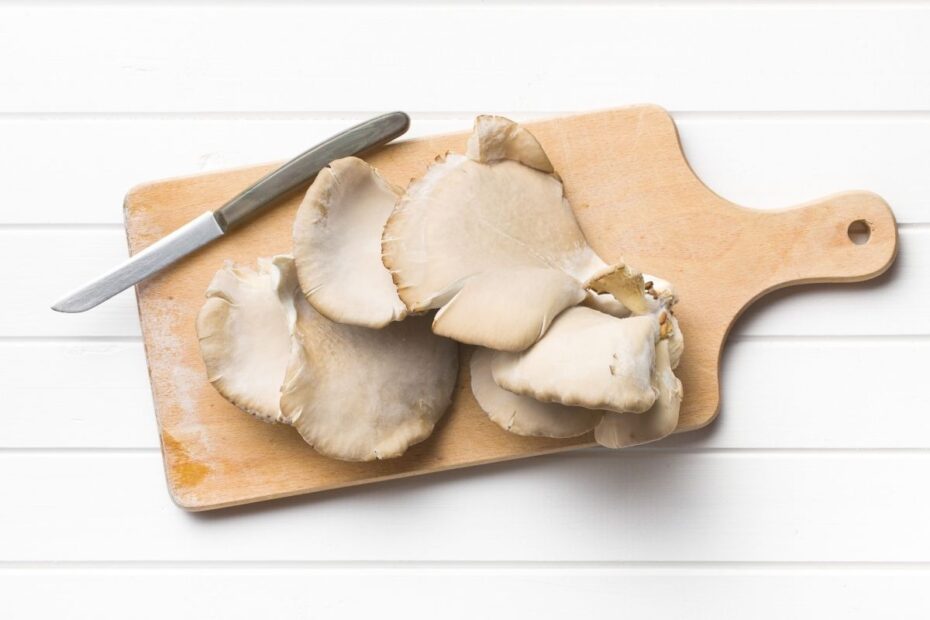 What are oyster mushrooms?
Edible mushrooms in general are very popular for their culinary and nutritional value. Oyster mushrooms are ranked among the top for their appetizing texture and savory flavor. Pleurotus ostreatus, as they are known in scientific terms, or Hiratake, as they are referred to in the Far East, are recognized by their extremely short, nearly non-existent stems. Their caps are wide and fan-shaped, strongly resembling an oyster, which is what gives them their name.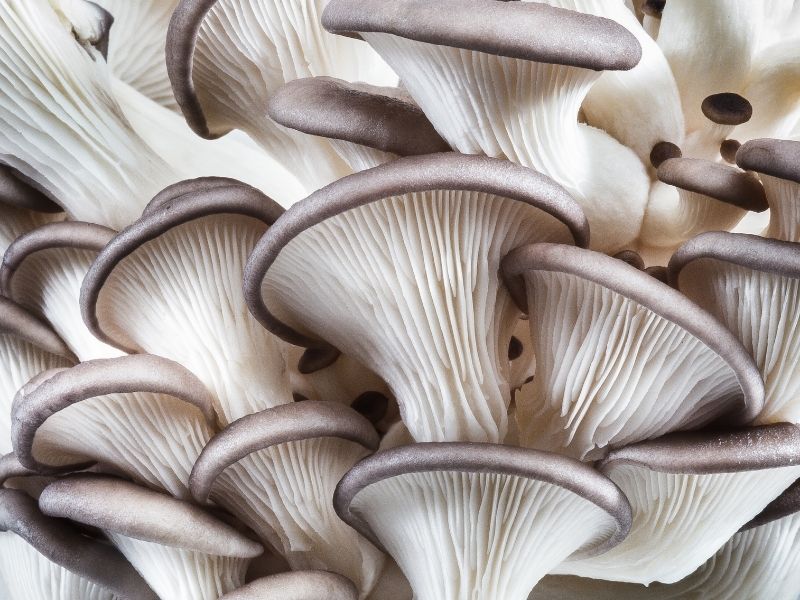 There are 7 common types of oyster mushrooms, whose colors range from light gray to dark brown, with white to cream flesh and decurrent gills. Undoubtedly, the two most popular types are the king oyster mushroom and pearl oyster mushroom (see above photo).
Thanks to their rising popularity you are almost sure to find some if you know where to buy them. If they are not available for whatever reason, just check out our list of oyster mushroom substitutes. Some of them are just as good as the original, making them the perfect replacement should you need it!
While they will definitely add tons of flavor to your final dish, a lot depends on how you prepare them. Here we will give you all of our tips on how to prepare oyster mushrooms for cooking or for frying before adding them to soups, stir-fries, pasta, ramen, pizza, or any other delicious oyster mushroom recipes. In short, these are the 3 steps you need to take:
step: Clean them.
step: Trim them.
step: Cut or shred them.
How to clean them? When do you even need to?
Unlike many varieties of mushrooms that grow in dirt, oyster mushrooms mainly grow on wood which is why it is so easy to grow them at home. So, while they might be less dirty than the rest, cleaning them properly is still essential and should be your first step in prepping. Here are our top 3 tips about how to clean oyster mushrooms properly.
No need to wash fresh ones

. One thing you will actually want to avoid is washing fresh mushrooms, like how you would normally wash a vegetable. If you wash them too thoroughly, or for too long, then storing them wet can cause them to lose their flavor and spoil easier. Depending on how to store them, they will not last wet even a day.

Wash dried ones

. We recommend cleaning them by rinsing them in cold running water to remove any debris that may be stuck to them.

Cut the end and wipe it gently.

For fresh oyster mushrooms, start by using a paper towel to lightly dust away dirt and loose dirt that may be stuck to the outside surface of your mushrooms. Once you do this for each individual mushroom, it is likely you will find them clean enough to continue. If you come across any stubborn dirt substances stuck to your mushrooms during the cleaning process, use a toothpick to gently prise it off, then rub the area with a damp cloth. Cut the end tip of the stem as well.
A quick note: Those planning on cooking with oyster mushrooms often might be interested in considering a mushroom cleaning brush. They are designed to help clean mushrooms more efficiently and quickly.
Do you need to peel them?
The quick answer is NO!!! In the case of oyster mushrooms, the "skin," or outermost part, is no different from its "flesh," or insides, in taste, and is perfectly safe to eat. You don't even see it as a peel compared to portobello mushrooms or common white button mushrooms where you can easily see which part comes off easily.
Peeling oyster mushrooms is an unnecessarily tedious process and will not have any effect on the taste of your dish. On the contrary, all it will likely do is contribute to food waste and take a lot of time!
How to trim them?
The number one rule for trimming is to only do it when you absolutely need to. So when do you need to do it?
Trim any parts of the oyster mushrooms that look

wet, dirty, or moist

.
Check to make sure you do not have any mushrooms with

white fuzz, mold, yellow spots, or yellow slime

, and discard the ones that look too far gone.
Finally, trim off the

bottoms

of the stems (roots), which are known for being tough and difficult to cook. Sometimes you can see the tree bark stuck to it like in the below photo. You don't need that part right?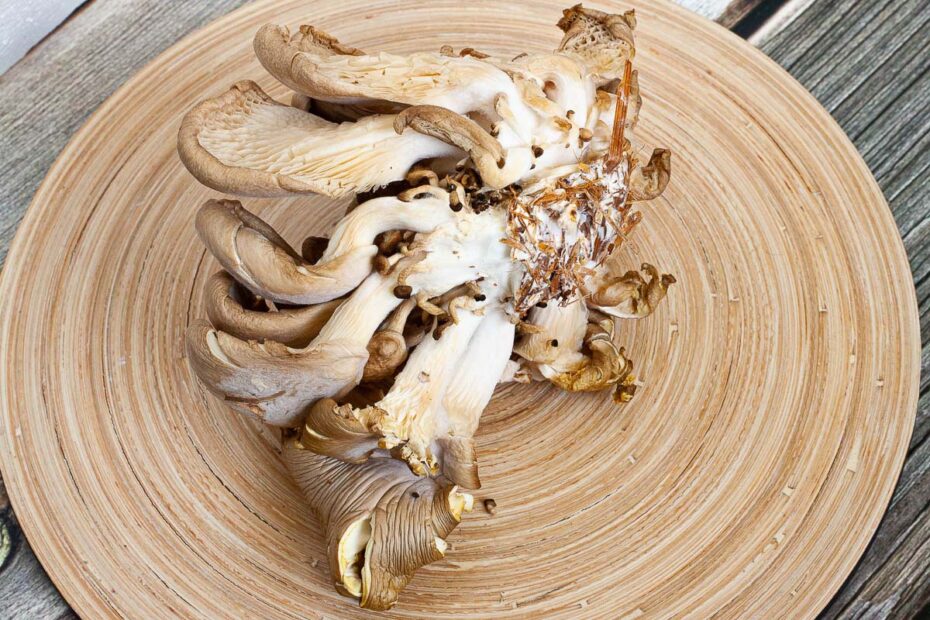 How to cut them?
The two most commonly known oyster mushrooms are the pearl oyster and the king oyster, and the way you cut them to prepare them for cooking can be quite different from each other. Why? Because they look different and they are suitable for different dishes.
Whether you want to dice them, chop them, slice them, shred them, or use them whole depends entirely on your own preferences and the type of recipe you're using them in. However, you should keep in mind that like any other mushrooms they release moisture. This means they most definitely shrink, so you want to make sure not to cut or shred them too thin.
Once you've got prep work out of the way, it's finally time to get cracking and cook your mushrooms! If you're wondering what all the ways to cook them are, check out our article on how to cook oyster mushrooms to learn about them in detail.
3 ways to prepare pearl oyster mushrooms
Tearing them into pieces

– They are quite delicate, so use your hand and shred the clusters along their large gills using your hand into ½-inch thick strips. (picture #1) Check out our oyster mushroom tacos, our vegan Philly cheesesteak, or vegan gyros recipes as well where fried oyster mushrooms are the perfect main ingredient.

Use the whole cluster without cutting

– Due to how tender and small pearl oyster mushroom caps are, they also do just fine when used in a recipe whole like in our teriyaki oyster mushroom steak recipe (picture #2).

Separate the caps

– While shredding them with your hand makes them a good meat substitute, you can fry them or roast the whole caps as well. Just use your hands to separate the cluster and prepare this yummy pan-fried oyster mushroom recipe as a side dish. It is the easiest recipe you can choose as they are just tossed together with olive oil, garlic cloves, green herbs like thyme, and a bit of salt and pepper and fried in a cast-iron skillet over medium-high heat.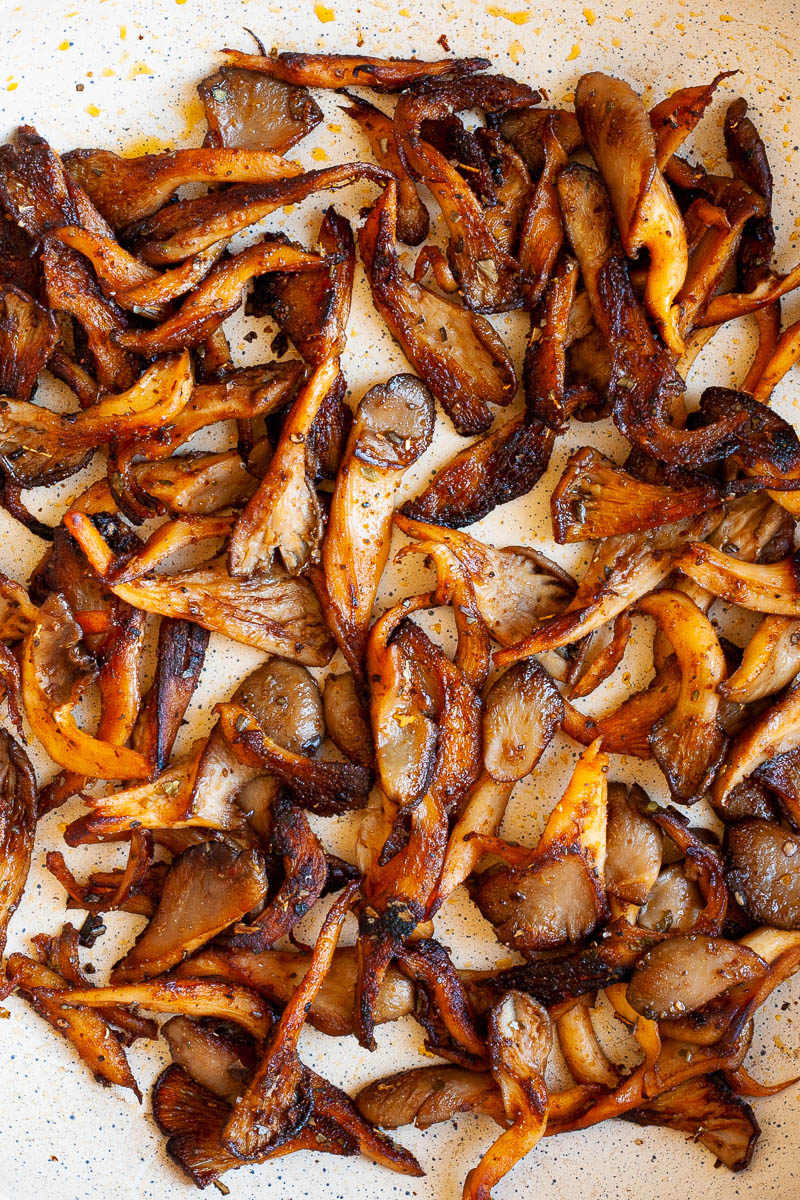 3 ways to prepare king oyster mushrooms
They are a whole different story. Because of their thick, tough stems and nearly-there caps, they cannot be cooked whole unless you want them to end up hard and rubbery! Instead, chewy king oysters are best used as meat substitutes.
Shredding them using a fork – Just place the king oysters on a wooden surface and use a fork to make thin strips (see picture below). The cap is usually harder to use a knife to cut the part into thin slices. Just like in the below photo. Check out our vegan rice paper dumplings where the hoisin duck filling was substituted for shredded king oyster mushrooms, or our BBQ pulled oyster mushroom burger where it replaced pulled pork!

Cutting them lengthwise

– Since they have a meaty texture, you can make king oyster mushroom steak by cutting them lengthwise and roasting them in the oven or sauteeing them in a skillet. You can also add them to pho soup or ramen.

Slicing them into rings

– If you cut them into rings, you can fry them or roast them until crispy and chewy. This is the way to prepare them if you want to make vegan scallops or vegan yakitori skewers.
Difference between preparing fresh vs dried
Oyster mushrooms can be purchased either fresh or dried, depending on your preferences. Dried oyster mushrooms not only cost less than the fresh variety but also last way longer, which is mainly what makes them appealing.
The only difference in preparing dried oyster mushrooms from fresh ones apart from cleaning is rehydration. Rehydrating dried oyster mushrooms involves soaking them in a bowl of boiling water for at least 25 minutes. If you're short on time and want to skip soaking them, you can go ahead and directly add cleaned dehydrated mushrooms to any dish that you know will need to be cooked for at least 25 minutes.
More information on oyster mushrooms
It's only one part of our oyster mushrooms guide, which teaches you everything from growing, buying, storing, preparing, and, yes, cooking them! There's a lot to know and just as many dishes to try out so get reading! If you need some recipes, check out these 30+ amazing oyster mushroom recipes.