Want to substitute oyster mushrooms without compromising on the taste? From shiitake and porcini to eggplant and tofu, there are a plethora of available alternatives. So, let's just cut right to the chase and explore the world of oyster mushroom lookalikes together!
What are oyster mushrooms?
Oyster mushrooms are a type of fungi commonly found in forests in temperate and subtropic regions. Typically, these mushrooms are large to medium in size, with short, sometimes non-existent stems. Their gills are white and decurrent, which means they extend down onto the stem. It is also common for them to have white or lilac-gray colored spore prints on them, and smell faintly like black licorice or anise.
In Korean, Japanese, and Chinese cuisine, they are particularly loved for their savory, nutty, chewy texture, and bittersweet aroma. In vegan cooking, they are used as meat substitutes. Did you know that there are 11 ways to cook with oyster mushrooms?
There are 7 types of oyster mushrooms out there, each with their unique colors ranging from brown, dark gray, and tan to yellow and pink along with fan-shaped cups that resemble oysters. They are easily distinguishable and highly sought after in the culinary world.
The most popular and common types are:
King oyster mushrooms

or king trumpet mushrooms (Pleurotus eryngii) are the largest of the family of oyster mushrooms and are often compared to scallops or abalone for their texture. Their distinct umami flavor when cooked offers a unique profile to the dish they are added to.

Pearl oyster mushrooms

(Pleurotus ostreatus) are also popular, particularly for their rustic, nutty, and sweet taste profile. However, they have the added characteristic of having tough stalks which elevate them to be best suited for stir fries, soups, stews, salads etc.
Why would you need a substitution?
If you are wondering where to buy oyster mushrooms, then you are not alone. As tasty as they are, oyster mushrooms are seasonal and tend to be a tad more expensive than regular button mushrooms. They aren't that easily available at your local grocery store either, which is why you might find yourself needing an oyster mushroom substitute on short notice. Unless you try growing them at home.
The best 13 substitutes
Porcini
Porcini mushrooms are a great replacement for the fleshy king oyster mushroom because of their meaty texture. While the smell can take some getting used to, nothing beats its great taste and ability to hold its shape when cooked! Both dried and fresh porcini have been used as oyster mushroom alternatives for quite some time in both Italy and France.
Baby Bella / Button / Cremini
With the meaty taste of the king oyster mushroom and the delicate look of pearl mushrooms, the baby bella mushroom might just be the most perfect replacement for you. Also known as white button mushrooms or cremini mushrooms, these mushrooms are coveted for their meaty flesh, which is the reason why they are commercially produced on such a wide scale.
What's more, is that they don't have that pungent smell that is characteristic of most mushrooms. This versatility allows them to be cooked in several different ways. Just remember to take off the fibrous portion of the stem before you do.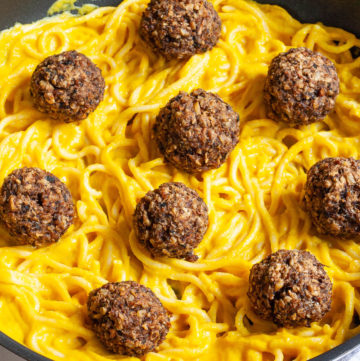 Vegan Mushroom Meatballs
These aromatic, rich, and flavorful mushroom meatballs are easy to prepare. The spices will highlight the mushrooms, and the cooked rice will keep them moist. You will create a truly unforgettable vegan or vegetarian meal, or wonder why you are not making these more often.
Check out this recipe
Portobello
Portobello mushrooms are actually crimini mushrooms that have matured to obtain a diameter measuring more than 4″. They come sporting a smooth cap with an even brown color and are renowned for their deep and earthy flavor. Their overall effect in a dish can be likened to that of the pearl oyster mushroom.
Since they are seasonal from December to March, it is pretty easy to run into them at your local store. If you are looking to cook with these delectable beauties, you might want to check out our portobello mushroom recipes like this one below.
Chili Stuffed Portobello Mushrooms
What's not to love about stuffed portobello mushrooms? Depending on their filling, they can be a perfect appetizer, side or main dish. In this recipe take large mushroom caps stuff them with a hearty vegan bean chili, baked them in the oven with melted cheese on top. Absolutely delicious for a weeknight dinner or for holidays like Thanksgiving or Christmas.
Check out this recipe
Chanterelle
Chanterelle mushrooms might look like oyster mushrooms with their bright hue and wide cap, but the good news is they're not quite as expensive! These mushrooms are characterized by their nutty, meaty, and almost peppery undertones, making them great for sauces.
Shiitake
Out of all the king oyster mushroom substitutes we have listed, this mushroom from Asia is probably the most popular. Shiitake mushrooms are also much less expensive than oyster mushrooms and can be used as the perfect replacement.
Shittake mushrooms come in a range of brown hues and have umbrella-shaped wide caps. And while the caps themselves don't look very appetizing, the bold flavor and fleshy texture more than make up for it. Some even say that it resembles a well-done piece of steak when cooked well! We have many recipes using shiitake mushrooms like this one:
Vegan Cream of Mushroom Soup
Easy and creamy mushroom soup that can be done under 30 minutes. It is only a couple of minutes to prepare, to cook, and to blend. In this soup recipe we are using a mix of different mushrooms (cremini, portobello, shiitake) to have a delicious and rich vegan cream of mushroom soup at the end.
Check out this recipe
Abalone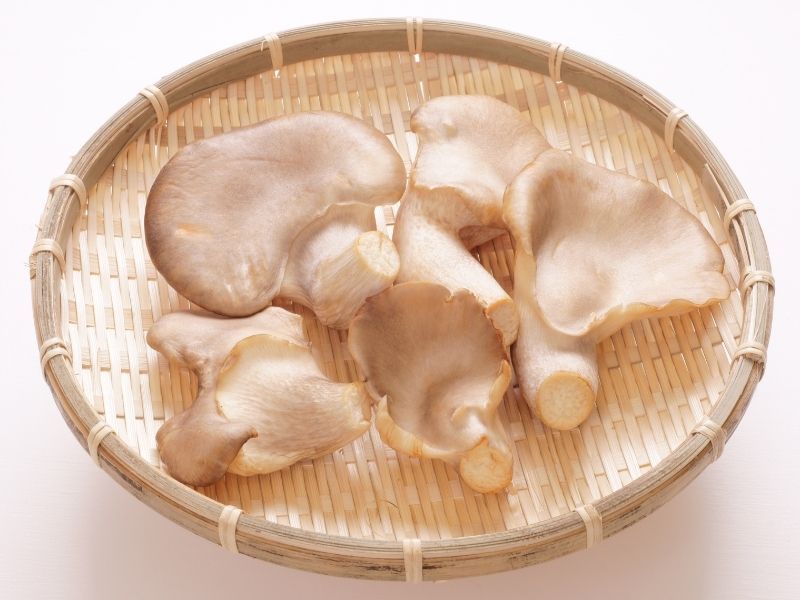 Abalone mushrooms, named after the shellfish abalone, are often confused with pearl oyster mushrooms. That's no surprise considering that this ivory-colored mushroom variety is in fact very closely related to oyster mushroom. What sets it apart, however, is its silkier texture and rich, buttery flavor. It is also these characteristics that make it a popular ingredient in Asian stir-fries and sauces.
Lion's mane
True to their name, lion's mane mushrooms (or yamabushitake) are shaggy looking with dangling white teeth that resemble the mane of a lion. Its sweet and rich meat tastes a lot like seafood, almost like crab or lobster, and its meaty texture might remind you of pearl oyster mushrooms.
Matsutake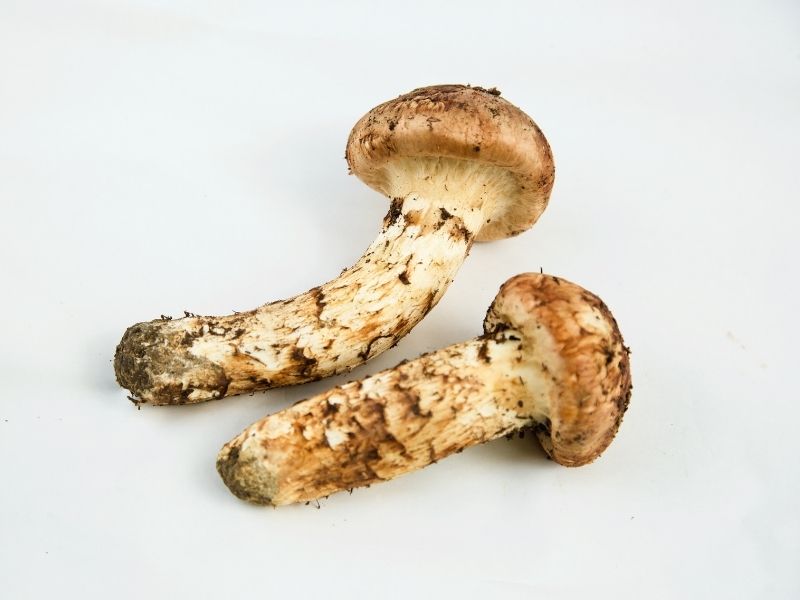 Matsutake, being a versatile oyster mushroom substitute, can be consumed both raw and fried, but tends to taste most delicious when added fried to soups and sauces. They hardly need any additional seasoning and are best consumed with their natural, earthy flavor.
Matsutake mushrooms are quite the star ingredient in many Asian cuisines, especially Japanese, and are particularly popular for their aromatic smell and unique taste that is reminiscent of truffles!
However, it should be mentioned that these mushrooms are a little expensive, so if you want to stick with oyster mushrooms or portobello mushrooms. You could probably even make do with replacing them for fresh shiitake – trust us, none would be the wiser!
Morel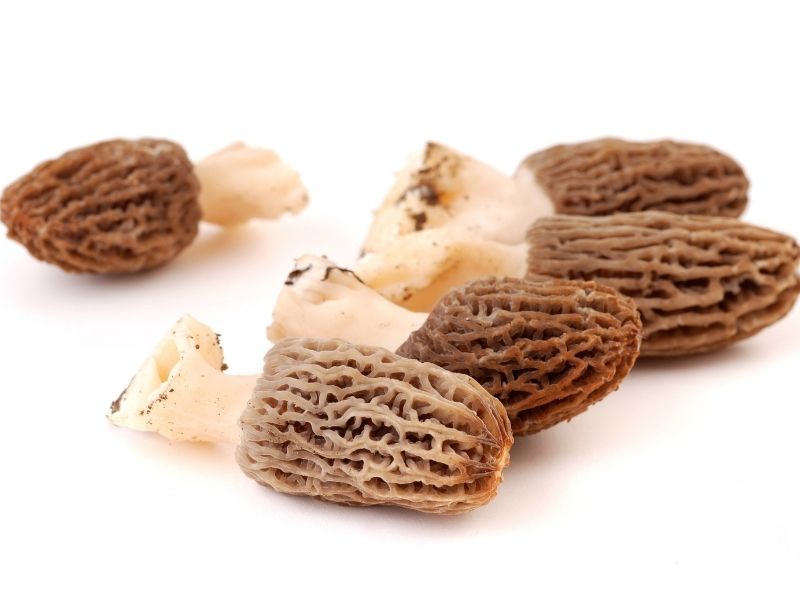 Morel mushrooms are characterized by a shriveled, brown body that does not appeal to the eye at first sight. And while they are found aplenty in the woods, they also have a poisonous lookalike, so it's best and safest to just buy this type of mushroom from a store.
When it comes to taste, morel's are simply divine – meaty, nutty, and quite like oyster mushrooms. Unfortunately, these are seasonal and priced higher than oyster mushrooms. So, it's more likely you will find yourself substituting oyster mushrooms for morel mushrooms than the other way around, but both ways work just fine. If you've got some lying around, go for it!
Maitake (Hen of the wood)
While maitake mushrooms look like oyster mushrooms, their flavors are entirely different. The former tends to be meatier than the latter, with a very earthy undertone. They have frilly sides that shrivel up when cooked for too long.
Fry them or add them to a base, and offset it with some saltiness to really add some oomph to your dish! The only drawback is that they might be a little hard to come by at your local grocery store so it may not be the best oyster mushroom substitute.
Eggplant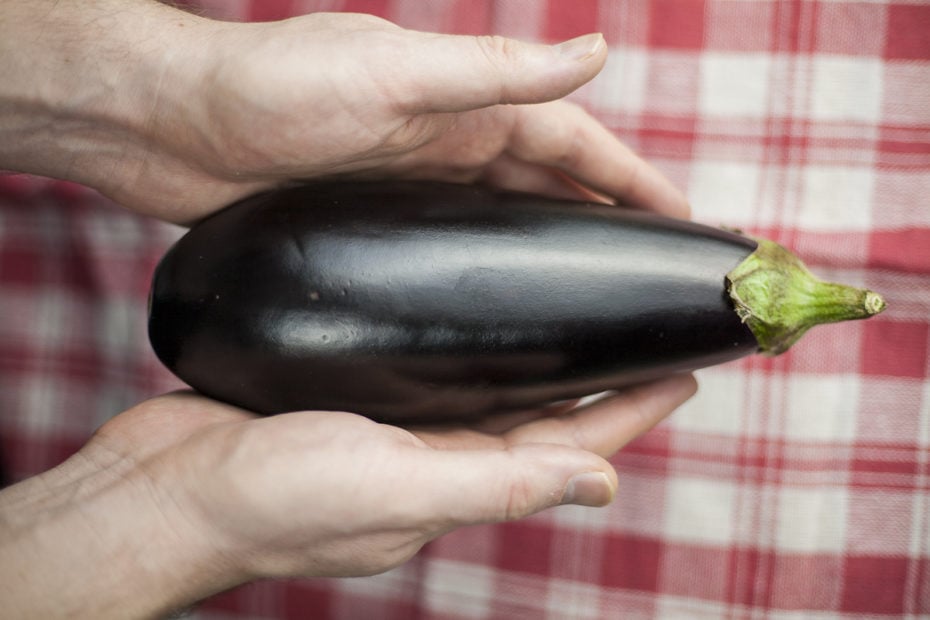 This might come as a surprise, but you can substitute eggplant for oyster mushrooms! Both have a surprisingly spongy texture that soaks up juicy marinades easily. Plus, eggplant is relatively neutral in taste as well, making it perfect for adding your favorite seasonings to make it taste as close to oyster mushrooms as possible. To know more, check out our eggplant guide.
You can use eggplant instead of mushrooms to make meatballs, or to add it to stir-fries, to top your pasta or risotto with it.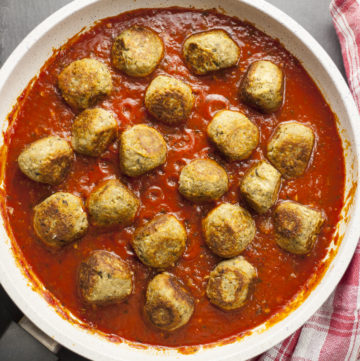 Vegan Eggplant Meatballs
You can make perfect vegan eggplant meatballs using only eggplant and no other veggies or legumes. Since roasted eggplant has this amazing texture and fairly neutral flavor, proper seasoning can turn it into delicious meatballs without much effort. Serve with a chunky vegan marinara sauce over spaghetti.
Check out this recipe
Tofu
Tofu and oyster mushrooms or even mushrooms, in general, have a common characteristic that makes them perfect replacements for each other. And that is their spongy texture which soaks up marinades, sauces, and juices easily. Both have a quite neutral taste that with the proper seasoning you can easily overpower.
If you have a recipe that calls for shredded mushrooms, you can think of tofu as well. We used shredded oyster mushroom in Hoisin sauce to make rice paper dumplings, and shredded tofu in Hoisin sauce to make crispy rice paper rolls.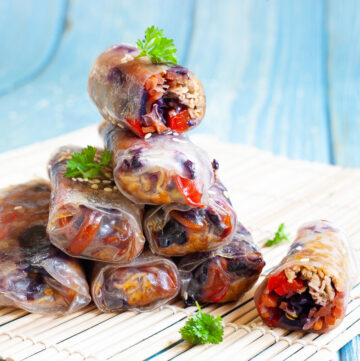 Crispy Rice Paper Spring Rolls
These rice paper spring rolls are the best Chinese spring rolls using rice paper instead of classic spring roll wrappers. These crispy, savory rolls have a colorful, pre-cooked veggie filling (with julienne carrots, purple cabbage, scallion, and bean sprouts) as well as marinated shredded tofu.
Check out this recipe
Tempeh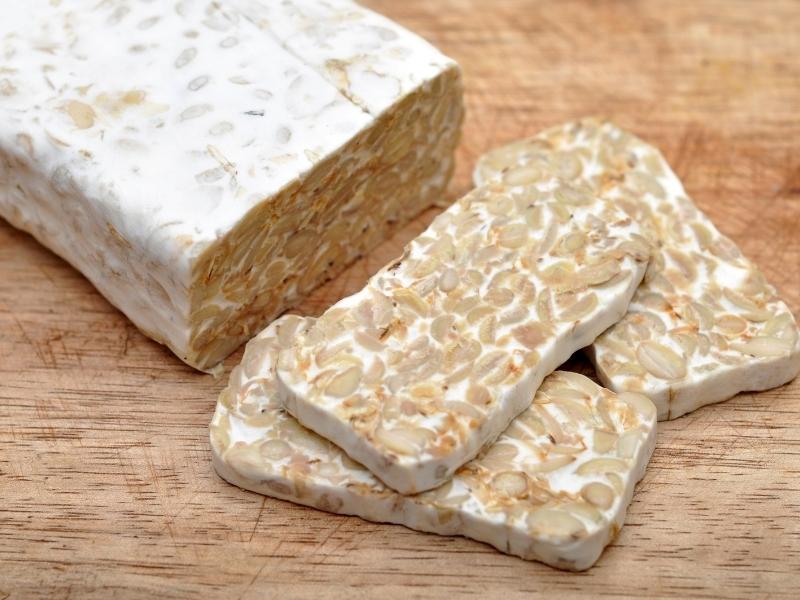 Tempeh is made of fermented soybeans and used as a vegetarian protein or meat substitute. Their aroma is considered to be very mushroom-like, nutty, and earthy due to the fermentation. It has a much stronger aroma than tofu. So you would need a marinade or strong seasoning to make them taste nice.
If your recipe calls for oyster mushrooms, especially in pasta dishes, salad bowls, or stir-fries, you can substitute tempeh for it and use the spices that were recommended for the mushroom.
Least favorite substitutes
If you are searching the internet for substitutes, you may come across other alternatives, but let me tell you why they are our least favorite ones:
Wood ear mushrooms – They have a very unique gummy texture, which is in no way similar to oyster mushrooms. Stores sell them dried. They need to be dehydrated and then cooked before you can use them. This cooking method makes them less gummy but still far from the texture you would be after.

Enoki mushrooms

– They are more close to sprouts than oyster mushrooms. They are very thin with really small caps, which cannot really mimic the texture of oyster mushrooms. Also, it is limited on how you can prepare them as you usually use them as a whole.

Angel wings

– The main difference is that while oyster mushrooms are edible, angel wings are poisonous. The first warnings came as early as 2004.

Nuts (walnut and pecan)

– It is true that mushrooms have a nutty, earthy flavor and you would think that nuts are great substitutes. We do use them to enhance the mushroom flavor to make mushroom meatballs or the mushroom filling in vegan wellington, but they cannot mimic the texture and the taste on their own.

Sun-dried tomatoes

– They may have a similar texture to dried mushrooms, their flavor is just so strong. There are not enough spices in the world you can use to turn them towards a nutty, earthy mushroom aroma.
FAQs
What is the best substitute for pearl oyster mushrooms?
Maitake or abalone mushrooms are the closest in texture and taste. If you look at pictures of them they even look quite similar with fan-like gills that run along the stem. However, we listed 11 other alternatives you can choose from.
What is the best substitute for king oyster mushrooms?
Porcini or shiitake mushrooms are the closest in texture and taste. They both have a chewy, meaty large enough stem to work with. However, we listed 11 other alternatives you can choose from.
More information on oyster mushrooms
If you need some delicious oyster mushroom recipes to try or read more about them here: