If you are craving a rich, spicy and creamy Vegan Cajun Pasta Sauce this will be the one to make. We added some shredded oyster mushrooms as they are just the best vegan chicken alternative ever and voila here is an absolutely delicious and creamy Vegan Cajun Chicken Pasta to enjoy in about 30 minutes.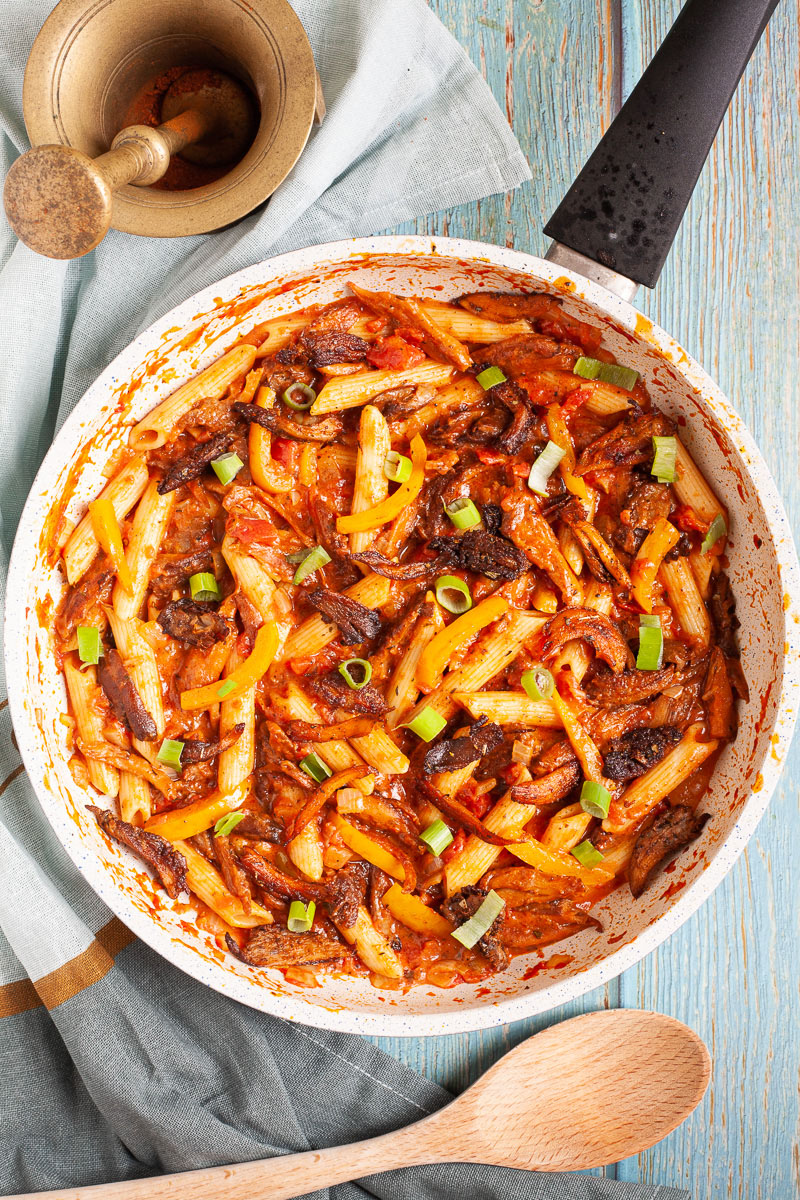 Since we discovered oyster mushrooms, we have been making lots of delicious vegan recipes using them as meat alternatives. They have such a sturdy, chewy, meaty texture that is perfect to make Vegan Shredded Chicken, or Vegan Gyros, or Vegan Philly Cheesesteak. We have even written a Guide to Oyster Mushrooms with the Best 20+ Oyster Mushroom Recipes to give you even more ideas to enjoy this awesome ingredient.
What does Cajun food taste like?
Cajun is the name of a very special and absolutely tasty cuisine from Louisiana. It is influenced by West African, French and Spanish flavors. If you have heard of dishes like Gumbo or Jambalaya, you have heard of Cajun cuisine as well. What can you expect when you choose a recipe using Cajun seasoning? A Cajun spice mix heavily relies on cayenne pepper, smoked paprika, garlic powder and oregano. There usually other spices added (as there is no fix recipe), but these are the main flavors you can expect to taste in any Cajun recipe.
The best vegan Cajun chicken for pasta
The best vegan meat alternative for shredded chicken is without doubt oyster mushrooms. Let me give you 6 reasons:
allergy-friendly -> no soy, no nuts, no gluten
pantry staple -> mushrooms are usually in all vegan grocery or shopping list
easy to buy -> usually available in all local stores (unlike jackfruit, seitan or tempeh)
cheap -> way cheaper than company branded products
quite neutral in taste -> they soak up any seasoning or marinade you add
tough spongy texture -> perfect to replicate this gummy, sturdy meaty texture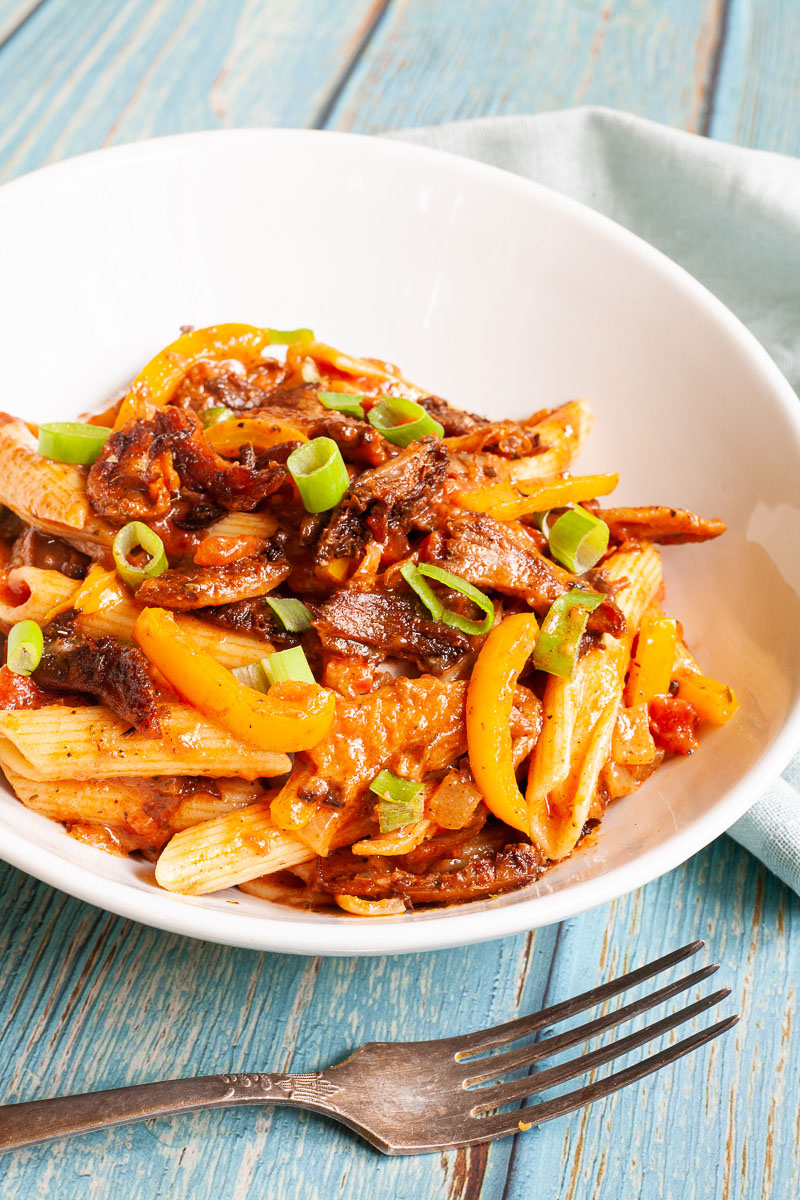 Marinate the mushroom shreds
Cut the end of the stem of pearl oyster mushrooms and tear the cap into small shreds with your hands. If the stem is soft enough you can shred them as well.
Take a small bowl and mix the marinade (olive oil, cayenne pepper, sweet smoked paprika powder, dried oregano, dried thyme, garlic powder, onion powder, black pepper, and salt)
Add shredded oyster mushroom to the marinade and mix well. Leave it for 5-10 minutes.
Fry the marinated oyster mushrooms
Take a frying pan or a skillet and heat it to high heat. Add the marinated oyster mushrooms in one layer (work in batches if you plan to make more servings). The amount in the recipe card is for 2 servings, which can fit well usually in one large skillet.
Stir with a spatula and fry the shredded oyster mushrooms until nice and crispy. It took us about 10-15 minutes tops. Add a dash of (1 tsp) olive oil if the oyster mushroom if it feels too dry.
Alternatively, you can bake them as we did in our Vegan Gyros recipe. Place a parchment paper in a sheet pan. Spread the shredded oyster mushrooms preferably in one layer. Pre-heat oven to 425 Fahrenheit (220 degrees Celsius) and baked them for 40 minutes or until crispy on the edges. Watch how it progresses, and flip occasionally to make sure all sides are nicely baked and crispy.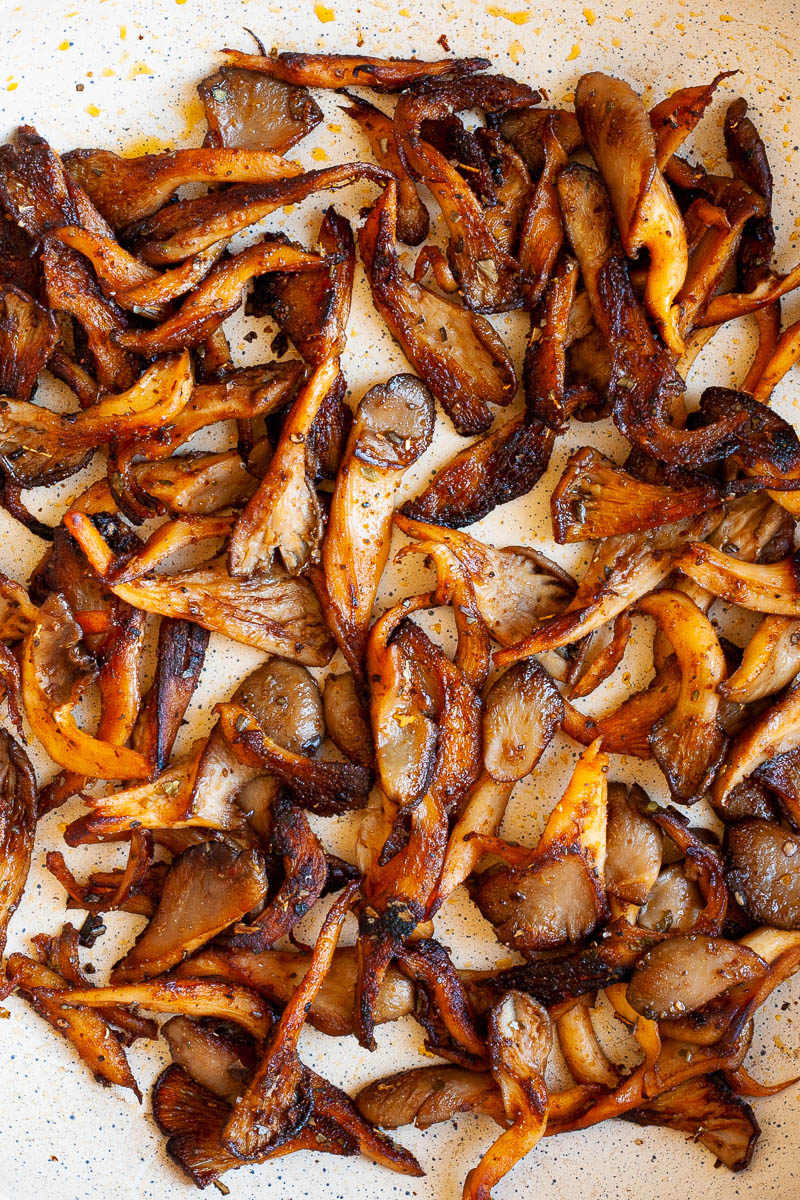 How to make creamy Vegan Cajun Pasta?
Prepare the ingredients
Peel and chop onion. Wash the bell pepper. Lay it on its side and cut off the stem. Now, cut it in half and take the seeds out. Now, place the half pepper on its open flat side and make horizontal cuts of ¼-inch (4-5 mm) wide.
Quick tips: If you have large bell peppers, you might want to cut the strips in half. You can use red, yellow or green bell pepper, whichever you have at hand. In this recipe we used yellow, but for example our Fajita Veggies recipe we used all 3 to have a colorful mix.
Making cajun pasta
Take the same frying pan or skillet you used to fry the mushroom and heat to medium. Add chopped onion with a dash of olive oil and fry them for approx. 2-3 minutes until onion gets soft and tender.
Add sliced bell pepper and fry them together for another 5 minutes. You are ready, when the bell pepper slices soften and have a little brownish edges. The same for the onions, as they become caramelized and brownish. (See below picture #1 for reference.)
Add canned chopped tomatoes (we use Cirio's*) and bring it to boil. Cook until tomatoes soften.
Add veggie broth and full-fat coconut milk and stir until combined. Bring it to boil and you have a creamy and rich sauce. (See below picture #2 for reference.)
Add cooked pasta and fried oyster mushrooms shreds and enjoy!
Top tips to cook with oyster mushrooms
Use high heat

– You need to fry the oyster mushroom shreds on high heat otherwise the liquid they release will not evaporate. In that case, the mushrooms will be cooked rather than fried. They will turn out soft, but not crispy. In our experience oyster mushrooms release less moisture than button mushrooms, but still high heat is what you need in this recipe.

Adjust the amount of olive oil

– It is enough to marinate the mushrooms shreds for 5-10 minutes. If you want to or need to marinate longer (like overnight), and the mushroom feels too dry, it means that probably all juices have been soaked up. You need to add a dash of olive oil to the skillet before frying to make sure it will not only get crisp but cooked as well.

Don't fry together onions, bell peppers and mushrooms

– Onion and bell pepper need medium heat as they will burn on high heat, while mushrooms need high heat to get them crispy. You can use the same skillet though as they can soak up each other's juices.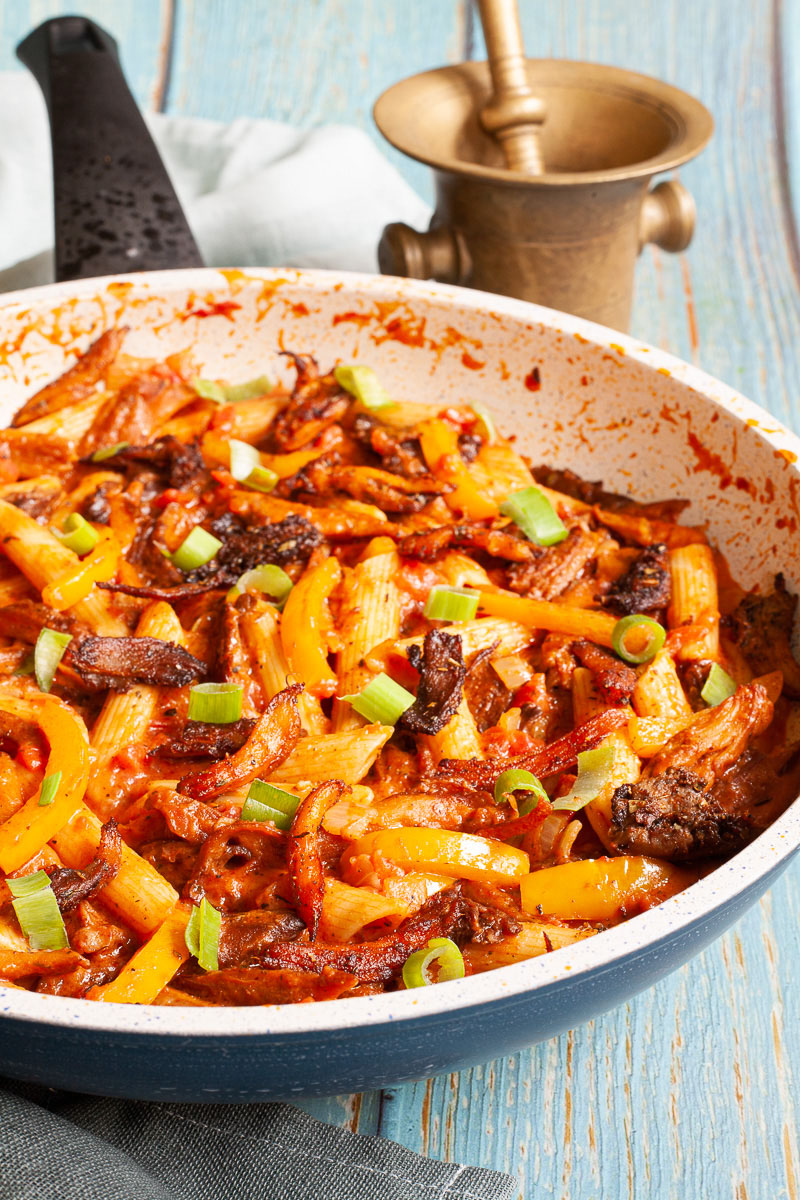 FAQs and substitutions
How to store it?
If you have already mixed the pasta with the sauce, then you can store it in the fridge overnight without a problem. However, if you meal prep and want to store it for more days, we recommend storing the separately. The pasta will soak up the sauce and you will be left with a very mushy pasta with a thick almost non-existent sauce.
Can you use other milk?
We chose full-fat canned coconut milk to make the sauce rich and velvety. If you use other dairy-free milk, you might get a very runny sauce that you may need to thicken with starch or flour. You can choose other store-bought vegan heavy cream alternatives that are made of oat, soy or nuts.
Can you omit oyster mushrooms?
Yes, of course. If you don't like mushrooms you can choose other vegan meat alternatives. If you prefer to make the sauce without it, just mix the cajun seasoning as written in the recipe card without the olive oil and add 2-3 tsp of it to the sauce.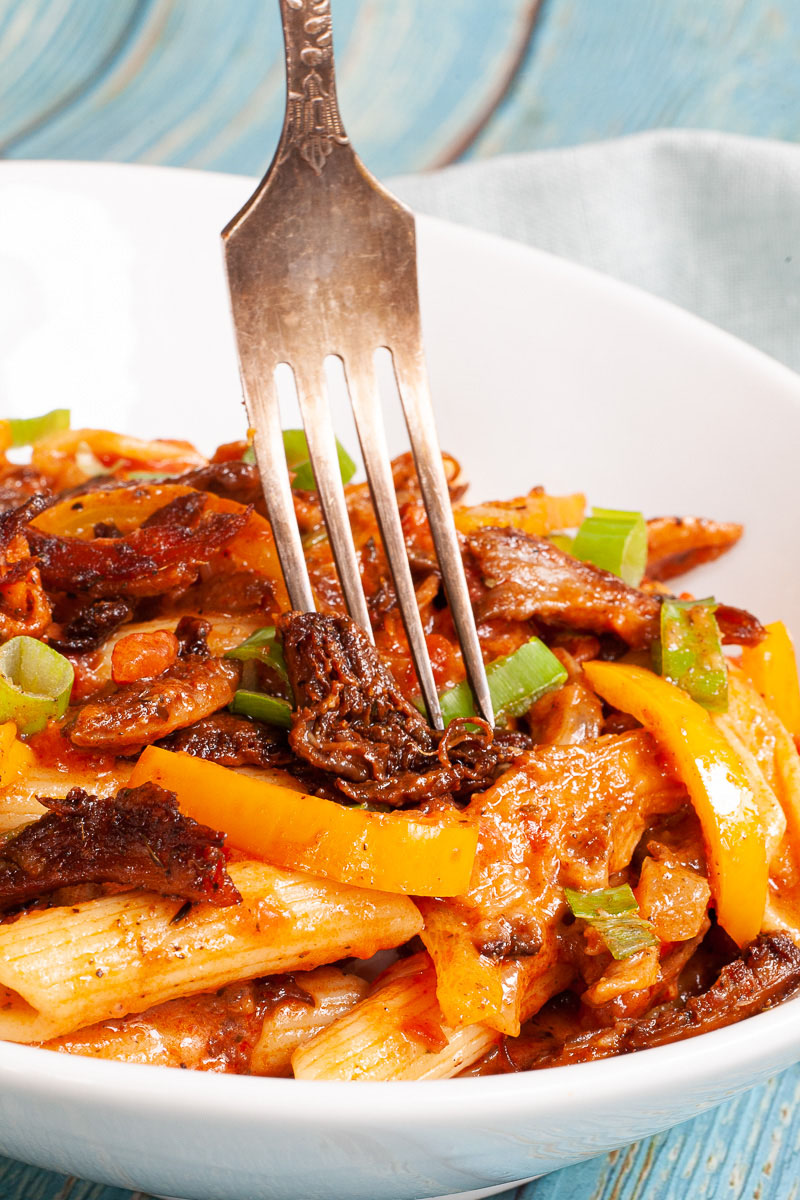 This Cajun Pasta Sauce recipe is meat-free, dairy-free and egg-free. It is also suitable for vegan, vegetarian, nut-free, soy-free, and gluten-free diet. It is not WFPB-friendly (whole foods plant-based) as you can get the mushrooms crispy without oil.
More vegan pasta recipes
You can browse through our Vegan Sauce Recipes or our Quick Vegan Meals collection or check out