Guaranteed to add depth to your finest recipes, oyster mushrooms are what the culinary world considers the definition of flavor and deliciousness living in a bowl. This article is just one part of our complete guide to oyster mushrooms, so prepare to go on a journey to discover the wondrous world of all things fungi. Starting with where to buy them for your next meal, there's a lot to learn, so get reading!
What are oyster mushrooms?
The oyster mushroom (aka pleurotus ostreatus), is a type of edible mushroom that is a staple in many Asian dishes. Versatile and filling, it is an ingredient commonly found in spicy vegetable stir-frys, creamy mushroom soups, and even pasta dishes. When cooked, the mushroom's delicate and mild flavor profile adopts a more nutty and seafood-like taste, while its bittersweet aroma that is reminiscent of anise gets the taste buds tingling!
Named for the raw oysters they resemble in shape and color, the top caps are broad and oyster-shaped while the short and nearly non-existent stems have a firm and meaty texture. There are different types of oyster mushrooms, whose colors range from light gray to dark brown, with white to cream flesh and decurrent gills.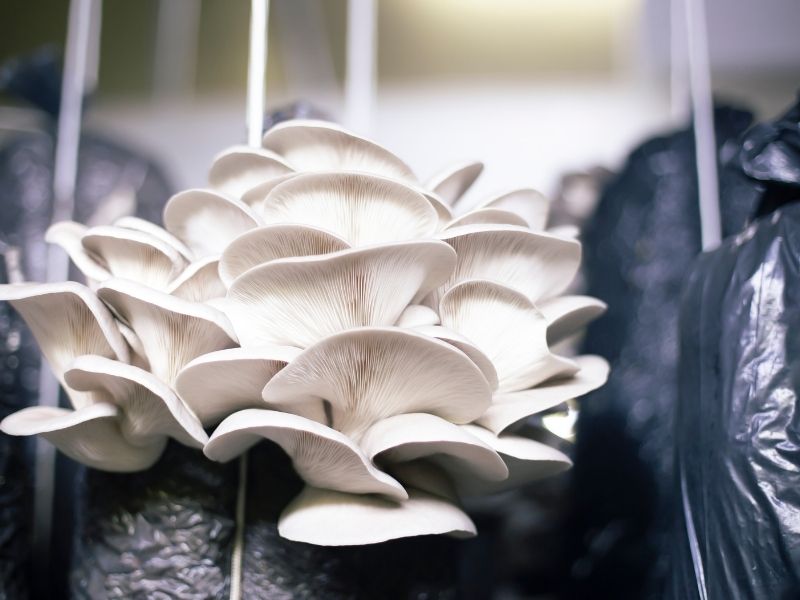 Some popular oyster mushroom types include the king oyster mushroom and pearl oyster mushroom.
King oyster mushrooms feature a thick white stem, and brownish caps, and are the biggest kind of oyster mushroom.
Pearl oyster mushrooms, on the other hand, are shaped like pearls and are known for being the most common variety in America.
Don't stress if you're a fan of the umaminess that oyster mushrooms bring, but happen to not have any on hand. There are loads of oyster mushroom substitutes out there to try that are also perfect ingredients and will not disrupt your dish's flavor profile, like shiitake mushrooms, portabella mushrooms, and even porcini mushrooms.
How can you buy them?
Fresh
Buying them from a loose mushroom bin is always a great way to ensure you are picking the best of the lot. You are also available pre-packaged in buckets, tightly wrapped in saran wrap in most larger stores.
While there are many farms scattered across the country that produce mushrooms, reaching out to ones in your locality is the best way to start looking. Check out Mushroom Grower's Newsletter which has a comprehensive list of mushroom farms all over the United States.
Being a rather sensitive ingredient, picking the freshest mushrooms is an important step. Fresh mushrooms have firm and smooth caps that are free of any damage or dark spots and moisture. A single color with no major changes in texture is an indicator of freshness. And if you're still confused read all about how to choose and store oyster mushrooms here.
Dried
Super easy to use, simply rehydrate dried oyster mushrooms by pouring hot water over them and then steep them till they are soft. You can then go on and add them to any dish of your choice, just like you would fresh mushrooms!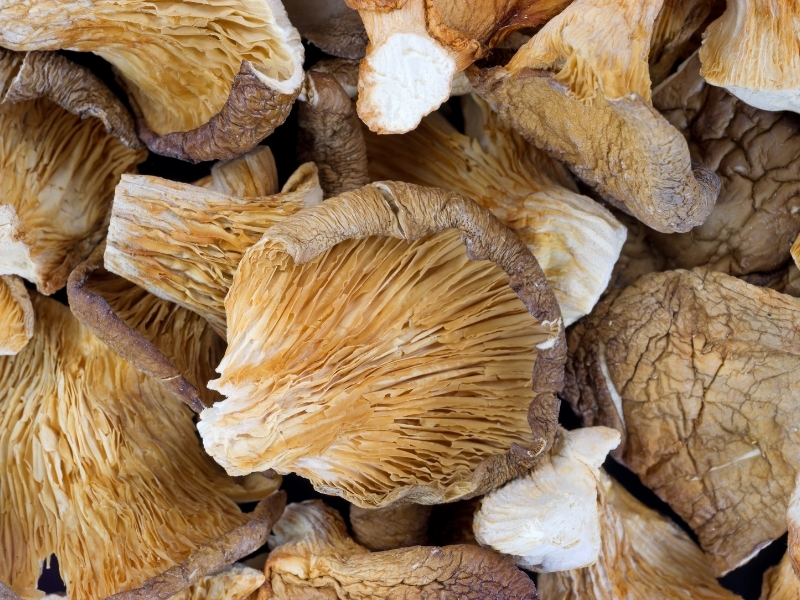 Canned
When in a pinch, canned oyster mushrooms can be a convenient option as they are fine being stored for longer periods of time. Plus, since canning results in a more acidic environment, there's a much lower risk of bad bacteria sneaking in to spoil your food or your gut!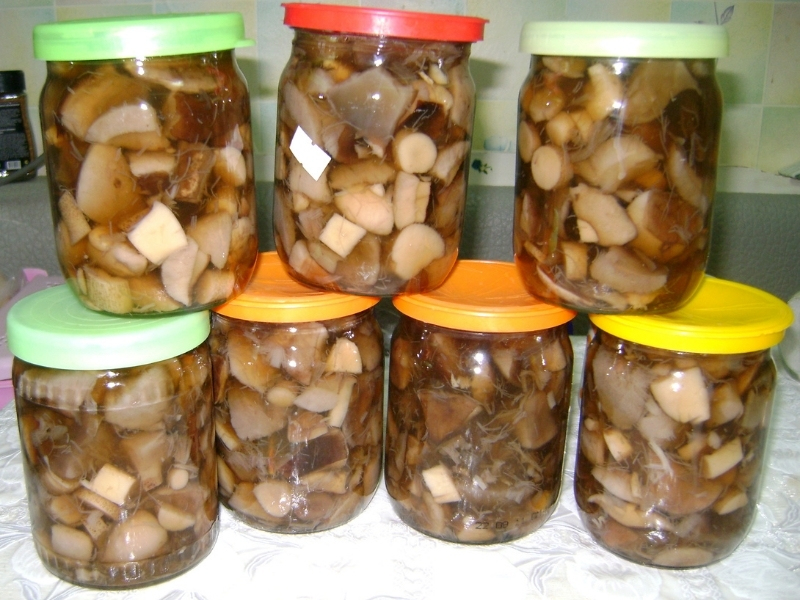 Grown at home
Well, it is not technically "buying", although you need to buy the spores to start. So alternatively, they can also just as easily grow oyster mushrooms at home using a growing kit.
Where to buy oyster mushrooms?
They are the third most cultivated mushroom in the world, making them rather easy to buy. From online stores to local groceries and supermarkets, stocking your pantry with them is just a trip or even a click away.
A quick visit to a

big box store

like Walmart, Kroger, or Target is usually all that is necessary to stock up on oyster mushrooms on short notice. If you're really short on time, you can even opt for a quick pickup or home delivery instead.
Another great option for sourcing oyster mushrooms is the produce section of your

local Asian specialty store

. Likely to be situated right around the corner from where you are, these stores are almost always guaranteed to have them in stock in a wide range of varieties. H Mart, Hong Kong Supermarket and Asia Market in New York, Tai Nam Food Market in Chicago, and the Asian Family Market in Seattle are some examples of stores where you can buy oyster mushrooms.
If you feel knackered at even the prospect of shopping in person, skip the crowds and

go online

instead. Check out Guan's Mushroom, Gourmet Food Store, Amazon, and Whole Earth Harvest for a wide range of options that will deliver straight to your doorstep.
When is oyster mushroom season?
Wild oyster mushrooms are often seen after the first frost in fall, while commercially harvested oysters are available year-round. You are probably now wondering why they are so expensive then. Large-scale mushroom farming is a delicate art that involves growing oysters in highly regulated conditions with high initial investment costs.
Oyster mushrooms are best when freshly picked, however, so if you are trying to figure out where to buy oyster mushrooms that are of the highest quality, remember to check your local store first. Nearly every supermarket chain sells oysters as they are cheaper than other kinds of mushrooms, are good for use in an extensive range of dishes, and because they are easy to grow as well.
In fact, they are so easy to grow that they are simply perfect for amateurs to have a go at. With simple starter kits being available in most major cities and online, you'll even have all the resources you need on hand with relative ease. The kits provide both materials and information on how to grow oyster mushrooms at home, which means all you need to do is grab a bucket and create your very own steady supply of home-grown gourmet oysters.
How to store them?
Now that you've bought them, learning about the different ways to store oyster mushrooms is your next step. While fresh oysters can be refrigerated in paper bags or on a paper towel for 5-7 days, just keep in mind that it's important you give them enough air to breathe. If you plan to use them much later, you can consider freezing or dehydrating them. Do these 3 steps to prepare oyster mushrooms before choosing how to cook with them.
More information on oyster mushrooms
If you need some delicious oyster mushroom recipes to try or read more about them here: