If you are looking for an easy and yummy meatless taco alternative, you need to try this flavorful and delicious Oyster Mushroom Tacos recipe. These mushrooms are just the best vegan alternatives to meat strips (both beef and chicken). Fill up your tacos with salsa, avocado, pan-roasted corn, black beans and enjoy a Meatless Taco Tuesday!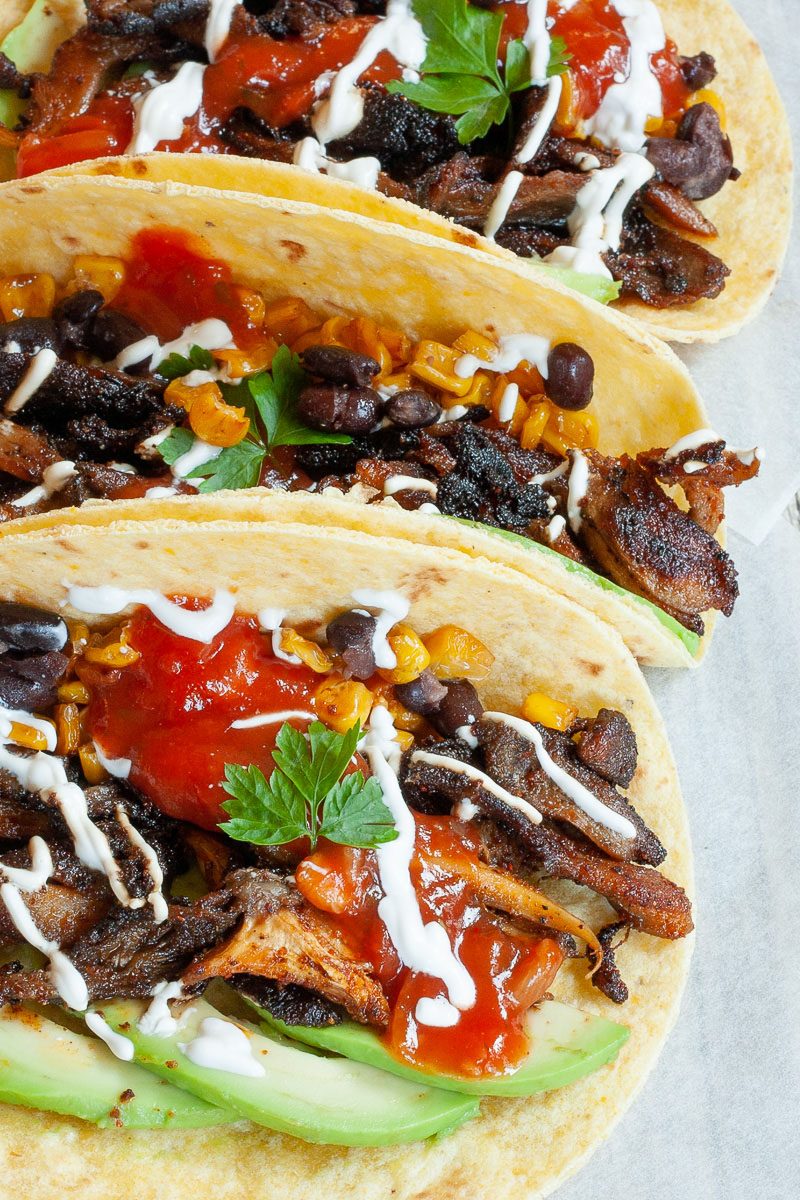 We are seriously in love with oyster mushrooms. I am telling you now if you don't like mushrooms in general, you will love these. They have such a sturdy, chewy, meaty texture that is perfect to make Vegan Shredded Chicken, or Vegan Gyros, or Vegan Philly Cheesesteak. We have even written a Guide to Oyster Mushrooms with the Best 20+ Oyster Mushroom Recipes to give you even more ideas to enjoy this awesome ingredient.
The Best Mushroom for Tacos
What can you expect from a mushroom taco? Well, I saw a lot of recipes with portobello or button mushrooms. I get that they are pretty easy to come by and everyone knows them, but they are pale in comparison to oyster mushrooms. No matter how much spice or marinade you add, you can't get rid of the mushroom taste. Which is fine, if you like mushrooms. If you don't or just want to try the crispiest and tastiest mushroom taco ever, you have to choose oyster mushrooms. I am talking about pearl oyster mushrooms here, not king oyster mushrooms. You can check out the difference between them in our Guide to Oyster Mushrooms.
Why you should choose oyster mushrooms for your taco?
No peeling or washing as they grow on trees not in dirt.
No cutting is needed, just shred them with your fingers.
Their spongy texture soaks up the marinade perfectly so it tastes like a whole new ingredient and not mushrooms.
You can pan-fry or oven-roast them super crispy just like you would chicken or beef strips.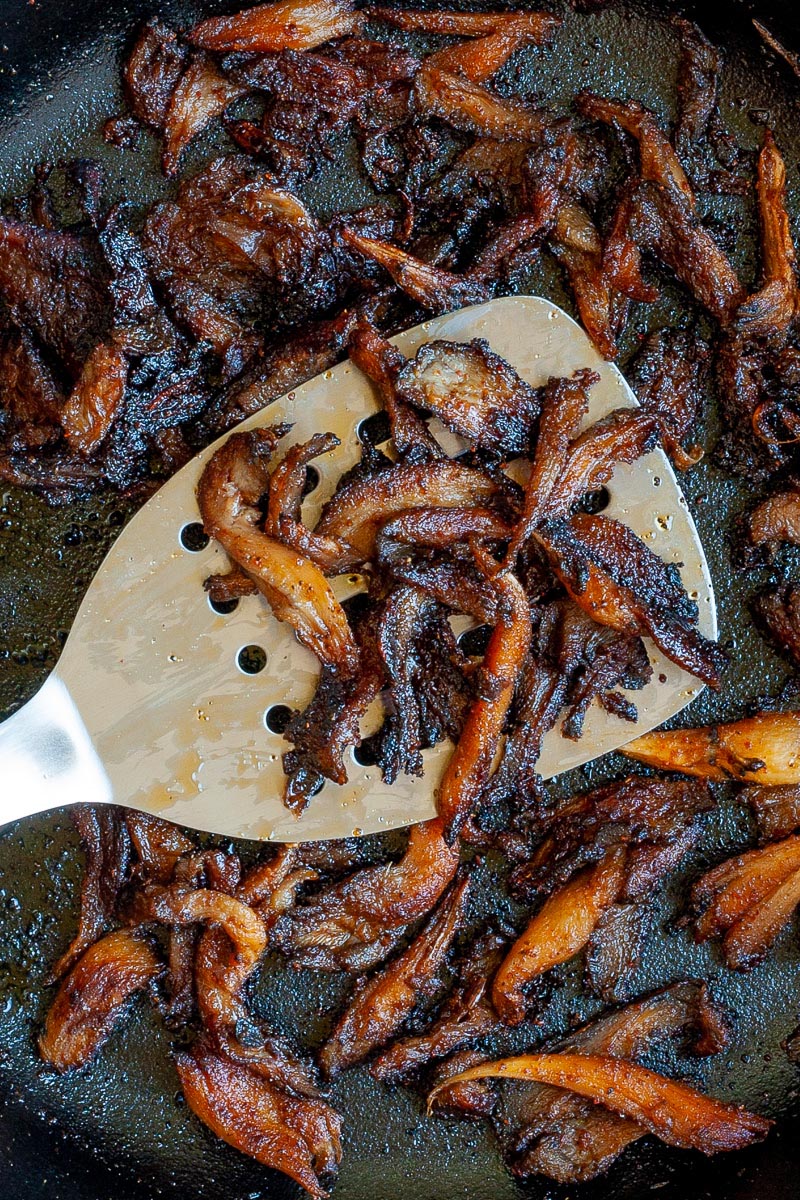 How to make Oyster Mushroom Tacos?
Marinate the mushroom shreds
Cut the end of the stem of pearl oyster mushrooms and tear the cap into small strips with your hands. If the stem is soft enough you can shred them as well.
Take a small bowl and mix the marinade (taco seasoning mix* (chili powder, smoked sweet paprika powder, cumin, oregano), onion powder, garlic powder., black pepper, and salt.
Add the oyster mushroom strips to the marinade and mix well. Leave it for 5-10 minutes.
Pan-fry them
Take a frying pan or a skillet and heat it to high heat. We love using our UnoCasa skillet (pictured).
Add the marinated oyster mushrooms in one layer (work in batches if you plan to make more servings).
Stir with a spatula and fry them until nice and crispy. It took us about 10-15 minutes tops. Add a dash of (1 tsp) olive oil if the mushrooms feel too dry.
Alternatively, you can bake them as we did in our vegan gyros recipe. Place parchment paper in a sheet pan. Spread the oyster mushrooms strips preferably in one layer. Preheat the oven to 425 Fahrenheit (220 degrees Celsius) and baked them for 40 minutes or until crispy on the edges. Watch how it progresses. Check it after 20 minutes it may already be done if you shredded them thinner than ours in the above picture! Baking time largely depends on the size of the strips. Flip occasionally to make sure all sides are nicely baked and crispy.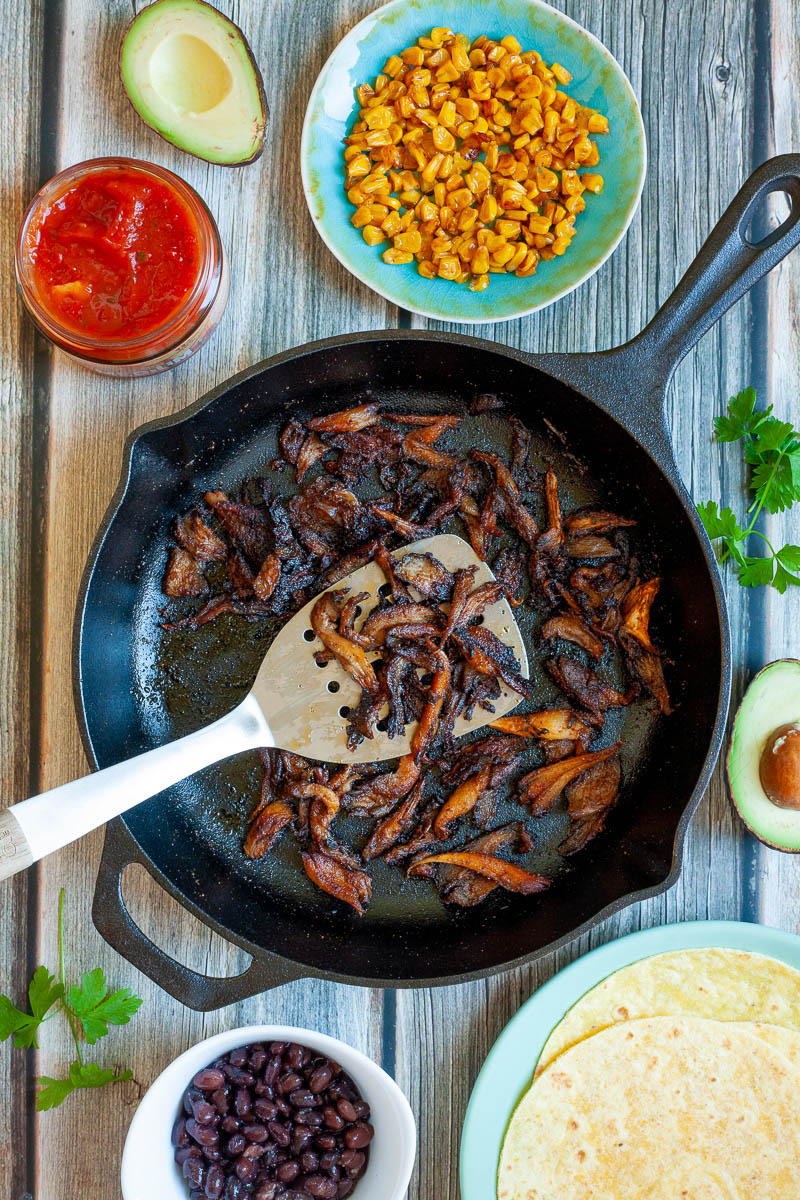 Top tips to make crispy mushroom strips
Use high heat

– You need to fry the oyster mushroom shreds on high heat otherwise the liquid they release will not evaporate. In that case, the mushrooms will be cooked rather than fried. They will turn out soft, but not crispy. In our experience, oyster mushrooms release less moisture than button mushrooms, but still, high heat is what you need in this recipe.

Adjust the amount of olive oil

– It is enough to marinate the mushroom shreds for 5-10 minutes. If you want to or need to marinate longer (like overnight), and the mushroom feels too dry, it means that probably all juices have been soaked up. You need to add a dash of olive oil to the skillet before frying to make sure it will not only get crisp but cooked as well.

Cast-iron skillet vs non-stick frying pan

– There are several benefits to use a cast-iron skillet, but the one I am most fond of and the one why we chose to use it in this recipe is that cast-iron pans produce a beautiful sear. Not only for steaks though. They make oyster mushrooms especially nice and crispy.
What else to add to Vegan Mushroom Tacos?
Obviously, pan-fried or oven-roasted oyster mushroom meat can be a great addition to any Vegan Tacos. In this recipe we used the following taco fillings:
avocado slices
canned black beans
pean-seared canned sweet corn
chunky salsa sauce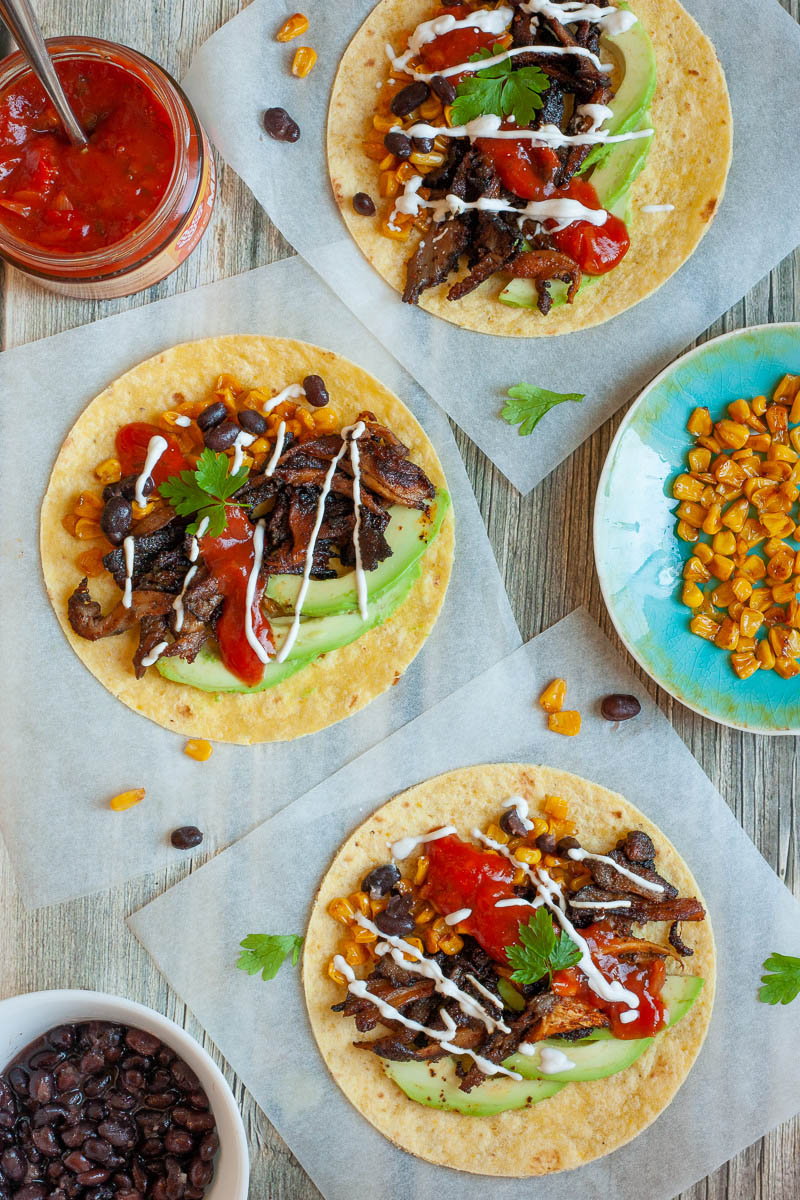 You can make a DIY taco or taco bowl to match your taste with ingredients like:
fajita veggies (bell pepper and onions),
jalapeno peppers or other hot peppers
chopped tomatoes,
hot salsa,
shredded lettuce,
shredded vegan cheese,
spring onion, chives, cilantro,
lime
tortilla chips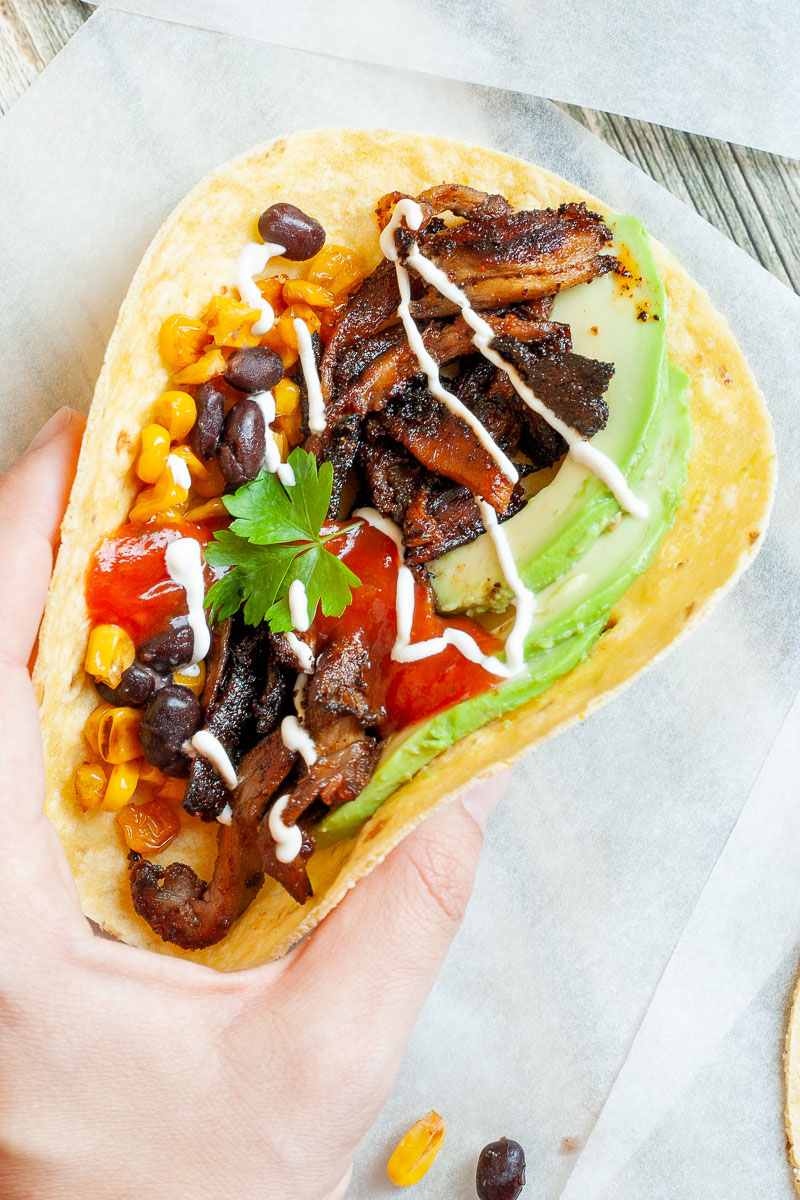 FAQs and substitutions
How long to marinate?
You can marinate them for 5-10 minutes, but you can leave them in the marinade overnight as well. If you decide to leave it long, pay attention to the incredible sponge texture of the mushrooms as the marinade will be soaked up completely. If the mushroom shreds feel too dry, you need to add a dash of olive oil to the skillet before frying to make sure it will not only get crips but cooked as well.
Will other types of mushrooms work as well?
There are certainly several different types of mushrooms, although none of them beats the meaty and sturdy texture of oyster mushrooms. We tried this recipe with portobello mushrooms and button mushrooms as well. The seasoning will bring you the taste, but the texture and the shape will be less meaty and you will for sure can tell that you eat mushrooms.
How to store them?
You can store them in an airtight container for 2-3 days tops. Mushrooms can go bad easily as well as they can dry out. We recommend eating them sooner rather than later.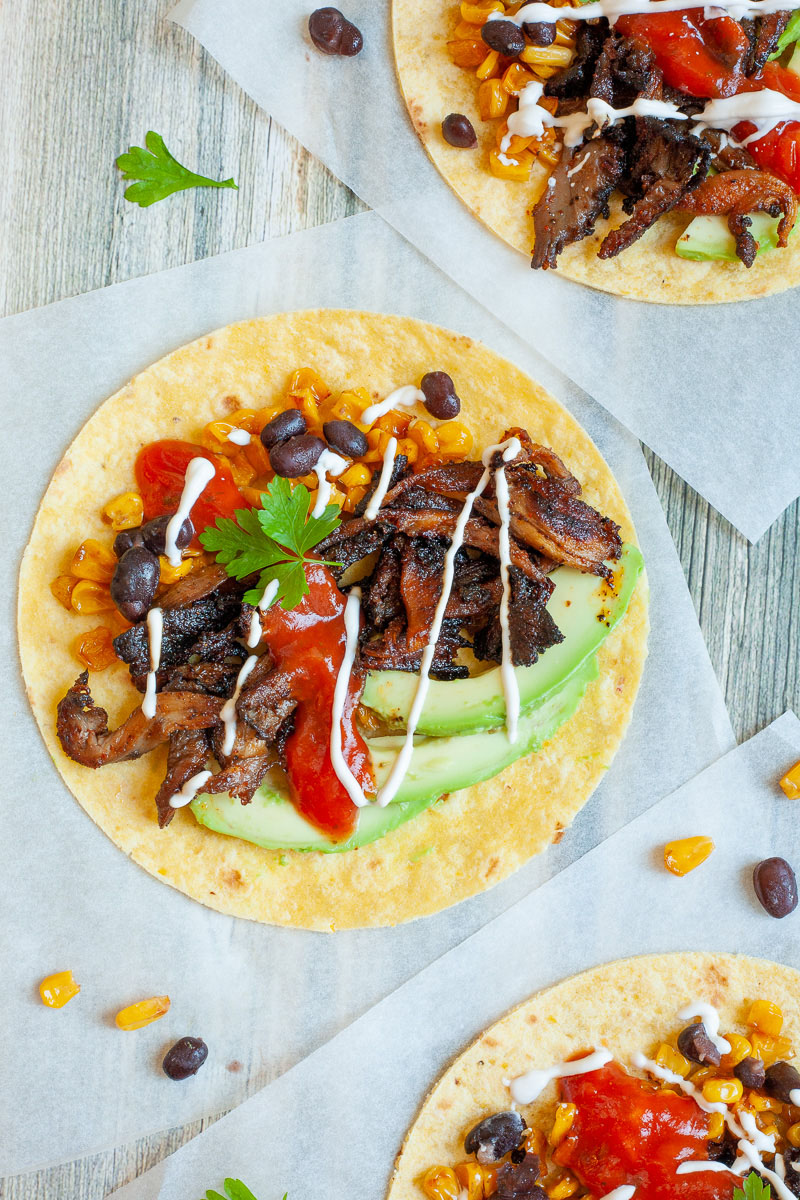 This Crispy Mushroom Tacos recipe is vegan (so meat-free, egg-free, and dairy-free) and vegetarian. It is gluten-free, nut-free, and soy-free. It is not compliant with WFPB (whole foods plant-based diet) because you need oil to make them this crispy.
More Vegan Tex-Mex recipes