If you are looking for THE oyster mushroom recipe you can serve as a side dish, this will surely be your favorite. Green herbs like thyme and parsley with a smidgen of chili peppers and a splash of lemon juice will bring out the natural mushroom flavor that can accompany any main course.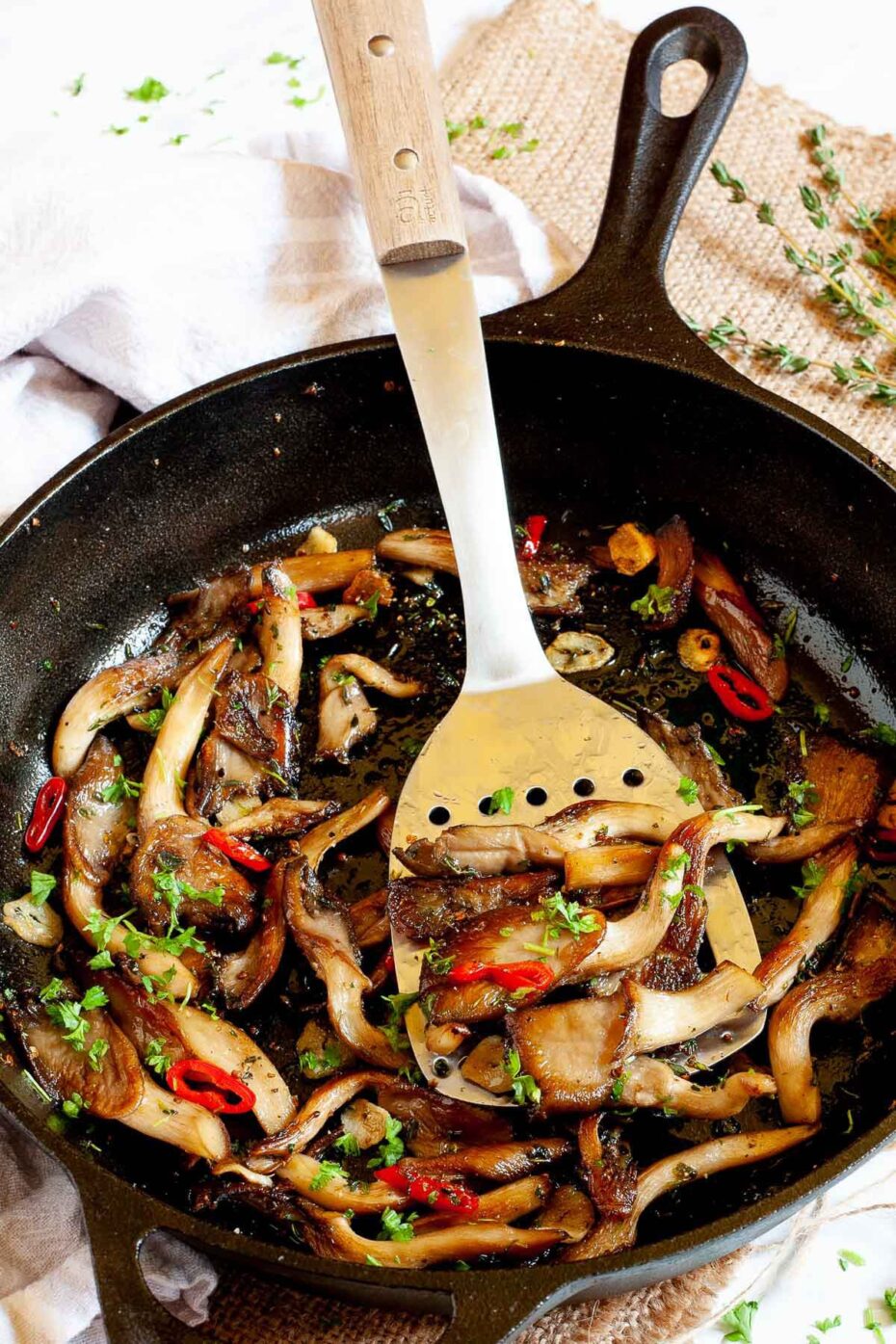 Do you love oyster mushrooms? Find your favorite among these 20+ oyster mushroom recipes, or try this crispy oyster mushroom tacos recipe, this crispy teriyaki oyster mushroom steak recipe, or this Thai oyster mushroom noodle stir fry recipe.
What do oyster mushrooms taste like?
There are 7 common types of oyster mushrooms (pleurotus ostreatus) you can choose from. Each has a slightly different taste, but what they all have in common are their subtle nutty, earthly flavor, and chewy, meaty texture.
You can choose any type to make this recipe, although not many are widely available. One must know where to buy them or grow them at home. The most well-known ones and the easiest ones to find are pearl oyster and king oyster mushroom. That is why we chose the first type for this recipe.
There are 11 ways to cook with oyster mushrooms but getting them crispy in a cast-iron skillet is surely one of the best out of them.
Ingredients
To make this oyster mushroom recipe taste amazing, we choose the below seasoning carefully. All ingredients are there to either enhance the overall flavor or balance them with the natural mushroom taste. They will be tender but chewy, not really soft like button mushrooms would be.
Garlic
Chili peppers – it gives the dish a bit of a kick, but you can omit them if you don't like things spicy
Thyme
Parsley
Coriander seeds
Lemon juice
Black pepper
Salt
Olive oil
See the recipe card for quantities.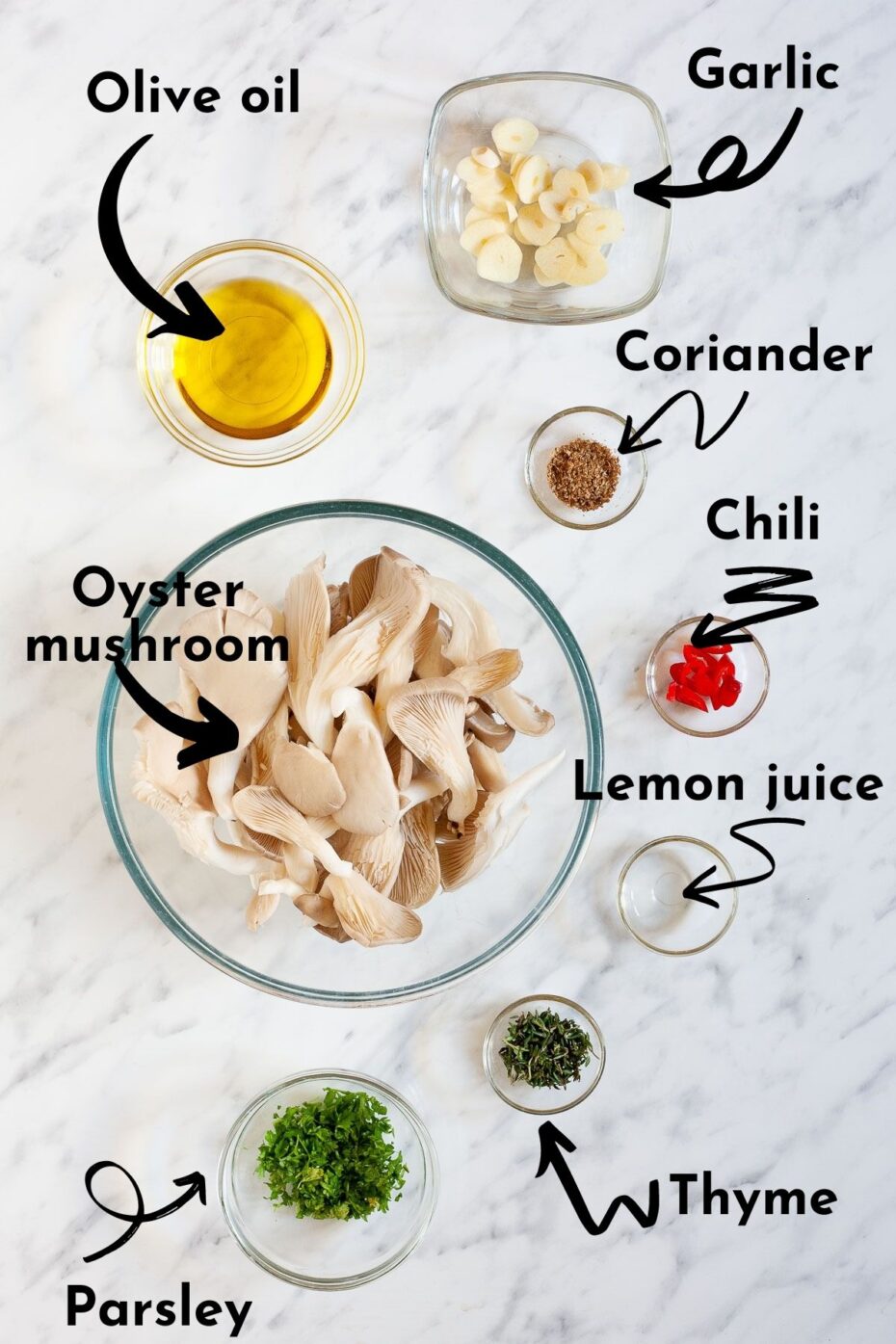 How to prepare for this recipe?
As

pearl oyster mushrooms

grow on trees in a cluster they are usually not dirty, so you don't need to wash them. Cut off the last bit of the stem and you are good to go. Shred the caps with your fingers. No need to slice them. Just tear them horizontally. You can read about all the what, how and why in our how to prepare oyster mushrooms guide.
Crush the

corindar seeds

with a knife on a wooden board. Or if you have a mortar crush it for a couple of times there. No need to make them into a powder.
Peel and slice

garlic

. You don't need to mince them as the garlic slices will get roasted, and will taste amazing.
Wash and chop fresh

thyme

and

parsley.

Wash and slice fresh

chili peppers

. You can skip it, if you don't like spicy food.
Squeeze some fresh

lemon juice

.
How to make pan-fried oyster mushrooms?
Take a cast-iron skillet*or a frying pan and heat over medium/high heat.
Add

olive oil

and crushed

coriander seeds

. Stir and fry the seeds for a minute to activate their flavor.
Add shredded

oyster mushrooms

. Season it with salt and black pepper. Stir occasionally and fry them for approx. 5-6 minutes until they start to get crispy brown on both sides (picture #1).
Remove the cast-iron from the heat and lower the temperature to low/medium before adding in the other ingredients. Herbs tend to get burnt if the heat is too high.
Add a dash of

olive oil

and the

fresh herbs, garlic and chili pepper

(optional). Stir and fry them for approx. 2-3 minutes. (picture #2)
Add

lemon juice

and stir well. Taste and adjust seasoning. Add salt or black pepper if needed.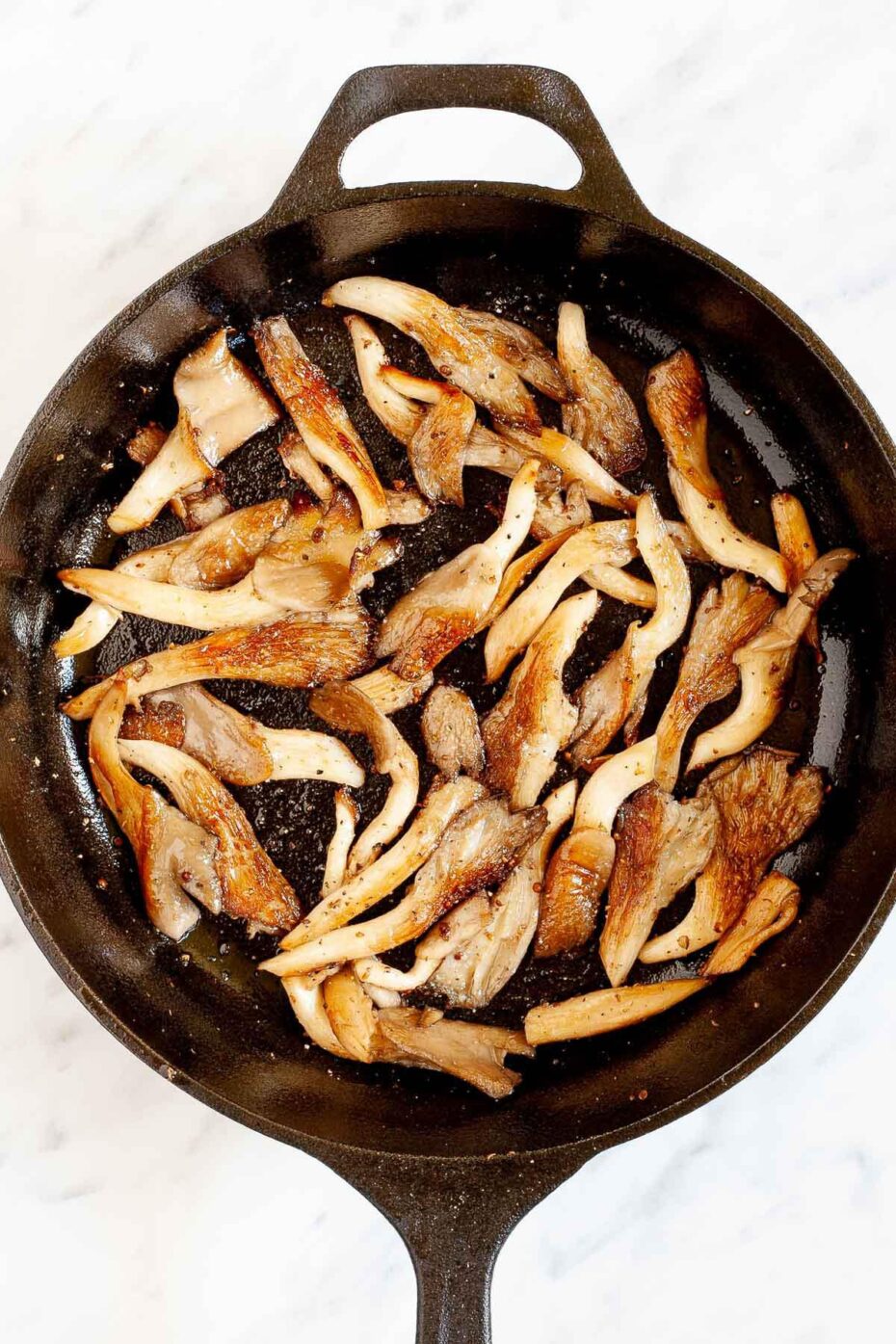 Top tips to make it perfectly every time
Watch the heat!

– Pan-frying means high heat, so you need to start with high when frying the mushrooms. However, if you add the herbs you need to lower the temperature to avoid getting them as well as the garlic burnt.

Minced vs sliced vs powder

– Finely chopped garlic can get burnt easily and will taste bitter. Fried slices are deliciously sweet while keeping its lovely flavor. You can also use garlic powder if you don't like crispy roasted garlic pieces.

Fresh vs dried herbs

– You can use both, although fresh herbs tend to have stronger flavors.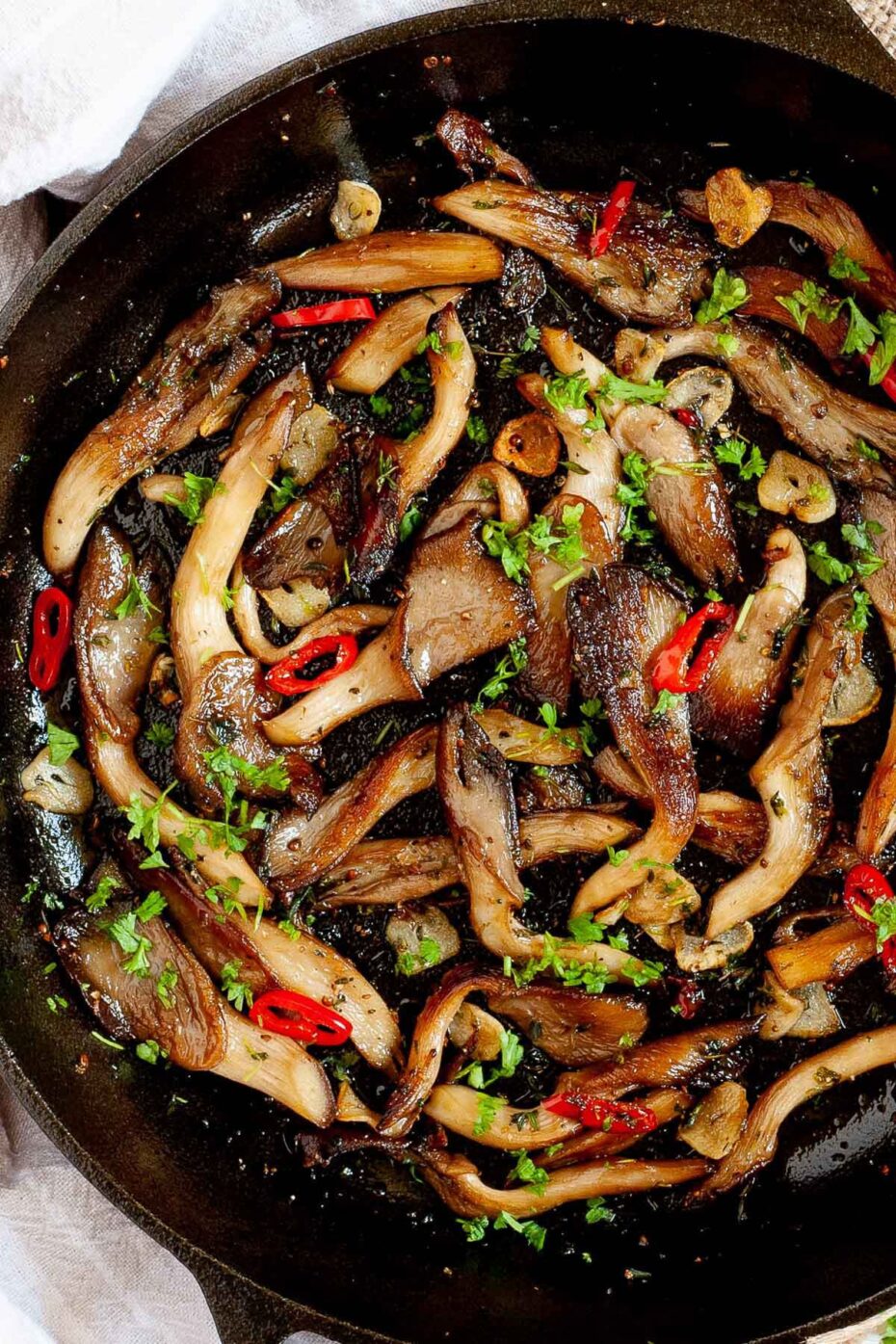 What to serve with them?
Side dish: Most people pair it with some kind of grilled seafood or meat like chicken, beef, or pork. However, these pan-fried oyster mushrooms are the perfect side dish to accompany vegan and vegetarian main dishes as well. For example:
Topping: You can make them as toppings. Or if you don't know what to do with leftovers you can add them to your breakfast sandwiches or try one of the below recipes: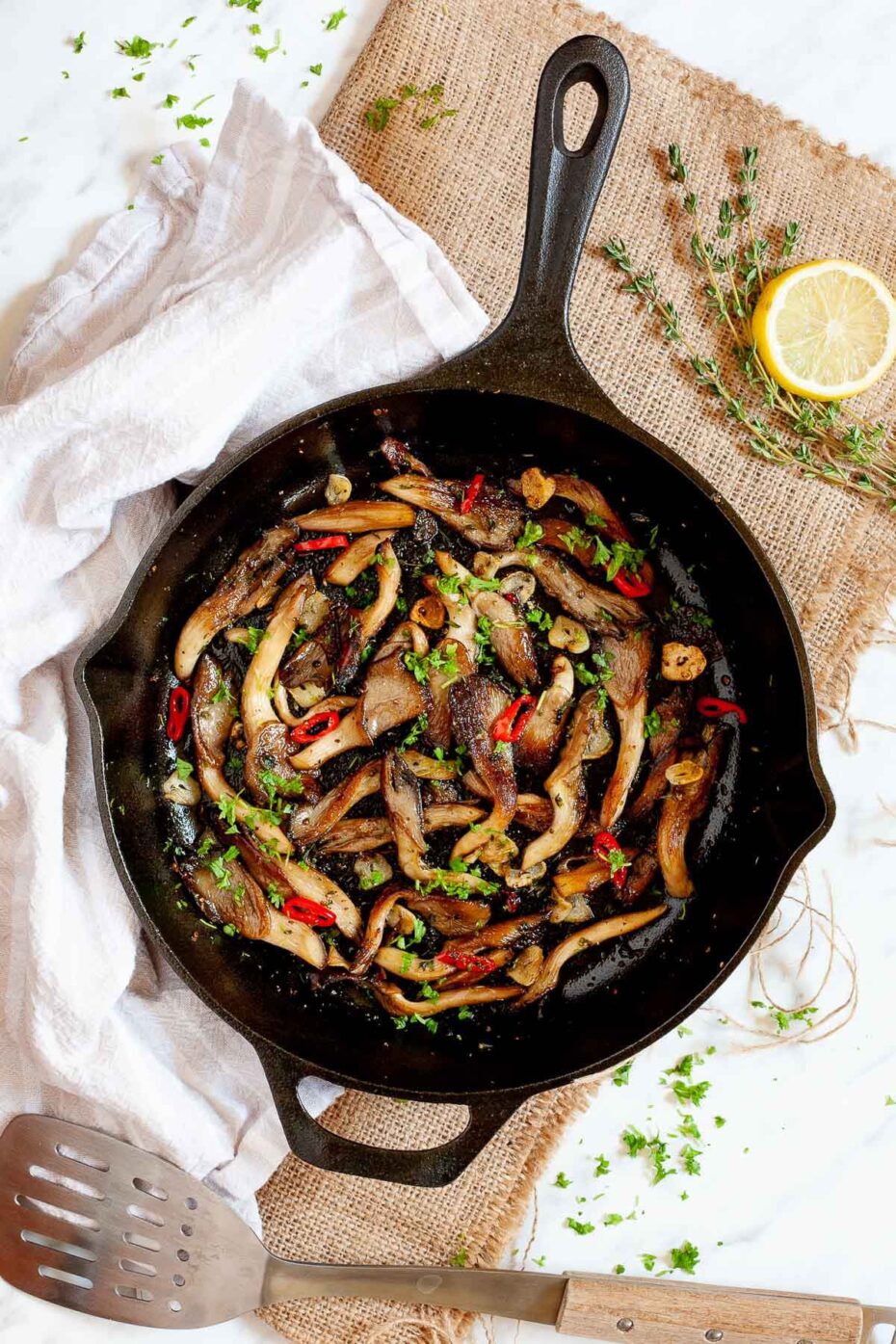 FAQs and substitutions
Can you use other mushrooms?
Yes, you can either choose any of the 7 types of oyster mushrooms or seek out one of these 13 oyster mushroom substitutes.
If you have classic button mushrooms or portobello mushrooms, you can certainly make this recipe as the spices and the flavor profile matches perfectly with many mushroom types.
Can you use dried herbs instead of fresh?
Yes, you can. Although freshly chopped herbs are more aromatic than dried ones. You may need to adjust the seasoning if you use them.
How to store them?
Dishes are usually best served fresh, but this oyster mushroom recipe keeps well in the fridge for 3-4 days without any change. They keep their chewy, sturdy texture even if days go by. They may lose a bit of crispiness around the edges though, but you may experience enhanced flavors.
Can you make them ahead of time?
You can store oyster mushrooms easily up to a week in the fridge, or at room temperature for 1-2 days. For more tips, read our how to store oyster mushrooms article. The finished dish can be stored in the fridge for 3-4 days. When you are ready to serve it, re-heat it in a frying pan or skillet.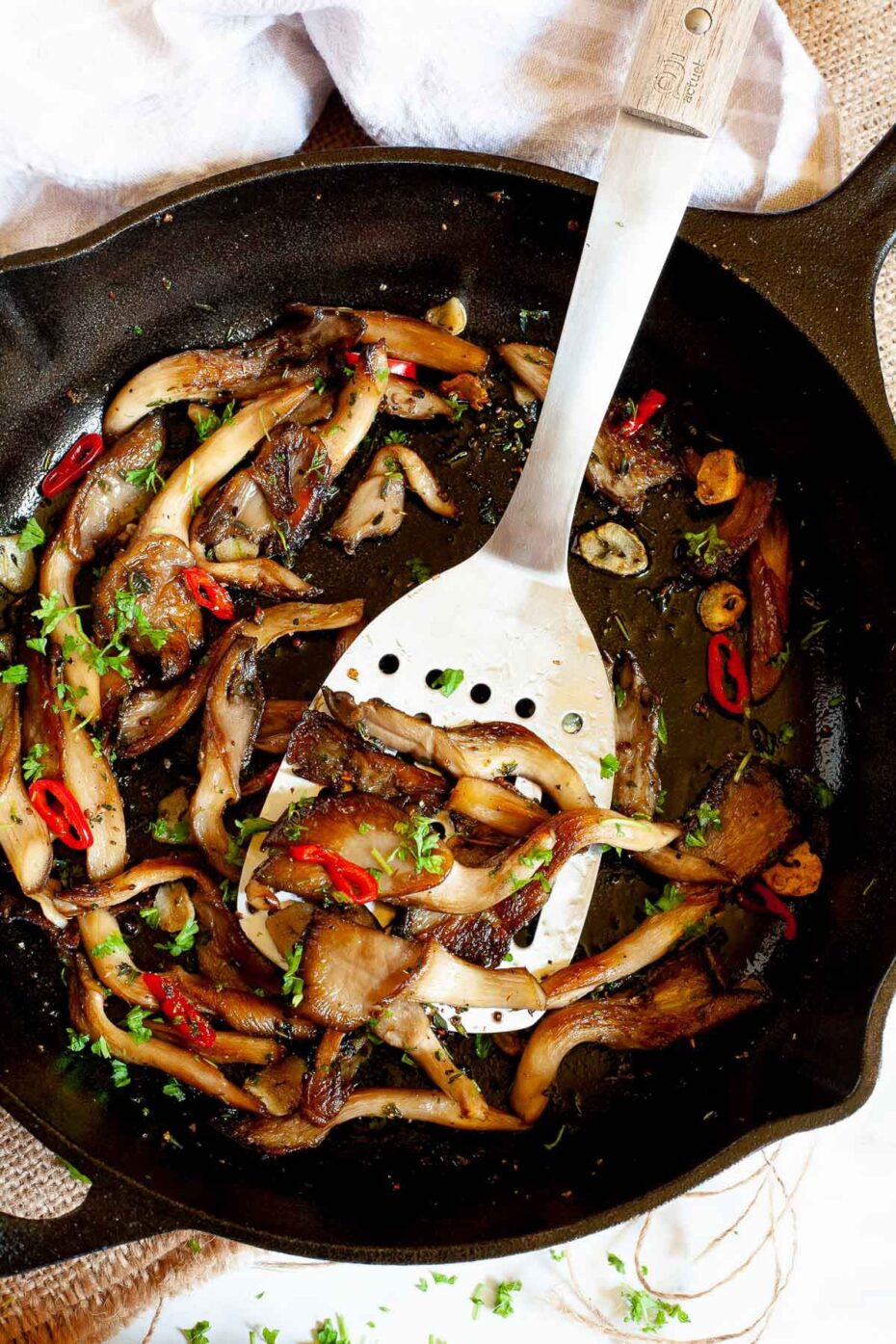 This Pan-fried Oyster Mushroom recipe is meat-free, egg-free, and dairy-free. It is suitable for a vegan, vegetarian, gluten-free, nut-free, and soy-free diet. It is not WFPB-friendly (whole foods plant-based) as you would need oil to make it.
More oyster mushroom recipes