Wood ear mushrooms are delicious, versatile, and very nutritious. Plus, they have a crunchy and springy texture that makes them perfect for several recipes. This mushroom guide covers everything you need to know about them, including how to find them, how to cook them, and how to make 10 delicious wood ear mushroom recipes using them!
Have you seen our other featured ingredient guides? We write detailed prep and cooking guides to different ingredients like Oyster Mushrooms or Portobello Mushrooms.
I don't want to bore you with the history of mushrooms, or how to grow them. I will only write about the things you need to know to make delicious wood ear mushroom recipes. Nothing less, nothing more.
⇒ GET OUR FREE 7-DAY VEGAN MEAL PLAN NOW! OR CHECK OUT ALL VEGAN MEAL PLAN RECIPES HERE! ⇐
What are wood ear mushrooms?
Wood ear mushrooms, also scientifically referred to as Auricularia auricula-judae, are soft mushrooms that grow up to 4 inches in diameter. The bark of elder trees and shrubs are where these fungi are most often found and are used in cooking to add texture and absorb flavors. They are very popular in Chinese cuisine and go by many different names like
tree ear
black fungus
jelly ear
Now that we know what they look like, let's discuss how we can identify them. Wood ear mushrooms are brown or black in color and are shaped like an ear with lots of wrinkles and folds (pictured below). While they have no stem, they do have a gill-less cap with tiny spores that are yellow, cream, or white. Ultimately what you should be on the lookout for are mushrooms that look like delicate brown ears, with lots of veins! Sounds delicious, right? Not so much? Read on, you might change your mind.
Where to buy them?
In the wild, wood ear mushrooms are found only from early summer through early winter but are sold commercially all year round in convenience stores. Most stores sell these mushrooms in their dried form only (pictured below). If you happen to find yours in the wild, it is best to dry them using a dehydrator and store them in a plastic bag or glass jar. Remember to never consume mushrooms if you are unsure of their type.
Asian specialty stores – These mushrooms are very popular in Asian cuisine, especially Chinese. They are imported from Asia in their dried form and are mostly likely easily available at your local Asian grocery store.
Convenience stores – Dried wood ear mushrooms can also be found in large grocery stores like Walmart and Whole Foods.
Online – You can buy dried wood ear mushroom* online, from stores like Amazon.
Grow at home? – It is not a type of mushroom you usually grow at home as it needs special albeit low cost equipment. Here is a detailed articles how wood ear mushrooms are grown.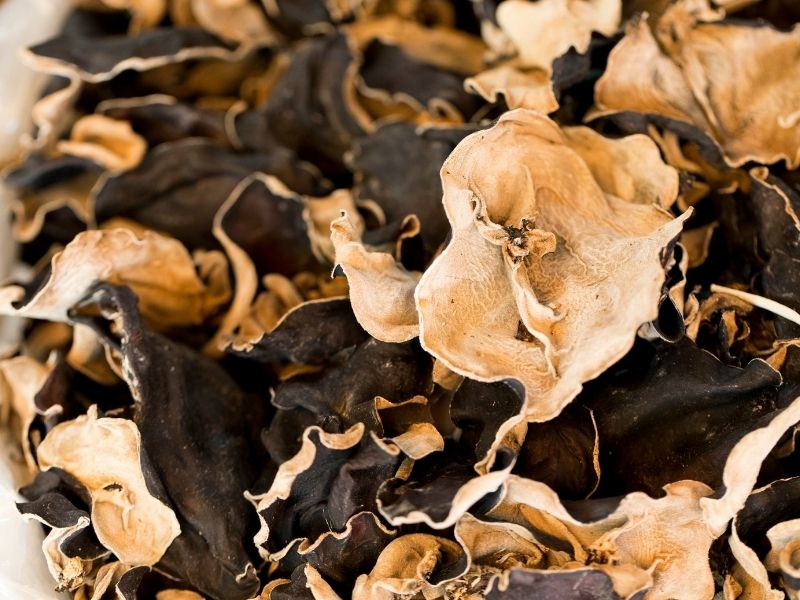 How to store them?
Dried wood ear mushrooms cannot be consumed right out of their packaging. You first need to soak or "rehydrate" them before you can use them in your dish. These Food Safety Guidelines from Macau especially recommend not to store rehydrated mushrooms and only soak the amount you need for the recipe.
Dried wood ear mushrooms are very long-lived if stored right. They can keep for at least 6 months in a cool, dry place. Just store the dried wood ears in heavy plastic containers or in glass jar containers and make sure you seal them airtight every time you open them.
How to prepare them?
Wood ear mushrooms need to be rehydrated, cleaned and trimmed before they are ready to be used in your favorite recipes.
Rehydrating
Once wood ear mushrooms have been taken out of their packaging, they should be soaked in warm water for at least 20 minutes. Make sure they are fully submerged in the water. According to these Food Safety Guidelines from Macau don't soak them overnight. You will find that they double or even triple in size over time. When their texture turns from hard and rigid to soft and slippery, you can let the water drain.
Cleaning
When the mushrooms are hydrated, wash them thoroughly to remove any dirt. Gently rub the mushroom between your fingers to make sure there is no grit or sand trapped inside the folds. Be careful not to drop them during this step as these mushrooms tend to get pretty slippery when wet!
Trimming
Using a pair of scissors or a sharp knife, trim any hard parts of the mushroom. You can also cut off the fibrous part at the base of the mushroom if any. After trimming, you can choose to use your mushrooms whole, chop them or slice them according to what your recipe calls for.
How to cook them?
Even after you rehydrate wood ear mushrooms, you cannot eat them raw as they may contain certain unfavorable bacteria. Cooking them not only fixes this but also makes them so much tastier!
Wood ear mushrooms need to be steamed or parboiled before adding them to a dish. They are best suited for applications like stir-frying, boiling, and sauteing. They make wonderful additions to soups and salads as they soak up flavors and store them. They can also be stir-fried with noodles and rice.
For soups, stews, and sauces, wood ear mushrooms are best added in the end in order to retain their crunchy texture and prevent them from getting too mushy. And when it comes to flavor combinations, these mushrooms pair best with potatoes, fermented black beans, bamboo shoots, soy sauce, red wine vinegar, cilantro, onions, ginger, parsley, bay leaves, cucumbers, green peas, and tofu.
10 delicious wood ear mushroom recipes
Thai Red Curry with Tofu
If you love bold flavors, try our Thai Red Curry with Tofu and Wood Ear Mushrooms. We promise you won't be disappointed! Made with 6 simple ingredients, it is a dish that is not only tasty but also so easy to prepare. In all but 30 minutes, you'll have a rich, creamy curry that is loaded with delicious Thai flavors and aromas. Our Thai curry makes the perfect accompaniment to a hot bowl of basmati or jasmine rice.
Chinese-style Vegan Tofu Minced Pork
Follow this Chinese-style Vegan Tofu Minced Pork recipe by My Plantiful Cooking to have a delicious dish ready to serve in under 15 minutes! Prepared in Chinese style with tofu, soy sauce, and of course wood ear mushrooms, it makes the perfect addition to noodles, salads and rice. It even works great combined with veggies to make a vegan minced pork bowl. Simply put, it tastes absolutely fantastic and is versatile to boot!
Wood Ear Mushroom Stir Fry
This nutritious and delicious Wood Ear Mushroom Stir Fry recipe by Healthy World Cuisine makes a spicy and crunchy stir fry that will have your taste buds dancing. A fast, easy recipe that's quick to prepare and even quicker to disappear.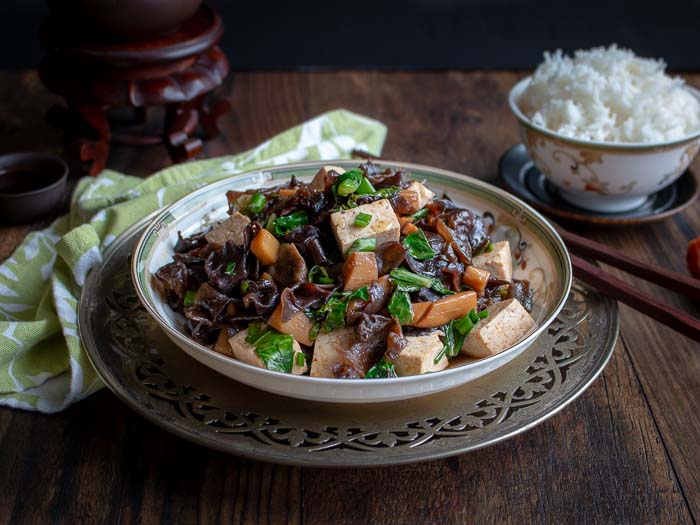 Wood Ear Mushroom Salad
This classic Wood Ear Mushroom Salad recipe by The Woks of Life combines some basic Chinese ingredients in a salad format. Prepared from soy sauce, black vinegar, scallions, and wood ear mushrooms, it's perfect to relish when the weather is nice and warm. It's tangy, crunchy, and flavorful through and through – the kind of dish to prove that salad is not "boring." In fact, you'll probably be craving for more before you're even finished eating it. Now, don't say we didn't warn you!
Authentic Hot and Sour Soup
The restaurant-style Chinese Hot and Sour Soup recipe by The Daring Gourmet is the perfect comfort food dish for a chilly day. It's hearty, filling, satisfying, and very easy to prepare. Serve it in less than 20 minutes and be sure that it will impress your family and friends.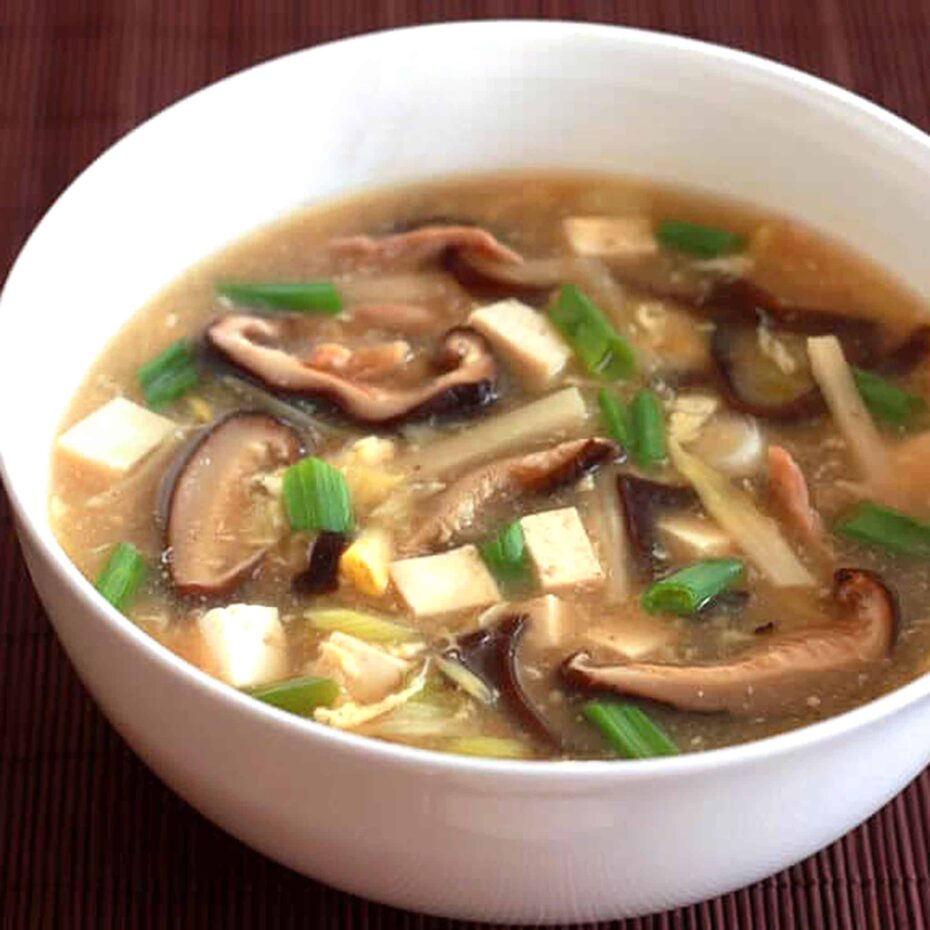 Tonkotsu Ramen
Are you a fan of ramen? And are you a fan of mushrooms? If the answer is yes, you definitely want to get your hands on this recipe. This Flavored Wood Ear Mushrooms for tonkotsu ramen by Cookpad are quick to prepare and easy to make. Once you take one taste of this topping added to your favorite ramen, you'll be reaching for it time and time again!
Stir-Fried Noodles
Light, refreshing, and done in under 30 minutes, these Stir-Fried Noodles by Eat Smarter is a recipe you didn't know you needed! And the star of the dish? Wood ear mushrooms, of course. Packed with great flavors and accented by a delicious crunch of veggies, this one is the perfect one-dish meal for a lovely Sunday night dinner!
Wafu Pasta
Shin-sen-gumi's delicious Japanese-style Wafu Pasta recipe, although very quick and easy to prepare, makes sure not to make any compromises when it comes to taste. The slight hit of the umami flavor from the seasoned wood ear mushrooms takes center stage in this preparation. It succeeds in adding depth to the wafu pasta, making it taste more dynamic.
Spaghetti with Wood Ear Mushrooms
This tasty Spaghetti with Wood Ear Mushrooms recipe by Veet's Vegan uses Brussels sprouts and wood ear mushrooms to make one of the richest and delicious-tasting pasta you'll ever try! It's perfect for a quick dinner and also to reheat and have later as leftovers. Who knew brussels sprouts can make pasta taste so good? Yeah, we think it's thanks to the wood ears!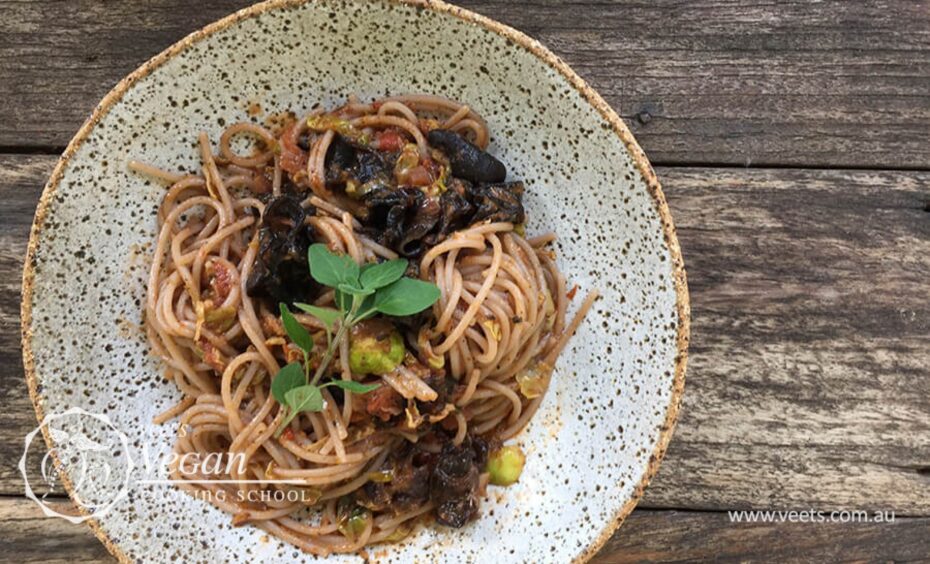 Chocolate Coated Cranberry Wood Ear Mushrooms
Wondering whether chocolates and mushrooms can actually go well together? Well, you need to check out this Chocolate Coated Wood Ear Mushrooms recipe by Very Vegan Val! They tell you how to pair these two ingredients to make their festive jelly recipe. The sweet flavors of the chocolate pair divinely with the earthiness of the mushrooms to create a unique tasting experience that you simply won't want to miss!
More ingredient guides
We have been writing more and more Ingredient Guides that are important in a vegan diet. We explain in detail how to prepare them, how to cook with them, what to serve with them. Here are some of the other articles you might be interested in:
⇒ GET OUR FREE 7-DAY VEGAN MEAL PLAN NOW! OR CHECK OUT ALL VEGAN MEAL PLAN RECIPES HERE! ⇐