Eggplant is such a versatile ingredient to have around. I show you how many different delicious vegan meals you can make from appetizer through lunch to dessert. If you haven't been a fan of eggplant, because you only ever tasted badly roasted mushy yucky eggplant slices, after making any of these vegan eggplant recipes, you will be hooked. You will immediately become an eggplant lover, I am sure.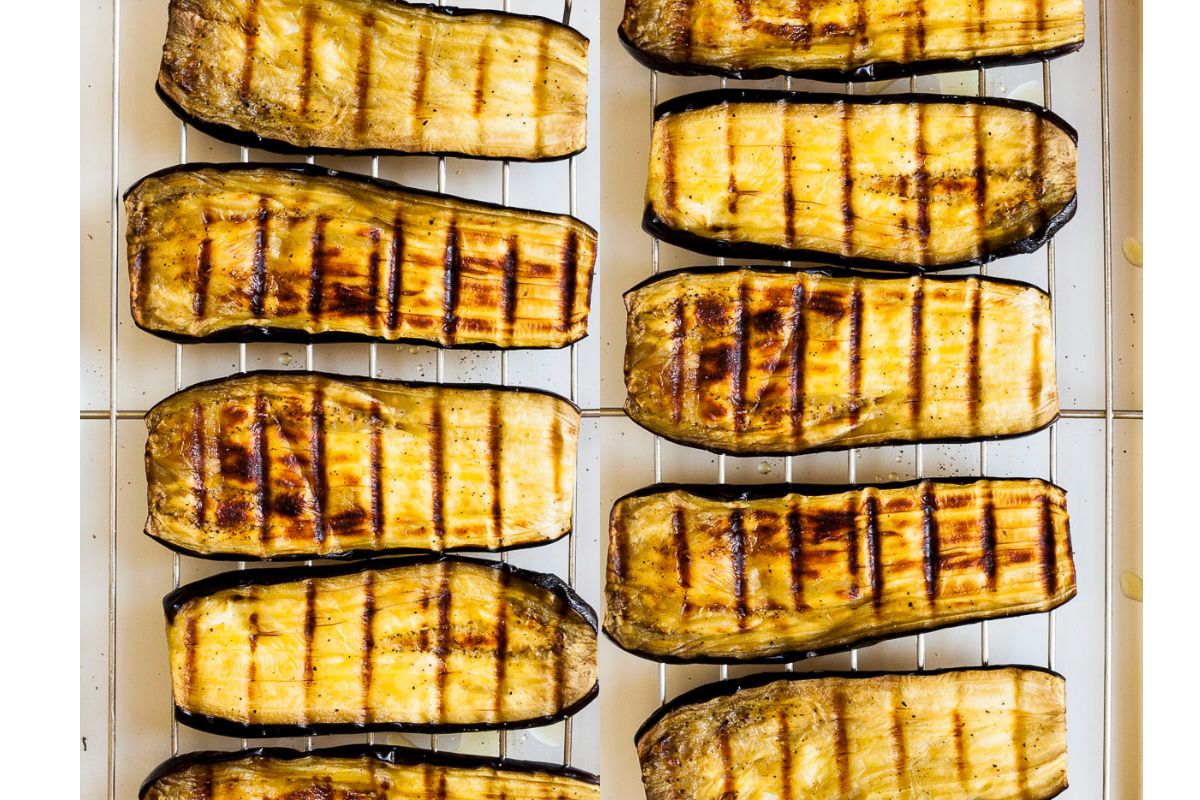 What to do with eggplants?
No idea what eggplant is or what to do with it? Which type, size, and color you should choose? How to store them at home? How to prepare them for cooking, roasting, or grilling? Start with reading our complete guide to cooking with eggplants to get the basics.
You will see that eggplant is like a chameleon. It changes texture, shape, and taste depending on what you want it to be. I often like to compare it to tofu in the sense that they both have a very neutral taste, but with the right seasoning, they became absolutely delicious. I show you below our favorite vegan eggplant recipes you should try too. Are you ready?
Vegan Eggplant Parmesan
Vegan Moussaka
Vegan Eggplant Meatballs
Ratatouille
Eggplant Noodles
Mediterranean Stuffed Eggplants
Vegan Fesenjan
Eggplant Pizza
Vegan Eggplant Curry
Spicy Eggplant Stir Fry
Eggplant Reuben Sandwich
Vegan Sabich Sandwich
Eggplant Carnitas Taco
Grilled Eggplant in Miso Glaze
Curried Eggplant Lentil Quinoa Burger
Roasted Eggplant Soup
BBQ Moroccan Eggplant Salad
Asian Eggplant Salad
Indian Roasted Eggplant
Persian Roasted Eggplant Salad
Georgian Eggplant Rolls
Sicilian Caponata Crostini
Grilled Baby Eggplant
Vegan Rice Stuffed Dolmades
Baba Ganoush
Smoky Roasted Eggplant Dip
Smoky Eggplant Moutabal Dip
Mediterranean Eggplant Chips
Russian Eggplant Caviar
Eggplant Fries
Mediterranean Eggplant Chutney
Chocolate Cake with Eggplant
Have you been thoroughly surprised by how many yummy dishes you can make with eggplant? I bet you haven't expected to see dessert in this list. Well, there is an absolutely delicious vegan dessert that you can hide eggplant in.
Vegan Chocolate Cake
More vegan recipes to try