The best plant-based alternative to make Vegan Philly Cheesesteak is without doubt shredded oyster mushrooms (not cut, but torn apart). You will have the perfect beef-y texture and taste. Fill your hoagie roll with lots of sautéed mushrooms and a generous amount of vegan melted cheese. Just look at the below picture, isn't it mouth- watering?
Oyster mushrooms are amazing. We have even written a Guide to Oyster Mushrooms with the Best 20+ Oyster Mushroom Recipes to give you even more ideas to enjoy this awesome ingredient. Our love for this fungi started with this Vegan Buffalo Chicken Dip recipe, where we wanted a delicious, soy-free, gluten-free and of course vegan alternative to shredded chicken. Then we made the Perfect Vegan Gyros with oyster mushrooms and now this amazing Vegan Philly Cheesesteak. And we just can't get enough of it. You will too, I promise.
What is a Philly Cheesesteak?
You haven't heard about Philly Cheesesteak? It is originally a stuffed bread with lots of thinly sliced or shaved beefsteak, sauteed onion and gooey melted provolone cheese. It is called "Philly" because the first place that served this steak and cheese sandwich was in Philadelphia in the early 20th century. Since then it became a popular fast food all around the United States.
You would think that as the main ingredient is beef and cheese, it is impossible to make vegan. You'll see, I will prove you wrong.
The best vegan sliced beefsteak
More and more vegan meat alternatives are discovered every day. I have seen and tried some of them and I can say it in all honesty that all of them has pros and cons. It is depending on your taste or medical issues like allergies and intolerance to decide which one suit you the best. However, to make vegan Philly Cheesesteak, I vote for shredded pearl oyster mushrooms. As to why, I have 6 reasons for you:
allergy-friendly -> no soy, no nuts, no gluten
pantry staple -> mushrooms are usually in all vegan grocery or shopping list
easy to buy -> usually available in all local stores (unlike jackfruit, seitan or tempeh)
cheap -> way cheaper than company branded products
quite neutral in taste -> they soak up any seasoning or marinade you add
tough spongy texture -> perfect to replicate this gummy, sturdy beef-y texture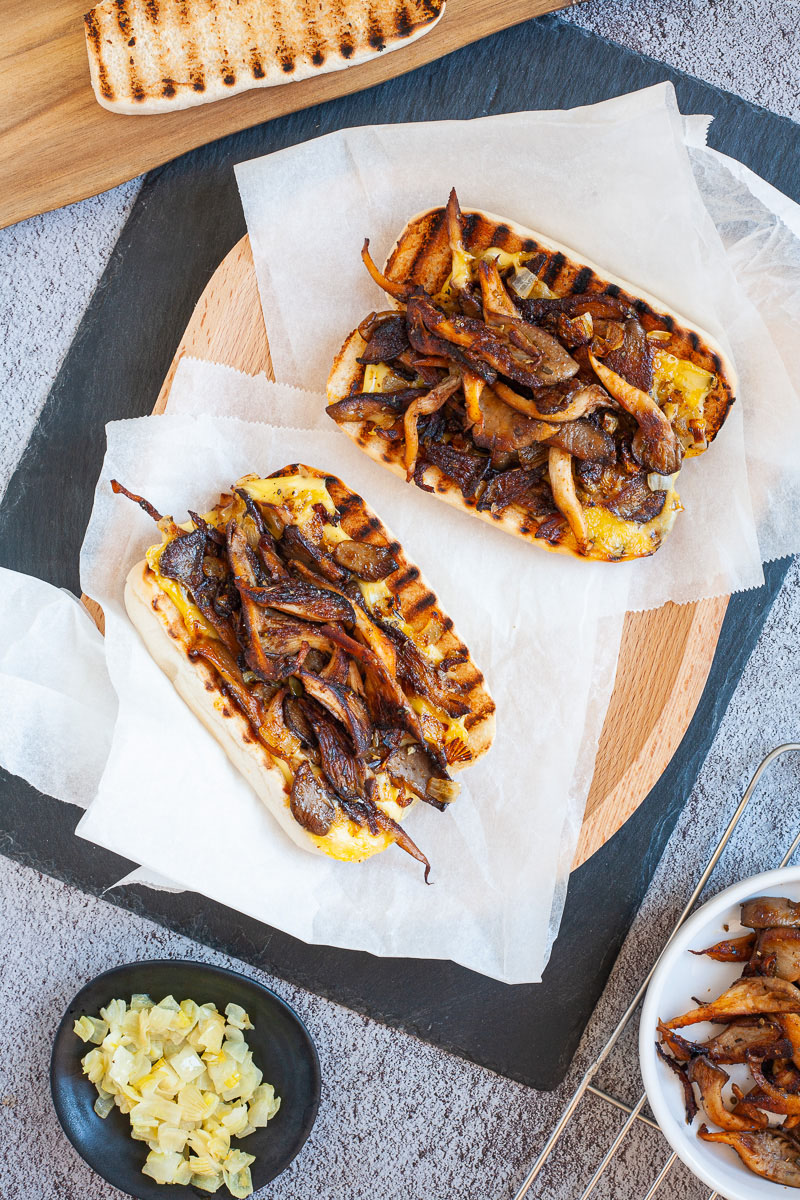 How to make Vegan Philly Cheesesteak?
Marinate the mushroom shreds
Cut the end of the stem of pearl oyster mushrooms and tear the cap into small shreds with your hands. If the stem is soft enough you can shred them as well.
Take a small bowl and mix the marinade (olive oil, vegan and gluten-free Worcestershire sauce, soy sauce or one of these 5 gluten-free alternatives, balsamic vinegar, oregano, cumin, paprika powder, garlic powder, onion powder, salt, and black pepper). Mix this marinade with the oyster mushrooms. Leave it for 5-10 minutes.
Sautee onion
Peel and finely chop onion.
Take a non-stick frying pan or skillet. Heat it to medium and add 1 Tbsp olive oil.
Sautee onion on medium heat for 5-8 minutes until golden brown, soft and tender. Take it off the heat and place them on a separate plate.
Fry the marinated oyster mushrooms
Take the same skillet you used before for the sauteeing the chopped onion and heat it to high heat. Add the marinated oyster mushrooms in one layer (work in batches if you plan to make more servings). The amount in the recipe card is for 4 bread loaves, so we made them in two batches.
Stir with a spatula and fry the shredded oyster mushrooms until nice and crispy. It took us about 10-15 minutes tops. Add a dash of (1 tsp) olive oil if the oyster mushroom feels too dry.
Alternatively, you can bake them as we did in our Vegan Gyros recipe. Place a parchment paper in a sheet pan. Spread the shredded oyster mushrooms preferably in one layer. Pre-heat oven to 425 Fahrenheit (220 degrees Celsius) and baked them for 40 minutes or until crispy on the edges. Watch how it progresses, and flip occasionally to make sure all sides are nicely baked and crispy.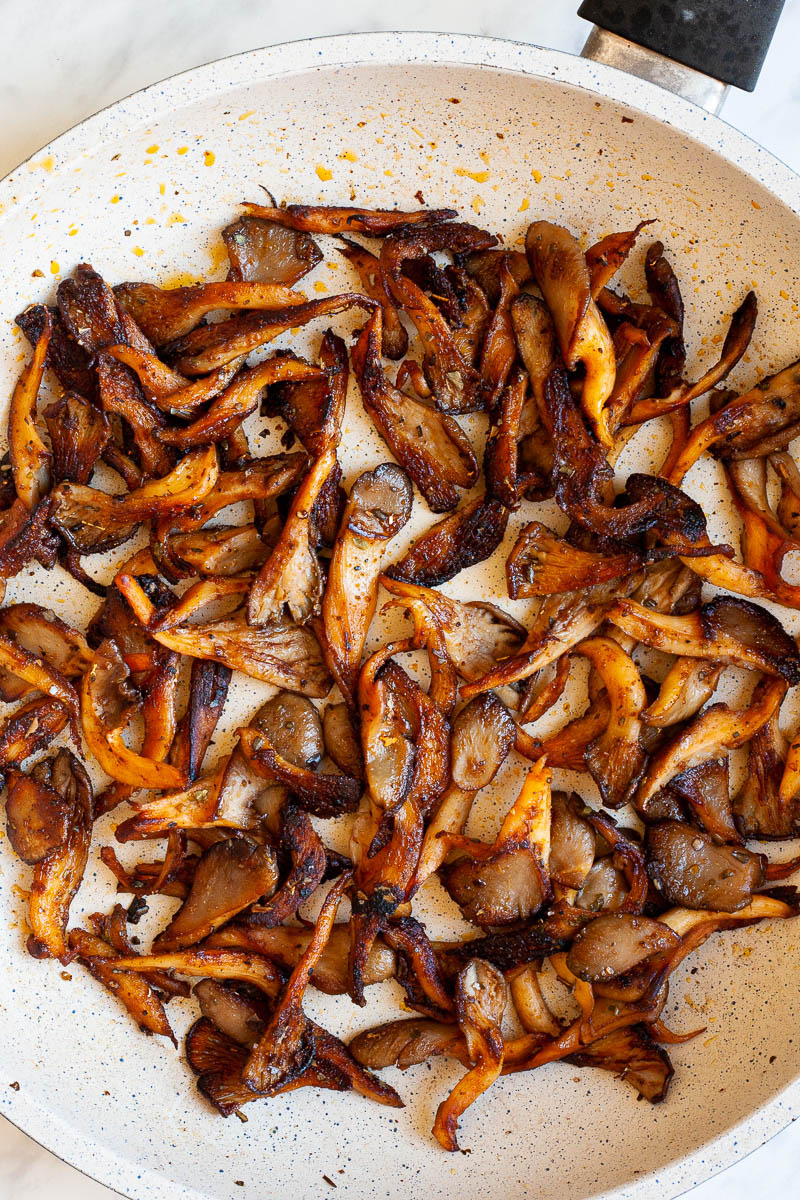 Melt your vegan provolone cheese
Use the same skillet you have been using and take it down to low/medium heat. Divide the mushrooms and the onions by number of servings. Add 2 servings to your skillet and mix them well.
Divide it by two and place each one to each side of the skillet.
Place 2-4 slices of vegan Provolone cheese on top of each and cover it with a lid.
When the cheese has melted, place the bread loaf cut in half (toasted even) and use a slotted turner to flip it over. Now, your vegan Philly Cheesesteak sandwich is ready. Enjoy!
Top tips to make perfect vegan cheesesteak
Use high heat

– You need to fry the oyster mushroom shreds on high heat otherwise the liquid they release will not evaporate. In that case, the mushrooms will be cooked rather than fried. They will turn out soft, but not crispy. In our experience oyster mushrooms release less moisture than button mushrooms, but still high heat is what you need in this recipe.

Adjust the amount of olive oil

– It is enough to marinate the mushrooms shreds for 5-10 minutes. If you want to or need to marinate longer (like overnight), and the mushroom feels too dry, it means that probably all juices have been soaked up. You need to add a dash of olive oil to the skillet before frying to make sure it will not only get crips but cooked as well.

Don't fry together onions and mushrooms

– Onion needs medium heat as they will burn on high heat, while mushrooms need high heat to get them crispy. You can use the same skillet though as they can soak up each other's juices.

Take into account the size of your loaf

– When you decide on the size of the serving, take into account the size of your loaf. We form these mushroom-onion hills in the skillet based on how long our hoagie roll is.

Melt more cheese on top

– To make it even more decadent, add some shredded vegan cheese on top of your sandwich and place it under the broiler to melt it. So yummy! Like a double cheese cheesesteak. 🙂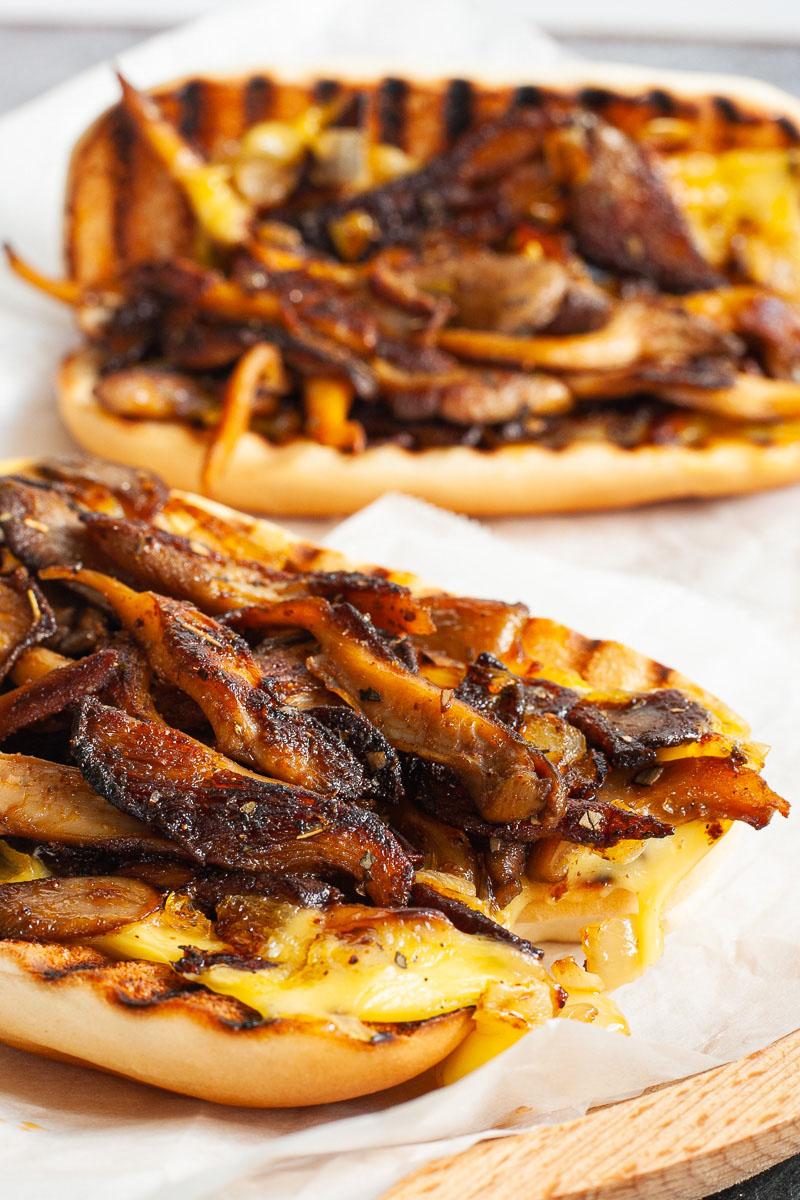 What else to add to your sandwich?
The basic Philly Cheesesteak sandwich consist of a crusty Italian loaf, shaved beef steak, sauteed onion and melted Provolone cheese. However, there are other toppings you can choose:
jalapeno, pepperoncinis or other hot pepper slices
sweet pepper slices
pickles
crispy fried onion (although make sure it is gluten-free, as in general it is not. Read more about the 11 foods to avoid in our "Is vegan gluten-free?" article)
vegan bacon bits (recipe is coming!)
tomato and lettuce to turn into a cheesesteak BLT 🙂
ketchup, hot sauce or steak sauce (make sure you have vegan and gluten-free ones)
What to serve with it?
Of course, you might not need anything else besides a sandwich bread and the vegan beef and cheese filling or maybe some toppings from the list above. However, here are some ideas you might like: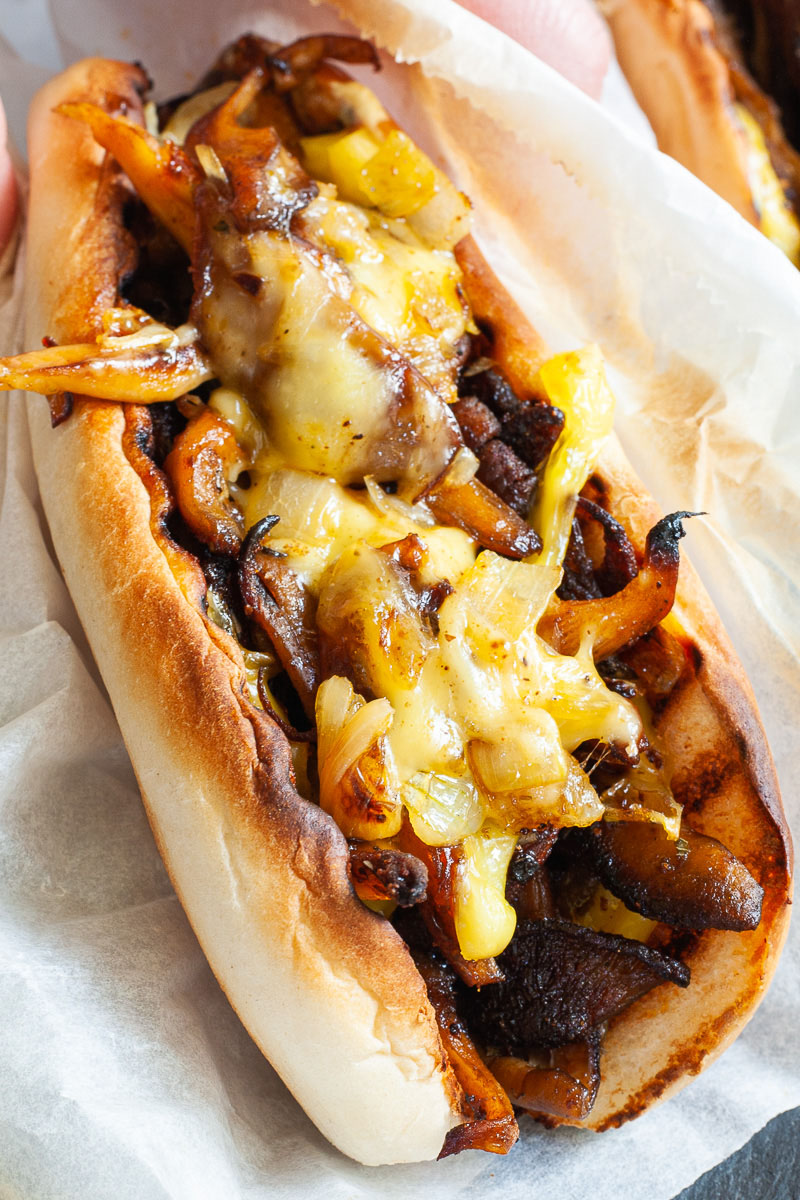 FAQs and substitutions
How long to marinate the mushrooms?
You can marinate them for 5-10 minutes, but you can leave them in the marinade overnight as well. If you decide to leave it long, pay attention to the incredible sponge texture of the mushrooms as the marinade will be soaked up completely. If the mushroom shreds feel too dry, you need to add a dash of olive oil to the skillet before frying to make sure it will not only get crips but cooked as well.
Will other type of mushroom work as well?
There are certainly several different types of mushrooms, although none of them beats the meaty and sturdy texture of oyster mushrooms. We tried this recipe with portobello mushrooms and button mushrooms as well. The seasoning will bring you the taste, but the texture and the shape will be less meaty and you will for sure can tell that you eat mushrooms.
How to store fried oyster mushroom?
You can store in an airtight container for 2-3 days tops. Mushrooms can go bad easily as well as they can dry out. We recommend eating them sooner rather than later.
This Vegan Cheesesteak recipe is meat-free, egg-free and dairy-free. It is suitable for a vegan, vegetarian, soy-free, nut-free, and gluten-free diet. It is not WFPB-friendly (whole foods plant-based) as it is not possible to make this way without oil.
More vegan grab-n-go recipes
You can browse through our Quick & Easy Vegan Meals or check out