This is a classic Pad Woon Sen recipe turned completely meatless. Silky Thai glass noodles in a sweet and salty sauce are stir-fried with carrots, cabbage, tomato, onion, and mung bean sprouts. For added protein, this recipe calls for tofu scramble and marinated oyster mushrooms. It is a phenomenal, flavorful, and delicious glass noodle stir-fry recipe.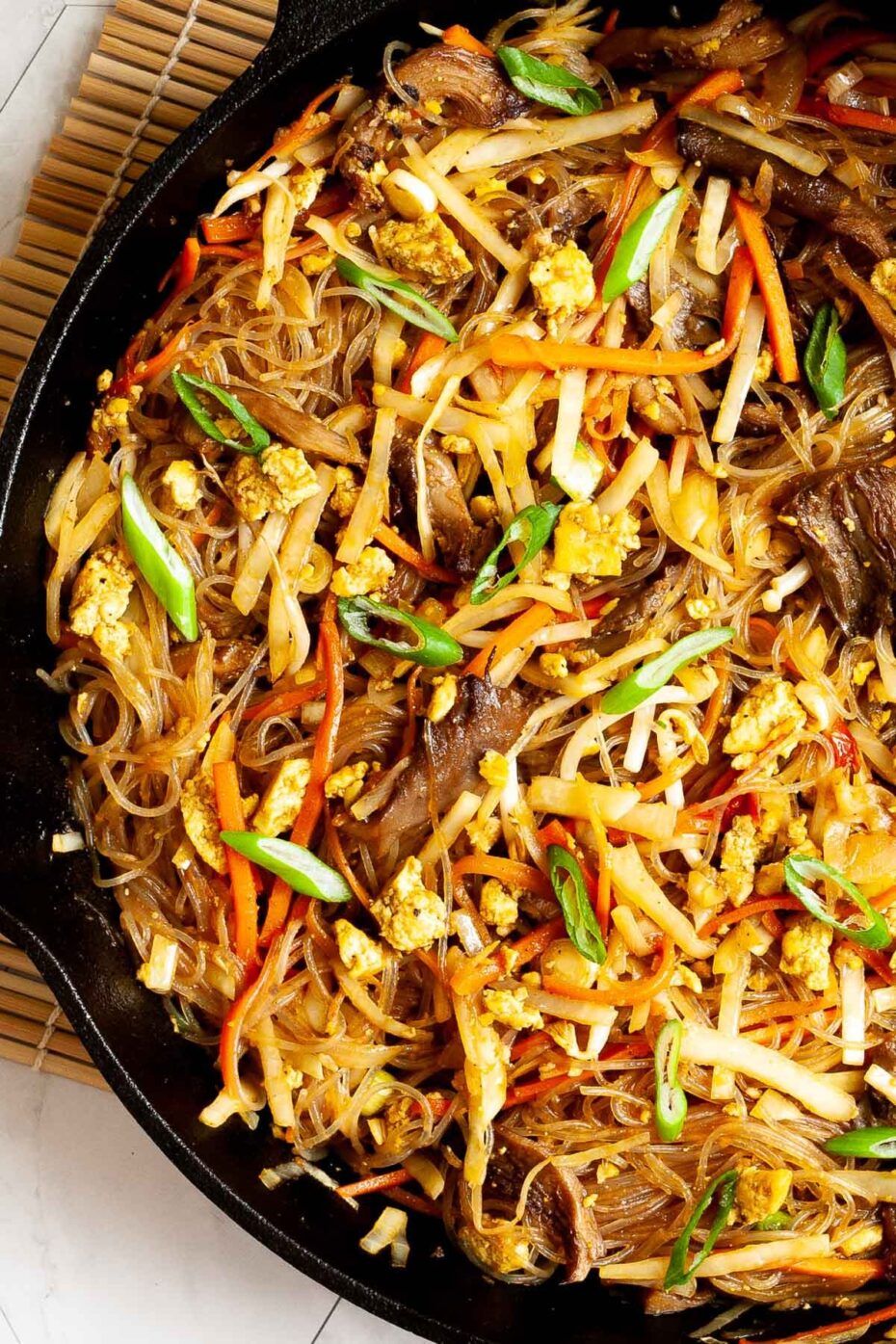 If you like Thai recipes, here are our favorite Thai oyster mushroom noodle stir fry and Thai red curry with tofu. Or try its salad variation yum woon sen.
What is Pad Woon Sen?
The word "pad" in Thai means stir fry and "woon sen" means glass noodles. However, there are many delicious ingredients apart from noodles in it. It is a popular, quick stir-fried dish with vegetables like carrots and cabbage, scrambled eggs as well as protein like beef, chicken, shrimp, or pork. Vegetarian versions usually keep the eggs but add oyster mushrooms, shiitake mushrooms, or tofu instead of meat. Read more about it here.
What will it taste like? If you decide to make this vegan Pad Woon Sen recipe you'll have a sweet and salty but rich and aromatic sauce loaded with shredded vegetables like carrots, cabbage, oyster mushrooms, mung bean sprouts, and tofu scramble. It is served with silky smooth glass noodles which are perfect to accompany the crunchy texture of the veggies.
Pad Woon Sen vs Pad Thai vs Pad See Ew
You may be more familiar with Pad Thai than this dish. While there are many variations that exist for all these dishes the main difference is the noodles. While Pad Woon Sen is prepared with mung bean noodles aka vermicelli or cellophane noodles, Pad Thai is served with flat rice noodles, and Pad See Ew is garnished with quite broad rice noodles.
The other difference is the sauce. For Pad Woon Sen you need soy sauce, oyster sauce, fish sauce, sugar, and water. As for Pad Thai, the sauce contains tamarind concentrate, soy sauce, fish sauce, palm sugar, and lime juice. And peanuts are a must topping as well. Pad See Ew literally means "fried soy sauce", which is more or less the only ingredient you need.
You can read more about the other subtle differences between them in this article.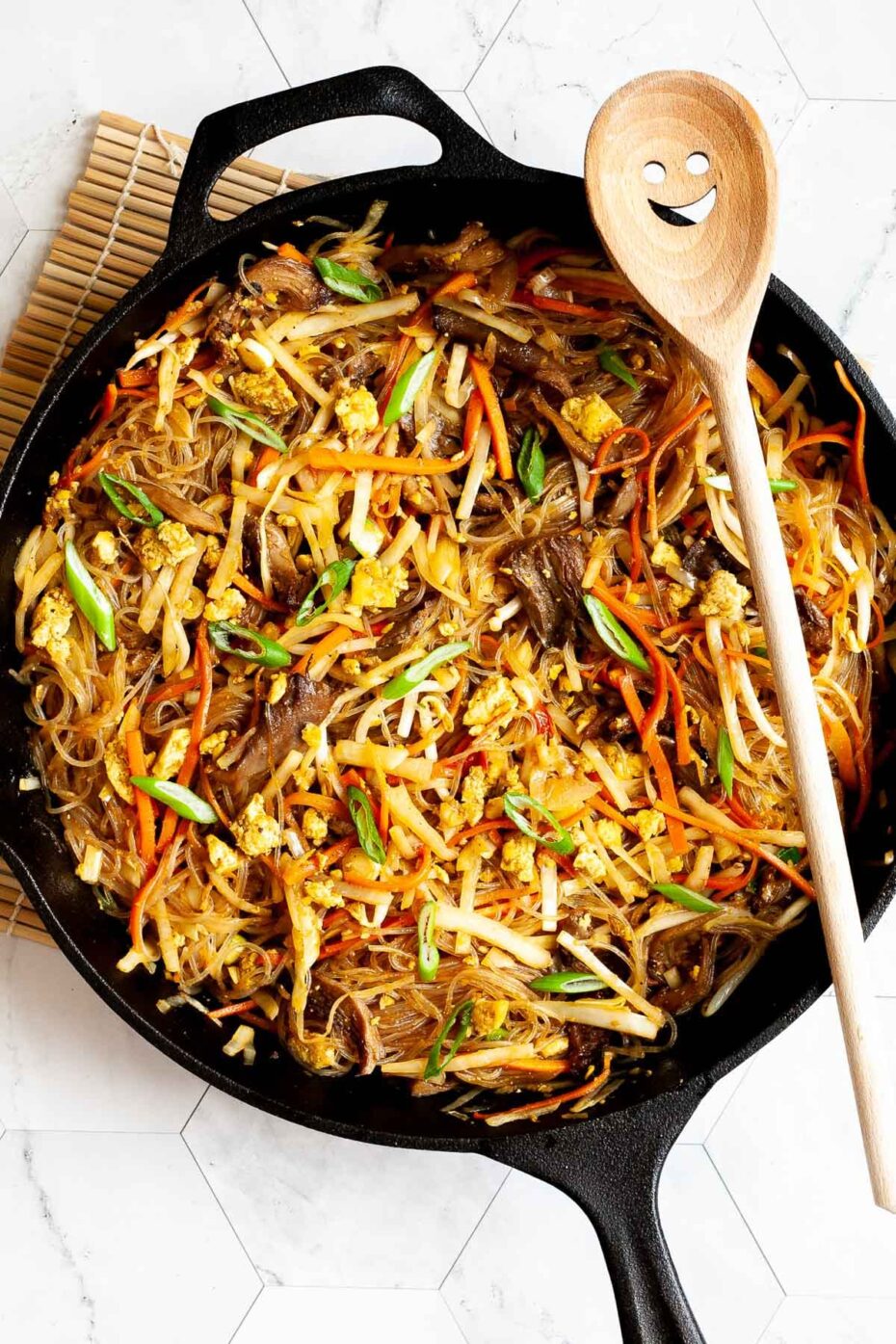 Ingredients
This Thai noodle dish has many variations depending on which vegetables and which type of proteins are added. If you fancy trying a vegan version, we put together a recipe that is as close to the classic Pad Woon Sen as possible without compromising on taste or texture. I think it turned out absolutely delicious. And if you try it, you'll agree with me too. So what do you need?
🛒 You can find detailed measurements for all ingredients in the printable version of the recipe card at the bottom of this post.
How to make Pad Woon Sen vegan?
Preparing the ingredients
Peel and slice the

onion

.
Peel and mince

garlic

. Don't use a grater as it will burn easily.
Wash and slice

green onion

.
Discard the outer leaves of the

cabbage

and cut the head into quarters. Cut one quarter into thin slices. If you need step photos of how to do it, check out our vegan coleslaw recipe.
Wash, peel, and cut

carrots

into thin matchsticks. If you need step photos of how to do it, check out our sauteed julienne carrots recipe.
Wash and slice

tomato

. Discard the seeds.
Cook or soak

glass noodles

according to package instructions. Drain water when they are ready.
Prepare

tofu scramble

or another vegan egg substitute separately. The original dish also uses beaten eggs which are added directly after the stir-fried veggies are moved to the side of the pan. But to make a vegan version, it is easier and less of a hassle if you prepare it separately.
Preparing the marinated mushrooms
Cut the stem of the oyster mushrooms and tear the cap into small shreds with our hands. If the stem is soft enough you can shred them as well. Basically, you only need these 3 steps to prepare oyster mushrooms before baking.
Mix together the marinade by adding these ingredients in a small bowl: soy sauce (or tamari), onion powder, garlic powder, black pepper, vegetable oil, balsamic vinegar, sweet smoked paprika powder, salt, and Worcestershire sauce.
Take a large bowl and cover the mushroom shreds with the marinade.
You can either bake them in the oven at 425 Fahrenheit (220 degrees Celsius) for 20 minutes or pan-fry them like in the below pictures.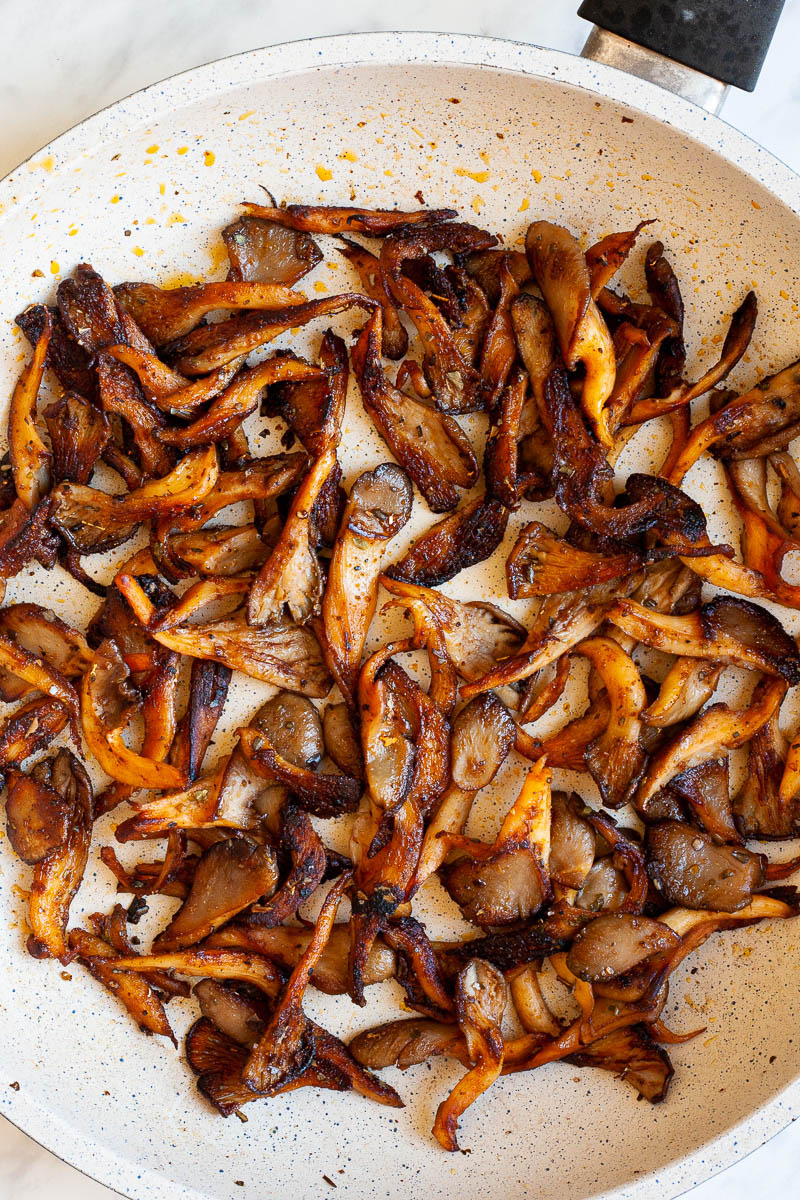 Let's make Thai glass noodle stir fry!
Take a wok, a frying pan, or a cast-iron skillet and heat it over medium-high heat.
Add vegetable

oil

and minced

garlic

. Stir and fry them for a minute. Make sure not too long as they can get easily burnt especially if you minced them too finely.
Add sliced

onion

,

cabbage

, and

carrots

. Fry them for approx. 6-7 minutes. Do not over-cook them, it is better if they remain a bit crunchy. (photo #1)
Add baked/pan-fried

mushrooms

and pre-cooked

tofu scramble

. Stir and fry for 1-2 minutes. This is just to re-heat all ingredients and mix them well with the vegetables. (photo #2)
Add pre-cooked

noodles

,

hoisin sauce

, soy sauce (or tamari), and

sugar

. Stir and fry for another 1-2 minutes. (photo #3)
Finally, add

sprouts

and

green onion

. Stir well. (photo #4)
FAQs and substitutions
Is Pad Woon Sen gluten-free?
Glass noodles are typically made of mung beans or rice, which should be gluten-free. To be on the safe side and to avoid cross-contamination choose certified products. Read our article on which noodles are gluten-free.
Soy sauce is sadly not gluten-free, so you need to use tamari, liquid aminos, or other gluten-free substitutes.
Albeit Hoisin sauce is dark, it is not made of soy sauce, but fermented soybeans and spices. It is supposed to be gluten-free.
The marinade we used for the oyster mushrooms can be easily made gluten-free if you follow the recommendations in the recipe card and choose gluten-free Worcestershire sauce and gluten-free balsamic vinegar.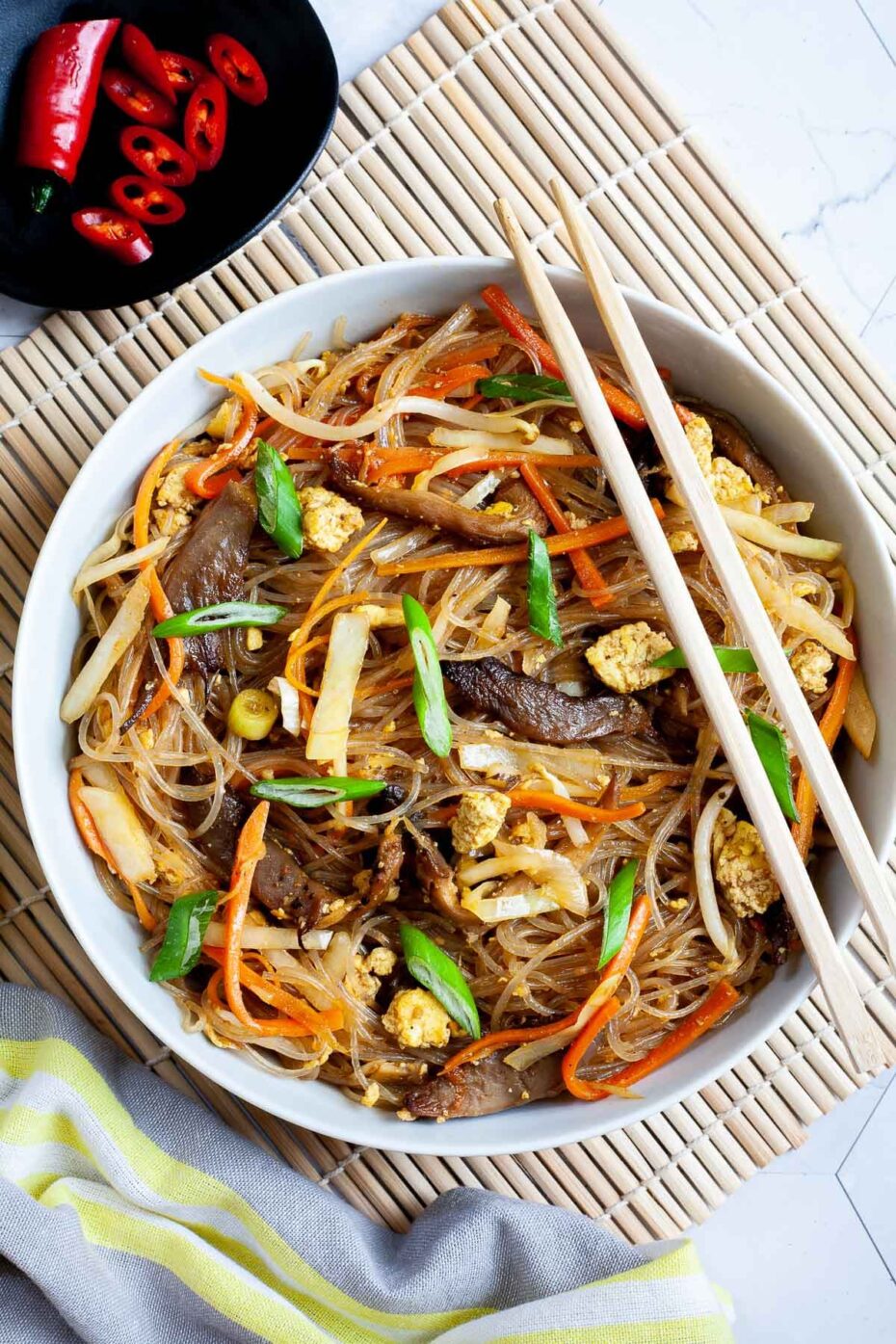 How do you store it?
You can keep it in the fridge for 3-4 days tops without any problem.
Can you make them ahead of time?
You can store oyster mushrooms easily for up to a week in the fridge, or at room temperature for 1-2 days. The finished dish can be stored in the fridge for up to 3-4 days. When you are ready to serve them, reheat them in a microwave or in a pan.
What can you use instead of oyster mushrooms?
You can use any of these oyster mushroom substitutes. The closest ones are probably shiitake mushrooms and maitake mushrooms.
This Thai Glass Noodle Stir Fry recipe is meat-free, egg-free, dairy-free, and nut-free. It is suitable for vegan and vegetarian diets. It is soy-free if you use liquid aminos instead of soy sauce and choose a soy-free egg alternative like a chickpea flour omelet. It is not WFPB-friendly (whole foods plant-based) since both the marinating and the stir-frying needs oil.
More vegan Asian recipes