The best allergy-friendly, quick & easy Vegan Bacon Bits ever. Nope, not the usual soy-based or nut-based option. We turned cooked buckwheats into delicious, smoky, crispy bacon bits you can use in any of your favorite recipes.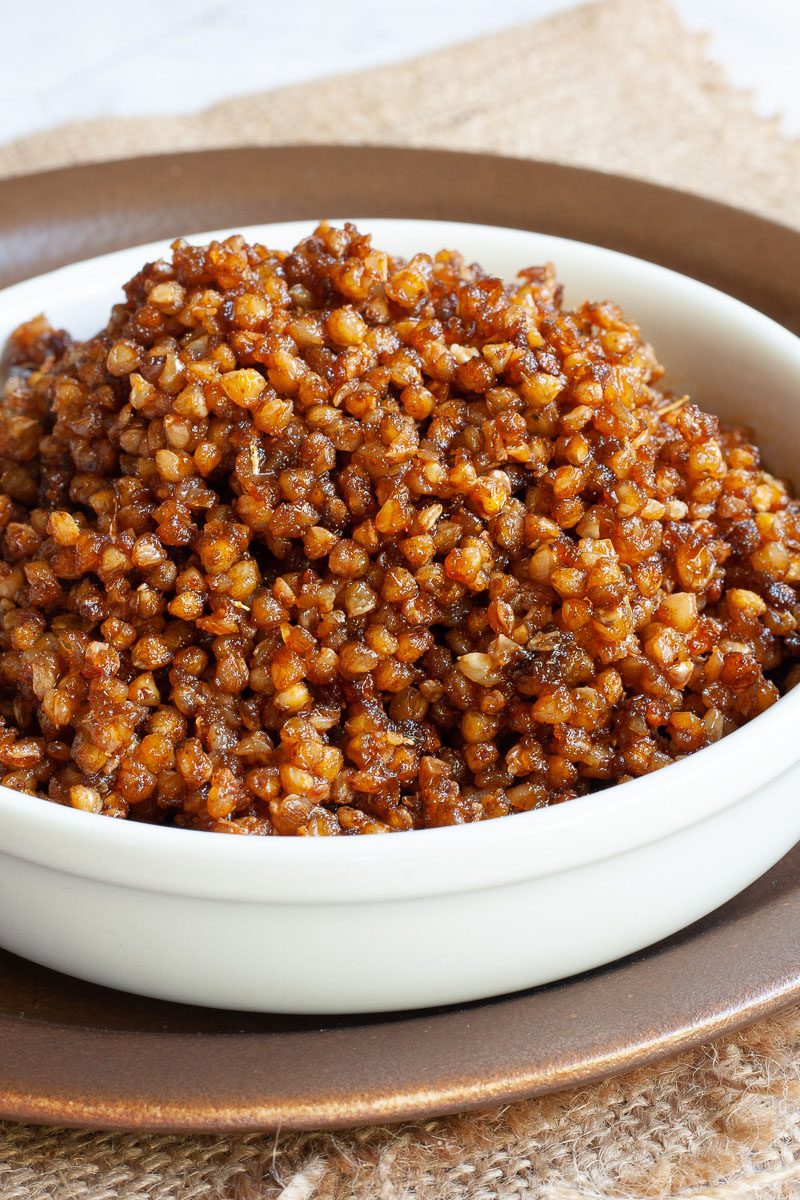 We don't really do fake meats. Not at least in a sense to try to replicate the texture and the taste exactly. But we love to find delicious and nutritious alternatives that could mimic classic meat-based dishes. We love chopped cauliflower and walnut as vegan ground beef in Vegan Spaghetti Bolognese, or oyster mushroom as shredded chicken in Vegan Gyros or TVP as Vegan Taco Meat, or eggplant in Vegan Eggplant Meatballs, or large portobello mushroom caps in Vegan Burger Patties.
How should Vegan Bacon Bits taste like?
If you think of bacon, there are 3 things really that would pop into your mind. These 3 features are the ultimate factors when you decide if a vegan alternative mimics real bacon or not.
SMOKY

– People expect bacon to be smoky. A piece of fake bacon is not the perfect alternative unless it has a certain degree of smokiness.

SALTY

– Real bacon is a cure salt-cured ingredient, so not surprisingly it tastes quite salty.

CRISPY

– The best part of bacon bits is that they are crispy. So the perfect vegan alternative should absolutely be crunchy as well.
I have one more feature for you: FATTY, but that is something I don't really want to mimic at all. Real bacon comes from the fatties part of the pork, its belly. Unless you bath any vegan bacon alternative in olive oil or coconut oil, its fat content will never reach the fattiness of real bacon. I don't mind actually, do you?
Alternatives to fake bacon bits
I would say more and more alternatives came to be as plant-based or vegan diet becomes more and more popular. I have seen and tried some of them and I can say it in all honesty that all of them has pros and cons. And what you decide can be based on personal taste, but sometimes it has to be based on medical issues like allergies and intolerance. Here are some examples that can work as a meatless alternative to vegan bacon bits:
TVP aka textured vegetable protein -> What is TVP?
tofu
tempeh
soy curls
cashew or other nuts
coconut flakes
mushroom
grains
So why did we choose buckwheat?
Buckwheat is a gluten-free pseudo-cereal grain aka a seed that behaves like a grain. So it fits into gluten-free, vegan, soy-free and nut-free diets.
Its size is quite large compared to other grains, way larger than quinoa or millet. Just the right size for "bits".
You can pre-cook then roast them in the oven to get them crispy.
It can soak up spices and marinades perfectly.
If you are looking for buckwheat in stores you might come across names like whole-grain buckwheat, buckwheat groats, buckwheat seeds. -> THEY ARE THE SAME! We use this one*. The important part is that it has to be hulled, not roasted or any other way modified. We have a Complete Gluten-free Flours Guide if you're interested to learn more about the different gluten-free grains and their flours.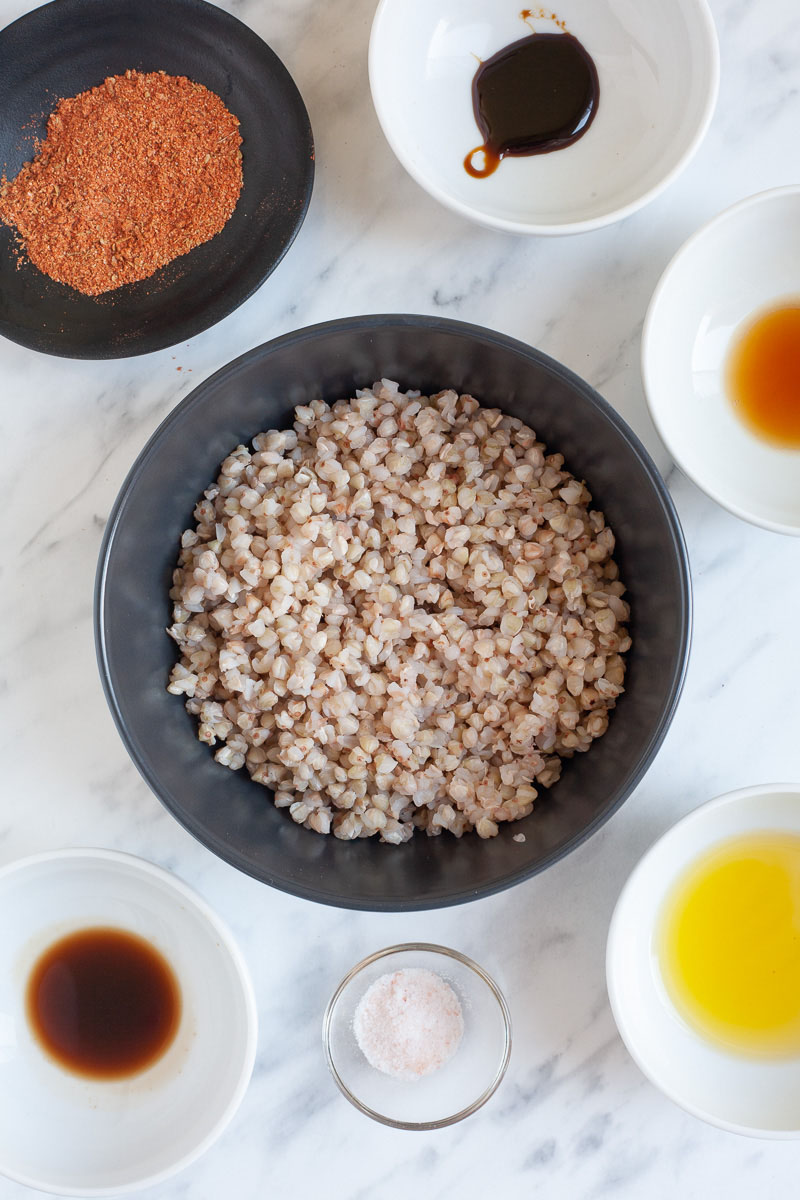 How to make Vegan Bacon Bits?
Pre-cook buckwheat just like you would cook pasta. Boil water in a kettle or in a stockpot. Add hulled, raw buckwheat seeds and cook them in the water until soft. It will take approx. 10 minutes. If you can crush the seeds with your fingers, they are ready. Drain water.
Pre-heat skillet or non-stick frying pan and add olive oil.
Add cooked buckwheat and stir.
Add dry seasoning (smoked sweet paprika, cayenne pepper, oregano, garlic powder, onion powder, cumin, salt) and mix well.
Add wet seasoning (molasses, gluten-free vegan Worchestershire sauce, liquid smoke) and mix well again.
Stir and fry for 2-3 minutes until the buckwheat is crispy and brown. Done! You can use it with your favorite dishes.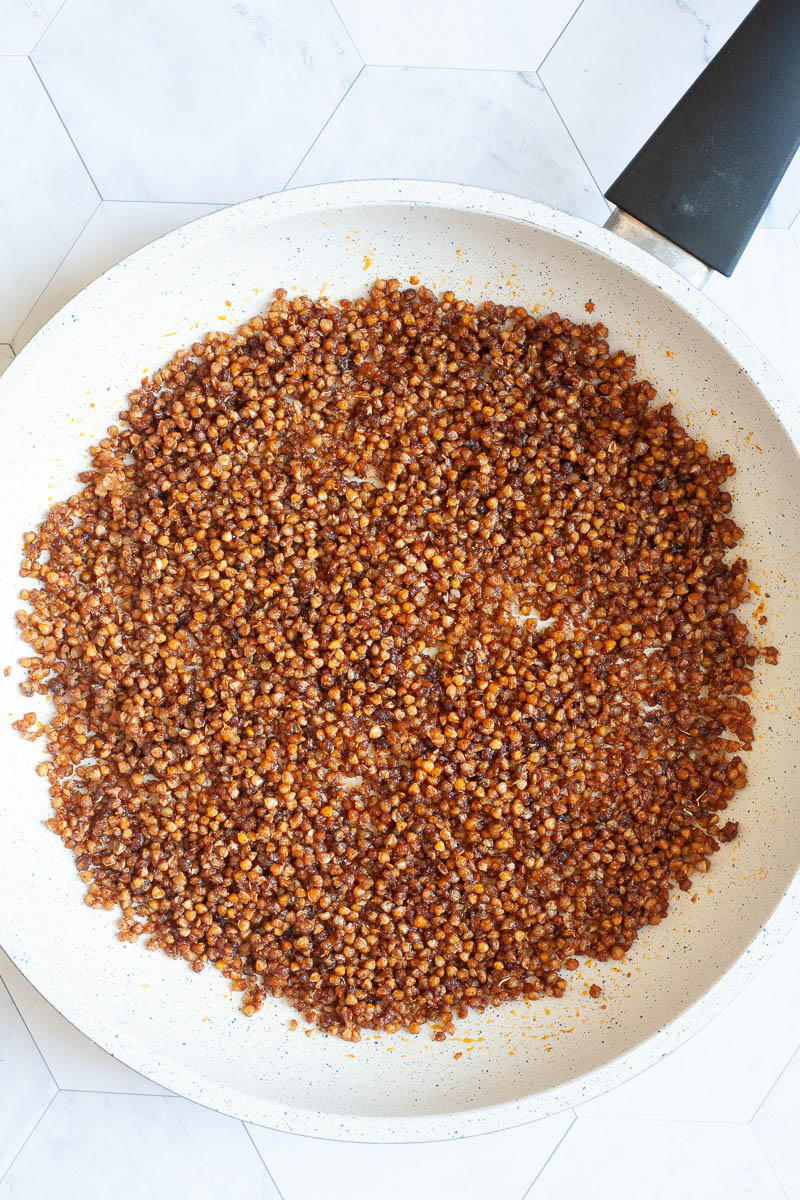 What to do with meatless bacon bits?
There are plenty of dishes you can add fake bacon bits. Here are some ideas if you need some inspiration:
Let us know in the comments which is your favorite way to eat crispy vegetarian bacon bits.
FAQs and substitutions
What can you use instead of molasses?
Maple syrup would be the closest alternative, or coconut sugar as they both have a caramelized taste which adds a lovely flavor.
Is Worcestershire sauce gluten-free and vegan?
Yes, there are some gluten-free and vegan brands. Check out our post titled the "Is Worcestershire sauce gluten-free?" for the list of brands. If you don't have Worcestershire sauce, you can use soy sauce as an alternative. Please note that soy sauce is not gluten-free, we listed 5 gluten-free soy sauce substitutes here. We usually use tamari*, which has the same flavor, but gluten-free.
How to store them?
They keep well in the fridge for 4-5 days in an airtight container. They may lose crispiness after a day or so.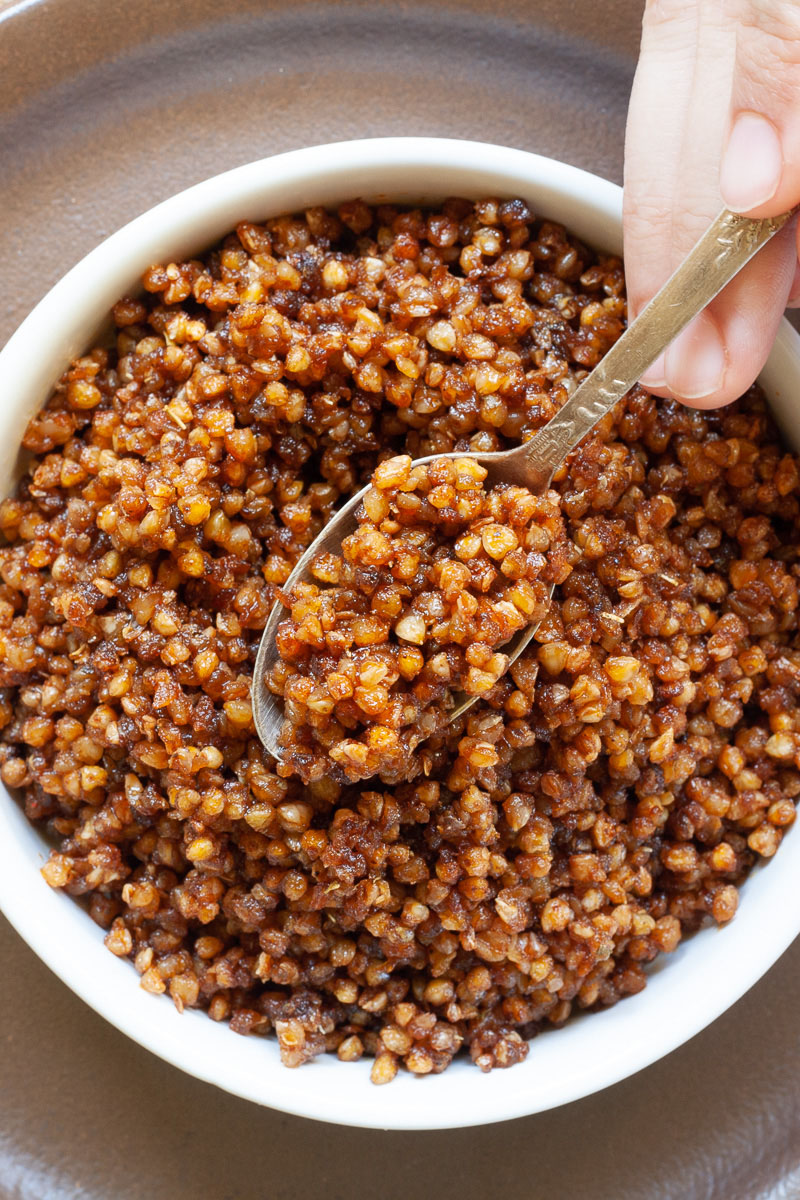 This Buckwheat Bacon Bits recipe is vegan (so meat-free, egg-free and dairy-free) and vegetarian. It is gluten-free, nut-free, and soy-free. It is not WFPB-compliant (whole foods plant-based) because it is hard to get them really crispy without any type of oil.
More recipes for vegan meat alternatives