This carrot sauce is no ordinary one. It is not a mere creamed carrot puree, but so much more. The carrots and the other root veggies are caramelized to bring out their hidden sweetness and then they are turned into a savory creamy carrot pasta sauce with lots of potentials.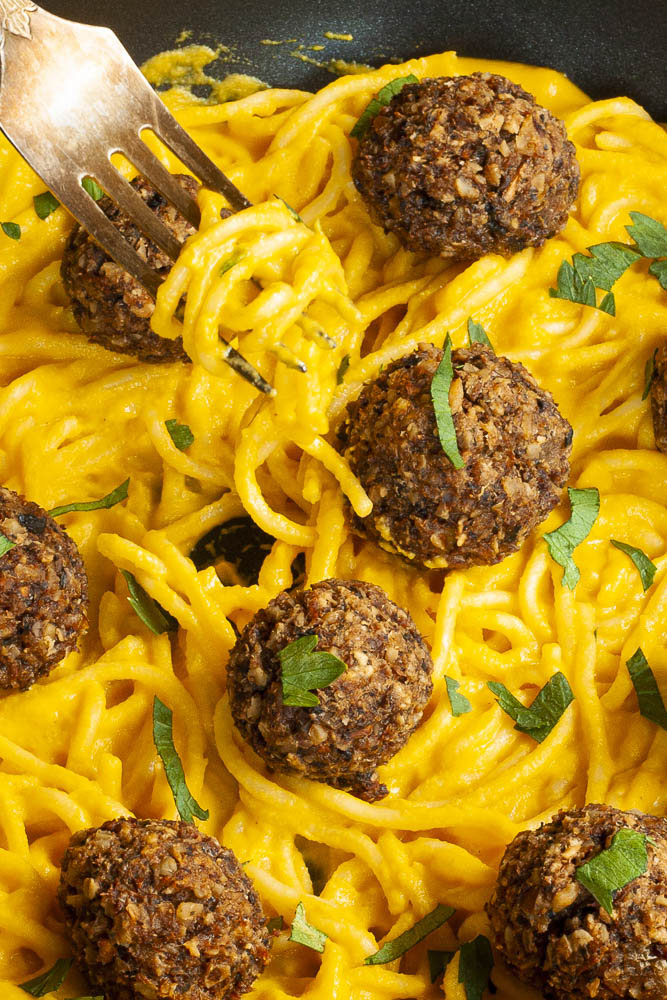 We do like our pasta, may they be quick & easy or rich & filling. Have you seen this delicious creamy Vegetable Pasta Sauce with 7 hidden veggies? How about this Asparagus Lemon Pepper Pasta or this 15-min Marinara Sauce? If you like pasta recipes, here is a couple of tasty ones for you to browse through in our Vegan Sauce Recipes gallery.
What is this Carrot Sauce?
It is not a mere spaghetti sauce with carrots. It is also not a creamed carrot puree. It is probably nothing like you have ever tried. But everyone who has ever tasted this sauce loves it. So we are pretty sure, you will too.
It is actually a caramelized root veggie-based pasta sauce with mustard, bay leaves, and sour cream. The main root veggie is being carrot of course. This sauce is rich, filling, and just a little bit sweet and savory at the same time. Why? What exactly are we talking about?
Caramelized carrots, onion, celeriac, and parsnip
Mixed with mustard, lemon juice, and sour cream
Seasoned with only bay leaves
Can I tell you a secret? It is actually a family recipe that is very typical for Hungarian cuisine. It is actually called "Hunter's Stew" or in Hungarian "Vadas Sauce". It is usually served with dumplings and a roasted game or beef (here is a pretty accurate video to make it like that). But there are other untapped ways to eat this delicious sauce. And since we eat plant-based we turned it into a creamy spaghetti sauce with mushroom meatballs. (See picture below.) It was so worth it.
Ingredients you will need
Root vegetables – You need carrots, celeriac, and parsnip.
Bay leaves are essential. While I cannot grasp exactly what is it that bay leaves add to the dish, Bon Appetite did a pretty good job at it for me. "Bay leaves have a minty flavor (somewhere between spearmint and menthol) with subtle hints of black pepper and Christmas tree pine. They add a subtle bitterness that keeps heavy soups and stews from being so, well, heavy."
Mustard, lemon juice, sour cream – You need to compensate for the sweetness of the caramelized root veggies. Heavy cream, milk or other alternatives will just power up the sweetness. Mustard, lemon juice, and sour cream on the other hand fit perfectly. They add a bit of tangy, sour, savory that makes this sauce all refreshing instead of syrupy sweet.
You will find the exact amount in the printable recipe card at the bottom of the post.
How to make this Carrot Pasta Sauce?
Prepare the ingredients
Peel and chop the onion. Wash, peel, and chop carrots, celeriac, and parsnip. Juice a half lemon.
Caramelize the root veggies
Heat your a stockpot or a Dutch oven to medium heat. Add vegetable oil and cane sugar. Let it melt until it is a light brown caramel (photo #1). Add and cook the chopped onion (photo #2) for 1-2 minutes. Now, add the chopped carrots, celeriac, and parsnip (photo #3). Stir and caramelize them for 5-6 minutes. Add veggie broth, lemon juice, bay leaves, salt, and black pepper (photo #4). Cover it with a lid and cook veggies until soft.
Blend them into a creamy sauce
Add all cooked veggies to a blender with the juices from the pan, add sour cream and mustard and blend until you get a creamy carrot pasta sauce. Taste and adjust seasoning of salt and pepper if necessary.
Top tips to make a perfect sauce
Chop vegetables evenly and small – All root veggies are hard, so they need a long time to get tender. The smaller you cut the veggies, the shorter will be the cooking time.
Vitamix vs Regular Blender – You can certainly use a hand blender (aka immersion blender), a food processor, or a regular blender. They all make a creamy sauce. However, if you need this sauce to be extra smooth without a single little piece to find, we recommend using a high powered blender like Vitamix*.
What to eat with a carrot sauce for pasta?
We definitely have some ideas 🙂
What else would you use this sauce for? Let us know in the comments.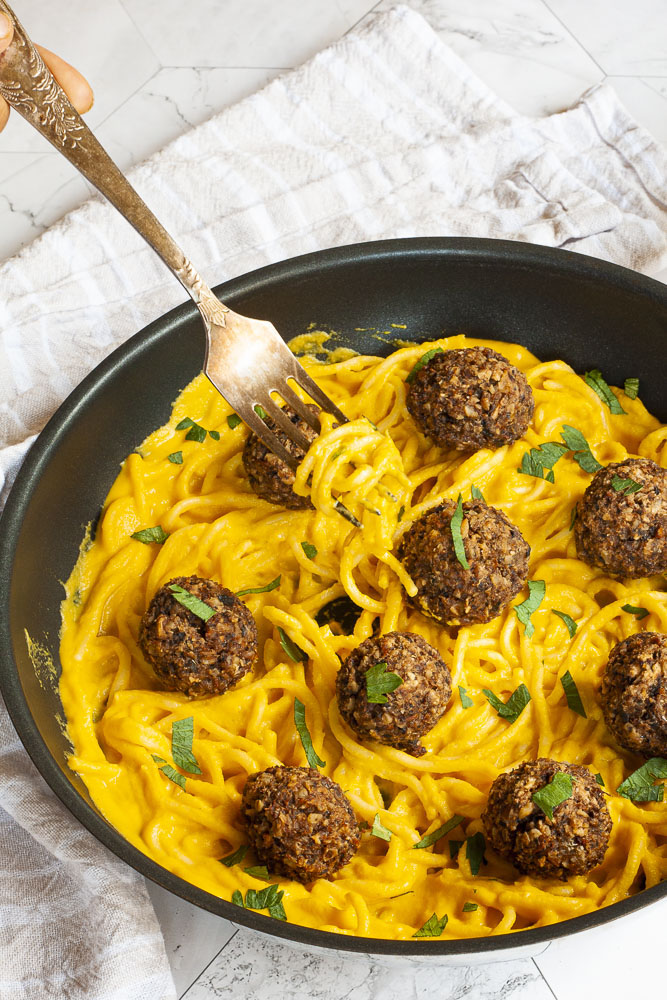 FAQs and Substitutions
Can you use other root veggies?
Carrots are a must, but you can substitute parsnip with maybe turnips in equal amounts. Choose young small/medium carrots as they are sweeter than large, thick ones. The sweetest ones in my opinion are those where you can see the fresh, soft, young carrot greens, which by the way is also edible. On the other hand, baby carrots might not be as sweet as you would hope them to be. According to my father-in-law (who is a gardener), baby carrots are actually the small parts that break off large carrots and then polished to look smooth and well-shaped.
How to store it?
This sauce is perfect for batch cooking. You can easily store it in the fridge for 3-4 days without any problem. Store any leftovers per serving (in a jar, in a ziplock bag or other container) in a freezer and thaw whenever you need it.
This Caramelized Carrot Pasta Sauce recipe is meat-free and egg-free. It is also suitable for vegan, vegetarian diet if you use dairy-free or vegan sour cream. This recipe is nut-free, soy-free, and gluten-free. It can also be WFPB-friendly (whole foods plant-based) if you use water instead of oil when caramelizing the veggies.
More dinner recipes
You can browse through our Vegan and Gluten-free Dinner Recipes or our Quick Vegan Meals collection or check out