This is one of the quickest and easiest Mexican-style Vegan Rice Casserole recipe with the meatiest vegan ground beef ever, lots of black beans, and sweet corn in a spicy tomato-based sauce. You can make it in 30 minutes including baking and melting a generous amount of vegan shredded cheese on top.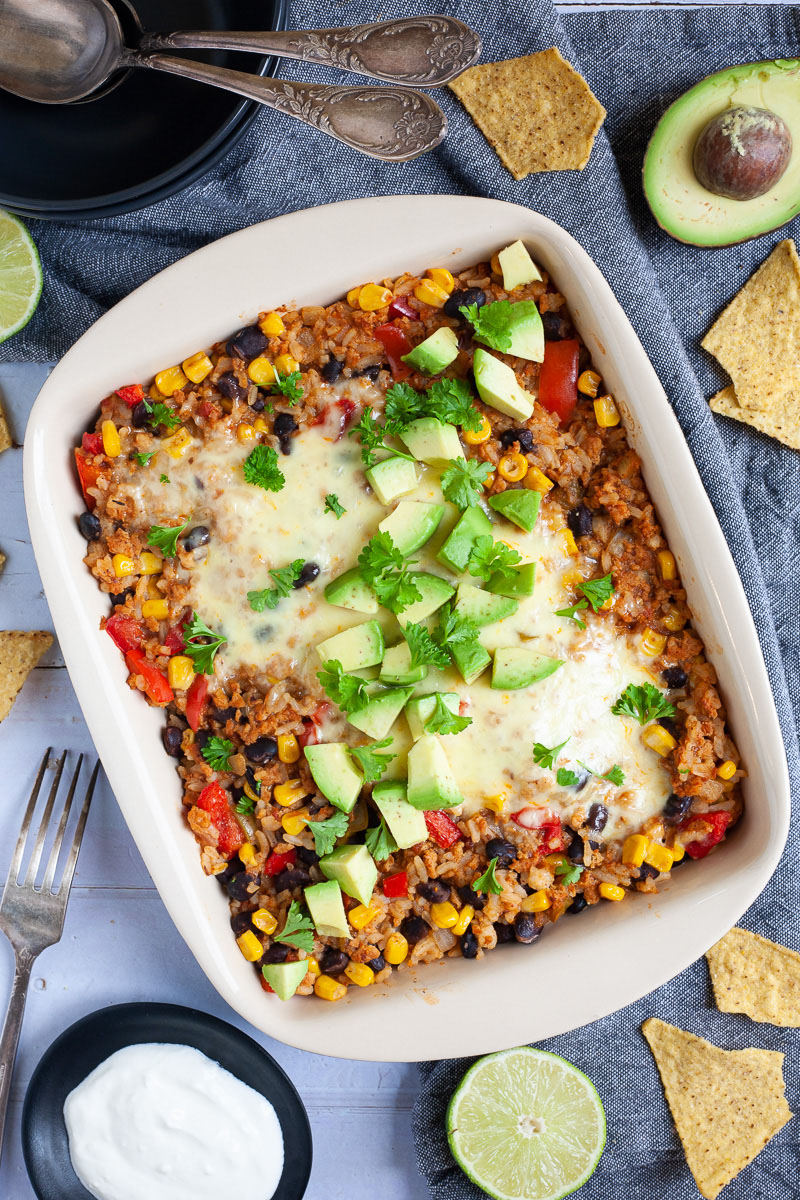 If you love spicy, Mexican, or Tex-Mex recipes, I am sure you'll love our Vegan Chili with Beans and Millet, or our Mexican Sweet Potato "Rice" Bowl, or this super easy Sheet Pan Fajita Veggies.
What is a Vegan Rice Casserole?
When I think of a rice casserole, I imagine lots of delicious ingredients with a melted cheese topping. Making it vegan is easy. I just dump lots of different veggies, beans, lentils, and of course pre-cooked rice in the casserole dish. Season them and mix them with a sauce of my choice. Add lots of shredded cheese at the top and bake it in the oven until everything is cooked and the cheese is melted.
3 reasons why you need to pre-cook rice for casserole
It would be easy to think of it as a dump-and-go one-pot meal. However, cooking rice directly in the casserole is quite difficult. The most likely outcome is that you will either end up with uncooked rice and excess liquid or cooked rice but soggy ingredients. If you want to make a rice casserole successfully every time, cook the rice separately. We have 3 reasons for you:
Hard to estimate how much liquid you would need. – Even if you stick to the 2:1 water uncooked rice ratio, you need to take into account the other ingredients as well. Will they release more liquid like mushrooms would? Or will they absorb liquid leaving the rice not enough?
Different cooking times for different types of rice – Which type of rice will you use can determine how much time your casserole needs to be in the oven. Instant rice, white rice, brown rice, or wild rice? Instant may need only 30 minutes, but brown or wild rice will need more than 1 hour in the oven to be cooked properly. How will the other ingredients react to the prolonged cooking time? Will they get mushy and soggy at the end?
You need to stir the casserole from time to time – I don't know about you but when I bake something in the oven, I don't like to open it a lot. If you look at recipes where they add uncooked rice, they recommend stirring the casserole from time to time, to make sure that the rice is not stuck at the bottom and the liquid is distributed evenly.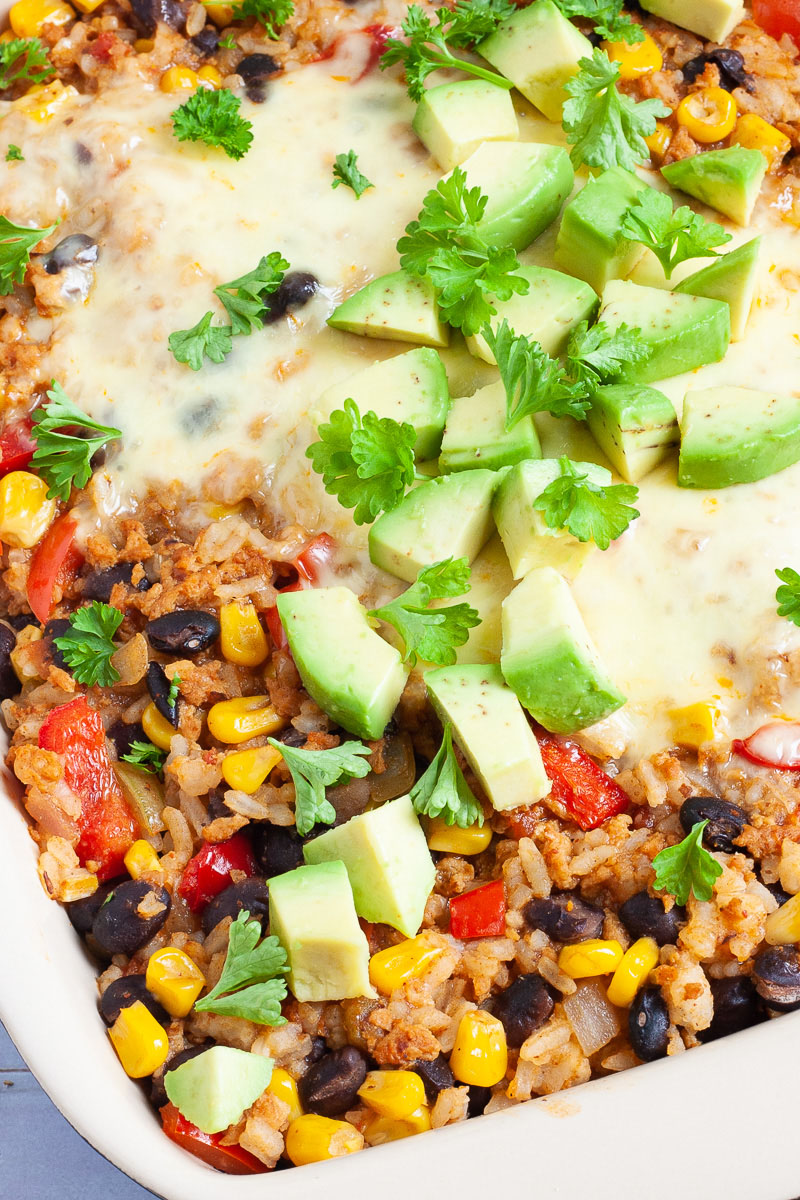 Best vegan ground beef for casserole
The perfect minced beef substitute is TVP* (textured vegetable protein). What is TVP? It is actually only soy flour, no other ingredients. They add water to it to make a paste, then it is pressure-cooked, then dehydrated. Why is it better than any other vegan ground beef alternatives? I give you 3 reasons, but you can read more about TVP in our ingredient guide titled "What is TVP? 10 TVP Recipes You Should Try First". We also give you soy-free alternatives under FAQs and Substitutions.
Only

one ingredient

compared to branded ground beef products.
It has a

neutral taste

, so it picks up spices and seasoning without altering the taste of the soup.
The

texture is spot on

. You can see and taste the crumbles in the soup.
How to make a Vegan Mexican Rice Casserole?
The inspiration for this vegan rice casserole comes from tacos. It contains vegan ground beef, salsa, beans, corn, hot peppers (optionally), onions seasoned with a taco spice mix, and lots of melted vegan cheese on top. It is served with avocado slices, sour cream, and tortilla chips or nachos.
Making vegan taco meat
We have a whole detailed post about making The Meatiest Vegan Taco Meat ever. In short, boil water in a kettle and add the veggie stock. Take a heat-resisting bowl and soak TVP* in the hot veggie broth for 10 minutes. When the time is up, squeeze the liquid out. As a result, you need to have moist, soft "minced meat". (See below picture for reference.)
Pre-heat your frying pan or skillet over medium to high heat. Add olive oil and softened TVP. Stir then add taco seasoning mix* (chili powder, smoked sweet paprika powder, cumin, oregano), onion powder, and garlic powder. Mix well and fry it for about 5 minutes to get them crispy on the edges a bit.
Pre-cook the casserole ingredients
Add chopped onion and bell pepper to the taco meat you just made. Stir and cook for 2-3 minutes.
Add store-bought chunky salsa sauce*, and veggie broth. Stir to combine. (photo #1)
Add canned sweet corn and canned black beans. Mix well.
Add pre-cooked white rice and more taco seasoning mix*. Stir to combine. (photo #2)
Bring to boil and it is ready for the oven. It should take you at most 10 minutes to get them done.
Bake the vegan casserole
The baking time is like 6-8 minutes because everything is actually already pre-cooked. The 6-8 minutes is only needed to melt the cheese properly.
Pre-heat oven to 425 Fahrenheit (220 degrees Celsius).
Choose an oven-safe baking dish and add the pre-cooked casserole ingredients.
Top it with a generous amount of shredded cheese. You can even mix in some extra cheese if you like it cheezy, gooey.
Bake in the oven for 6-8 minutes until cheese has melted.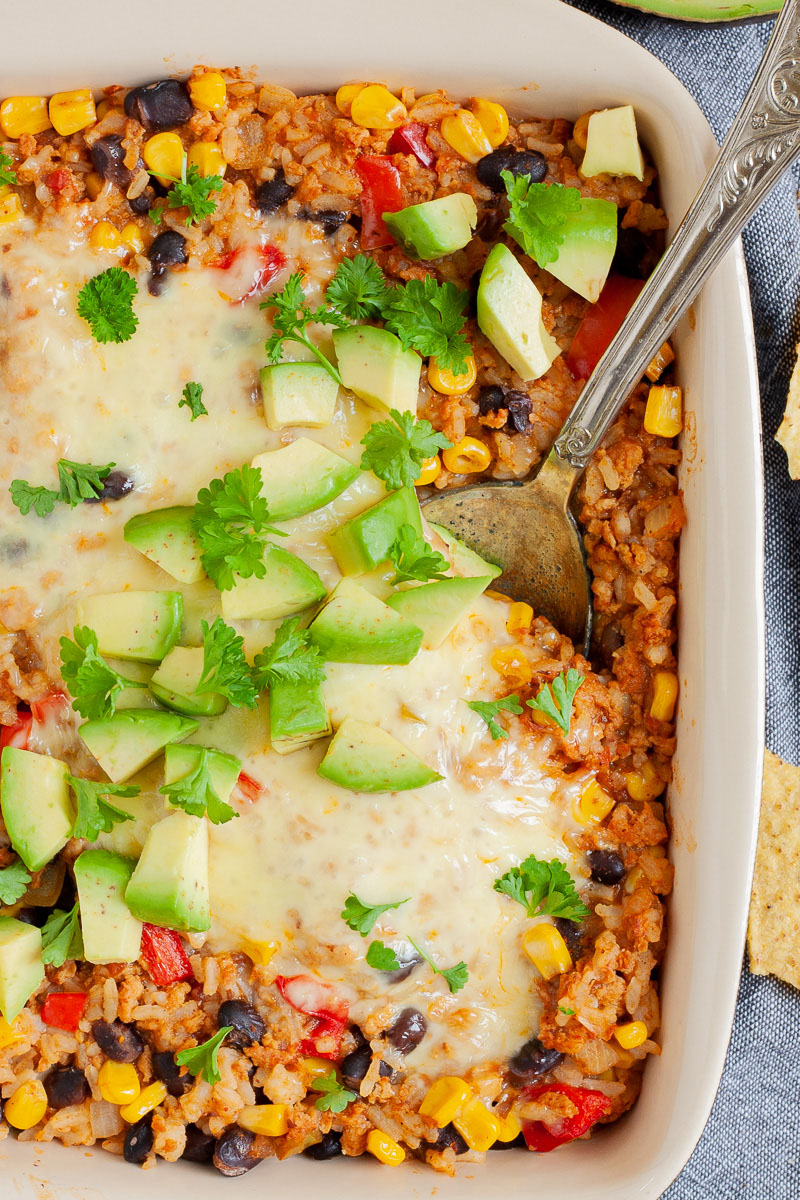 What to serve with a Vegan Mexican Casserole?
I would say anything you would serve with chili, taco, or burrito. Anything Mexican or Tex-Mex inspired topping would go amazingly with this casserole. Here are a couple of ideas for you to choose from:
guacamole, or just chopped avocado
spring onion, chives
freshly chopped cilantro
lime
tortilla chips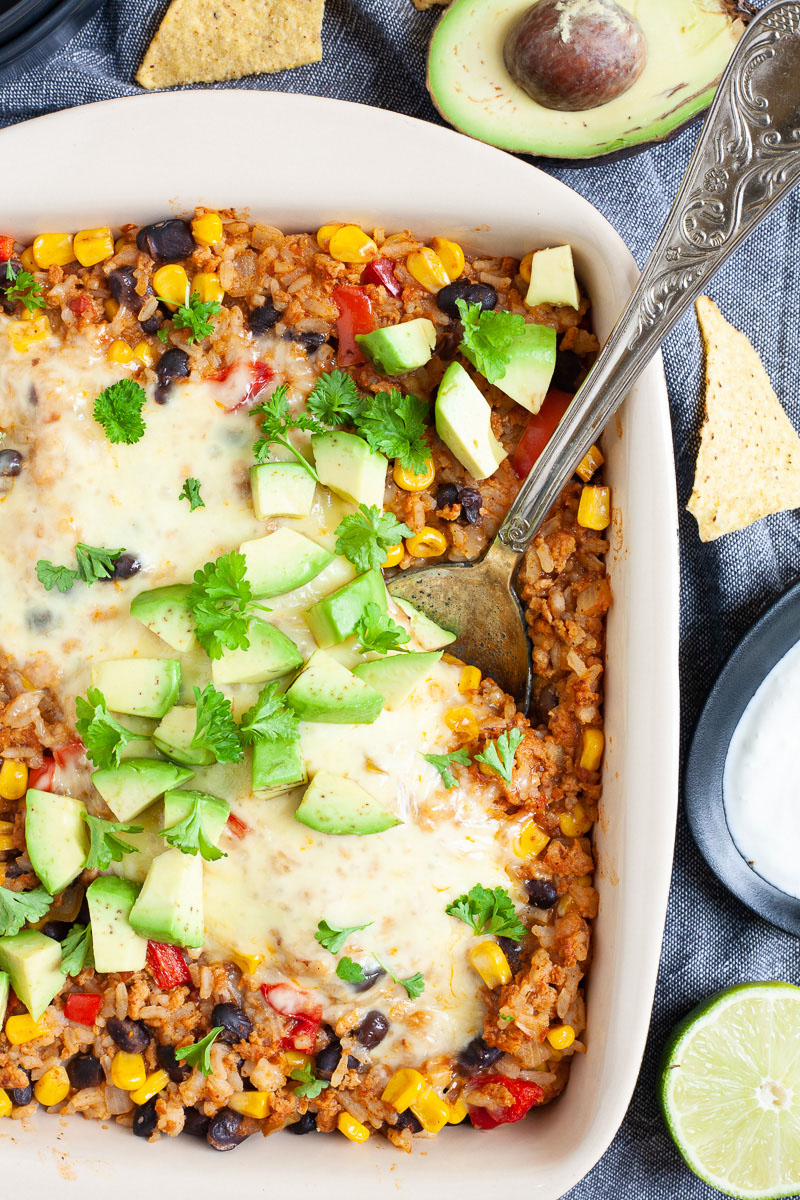 FAQs and substitutions
What else can you add to it?
You can add anything you would add to your taco: other legumes (pinto beans, red kidney beans, white beans, chickpeas, lentils), or more chopped bell peppers and fresh diced tomatoes, or even hot chili peppers (jalapeno for example) if you like it hot.
Can you use different vegan meat?
Alternatively, you can add Vegan Shredded Chicken (season it with taco or fajitas spice mix instead of buffalo sauce) or vegan shaved beefsteak we used in our Vegan Philly Cheesesteak recipe. You can also add minced walnut-cauliflower instead, which we show you how to make in our Vegan Spaghetti Bolognese recipe. Any store-bought plant-based meat alternatives can work as well.
What can you use instead of salsa sauce?
You can use tomato sauce, but you need to season it with an extra 1 Tbsp taco seasoning mix to avoid ending up with a bland casserole. Alternatively, you can use a homemade or store-bought enchilada sauce.
How to store it?
You can store it in the fridge covered in saran wrap/cling foil or in air-tight container for 3-4 days without a problem. The rice will keep absorbing the liquid even if it was cooked, so the more days your casserole is in the fridge, the less juicy will it be. Yes, it is freezer-friendly. We recommend freezing per serving. When it is thaw, pop in the microwave, or in the oven to re-heat. A quick tip: don't store it with sliced or chopped avocado on top as they will turn brown overnight.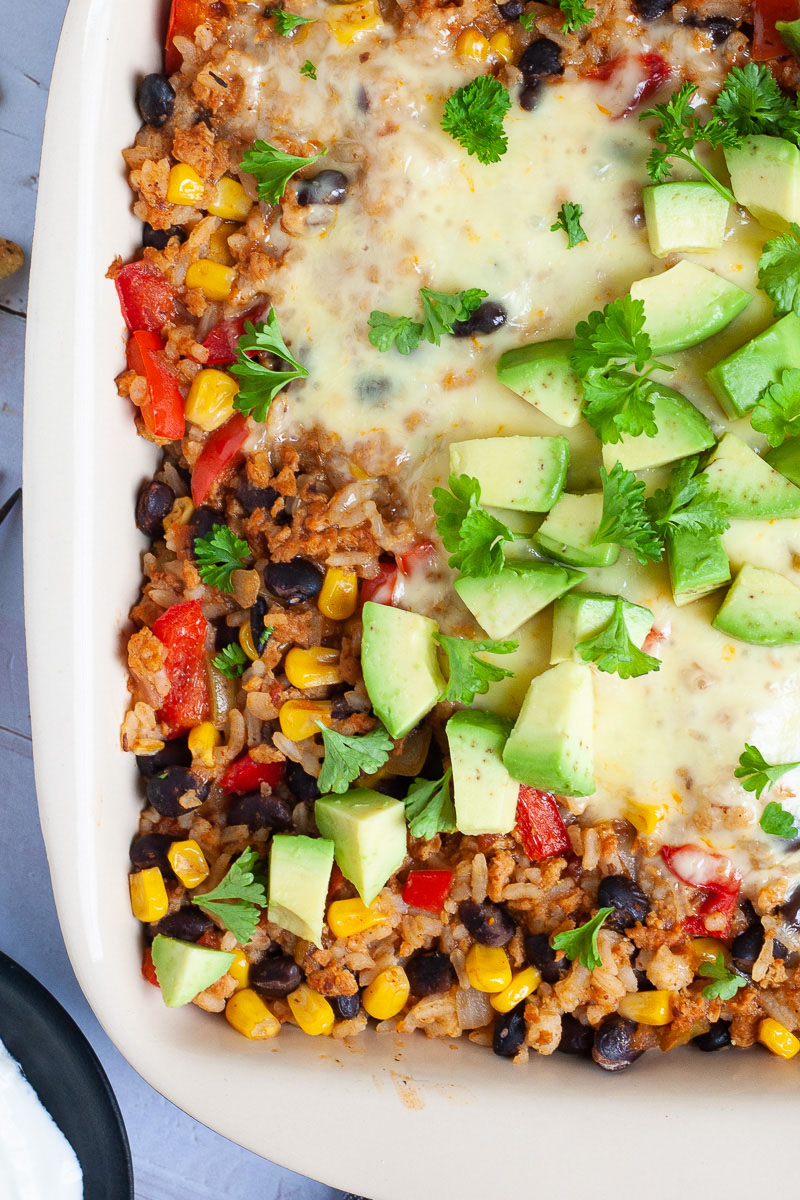 This Mexican Rice Casserole recipe is meat-free, dairy-free, and egg-free. It is also suitable for vegan, vegetarian, nut-free, and gluten-free diets. It is WFPB-friendly (whole foods plant-based) if you sautee TVP and onion in water or veggie broth, and choose oil-free plant-based cheese and sour cream.
More vegan Mexican recipes