What is so special about this Vegan Corn Chowder recipe? Everything. It starts with pan-seared corn kernels and deglazed pan, which makes this soup actually oil-free. It is thickened with potatoes and turned creamy with a smooth cashew cream. What's not to like?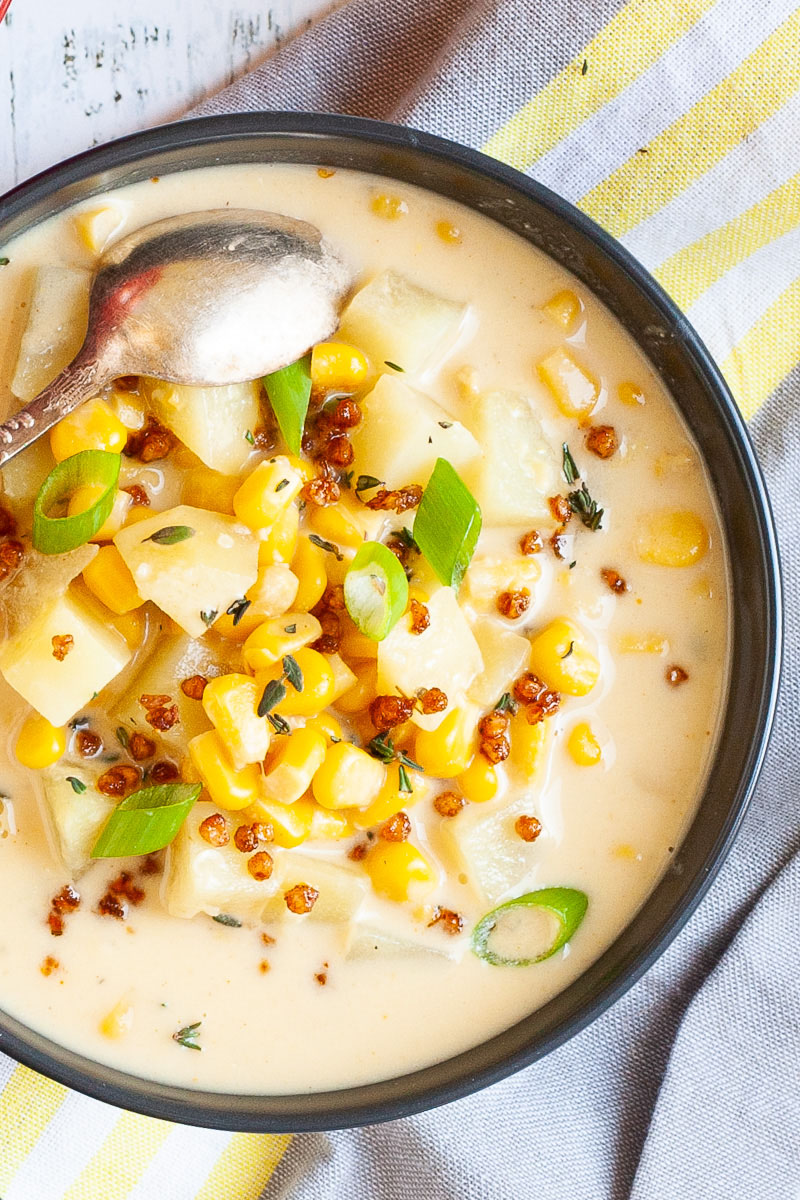 We love creamy soups. Try our Roasted Broccoli Sweet Potato Soup where we roast all ingredients in the oven then blend them into a creamy soup in one step. Or try our Vegan Cauliflower Soup, or our Cream of Spinach Soup, or our Vegan Cream of Mushroom Soup. For more soup recipes, visit our Vegan Soup Recipes gallery.
What is a chowder?
The term "Chowder" stands for soups made with milk or cream and are thickened with crackers, biscuits or roux. The classic ingredients of "Corn Chowder" are corn, potatoes, celery, onion, and obviously milk or cream.
So how to make it vegan and gluten-free? ⇒ Skip milk and crackers, and thicken the soup with cashew cream and potatoes! Sounds easy? Yeah, it is.
How to make a Vegan Corn Chowder?
Prepare the ingredients
If you use fresh corn, cut the sweet corn kernels off the stem. If you use frozen, thaw it in advance.
Wash, peel and dice potatoes into ½-inch thick cubes.
Peel and chop onion.
Wash and dice celery stalk.
Make cashew cream
Soak cashews in boiling water for 5 minutes or boil them in water using stockpot on the stove-top for 5 minutes. You can do overnight soaking of course, if you prefer that.
Put the cashews, salt, and nutritional yeast (optional) in a high-speed blender with water. Process until smooth and creamy. If you only have a regular, your cashew cream might not be as smooth as you see it on these pictures.
Making vegan corn chowder oil-free
We usually sautee onion and sometimes other veggies too in oil to start a veggie soup. It does bring an extra flavor to it. We use a very minimal amount only. However, there is this really cool and easy method called deglazing which helps you make this soup oil-free.
Heat a large nonstick pot over medium heat. We used our Enameled Dutch oven. When it is warm, add the corn kernels and cook for 5 to 6 minutes, stirring every 90 seconds. The corn will become translucent and parts of it will brown and stick to the bottom of the pot.
Deglaze the pot by pouring in some veggie broth. Use a spoon to remove any pieces of corn that have stuck to the bottom of the pan.
Add the onion, celery, paprika, thyme, and pepper, then sauté until the onion is translucent, 4 to 5 minutes.
Add chopped potatoes and the remaining broth with additional water. Raise the heat to high. When the mixture starts to simmer, reduce the heat to medium-low. Cook for 15 minutes, until the potatoes are fork-tender.
Transfer 2 cups (480 ml) of the soup to a high-speed blender. Add the cashew cream to the blender and blend on high speed for 30 to 40 seconds, with the blender vent open.
Pour the smooth liquid back into the pot and stir to combine. Season with salt and pepper to taste, if necessary.
Transfer the soup to serving bowls and top with chives. Serve warm; leftovers will keep in the fridge for up to 5 days, or can be frozen for up to 2 months.
What to serve with a creamy Corn Chowder?
We have plenty of ideas. Let us know which one you like the best. On the pictures, you see that we served this corn chowder with our vegan bacon bits made of buckwheat, some crispy croutons, sliced spring onion and extra freshly chopped thyme.
crusty bread, breadsticks (I like these Schar gluten-free breadsticks*), croutons, or crackers
seeds, chopped nuts, or trail mix
roasted veggies (Sauteed Mushrooms, Roasted Asparagus, Roasted Broccoli, Sauteed Carrots, and so on)
Vegan Bacon Bits (our recipe is soy-free, nut-free and gluten-free)
vegan parmesan or nutritional yeast
canned legumes (any beans or lentils) or even better something like crispy baked chickpeas for added protein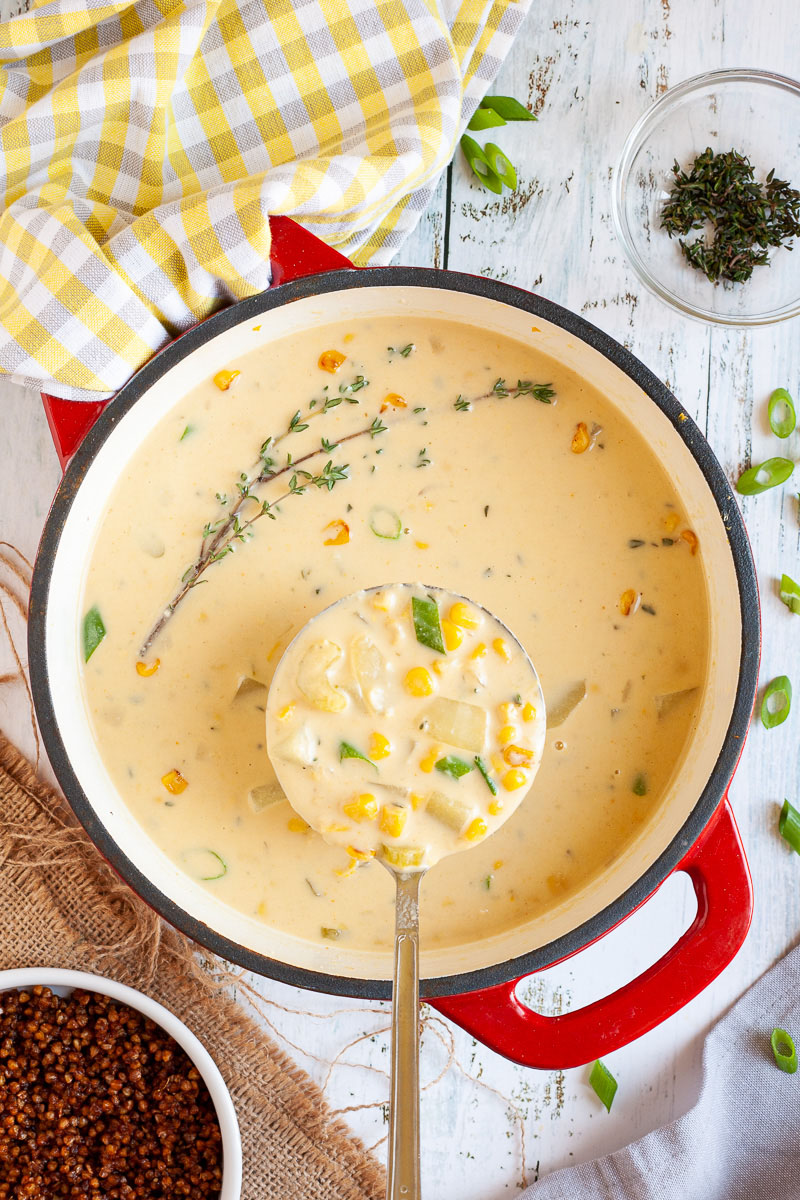 It is featured in the Simply Delicious Vegan Cookbook
I was asked to review a cookbook. I got super excited as I get to try new recipes, and I also feel the excitement of the author as their new "baby" reviewed by many bloggers at the same time. But the most exciting thing is that I get to share with you one recipe from the book. And I chose this delicious VEGAN CORN CHOWDER recipe. But which cookbook is it, you ask?
Caitlin Shoemaker is the creator behind the blog called From My Bowl. She was raised as a vegetarian her whole life and since 2015 she adopted a whole foods plant-based diet. She has been sharing on her blog wholesome, easy, and budget-friendly everyday meals that are mostly gluten-free, oil-free and refined sugar-free. Simple Delicious Vegan* is Caitlin's first published cookbook.
My mission is to prove that unprocessed, whole-plant vegan food doesn't have to be bland, expensive, complicated, or time-consuming—because I know that I feel my best when I eat a plant-based diet.
⇒ Click here to see all Vegan Cookbooks we recommend including some FREE e-books you can download right now!
What can you find in this cookbook?
Simple Delicious Vegan* contains 100 healthy, plant-based recipes that are gluten-free, oil-free and refined sugar-free. The cookbook is almost 250 pages including useful info on how to start on a plant-based diet, what do you need, or how to cook oil-free as that is the most unusual part many beginners face. Apart from the recipes you will find 5 chapters on all the essentials.
Whole-food vegan pantry staples
Tried-and-true gadgets and gizmos
What the heck is that? (unusual ingredients)
Switching things up (substitutions)
How to cook without oil
Our favorite recipes from this cookbook
Among the 100 recipes, you will find inspiration for breakfast, brunch, soups, salads, sandwiches, quick and easy lunch and dinner, desserts and condiments. Here are some of our favorite recipes from Simple Delicious Vegan* we either made and loved or on our list of must-try dishes:
Morning Glory Muffins – We eat a lot of oatmeal. One of our go-to evergreen recipe is this Apple Cinnamon Oatmeal. However, it is always nice to mix things up. Our kids just loved these muffins full of delicious and nutritious ingredients like pumpkin puree, shredded apple, carrots, raisins, coconut chips and walnuts. They were quick to make and they disappeared in a second.
Herby Tofu Scramble – I always prefer tofu as a vegan egg substitute rather than as a "meat" option. This Vegan Egg Salad is a constant item in our fridge, but Caitlin's tofu scramble was absolutely delicious. It is out of this world yummy with added cashew cream and no oil. It should be the first one to try if you buy this book.
Peanut Butter and Sweet Potato Soup – It tasted rich, hearty, sweet and savory. PB and sweet potato just works together. Apart from this Vegan Corn Chowder recipe we are sharing now, this soup was one of our favorite recipes from the book.
No-bake Cosmic Brownies – Next on our list. The combination of sticky dates, almond butter, vanilla extract, and buckwheat flour sounds simple, easy and perfect. Just how I like it. We have a Super Fudgy Vegan Gluten-free Brownies recipe and I'd love to compare the two. I bet this one is super fudgy too.
Chickpea Tikka Masala – Oil-free, but full of flavor tikka masala is a must-try recipe. Any Indian-flavored recipe that doesn't have a 2-page long list of spices is already a winner for me like our Mushroom Chickpea Curry.
Vegan Pad Thai – Caitlin calls it "really freakin' delicious", and I couldn't agree more.
Chipotle Jackfruit Enchiladas – Have you heard about jackfruit? It is a simple but delicious recipe that will be perfect for you to try jackfruit. We do love it in our Vegan Jackfruit Beef Stew, but something about Mexican dishes that just calls for me.
Salted Caramel Chocolate Chip Cookies – Obviously my daughters pointed at this recipe to try first. OMG, we licked the bowl after making salted caramel sauce with coconut sugar and cashews.
Is this cookbook for you?
Do you like easy-to-follow, simple and delicious recipes?
Are you always on the look-out for yummy vegan and gluten-free recipes?
Do you want to try cooking and baking oil-free?
Are you scared of long list of ingredients and prefer to work with pantry staples?
Do you want to try healthy, nutritious dishes with whole foods instead of processed?
Do you enjoy cooking from scratch?
If the answers are yes, then Caitlin's Simple Delicious Vegan* is the perfect cookbook for you.
⇒ Click here to see all Vegan Cookbooks we recommend including some FREE e-books you can download right now!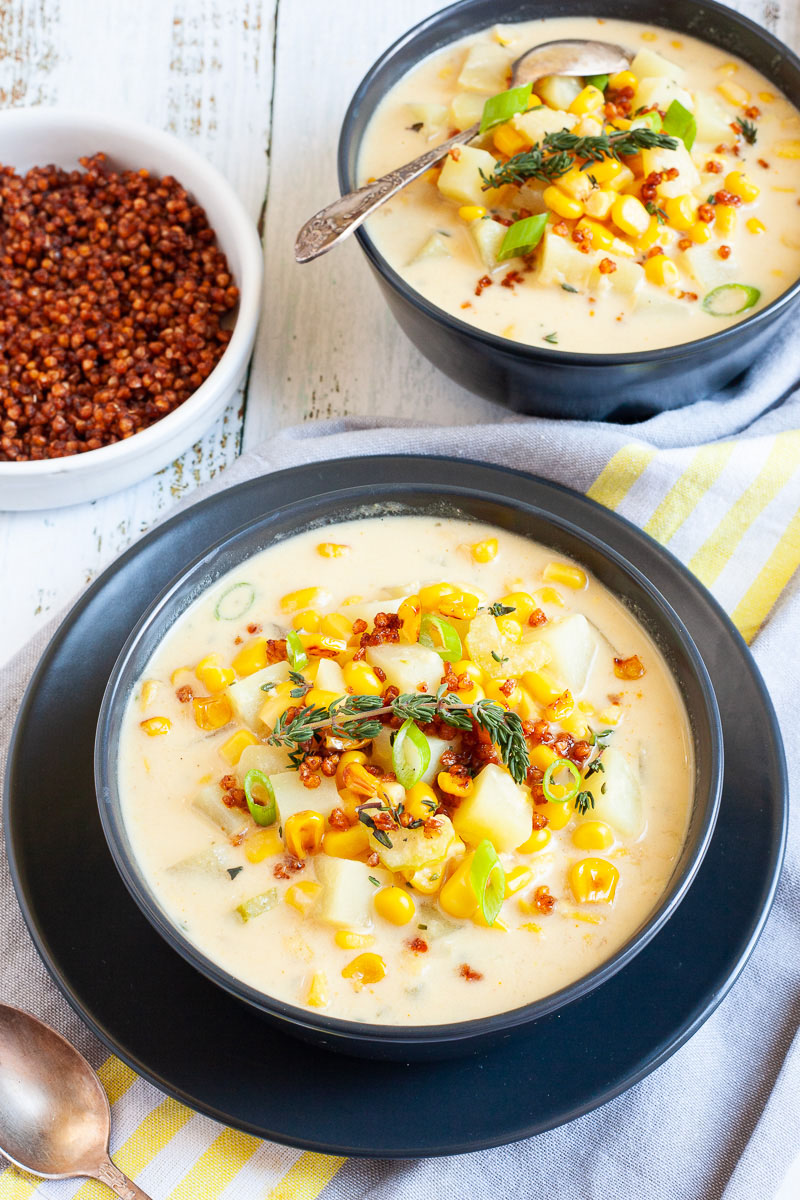 This Creamy Corn Chowder recipe is meat-free, dairy-free and egg-free. It is also suitable for a vegan, vegetarian, gluten-free, and soy-free diet. It can also be WFPB-friendly (whole foods plant-based) if you sautee veggies in water or veggie broth.
More vegan soup recipes
You can browse through our Vegan Gluten-free Soup Recipes or check out