Do you fancy making a quick and delicious Veggie Burrito inspired by Chipotle? It is loaded with Black Beans, Cilantro Lime Rice, Fajita Veggies, and more… Don't forget the popular Sofritas, aka braised tofu crumbles created by Chipotle. We rolled up NINE Chipotle-inspired ingredients to make an epic Meatless Burrito at home. Are you excited too?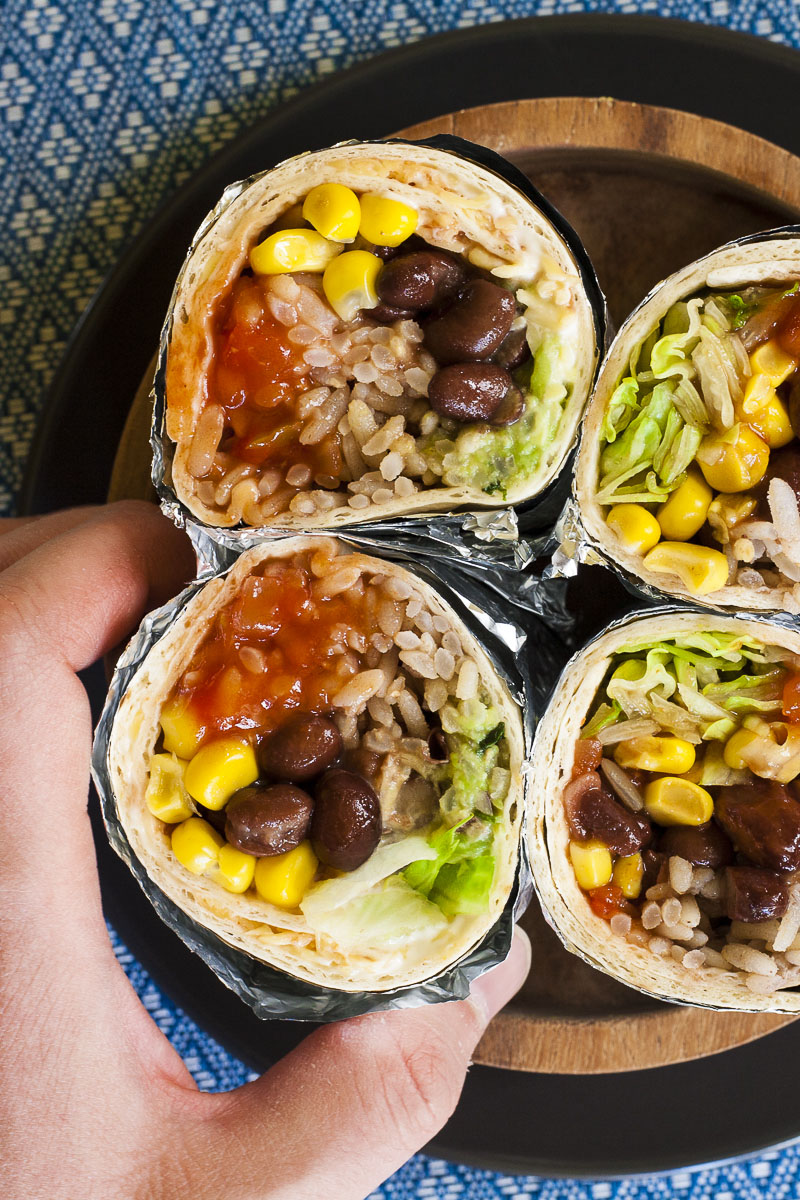 More Tex-Mex recipes yeah! Have you seen our Best Vegan Chili recipe? It is super simple, veggie-loaded, and delicious. We also have a no-mess, no-fuss, sheet pan Vegan Fajitas with Spicy Portobello Mushroom recipe that is just delish or this Epic Fajitas Portobello Mushroom Burger? We have other copycat recipes you may be interested in like this Copycat IKEA Veggie Balls or this Copycat Panda Express Vegan Orange Chicken.
What can you buy in Chipotle for Burrito?
If you build your own burrito, you can add lots of yummy ingredients and sides that Chipotle offers. Since 2019, they have even more veggie options because they introduced their vegan and vegetarian "Lifestyle Bowls". To build your own Chipotle-inspired meatless burrito, you can mix and match the following ingredients:
cilantro-lime brown or white rice,
black beans or pinto beans,
sofritas (spicy braised tofu crumbles),
fresh tomato salsa or tomatillo green/red chili salsa,
roasted chili – corn salsa,
guacamole,
sour cream (not vegan, only vegetarian),
queso blanco (not vegan, only vegetarian),
fajita veggies,
lettuce,
shredded cheese (not vegan, only vegetarian).
If you are interested in recreating any of the above dishes at home, check out these 19 copycat Chipotle vegan recipes you can easily make.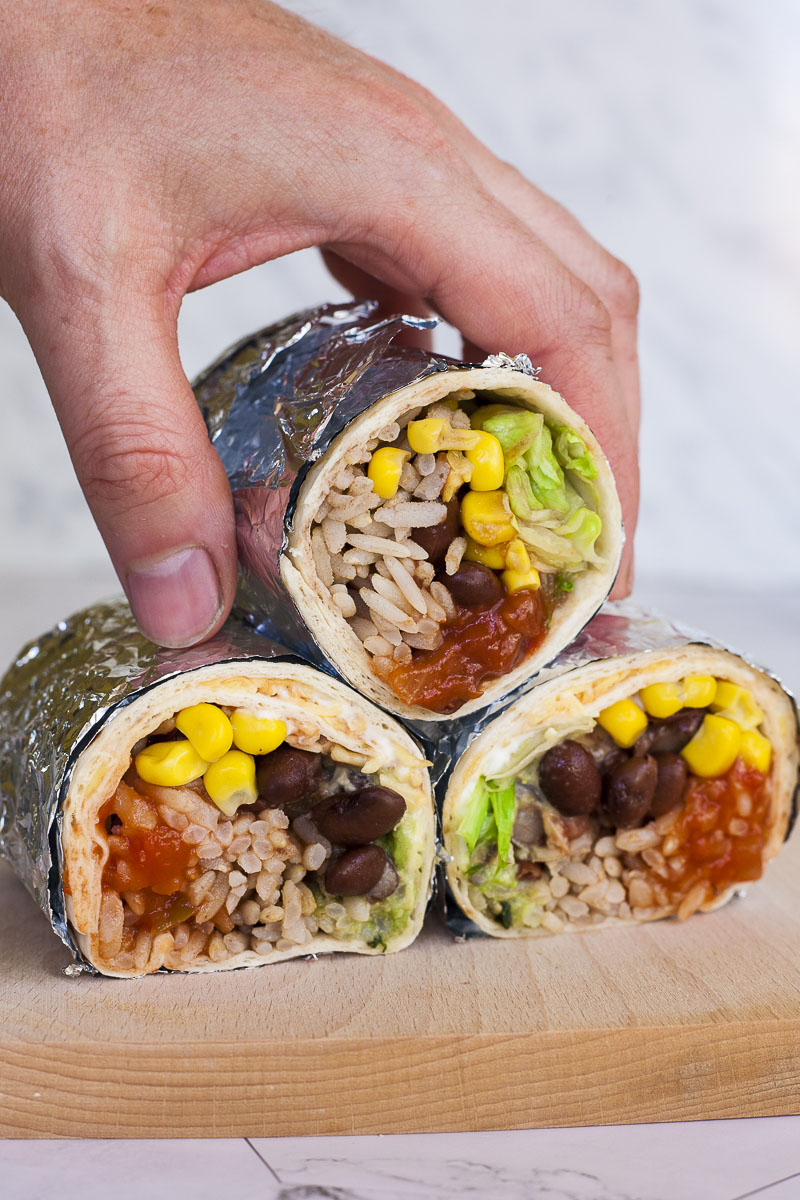 Ingredients of our Copycat Veggie Burrito
We combined NINE different food items you can order in Chipotle to build an Epic Veggie Burrito at home. I know that is a lot, so you either need an extra-large tortilla, or you can only scoop 1-2 spoonfuls from each ingredient. But it is so worth it to have all these flavors together.
So what do you need to build the most colorful, delicious, and loaded burrito ever?
cilantro-lime brown rice,
canned black beans,
sofritas,
fajita veggies,
guacamole,
tomato and corn salsa,
shredded lettuce,
shredded vegan cheese, and
sour cream.
Let's see how to make each item from the above list.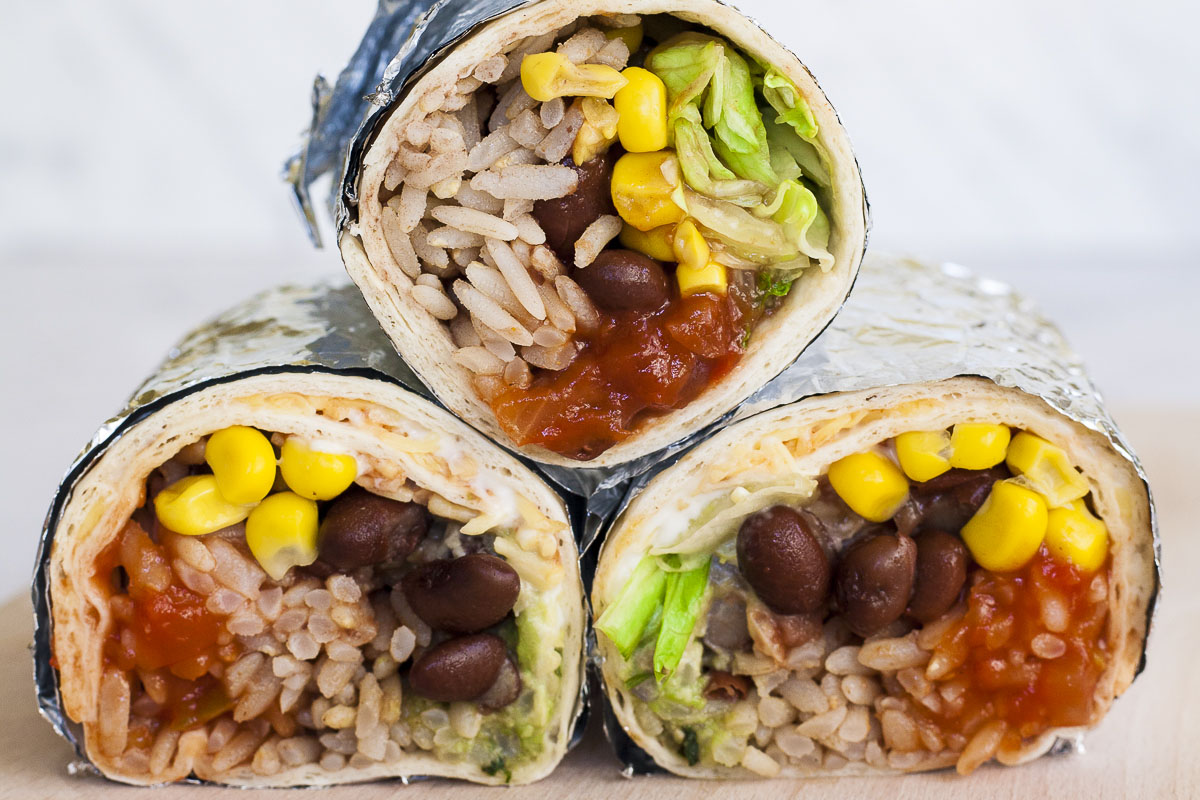 Making Cilantro-Lime Brown Rice
Cook the rice according to package instructions. When ready, drain and cool them. Then add freshly squeezed lime juice, freshly chopped cilantro, salt, and black pepper to taste. Mix it well! You can adjust the amount of lime and cilantro depending on your personal preference though.
Making Chipotle Guacamole
Chipotle tweeted its guacamole recipe in May 2019, which we shared in our Chipotle Veggie Bowl post. It is quite straight forward and as most people we have already making guacamole like that.
In our experience making guacamole using one avocado will leave you with enough for 4 burritos. So depending on the number of servings, double or triple up! As we add fajita veggies to our burrito, which are already spicy, we skipped adding any jalapeno or hot sauce. If you like it hot, add it to your taste.
Take one ripe avocado and mash it with a fork. Add lemon or lime juice. Add finely chopped red onion (I sometimes use the chopping bowl of my immersion blender to make it like an onion puree aka no visible onion pieces) and chopped fresh cilantro (photo #1). Mix it well and season it with salt if needed (photo #2).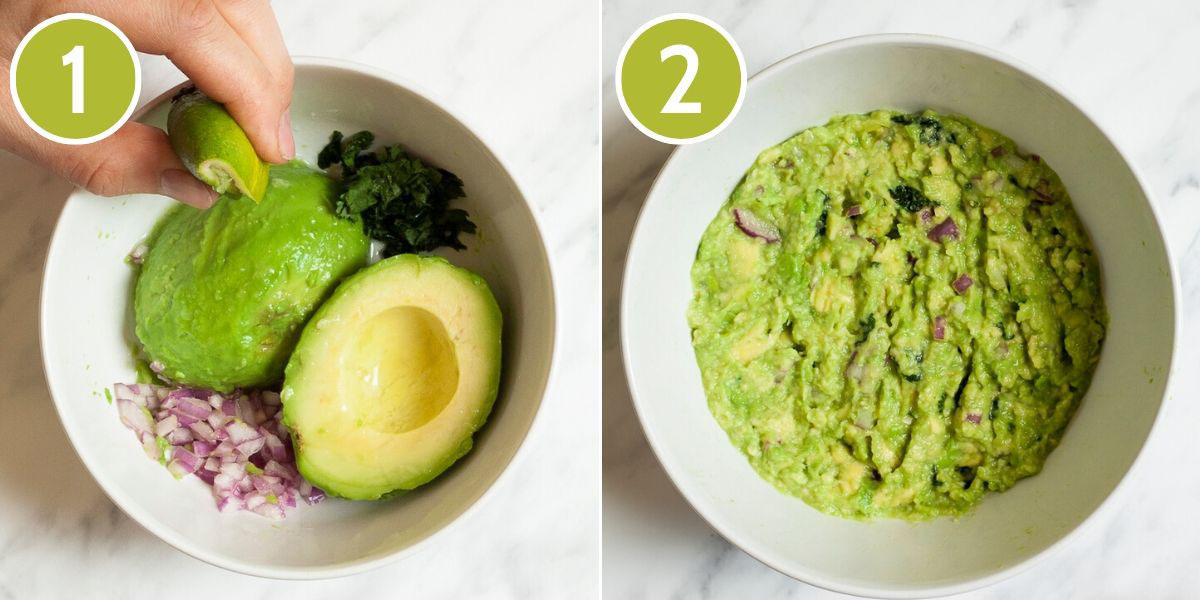 Making Tomato and Corn Salsa
In Chipotle you can order a Fresh Tomato Salsa and a Roasted Chili-Corn Salsa. How about combining the two? So we made a Tomato and Corn Salsa Fresca that is also known as Pico de Gallo (or Salsa Picada, or Salsa Mexicana).
It is actually a simple chopped salsa with raw cherry tomatoes, raw red onion, raw garlic, fresh cilantro, and sweet corn. We drizzle them with olive oil, but you can skip that and just squeeze a lemon or lime on it. Add chopped chili if you like it hot.
Making Fajita Veggies
We prefer to make fajita veggies in the oven especially if we need a larger batch. In our Sheet Pan Fajita Veggies post, you can find detailed instructions, useful tips, and even a quick video on how to make them in an oven in 30 minutes!
If we need only 2 servings, we usually prepare them in a frying pan or skillet.
Peel and slice onion ¼-inch (4-5 mm) wide. Wash and slice bell peppers also ¼-inch (4-5 mm) wide. Pre-heat a frying pan on medium heat. Add olive oil. Once the oil is hot enough add the onion and the bell pepper slices and sprinkle them with fajitas spice mix (photo #1). Stir to combine and fry them for 5 minutes until they are tender (photo #2).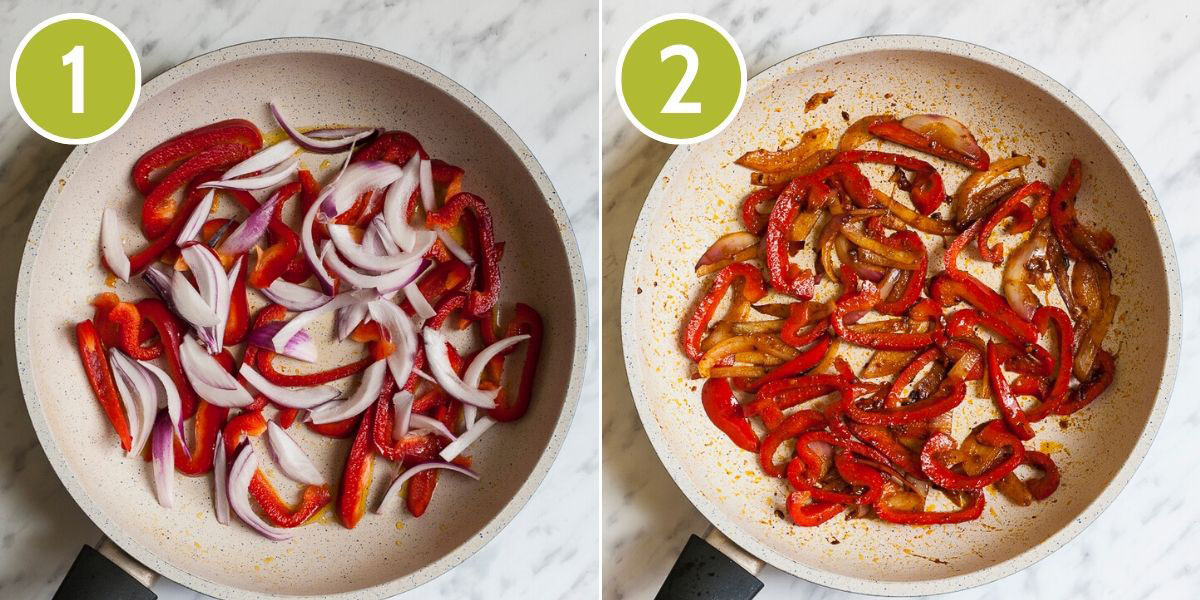 Making Sofritas
When we originally posted this recipe, we didn't have the perfect Copycat Chipotle Sofritas recipe to add. But now we do. Adding it will make this a true Copycat Chipotle Veggie Burrito for sure. Now, you can make EVERY ingredient just as they serve them in the restaurant.
Use a firm tofu and press it. We used our trusted TofuBud*, but you can choose any DIY method or tofu press. Pat it dry with a paper towel.
Fry thin tofu slices with a bit of olive oil until golden brown (photo #1).
Use a food processor to first chop the fried tofu.
Use a food processor to chop the marinade ingredients into a chunky sauce (photo #2).
Mix marinade and tofu and let it rest for 30 minutes.
We used our UnoCasa cast-iron skillet* but you can use frying pan as well and heat it over medium heat.
If you feel the sauce became too thick at the end of the marinating time, add a bit of veggie broth. Start with ¼ cup (0,5dl).
Add the marinated tofu crumbles together with the whole marinade sauce and cook for about 10 minutes (photo #3).
More Add-ins
What else you can add to a Chipotle-inspired Vegan Burrito? Well, still lots of tasty things come to my mind like:
Let's roll up our Chipotle Veggie Burrito!
So how do you fill your burrito? For easier rolling, I prefer to stack them into a neat pile close to the middle, but not quite. See below picture for reference.
Warm your tortilla in an oil-free frying pan on low heat. (If you fancy a homemade recipe, try our Flourless Red Lentil Tortilla).
Place your warmed tortilla on the plate. (

A quick tip:

Use a tin foil square larger than your tortilla, so you can wrap it up after rolling.)
I usually start with Guacamole and Tomato-Corn Salsa so they can help holding the rice and beans in place.
Then, I add the Cilantro-Lime Brown Rice and the Canned Black beans.
Add 1-2 spoonful of Sofritas.
Now, I top these with Fajita Veggies and Shredded Lettuce.
I finish it off with a Shredded Cheese and a drizzle of Sour Cream (or mayo).
Finally, I roll it into a burrito. But how?
How to roll a burrito?
It is easier than you think. Take a look at the photos below, where you can see all the steps.
Gently fold the two sides of the tortilla on top of the filling.
Holding the sides in place, fold the bottom on top of the filling. The bottom edge should be placed right behind the filling.
Place you fingers on top of the fold and gently roll the tortilla upwards until you reach the top edge.
Hold still and close the sides with your small fingers.
If you placed the tin foil under the tortilla, you can wrap it up tightly.
Cut in half and serve! And enjoy of course!
This Copycat Chipotle Veggie Burrito recipe is meat-free, dairy-free, and egg-free. It is also suitable for vegan, vegetarian, soy-free and nut-free diets. This dish can also be WFPB-friendly (whole foods plant-based) if you don't use olive oil. It is only gluten-free, if you choose gluten-free tortilla.
More vegan Mexican-inspired recipes
UPDATED:This recipe was originally posted in July 2020, but we further tweaked the recipe and rewritten it again in June 2021.