What are portobello mushrooms? How do they taste? How to clean, store, and prepare them? How to cook them? Here is a complete guide to cooking with portobello mushrooms. Everything you ever wanted to ask! We even included 20+ amazing portobello mushroom recipes for you to try first.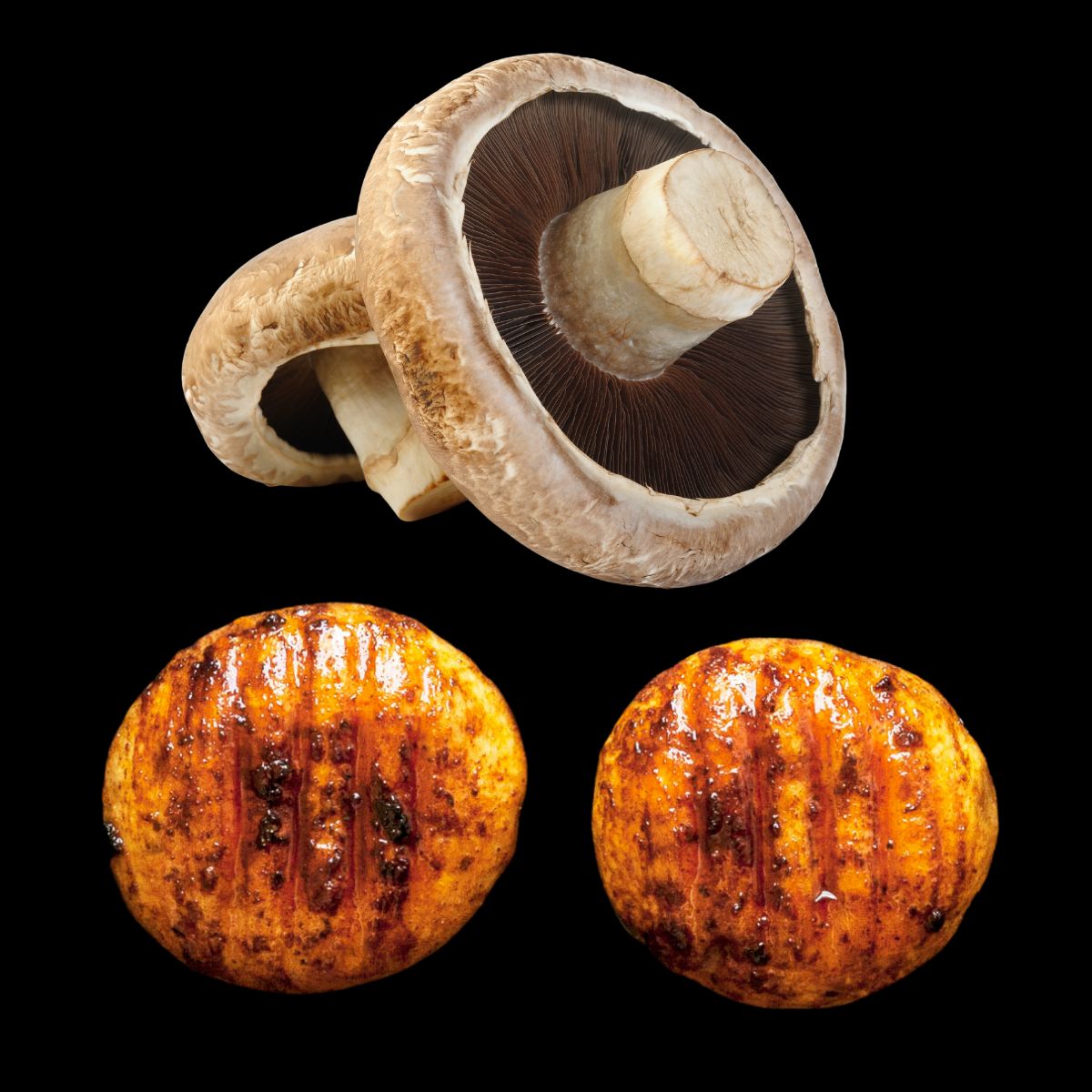 Have you seen our other featured ingredient guides? We write detailed prep and cooking guides to different ingredients that are important or popular in a vegan diet for example our Guide to Cooking with Eggplant or our Guide for Textured Vegetable Protein (TVP) or our widely popular Guide to Cooking with Oyster Mushrooms.
I don't want to bore you with the history of mushrooms, or how to grow them. I will only write about the things you need to know to make delicious portobello mushroom recipes. Nothing less, nothing more.
What are portobello mushrooms?
Portobello mushrooms are earthy-flavored, large cap flat mushrooms that grow to a size of 5 inches (10-15 cm) in diameter. They have a thick, woody stem and dark gills, and are native to Europe and North America. Also known by their scientific name, Agaricus bisporus, they are loved for their rich flavor, meaty texture, and their ability to give a smoky flavor when grilled or sautéed.
Now you remember that you saw small mushrooms sold in your local store that were also named portobello mushrooms. Are they the same or different? Well, the answer is both yes and no. They are the same Agaricus bisporus species , but they are immature or not fully grown. Small brown mushrooms might get harvested before they reach the cap size of 5 inches (approx. 10-15 centimetres), but it is still the same mushroom. You might have come across the below names, but they are all the same at the end:
portabella mushrooms
cremini mushrooms
button mushrooms
chestnut mushrooms
babybella mushrooms
champignon mushrooms
In this cooking guide, we are writing about large caps portobello mushrooms like the ones in the below picture.
Where to buy them?
Portobello mushrooms are widely available in North America and in Europe. They are in season from December to March in the winter. You have a really good chance to bump into them in your local store. You can get them in the following ways:
In stores – Portobello mushrooms are sold in grocery stores commercially throughout the year. You can find them easily in large convenience stores like Walmart and Whole Foods.
Online – You can buy fresh portobello mushrooms online, from stores like Amazon*.
Grow your own – The easiest and the fastest growing mushroom is oyster mushroom. There are growing kits for portobello mushrooms as well so you can try at home but you may need longer time to wait and the mushrooms may not be as large as the ones you buy in stores.
How to choose fresh mushrooms?
Mushrooms are easy to spoil especially if they are not stored properly. Despite the fact that they like moist conditions when they are growing, they get slimy pretty quick if we keep them moist after harvest.
They are usually sold without stem, only the large caps in a sealed package. It is very rare to see them sold loose. Therefore, it is not always possible to inspect them thoroughly as you might not even see the gills due to the packaging. So what do you need to look out for to get fresh portobello mushroom caps?
Look for the mushrooms that aren't shriveled or bruised.
Check the harvest date and choose packages with the closest date. I avoid to buy those with the harvest day more than 3-4 days ago.
You may not able to touch or smell it hence the sealed package but you can see whether they are dry, firm with no condensation.
The best mushrooms are those that have uniform in color.
Do not pick mushrooms that look slippery or slimy.
How to store them?
Portobello mushrooms last for 7 to 10 days when stored properly. Freezing works as a wonderful preservative for them after they have been cooked, making it possible to freeze and enjoy them for months.
Number 1 rule is if possible don't keep them in their original packaging.
After buying the mushrooms, remove their wrappings, place them on a tray lined with paper towels, and put them in the refrigerator. I usually place them in the bottom vegetable drawer. You can also choose to store them in a porous paper bag instead of on top of paper towels. Storing them this way allows for maximum air circulation, preventing them from drying out or getting wrinkles.
How to prepare them?
Portobello mushroom caps are usually sold without a stem, so there is really not much you need to do to prepare them. If you do find some with stems on, don't worry all parts are edible (caps, peel, gills and stem).
Always clean mushrooms with a

damp paper towel

, not water. You want to avoid soaking them, as they can get mushy and slimy when wet. They are usually not dirty like the small ones. Although I clean the small ones just the same with a damp towel or if there are much dirt, I do a quick rinse with a colander* or a sieve*.

Peel or not to peel?

– You don't need to peel them. It is edible like that and usually looks better especially if you make Stuffed Mushrooms. However, if they have any damaged skin on their caps, use a knife to cut or gently peel them off.
If you buy it with a stem and it feels hard, dry or too sturdy, you can

chop the stems off

. Store them in water in case you need them later for making mushroom stock – they add a lot of flavor!
I heard people scoop the gills out to make stuffed mushrooms, but I never ever do that. Gills keep the mushroom juicy. If you don't like that part, you can scoop them out of course. No harm done.
Now you can slice them, cut them, dice them or stuff them. We will give you lots of yummy portobello mushroom recipes to try.
2 features you should know about
Mushrooms in general so portobello mushrooms are no exception have a high water content, which can evaporate during cooking. This results in shrinking. Well, not as much as spinach would, but still

they will shrink

. Even if you have a pot or sheet pan full of mushrooms, you probably end up with half of the size. Take this into account when you decide how much mushrooms do you need or how thin you want to cut them.
Mushrooms have a spongy texture, which means they

soak up juices

. On one hand, it is super helpful if you want to marinade them as the flavors get in easily. On the other hand, you need to watch out how much oil you want to or need to use to cook them. Since portobello mushroom caps are large, getting them marinated is harder.
How to cook them?
Large portobello mushroom caps are a very versatile ingredient and can be cooked in many different ways. They can be served as snacks, side dishes, or even as a full course meal. You can substitute any small mushrooms if they are cut small.
Grilling
Portobello mushrooms cook the quickest on a grill. Just marinate them (or not), brush them with oil, and cook them for 3-4 minutes on each side. You'll know they're done cooking when they feel tender and juicy in the middle. They are perfect to make this Portobello Mushroom Burger (see below photos).
Sautéing
Sauteeing portobello mushrooms is easy. Cut the mushroom to slices. Add some oil to a pan or cast-iron skillet* and stir in your mushrooms with the flame on low. After stirring for a while you will notice your mushrooms turn soft and blackened, which is when you should stop. Sauteed mushrooms have a caramelized flavor and make a tasty addition to pasta, risotto, sandwiches, flavored rice and more.
Baking or roasting
You can also choose to bake portobello mushrooms for a more meaty, structured bite. Ensure the oven is preheated before you begin baking to preserve the mushroom's taste and texture as much as possible. Portobello mushrooms can cook as quickly as 15 minutes in an oven set to 400°F even if it is stuffed. See our Chili Stuffed Portobello Mushrooms right out of the oven in the below picture.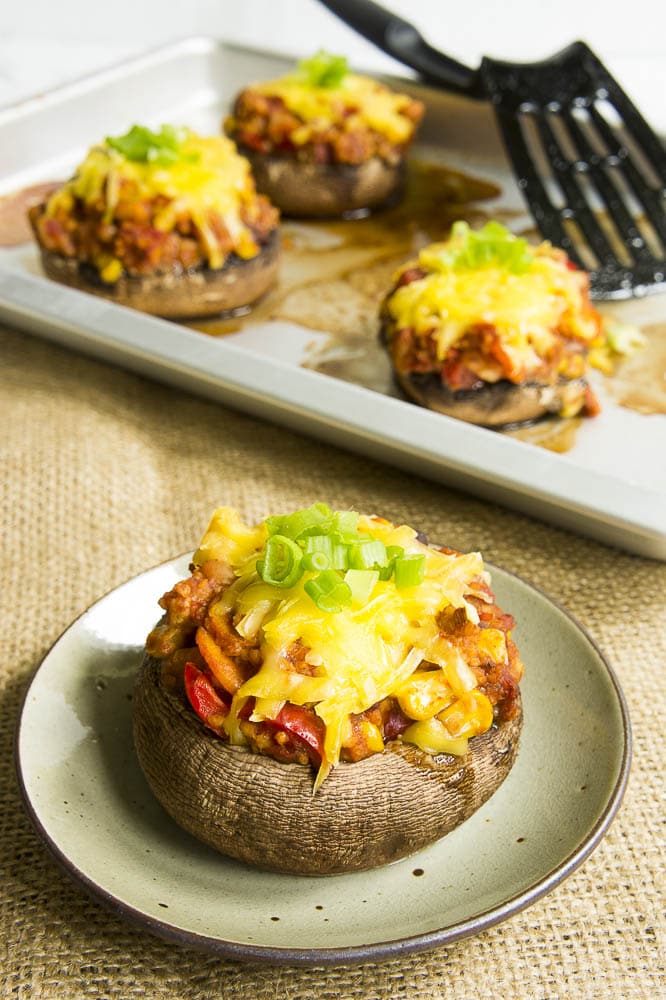 Add to soups and stews
It is really not a very typical way to prepare them, but it is something unique if you need some inspiration. Portobello mushroom caps are loved by the vegan community due to its meaty texture. That is why it often gets featured as a meat alternative. Just like in this Portobello Pot Roast recipe it is used instead of beef (see the below picture).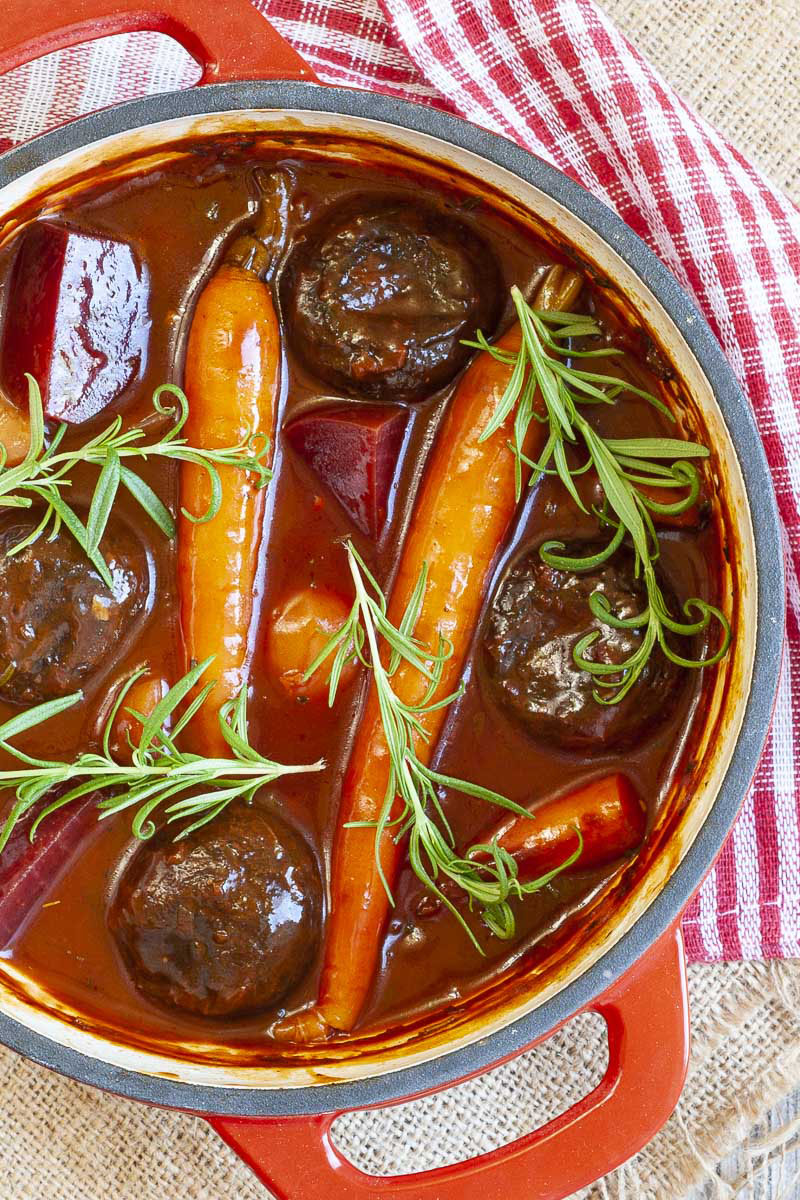 20 delicious portobello mushroom recipes
Portobello mushrooms are one of the most versatile vegetable. They are very healthy and carry loads of nutritional benefits. Being one of the most diverse ingredients, they can be cooked in many different styles of cuisines. This list of 20 portobello mushroom recipes makes cooking at home just as easy as picking up or ordering in.
Portobello Mushroom Burger
Mushroom burgers are delicious. They're especially great if you're cooking them on the grill, because they take only about ten minutes to cook. Quick and easy to make, our Fajita-inspired Portobello Mushroom Burger is juicy, succulent, meaty and flavorful just as any other burger.
Vegan Pot Roast
If you are looking for a hearty and comforting meal for your family, you should try our Vegan Portobello Pot Roast. It is a one-pot meal that uses large portobello mushroom caps to replace beef. Even though this comfort food recipe can be made in no time, it still manages to offer the beefy texture that you are looking for.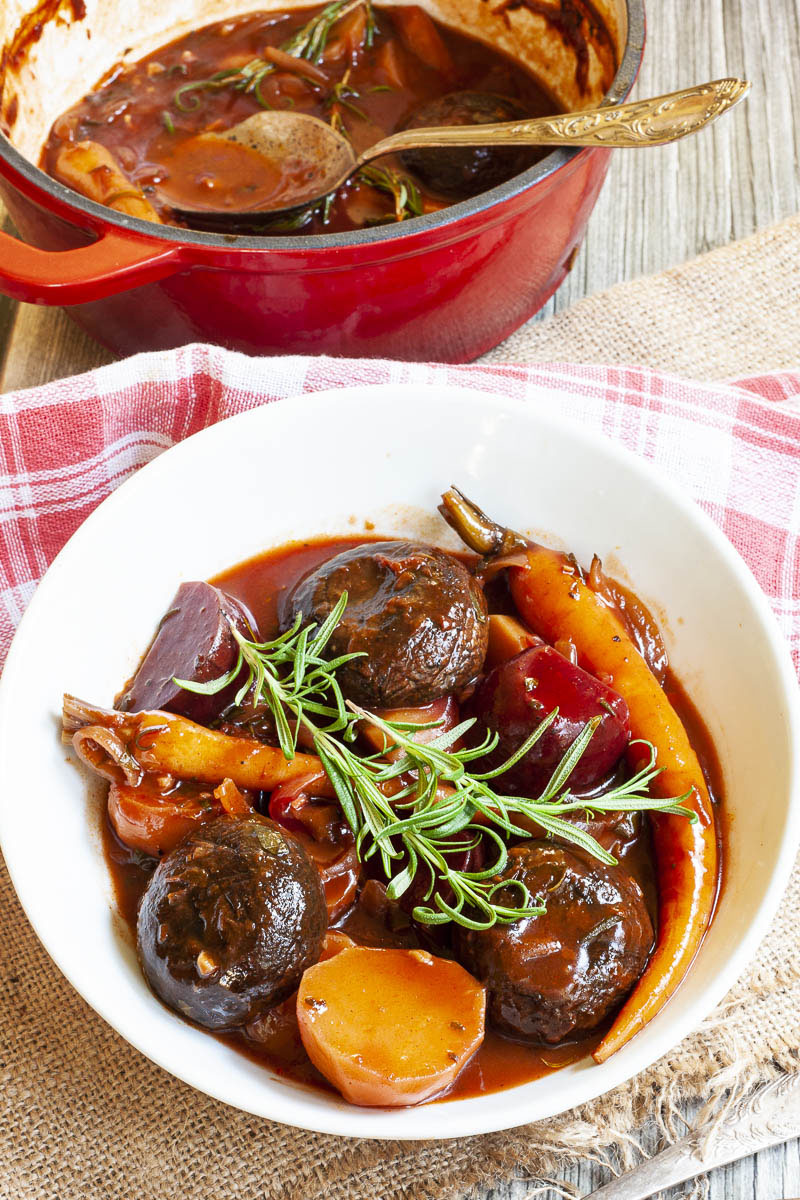 Chili Stuffed Portobello Mushrooms
Stuffed Portobello Mushrooms are a crowd favorite and they make a perfect appetizer for any occasion. Ours are stuffed with vegan chili, a delicious mixture of veggies, beans, and corn with some cheese on top and then baked. Expect them to vanish in second!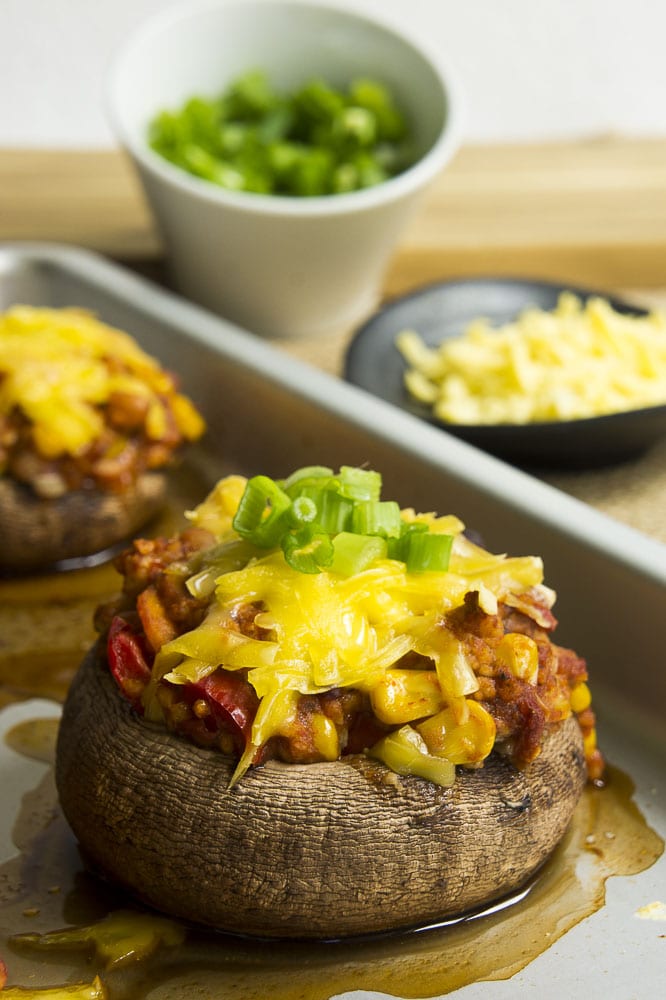 Mushroom Tamales
This Tamales recipe from Mama Maggie's Kitchen will take you to Mexico! Seriously. They're smoky, loaded with Mexican flavors, and ideal for any occasion. Plus, they're easy and quick to prepare, as well.
Mushroom Breakfast Pizza
Do you love a tasty pizza recipe that's simple to make? This low-carb Mushroom Breakfast Pizza by Yum Vegan Food is ready in just 12 minutes! It features baked beans, scrambled tofu, vegan sausage, spinach and of course, portobello mushrooms in place of a pizza crust.
Portobello Poke Bowl
This is a delicious and nutritious Poke Bowl recipe from Plant Based Jess. Portobello mushrooms take the place of fish and are the ultimate vegan substitute for them. Raw veggies, sauces and rice make this a feast!
Vegan Mushroom Chilli
This Vegan Mushroom Chilli from Slow the Cook Down is the perfect alternative to regular meat chilli. It uses red kidney beans and black beans along with jalapenos, onions, and bell peppers. The slight umami hit from the Worcestershire sauce gives the dish the depth it needs, making the flavors dynamic enough for even meat eaters to appreciate!
Balsamic Portobello Steak
The Balsamic Portobello Steak from Dishing Out Health is a vegetarian, gluten-free one course meal. It is often paired with a crunchy salad, making it a hearty, absolutely delicious and comforting dinner recipe.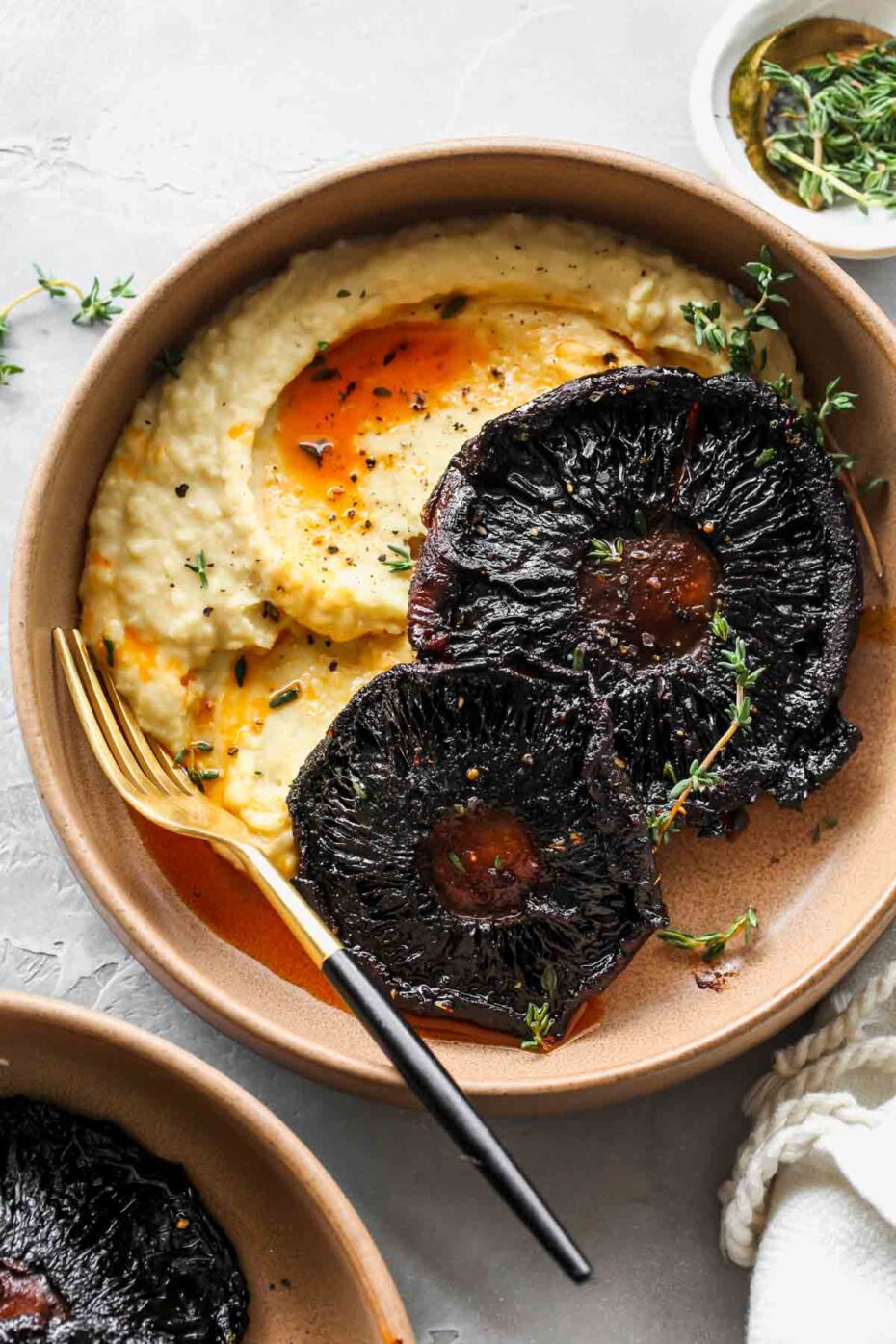 Mushroom Stroganoff
This Mushroom Stroganoff from Vegan Punks is quick to make, but makes sure not to compromise on taste. The mushrooms are cooked with onions and garlic until their juices are released and later the vegetable stock, creme fraiche and paprika gives it some extra flavor. It makes for a wonderful addition to a warm bowl of rice and is perfect for a cozy family dinner.
Portobello Bacon
Everyone needs to make their own vegan bacon. This easy-to-make Portobello Bacon recipe from Zardy Plants teaches you how to make the crispiest kind that is both sweet and savory. Smoky, chewy and low in calories, it can be used in your sandwiches and pastas or even eaten by itself.
Sheet-pan Mushroom Fajitas
Sheet-pan Fajitas Veggies is delicious and will satisfy your taste buds. The fresh chopped peppers and onions add crunchiness, and the mushrooms make these fajitas meaty and flavorful. Both are delicious, easy to prepare, and a perfect option for anyone on a meat-free diet.
Portobello Steak n' Kidney Bean Pie
This tasty and nutritious meatless Portobello Steak N' Kidney Bean Pie recipe from Meat Free Mondays will please everyone (even the non-vegans) in your life. The golden brown goodness of portobello mushrooms combined with kidney beans makes for a great main to serve at Thanksgiving or Christmas.
Baked Harissa Mushrooms
This Baked Harissa Mushrooms recipe from the The Vegan Larder is very quick to make, incredibly tasty and makes for a great starter. Roasted mushrooms cooked with harissa sauce, with melted cheese on top and a dabble of pine nuts? Tell me this isn't what dreams are made of!
Portobello Pizza
If you're looking for a meatless pizza, you should try this Portobello Pizza with Tempeh Sausage from My Darling Vegan. It's a creative and healthier take on regular pizza, that uses large portobello mushroom caps as the pizza crust and sauteed sausage-flavored tempeh and onions for the stuffing. A wholesome and delicious pizza you don't have to feel guilty eating.
Mushroom Aglio Olio
This easy to prepare Italian meal will make your heart happy. This Mushroom Aglio Olio recipe from the Aussie Home Cook uses garlic, parsley and portobello mushrooms to create a sophisticated yet simple flavor profile. With a good glass of red wine, what could be better?
Vegan Wellington
This is one of our favorite festive dinner table recipes that tastes absolutely fantastic. Our yummy Vegan Wellington is stuffed with butternut squash and sauteed mushroom, and carries an intense taste that will make it an absolute hit at your next family dinner.
Mushroom Meatballs
You'll wonder why you haven't made our Mushroom Meatballs before because they are so easy to prepare and they taste so good. We served it with this Caramelized Carrot Pasta Sauce. They're also a wonderful addition to any main course, appetizer, or even as a side dish. The possibilities here are endless.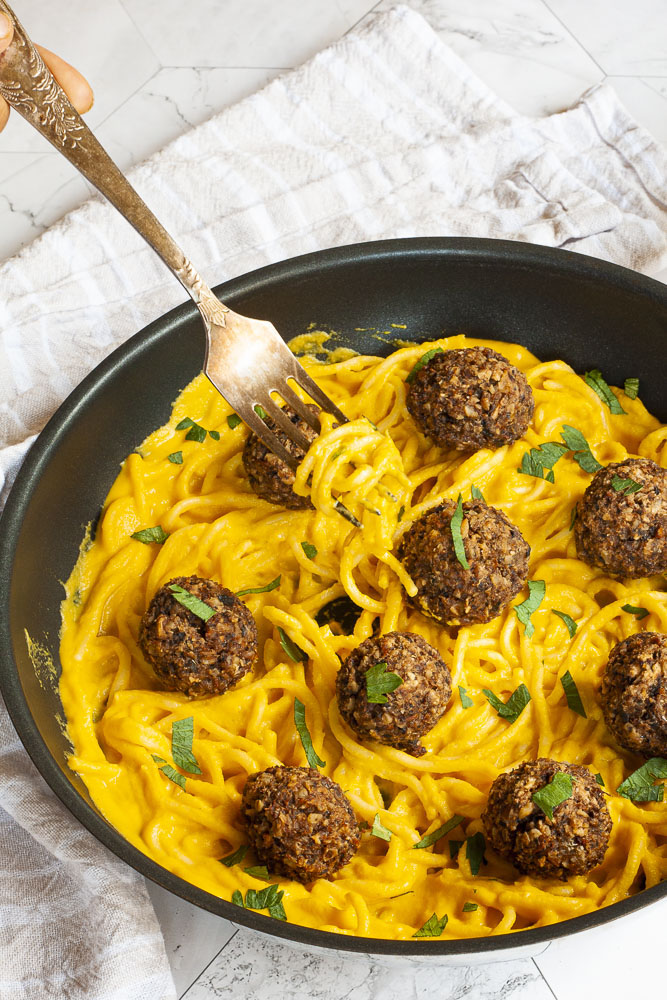 Mushroom Risotto
Here's how to make delicious risotto for everyone. In our Vegan Mushroom Risotto recipe we combine arborio rice and white wine to make a rich, creamy dish. Small portobello mushrooms and shiitake mushrooms are added to the mix. Trust me, you'll never crave anything else again!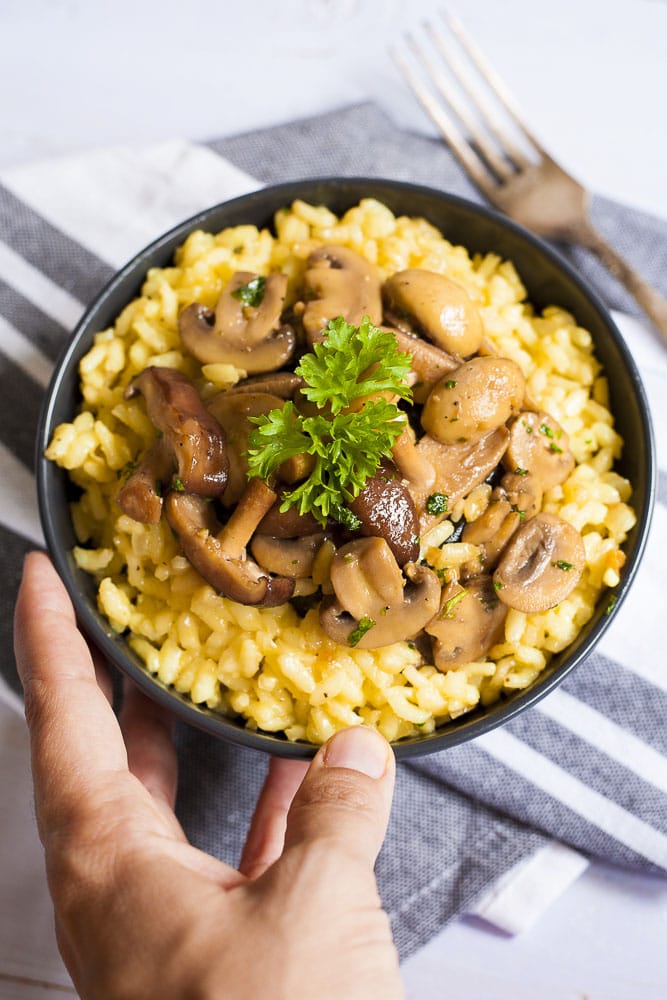 Creamy Mushroom Pasta
If you love spices and if you love pasta, you should try this Creamy Vegan Mushroom Pasta in Paprikash Sauce recipe. It's a flavorful, creamy, spicy dish that combines many of our favorite flavors at once. It's perfect for entertaining or a quick dinner!
More ingredient guides
We have been writing more and more Ingredient Guides that are important in a vegan diet. We explain in details how to prepare them, how to cook with them, what to serve with them. Here are some of the other articles you might be interested in: