Making this creamy broccoli and sweet potato soup cannot be easier. Roasting all veggies in the oven and blend them together to make a delicious, creamy soup. Well, in short. Did I mention it, that this veggie soup is seasoned with ginger? That spicy, peppery aroma goes perfectly with both broccoli and sweet potato.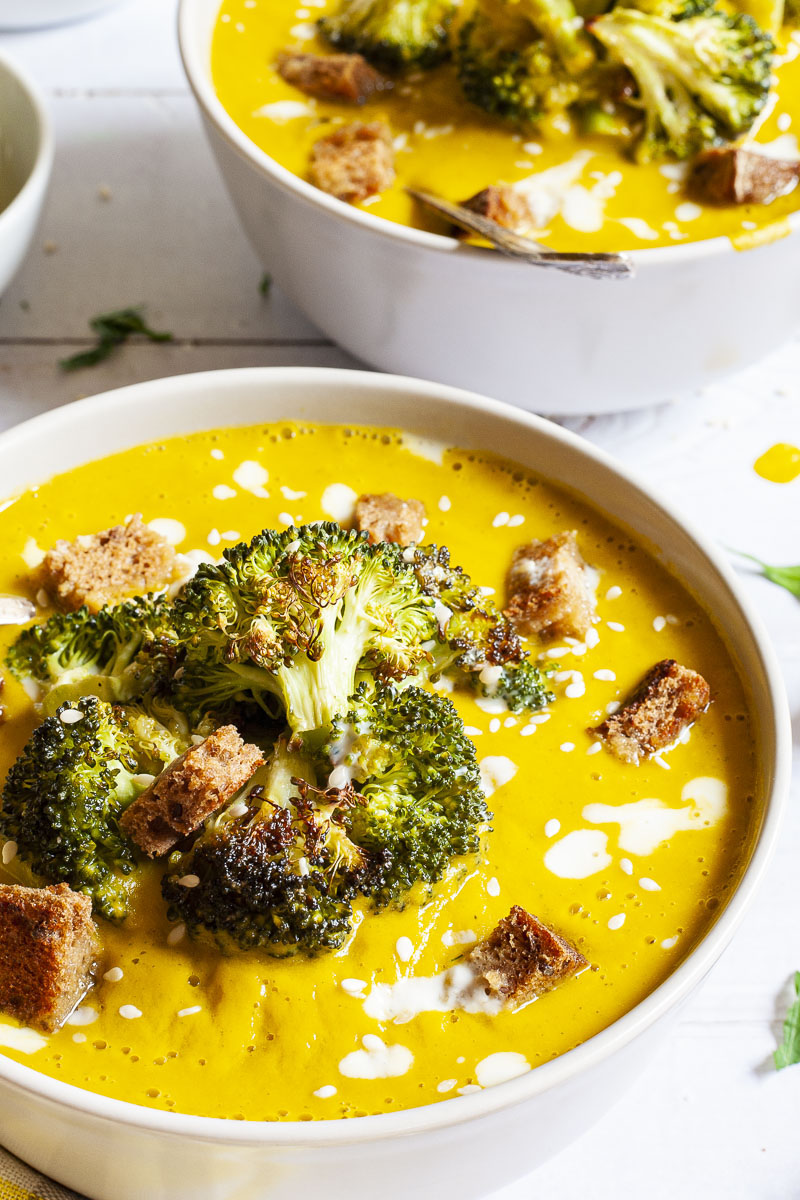 We love a good veggie soup from rich and loaded Vegan Minestrone Soup to smooth and velvety Hokkaido Pumpkin Cream Soup, we love them all, especially the classics like Vegan Cream of Mushroom Soup or Vegan Cauliflower Soup. Check out our Vegan Soups recipe gallery from more inspiration.
Ingredients
The main ingredients are obviously broccoli and sweet potato, but we added a couple of more things to make it rich, yummy and filling. You need only 6 ingredients though, but nothing fancy or hard to get. (Exact amounts will be displayed in the printable recipe card.)
How to make this Broccoli and Sweet Potato Soup?
Prepare the ingredients
Wash and cut broccoli into florets. Wash, peel and cut sweet potato into small cubes. The smaller you cut them, the shorter will be the oven time. No need to prepare the garlic as you will roast it in whole and unpeeled.
Roast all veggies in the oven
Take a sheet pan with parchment paper or an oven-safe glass dish. Choose the size of the dish based on the batch size your are making. The veggies will be ready sooner, if the dish is large enough that the chopped veggies can be arranged in one single layer.
Drizzle the sweet potatoes with olive oil and sprinkle with black pepper. Mix well. Add garlic powder, salt and black pepper along with the olive oil to the broccoli. Mix well. Take an unpeeled garlic bulb and drizzle it with olive oil.
Bake your veggies in the oven 390-395 Fahrenheit (200degrees Celsius) for 20 minutes.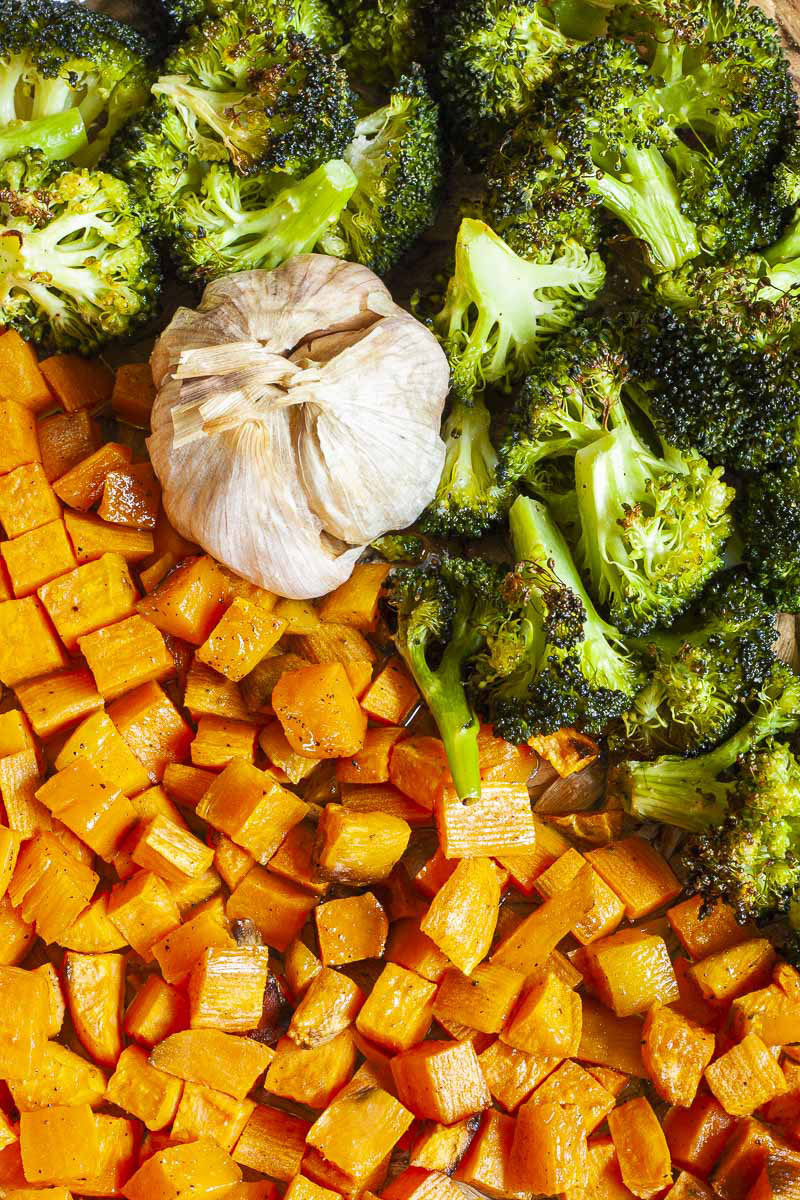 Blend them into a creamy soup
Take your blender and add all roasted sweet potatoes, half of the roasted broccoli (save half for serving), 4 peeled roasted garlic cloves, ginger powder, turmeric powder, and the veggie broth. Blend until smooth and creamy.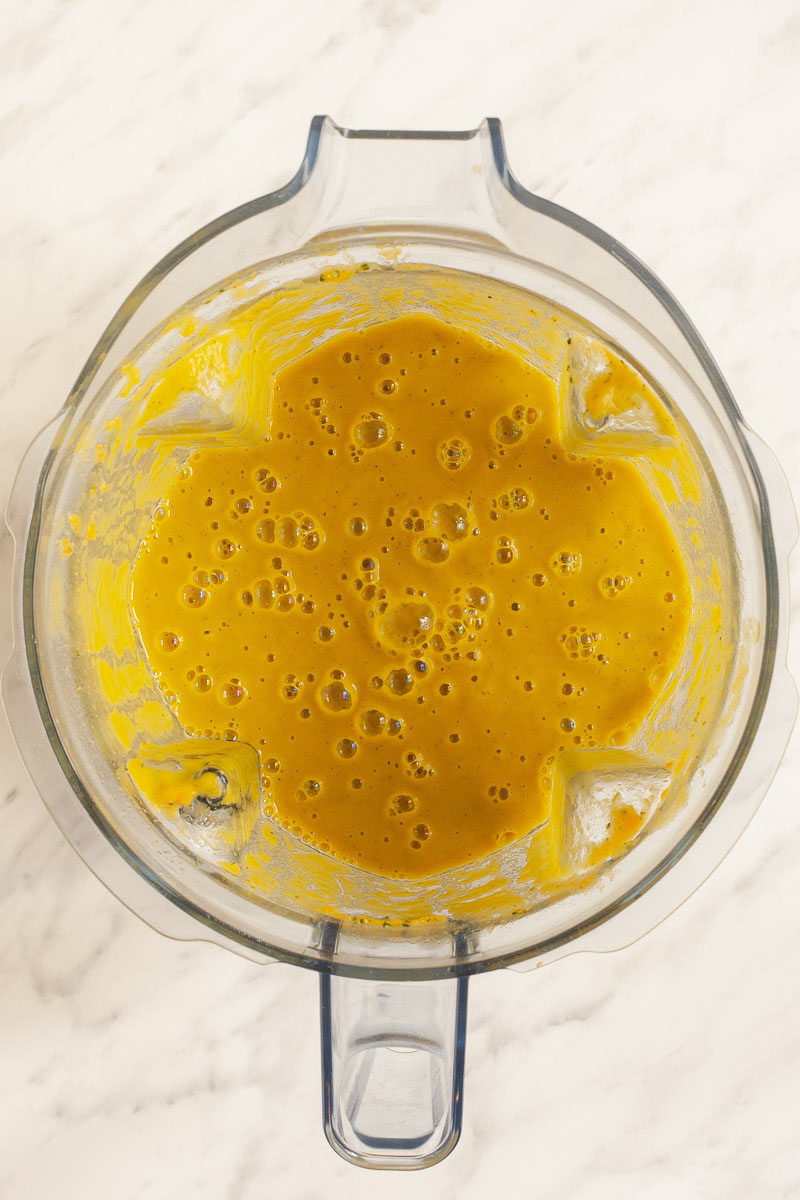 Top tips to make this creamy soup perfectly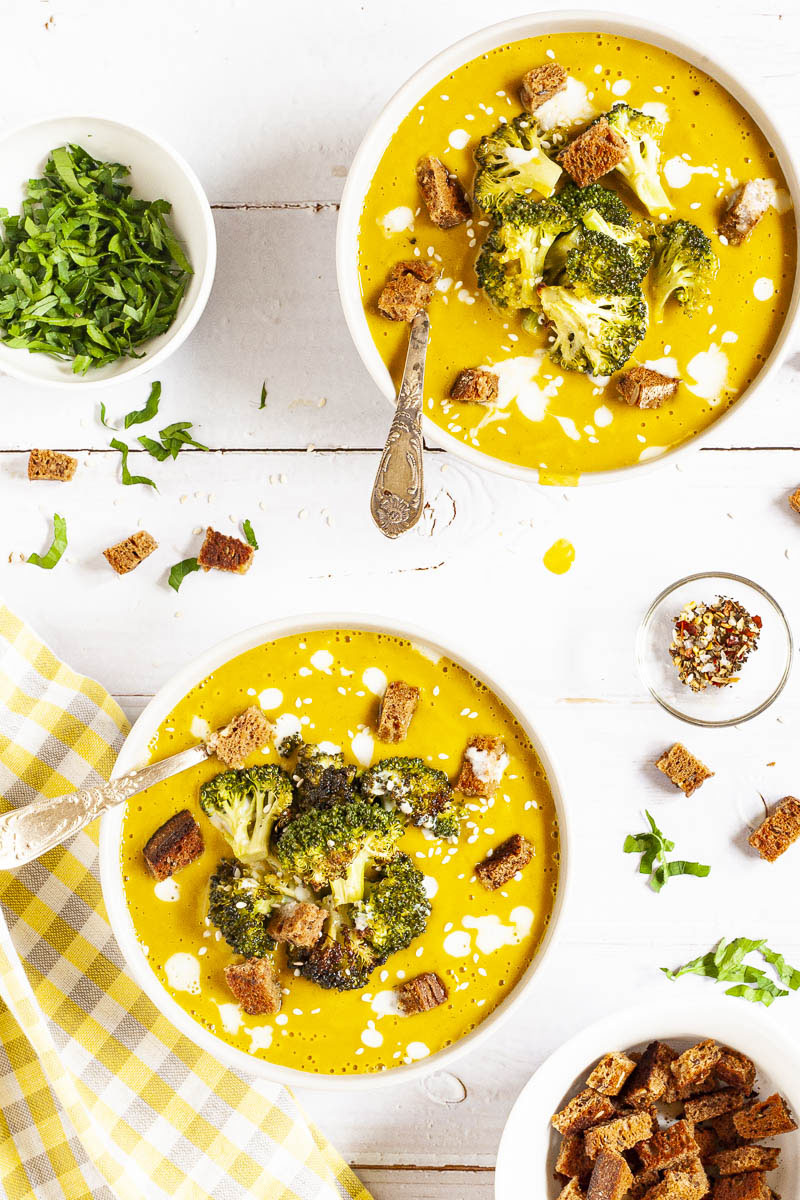 FAQs and Substitutions
Can I use fresh ginger?
You can use grated fresh ginger, but easy on the amount as fresh one has a stronger aroma. Read more about the difference between fresh and ground ginger here. The rule of thumb is 1 tablespoon of grated fresh ginger is equal to ⅛ teaspoon of ground ginger.
How to store it?
Store it in a fridge until 4-5 days. This sweet potato broccoli soup is totally freezer-friendly. Bring it to boil after thawing before serving.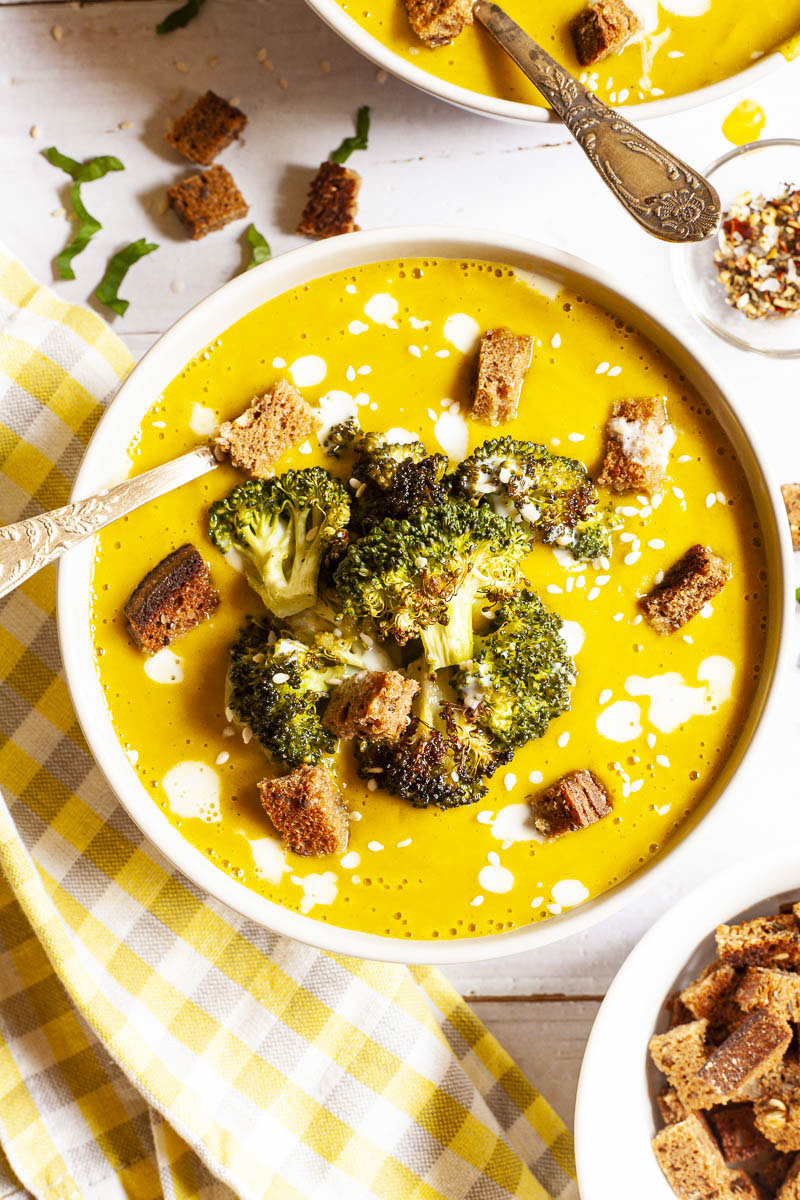 What to serve with a Broccoli Sweet Potato Cream Soup?
We definitely have some ideas for you to try. This creamy roasted broccoli and sweet potato soup is such a rich and thick soup that we love to add some veggie balls like Eggplant Meatballs, Chickpea Meatballs, Mushroom Meatballs, or IKEA Veggie Balls. Alternatively you can choose one from below:
Let us know in the comments, which garnish was the perfect choice for you.
This Broccoli Sweet Potato Soup recipe is meat-free, gluten-free, dairy-free and egg-free. It is also suitable for a vegan and vegetarian diet. It can also be WFPB-friendly (whole foods plant-based) if you sautee veggies in water or veggie broth.
More sweet potato recipes
You can browse through all sweet potato recipes, but here is some of our favorites:
More vegan soup recipes
You can browse through our Vegan Gluten-free Soup Recipes or check out