This is the best vegan cauliflower soup without any dairy substitutes. No cream or milk of any type is needed to make it thick and creamy. What do you need then? Potatoes! If you blend this cauliflower potato soup, it will essentially have a mousse-like texture. Did I convince you to give it a try?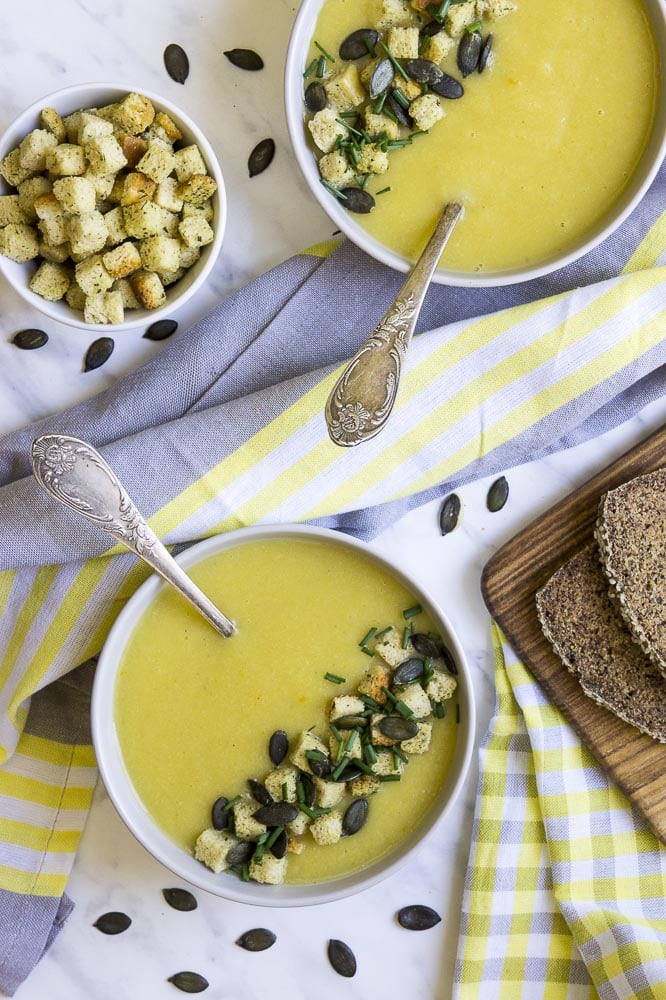 If you also love creamy vegan soups as much as we do, try this vegan spinach soup, this Hokkaido pumpkin soup, or this vegan corn chowder.
What can you expect from this recipe?
This vegan cauliflower soup is actually a pretty light and creamy soup. Of course, it tastes like cauliflower since the potatoes and the carrots are only there to thicken the soup and enhance its flavor. However, compared to a roasted cauliflower soup it doesn't taste that strong. Making a soup after roasting the cauliflower will result in a quite intense and aromatic soup. If you tried that and didn't like it, you should give cauliflower soups another chance with this easy and simple recipe.
Ingredients
To make this creamy cauliflower soup, you will need only 7 ingredients. Nothing fancy or hard to get. And as promised you don't need any dairy substitutes. No, not even coconut milk. Why? Because the starch content of the potatoes is a perfect thickener. It is actually one of the 20 ways to thicken a soup actually. So here is your shopping list. See the recipe card for exact quantities.
cauliflower
potatoes
carrots
onion
garlic
vegetable broth
ground cumin seeds -> Cauliflower is a cruciferous vegetable and may cause bloating for some people. For as long as I remember our family loved adding cumin to help with indigestion. Not to mention the flavor cumin adds matches perfectly with the cauliflower.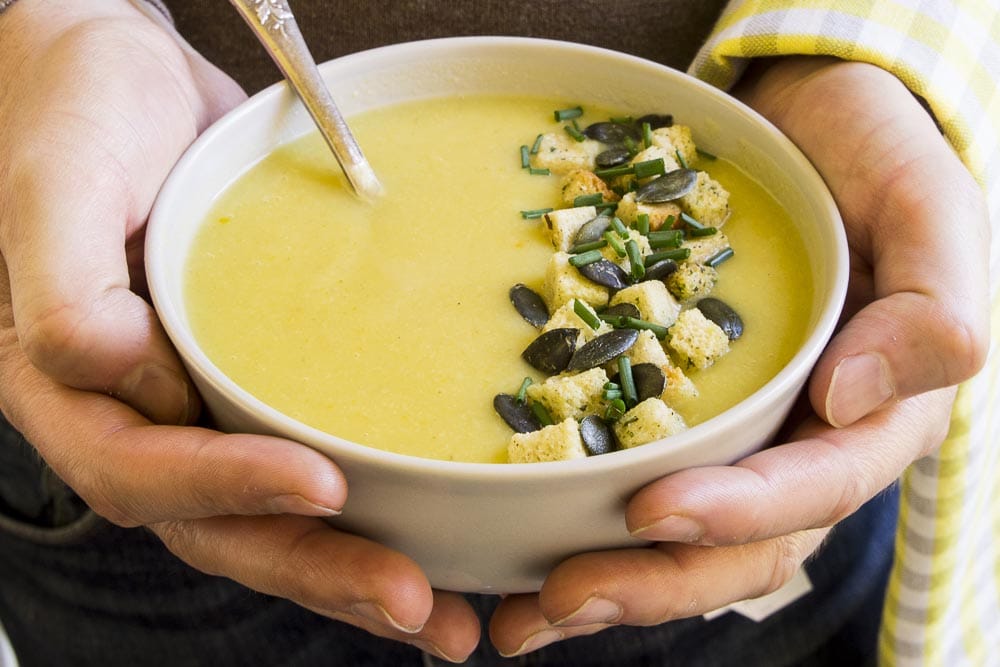 How to make vegan cauliflower soup?
Prepare the ingredients
Take the leaves off the cauliflower and cut them into florets. If the florets are big, you can cut them in half or into quarters. No need to discard the stem, if it looks fresh and healthy, cut it as small as 1×1 inch (approx. 2×2 cm). A quick note: the stem is harder so it needs a longer time to be tender. Make sure you cut them much smaller than florets.
Peel and finely chop the onion and the garlic.
Wash, peel, and dice the potatoes and carrots. You can shorten the cooking time by dicing the potatoes and carrots smaller like 1×1 inch (approx. 2×2 cm). You will blend them at the end so they don't need to be nicely chopped, they just need to be small and even.
Making the soup
Preheat a stockpot or a large pot over medium-high heat. Add

olive oil

, chopped

onion

, and

garlic

. Cook them until soft and glassy.
When they are ready, add the diced

carrots

and chopped

potatoes

and stir for a minute.
Add

cauliflower

florets and chopped stem and stir for another minute.
Pour the

vegetable broth

and add the

seasoning

: ground cumin, black pepper, and sea salt.
Lower the heat if needed and simmer until veggies are soft. It will take approx. 15-20 minutes depending on how small you actually chopped them.
Use a blender and blend it until it is smooth.
Top tips to make it perfectly
Chop vegetables evenly and small – The smaller you cut the veggies, the shorter will be the cooking time.
Vitamix vs Regular Blender – You can certainly use a hand blender (aka stick blender), a food processor, or a regular blender. They all make a creamy sauce. However, if you want to get an unbelievably smooth, mousse-like cream soup use a high-power blender like Vitamix*. (When we made the video and the step photos we had only an immersion blender, but now we have a Vitamix, and "Oh My God" – as would Janice say in Friends. The difference is bewildering.)
What to serve with it?
We definitely have some ideas for you to try. Veggie balls and vegan patties like eggplant meatballs, chickpea meatballs, mushroom meatballs, IKEA veggie balls, or these meatiest vegan meatballs are always a good choice to add to creamy soups. It adds a much-needed extra protein, not to mention that it turns the meal into a complete main course for weeknight dinner.
If you are looking for topping ideas, here are our favorites. Let us know in the comments, what is your favorite garnish for a bowl of creamy cauliflower soup?
crusty bread to dunk in it
croutons, crackers, or breadsticks (I like these gluten-free breadsticks*)
seeds, chopped nuts, or trail mix
canned legumes (any beans or lentils) like white beans, or red kidney beans
fresh herbs like chives or scallion
red pepper flakes if you want it to be a bit fiery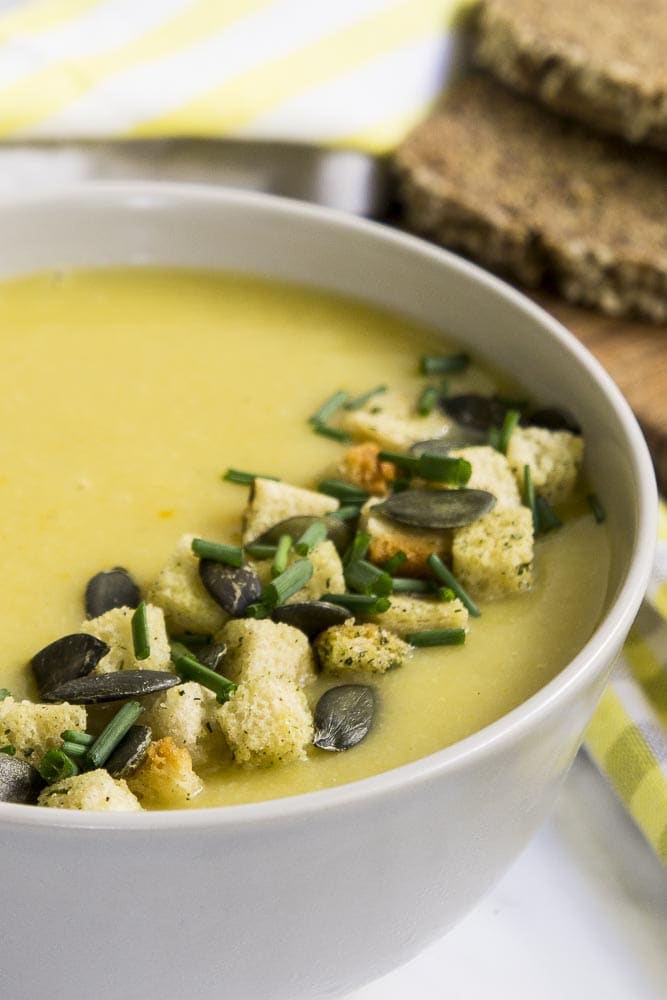 FAQs and substitutions
Is it nutritious?
Why do a lot of people like cauliflower? It is a cruciferous vegetable after all. Well, it is low in calories but high in nutrients. Not surprising at all why it became such a huge hit in the vegan/vegetarian diet.
According to this Healthline article cauliflower contains a bit of almost every vitamin and mineral that you need. In short, it is low in calories, high in fiber, loaded with Vitamin C and K, and a great source of antioxidants.
You can get to know this veggie through a lot of vegan recipes like cauliflower mince as ground beef, cauliflower rice, cauliflower pizza crust, cauliflower mac-and-cheese, cauliflower mash, or cauliflower hummus.
What other veggies can you add?
If you want to keep the cauliflower taste, we recommend adding only other root vegetables like 1 turnip, 1 parsnip, 1 rutabaga, or 1 celeriac (celery root) as they will not alter the taste that much.
Can you use another type of onion?
Yes, you can use yellow, white, or red onion even leek.
How to store it?
It keeps well in the refrigerator for approx. 3-4 days. Store it in the fridge separately from any garnish or topping. Reheat it on the stove-top or in the microwave.
Can you freeze it?
Yes, you can store them in a freezer and thaw them as you need them. However, based on my experience after thawing dishes with potatoes in them, the texture of the dish may slightly alter. In this case, not that much since the cauliflower is the main ingredient and not the potatoes.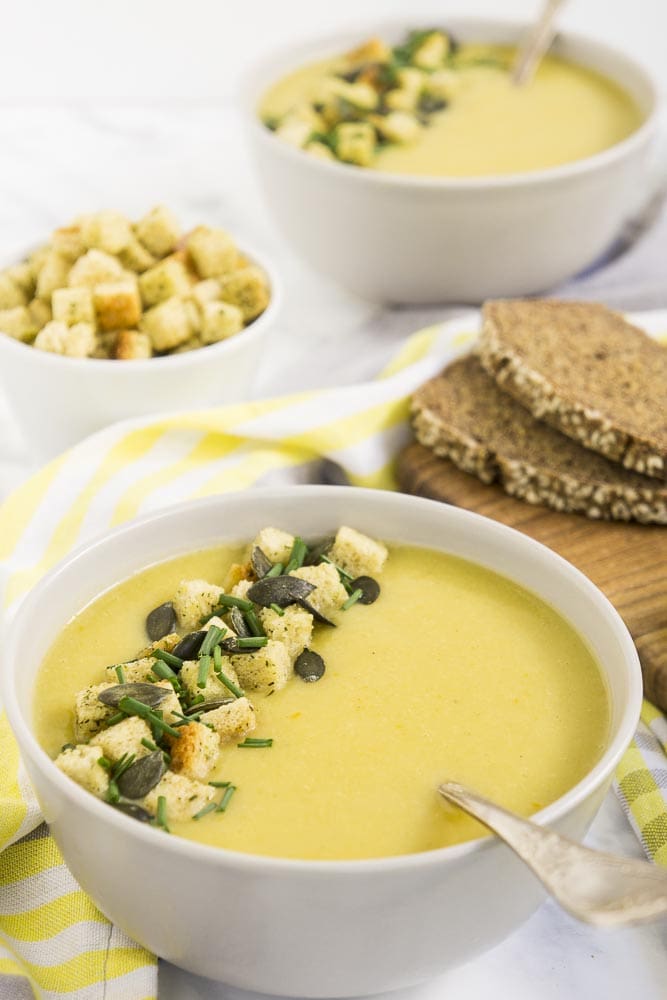 This cream of cauliflower soup recipe is vegan/vegetarian and gluten-free, so meat-free, dairy-free and egg-free. It also fits within the paleo diet. This recipe is WFPB-friendly (whole foods plant-based) if you cook the vegetables directly in veggie broth.
More vegan cauliflower recipes
More vegan soup recipes
You can browse through our vegan soup recipes gallery or choose one from these 30 deliciously creamy vegan soups or check out
UPDATED: This recipe was originally posted in September 2019. More tips, info, and description were added and republished in May 2022.