Embark on a Mediterranean culinary adventure and satisfy your palate with our collection of 22 vegetarian creations that showcase the rich and diverse flavors of this sun-soaked region. From the aromatic herbs of Greece to the sumptuous spreads of Spain, these recipes capture the essence of Mediterranean cuisine while celebrating the vibrant and wholesome ingredients that make it so special. Whether you're a devoted vegetarian or simply looking to explore meatless options that burst with flavor, these dishes offer a delicious and nutritious journey through the Mediterranean, allowing you to savor the beauty of its culinary traditions from the comfort of your own kitchen.
10-min Marinara Sauce
This chunky marinara sauce is a delicious and easy way to add fresh and nutritious ingredients to your favorite pasta dishes. With simple ingredients like chopped tomatoes, fragrant basil, and savory onion and garlic, this sauce is full of flavor and perfect for a quick and satisfying meal.
Recipe: marinara sauce
Pesto Pizza
This easy pesto pizza recipe puts a light and zesty twist on the traditional pizza night! It only requires six simple ingredients and 30 minutes of your time, making it a perfect way to enjoy one of your favorite dishes at home in no time.
Recipe: pesto pizza
Lasagna with Lentil Bolognese
This lentil lasagna is a delicious and satisfying dish that features a rich and flavorful lentil bolognese sauce layered with creamy white bechamel and lasagna noodles. It is a perfect comfort food that will leave you feeling full and satisfied.
Recipe: lentil lasagna
Roasted Eggplant Red Pepper Dip
This roasted eggplant and red pepper dip is a smoky, rich, flavorful dip. It is the combination of two popular Middle Eastern classics baba ganoush and muhammara. Serve it with vegetables or with sliced pita bread, but it is especially delicious added to a grilled cheese sandwich.
Recipe: veggie dip
Sweet Potato Gnocchi
Making gnocchi is super easy especially if you make them with sweet potatoes. No special ingredients are needed, only pantry staples.
Recipe: sweet potato gnocchi
Red Pesto Tofu Pasta
This tofu pesto pasta dish is a flavor-packed and healthy alternative to traditional pasta dishes. The savory red pesto, made with sun-dried tomatoes, complements the crispy fried tofu and pasta perfectly, making it a must-try for anyone looking to add some variety to their dinner rotation.
Recipe: red pesto tofu pasta
Shawarma Buddha Bowl
The Shawarma Buddha Bowl with cauliflower offers a delicious and healthy twist on the traditional Middle Eastern dish. The roasted cauliflower adds a flavorful and satisfying element to the bowl, complementing the vibrant assortment of vegetables and grains.
Recipe: shawarma buddha bowl
Lemony White Bean Soup
This White Bean Soup is the perfect comforting meal for any day. With a tangy lemon flavor and packed with veggies, this roux-based soup is simple to make and sure to satisfy your hunger.
Recipe: White Bean Soup
Twisted Pasta Bolognese
Try our mouthwatering bolognese made with meatless option. Combining tomatoes, veggies, vegan ground beef, and aromatic herbs, it's a satisfying, tasty twist on the classic dish. Ready in just 30 minutes, it's perfect for newer vegans seeking familiar flavors without meat.
Recipe: bolognese
Light Custard Tart
It is a simple, 5-ingredient custard recipe. Add it to a pre-baked crust, let it set, and enjoy a light and creamy light custard tart.
Recipe: custard tart
Pesto Vegetables
Experience the delightful combination of vegetables and aromatic pesto sauce in our pesto vegetables recipe. This culinary fusion is sure to satisfy. Prepare to savor the vibrant flavors and enticing aromas as roasted veggies are perfectly paired with a flavorful pesto sauce!
Recipe: pesto vegetables
Cheeseless Pizza
This easy cheeseless pizza recipe puts a fun and nutritious twist on traditional pizza and is a meal the whole family will love! In just 30 minutes or less, you will have a delicious veggie- and flavor-packed pizza without the dairy. It is the perfect answer to a quick, family-friendly meal!
Recipe: cheeseless pizza
Hummus Without Tahini
This sunflower seed hummus recipe is hands down the best hummus without tahini out there. We didn't just settle for a basic chickpea puree because we discovered the perfect substitute: roasted sunflower seeds or sunflower butter.
Recipe: hummus without tahini
Shakshuka
This shakshuka is a flavorful and hearty stew that combines Middle Eastern spices with tomatoes, bell peppers, onions, and chickpeas. Ready in under 30 minutes, this dish is perfect for a quick and satisfying weeknight dinner.
Recipe: shakshuka
Mediterranean Grazing Board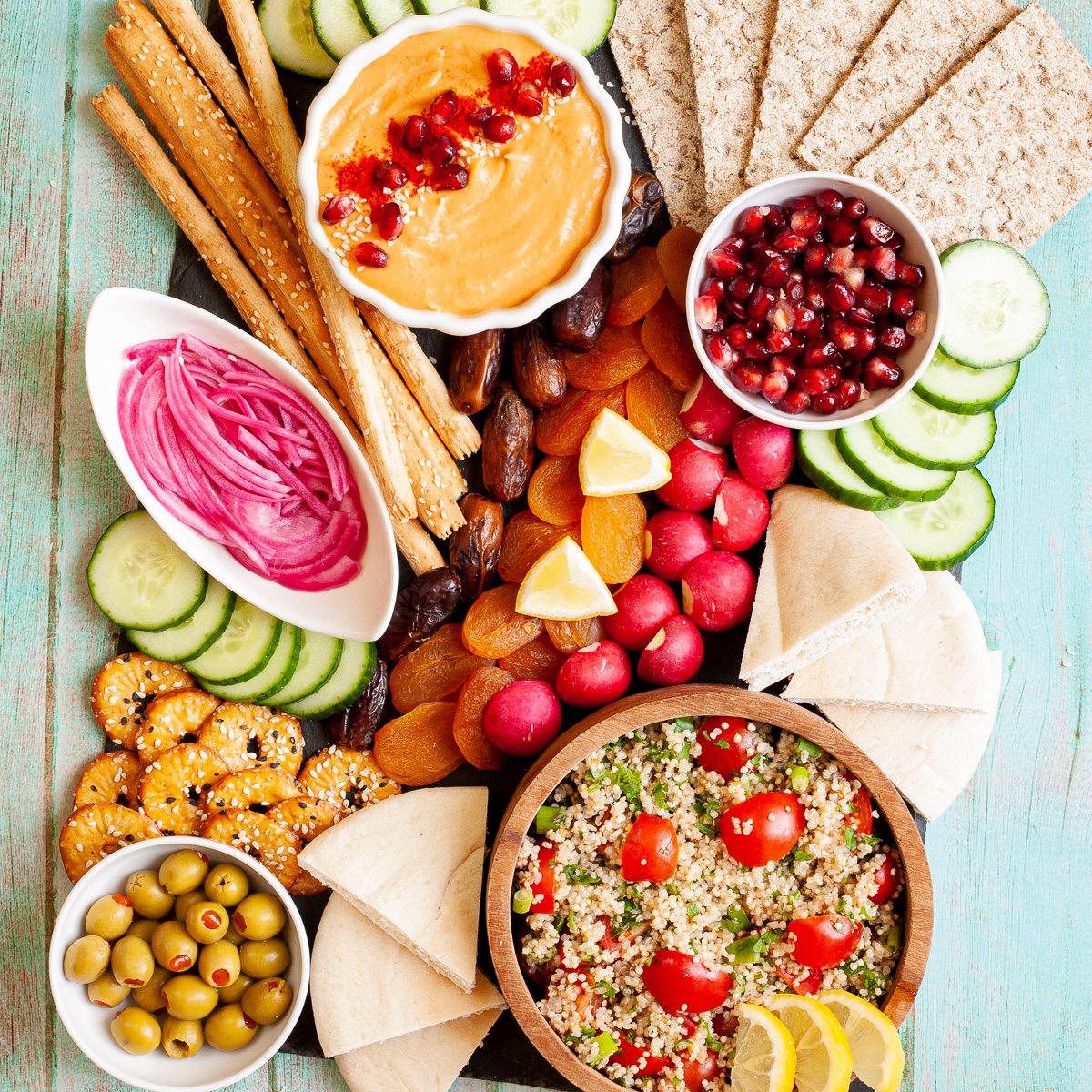 A grazing board is the perfect combination of aesthetics and taste. With a variety of dips, crunchy breadsticks, pickled onions, and soft pita bread, it's a delicious Mediterranean feast that's perfect for sharing with family and friends.
Recipe: Mediterranean Grazing Board
Light Frittata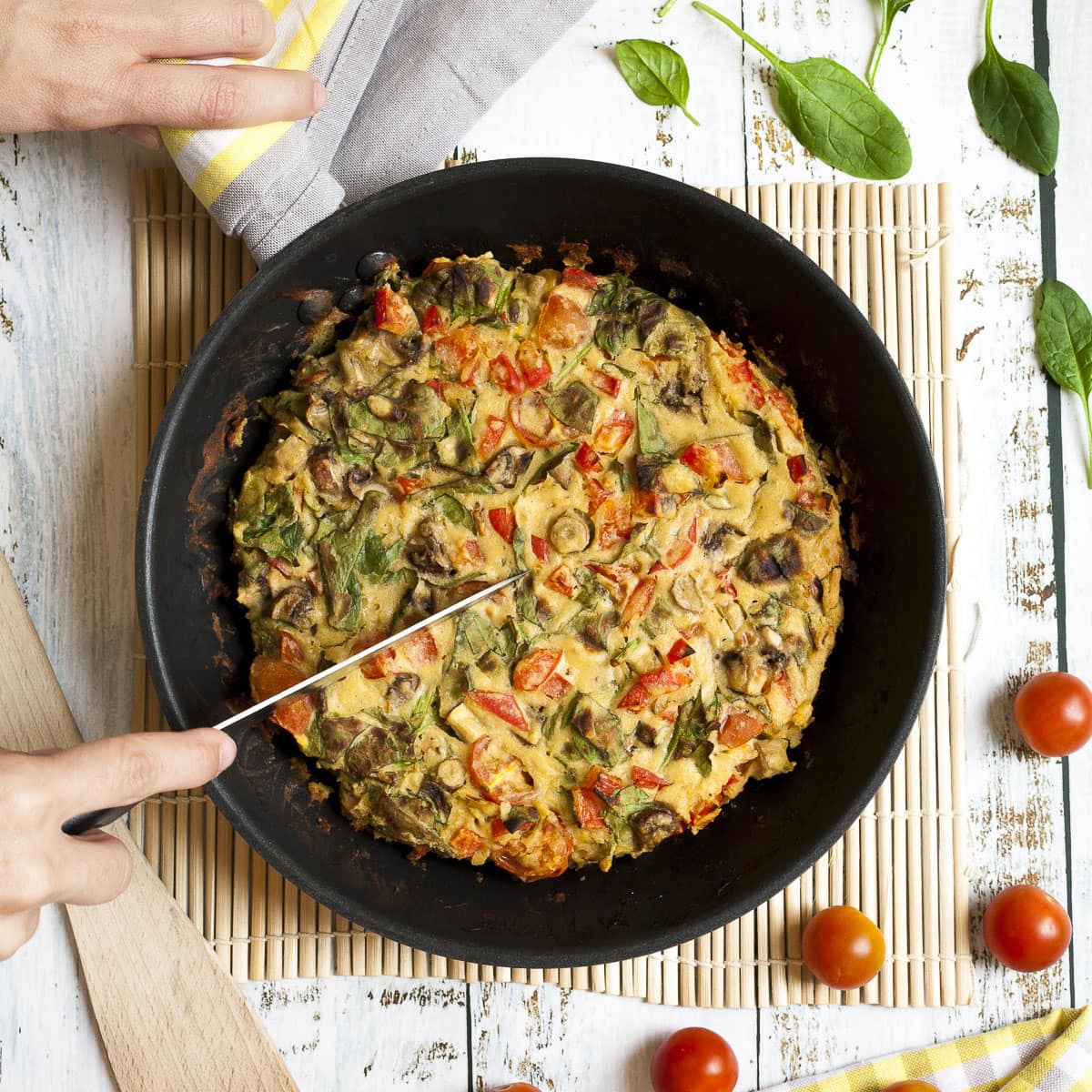 This frittata is a healthy and satisfying breakfast option that is loaded with vegetables and made with a simple 3-ingredient chickpea flour base. It's perfect for meal prep and can be enjoyed hot or cold.
Recipe: frittata
Spanish Patatas a lo Pobre
Spanish Patatas a lo Pobre is a classic dish that showcases the simplicity and richness of Spanish cuisine. The combination of thinly sliced potatoes, onions, peppers, and garlic cooked in olive oil creates a flavorful and comforting dish that is perfect as a side or even as a main course.
Recipe: Spanish patatas a lo pobre
Hummus Pasta
Hummus pasta salad from our cookbook is a quick and flavorful pasta dish that can be prepared in just 15 minutes. The combination of creamy hummus with tangy sun-dried tomatoes and olives creates a unique taste. Different flavored hummus, such as roasted red pepper or spinach, allow for endless variations.
Recipe: hummus pasta
Italian Panna Cotta
This panna cotta is a decadent, silky-smooth Italian dessert made without gelatin. With only a few simple ingredients, it is a quick and easy dessert that will impress your guests.
Recipe: panna cotta
Roasted Cauliflower
Roasted cauliflower gets a makeover with this delicious recipe. The mild spiciness of the roasted florets is perfectly complemented by a creamy lemon herb tahini sauce, making it a perfect side dish for any meal.
Recipe: roasted cauliflower
Minestrone Soup
This minestrone soup is a comforting and hearty bowl of goodness. Loaded with vegetables, legumes, and pasta, it is a perfect meal in any season.
Recipe: minestrone soup
One-Pot Ratatouille
This is the best French summer vegetable stew that you can stir up in one pot within 30 minutes. I say to stir up because the traditional ratatouille is cooked on a stovetop and not baked.
Recipe: ratatouille
26 Big-Batch Dishes to Stock Your Freezer
15 Weekend Lunch Recipes on a Dime to Feed The Family
Europe's Finest 25 Recipes You May Not Even Know Of
25 Asian Foods You Absolutely Need to Make At Least Once
Skip The Dreaded Drive-Thru Line With These 15 Fast Food Copycat Recipes